**product provided to me by Silhouette, but all opinions are my own**
It's Spring here in Kentucky… which means one thing…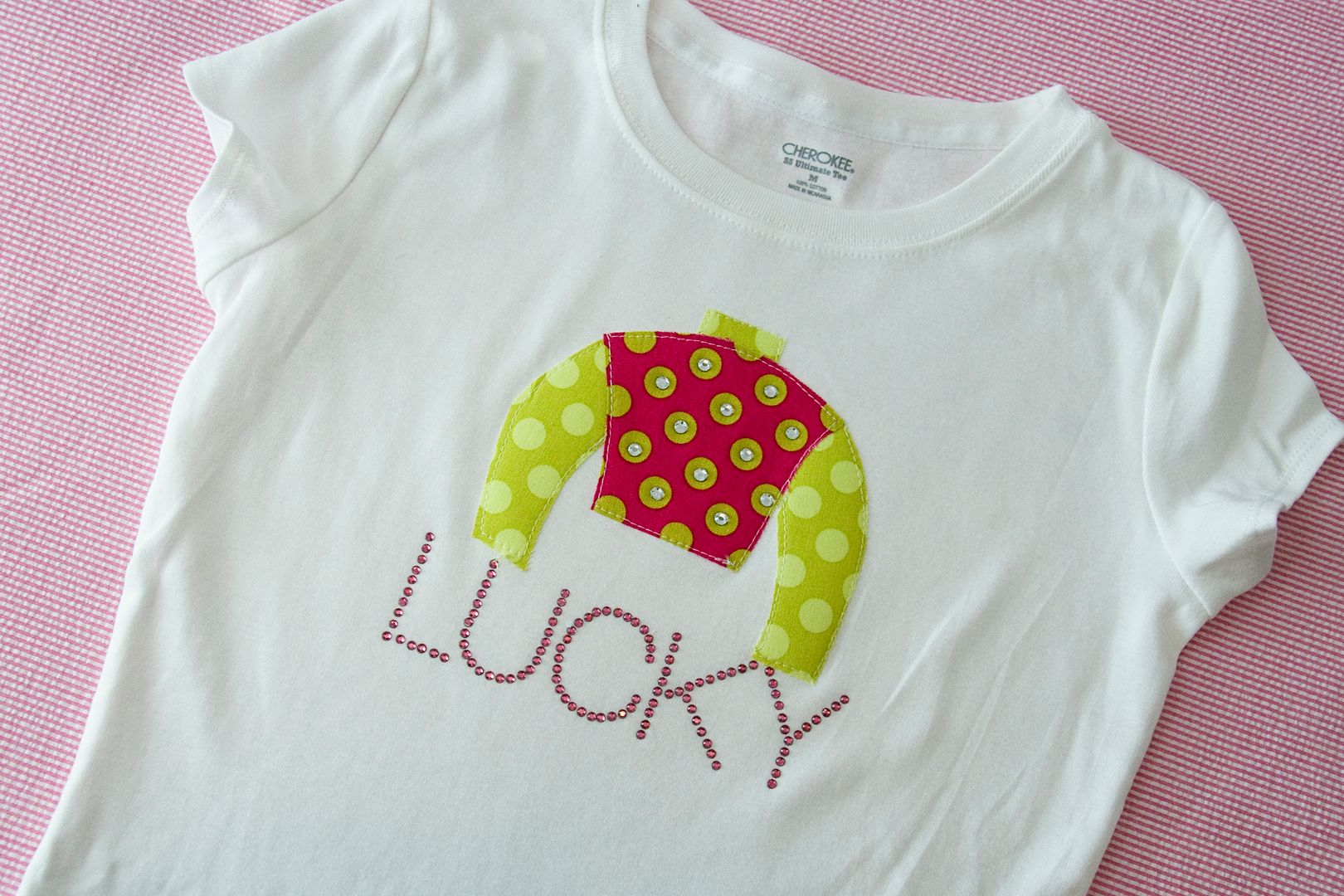 Derby!!
Anyone who has seen the movie Secretariat this year probably has heard a little bit about the "most exciting 2 minutes in sports."  Well it's a pretty big deal here!  The Kentucky Derby is the first Saturday in May, and every year the city rolls out the welcome mat for all of our out of town visitors.  Locals celebrate too, with lots of fun events in the weeks leading up to Derby.
When Silhouette sent me their Rhinestone Starter kit to play with I knew right away what I wanted to make! A derby shirt for my daughter.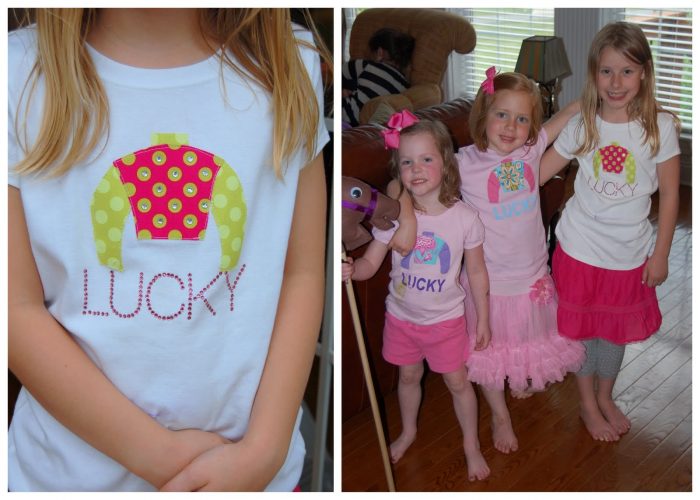 Here's how I did it:
Last year I made a jockey silks table runner to celebrate Derby
(you can see it here)
… This year I decided to take the same jockey silks applique that I drew for the runner and put it on a t-shirt for my daughter….If you want to make a similar t-shirt you can download
the applique pattern here
, just print it out at 75% of full size.
But it still needed a little somethin'
So I added some rhinestones to the jockey's shirt and the word LUCKY- in pink rhinestones!
Let me tell you- it was so easy, who ever thought up this system is GENIUS!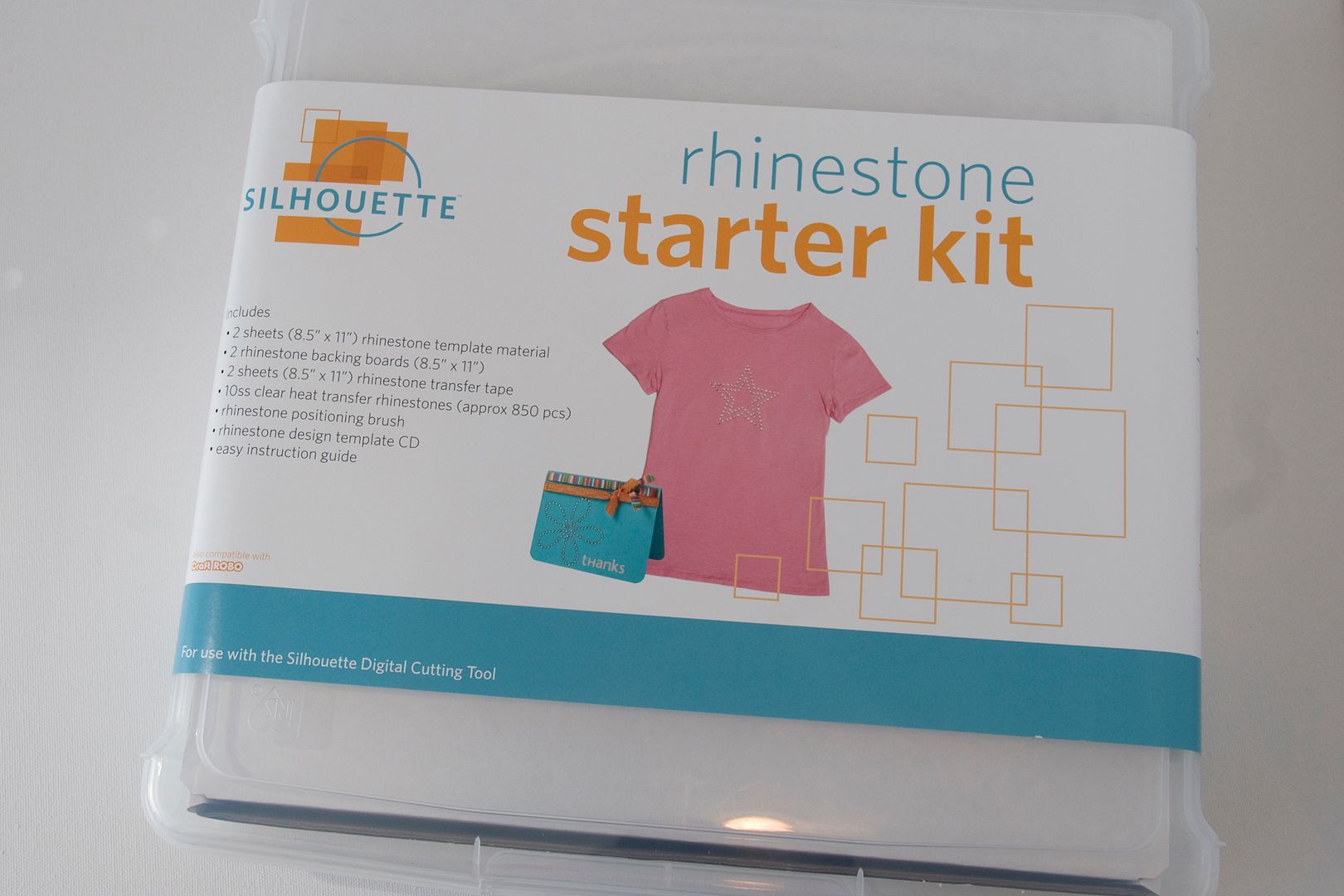 The starter kit comes with everything that you need to get started using your rhinestones… It even comes with a CD with some INCLUDED silhouette images (including an alphabet, so you can spell what ever you want). There are also some really great images for sale in the Silhouette store.
I'm not going to post a step by step tutorial because you don't need it. The kit comes with a FULL COLOR instruction sheet that is very easy to follow.
You just cut out your template, and using the tools provided, attach the rhinestones to your item.  You then use an iron to adhere them down. Really easy- I was even able to attach some extra rhinestones to the jockey silks, just using the pickup tool that comes in the kit-
Are you still "sitting the fence" trying to decide if you want a Silhouette machine?  Well, you might not want to wait much longer because Silhouette has an AWESOME deal right now on the Silhouette machine PLUS the Rhinestone Starter kit!!!
A Silhouette SD
The Rhinestone starter kit
3 additional packs of rhinestones
And 1 Pick Me Up tool
This Rhinestone Bundle includes:
The Silhouette SD
2 sheets of rhinestone template material
2 sheets of rhinestone transfer tape
2 rhinestone backing boards
1 rhinestone placement brush
1 CD of rhinestone images
1 pack of clear 10ss rhinestones
1 pack of clear 16ss rhinestones
1 pack of clear 20ss rhinestones
1 pack of pink 10ss rhinestones
and
1 Pick-Me-Up tool
This is an incredible deal worth 
$125 in savings
!
To get this deal you just need to enter the code
"chair"
at checkout!! Here's the link to the special bundle… The deal runs from today until April 26th… it would be a cool mother's day gift!
Just click on the "special bundle" icon and enter the code "CHAIR" to get the special price.
… and if you already have a Silhouette machine, you can take advantage of the sale that they are running right now…
all  things rhinestone are 30% off no need for a promo code!