This post is sponsored as part of Lifestyle Crafts monthly design team. Watch for a great new idea each month this year.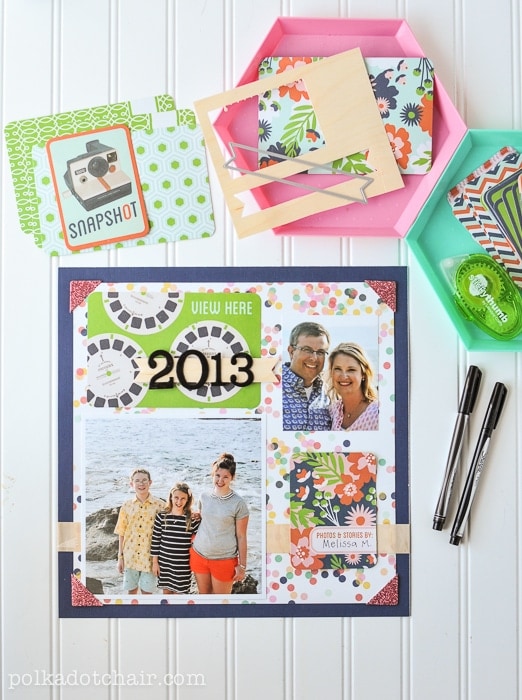 Hello! Did you miss me? I'm happy to report that (at least for now) I'm back up and running in the blogging/technology department.  It's been a frustrating 2 weeks, but I took it as a "sign" to walk away and take a bit of a bloggy break at the end of December.
Every year I make a "Year in Review" Family Scrapbook, you can see some of my older albums here and here.
I work on the album all year, but always use the weeks after Christmas to finish up my album from the year before. I've moved from a traditional 12×12 scrapbook to a divided page system, usually referred to as Project Life.  Even though I'm using divided page protectors now I still try to include a few 12×12 layouts in my album. Mostly because I still adore that type of scrapbooking. (I just don't have time to document ALL of our activities that way).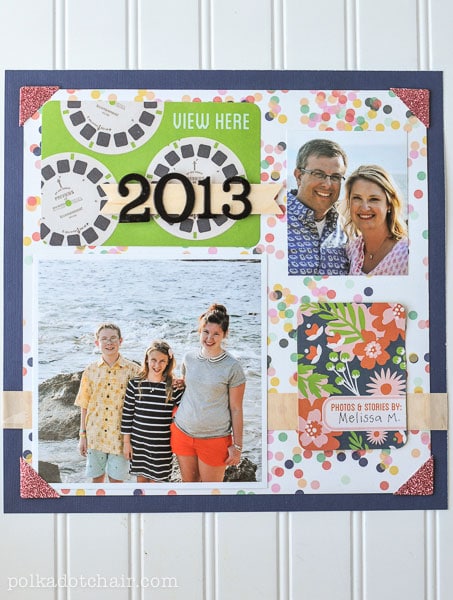 I sat down this week and created a title page for my 2013 scrapbook album.  Since I have been using the divided page system this year, I wanted to tie in the title page to the beginning of the album, so I decided to use a few of the cards from one of my kits on the page.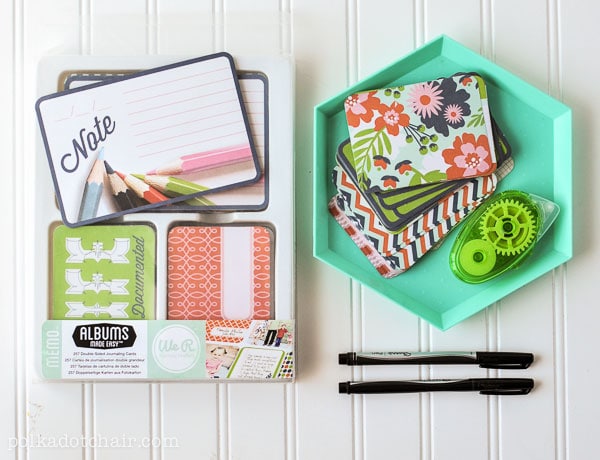 The products are from the Memo line from We R Memory Keepers (Lifestyle Crafts is now part of We R)…. I absolutely ADORE this kit and have been using it like crazy on my pages (I'll share more of those next month).   I even cut up that adorable polka dot cardstock and didn't even have a heart attack doing it (am I the only hoarder here???)
This layout also features one of my favorite new products, Wood Grain paper. It's ACTUALLY wood and comes in a 3 different colors it's made by ARC Crafts. You can cut it, print on it and use it with the Lifestyle Crafts dies.  Here I used the wood paper along with one of my Shape and Tape dies to create my "2013" title. 
I'm ready now to "hunker" down and finish up my album. I'll be sure to share it with you when I'm done.
If you're interested in any of the above products, you can get a 20% off discount to the ShopWeR store by using code POLKADOT .  Here are the links to the products used in this post:
Memo Albums Made Easy Cards
12×12 Divided Page Protectors
12×12 Scrapbook Albums
Lifestyle Crafts Tape It Dies
Evolution Cutter