Today I'm going to show you how to make a DIY Christmas Card Holder.  It's a really simple and cute Christmas Card Display idea. Plus it's no-sew and easy to make!  If you like this project you may also like this Christmas Home Tour.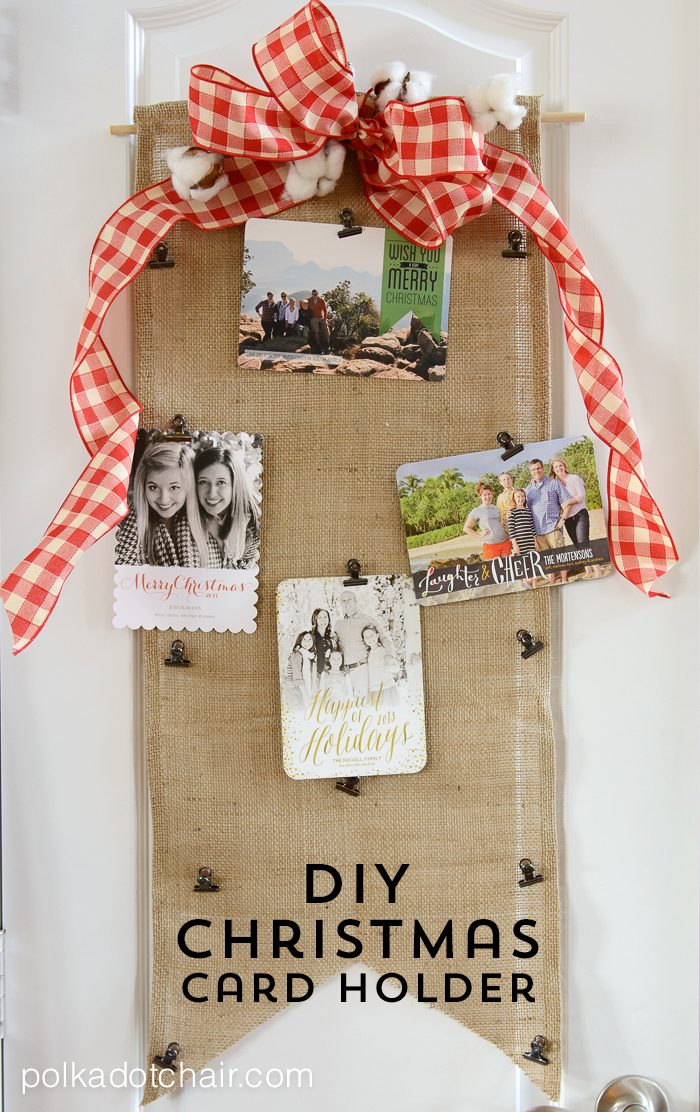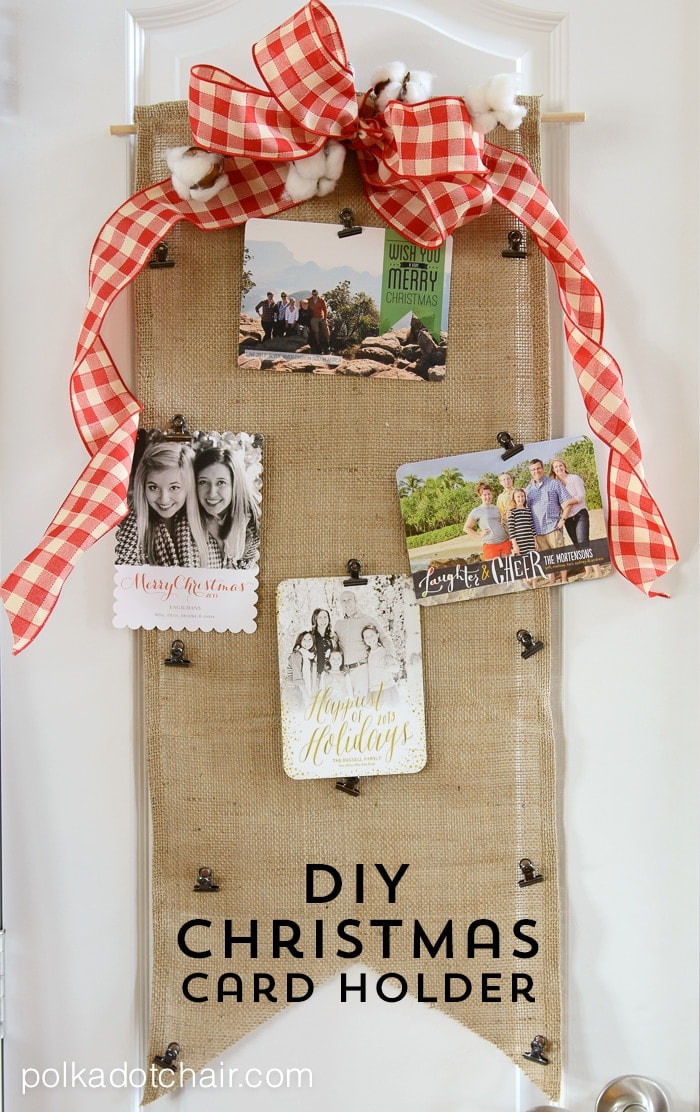 In my opinion, one of the very best things about December is the beautiful holiday cards that show up in the mail all month. Living in an era where actual mail is pretty scarce, receiving that kind of personal correspondence is pretty great.
I also love that most Christmas cards come with family photos. It's so fun to see how all of our friends have changed over the years and see their families grow even though they are far away.
How to Make a DIY Christmas Card Holder:
I've wanted a good way to display my Christmas Cards for a few years now. Usually, we just throw them in a bowl on the kitchen table, but this year I decided that I wanted to create a hanging cards display.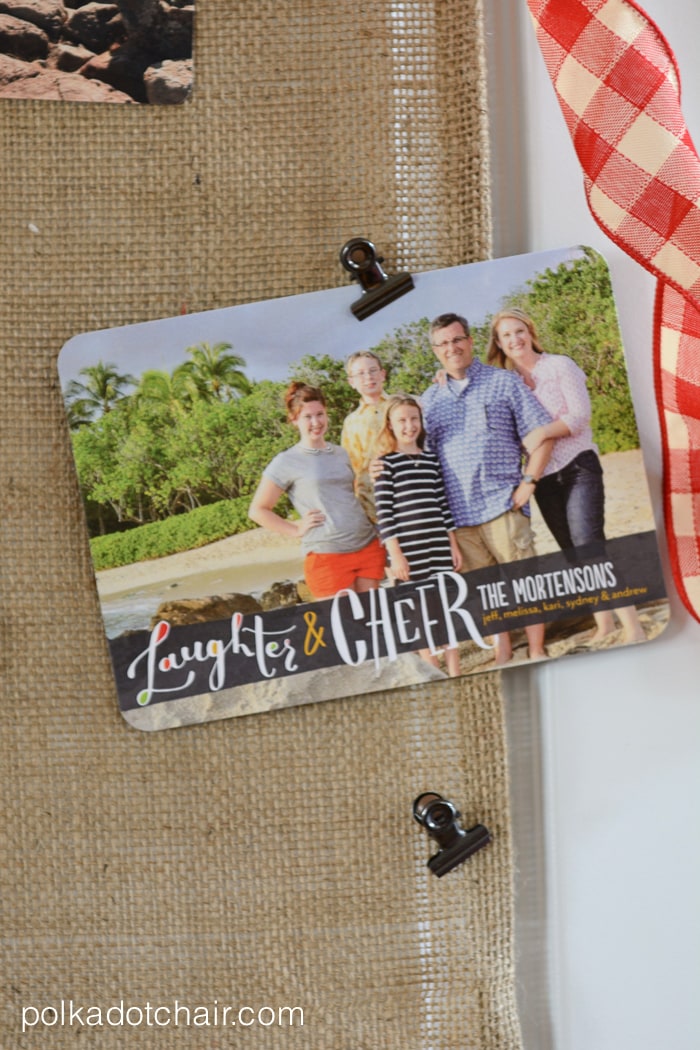 I designed this Christmas Card holder that just hangs on a door. It has clips that can hold and display the cards, and the holiday cards can be moved around as necessary.  My holder is about 3 ft long but you can make one any length you'd like, wouldn't it be cute the entire length of a door?
If you are looking for ideas to display your Christmas and Holiday cards but want something different than this tutorial, you can check out this round-up of 10+ ways to Display Christmas cards.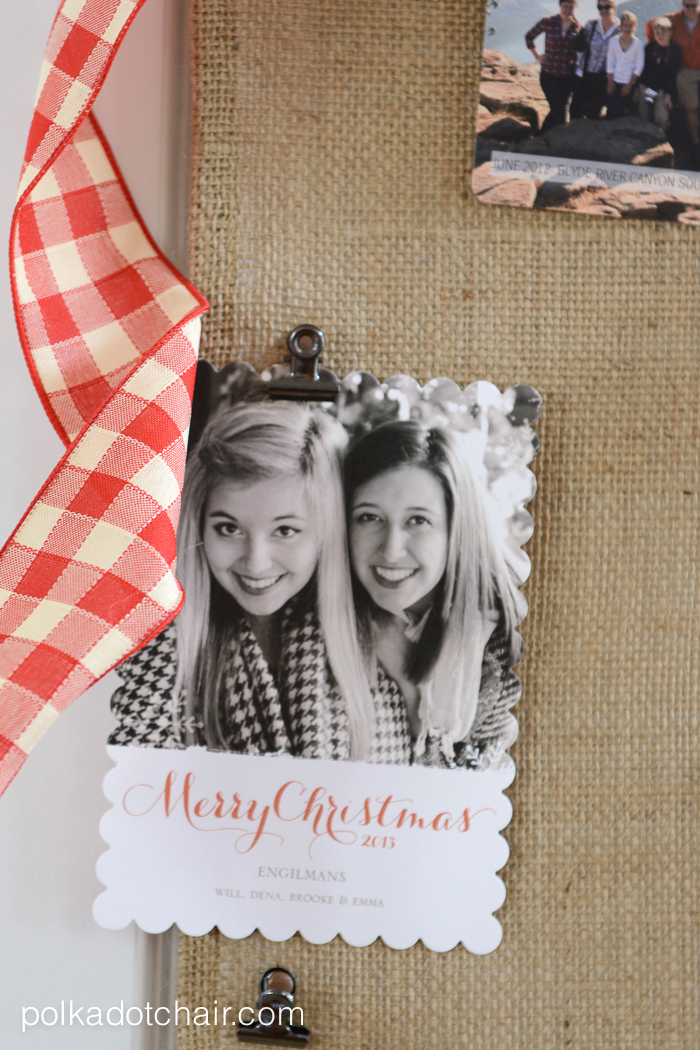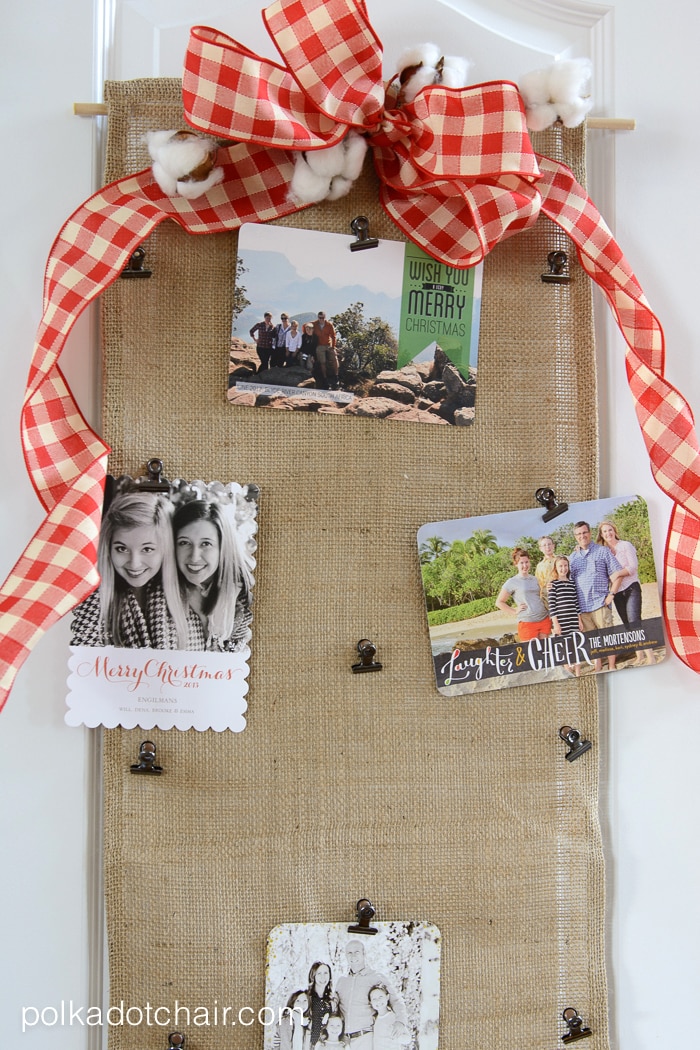 Making one is very simple (it's no-sew) and you can customize it as you like to match your decor.
This project uses a "cheater" method of a burlap table runner to start. It's a great way to save some time and not have to deal with the messy burlap fraying as you work. However, if you can't find a burlap table runner, you can use burlap by the yard and simply tape the edges down on the back.
Supplies Needed for the Christmas Card Holder:
-Small Clips (the ones I used are made by Tim Holtz and are no longer sold. You can get silver ones here)
-Dowel Rod
-Bow/Ribbon/Embellishments
Step One: Make the Ribbon Bow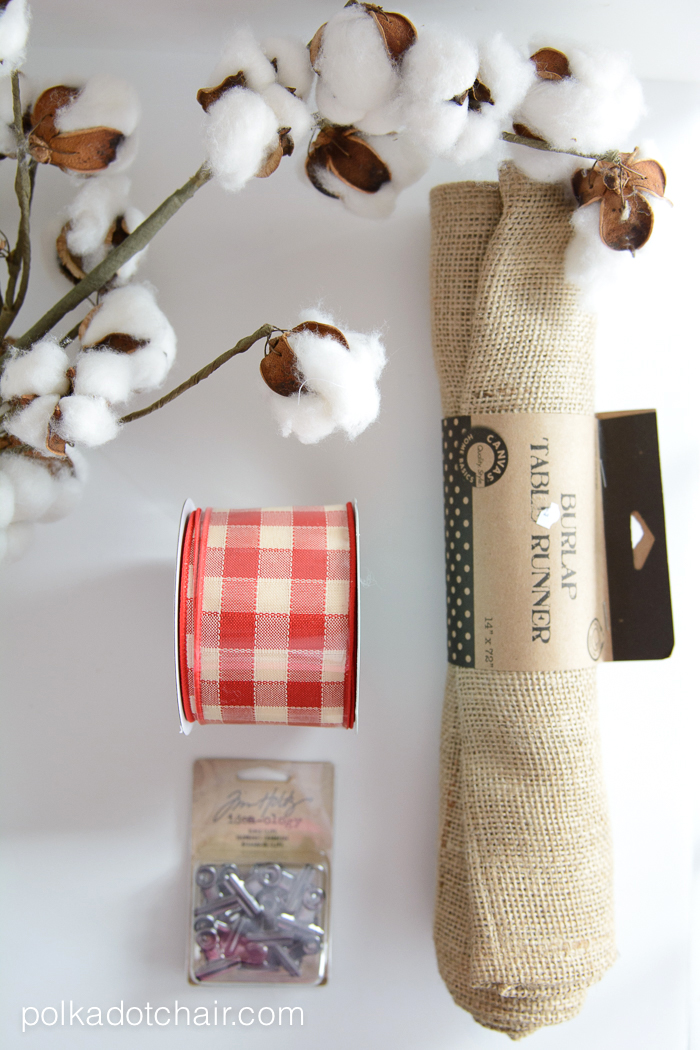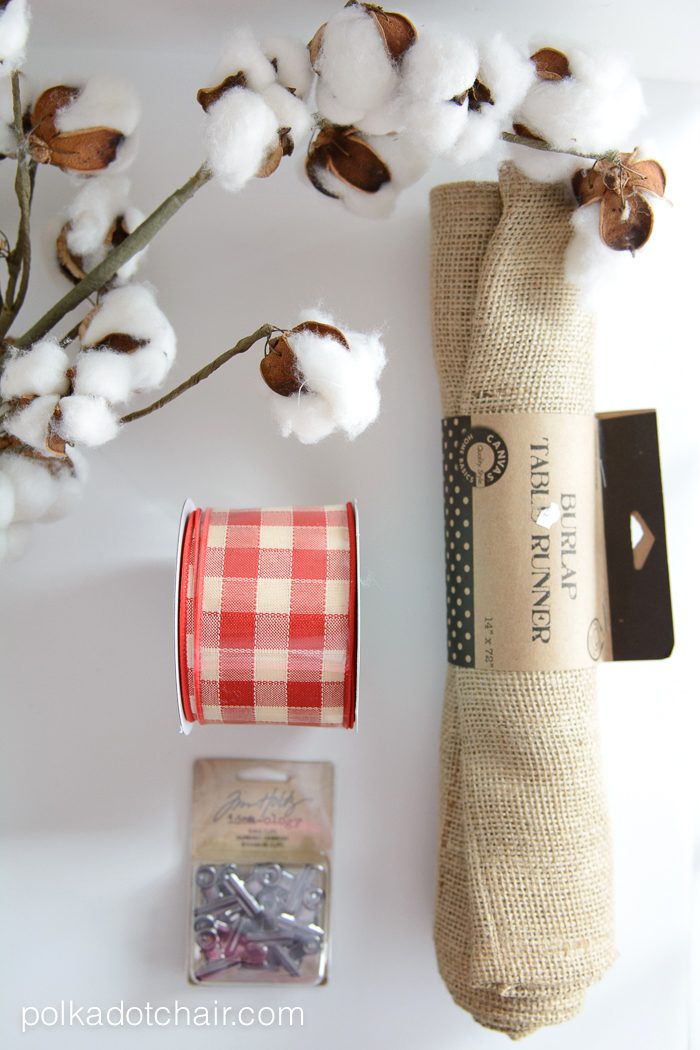 Begin by making your bow.
How to Make a Christmas Bow:
To make the bow don't "tie" it like you normally would. Instead, form loops with the ribbon and secure with a piece of floral wire. Keep making loops until the bow is the size you want (I did 4 loops). You are just going to use 1 piece of floral wire for all the loops.
After you get the bow the way you like, attach some embellishments (in my case cotton, but you could use Holly Sprigs too) using the wire. Do not cut the wire.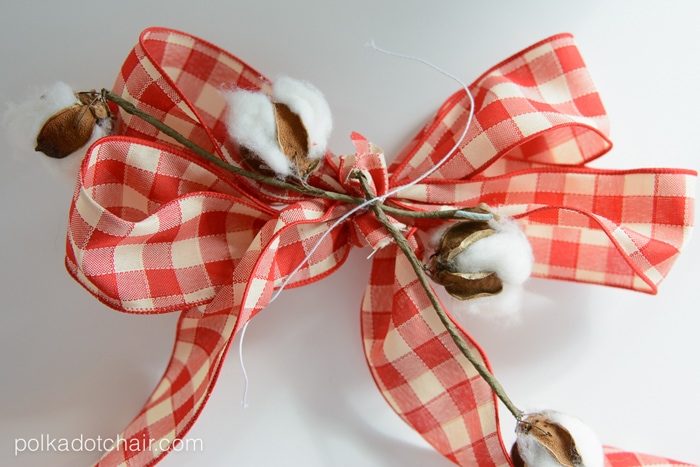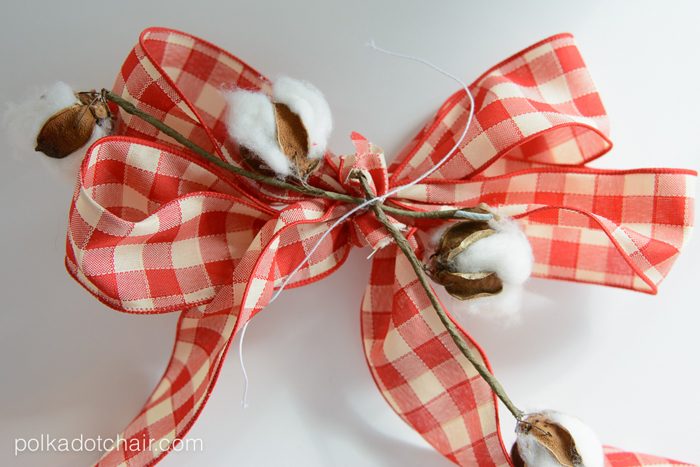 Step Two: Cut the Burlap Table Runner
Cut the burlap table runner in half lengthwise (you can make 2 hangers from one table runner).  Cut a V shape in the side of the runner that is not finished (leave the top as is). Apply fray check along the V you just cut to keep the burlap from unraveling.
Step Three: Add the Dowel Rod
Cut a dowel rod to about 4″ longer than your burlap table runner.
Feed a piece of floral wire through the top of the table runner and attach it to the dowel rod. Attach the bow also in the same way.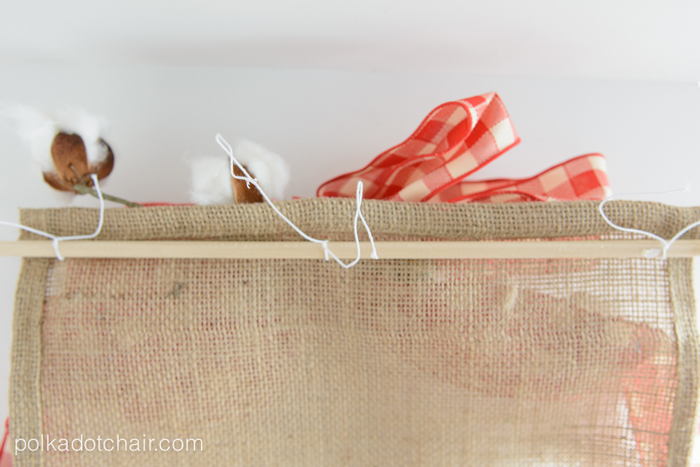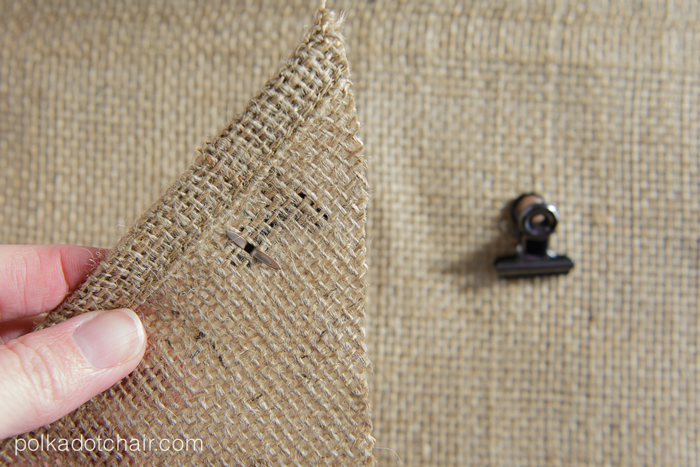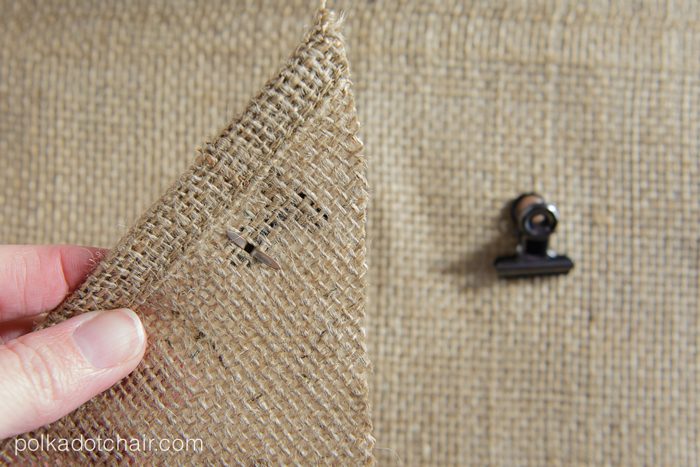 Step Four: Add the Clips
Next place the clips where you like on the hanger. To attach the clips use ¼″ brads. Just feed the brads through the burlap.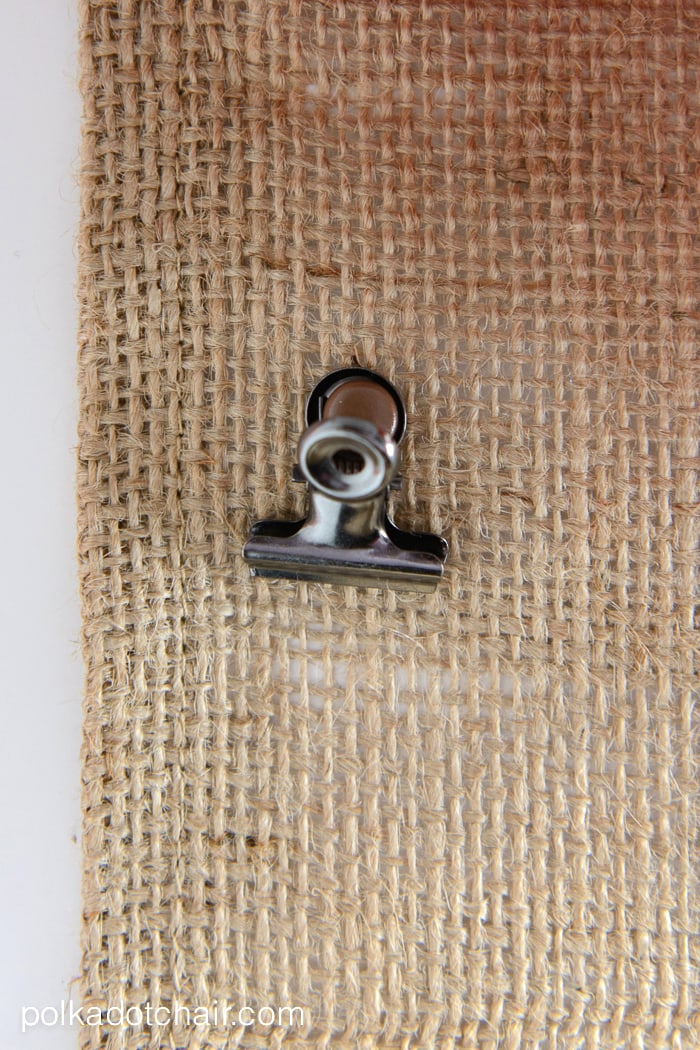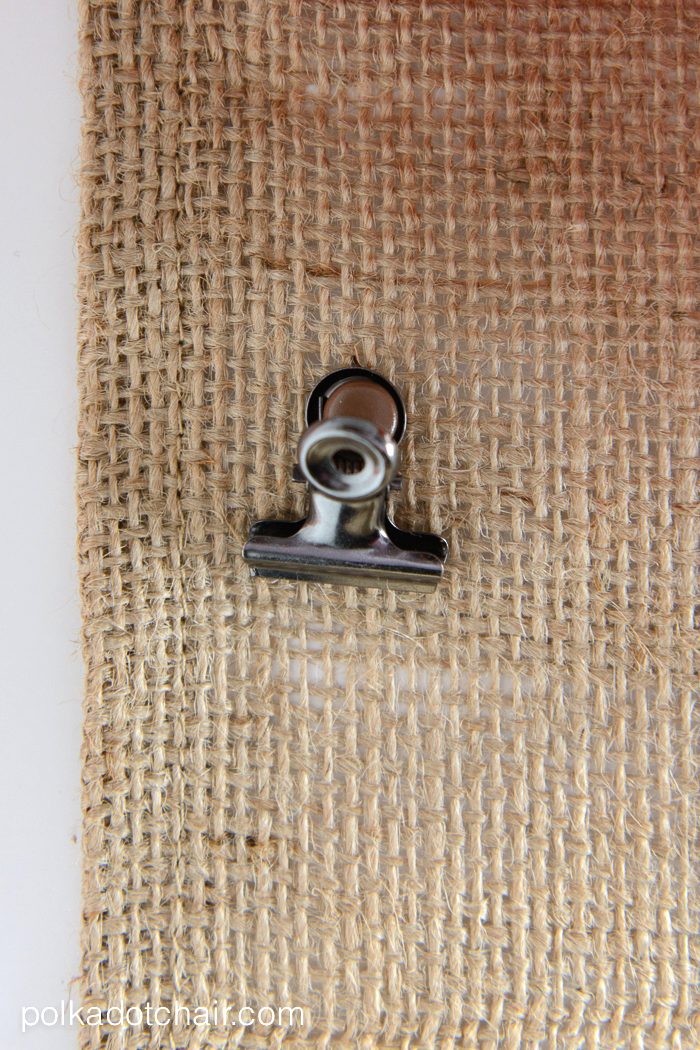 That's it! Now all you need to do is fill it up with pretty Christmas Cards.