I've lived in Kentucky for 15 years until last year I had never been to the Kentucky Derby or the Oaks (more on that later). I was beginning to get a bit perturbed.
I mean what's the fun of living in a new place if you can't go enjoy what it has to offer.  Tickets to the Derby are a bit hard to come by (that's an understatement..) it seems to me you either "know" someone or you pay big bucks to buy them 2nd hand.  I was just patient figuring "someday" we'd get a connection.
The Kentucky Oaks:
Well, I have still to go to the Derby,  but last year (and this) I got to attend the Kentucky Oaks. The Oaks is the race the day before the Derby for the Fillies.  It's sometimes referred to as the "locals" Derby.  Last year and this they have partnered with the Susan G. Komen foundation to have a "pink out" at the Oaks in honor of all those lady horses and to raise some money for the foundation.  (and as you can see, I had on LOTS of PINK!)
We had a great time last year!!! We went with some friends and even though we chose not to bet on the horses & drink the juleps there was plenty to do!!
Speaking of Juleps, here's a photo. Want a little history and a recipe for a nonalcoholic version? Check out Traci's post today!
The horses are the real stars that day. Watching them thunder around the bend towards the finish line is a beautiful site. Truly stunning athletes.  (last year I took my tiny camera, this year I'm taking the good one 🙂
I should drive around with my camera today and get some photos of all the gorgeous Dogwood & Magnolia trees in full bloom, and the horses roaming in the pastures down the street from me… those and the rolling green hills are truly beautiful.
Okay now on to that "infamous" Hot Brown…
What is a Hot Brown you ask???
Well, it's pretty much an open face turkey sandwich with bacon & a cream sauce. Yeah bacon and cream. It's pretty much to die for!  I only make these at Derby time, as they are not super healthy 🙂
It was originated at the Brown Hotel in downtown Louisville. One of these days I'm going to the Brown and order a Hot Brown (one of those bucket list things).
This year I decided to try Bobby Flay's Hot Brown, it's the one he featured on "Throwdown" a couple of years ago, it's not 100% traditional. I LOVED it, my husband a bit more of a traditionalist didn't like the "french toast" aspect.
The recipe is to follow, I did make a few changes:
-Prepared them in individual gratin dishes.
-Cooked the bacon on a cookie sheet in the oven and sprinkled a bit of brown sugar over it (yeah, healthy I know).
-I used smoked pre cooked turkey breast instead of roasting my own. The smoked turkey had a bit of a different flavor, but I liked it!
my gratin dishes, ready to be filled!
Kentucky Hot Brown Recipe: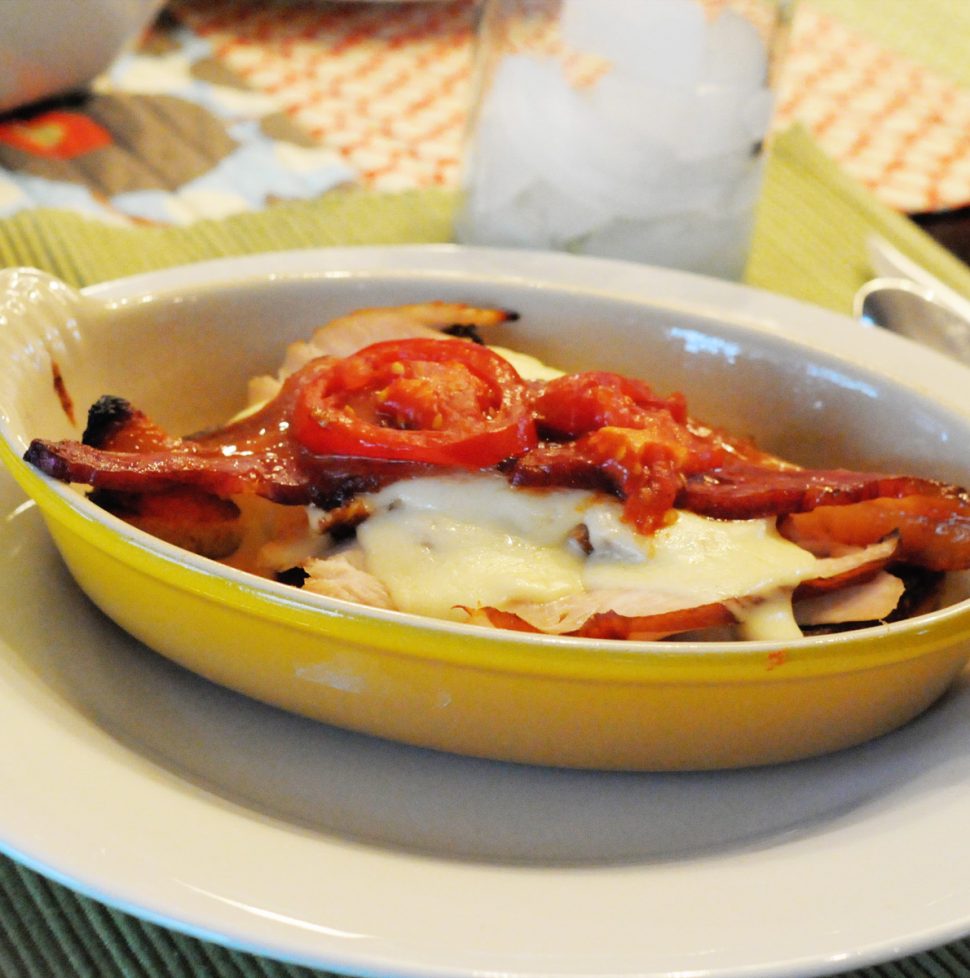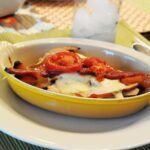 Kentucky Hot Brown Recipe
Ingredients
For the turkey:
1

turkey breast

about 4 to 5 pounds

4

tablespoons

unsalted soft butter

Salt and freshly ground black pepper
For the sauce:
2

tablespoons

unsalted butter

2

tablespoons

all-purpose flour

2 1/2

cups

whole milk

2

cups

grated sharp white Cheddar

1/4

cup

grated Parmesan

Pinch

freshly ground nutmeg

Salt and freshly ground black pepper
For the egg bread:
4

large eggs

1/4

cup

milk

Salt

8

1/2-inch thick slices good day old white bread (recommended: Pullman or Pain de mie)

4

tablespoons

butter

4

tablespoons

vegetable oil
For Assembly:
Roasted turkey breast

sliced into 1/4-inch thick slices

3

ripe beefsteak tomatoes

cut into 1/2-inch thick slices and griddled until slightly charred and just cooked through

1 1/2

cups

grated sharp white Cheddar

1/2

cup

freshly grated Parmesan

16

thick slices slab bacon

cooked until crisp

Finely chopped fresh chives

Finely chopped fresh flat-leaf parsley
Instructions
Rub entire breast with butter and season with salt and pepper. Place in a small roasting pan and roast for 15 minutes. Reduce the heat to 350 degrees F and continue roasting until an instant-read thermometer inserted into the center registers 155 degrees F, about 1 to 1 1/2 hours. Remove from the oven, loosely tent with foil and let rest 10 minutes before slicing.
For the sauce:
Melt butter over medium heat in a medium saucepan. Whisk in the flour and cook for 1 minute. Whisk in the milk, bring to a boil and cook, whisking constantly, until thickened and the flour has cooked out, about 4 to 5 minutes. Whisk in cheese and cook until the cheese has melted. Season with nutmeg and salt and pepper, to taste.
For the egg bread:
Whisk together the eggs, milk and salt in a medium bowl. Dip each slice of bread in the mixture and let sit about 30 seconds, or until completely soaked through.

Heat 2 tablespoons of butter and 2 tablespoons of oil in a large nonstick saute pan over medium-high heat. Cook 4 slices of the bread at a time until golden brown on both sides. Remove and place on a baking sheet. Repeat with the remaining bread.
For assembly:
Preheat broiler. Place the egg bread on a baking sheet, place under the broiler and heat on both sides for 20 seconds just to warm through.

Top each slice of bread with 2 to 3 slices of turkey and 2 slices of tomato, ladle sauce over the top and divide the cheddar cheese and Parmesan over the top of each slice. Place under the broiler and cook until bubbly and the top is golden brown. Remove from the oven, top each slice with 2 slices of bacon and sprinkle each slice with chives and parsley.
Recipe Notes
You can also buy Smoked Turkey or a cooked turkey breast. If you are cooking your own turkey you will need to add to your prep time. 
*recipe courtesy of Food Network.

Print Friendly
0