The fresh peach pie recipe is very simple, and uses only a few ingredients so that the natural freshness of the peaches shines.  It's a bit rustic and messy, but makes for delicious pie.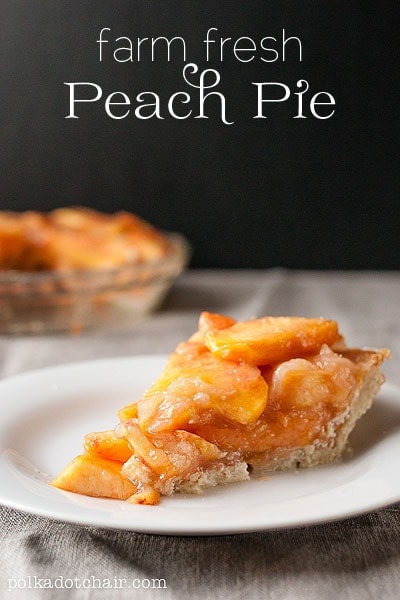 Farm Fresh Peach Pie Recipe:
Growing up I was lucky to have 5 peach trees in my backyard that every summer delivered the most delicious and juicy peaches. My mom, being an amazing cook treated us all summer long to fresh peach pie and ice cream.  It was not until I grew up and moved away that I realized what a treat it was to have those peach trees in our backyard.
This recipe is for my that amazing peach pie that my mom treated us to every summer.  The peaches have started to ripen here in Kentucky and since this recipe works with only FRESH peaches I knew it was time to make some pie.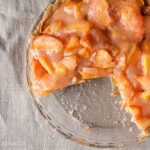 Farm Fresh Peach Pie
Ingredients
10

Ripe Fresh Peaches

Baked Pie Shell

1

C

water

3/4

C

sugar + 2 T Sugar

Divided

3 1/2

T

cornstarch

Cinnamon
Instructions
Peel and slice all 10 peaches. Scoop out 2 cups of the sliced peaches and place in a food processor or blender. Pulse until the peaches are mashed.

Toss the remaining peaches with cinnamon and 2T of sugar.

Boil 1 cup of water in a heavy saucepan. Add the 3/4 C of sugar and cook until clear. Mix the cornstarch with cold water (about 1/4 c) until it's dissolved. Whisk into the sugar mixture on the stove and cook until it thickens. Stir in the blended peaches.

Remove from heat and let it cool a bit.

Spread a bit of the cooked peach mixture onto the bottom of the cooked pie shell.

Spoon the sliced peaches into the pie shell.

Pour the remaining cooked peach mixture over the peaches, making sure to spread it to cover the edges of the pie as this will help prevent browning.

Cool on the countertop. Then place in the fridge for about 4 hrs or overnight to chill.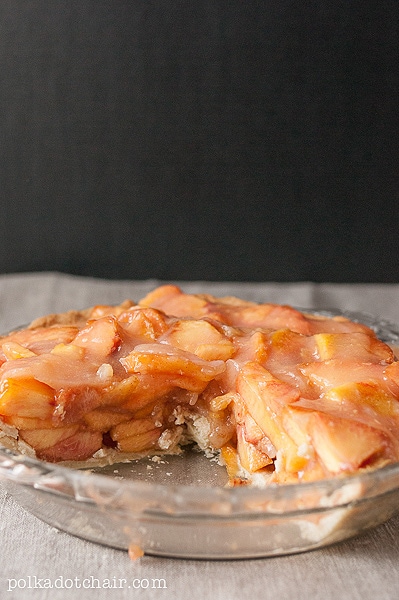 You May Also Like:
Dutch Oven S'mores Cake Recipe

Print Friendly
1