When I was younger my Mom used to make this Hot Milk Cake recipe all the time.  I can see why it's pretty easy to make and is quite delicious with its crunchy coconut caramel topping.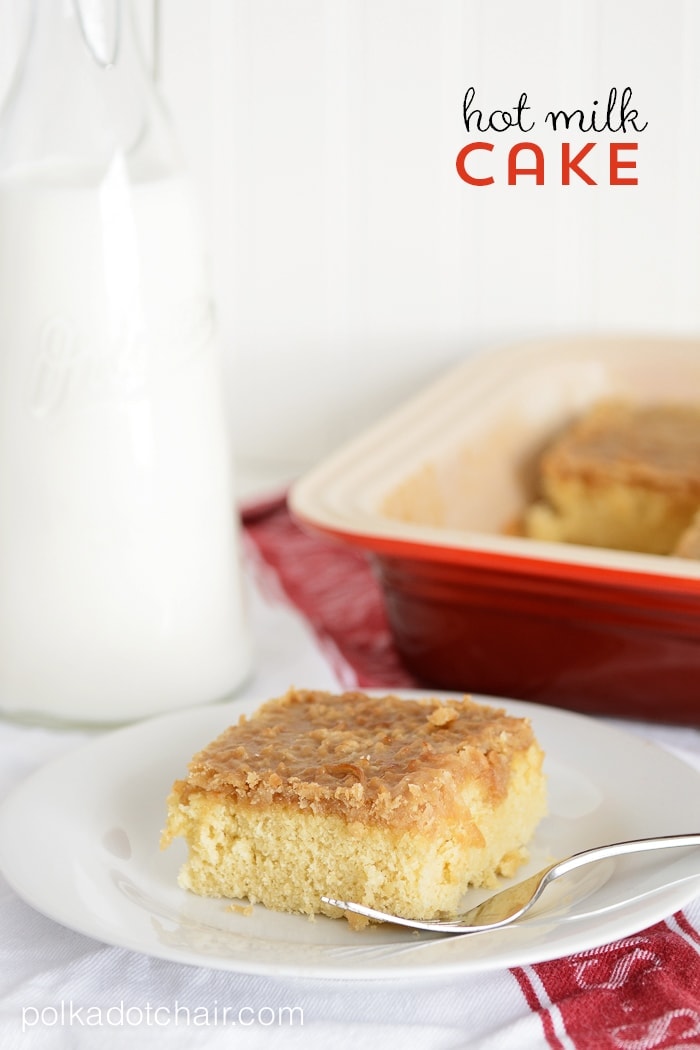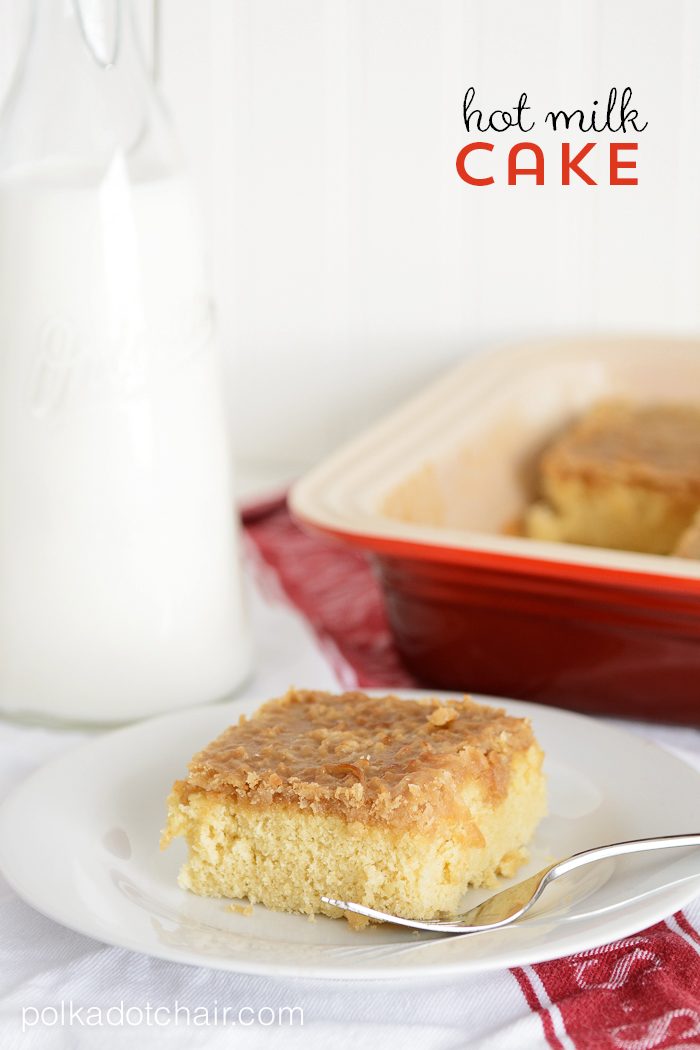 It's been a little while since I've shared one of my family recipes with you guys.   I come from a line of great cooks (my mother and grandmother) so I've got quite a little treasury of old family recipes to pull from. Some date all the way back to the 1940's!
This week in Kentucky we have had 5 days with no school and are going on close to a week of snow and cold. Last night we were close to a 20 below windchill. Apparently, I  moved to Alaska and no one told me. Oh, wait, Alaska is warmer than we are right now!
Anyway, as soon as I realized we were most likely going to be stuck in the house for a week I thought a bit of comfort food was in order.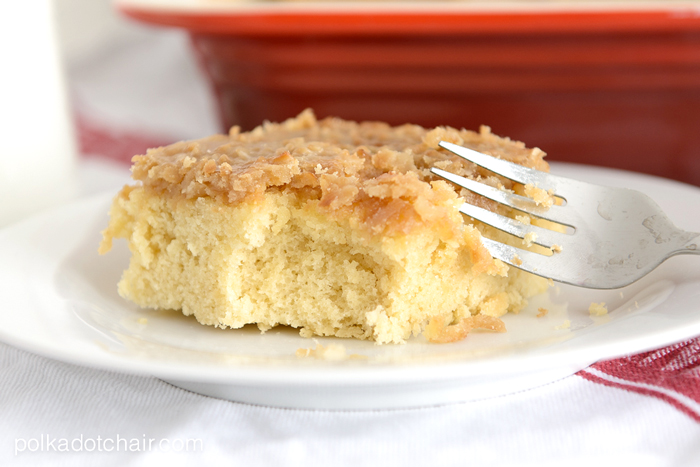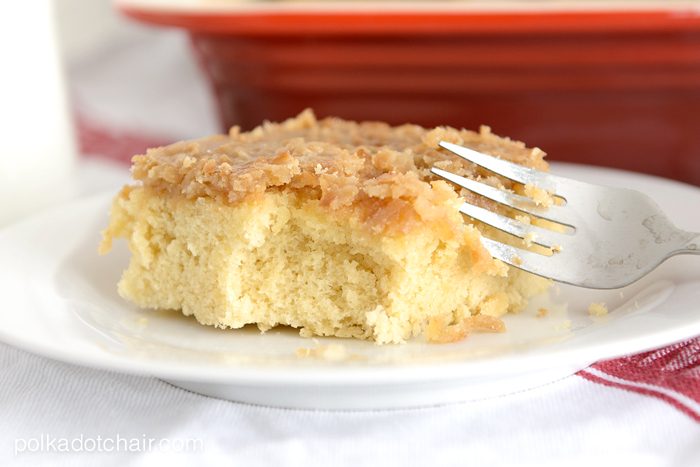 Coconut Hot Milk Cake Recipe:
This is a basic cake recipe (made with hot milk, hence the name) with the addition of a caramel coconut topping (no frosting to mix).
Depending on how you like your cake you can leave the topping recipe as is or you can double it. I doubled it. If you do that just know that it's really really sweet.
I think next time I might leave the sugar and butter measurements the same and double just the coconut.  You can decide which you like if you make the cake.  The single recipe of topping will leave a very thin coating on a cake baked in a 9″ x 13″ pan.
The cake really hit the spot this week. I admit to having more than a few pieces of it while curled up in front of our fireplace listening to the wind howl outside.  I think a few extra trips to the gym will be in order next week.
Here's the recipe.. you should totally make it 🙂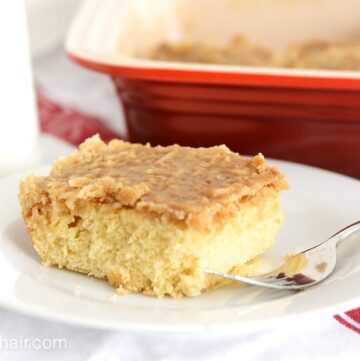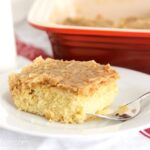 Print Recipe
Hot Milk Cake
This hot milk cake is a yummy version of a simple yellow cake with a coconut caramel topping.
Ingredients
4

Eggs

2

C.

Sugar

2 ¼

C.

Flour

2 ¼

t.

Baking Powder

1

t.

Vanilla

1 ¼

C.

Milk

10

T.

Butter

Topping:

6

T.

Butter

⅔

C.

Brown Sugar

¼

C.

milk

1

C.

Coconut

½

t.

Vanilla
Instructions
In a mixer, beat the eggs until thick. About 5 minutes. Gradually add the sugar. In a separate bowl combine the flour and baking powder. Mix together, and gradually add to the egg mixture. In a saucepan heat, the milk and butter until the butter just melt. Add the buttermilk mixture to the mixer and beat until well combined.

Grease and flour a 9" x 13" cake pan. Pour in batter and bake at 350 for 28-35 minutes. Test for doneness with a toothpick.

To make the topping:

In a small saucepan over medium heat mix the butter, brown sugar and milk until the sugar is dissolved and the mixture is slightly thickened. Remove from heat and stir in the coconut and vanilla. Spread over the cake.

Place the cake on the 2nd highest rack in the oven and turn on the broiler. Broil until the topping is bubbly and browned. Watch it closely or it might burn!

Let the cake cool before eating. Can be stored on the countertop, and tastes even better the next day.
More Favorite Family Recipes:
Family Favorite Chocolate Chip Cookies