Create a unique and colorful centerpiece for your table with our Derby-themed Win, Place, Show Paper Award Rosettes.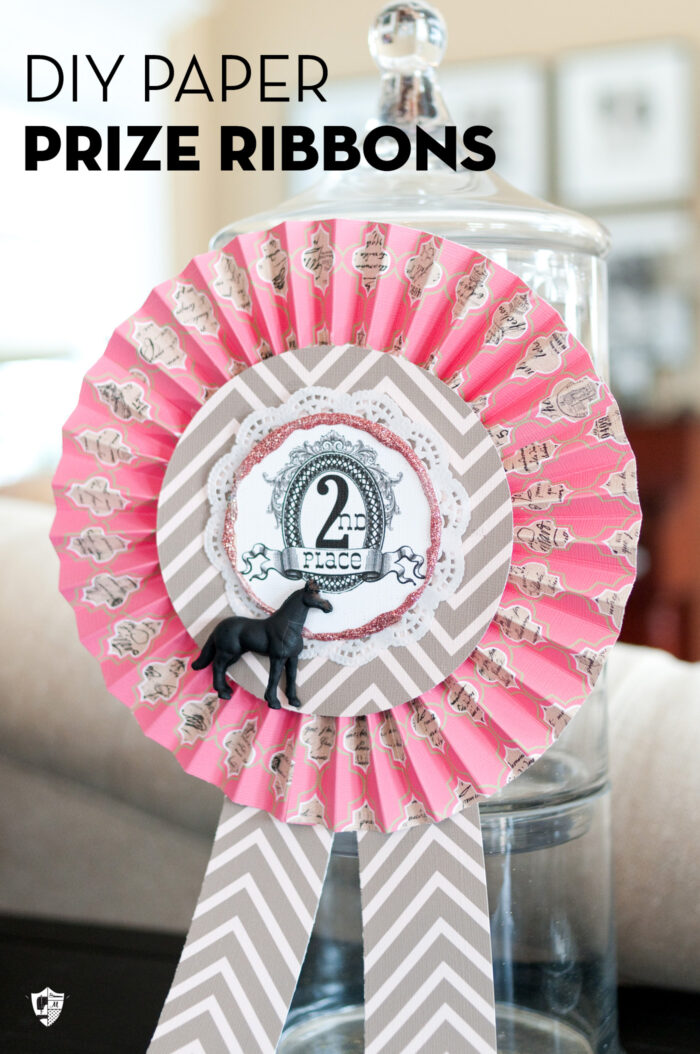 Several years ago I created a set of Win, Place, Show paper award rosettes to add to my Kentucky Derby home decorations. I shared this article at that time, but without detailed instructions for how to make the Derby award rosettes.
Table of Contents
To help out all of you that have asked (and it was A LOT of you!), I have updated this post to include more detailed instructions. If the Kentucky Derby is not your thing, these paper award ribbons would also make great decorations for an Equestrian birthday party or another event.
This would also be a fun Derby classroom project for kids or teens if supervised. The project does use hot glue, so be sure to not allow the kids to do that part of the project.
I've also included a free printable with Win, Place & Show and 1st, 2nd, and 3rd for you. Find out how to get it below.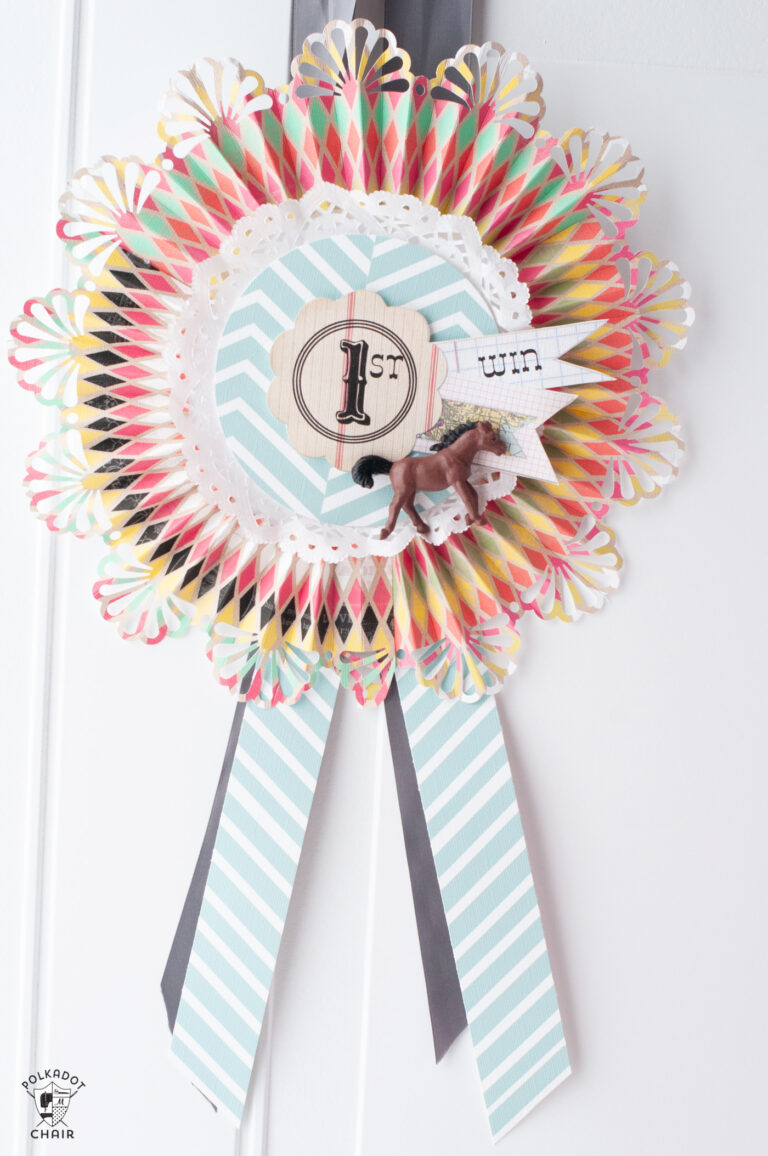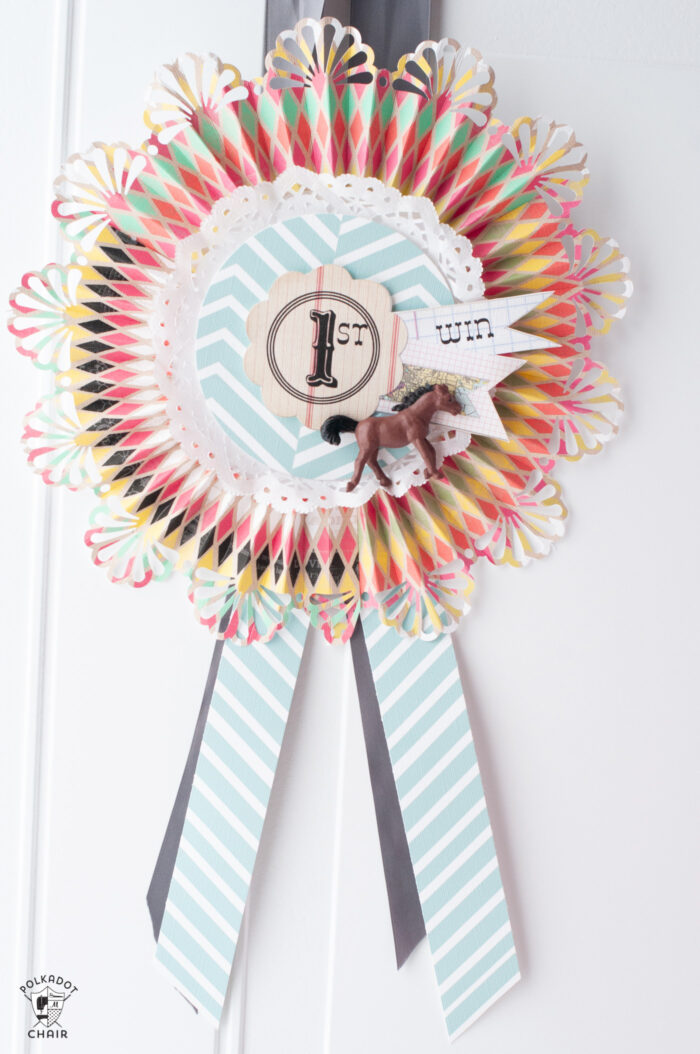 About the Decorations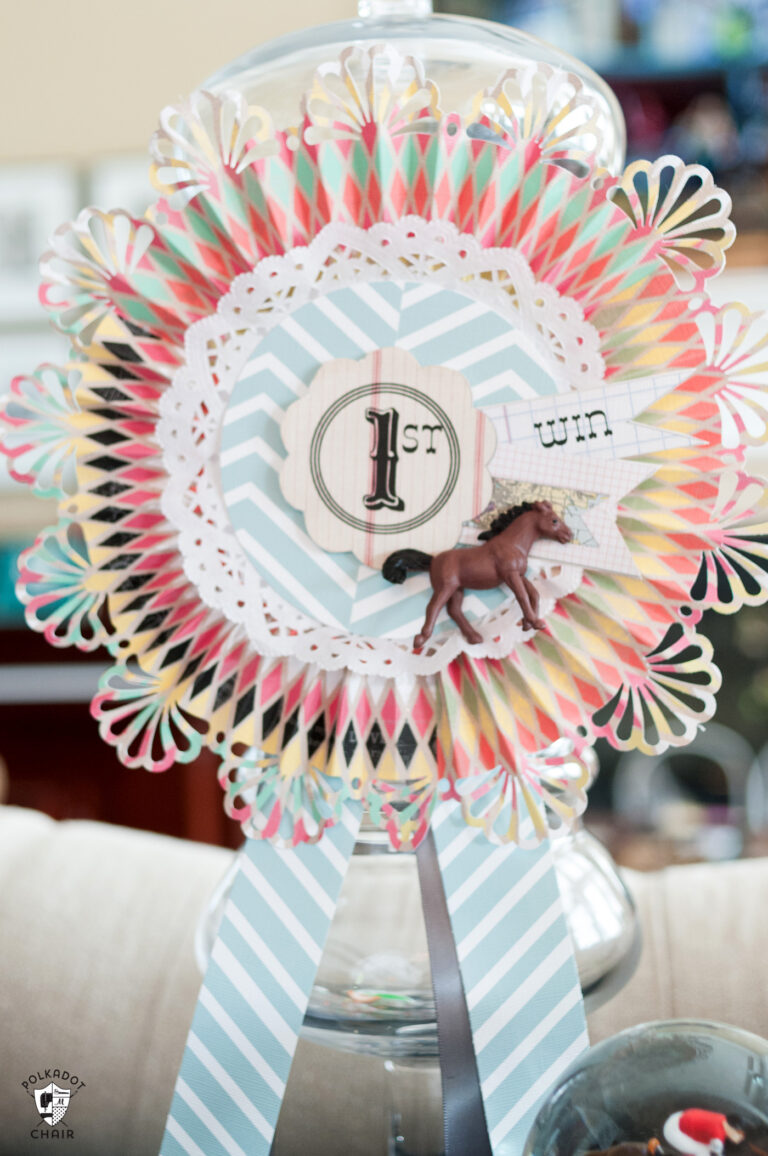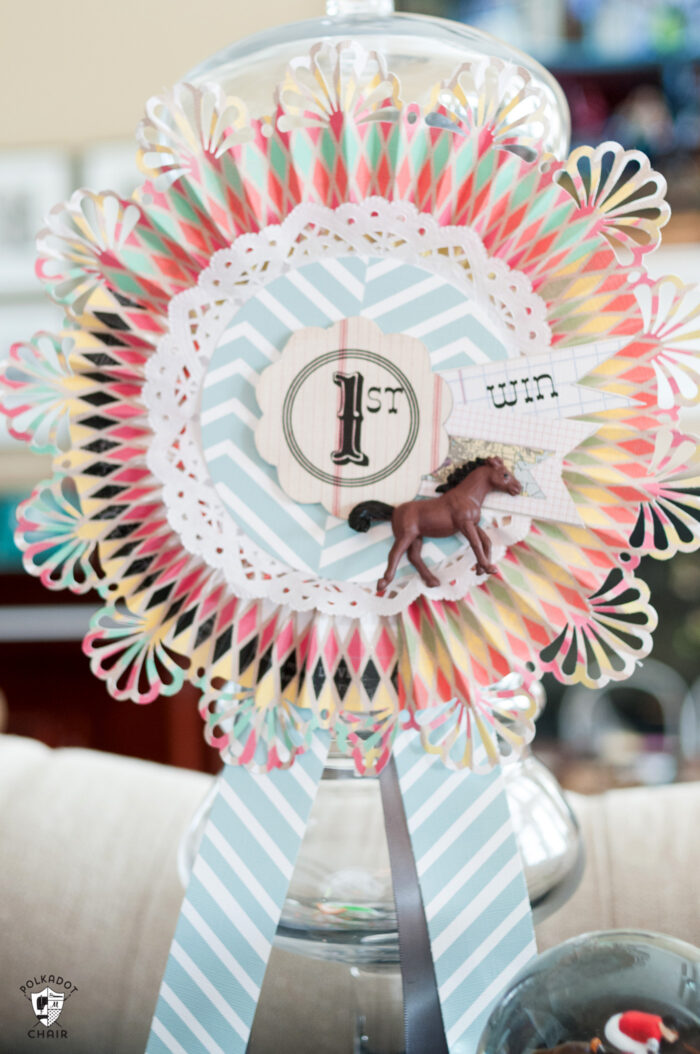 In Horse Racing, the first place horse Wins, the 2nd place horse Places, and the 3rd place horse Shows.  Hence;  Win, Place, Show are terms you hear a lot at the track. These award rosettes can be added to a wreath or hung on a door or on decorative jars as I have done for mine.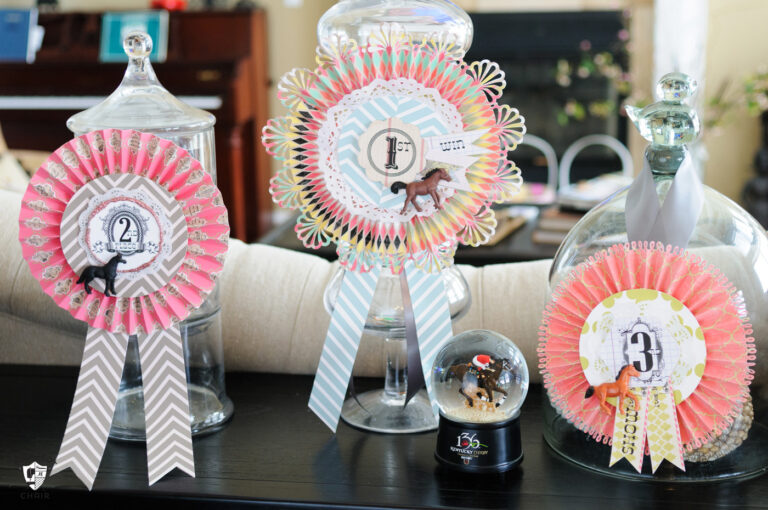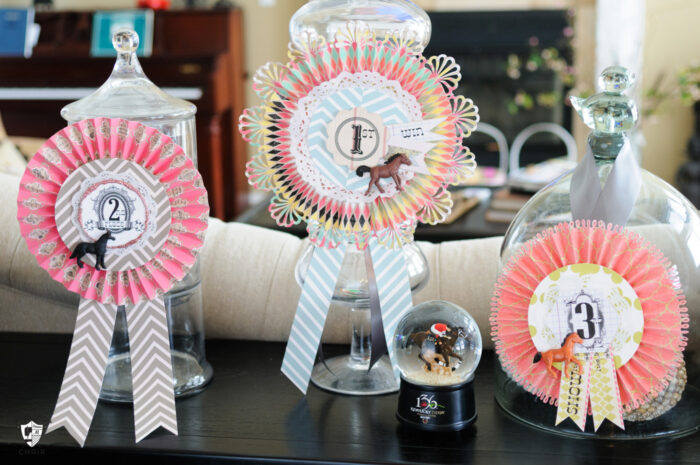 Required Supplies
12×12 Scrapbook Paper; I used Rhonna Designs printable paper (which is not currently available), but you can also use scrapbook paper you purchase at the craft store. If you're stumped while looking for scrapbook paper, I like the Jen Hadfield, Maggie Holmes & Heidi Swapp designed paper.
Hot Glue
Ribbon
Glitter
Free Printable Win, Place & Show and 1st, 2nd & 3rd paper. (Find out how to get the printable below).
How to Get the Printable
Fill out this form and we will email you the printable.
Instructions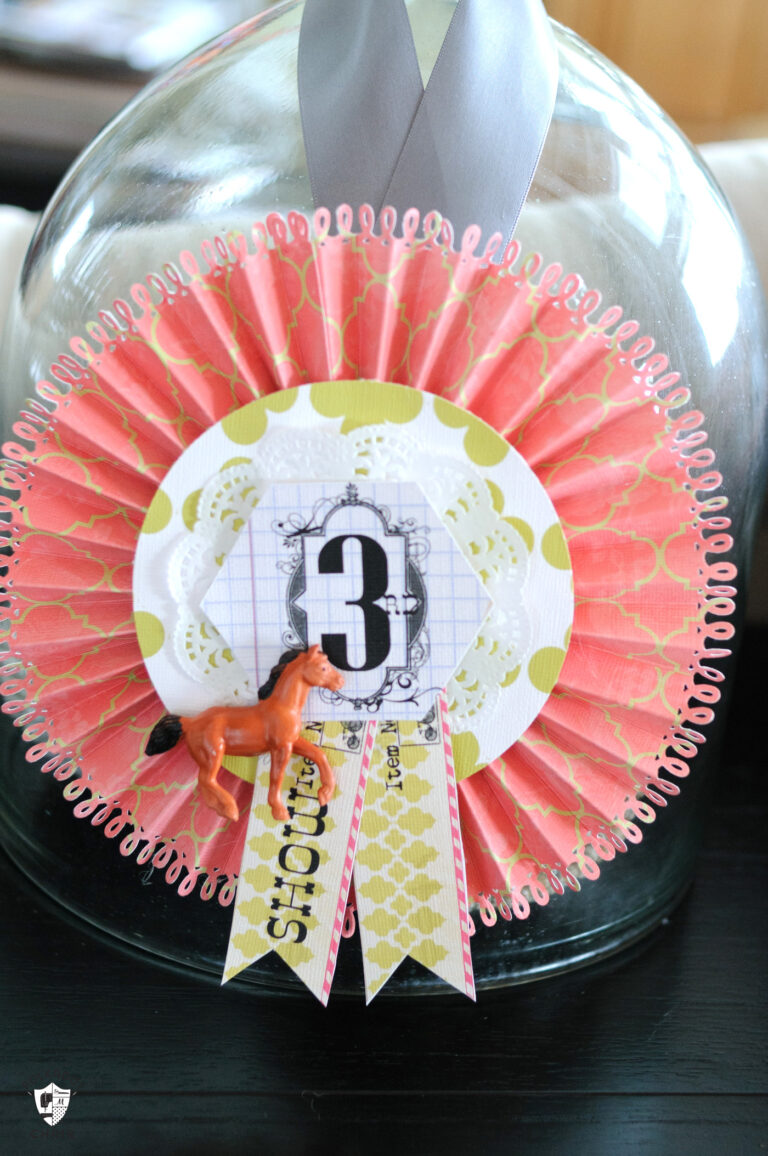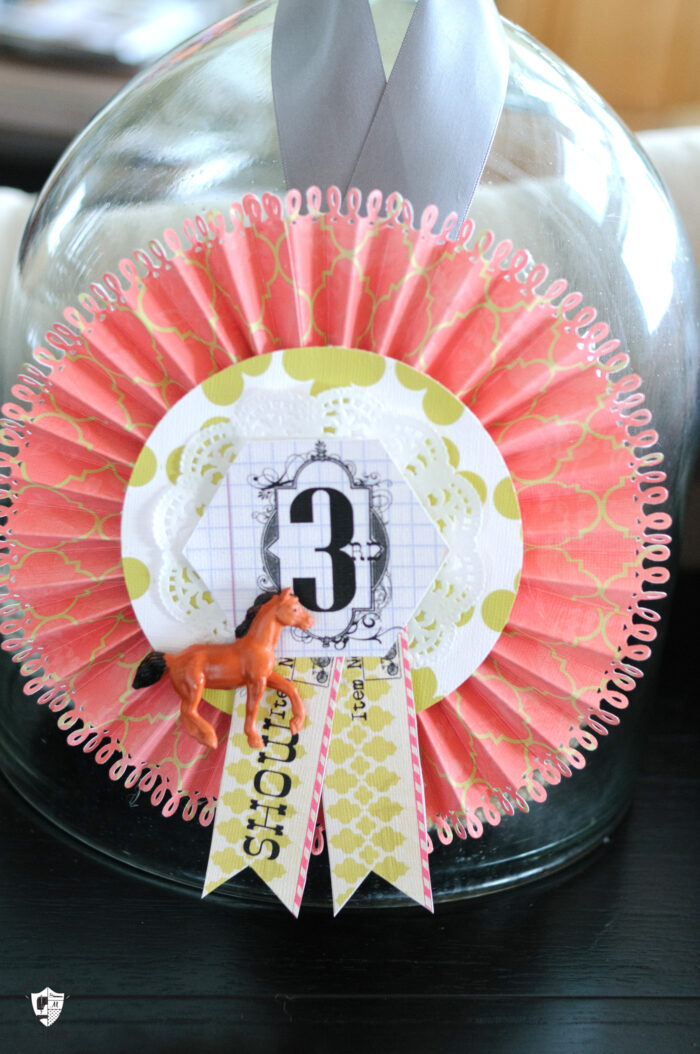 Step One: Create Paper Award Rosettes
Create simple paper prize ribbons using three 12″ wide scrapbook paper strips. We have a detailed tutorial on our site that teaches you how to make simple award ribbons.
You'll need 3 strips of paper to create the largest rosette. If you want a smaller rosette use two strips of paper.
Create the rosettes using various widths of paper strips. I recommend 2″, 3″ & 4″ wide strips. You may need to experiment a bit with your paper and your paper punches before you get the look you want.
I also recommend using a Scoring board for this step and scoring your lines ½″ apart.
On some of the rosettes, use a paper punch to add a decorative edge to the ribbons. You need to punch the decorative edge before you fold the paper.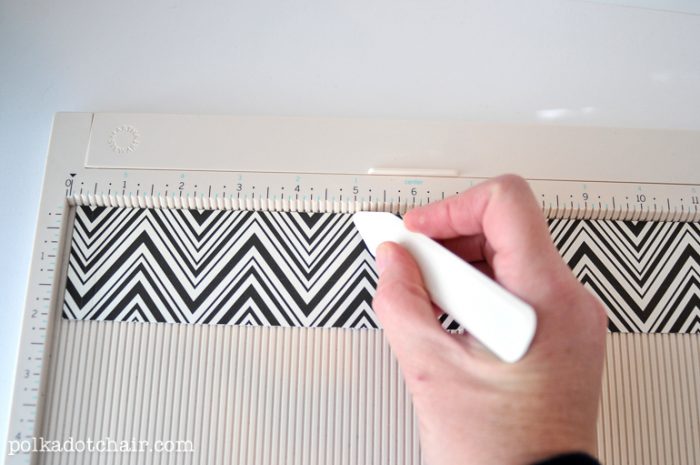 Step Two: Decorate the Rosettes
Print out the 1st, 2nd, and 3rd and win place show images from the printable. For a bit of extra detail, print them on patterned cardstock. To do this you'll first need to trim your cardstock down to 8 ½″ x 11″ to fit in your printer.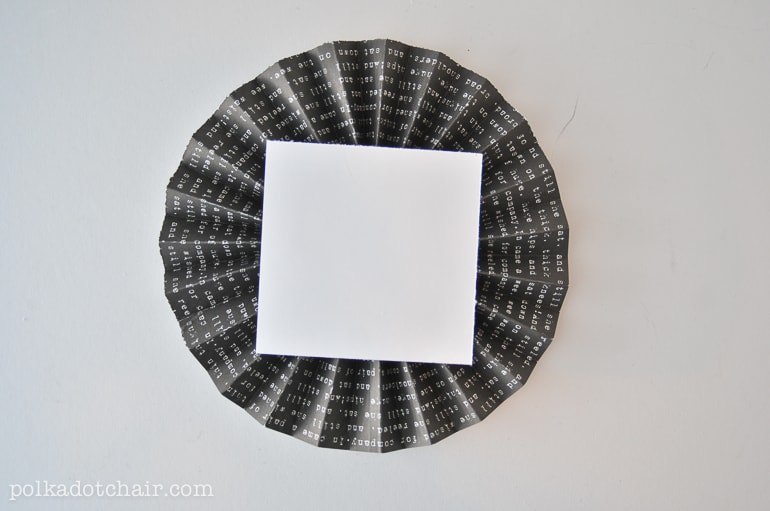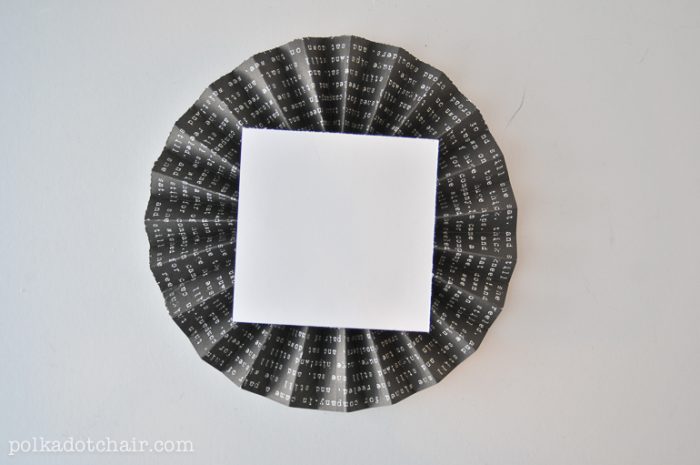 (add a square of cardstock to the back of the rosette to secure it in place).
Cut out the circles from paper for the center of the ribbons. If the included printable circle is not large enough to cover the center of the rosette, layer it with a larger circle cut from plain cardstock or a round paper doily.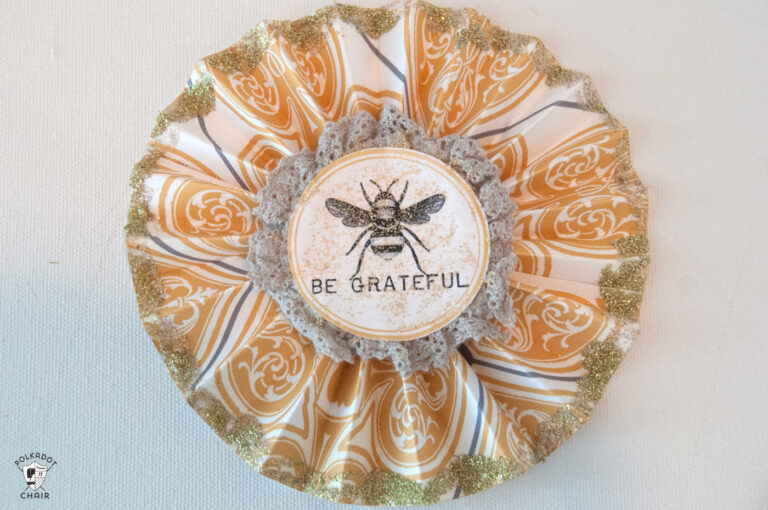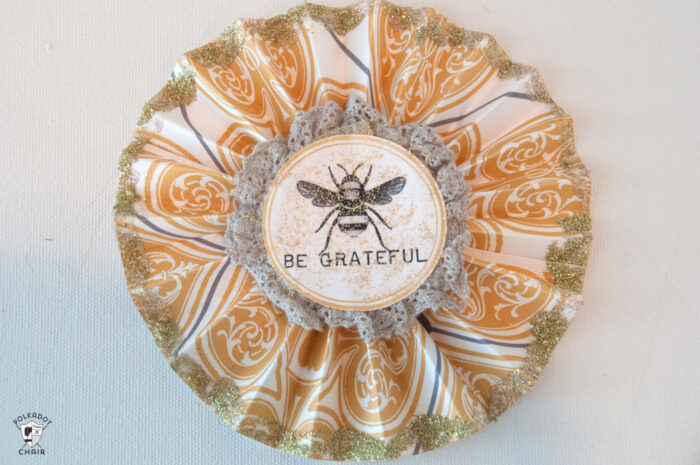 (an example of a rosette with glitter added, this particular rosette was created for our book page wreath)
Embellish with small plastic horses, glitter & ribbon. For the tails of the award ribbons, I used a combination of cut strips of scrapbook paper and 1″ wide silk ribbon.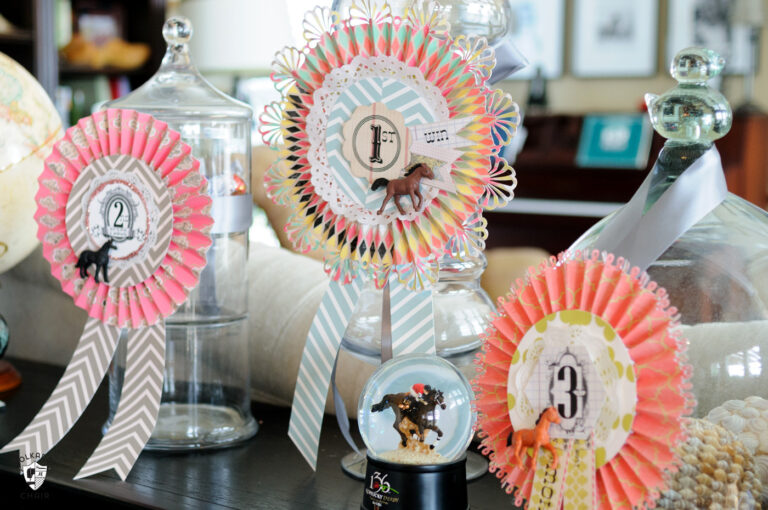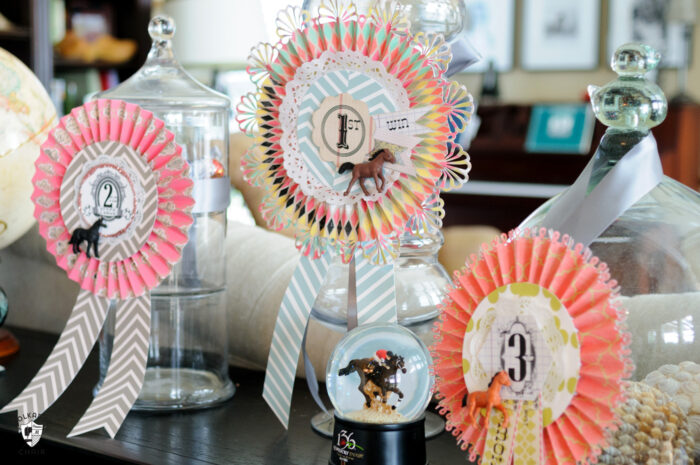 Step Three: Display
Using hot glue, attach a ribbon to the back of the rosette which will allow you to hang it on a jar or a door.
If you'd like to attach your rosette to a wreath, you can do so with hot glue. If you want the rosette to be removable, I recommend gluing a bit of floral wire to the back of the rosette and using the wire to attach it to the wreath.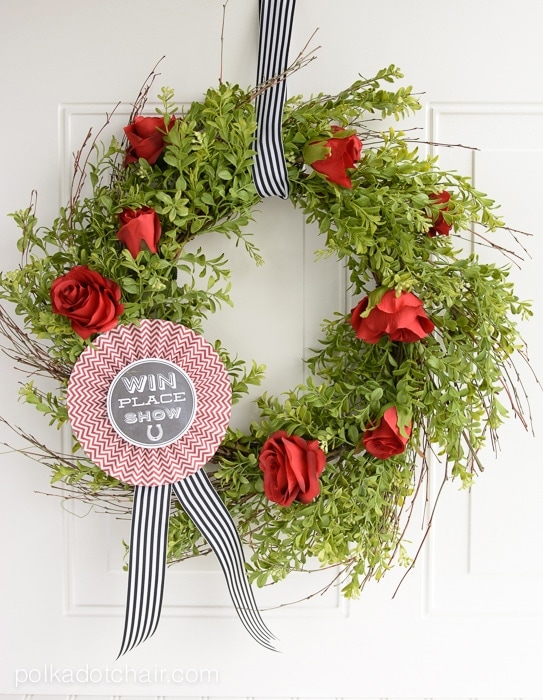 (rosette attached to a simple wreath)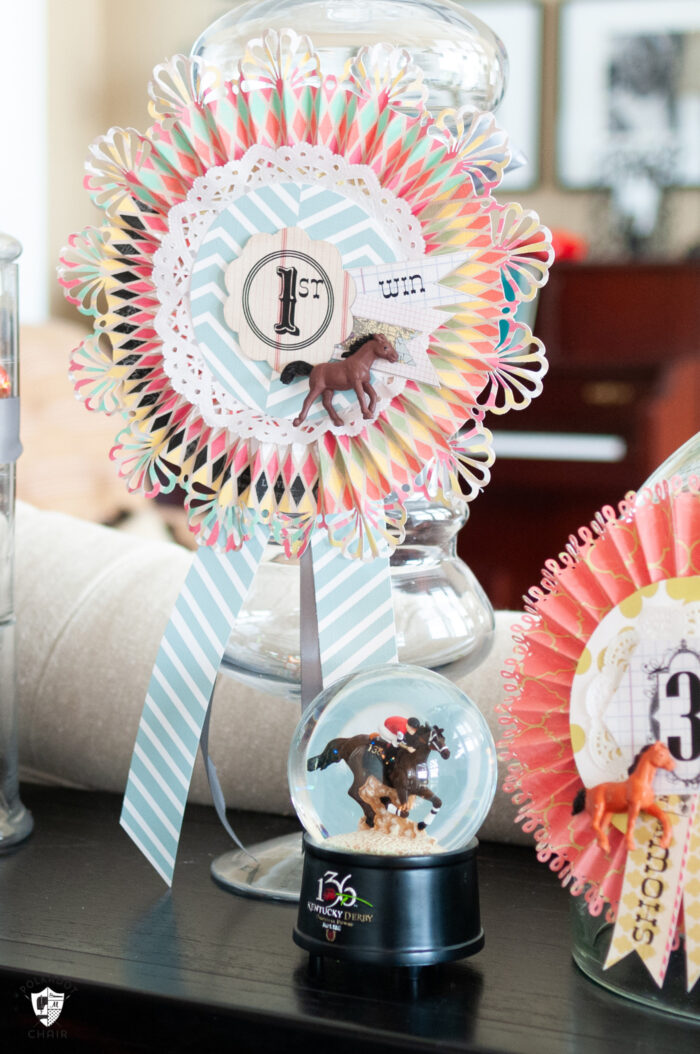 You May Also Like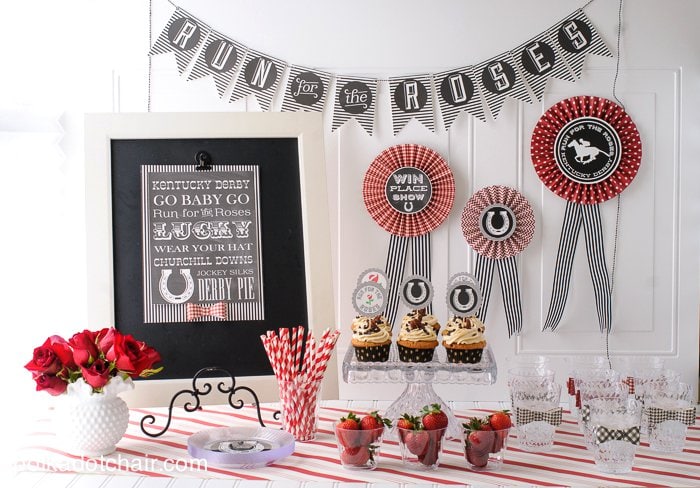 More Kentucky Derby Party Ideas, including some really Fun FREE PRINTABLES!