Please welcome Linsday who is sharing a tutorial for a Baby Double-Sided Changing Travel Mat made with Laminated Fabrics.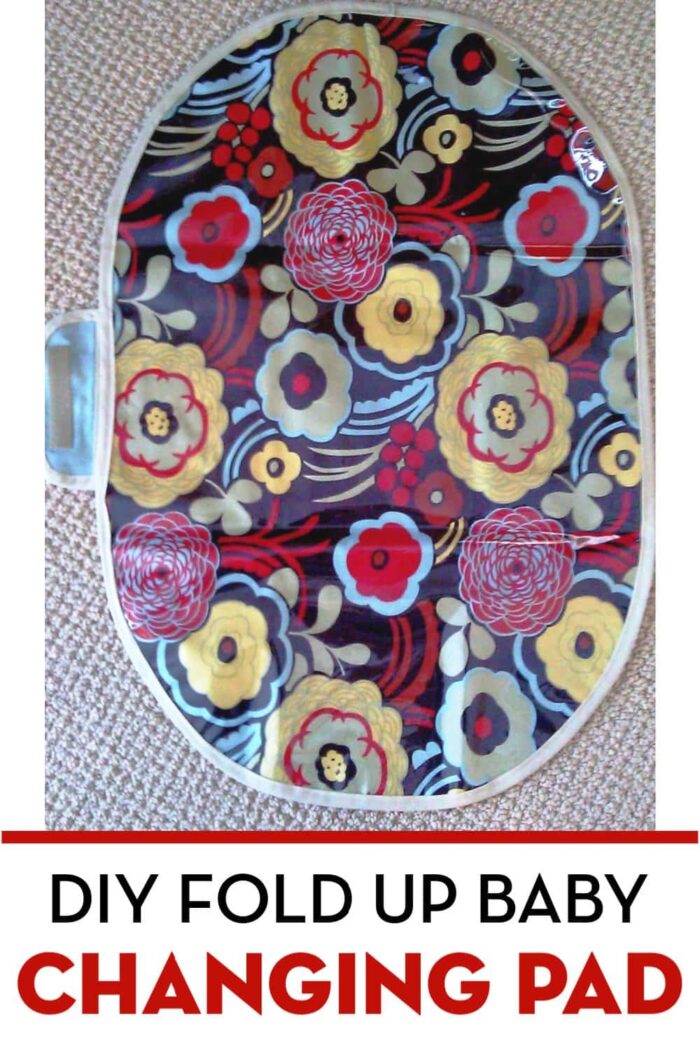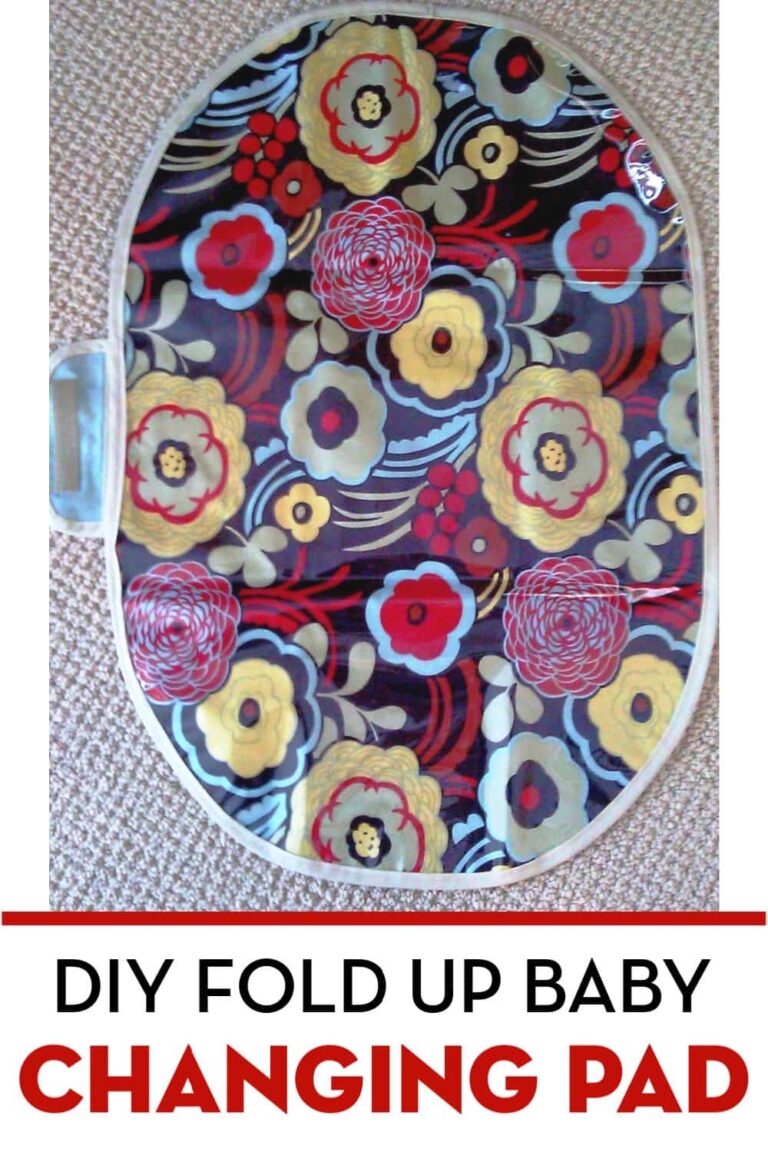 I'm Lindsay, and I blog over at Lindsay Sews and Craft Buds. I'm so excited that Melissa has asked me to share this tutorial for readers of The Polkadot Chair. I hope it gets you all in the mood for a little travel and exploring (even if you have little ones in tow)
Over MLK weekend, I flew to Minneapolis to visit Katie, my BFF from college. Katie is basically a rockstar of a mom. Not only does she have two kids in diapers, but she was getting ready to take them on a 9-hour flight across the Pacific. How does she do it?
Baby Travel Tip:
Katie says she packages separate Ziploc bags with everything she will need to feed her little ones, including food, a spoon and a wet wipe. That way, she can reach down with one hand and just get everything she needs, instead of digging in the carry-on. Dirty spoons and wipes just go back in the baggie, to be cleaned up later. Or better yet, use a plastic spoon!
Snack time supplies in individual bags make traveling with tots more manageable. Reach down and grab with your free hand, and you've got everything you need
Tutorial: Double-sided Vinyl Changing Mat
Katie wanted a vinyl changing mat that wasn't so bulky in her purse. A frequent traveler, she also wanted something that she could pull out in a public restroom and not worry about getting the fabric dirty on the backside, like most cute changing pads are prone to.
This is what we came up with!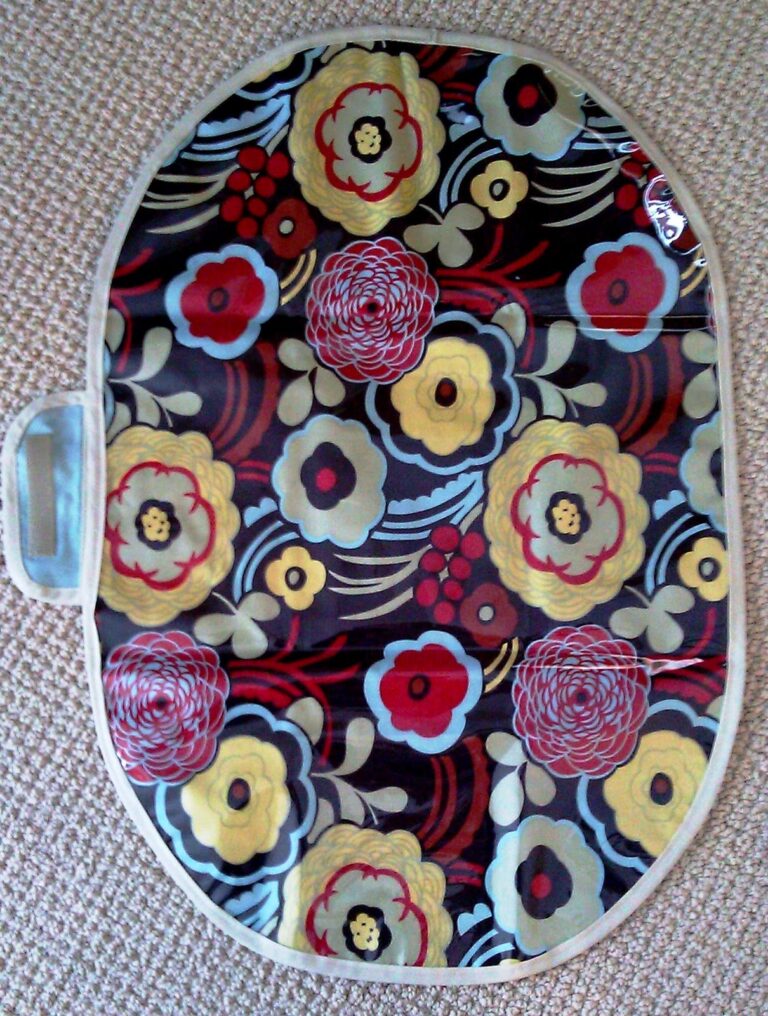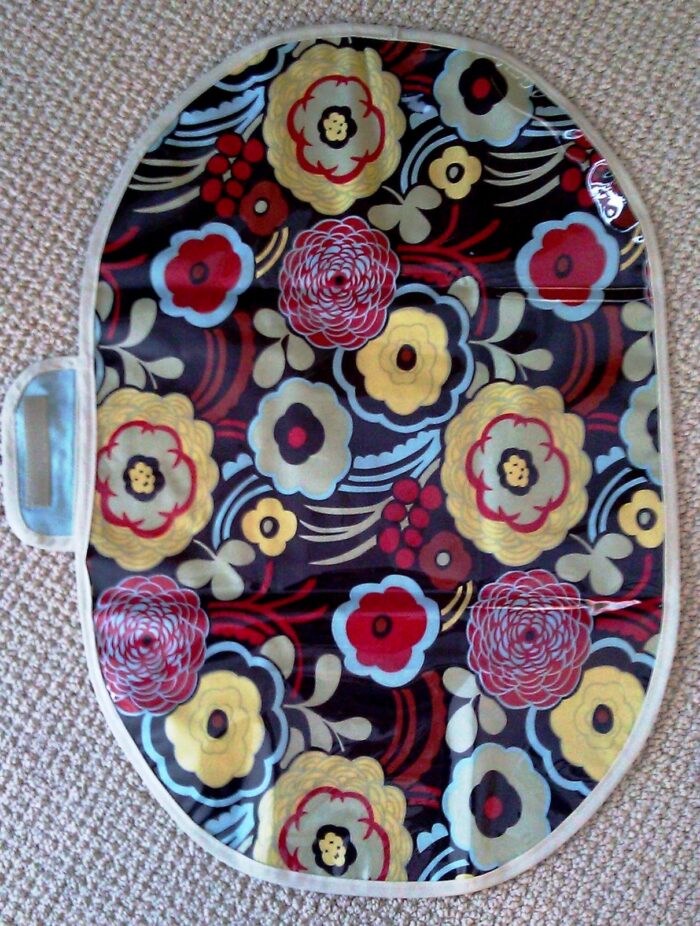 Want to make your own?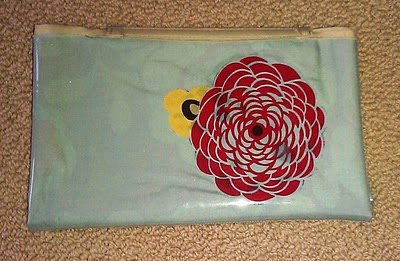 Fold Up Baby Changing Mat Supplies
½ yard patterned quilting fabric
½ yard coordinating solid fabric
1 yard 12-gauge vinyl from the craft store, or 1 heavy-duty shower curtain liner (clear). (When buying vinyl, measure the length of the roll to make sure two changing mats will fit. We bought 1.6 yards for two changing pads.)
Heavy-duty sewing needle
Coordinating thread
Velcro strip
1 pack (3 yards) double-fold quilt binding
Finished project size: Approximately 24″ x 16″ inches unfolded, 9.5″ x 7″ folded
Step 1:
We traced the shape of her existing diaper mat and borrowed the fold lines, making a paper bag pattern. (If you don't have a model to copy, draw a rectangle that's 2 feet long and use a dinner plate to trace rounded corners.)
Step 2:
Cut the oval shape once each from print and solid fabrics. Cut two ovals from vinyl, to make front and back panels. Use scraps of all materials to fashion a rounded handle, about 5 inches by 3 inches.
Step 3:
Play with your paper pattern, spacing the fold lines the way you want. You will later stitch along these lines on solid (light blue) layer to make the mat easier to fold. With your pattern piece taller than it is long:
Fold top edge ⅔ down
Fold bottom to overlap top
Fold left edge ⅔ over
Fold right piece to overlaps left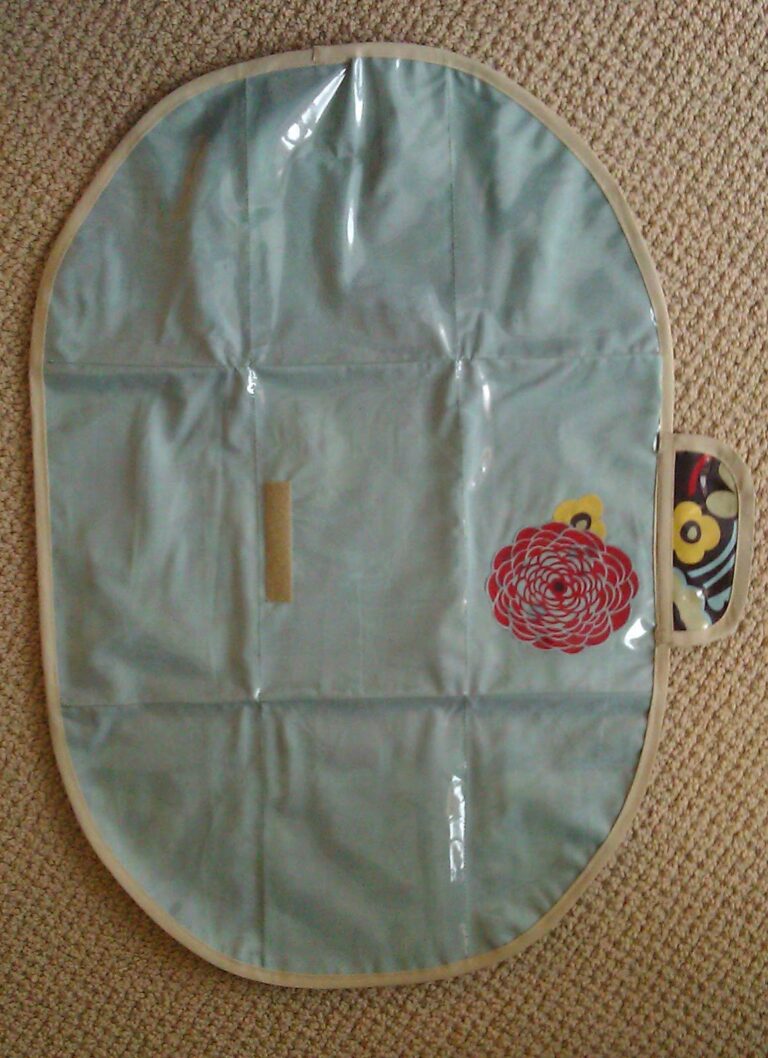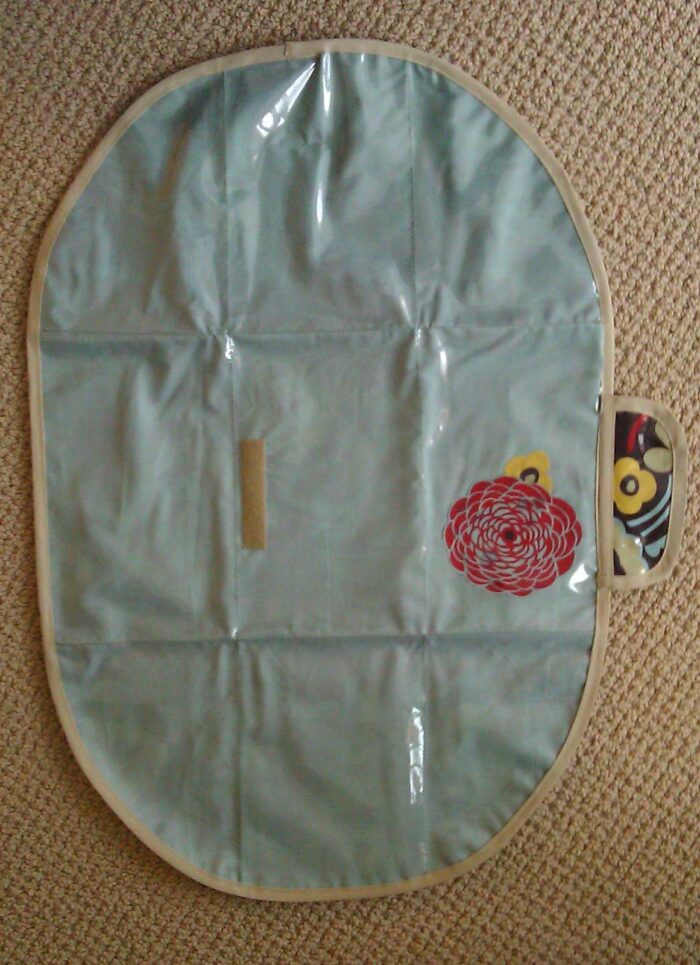 Step 4: Layer one piece of solid fabric and one piece of vinyl. This will show on the outside of your folded mat (our outside is light blue). Lay the paper pattern on top of fabric/vinyl sandwich, and repeat the same fold lines. Mark fold lines with masking tape and stitch fabric and vinyl together along those lines.
Step 5: Layer your materials in this order, to make a "materials sandwich":
Bottom: vinyl stitched to solid fabric, with fabric facing up
Middle: patterned fabric (design face up)
Top: other pieces of vinyl
Step 6: With your materials sandwich, practice using the fold lines you sewed earlier and determine where you want your outer velcro to go. Stitch velcro to vinyl/solid fabric layer only. Velcro will be positioned on the center square (see photo, above) of the solid side of your changing mat. The other velcro piece will attach to the flap, which is cut out but not yet sewn.
Step 7: With one side of velcro now attached, sew binding all the way around the quilt sandwich, to create this: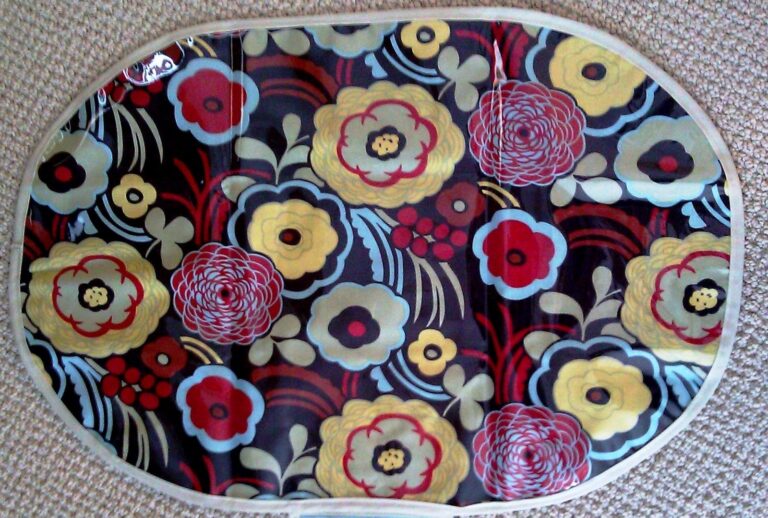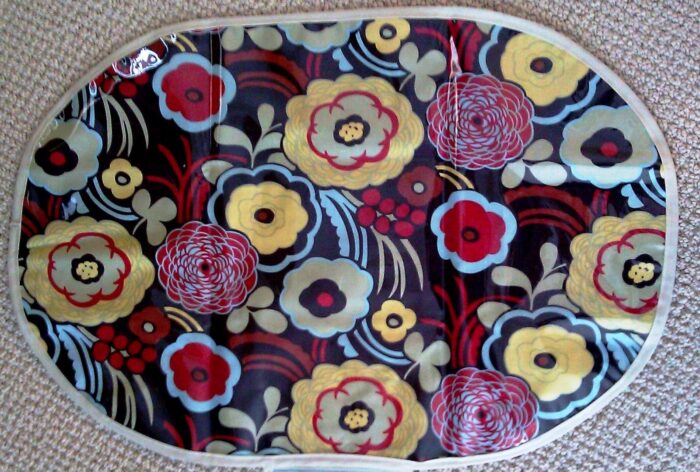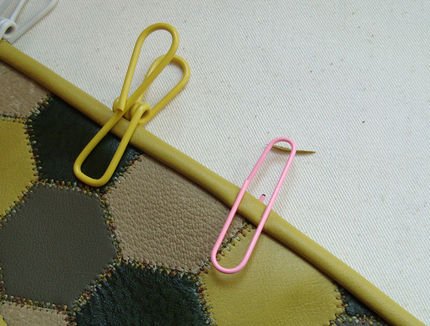 Tip: I used paperclips to hold the layers together while I attached the binding. This is a great way to keep everything smooth when your fingers can't get that close. Two large paperclips seem to be the perfect tools for dragging along an inch at a time to smooth the binding and secure the layers.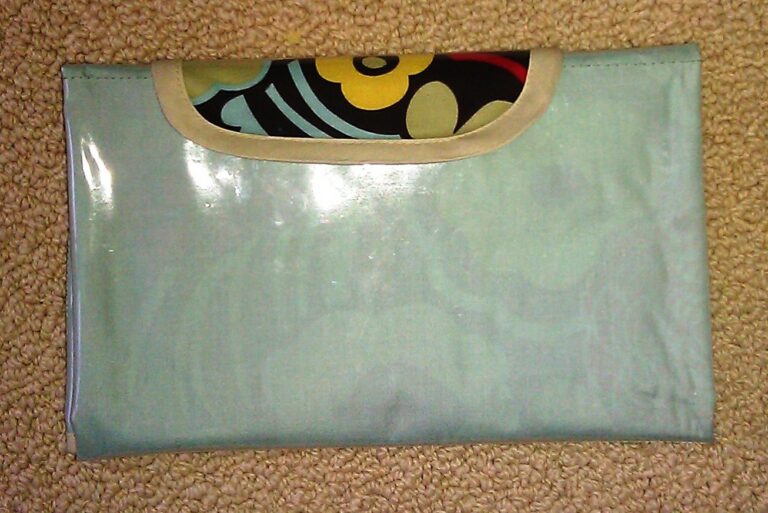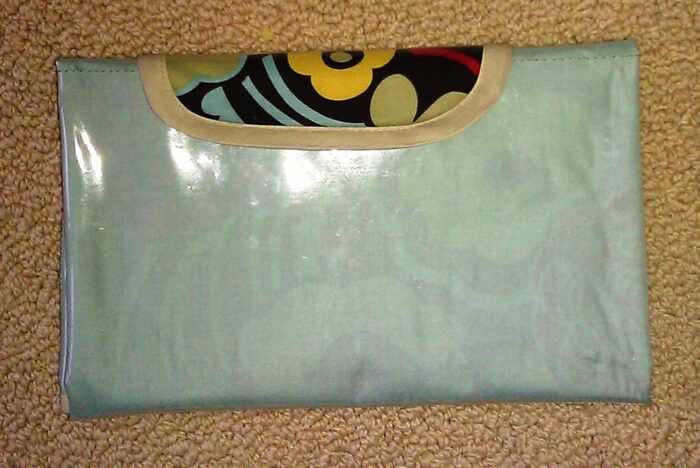 Step 8: Now, it's time for the flap. Attach velcro a half-inch from the long, straight edge of one vinyl flap piece. Assemble flap into the same type of materials sandwich you created earlier (see step 5) and secure edges with paperclips while you attach the binding.
Step 9: Place the flap into position on the changing mat, close enough to the edge so that flap binding actually overlaps mat binding. Make sure velcro strips align, and sew flap to changing mat.
You're done! Fold up and stow away in your purse or diaper bag for a lightweight, totally portable changing mat that you won't mind getting dirty.
If you've never sewn with laminated fabrics before be sure to check out this post with tips and tricks for working with laminated fabrics.