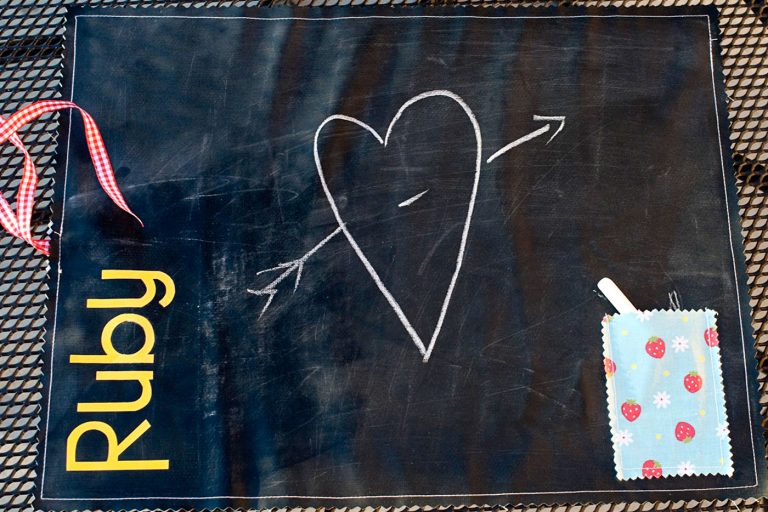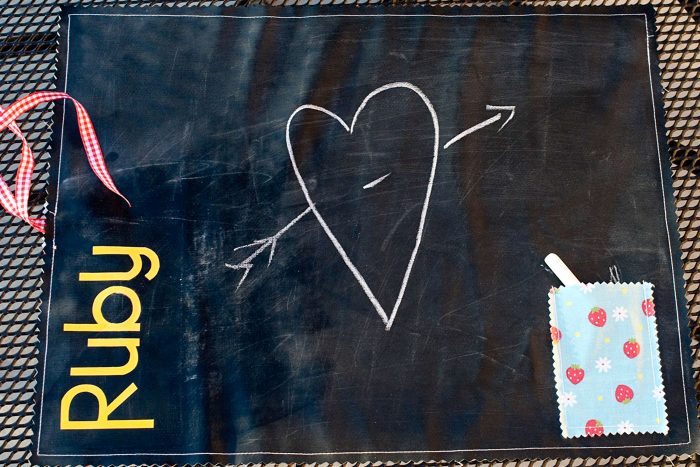 My sister reads this blog. This is great, yet poses a problem for me. She's not going to be surprised when she gets these for her kids for Christmas. Oh well, I think she can learn to deal with it, and I don't believe her 5 & 3 yr olds read my blog…. and I know for sure that little Ruby, her tiny baby girl does not read it… so at least on person will be surprised on Christmas morning!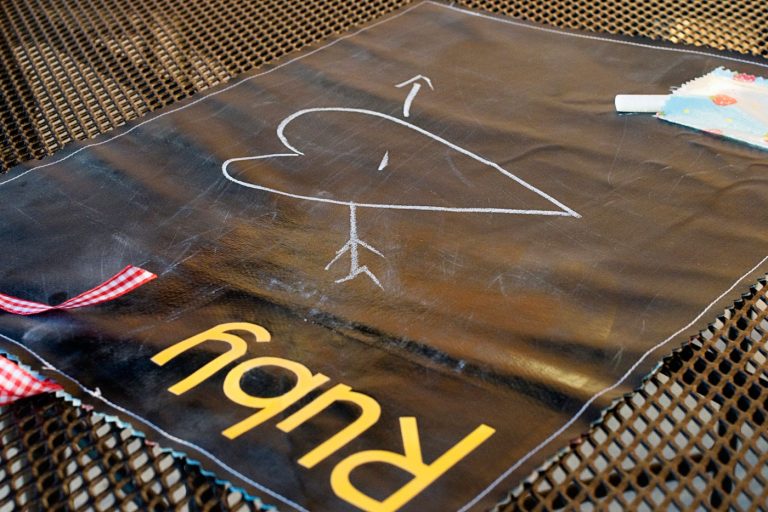 I've wanted to make a chalkboard placemat FOREVER! There are so many cute ones that I have seen people make in blog land… This is my version of it.  I  even had the fabric in my "stash" for a while… yes, there is such a thing as chalkboard fabric!
I wanted to personalize them but could not figure out how to do it. So I set the project aside for a bit.  After I got the iron on vinyl from Silhouette I thought it might work…. so after a little "experimenting" I was able to iron the vinyl onto the placemat!!  There were a couple of "tricks" but I'll so them to you.  I know you have thought about the iron on vinyl for t-shirts but it's really really cool on chalkboard fabric too!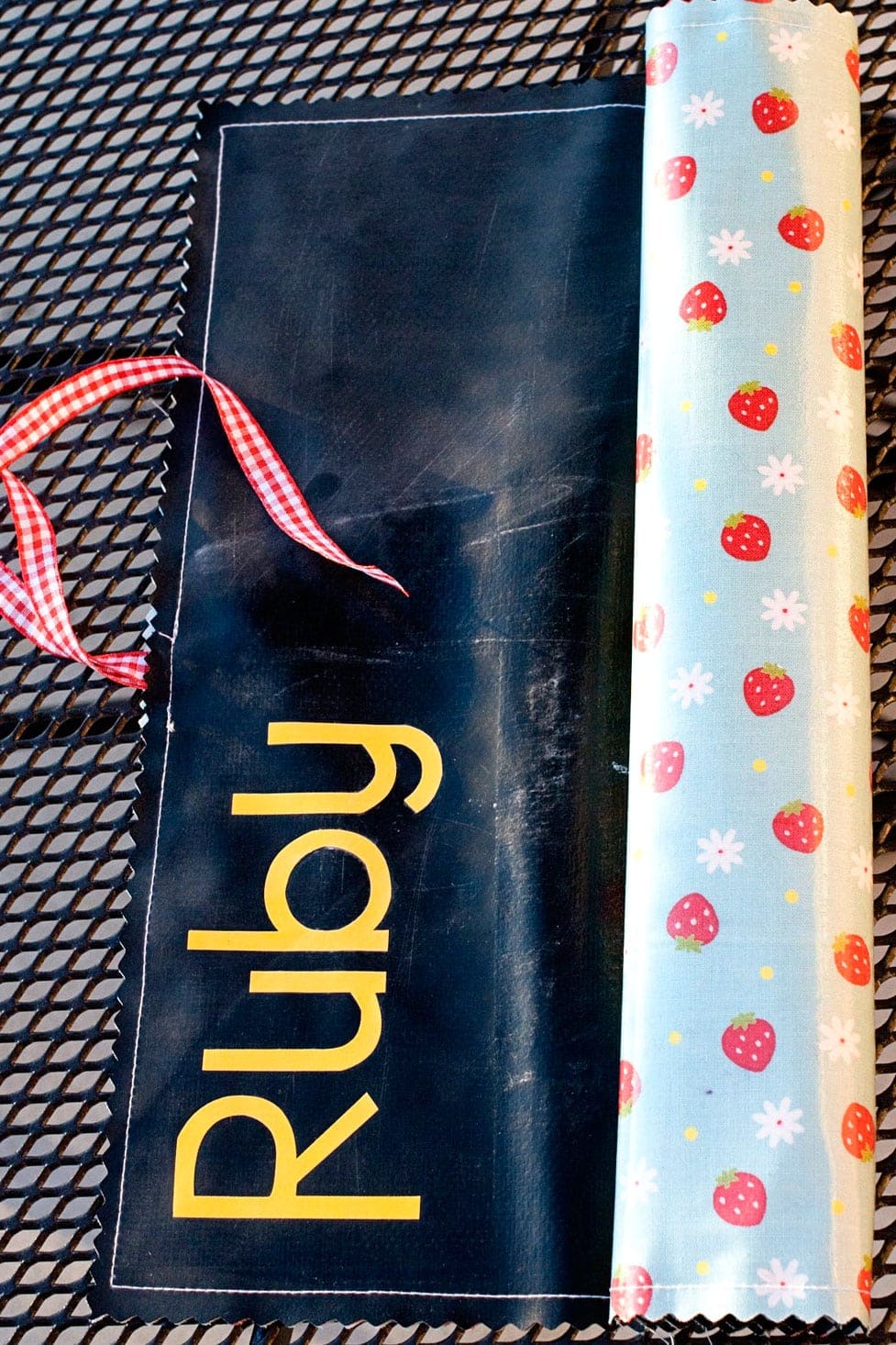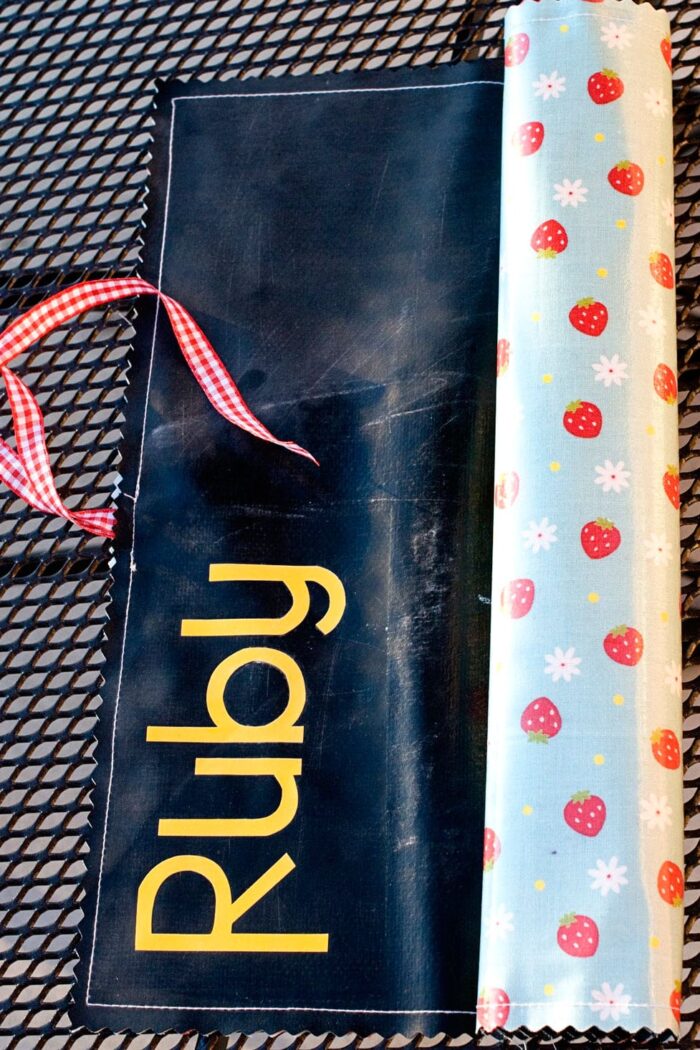 The placemat rolls up for travel. It would be great to take to restaurants! It's also backed with iron on vinyl so it's 100% wipe proof!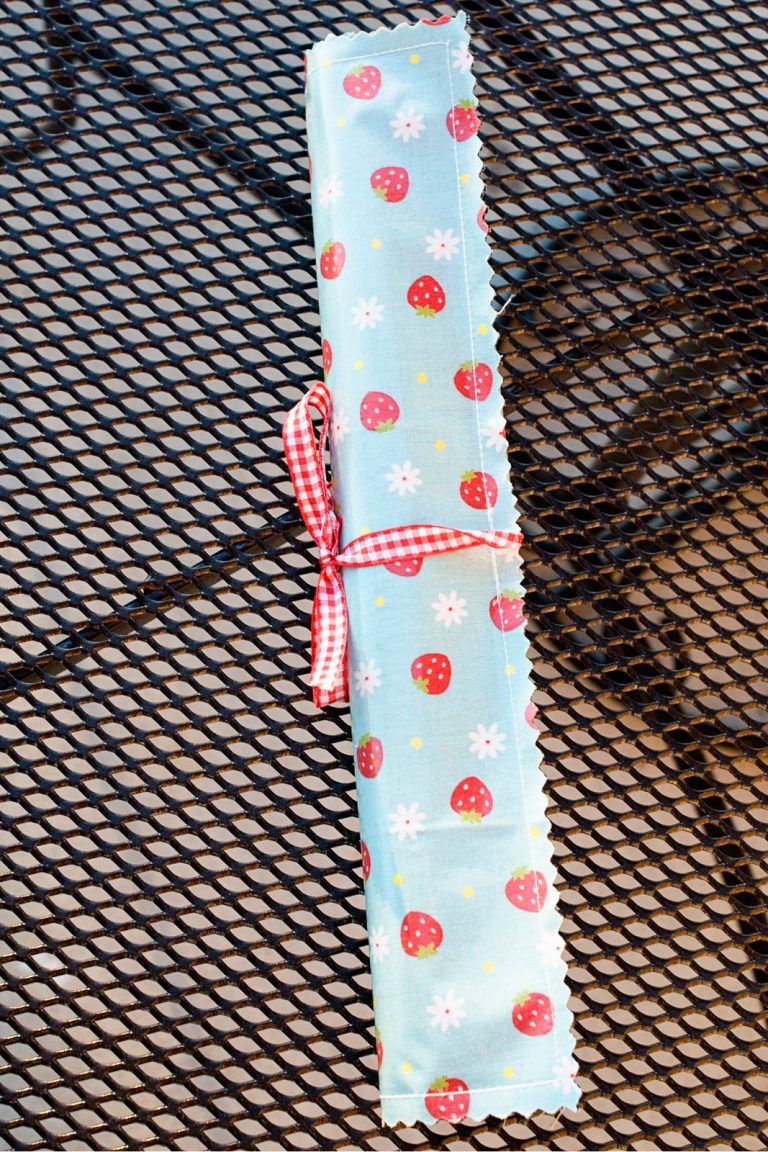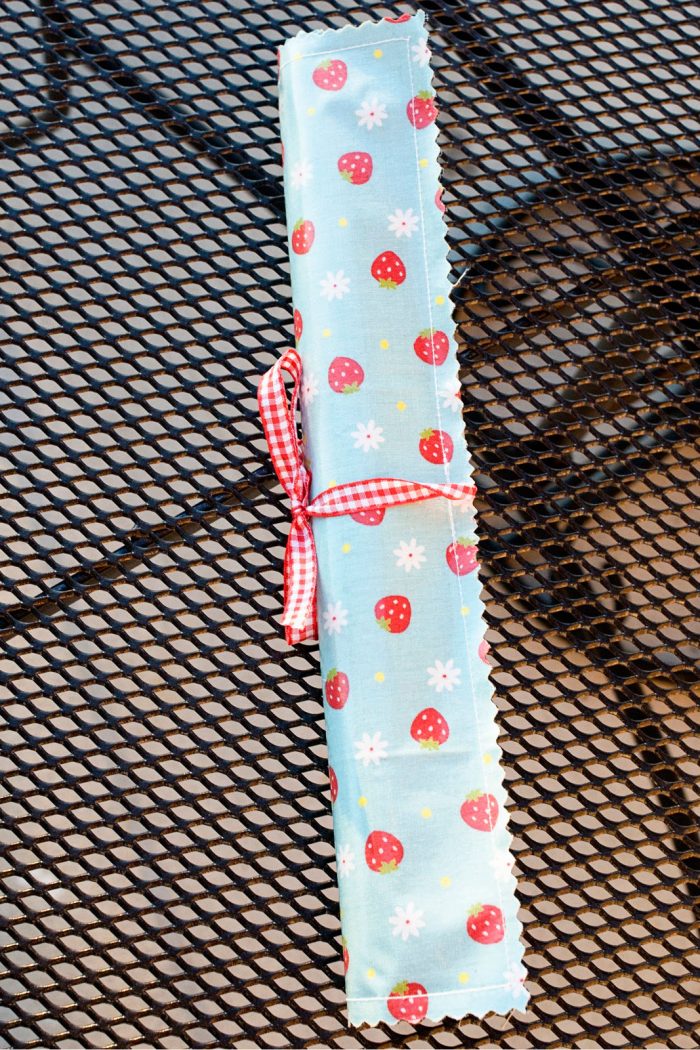 Okay to start. You need the following things.
– 14″x18″ piece of chalkboard fabric
– 14x 18″ piece of fabric (I used a fat quarter)
– 14″x18″ piece of iron on vinyl
– 3″ x 5″ piece of fabric
– 3″x5″ piece of iron on vinyl
– Silhouette smooth heat transfer material
– chalk
– pinking attachment for your rotary cutter
– ribbon
To cut your heat transfer material, leave it on the roll and feed the end of the roll into the cutter, this way you don't waste any.
Cut off the piece that you cut.
IMPORTANT! When you use heat transfer material, make sure your image is mirrored, AND cut with the non-shiny side up!
Remove the extra from around your cut out.  You will have something that looks like this.
Place it onto your placemat piece. About 1″ in from each edge.
Turn the chalkboard fabric UPSIDE DOWN and iron the heat transfer onto the fabric from the back! Don't put your iron on top of the black chalkboard fabric, it will leave a permanent mark!
Only iron enough to stick the heat transfer down… don't leave the iron on too long. Where the transfer backing was on the chalkboard fabric will leave a little bit of a mark, but it will be covered up with chalk as it's used.
Peel off the backing, you'll be left with your cut out piece.
Iron the 3″x5″ vinyl piece onto the 3″x5″ fabric piece. Cut out with pinking rotary blade.  Pin to placemat 1″ in from the side. Stitch down around 3 sides to make a pocket.
Iron the vinyl onto your cut piece of fabric.
Layer your chalkboard fabric and backing fabric wrong sides together. You can use a bit of spray adhesive if you need to hold the layers together.
Stitch around the edge of the placemat about ½″ in from the edge.  I used a walking foot and it worked great! If you don't have a walking foot I would recommend a teflon foot to help the fabric glide easily.  Leave a small opening in one side to feed your ribbon into.
Using your pinking rotary trimmer, trim all the edges.
Cut a piece of ribbon about 18″ long. Fold in half and stuff into the opening you left in the side. Stitch opening closed.
Last step, "prime" the chalkboard fabric with chalk all over. Wipe it off and it's ready to go!
When I give these as gifts I plan on giving them with big chunky chalk, so the pocket is big enough for that.
**edited to add***
*1- It is Vinyl Chalkboard Fabric, I got it at a local Fabric store, it's 60″ wide and sold on a roll
*2-If you don't have an e-cutter, just cut the letters out with scissors, you'll need a light box. You also need to stick the letters on one at a time, instead of using the transfer paper.
*3- I doubt it is , it's vinyl and I think all the little "holes" poked by the embroidery machine would just cause the letters to pop out.