I've been stitching up a storm the last few months and I'm excited to finally have the time to share some finished projects with you! I was able to do a little bit of selfish sewing last week and made up a couple of Padded Storage Bins with some new fabric that I picked up at Quilt Market.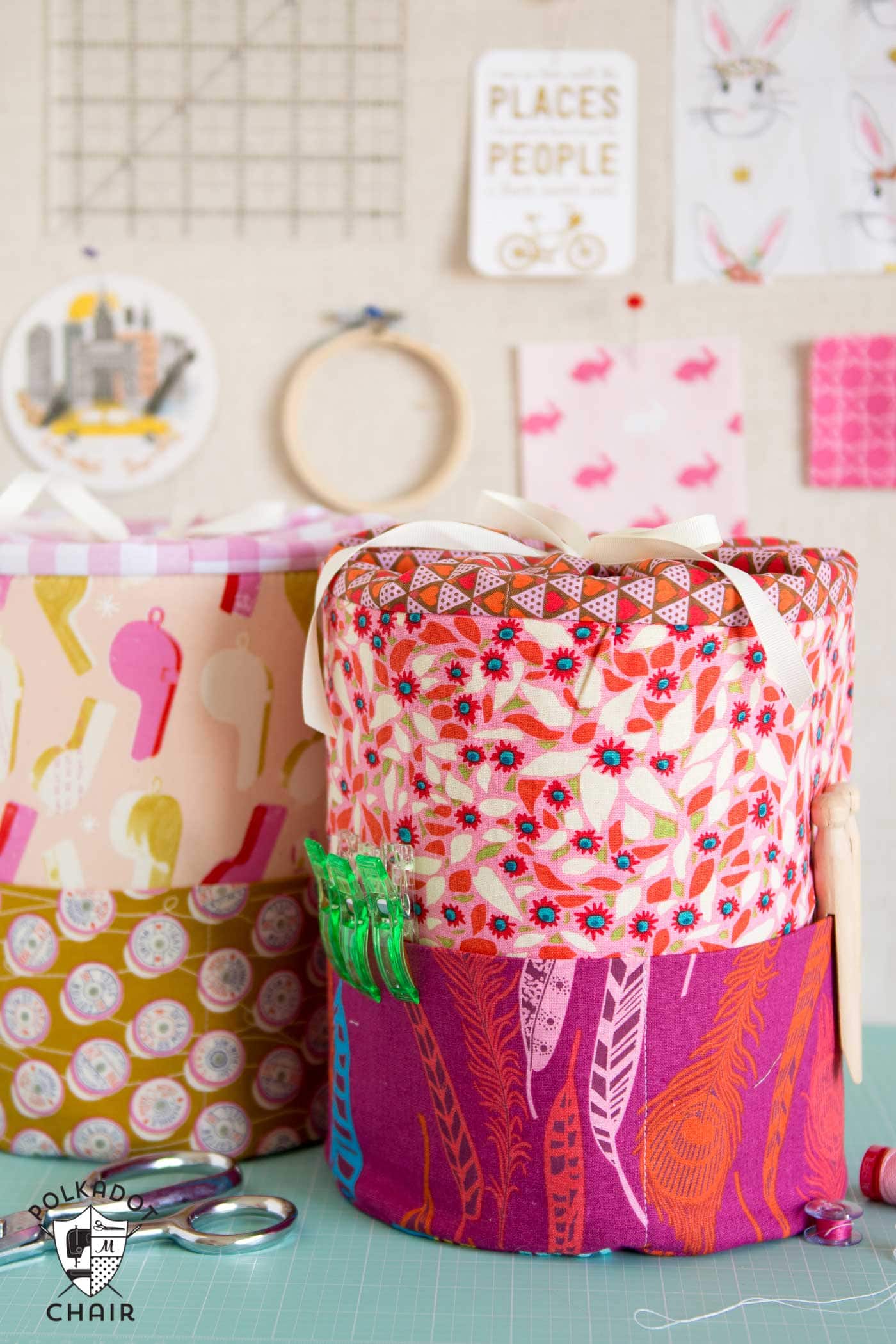 I joke that I never make the same project twice.  I don't seem to have the patience for it.  However every once in a while I end up making lots and lots of the same project, my retro travel bag is one of those projects, I think I'm up to almost 10 bags sewn.  After stitching up 8 of these Padded Storage Bins I think that this may also be one of those projects that I make over and over again, they are just so dang useful!
I like to keep a bit of needlepoint with me in the car during the summer. I'm always driving to somewhere, or waiting for a kid to finish something and it's nice to have a bit of hand work to keep me busy while I'm on the road. Up until now the needlepoint supplies have just been in a ziploc bag, I decided a few weeks ago to remedy the situation, and I stitched up a storage bin just for them.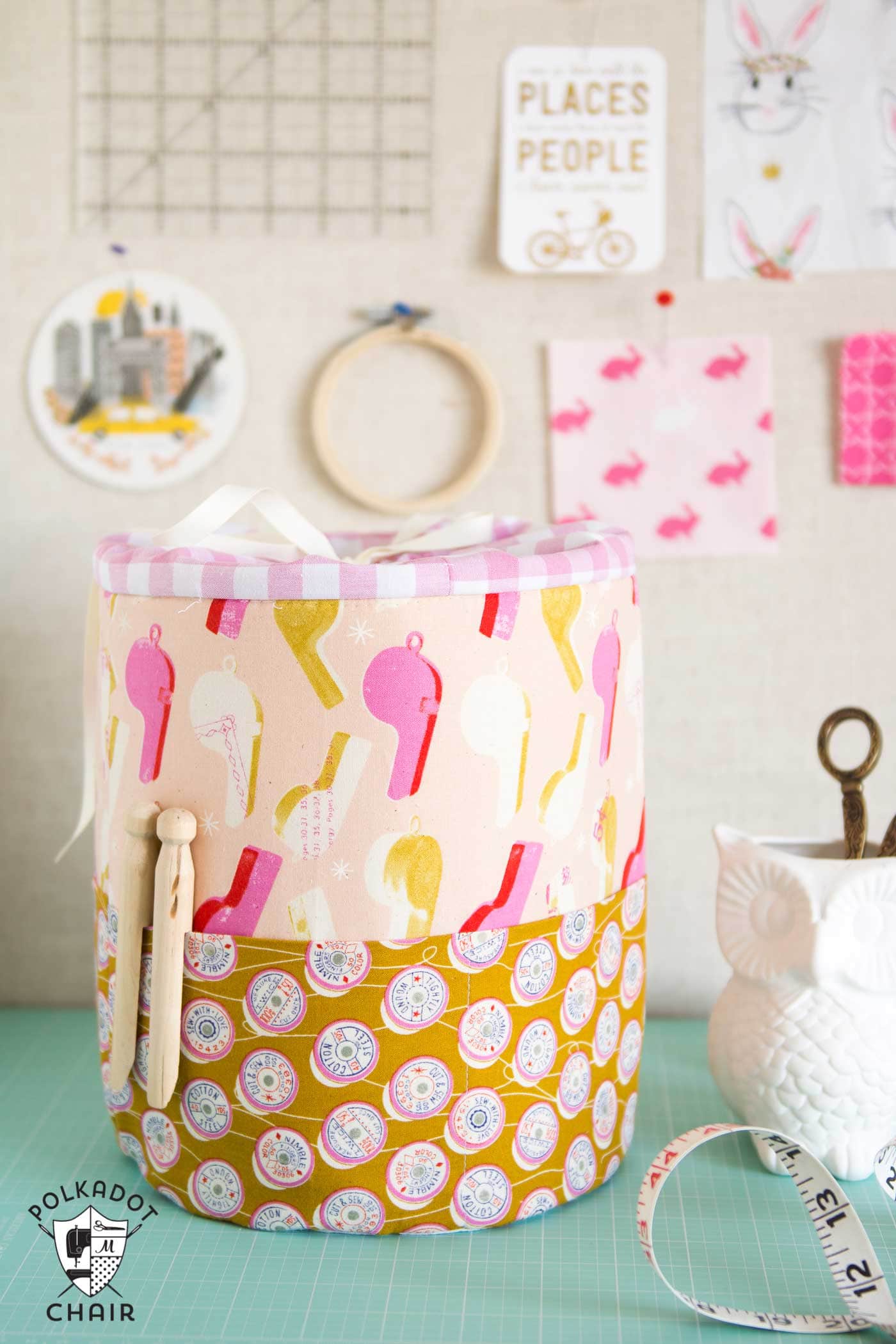 I used a bit of the new Cotton + Steel fabric that I picked up at Market (it's coming out in July for those of you that are interested). I've been sewing with Wonderland so much the last few months and I thought I should branch out a bit and sew with some other fabric.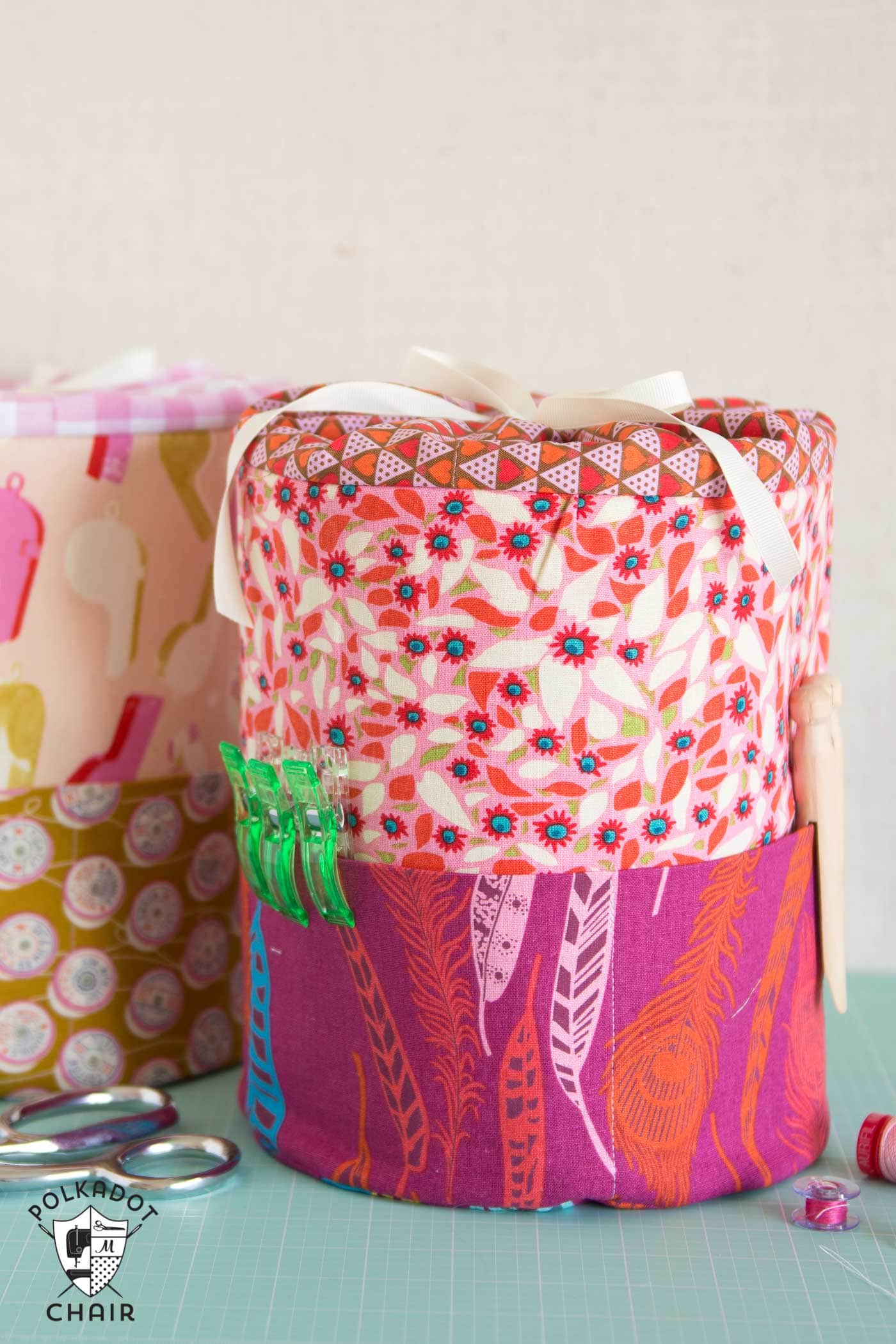 I also stitched up a second bin using some Anna Maria Horner canvas. I picked it up at Craft South a couple of summers ago and have been dying to use it ever since. This bin is a gift for a friend that did a tremendous favor for me.  She's a seamstress and thought that she could make good use of a bin.
The bins are from my Padded Storage Bins pattern, which I'm happy to announce is now ALSO in PAPER FORM! When I made the bins I actually opened up a pattern and used it, it was such a relief to have the instructions written out for me, usually I'm just trying to remember how to make something from all of the post it notes all over my sewing table.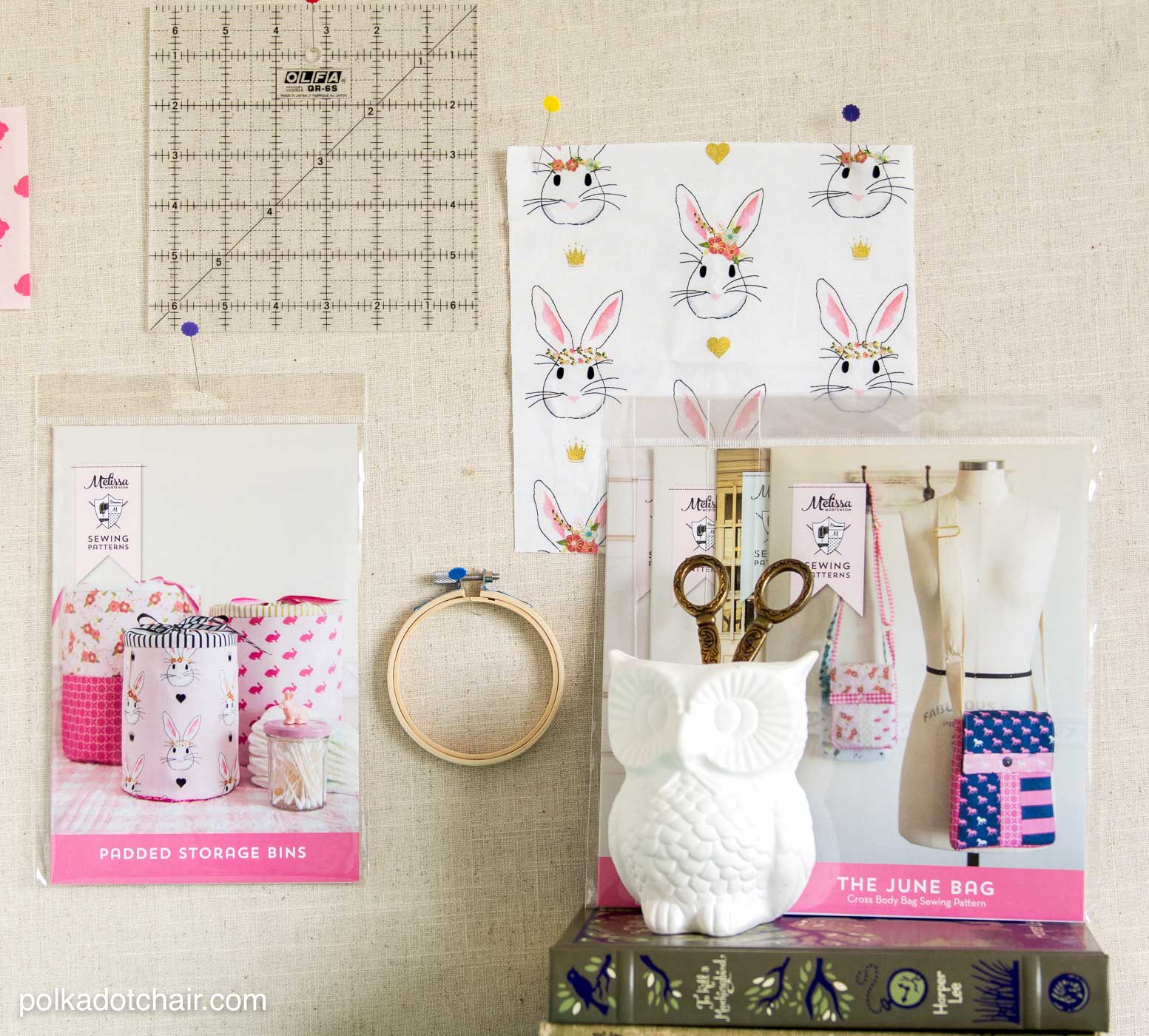 The patterns arrived just before market and I'm so happy with how they turned out. If you have a store you can get them from Checker Distributors or Christensen Wholesale (Riley Blake).  If you'd like to do a wholesale order directly with me you can just email me at polkadotchairblog [at] gmail [dot] com and I'll get the information out to you.
The patterns have full color covers and the instructions are in black and white on the inside. I keep the photographs in the instructions instead of changing them to illustrations. I get so many people that tell me that a photograph is easier to follow than a diagram, and wanted to make sure to keep the printed patterns with photos.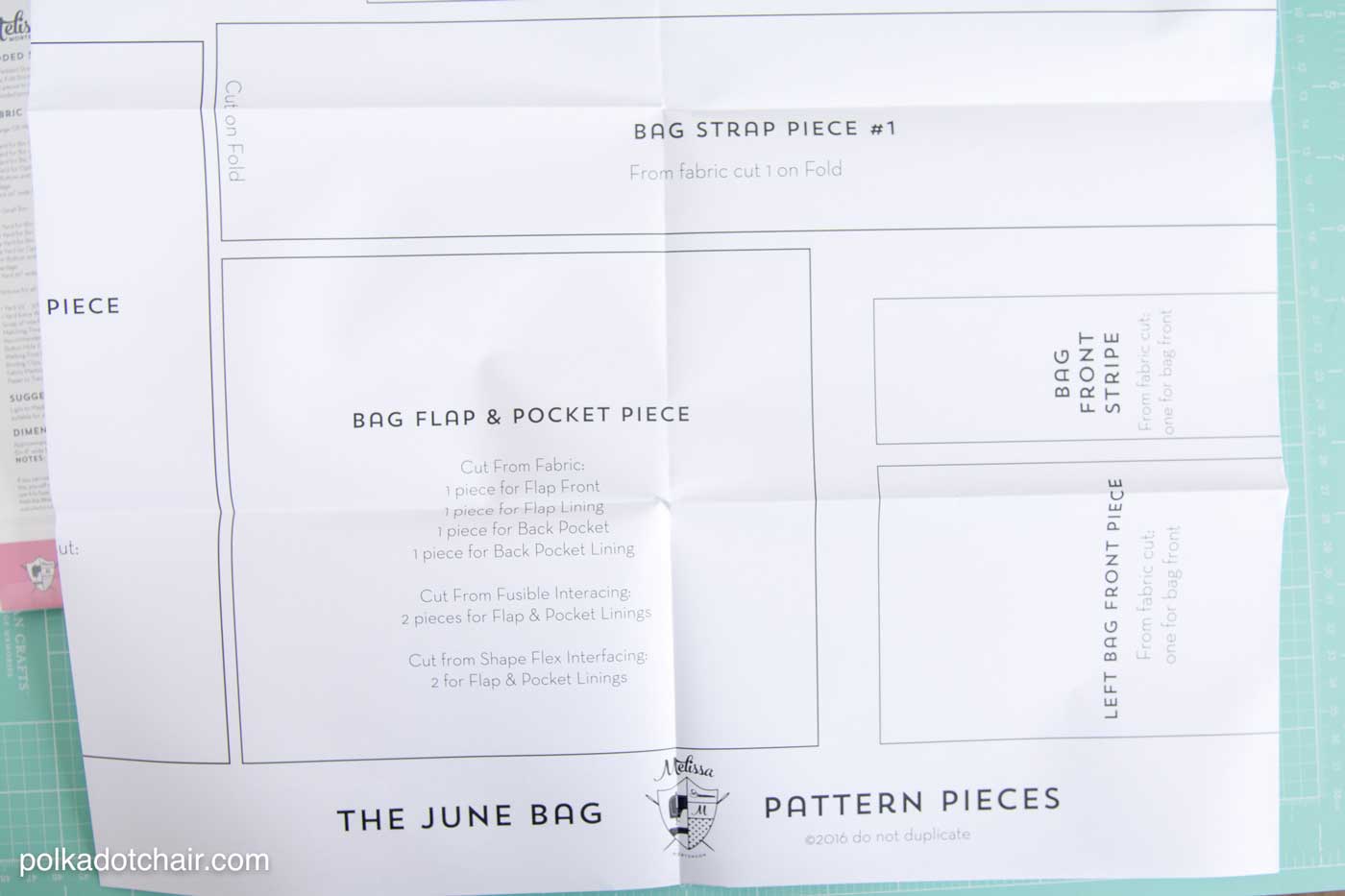 Each of the bag patterns includes an oversized pattern sheet. All the pieces are 100% so there is no need to resize anything! Just trace and go!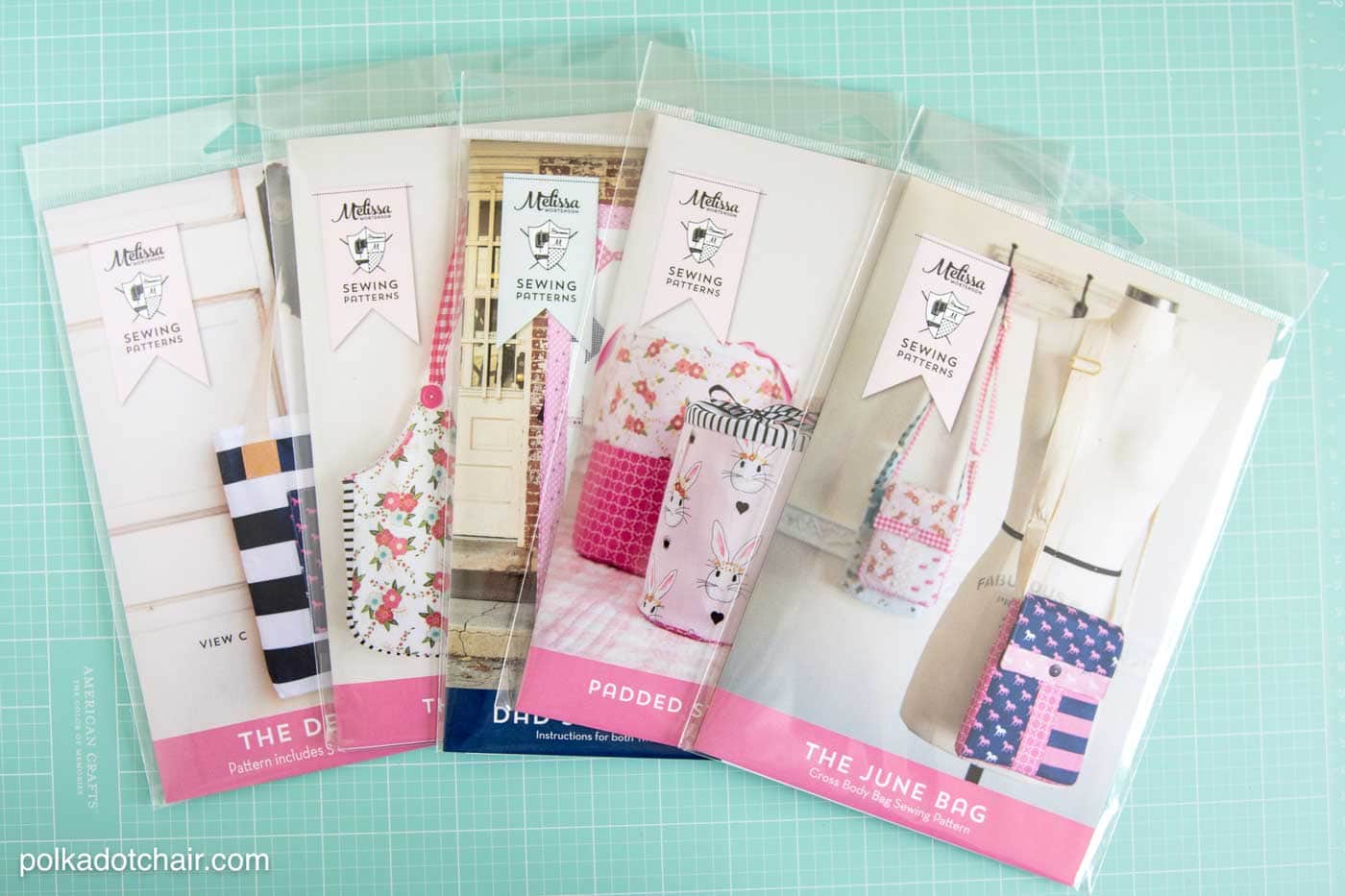 You can get printed patterns of my Derby Tote, Ruby Lou Bag, Dad's Bow Ties, Padded Storage Bins, & June Bag Patterns.  I'm going to do a second run of printed patterns this summer including a few new quilts and bags.
Right now I'm debating selling individual printed patterns, I'm not sure if there is a demand online for them. I'll let you know if I decide to, right now you can pick all of them up in PDF format in my PATTERN SHOP!