The first Saturday in May is coming up this week, which around here means one thing! It's Kentucky Derby time! In celebration I'm excited to share with you these Pony Party Favors!
 The city of Louisville rolls out the red carpet once a year and welcomes the world.  The entire 2 weeks leading up to the Derby is full of lots of fun local events, it's truly the best time of the year to be in Kentucky.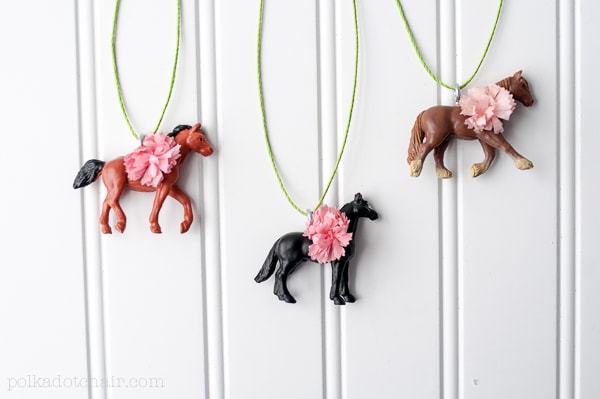 With a holiday coming up (and yes, the Derby IS a holiday) it means only one thing for me…. a laundry list of unfinished holiday projects *wink*…. I've had a million ideas for Derby decorating and crafts running through my head for the last few months, but only managed to get a few of them done. This is one that I'm really excited about.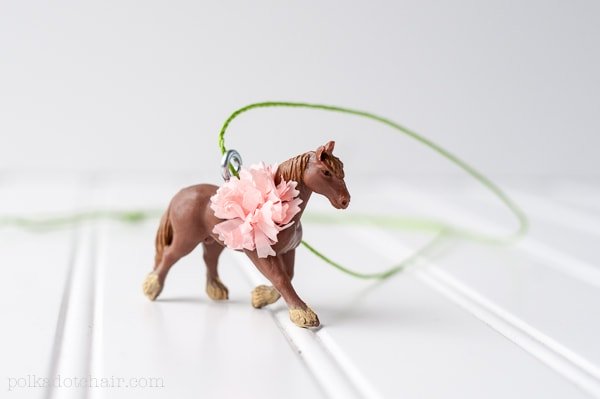 These necklaces are VERY easy and inexpensive to make and would be fun favors for your Derby party. They would also be great for the kids to wear to school Derby week.   My daughter is going to wear one when we go to Dawn at the Downs this week. I'll be sure to share a bit more about that later this week.
Here's how to make the necklaces: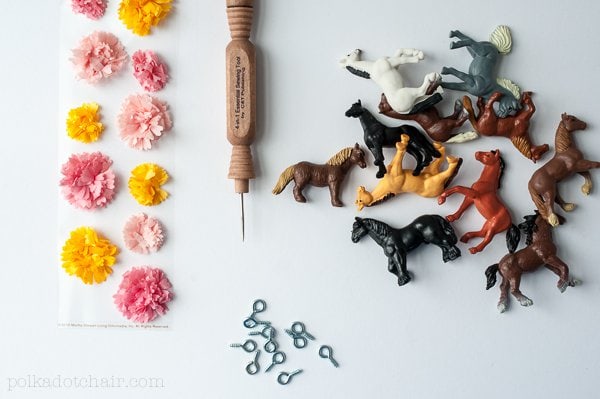 You'll need
Plastic Horses (they come in a tube and you can buy them at all of the big craft stores)
Bamboo Cording (or silk if you prefer)
Small eye hooks
Poker Tool (is that the technical name? who knows, that's what I call it)
Flower Stickers (mine are Martha Stewart brand)
To begin: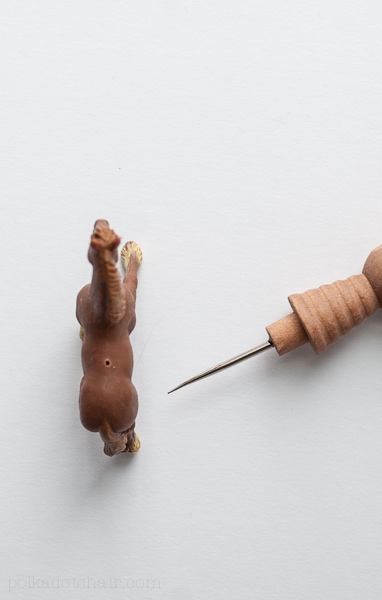 Using your poker tool, poke a hole in the back of the horse. It does not need to be very deep but should be wide enough to start your eye hook.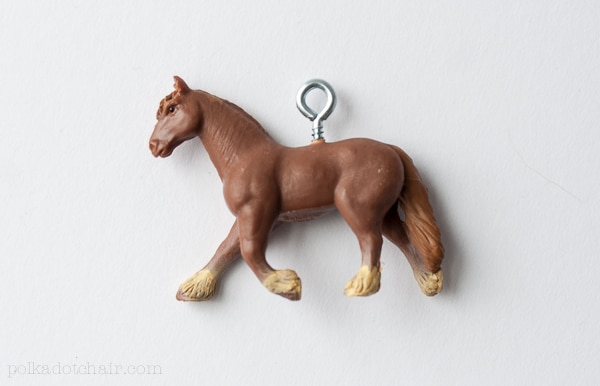 Insert the eye hook into the hole you just started.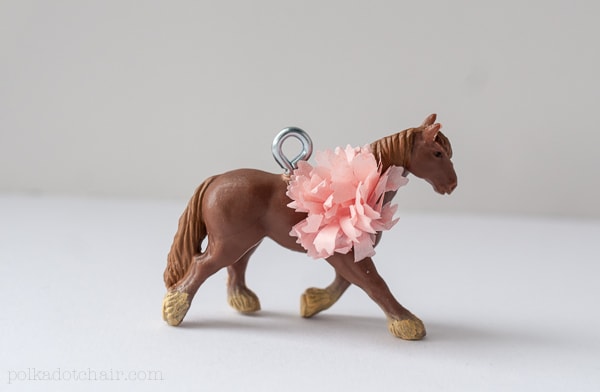 Glue a paper flower on.  You can go crazy if you like at this point… use all kinds of fun embellishments.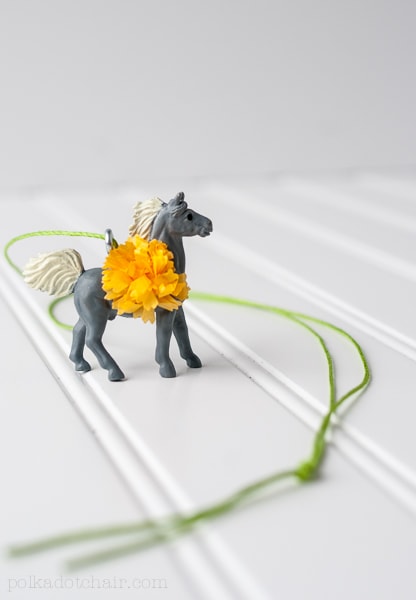 Cut a piece of bamboo cording to length and loop it through the eye hook. Then just tie it off at the end.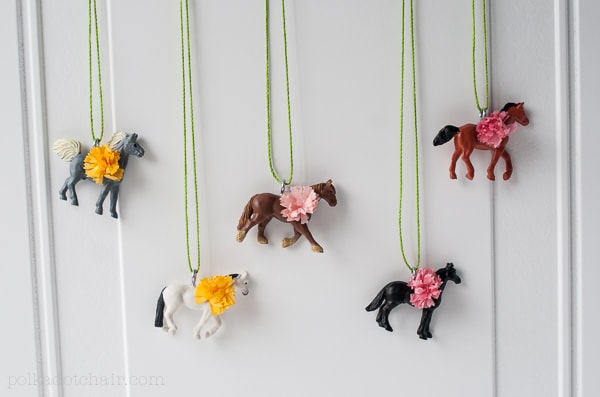 Easy peasy right!!???!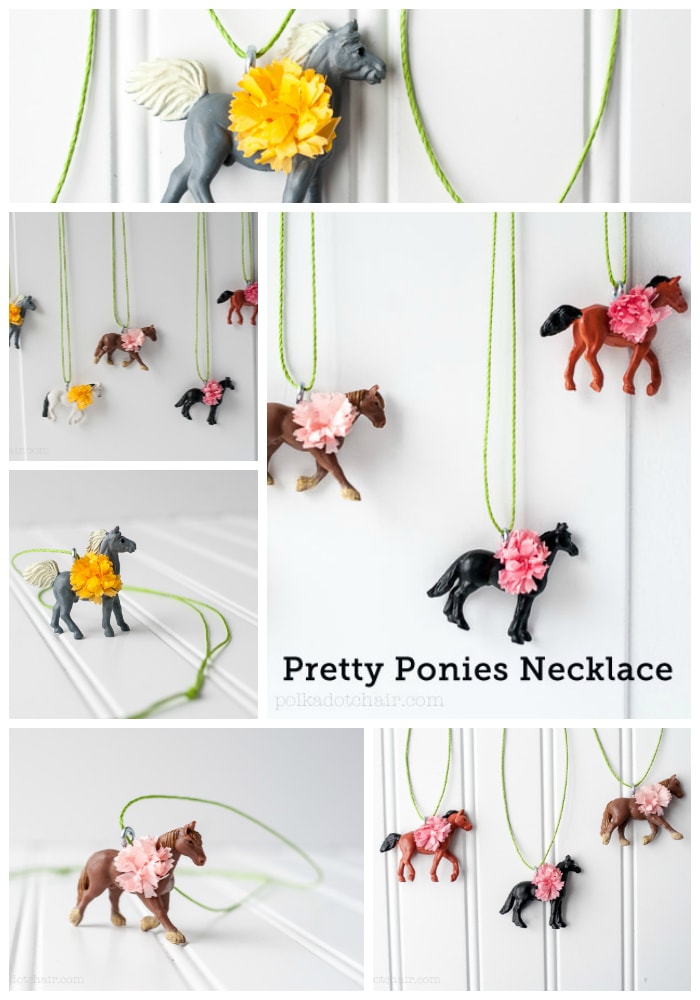 Click for Print Friendly Version