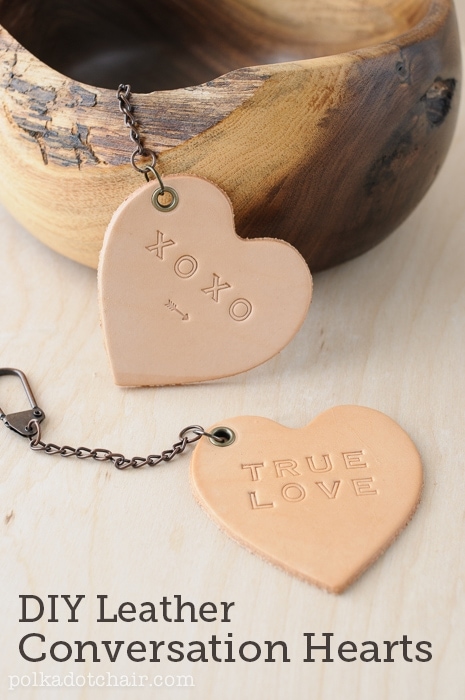 I've got a really FUN Valentine's Day DIY project for you today! This one would make a great gift, especially if you're looking for Valentine's Day gift ideas for a guy!
I don't even know how I came up with this idea, but it was one of those ideas that got stuck in my head and I just HAD to make it right away, do you ever get that way with a DIY project?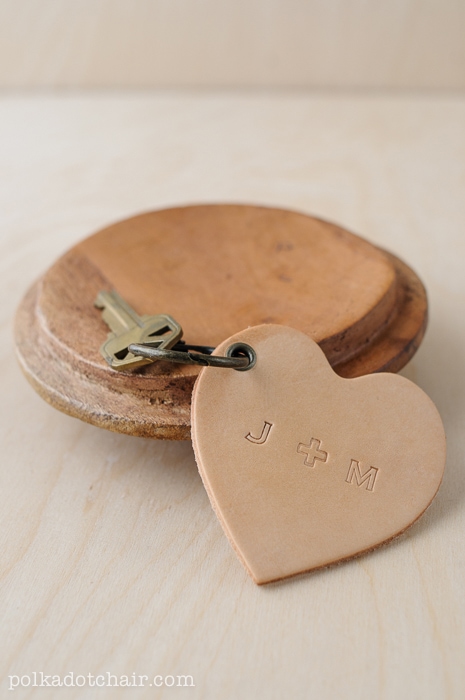 I don't know about you but trying to come up with Valentine's Day gifts for your guy is difficult, let alone a DIY project. Valentine's Day is so close to Christmas and budgets are usually still not big enough for really nice gifts.  These leather conversation hearts are easy to make and very economical!
I turned my hearts into Necklaces (I'm sooo wearing that LOVE one this month!), Key Chains and Key Fobs.  It think that they'd be adorable attached to a purse handle.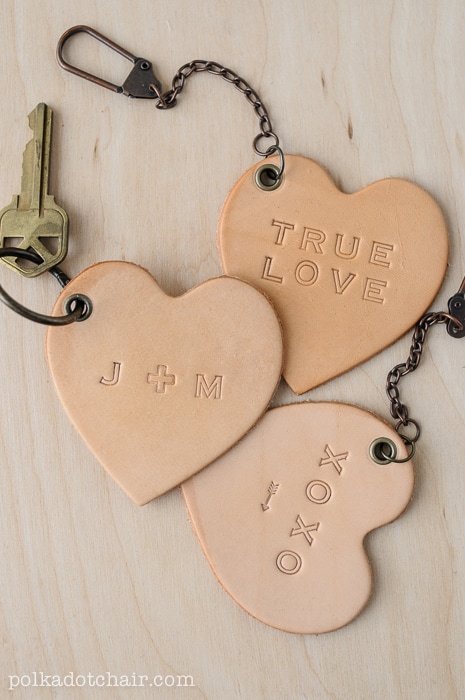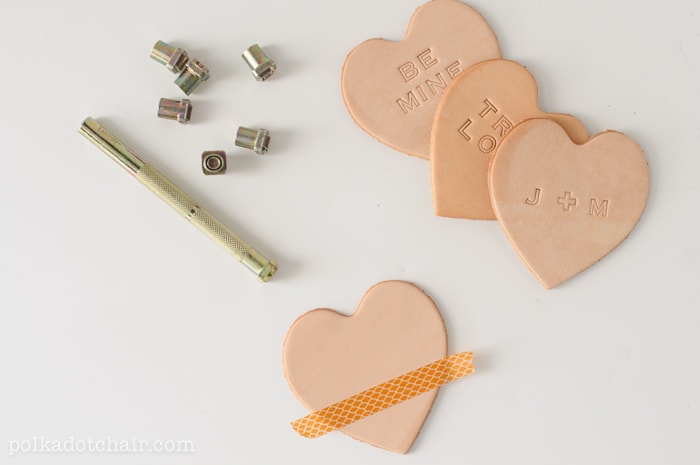 To make them you're going to need:
Pre Cut Leather Hearts- you can find these at leather stores and online
A leather alphabet stamping kit
I also had a Native American leather stamping kit (for the arrows)
A punch that can go through leather (like the crop a dile) or an awl hole punch set
Eyelets, Jump Rings
Chain and Key Chain or Necklace Chain
Leather Conditioner to seal the leather when you're done
Washi Tape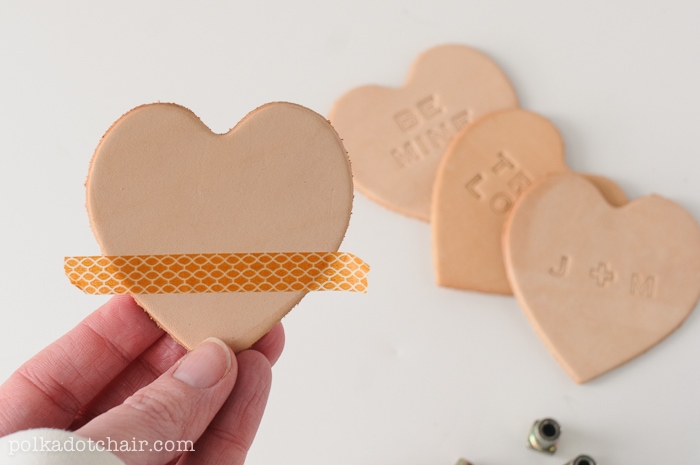 To start, I found it easiest to mark a straight line on my hearts with washi tape. It's not tacky so it won't mess up the leather, and it gave me a guide to stamp my letters straight.
Start with the bottom row of letters first (if you're doing two rows).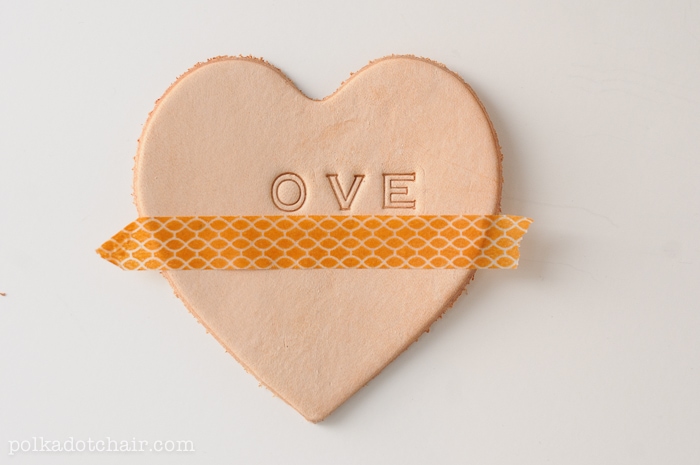 Begin stamping your letters working from the center out. To do this attach the die to the stamping tool, and on a hard surface (like a butcher block, piece of heavy granite, or concrete) hit the tool with the hammer 4-5 times.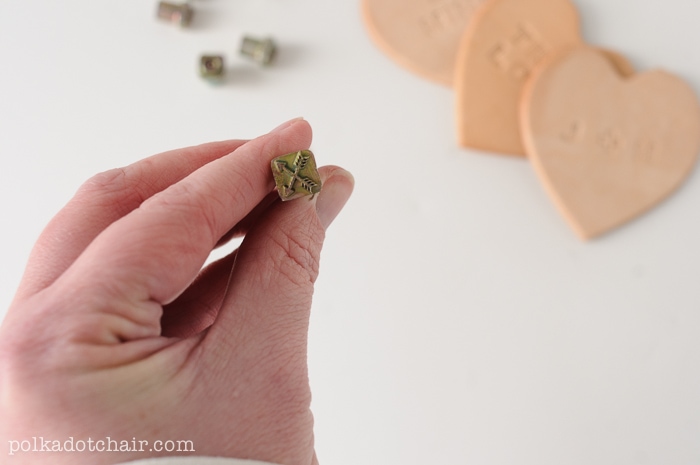 You need to test it first to see how many hits it takes to get a good impression.  Just use one of the hearts as your "test" heart.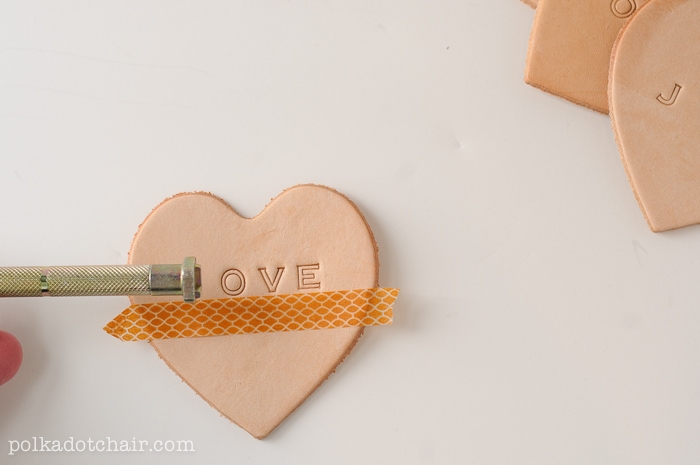 When you're done stamping remove the washi tape.  Using a paper towel apply some leather conditioner to the leather to seal it.
If you're making a key fob or key ring, punch a hole in the side of the heart and set an eyelet into it (just follow the instructions on the eyelet package). Use jump rings to attach key fobs or key rings as you like.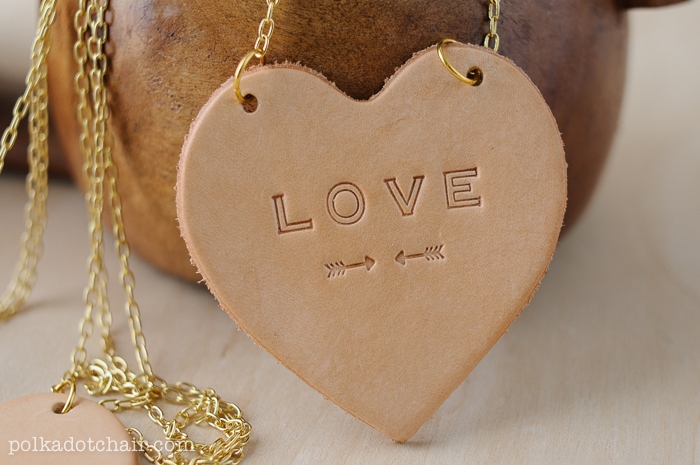 To make the necklaces, punch two holes in the top of the heart (my holes are 1/16") then feed a jump ring through each.
Loop 30" of chain onto the jump rings and close the jump rings.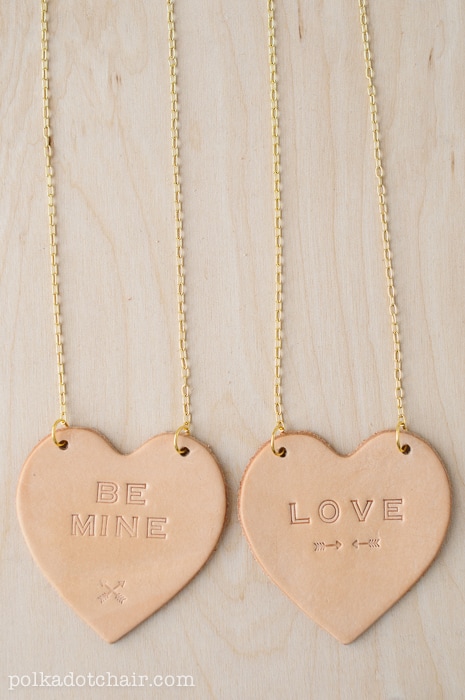 You can change the length of the chain as you like, but I wanted to wear mine long. If you make your chain shorter, you'll need to add a clasp to the chain so you can get it on and off your head.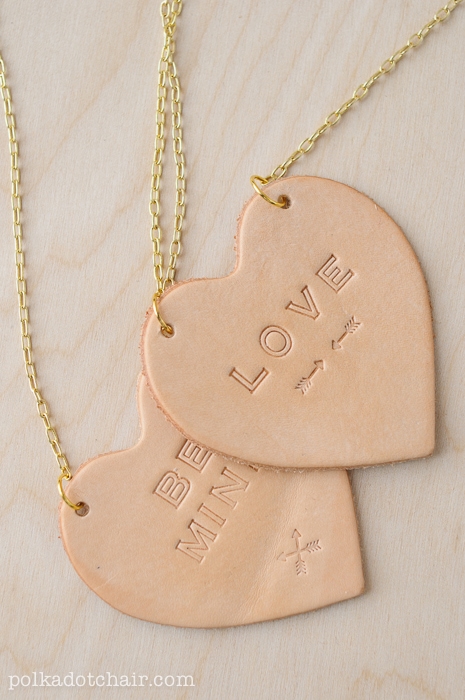 Supplies:

Connect with me: