Give your friends & family the gift of donuts this Holiday season! Our free printable makes gifting easy and cute!
Every year we like to deliver treats to some of our neighbors, friends & extended family. Each year we try to do something a little bit different. I used to bake all kinds of sweets & treats to gift for Christmas, but eventually, it became a bit too stressful.
Table of Contents
A couple of years ago, I was utterly disorganized at Christmas and did not get anything delivered to anyone at all (we usually do deliveries on Christmas Eve). Still wanting to show our friends a bit of love and appreciation, I brainstormed a few ideas for deliveries.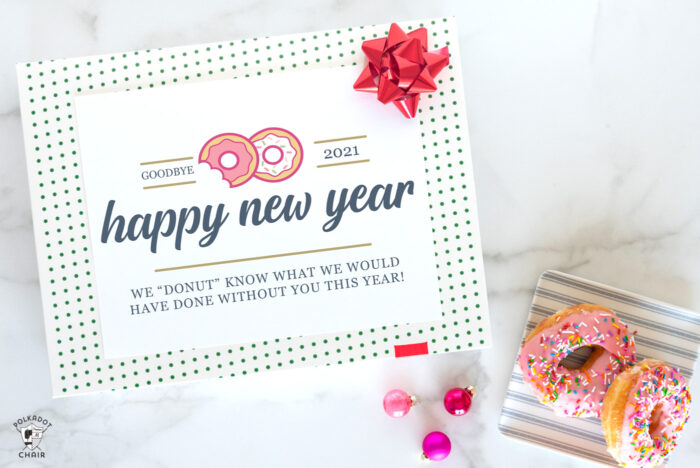 I noticed that Krispy Kreme donuts were on sale on New Year's Eve, so I bought a bunch of boxes, designed a quick printable, and we were able to do our traditional deliveries.
Many of our friends reached out and said, "thank you." They loved having a nice treat on hand for New Year's Day breakfast and enjoyed getting "one last" gift for the Holidays.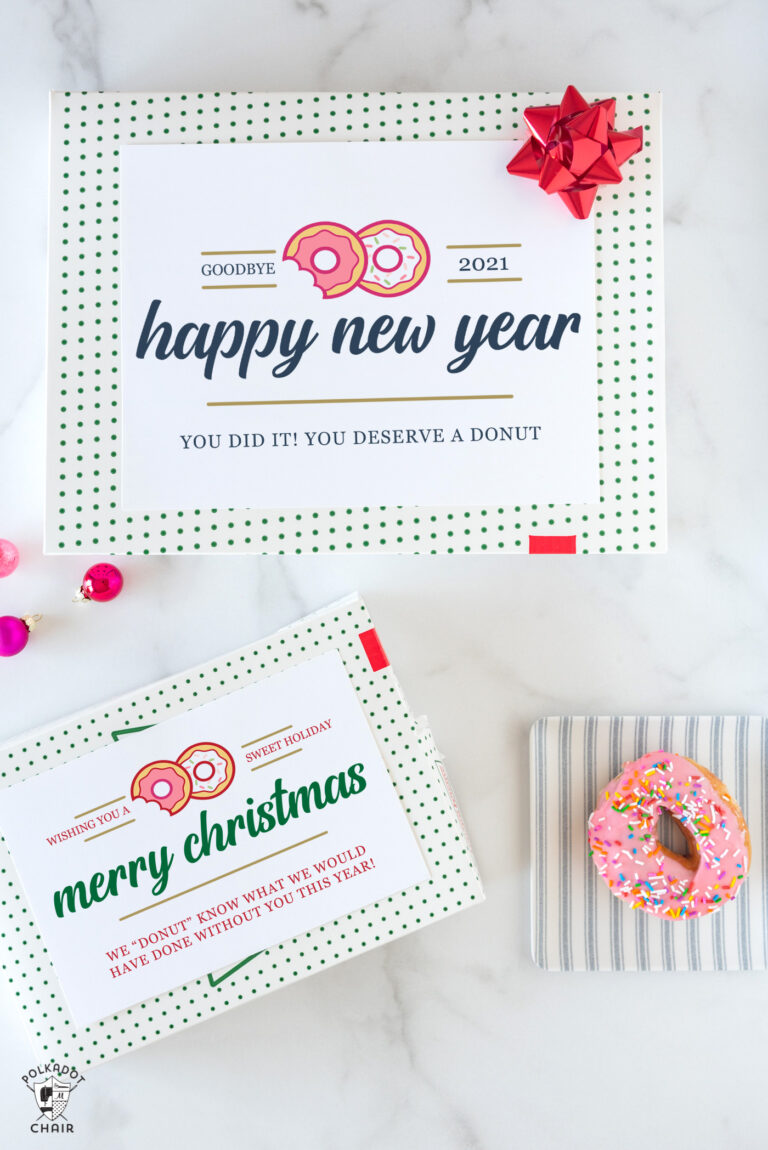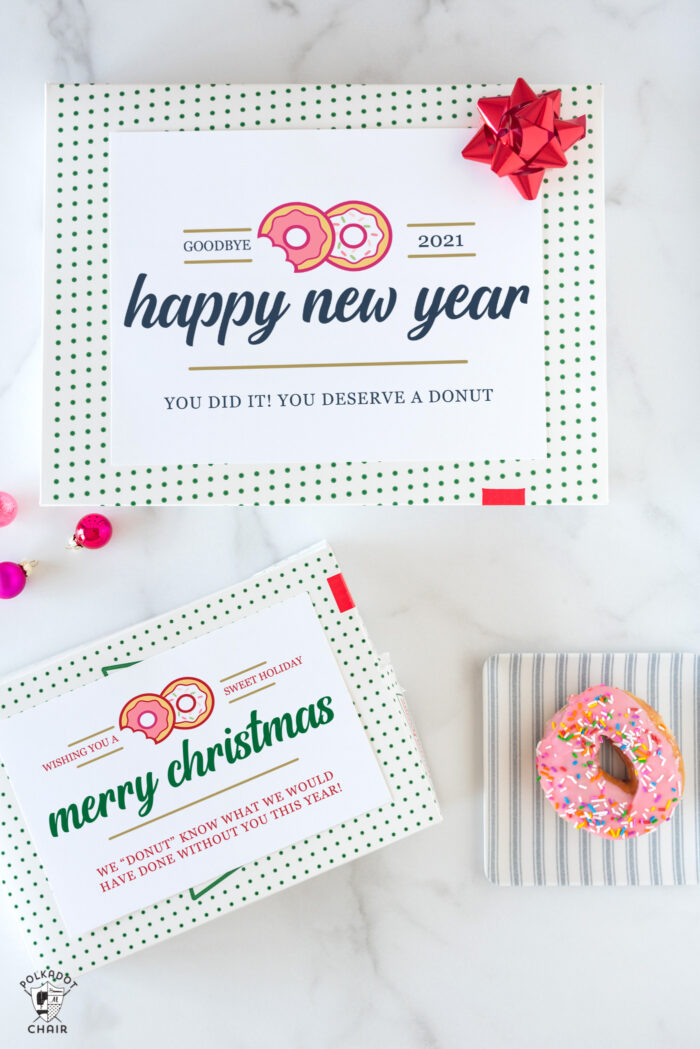 About the Printable
I wanted this to be QUICK AND EASY, so the signs are printable as 1 or 2 per sheet. If you print the larger sign, all you have to do is tape it to the box. That is it! I designed a few different versions of the printable.
Included are signs with "Merry Christmas" & "Happy New Year." You can choose which one fits your recipient best.
There are two phrases as well.
We "donut" know what we would have done it without you this year.
You Deserve a Donut.
Just choose the one you want to print on the PDF.
How to Assemble the Donut Gift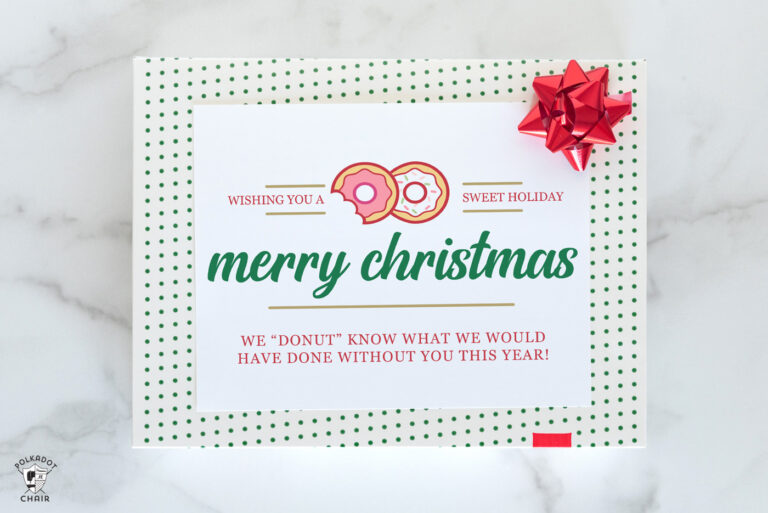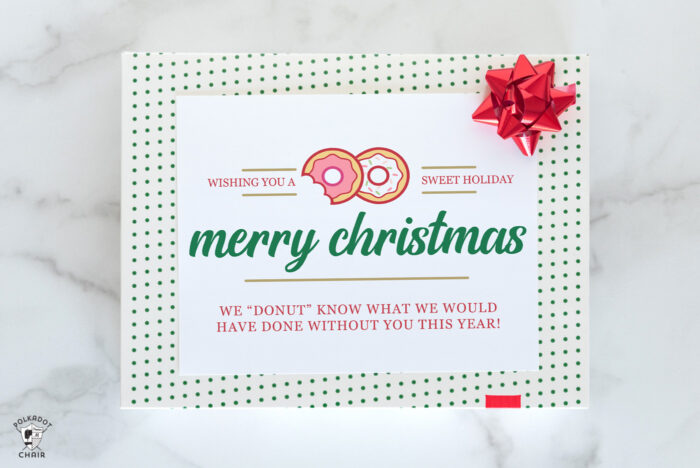 These signs fit perfectly on the dozen and half dozen size boxes from Krispy Kreme. I used them because they are my favorite, and two, they are close by, and I can order the donuts online!
Just print out the sign and tape it to the box top. If you prefer, you can also add a Christmas bow.
If the donut box you choose is not the same size, you can also wrap the sign around the outside of the box and tape it in place.
You can also print it on cardstock, punch a hole in the corner and tie it to a donut box with a bit of ribbon.
How to Get the Printable
Our printables are free for our newsletter subscribers. Just fill out the form, and we will email it to you. If you're already a subscriber, thanks! If you fill out the form, you will not be added to the list twice.
A Few Tips
I have found that Krispy Kreme frequently runs specials and offers coupons if you keep an eye out on their website and emails. I was able to get several boxes of donuts for a VERY reasonable price. I also pre-ordered online and quickly picked them up in the store.
Print the pages out before you go, then have your kids tape the signs to the boxes as you deliver them. That way, you don't have to worry about the paper getting crinkled as much.
You May Also Like