This Easy Banana Bread Recipe has quickly become one of my families favorite treats! It's so easy to make and a great use for some almost too ripe bananas!
Disclosure: This post is sponsored by MIRACLE WHIP as part of their blogger network. All year long look for great new recipes for you to try pop up here courtesy of MIRACLE WHIP. All opinions are 100% mine.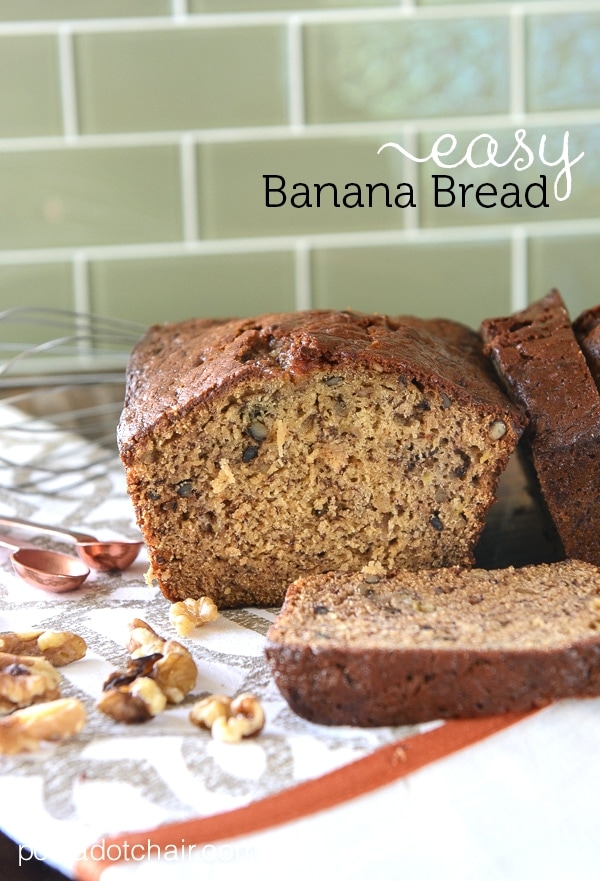 Easy Banana Bread Recipe:
I have a confession to make…. my husband and kids love banana bread, but I don't.  Since I'm not a huge fan of banana bread it's not usually on the top of my "to make" list. Every time we have overripe bananas my kids (my daughter especially) beg me to make banana bread. Sometimes I oblige, but seriously there are so many ingredients in my banana bread recipe that I just don't want to get all of that stuff out.
As a part of my partnership with MIRACLE WHIP, myself and a few other bloggers were given a choice of MIRACLE WHIP recipes to try this month. On that list was "Easy Banana Bread".  I thought that I'd try to improve my banana bread baking frequency and give it a try.  I checked out the recipe online and found that it only had a few ingredients and I  didn't even need to dirty my mixer (unless I wanted to).  I made the recipe last night and it was quick and easy… After I made it my daughter kept following me around asking "when can we eat the banana bread???" and "did you take pictures yet?", "can I eat the banana bread now?"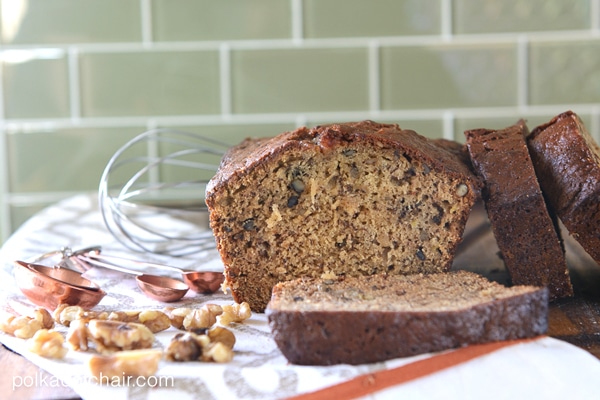 You may be surprised to read that this is a MIRACLE WHIP recipe but the addition of the MIRACLE WHIP eliminates a few ingredients and gives the bread a little extra "something". I also think that it's more moist than my previous banana bread recipe.
I would definitely make this banana bread again. I think that it would be a wonderful neighbor gift for the upcoming Holiday season, just wrap it up and add a nice bow. It would also make a great appetizer for guests to munch on before Thanksgiving dinner.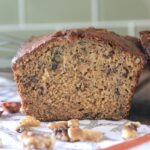 Easy Banana Bread Recipe
Ingredients
1

egg

½

cup

MIRACLE WHIP Dressing

1-1/3

cups

mashed fully ripe bananas

about 3

1-1/2

cups

flour

1

cup

sugar

½

cup

chopped PLANTERS Walnuts

1

tsp.

baking soda

1

tsp.

salt
Instructions
HEAT oven to 350 F.

BEAT egg, dressing and bananas in large bowl with whisk until blended. Mix remaining ingredients. Add to banana mixture; stir just until moistened.

POUR into 9x5-inch loaf pan sprayed with cooking spray.

BAKE 1 hour or until toothpick inserted in center comes out clean. Cool in pan 10 min.; remove from pan to wire rack. Cool completely.

SUBSTITUTE Options: Prepare using chopped PLANTERS Pecans.
I'm MIRACLE WHIP and #ProudofIt are you?
Here 6 other MIRACLE WHIP recipes for you to try:
Curried Chicken Appetizer Bites
Creamy Homemade Mac N Cheese with Bacon

Print Friendly
0