I like "doable" Holiday projects.  As much as I love a completely styled, over-the-top Halloween tablescape, I know that for "real life" stuff, I need to do something that I'll actually "get done." These Halloween Dinner ideas are from some of our family's "real life" dinners over the years. The traditions have changed as our kids have gotten older, but the spirit of it all remains the same.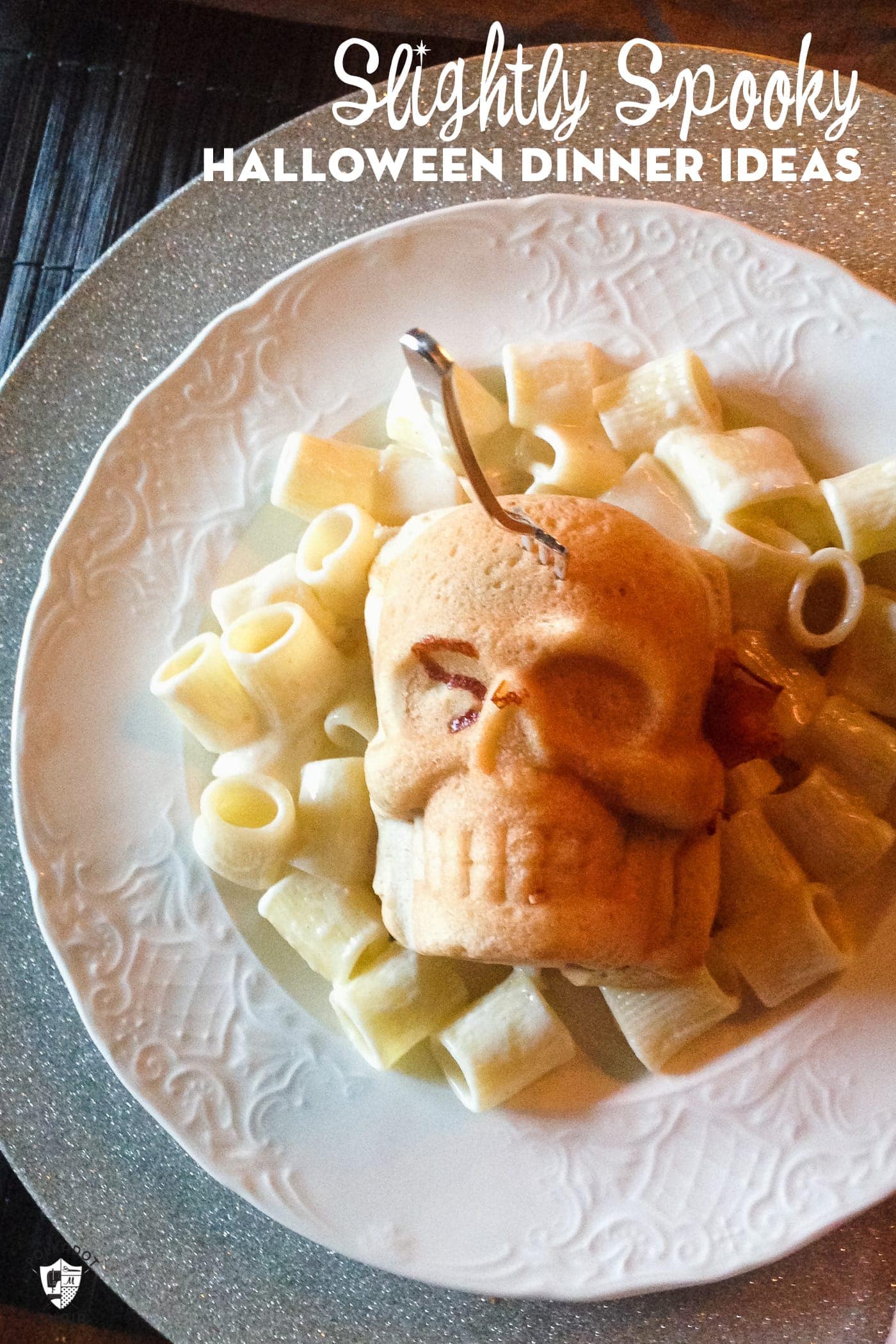 I'm amazed at how much our Halloween celebrations have changed as our kids get older. This "older kids" on Halloween thing is kinda new to us. I've noticed that with all things, the change in kids' ages means the change and adaptation of some of our Holiday traditions.
Table of Contents
In my opinion, kids can trick or treat as long as they want. I love it when I see a 6 ft tall dressed-up trick or treater at my door. They could be doing so many other things, and hanging out with their friends walking around the neighborhood is a "good" thing.
We have started doing the last few years to host a Spooky Halloween Dinner either on Halloween night or in one of the days before Halloween.
Our Spooky Halloween Dinner Ideas
I thought I'd pop in here and share with you what we did for Halloween one year (I took the photos with my iPhone, know this is not a properly "staged and styled" party shoot, please forgive, I didn't want to take time away from dinner to take "proper photos").
For Dinner; Creepy Skull Calzones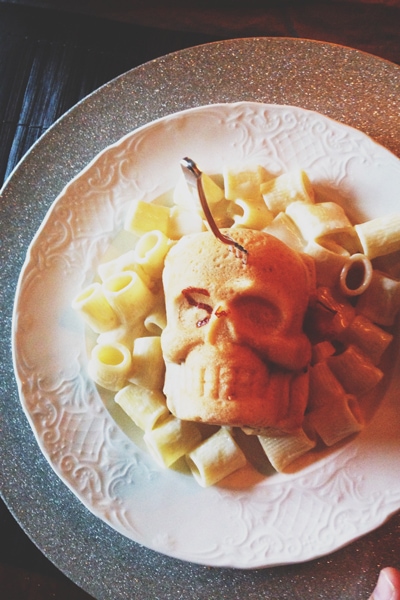 As much planning as I have to do for my blog, I sometimes run out of "planning brain" and end up doing things at the last minute in my "real life."
We always try to make fun Holiday dinners at our house, and I wanted a spooky yet fun idea for dinner that wasn't a mummy hot dog (we've done way too many mummy hot dogs, it was time for something new.)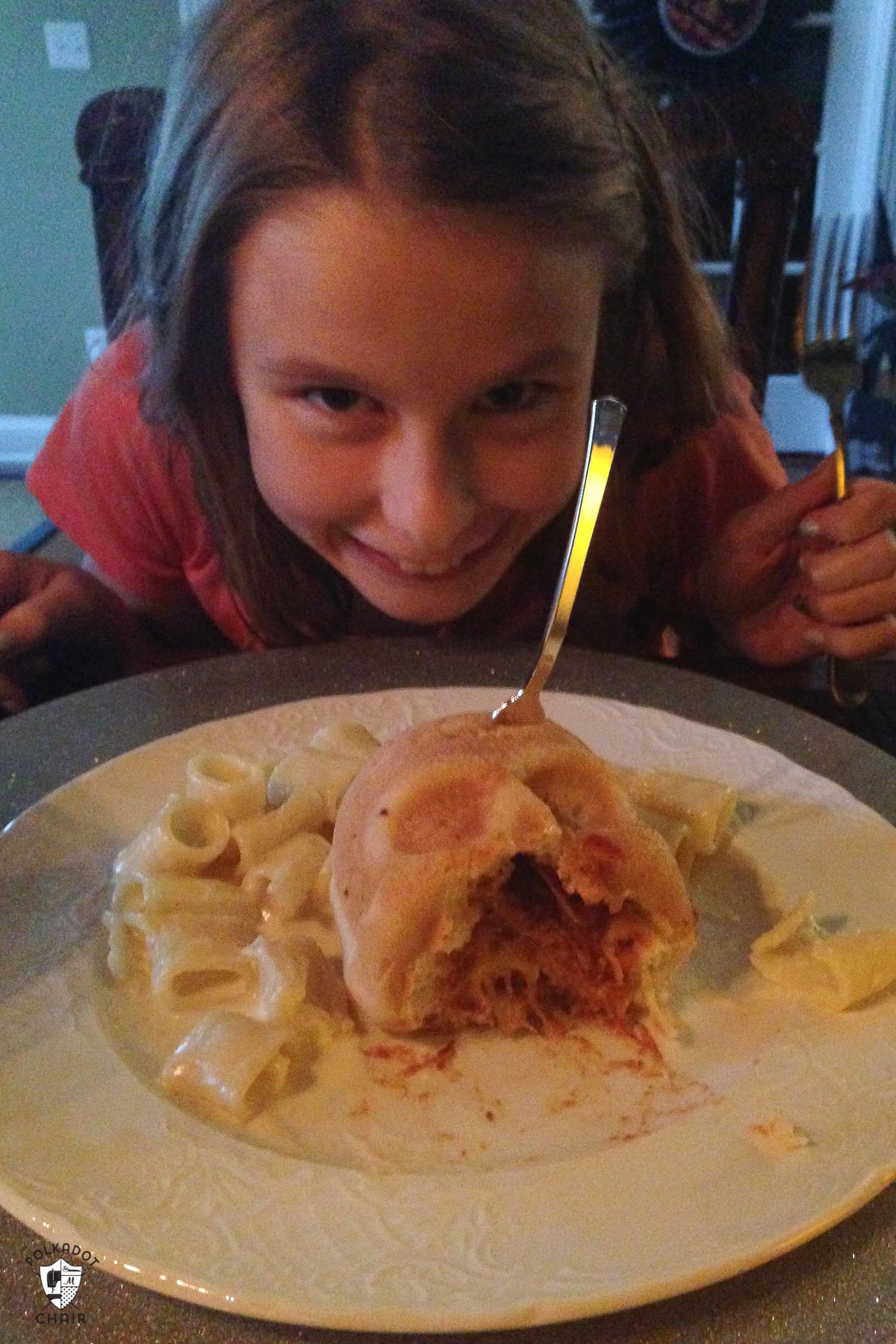 I have a skull cake pan and decided to use it to make some calzones for dinner.  I put them on a bed of pasta to make them a little bit "creepy." My son said it was almost "too gross" to eat once he cut into the skull.
You can grab the skull baking pan HERE.
To make them a bit more creepy, I added a tiny fork to the skull.
How To Make the Skull Calzones:
Line the skulls with pre-made pizza crust.
Then fill with cheese, and your favorite pizza toppings.
Cover with a bit more pizza crust and bake according to the directions on the package or until the crust is golden brown.
Remove from the skull pan while still warm.
Serve over pasta (we served ours over Rigatonni with purchased Alfredo Sauce).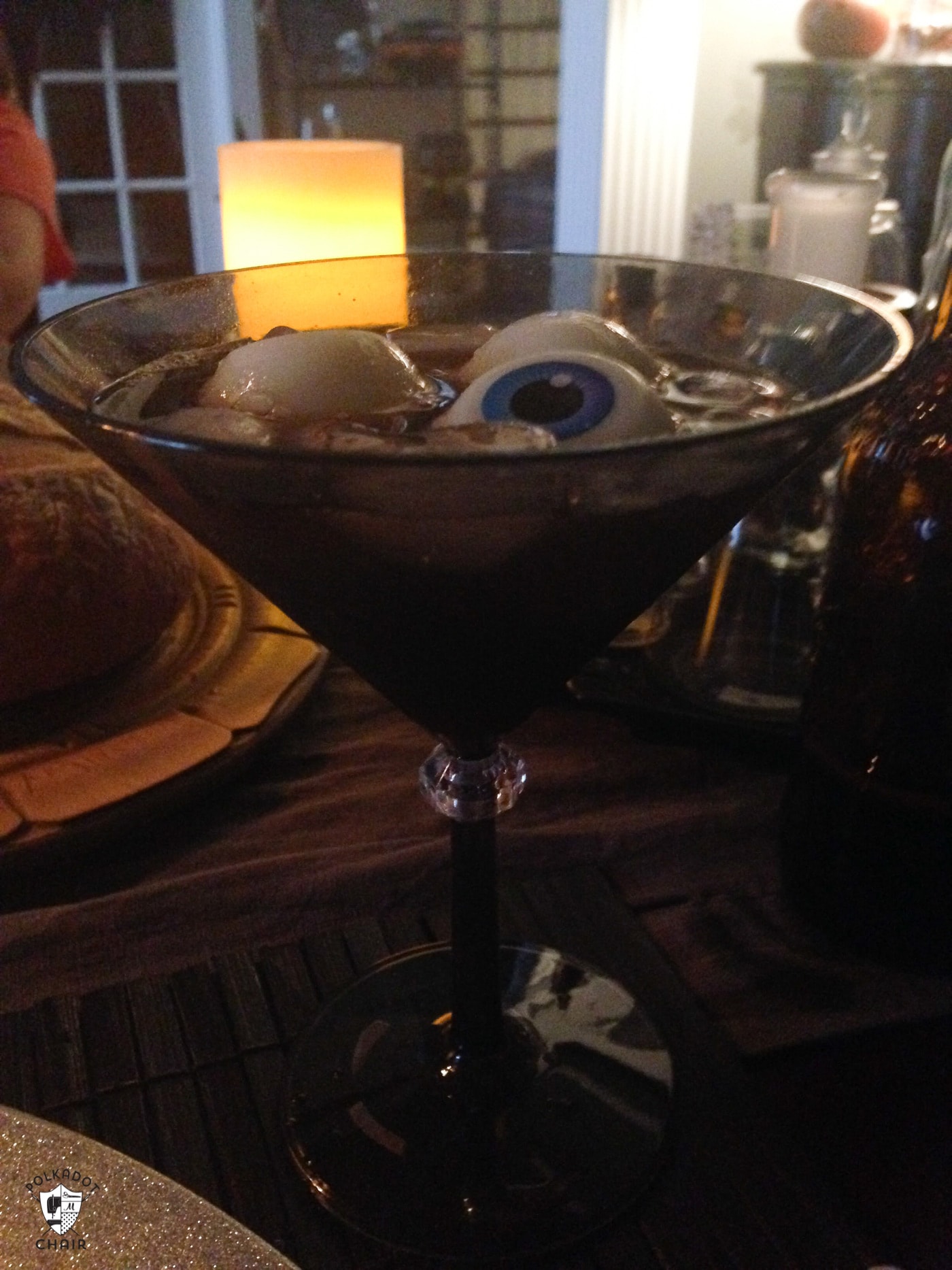 A Few Other Dinner Ideas
Top off dinner with some silly mock-tails complete with eyeball ice cubes. I let the kids choose their favorite soda, then poured them in our mock-tail glasses and added the eyeballs.
You can Get the Eyeball Ice Cubes HERE.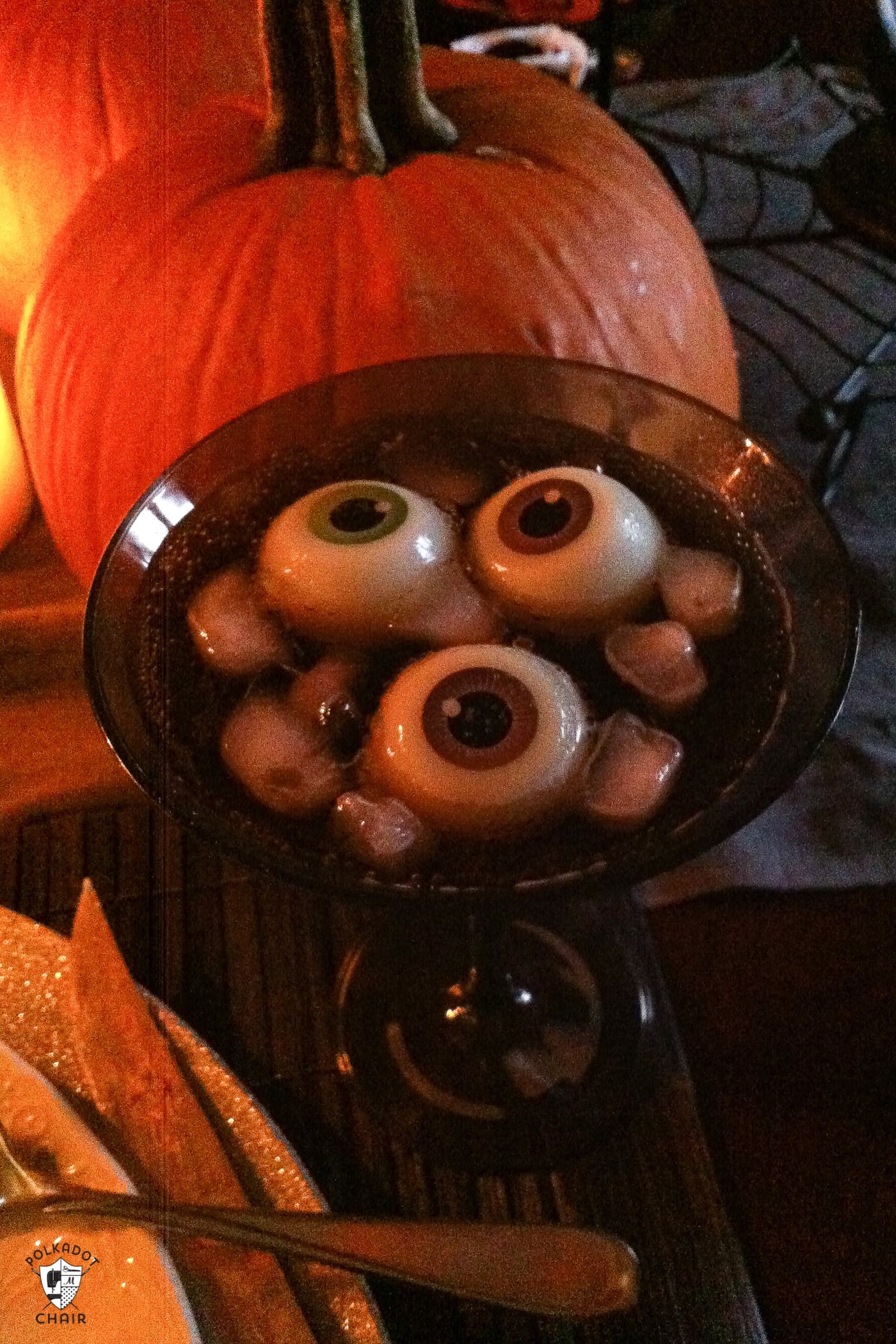 Halloween Table Decorating Ideas
I also LOVE to set our table for Halloween. I set the dining room table up at the beginning of October and leave it up all month long! Then we all get to enjoy our spooky dinner party even longer!
Sometimes I will use paper plates like I did this year: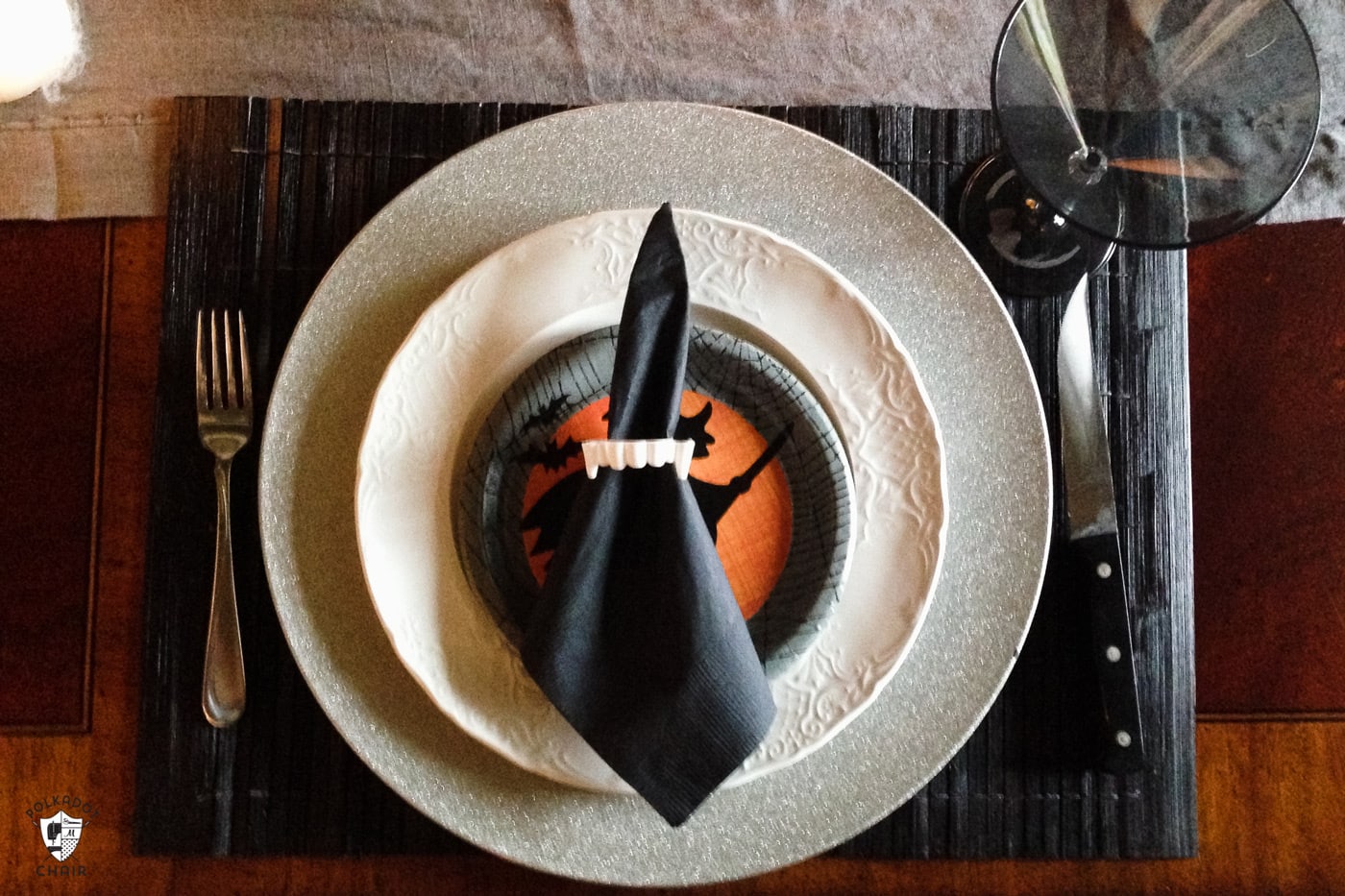 To "Dress" them up a bit more, place the Halloween paper plates on a simple white dinner plate, and add a black napkin decorated with simple plastic vampire fangs.
You can also purchase black plastic martini glasses to add to the spooky mood.
In years since the dinner in this post, I've purchased a set of Halloween Dishes – crazy, I know, but I'm quite obsessed with the Haunted Mansion at Disney World and jumped at the chance to buy a set of actual Haunted Mansion plates!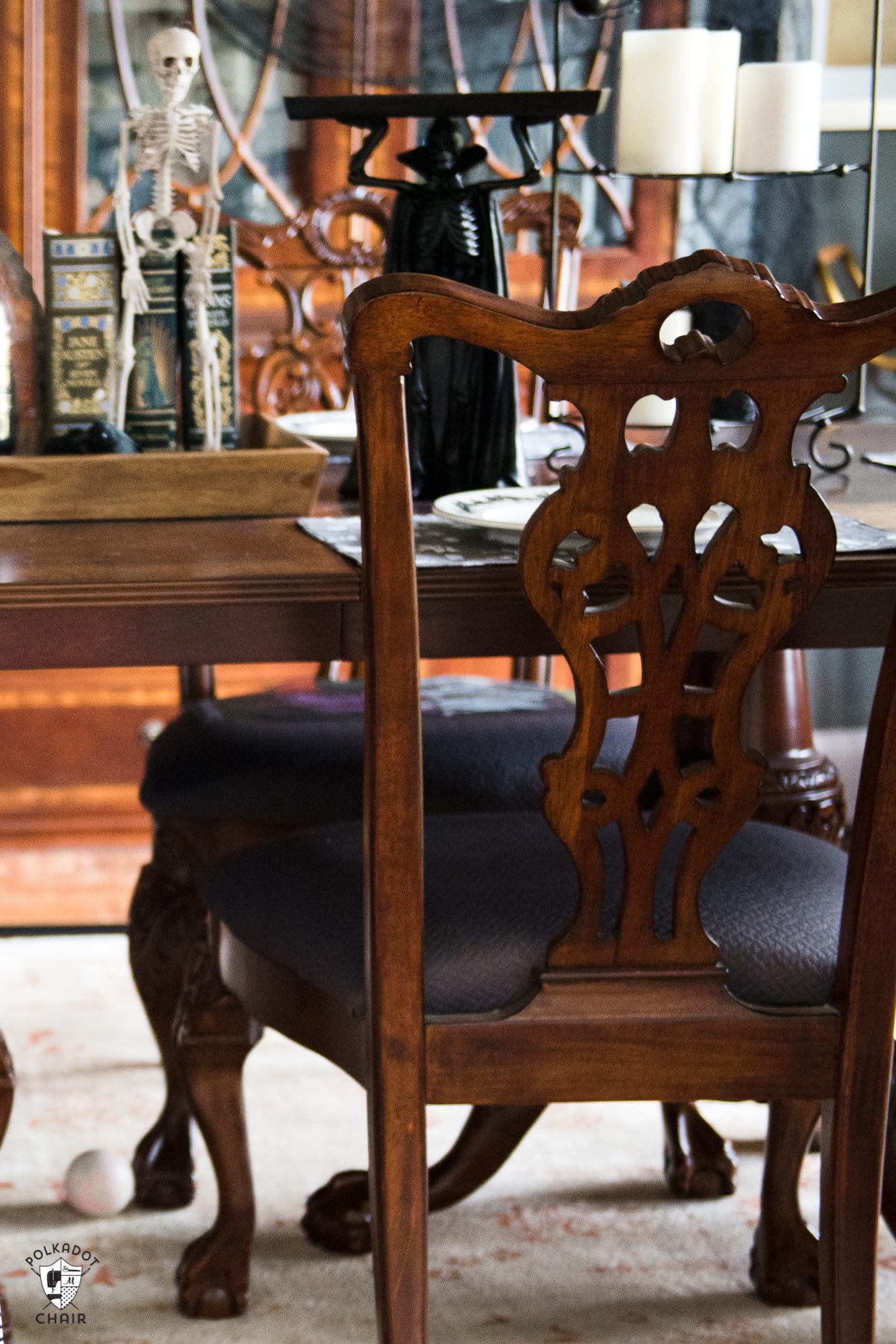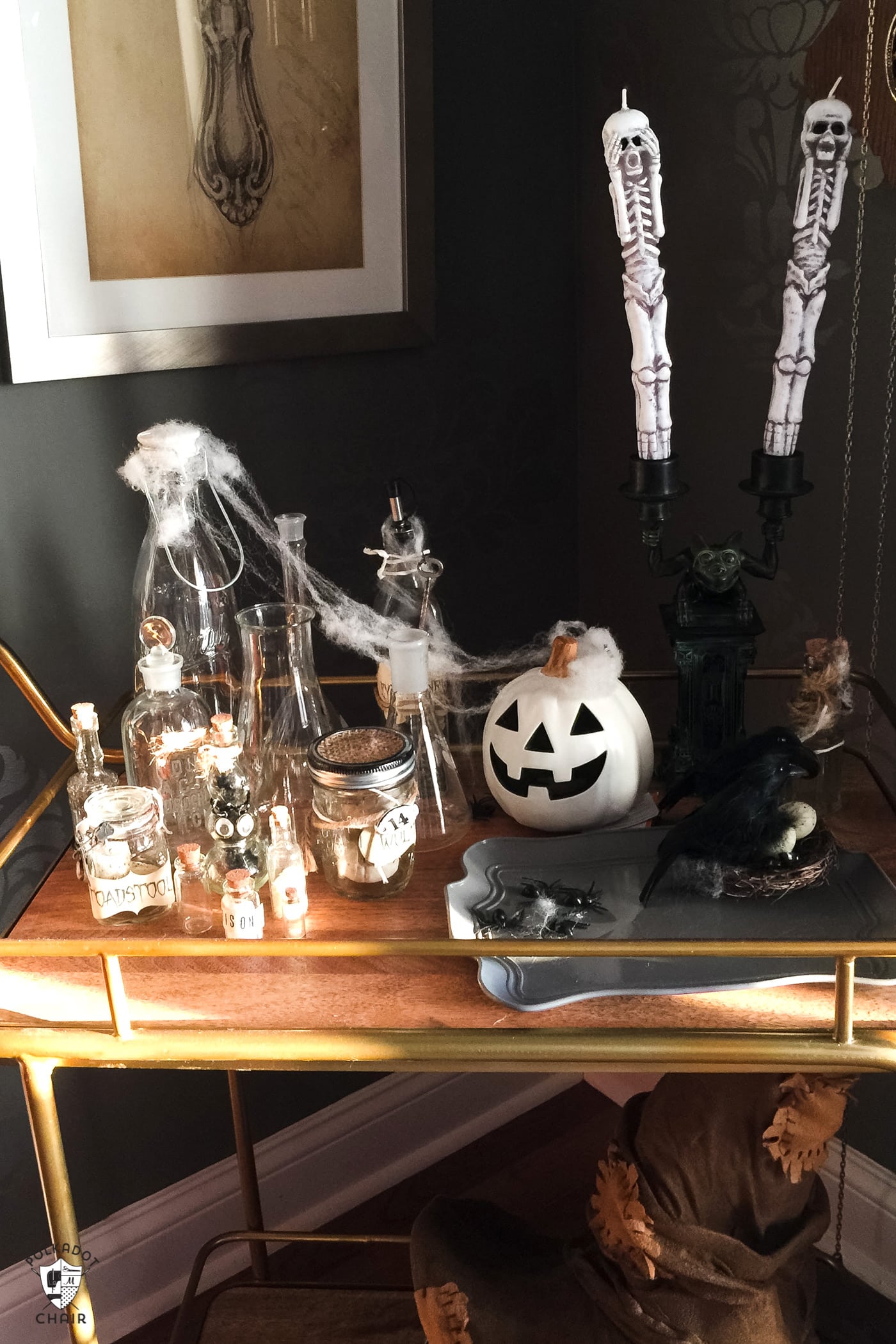 A few of our other Favorite Family Halloween Traditions:
15 Frightfully Fun Halloween Porch Decorating Ideas
Make your Own Halloween T-Shirts