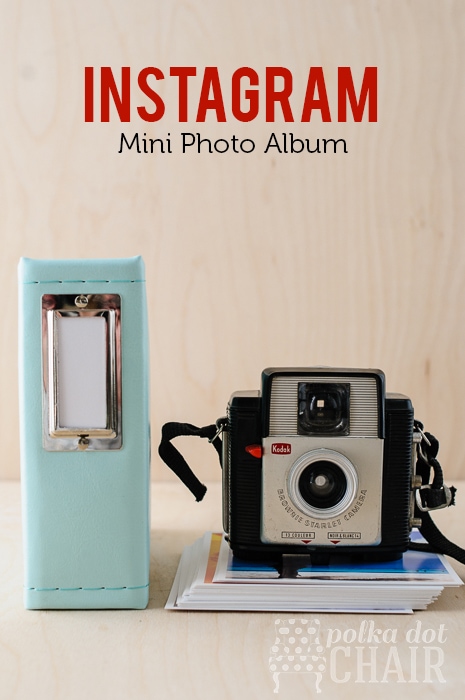 This post is sponsored, which means that Lifestyle Crafts supplied the products for today's project! /// I don't know about you but I am absolutely addicted to Instagram!  I love to flip though my feed a few times a day and see what all of my friends both near and far are up to.  Yes there are lots of photos of kids, pets and drool worthy food,  but I love 'em all!
I also love using Instagram to document our everyday life and special occasions. I especially love it for vacations. It makes scrapbooking a vacation so much easier when you get home. Not only do you have a great collection of photos, you've got dates and captions tied to the photos too!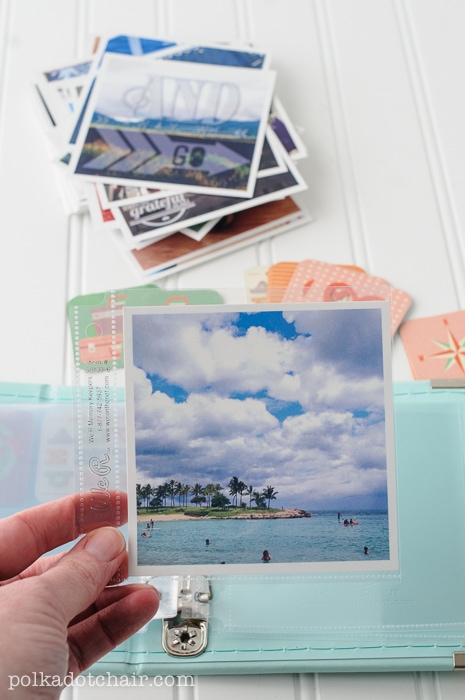 Recently I decided that I would create an Instagram Photo album with some of my photos from our trip to Hawaii last summer.  Nothing too time consuming but something simple and quick to get our trip documented.
I adore making mini scrapbooks, and have posted several here in the past.  So when I saw the new 4" x 4" Instagram Albums from We R Memory Keepers, I did a double take.
It has got to me the cutest little scrapbook album I've ever seen!!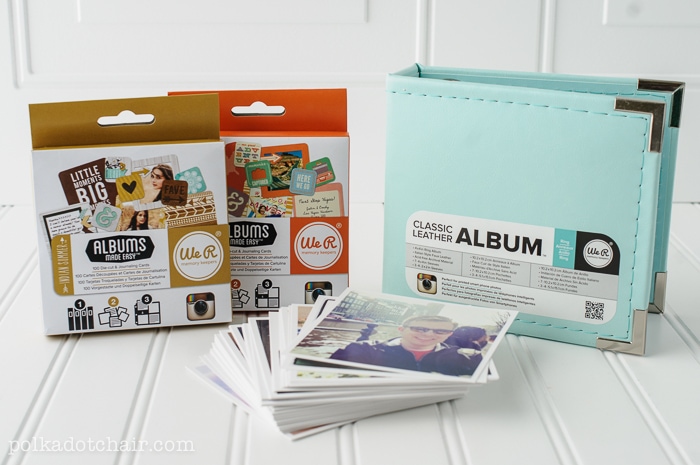 The album comes with both 4" x 4" page protectors and page protectors that are divided into 2" x 2" sections.  I combined my instagram prints (that I printed here) along with the Jet Set Albums Made Easy Journaling cards and a few other odds and ends to make my album.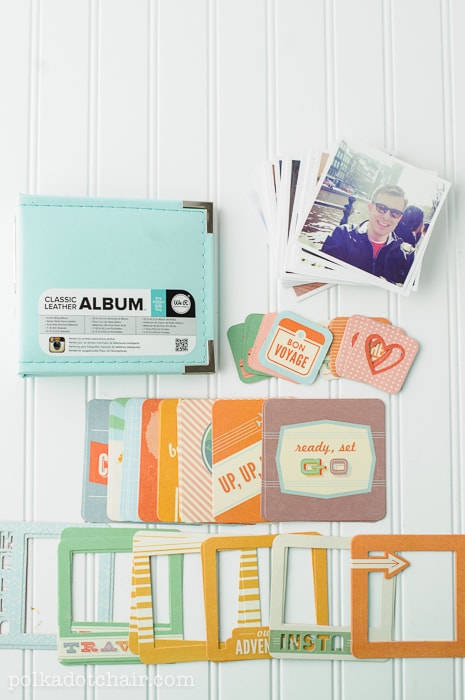 The kit comes with a bunch of great journaling cards and frames, in both 4" x 4" and 2"x2" sizes.  For the most part I just slipped my photos and cards into the albums.
I did want to make a little pullout with a bit more journaling about our trip on it (so we can remember what happened when we're old and gray).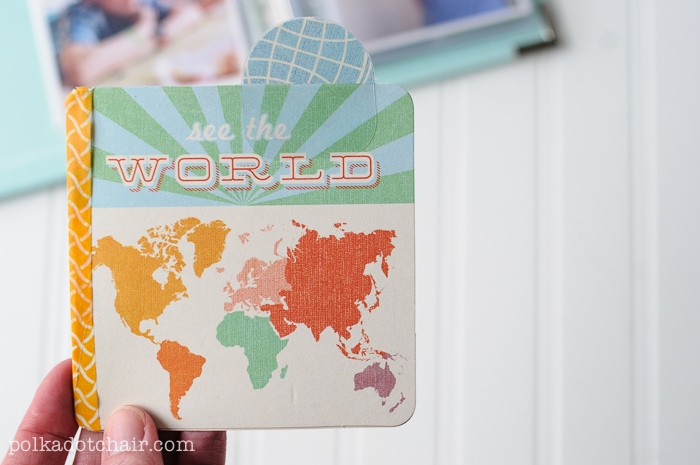 To do this I took 3 of the 4" x 4" journaling cards and taped them together at the edges with Washi Tape.  The washi tape acted as a spine for the little book, and it slips perfectly into the 4" x 4″ page protector.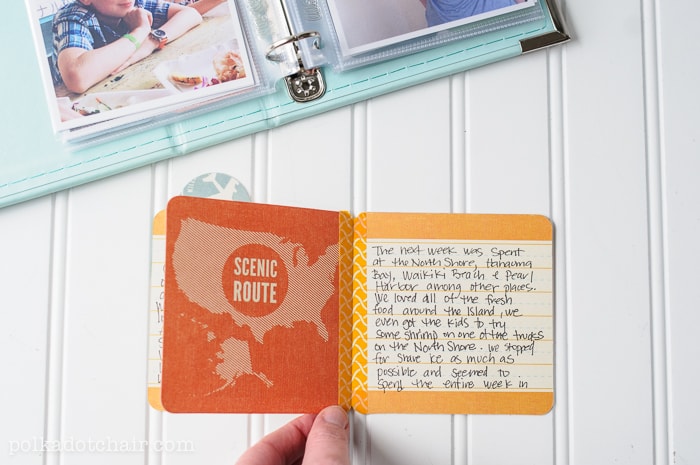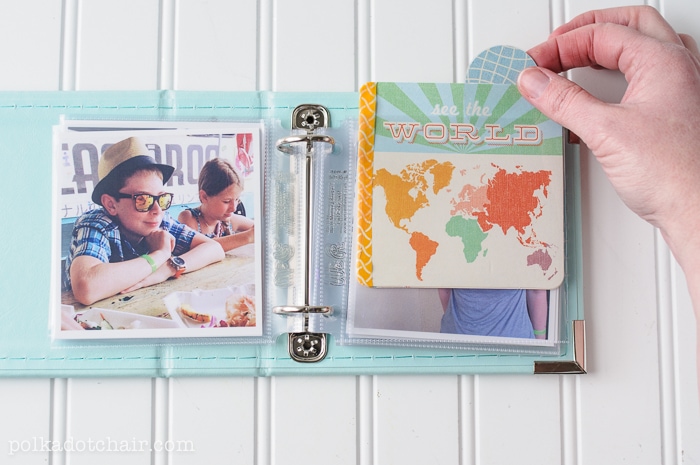 I used the round Tab punch to create a little tab to make getting the book in and out of the album easier.  The punch came with plastic stickers to go over the circle so that the tab will be sturdy and hold up to a little bit of wear and tear.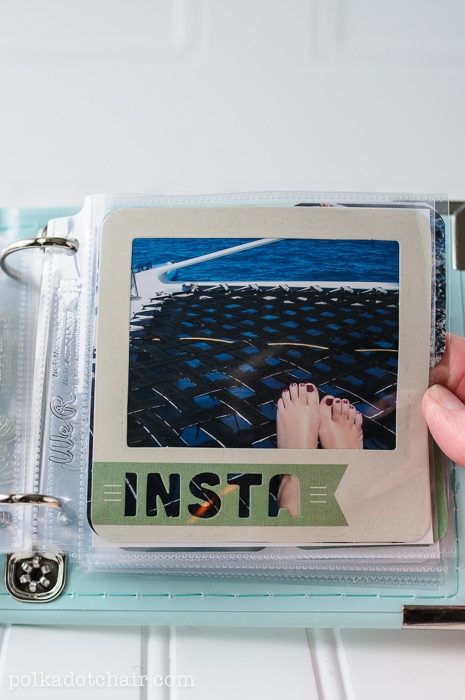 I think my favorite features of the kit are these fun frames.  I loved picking out some of my photos to add the frames over.
For the 2" x 2" pockets I used mostly the 2" x 2" journaling cards in the kit. I did use a 2" square punch to punch some details out of some of my larger printed photos.
Here's a look at all of the pages in the album:
Like I said before, I adore the size of this album, just the right size to set out for display.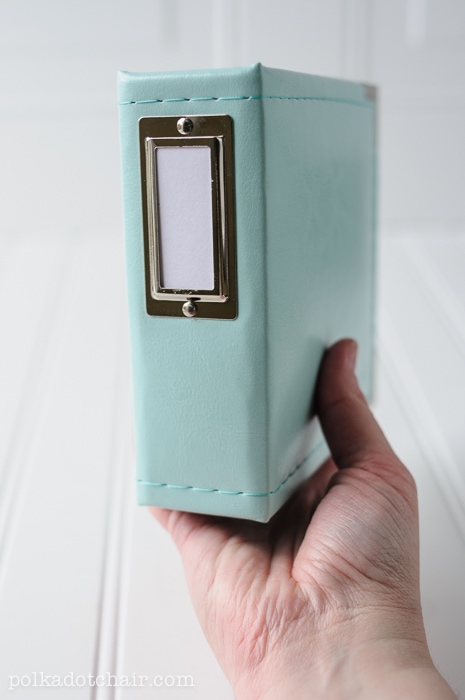 Instagram Journaling Cards, Jet Set
4" x 4" Ring Photo Sleeves, regular and divided