The Epcot Flower & Garden Festival is an annual event held at Epcot in the Disney World Resort in Florida. It features various special events & exhibits and is always one of our family's favorite things to see when we visit the Disney Parks!
Before our visit this year, I drew a special Mickey Floral image and created a t-shirt using it. So I'm excited to share a free SVG with you today to DIY your own Disney Tee!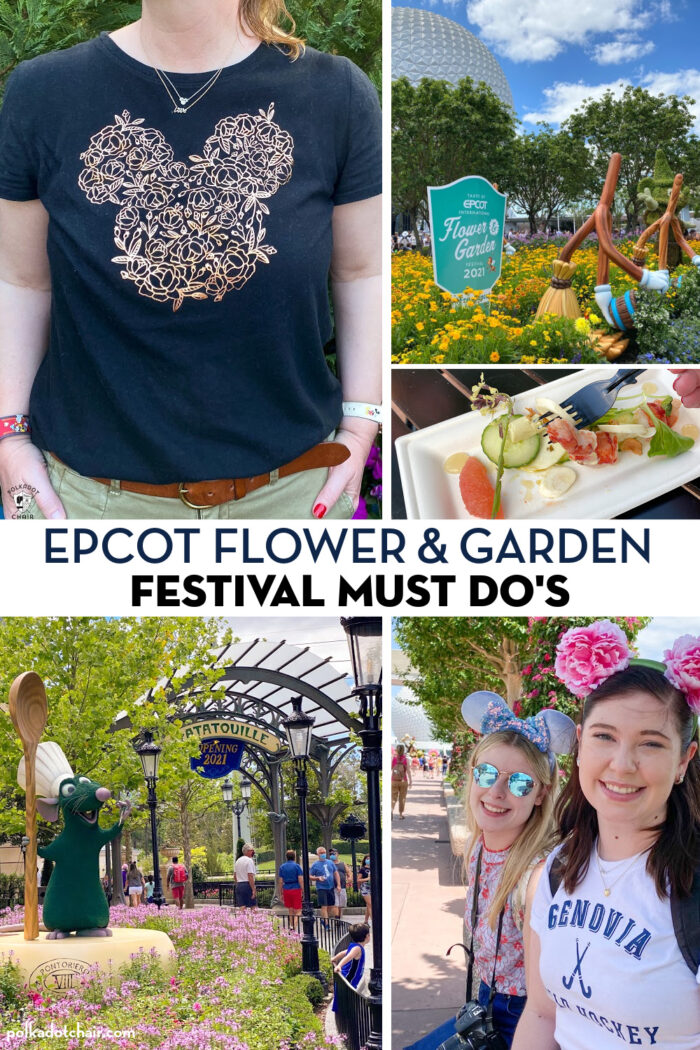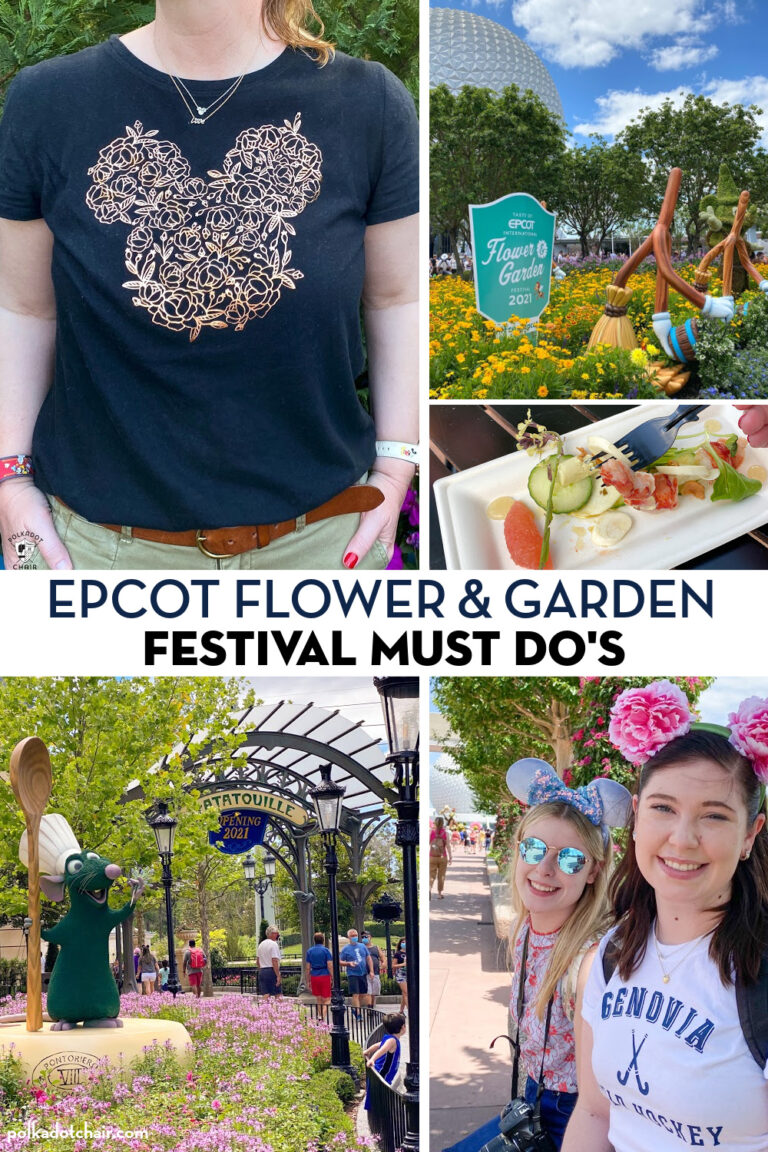 Recently my family returned from a trip to the Walt Disney World resort in Florida. We were hosted by Disney so that I could share some of the things going on at the Walt Disney World Resort right now with all of you!
Table of Contents
We have been traveling to Disney World for many years (we are Disney Vacation Club members and were even Annual Passholders for a while).
If you've never visited Disney and would like to go, Traveling Mom has some great FAQ & Tips for First Time Visitors.
We always loved to travel with our children when they were small and then found that as they grew, they loved to visit Disney World just as much as they did when they were younger. Now that my husband and I are empty-nesters, we enjoy taking periodic trips to Disney, just the two of us.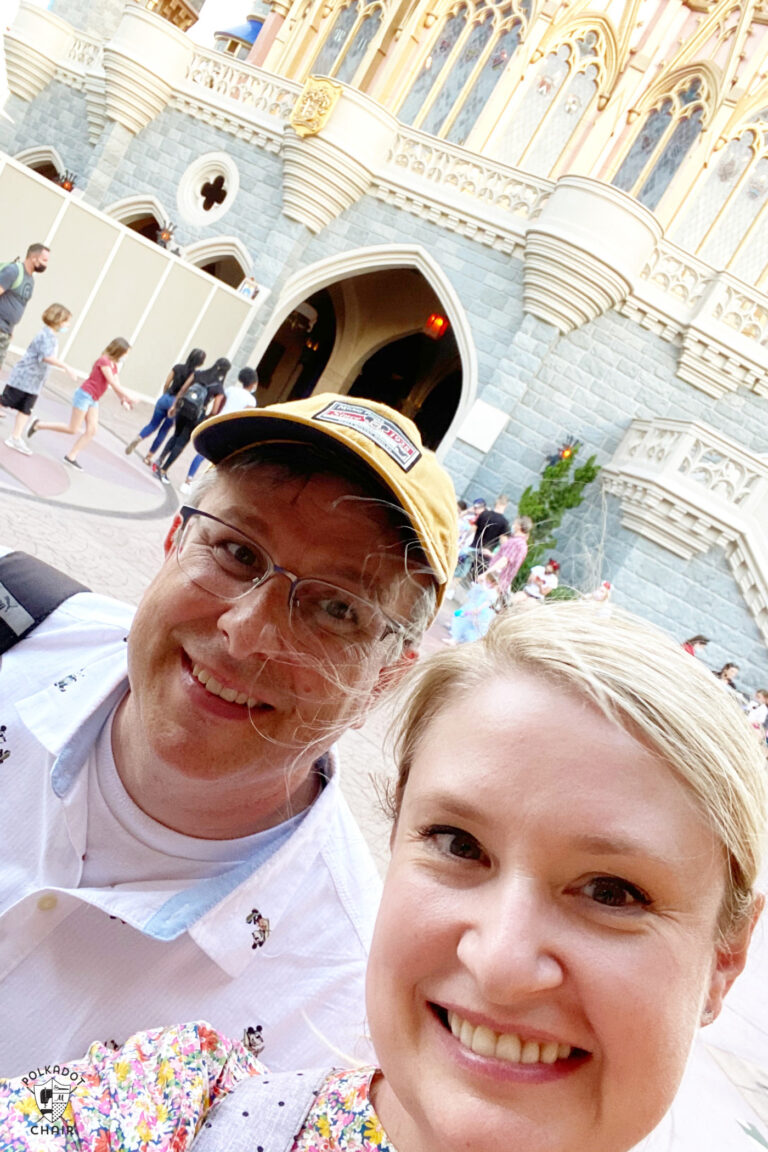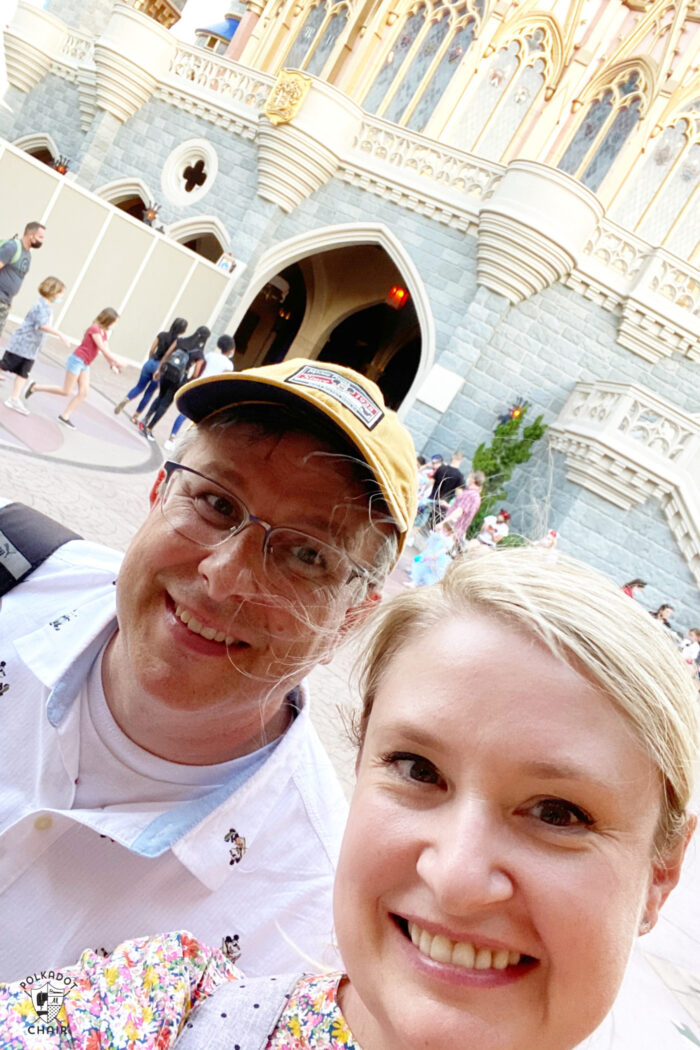 We went one year for our anniversary, and I have to admit that a few people thought we were weird to go to Disney without kids. I don't think they've been there recently. Disney makes for a really, really fun date night. There are great restaurants, fun shopping (Disney and non-Disney shopping), and lots and lots of things to do.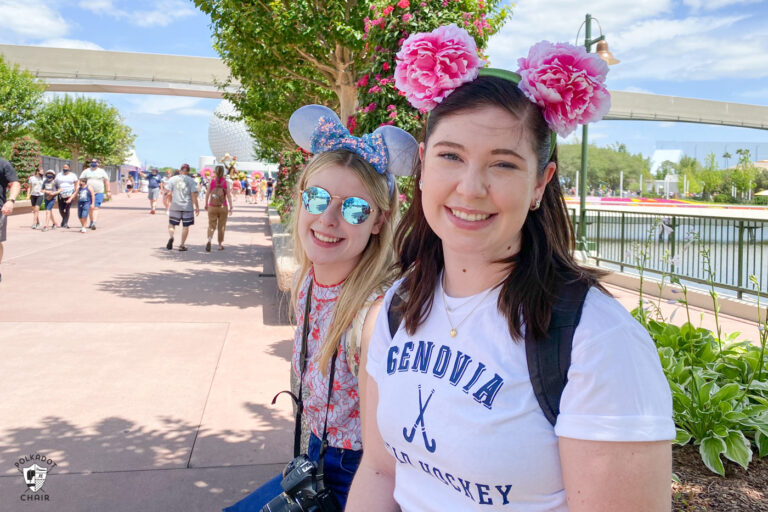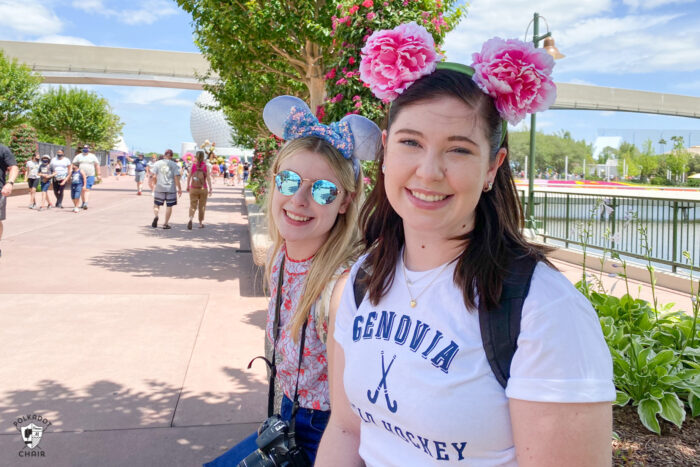 During our most recent visit to Disney World, we were able to take our two oldest daughters with us. (Our son could not attend since he is in Texas on a church mission right now, but we plan to visit again with him very soon).
I was very excited when I realized that our trip would coincide with the Disney World Flower and Garden Festival at Epcot resort. It's one of our favorite things to see when we are at Disney.
What is the Epcot Flower & Garden Festival?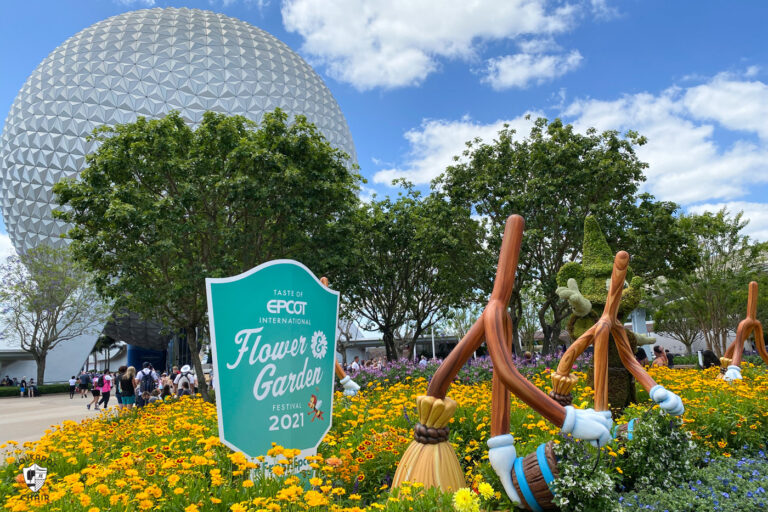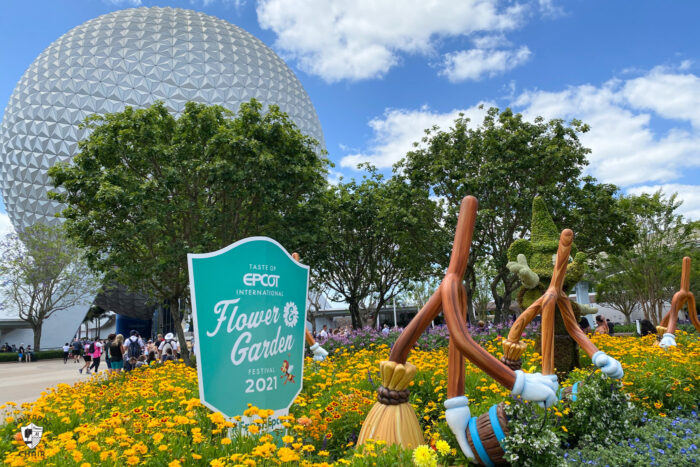 The Epcot International Flower and Garden Festival is an annual festival held at Epcot at Walt Disney World resort in Florida. It's a special Springtime event that includes several "festival only" attractions & merchandise.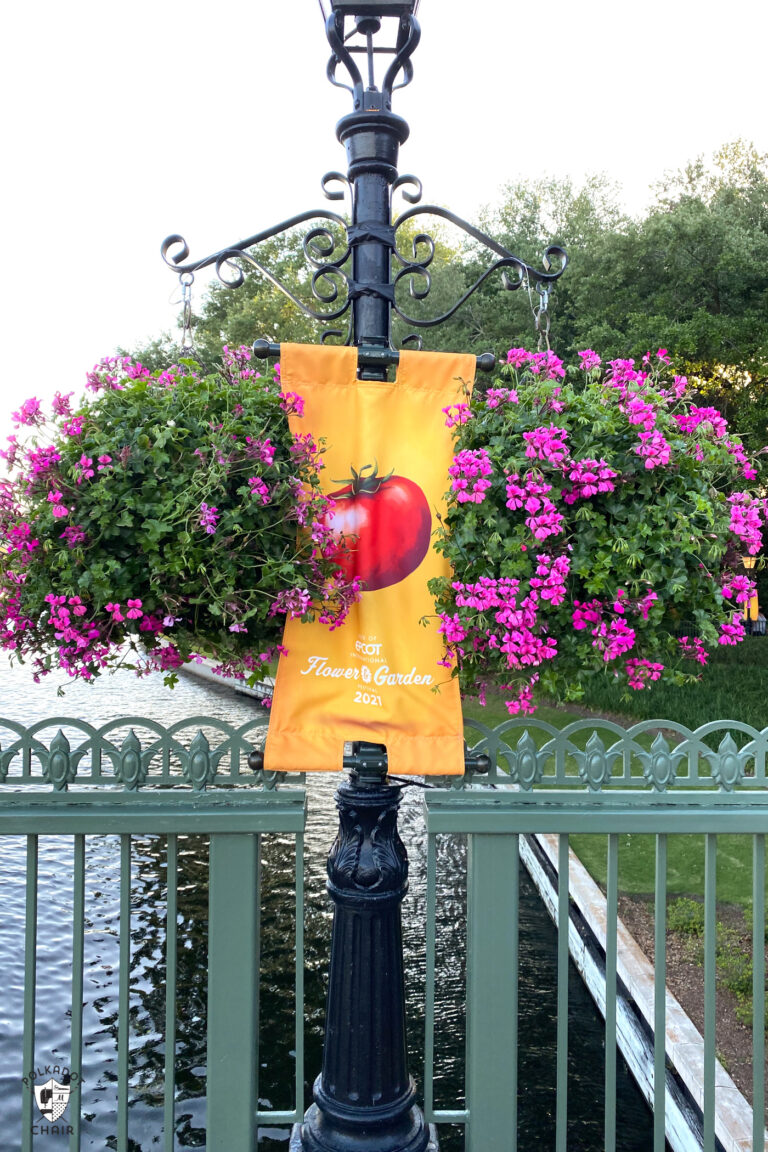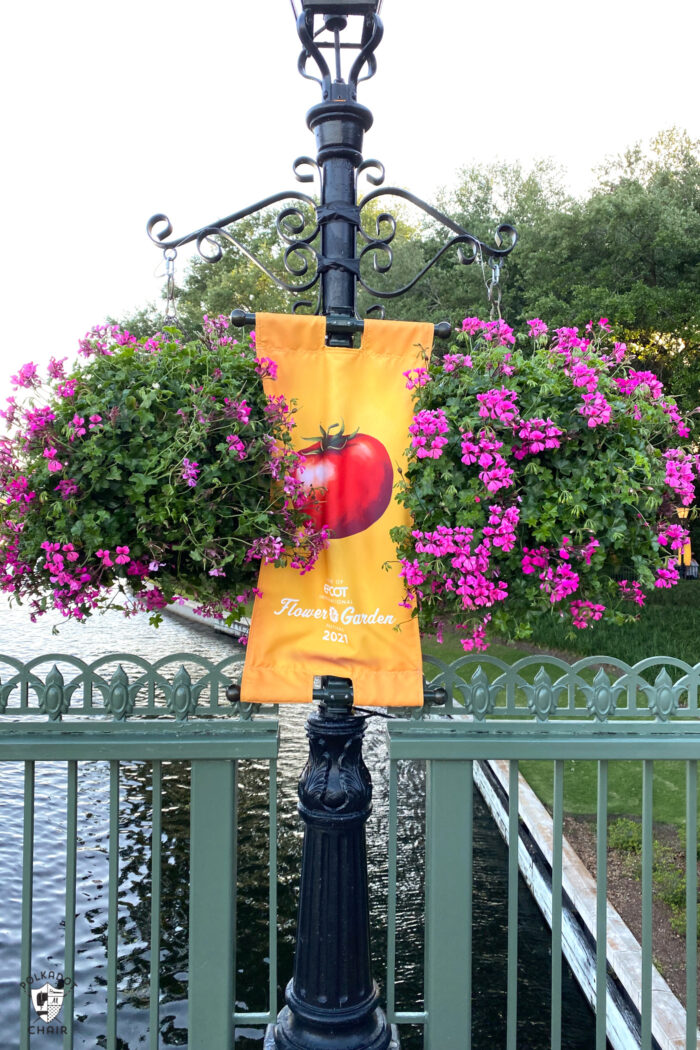 There is festival exclusive live entertainment, food, garden exhibits, live music and education. One of my favorite things featured at the festival is all of the amazing Disney Topiaries! Our family has been visiting Disney World for many years and always loves visiting Epcot during the Flower and Garden Festival.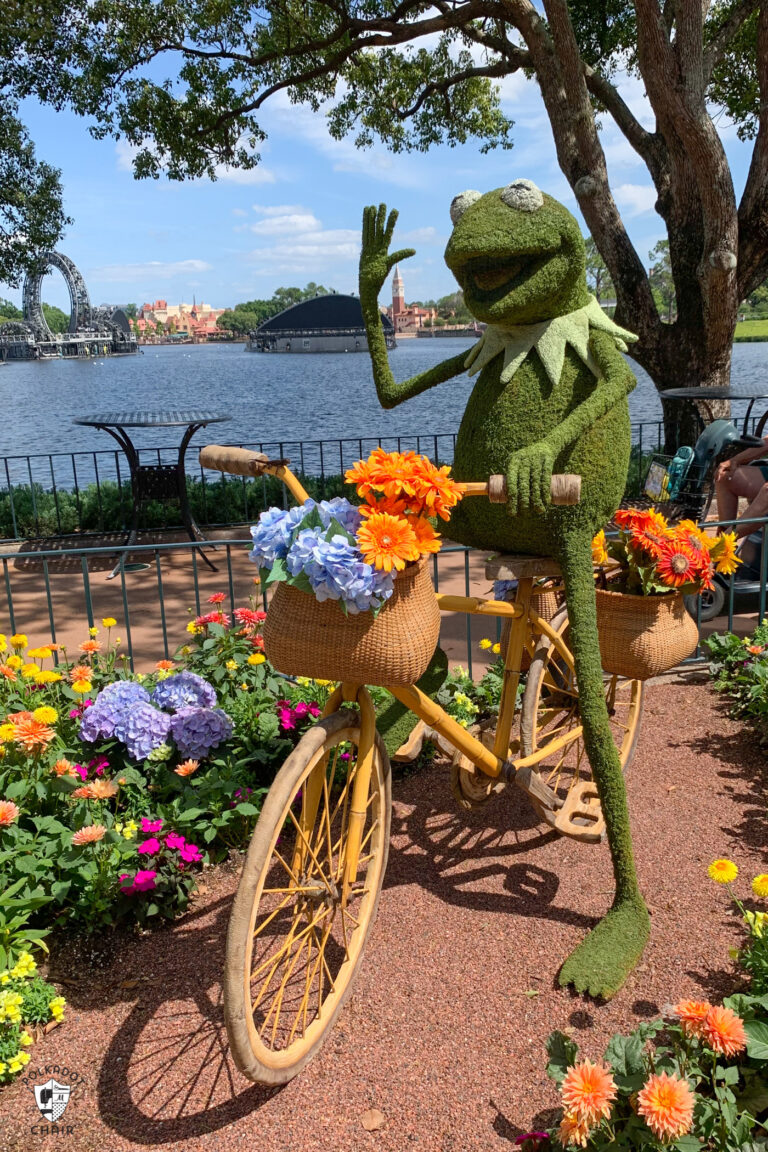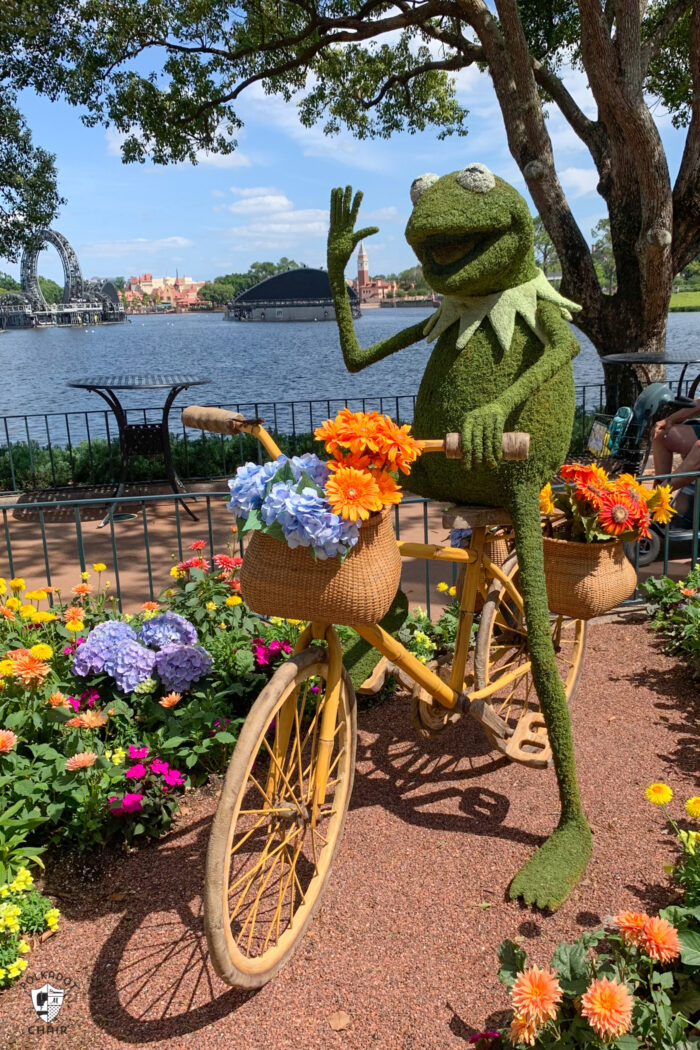 There's also special merchandise that is offered only during the Flower Garden festival. This year featured many items with the famous Orange Bird! If you're not familiar with it, the orange bird is the symbol of the sunshine season's food window at Magic Kingdom.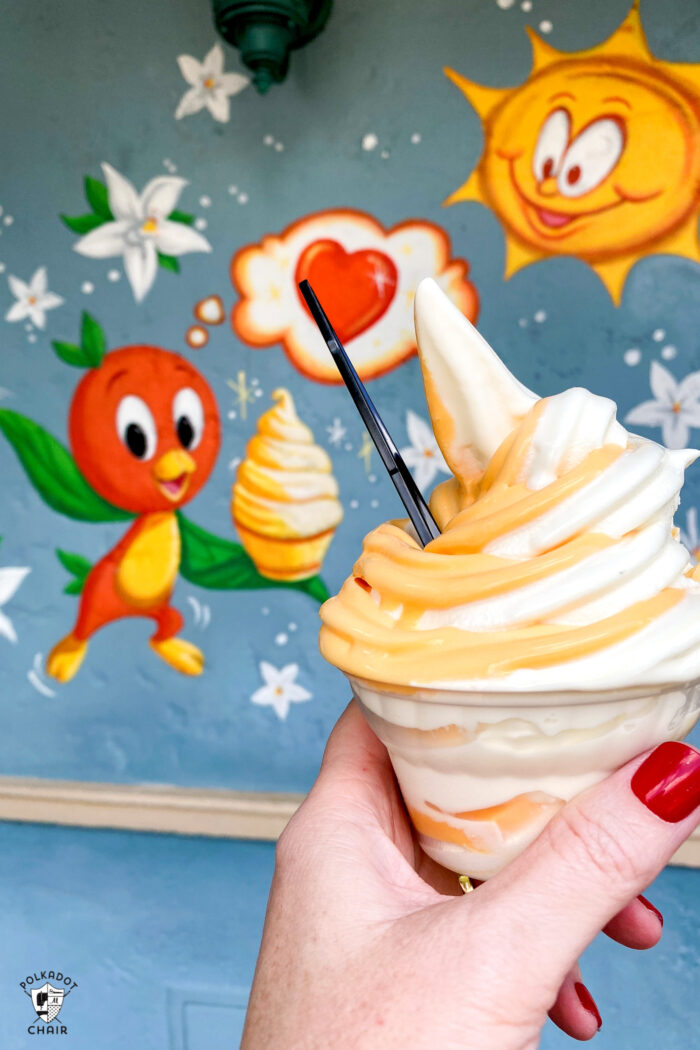 I know that Dole Whip is famous at Walt Disney World, but I have always been slightly more partial to the orange swirl at Sunshine Tree Seasons.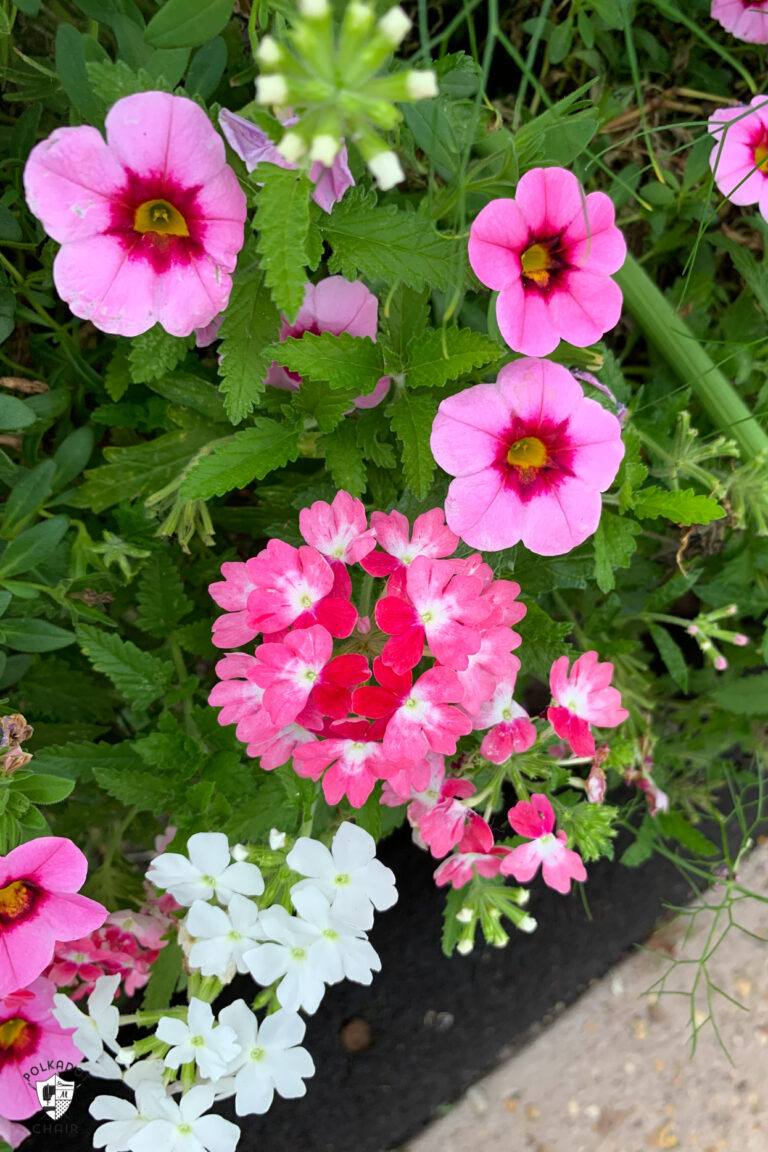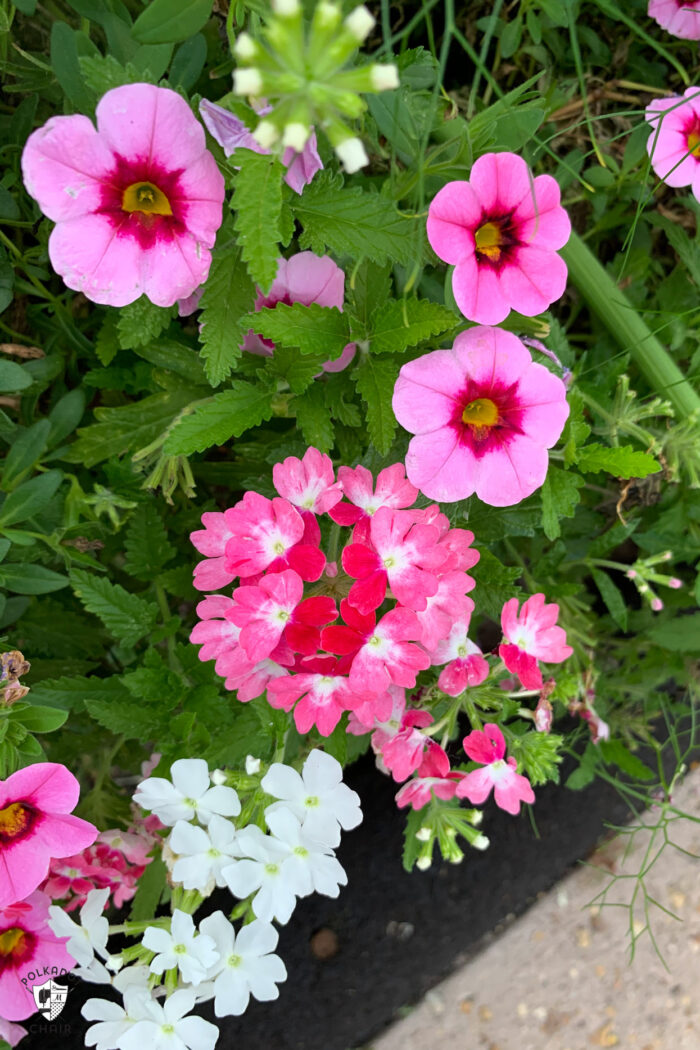 What is it Like to Visit Disney World Now?
Obviously, there have been quite a few changes to the Walt Disney World resort since the last time we visited. It's definitely a different experience but absolutely still worth going, in my opinion.
Things are changing rapidly at Disney with regards to the adjustments they've had to make after 2020. So before you go, make sure that you check out their website to see the latest guidelines.
When I shared my trip on Instagram, one of the biggest questions I got was what Disney World is like right now. Yes, it is different, but it is still fun. The biggest difference that I have noticed is that you need to plan a bit more than previously.
Be Sure to Plan Ahead
You need to make sure that you have park tickets AND park reservations (previously, you did not need to make park reservations). At first, I didn't love the fact that I had to make a park reservation, but after they were made, I was thrilled that I could relax and know that spot was saved for me at the park that day, and I did not have to rush to get there first thing in the morning if I did not want to.
Order Food Ahead of TIme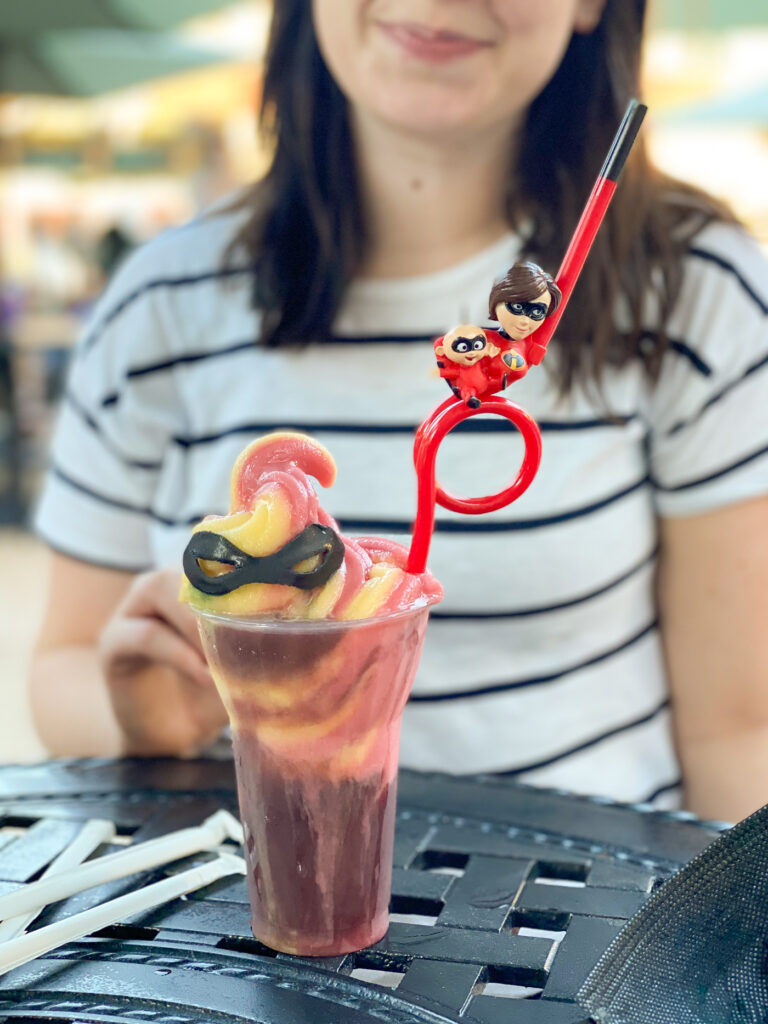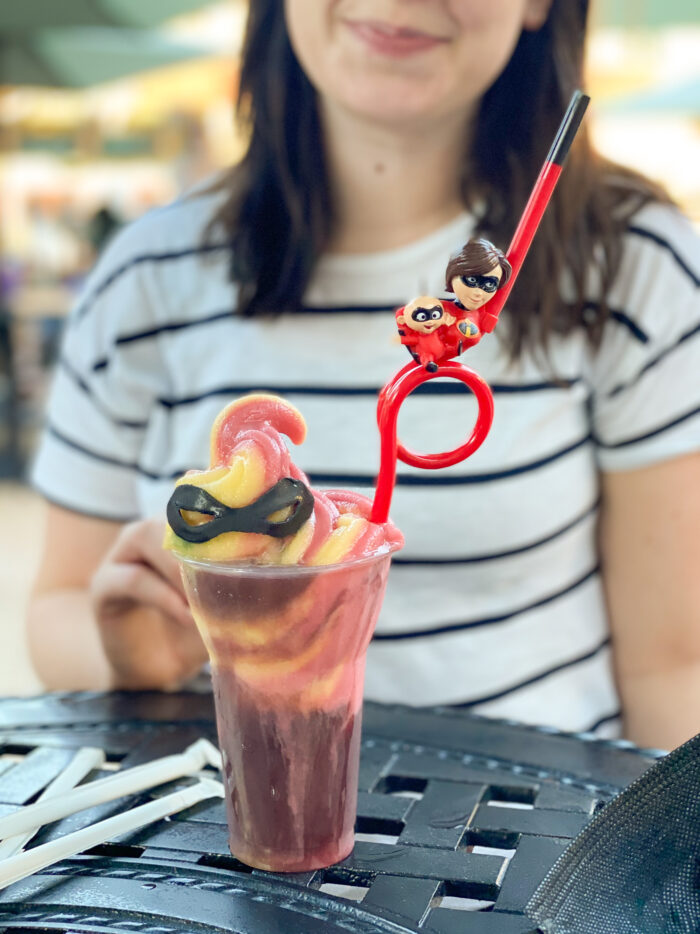 In addition to making sure you have a park reservation, make sure you downloaded and are familiar with the My Disney Experience app before you go. You'll use it to order your quick service meals.
If you're there on a busy day, I recommend hopping on the app in the morning and pre-ordering your lunch or dinner. You can order it any time during the day. When you order, you select a time that you'd like to eat. Then, they prepare your food when you arrive. I actually like this change, because we never had a hard time finding a table in a quick-service restaurant. No more walking around with a tray of food looking for a seat!
The capacity of the parks is limited. We were there during April, and many of the parks were "sold out" the days visited. Having visited Disney MANY times at many different times of the year, I'd say that the crowds were moderate. The longest line for a ride was 85 minutes (which is NOTHING compared to the 280-minute waits I've seen in the parks before). The Parks were not empty by any means. Disney has done an amazing job making heath and safety adjustments as necessary.
I respect all Disney Parks employees working so hard to give the guest a magical experience during this crazy time. You can tell that most of them were really going above and beyond to make sure that everyone was having a good time. If you go and have a question about something, ask a Cast Member, they are very knowledgeable and always eager to help!
Don't be Afraid of the Lines!
The biggest tip I can give you is don't be afraid of the lines. Many of the lines are distanced, going in different directions than they normally do, so they appear longer than they look.
Every line that we waited in was ended taking less than the advertised time and moved quickly. I've noticed that if a line moves quickly, you don't really seem to notice it as much as you would if you were standing around.
Adjust your Expectations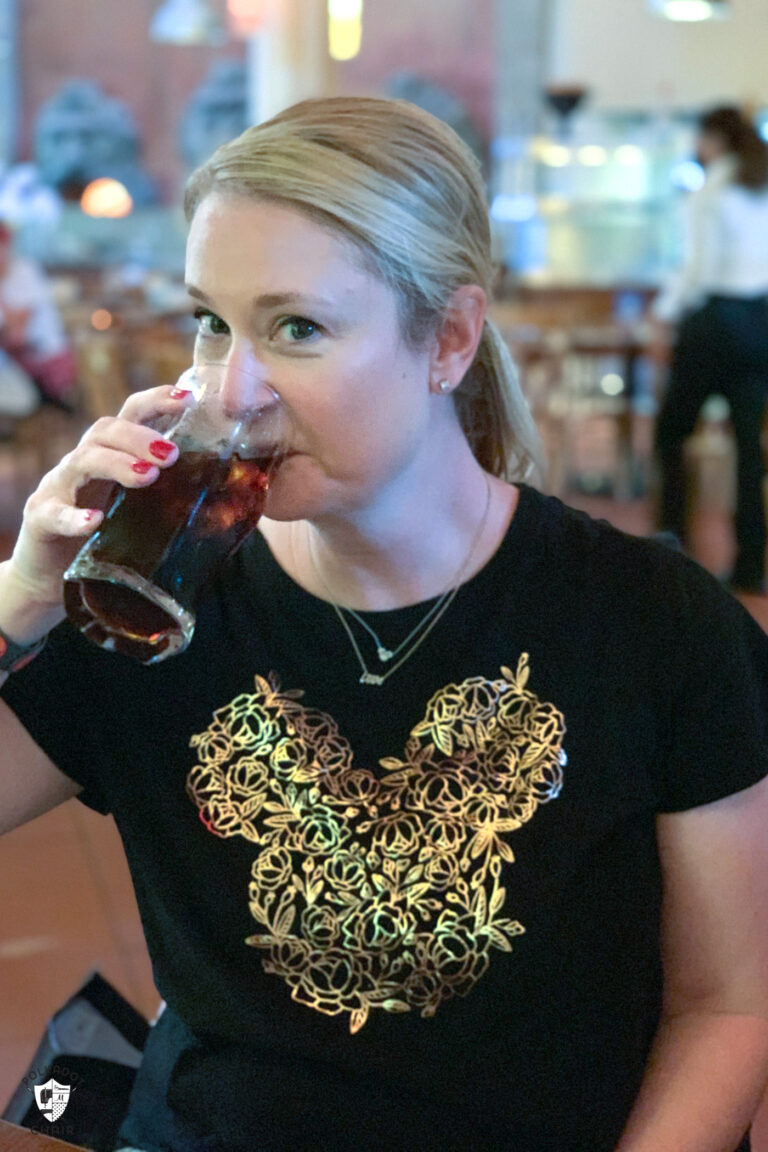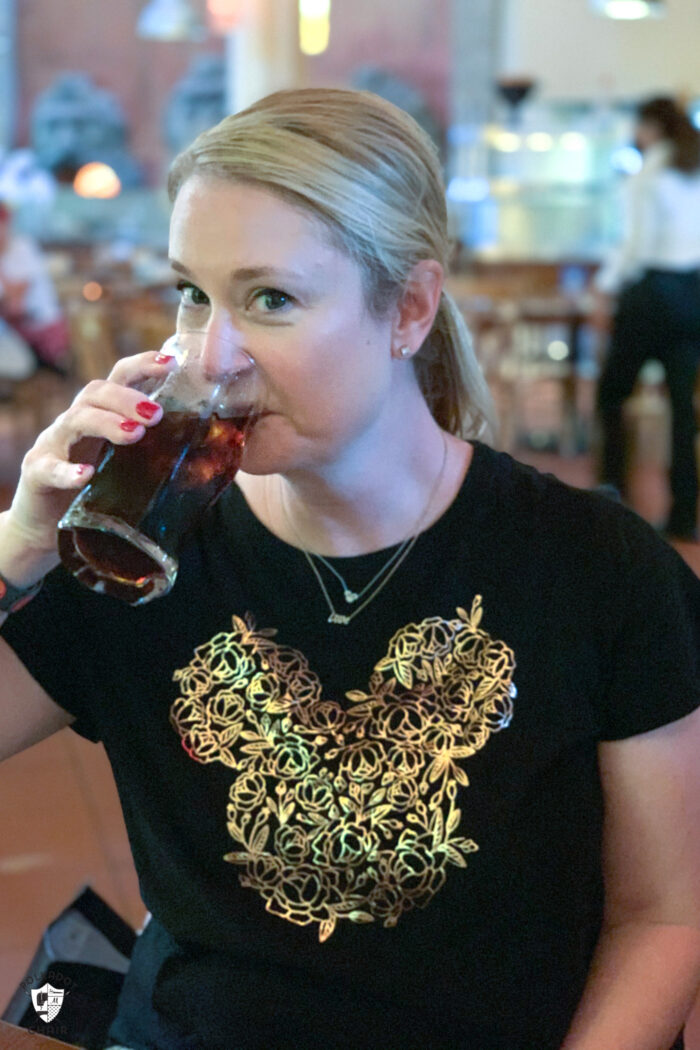 (that's a Diet Coke, if you know me, you know LOL!)
I could go on and on with tips for visiting to see parks right now, but the biggest thing I can give you is to change your expectations and plan. Please don't go to Disney expecting it to be the same as last time you were there. It's different, but it's still Disney World, and we still had an amazing time.
Our Day at Epcot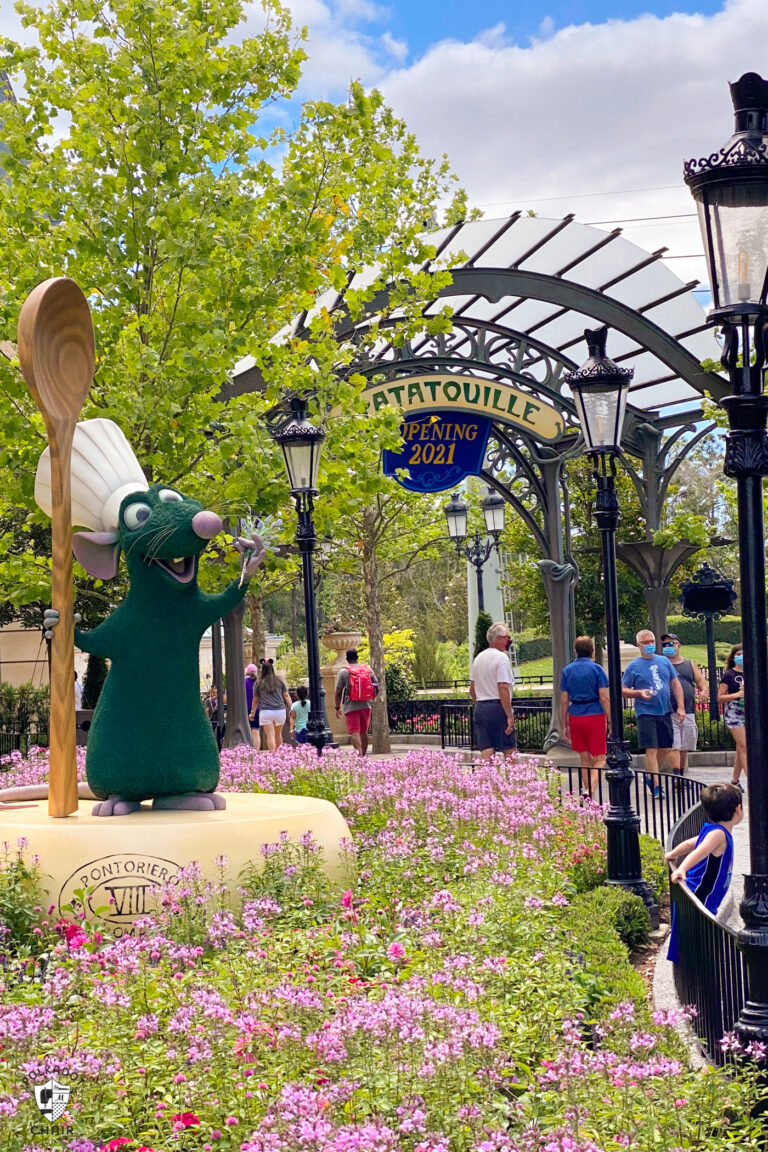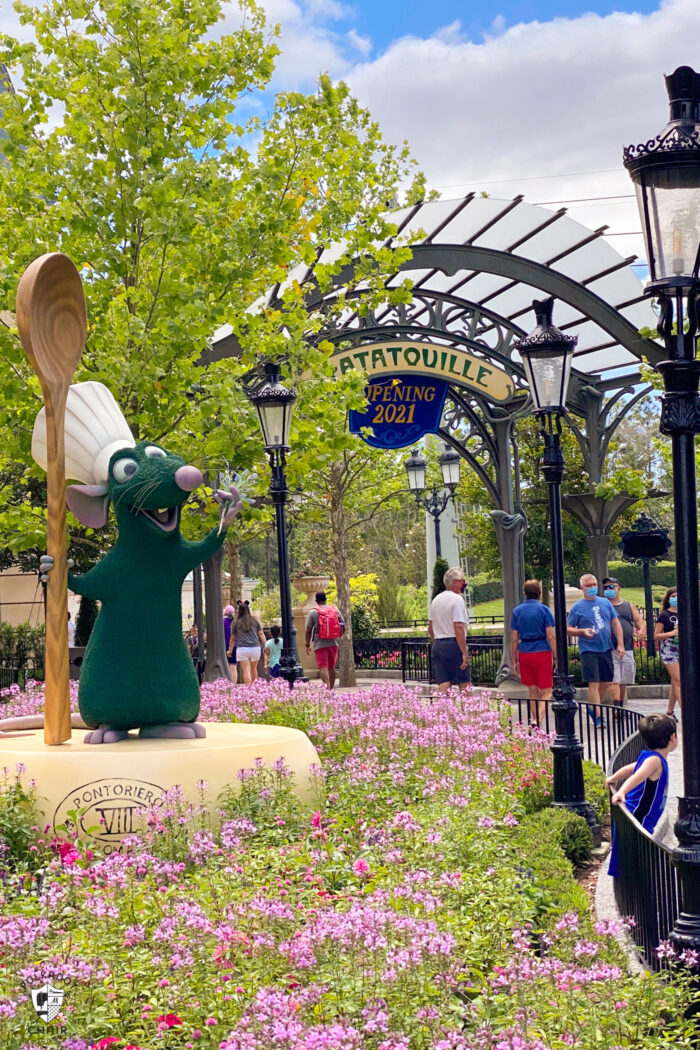 We've created a fun little video with some of the highlights of our day at Epcot. If you watch it and think, "wow, they take a lot of pictures," well, we do. My kids all enjoy photography as a hobby. Also, since we were there for work we needed to take a lot of specific photos.
Things to do at the Festival
Be sure that you take some time to explore some of the gardens added to Epcot during the festival. Sometimes I notice when I'm out at the park that I get walking around a little bit too fast and don't take time to notice what's around me.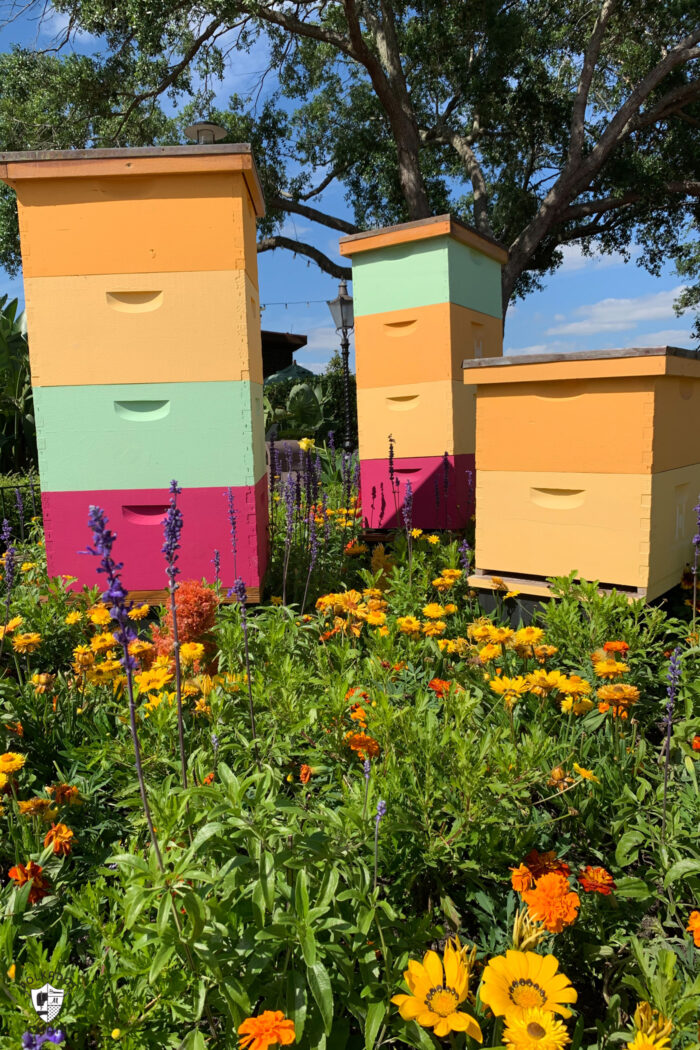 This is definitely something you want to make sure you watch out for during the Flower and Garden Festival, as there are lots of hidden gardens scattered throughout the park. For example, a Chinese zodiac garden, a bamboo garden, an orchid garden, a bonsai garden, and an English tea Garden, among many others.
Visit Butterfly Garden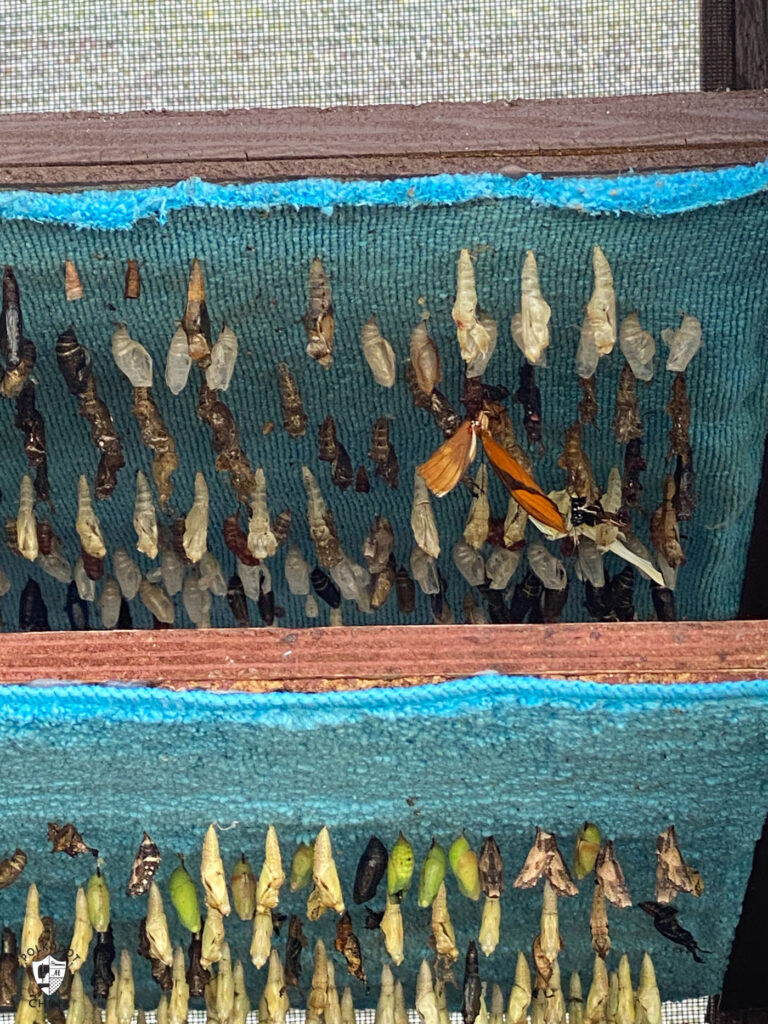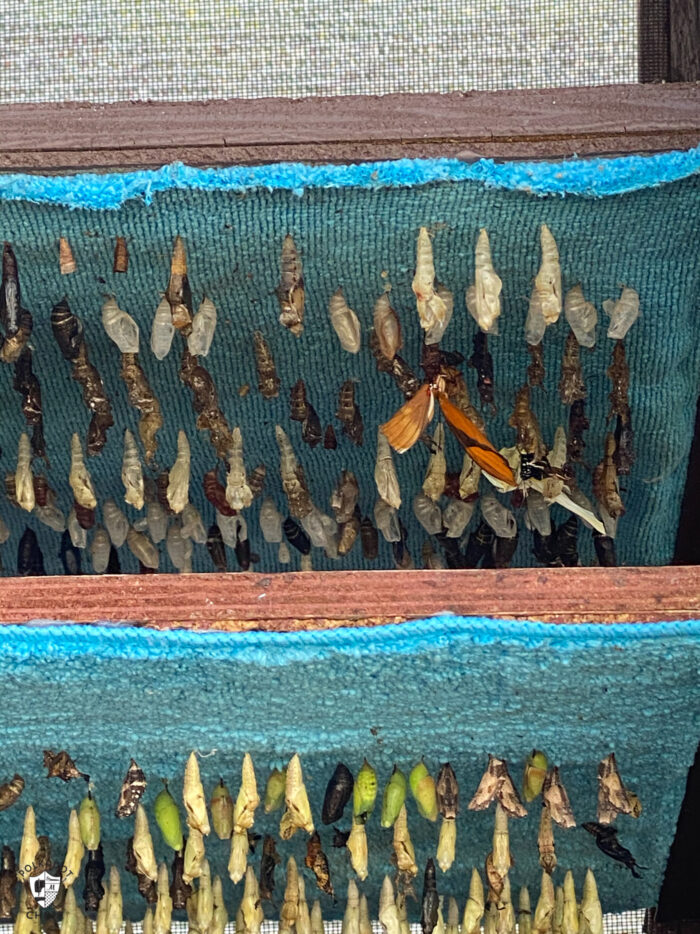 The first time we visited the Flower and Garden Festival years ago, we were pleasantly surprised when we stumbled into a butterfly garden. My kids flipped out when they realized that butterflies were flying all around the tent. This year they still hosted the butterfly Pavilion, and I was so excited about it. It's been moved to future world east next to the entrance to Soarin.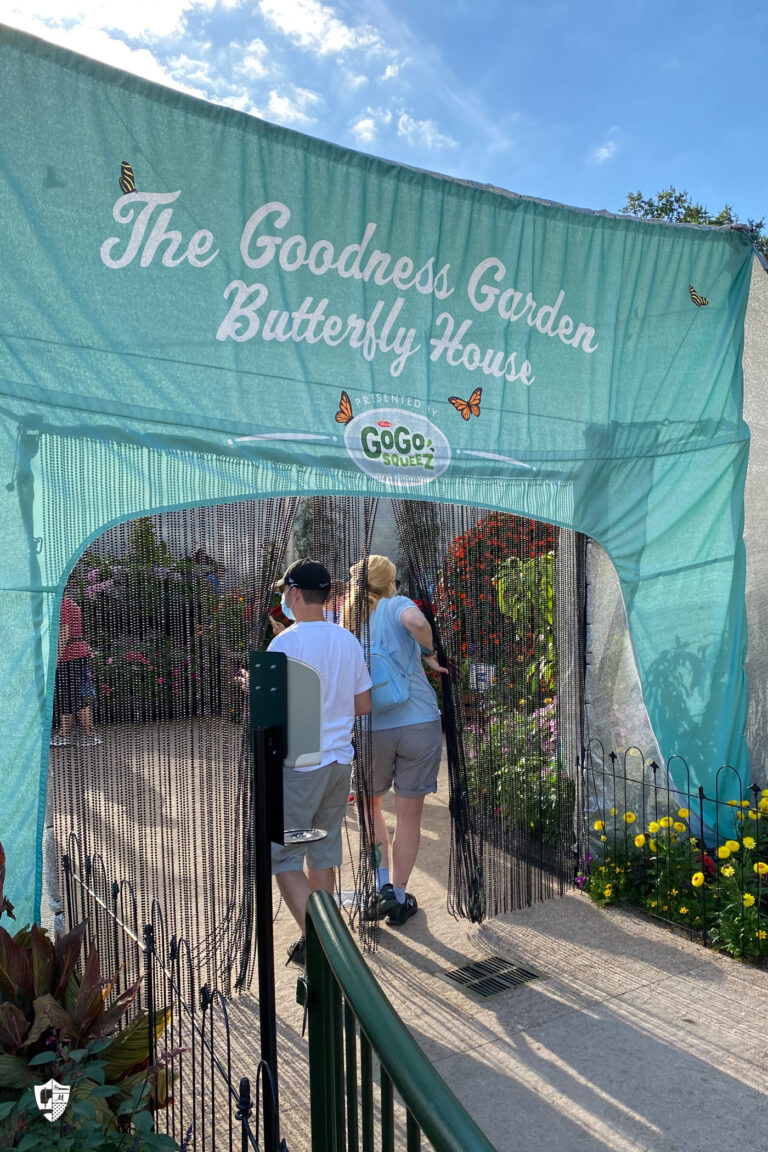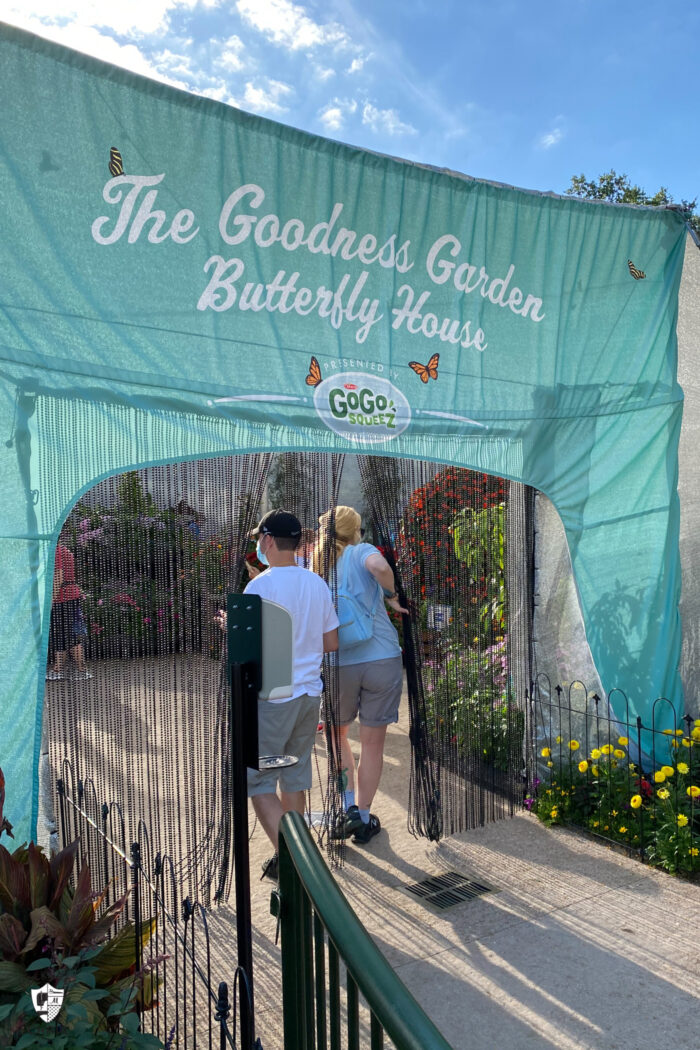 Inside you find several varieties of flowers and shrubs that are butterfly friendly. They also have a number of butterfly chrysalis that you can see. Look closely and you may spot some butterflies about to emerge from their chrysalis.
When we first visited the butterfly experience many years ago, it was not very crowded or well-known. This year they did limit how many people got into the tent at one time. There was a bit of a line outside which made me nervous, but we got in the line and waited less than five minutes to get to the front. I really appreciated that they limited the attendance inside of the tent because it gave you a lot more elbow room to enjoy and photograph the butterflies.
Take Selfies with the Topiaries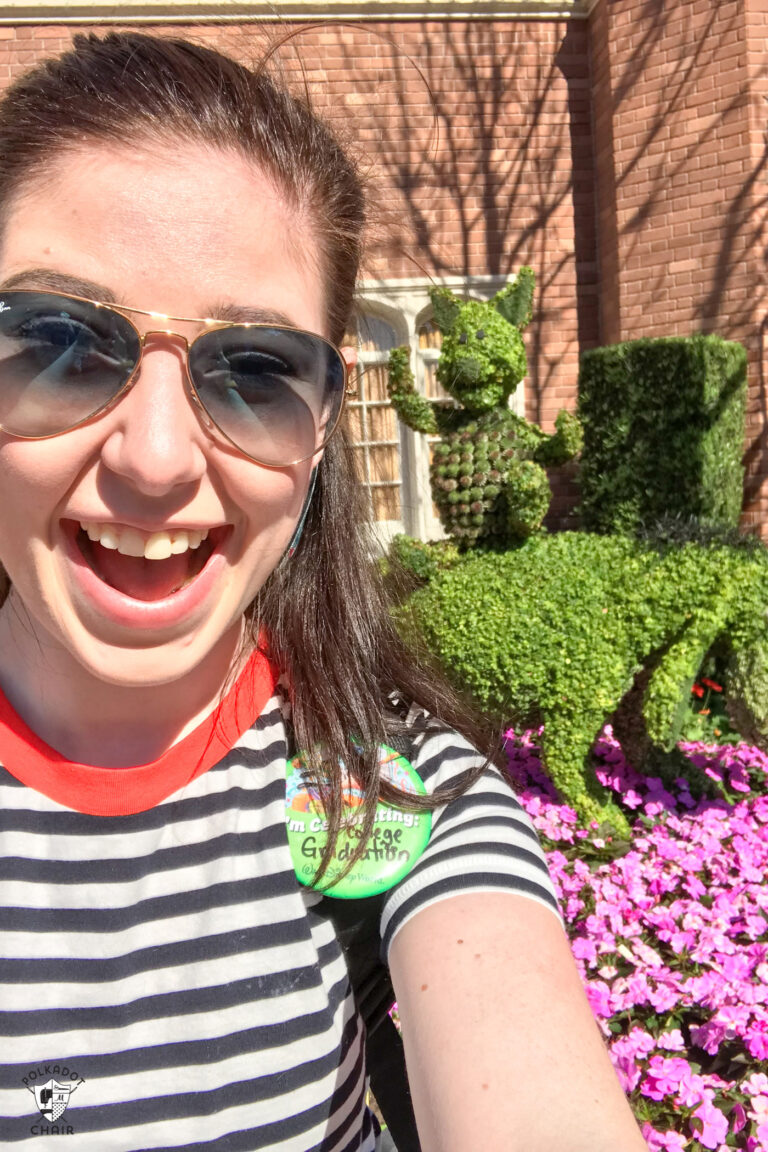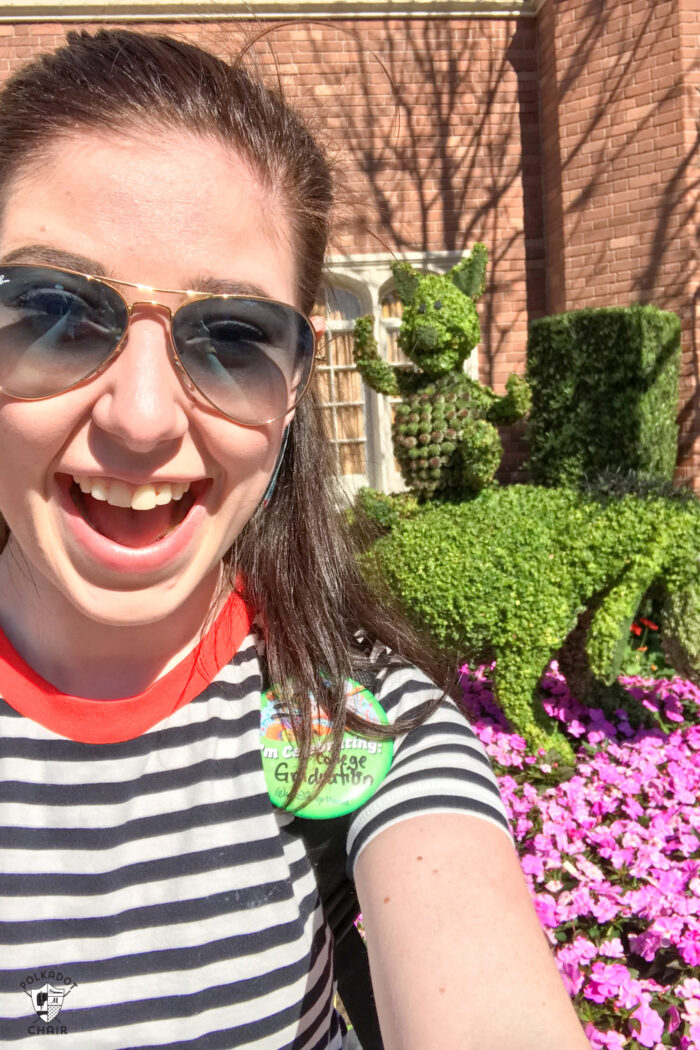 To me, the big draw of the Flower and Garden Festival are the topiaries. Some extremely talented people create several amazing topiaries.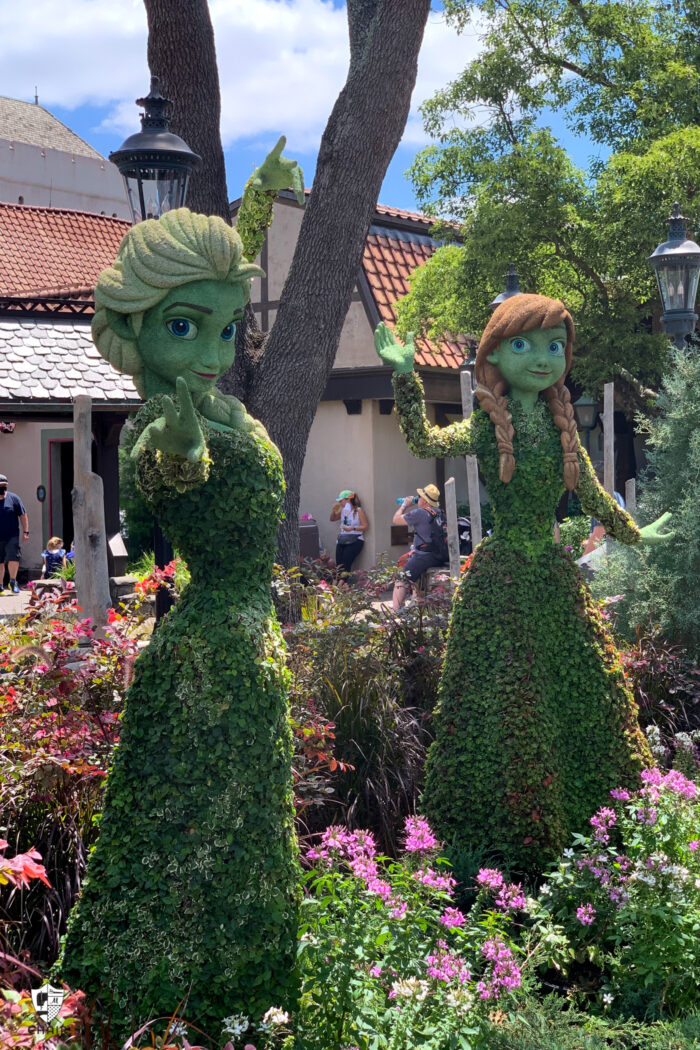 All of the topiaries have a Disney in Theme, and most of them feature Disney characters. All of the elements that make up the topiaries are organic. You'll find flowers and succulents and shrubs and all other kinds of materials.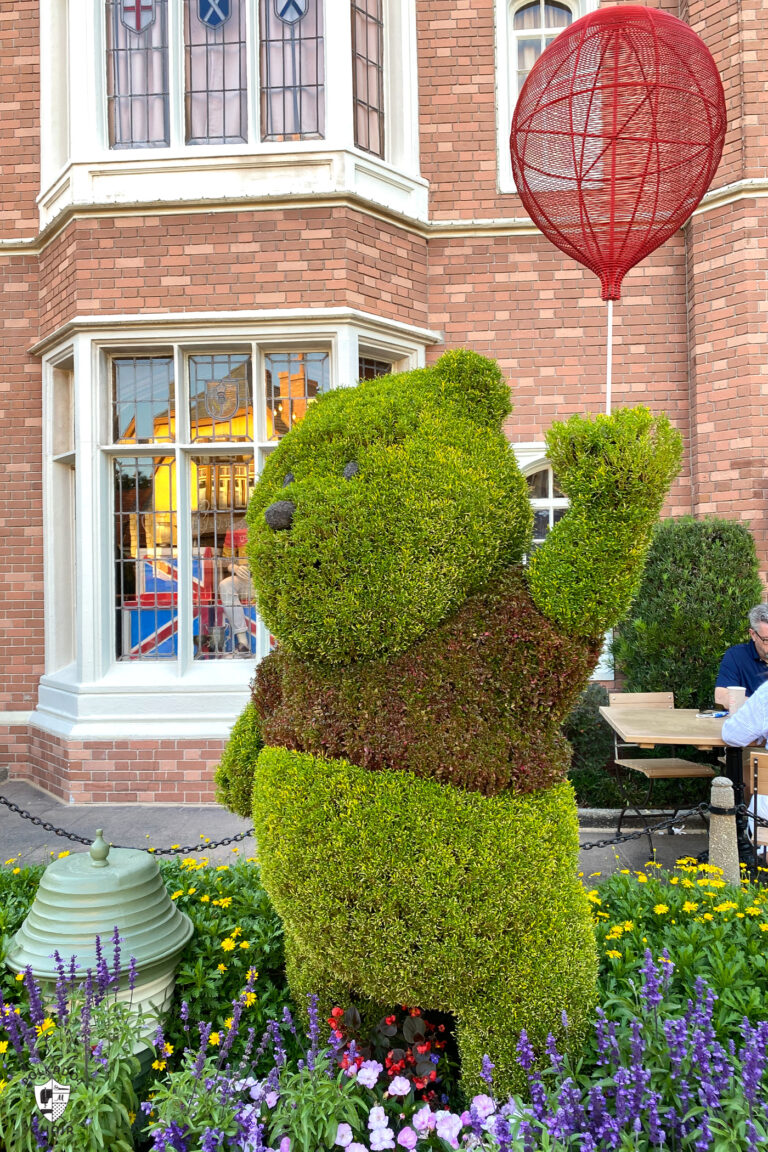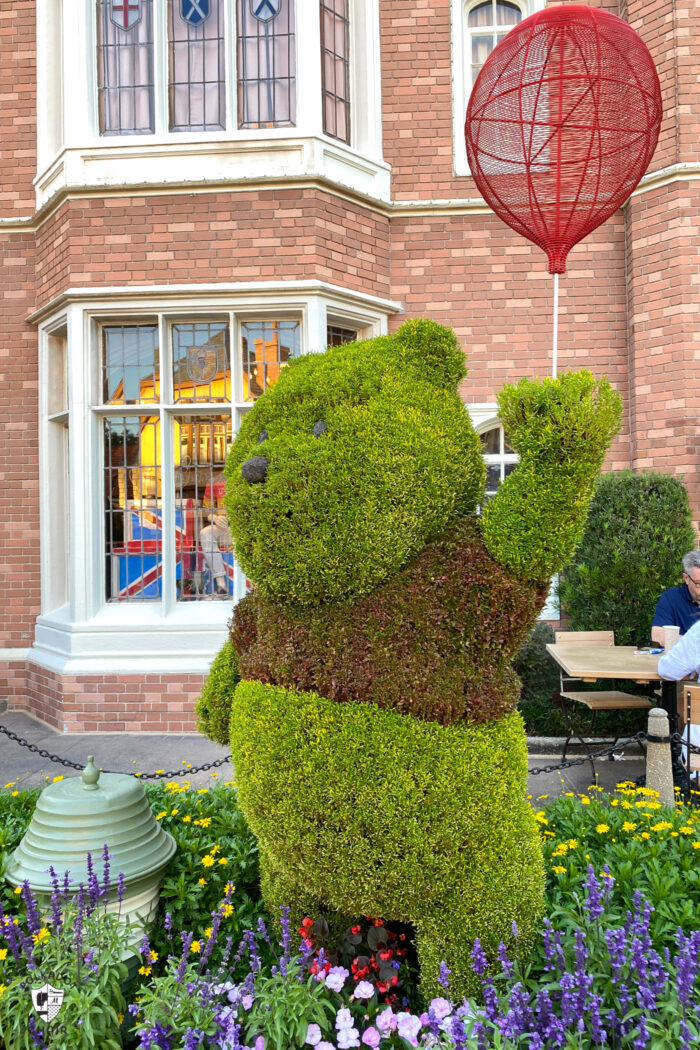 Challenge yourself at the beginning of the day to see how many topiaries you can take a selfie with. My older kids especially loved doing this. I can't decide which set of topiaries was my favorite this year, but it may have been the Winnie the Pooh characters outside of the United Kingdom pavilion.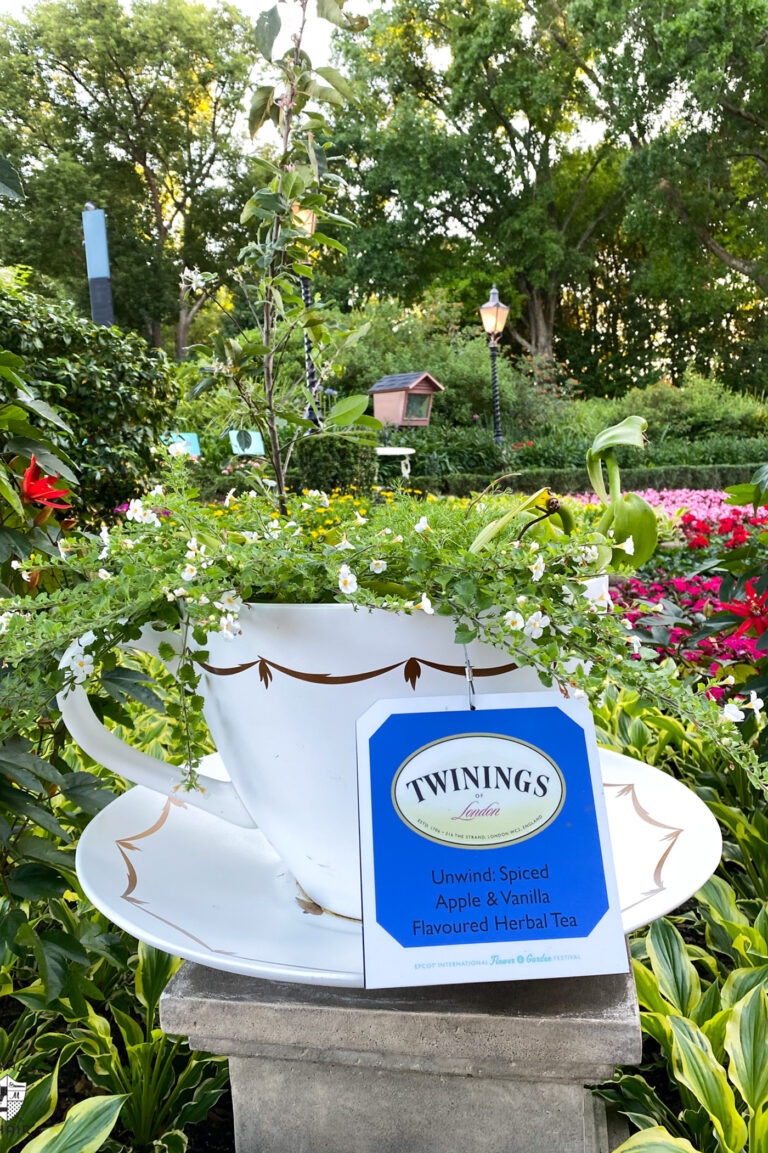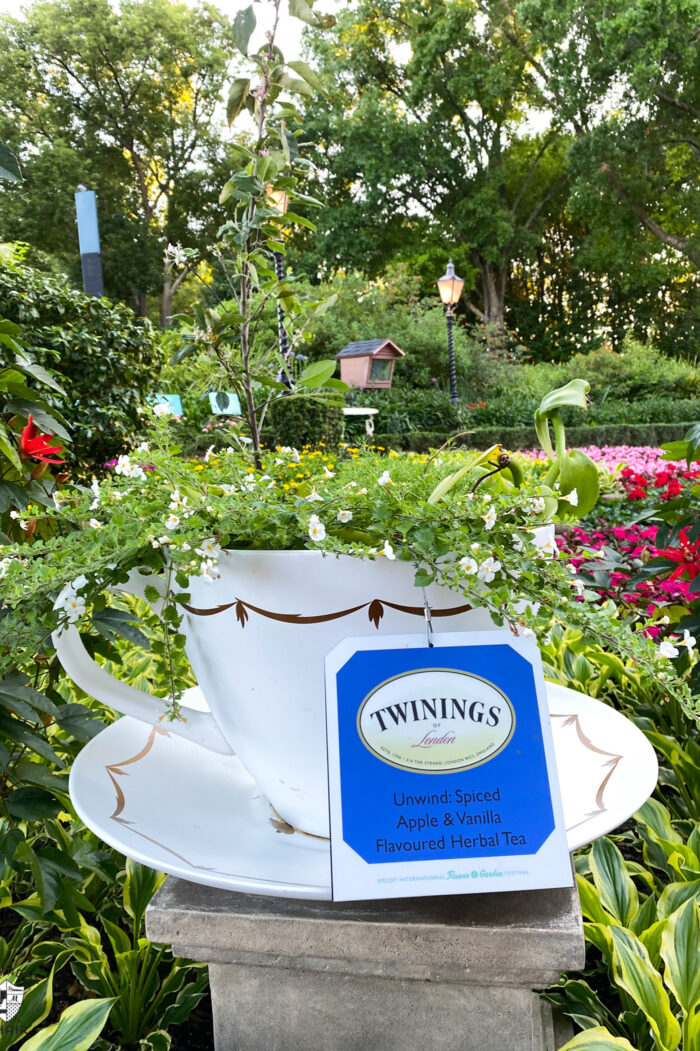 Gorgeous "Tea Garden" designed by Twinings of London.
Eat!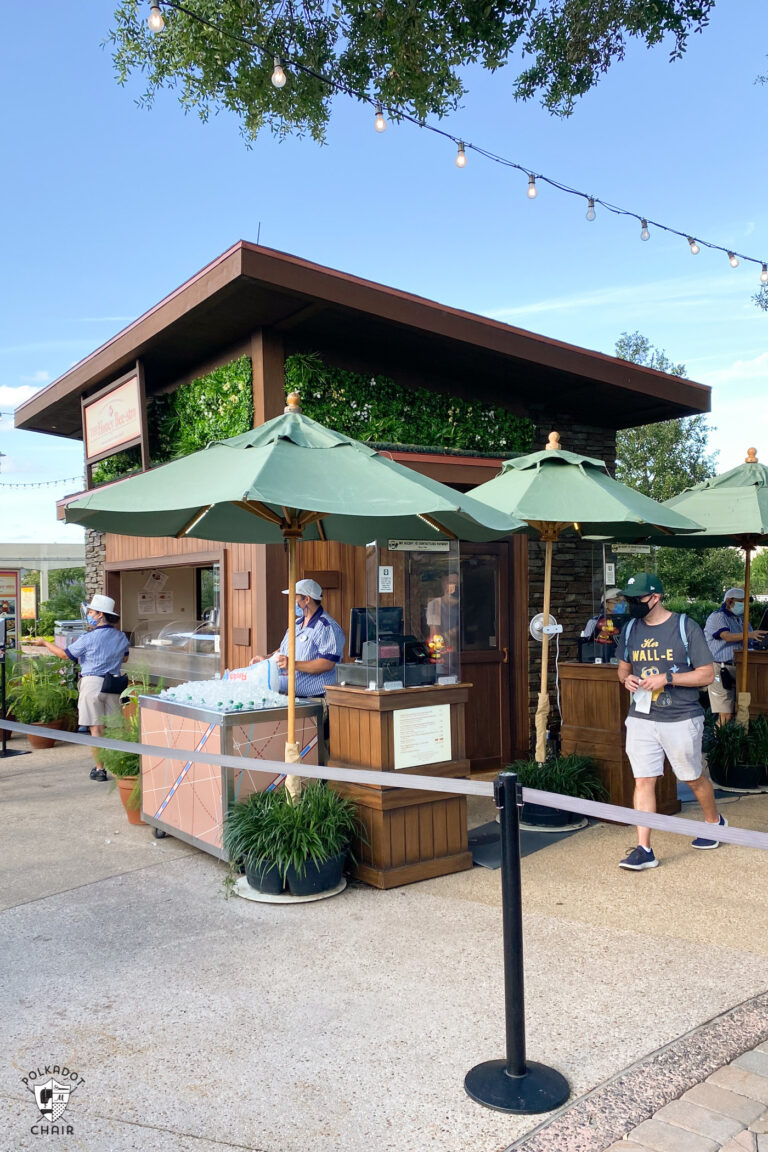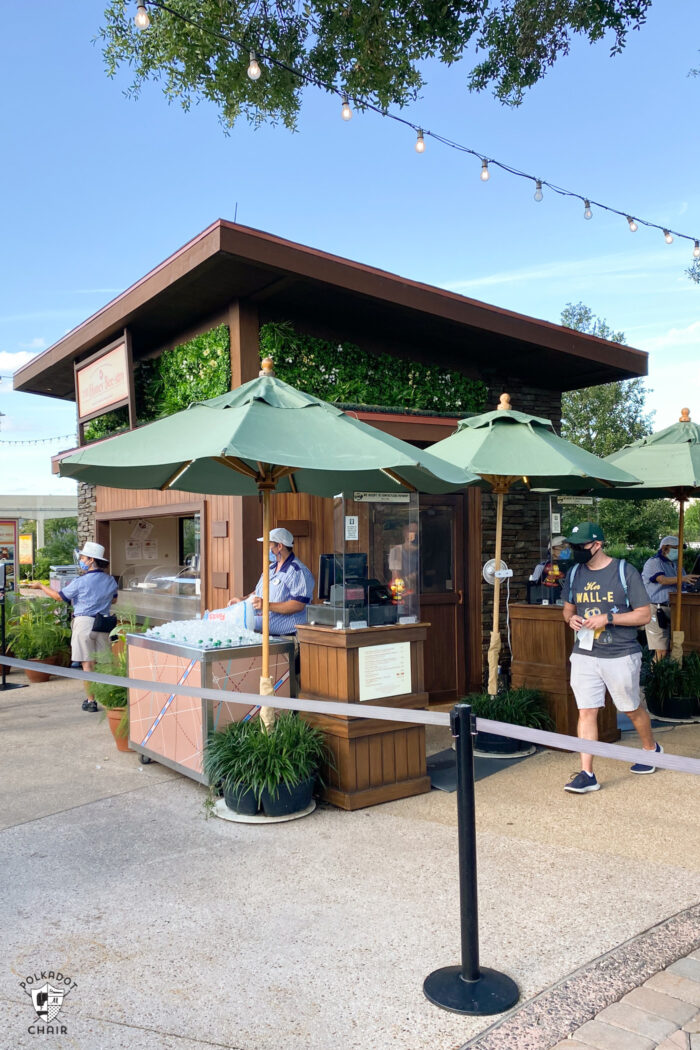 I mentioned earlier that there are special treats to eat during the festival. You'll find a number of outdoor kitchens scattered throughout the world showcase. You'll find everything from potato pancakes, to shrimp, lobster, cider and salmon.
Grab a festival passport and begin working your way around world showcase!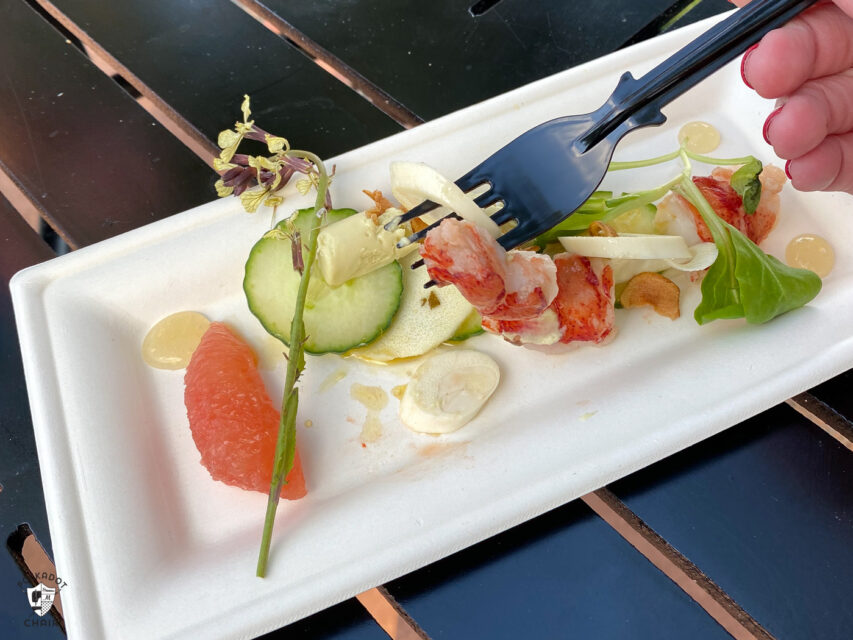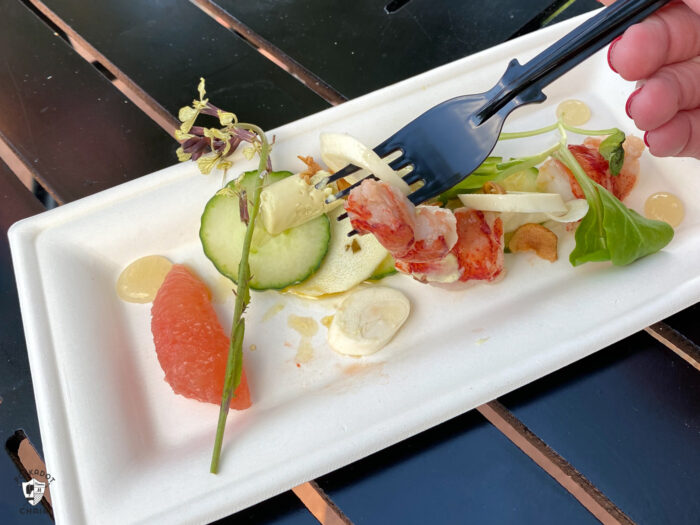 A favorite of ours was the Citrus Blossom outdoor kitchen. We had the Meyer lemon poached lobster salad and the citrus shortcake which ended up being two of my favorite treats from the trip.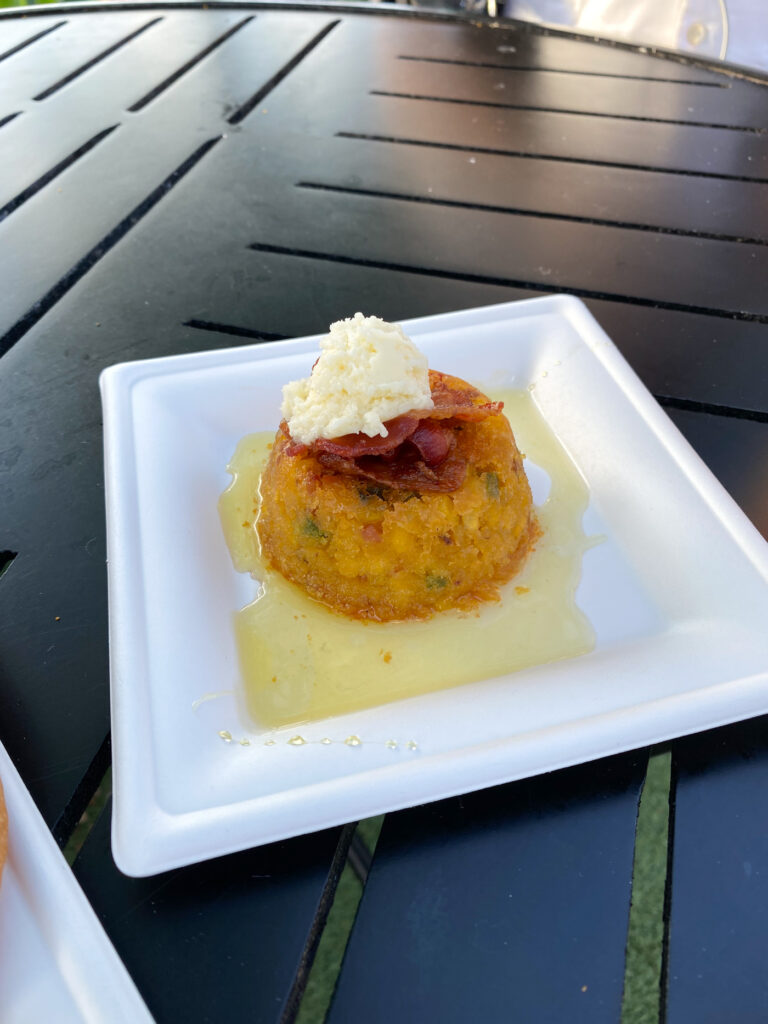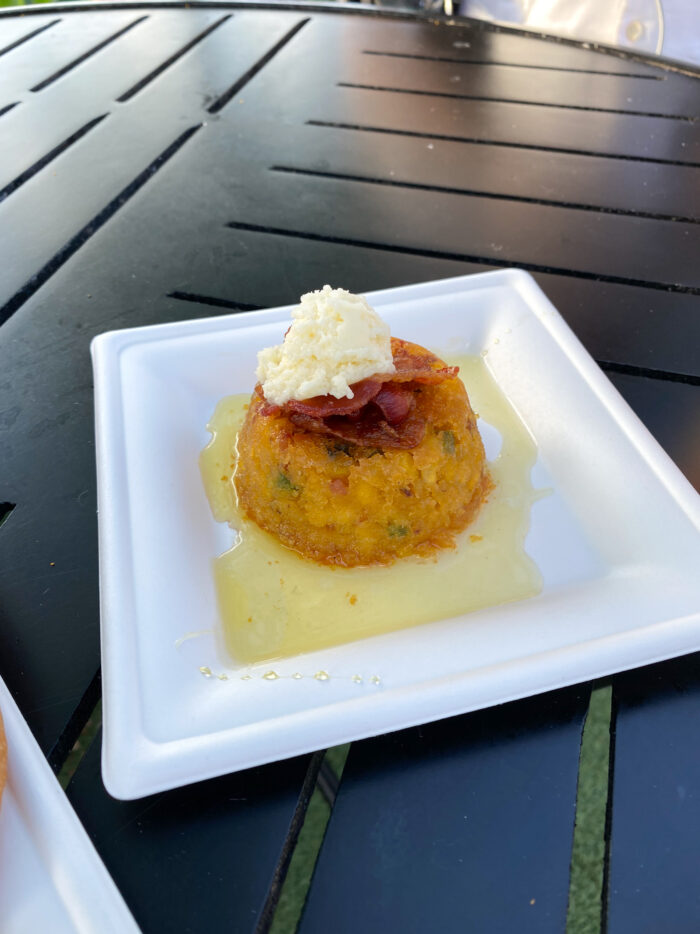 We also really loved the Tupelo Honey Sweet Corn Spoon Bread and Honey Mustard Marinated Chicken Flatbread at the Honey Bee-stro kitchen. In addition to the garden-themed kitchens, you will also find many treats inspired by the countries in the world showcase.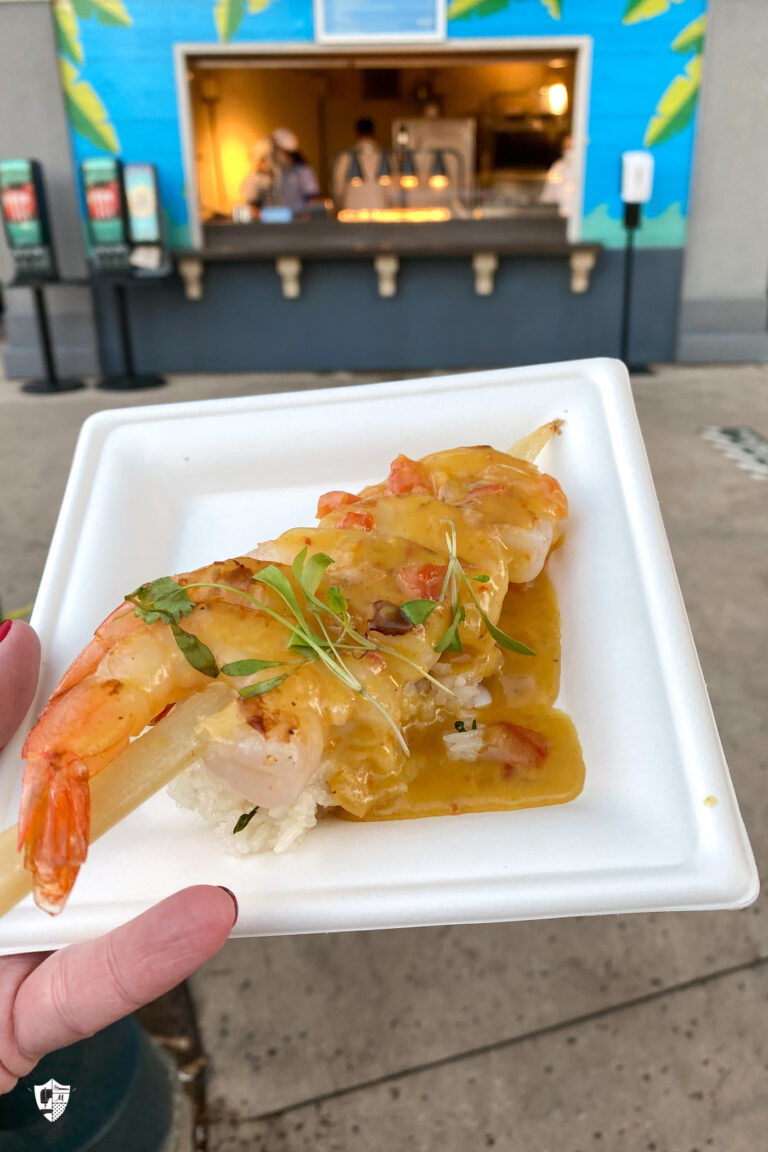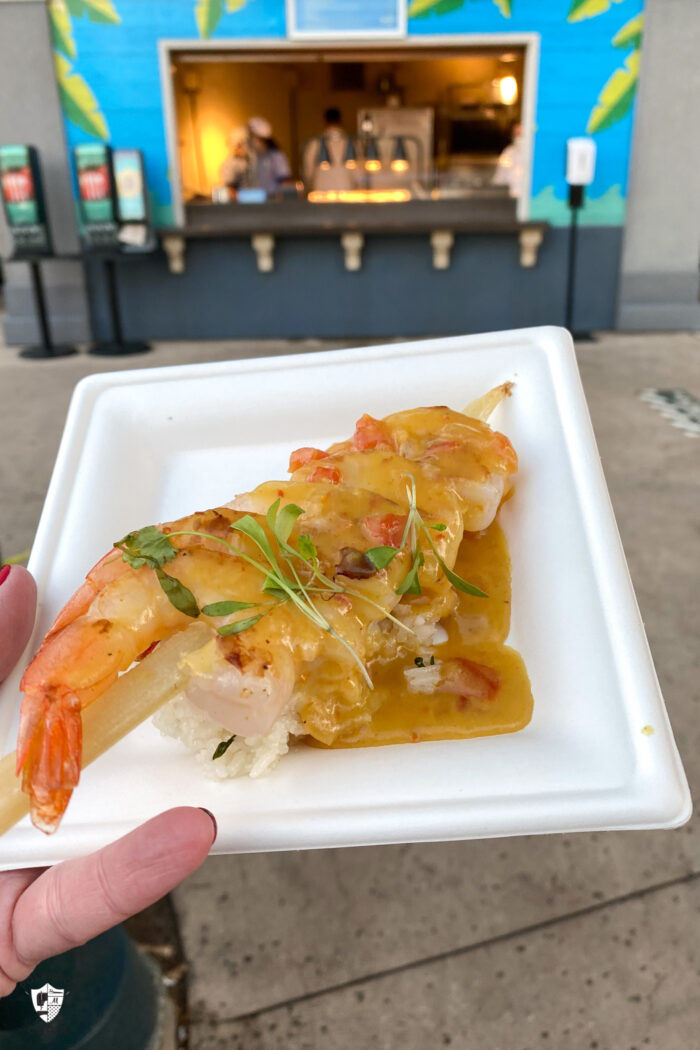 We don't drink, so we did not sample the special drinks at each booth. I know, however, that the cocktails and drinks offered at the festival are a big draw every year. If you visit on a Friday or Saturday night during the festival, the scene is a bit more party-like. It's not our favorite time to go; be aware of it if you're traveling with small kids.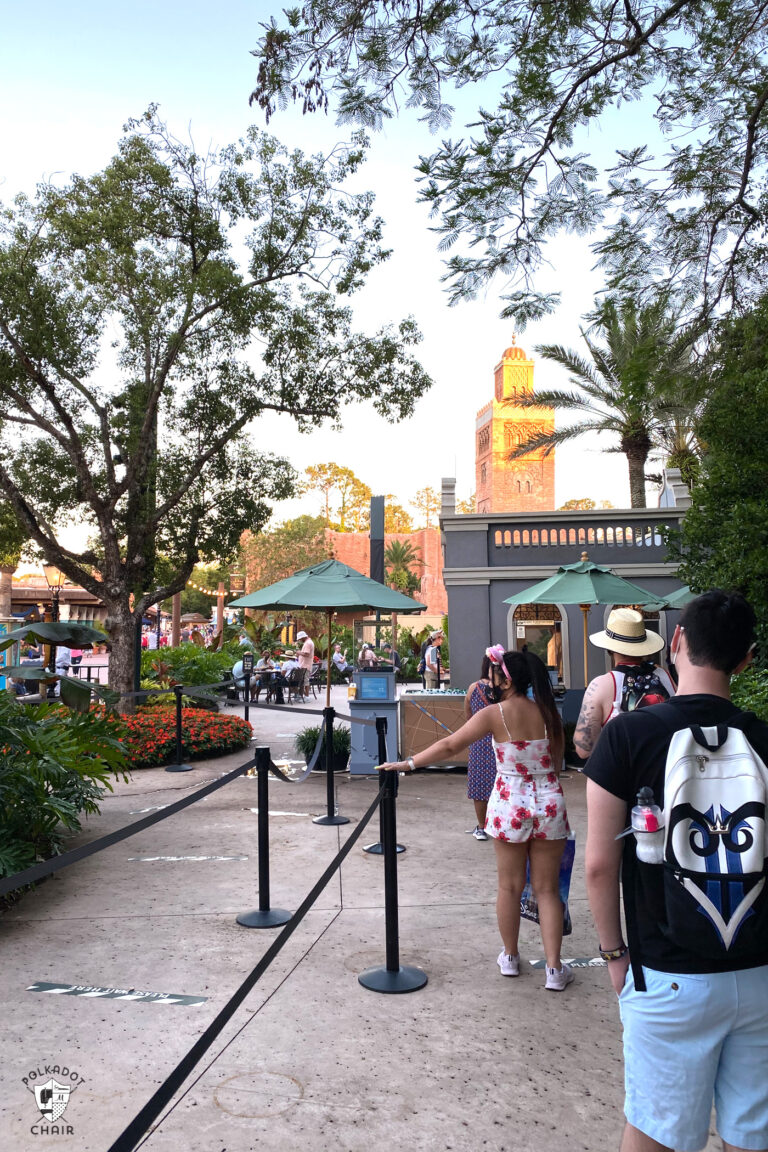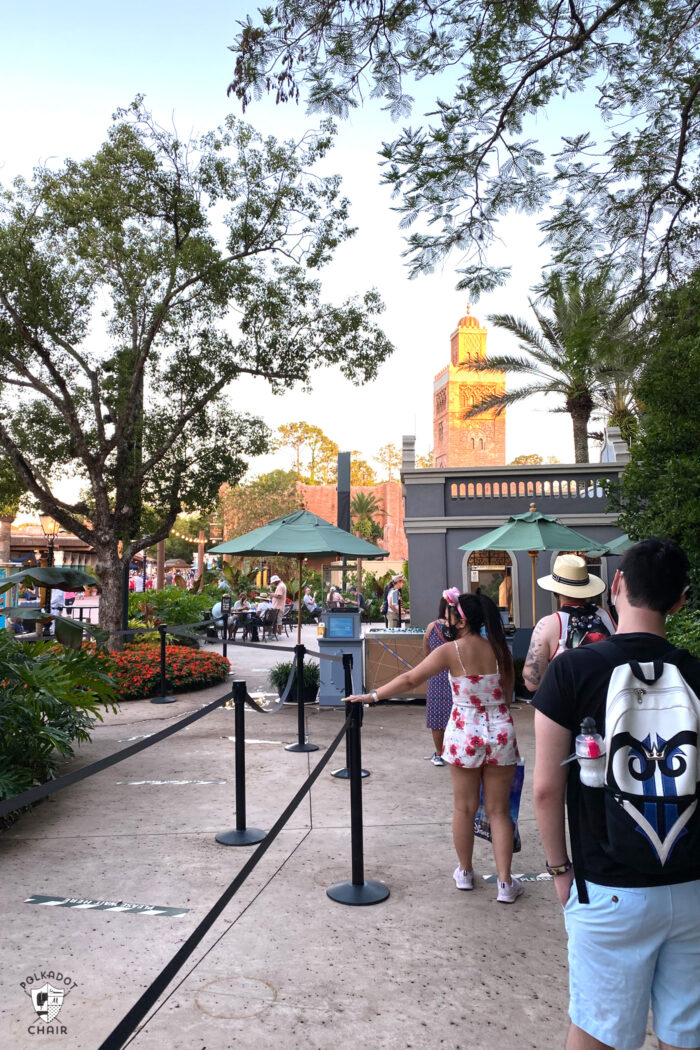 Activities for Kids
If you're traveling with kids during the Flower and Garden Festival, there is a lot for them to do. For example, they can participate in a scavenger hunt hosted by Spike (the bee that is Donald Ducks nemesis).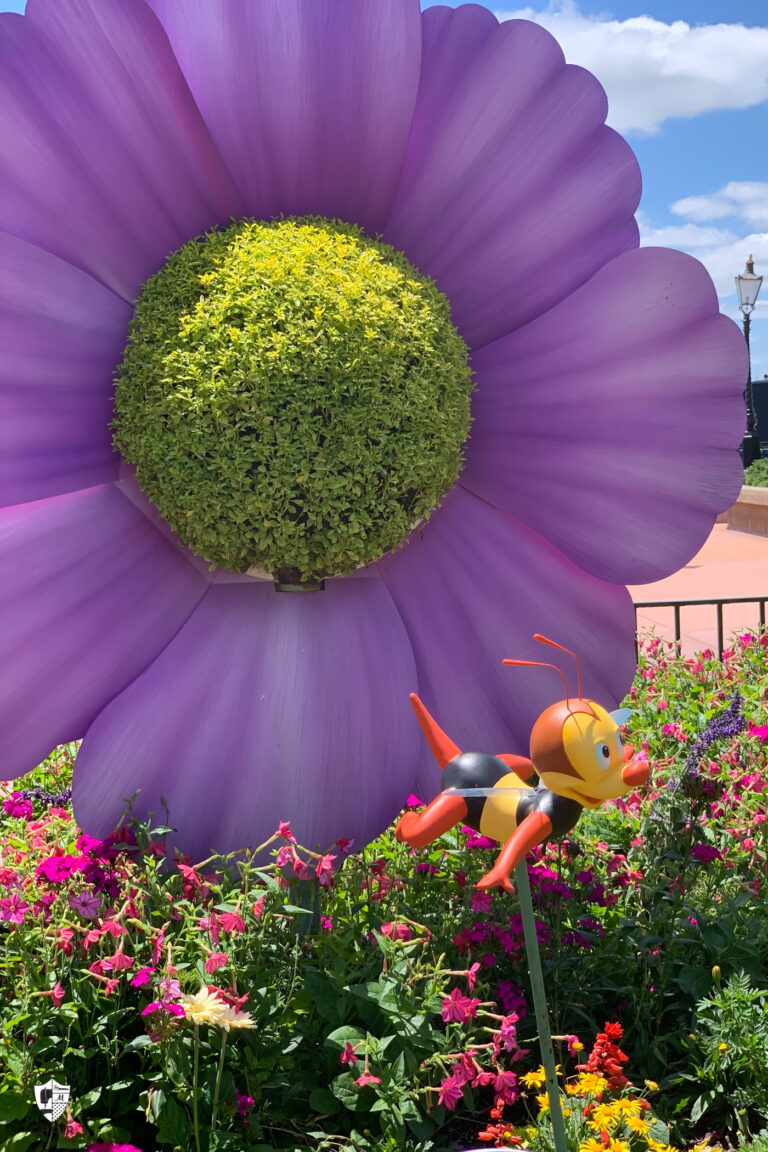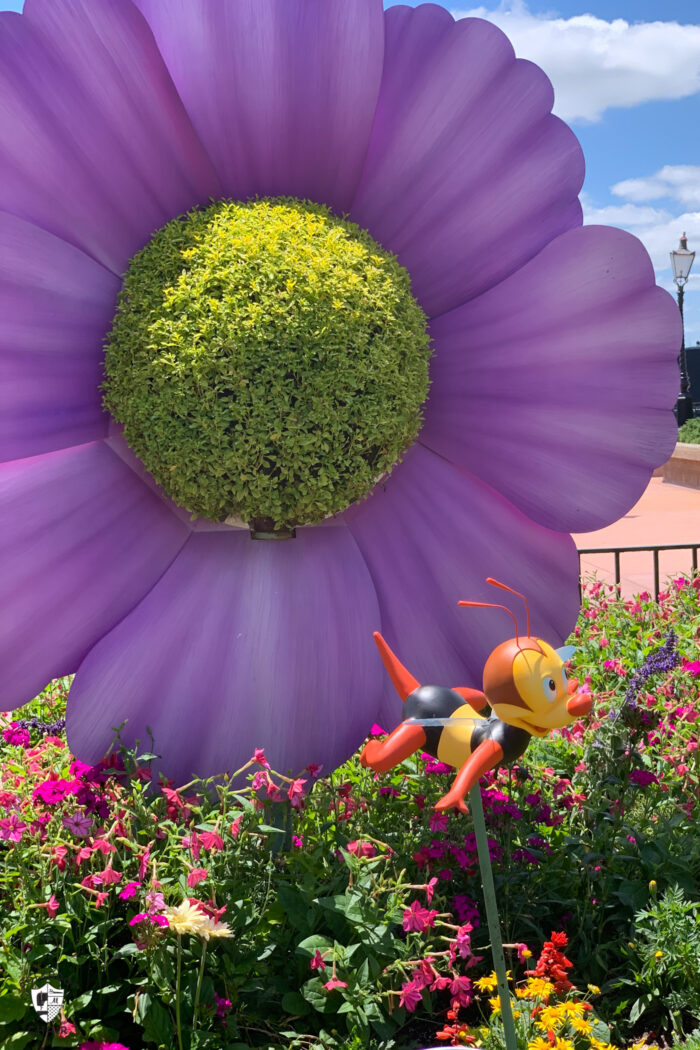 Purchase a scavenger hunt map and complete it with your kids. Then return it to a shop for a special surprise. You'll also find a lot of pop-up entertainment that your kids might love throughout the park during the festival. (Again, don't miss the butterfly garden if you're traveling with kids, it's a must!)
DIY Mickey Mouse Rose T-Shirt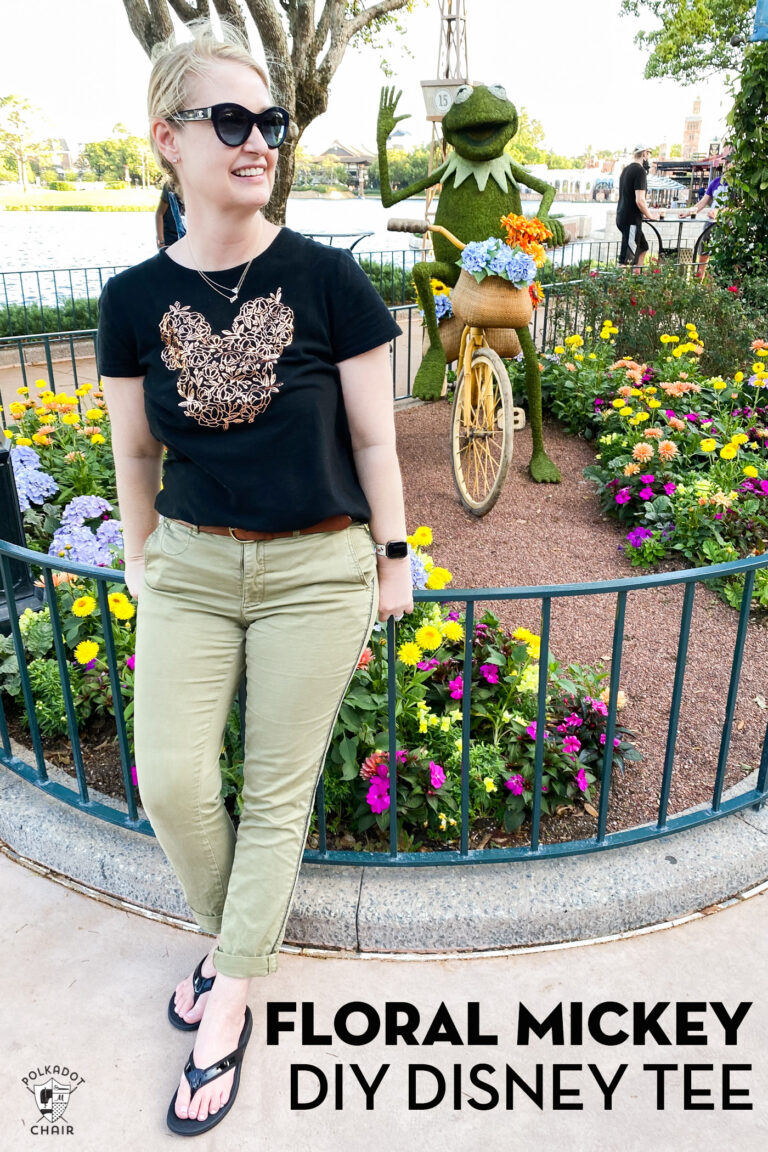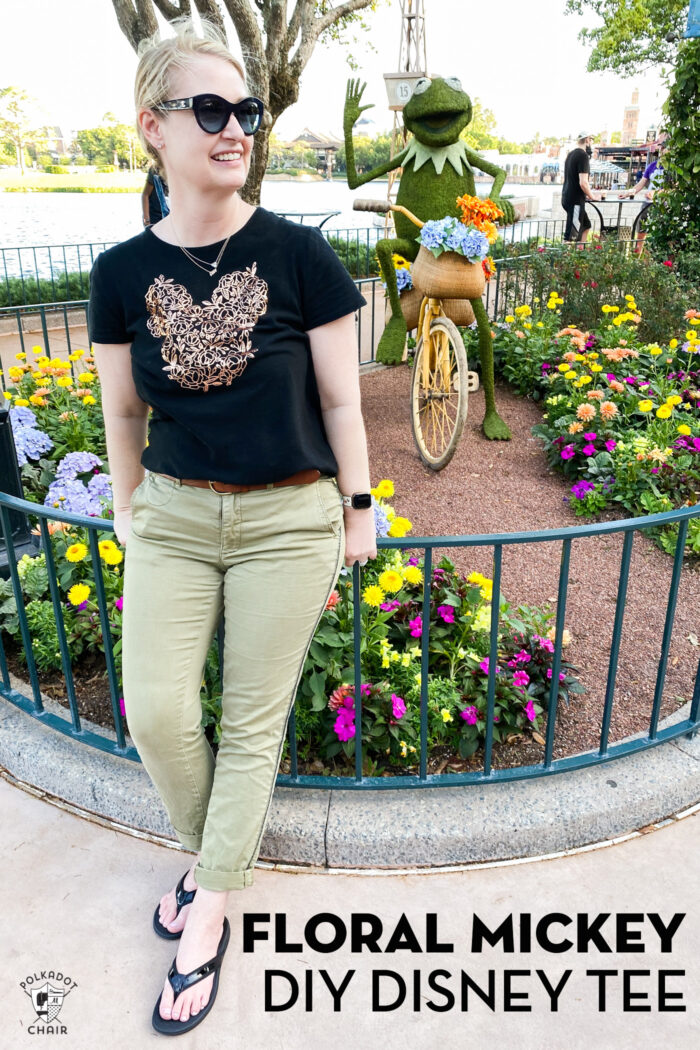 Before our trip, I thought it would be fun to make a Flower and Garden-inspired Mickey Mouse T-shirt to wear. So, feeling inspired by all of the flowers at the festival, I took the time to draw a bouquet of roses in the shape of a Mickey Head.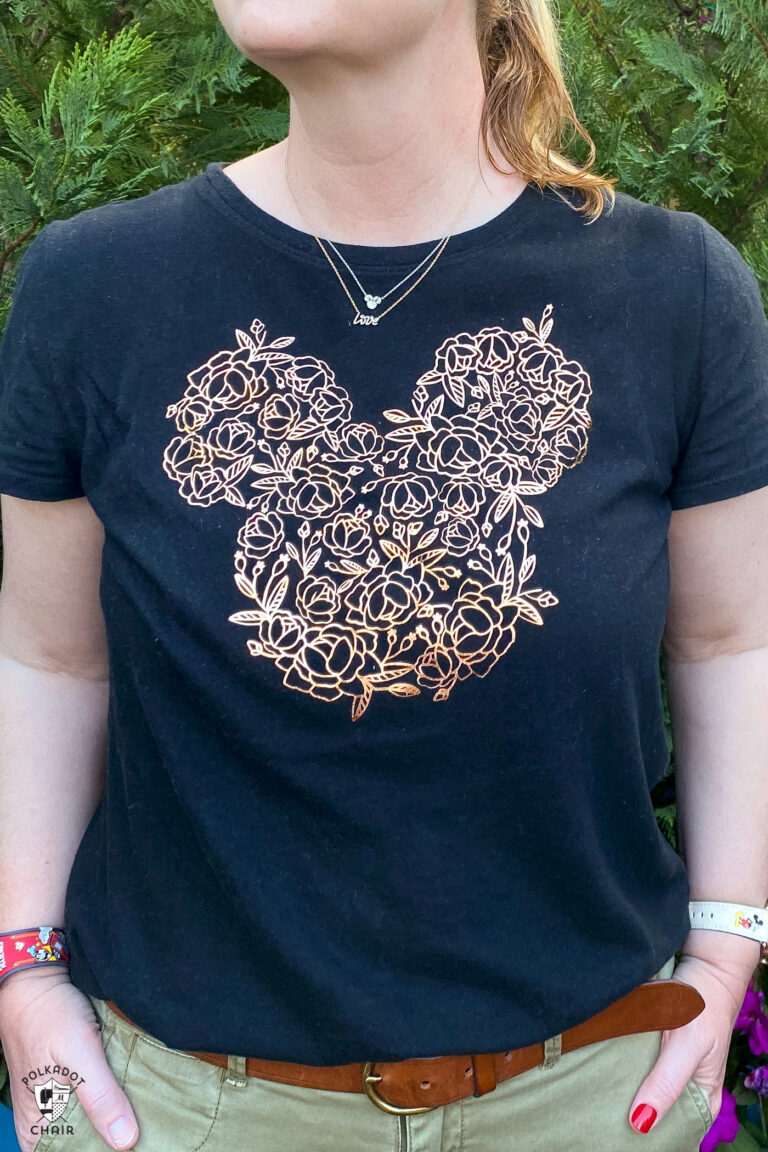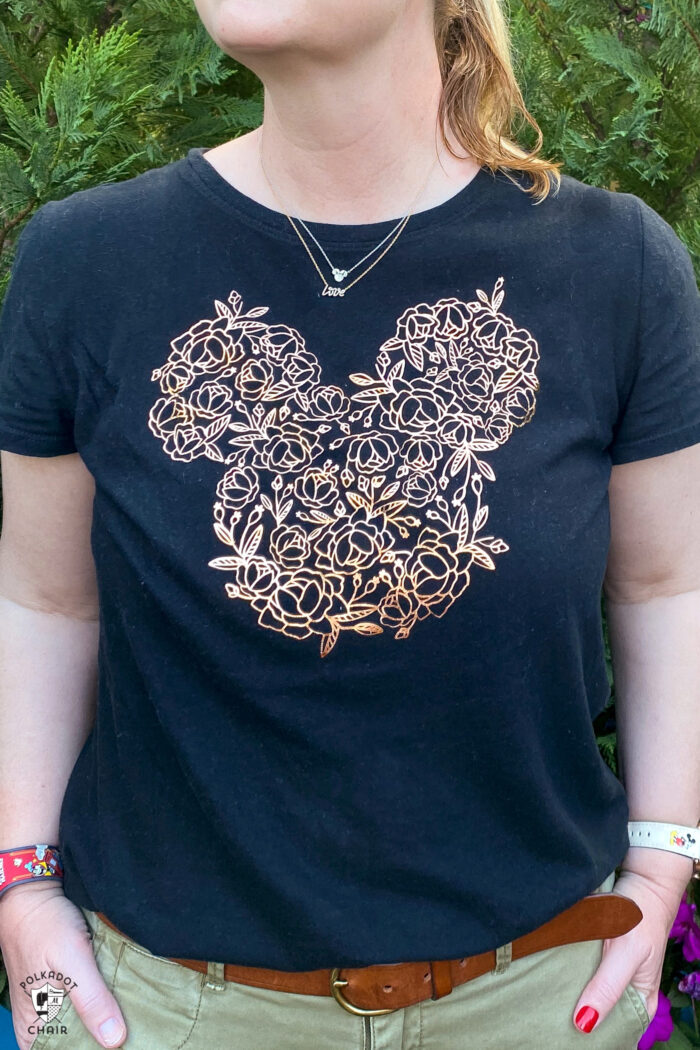 I've turned my illustration into an SVG file for your Cricut machine. I cut my Mickey Mouse head out of rose gold foil and ironed it onto a simple black T-shirt.
I think that this image would also look great on a tote bag!
How to Get the Disney SVG File
You can find the SVG file in our Cricut Library. Please note, if you use the file, it is only for personal use. You can not sell items made with my designs.
Fill out the form below and we will send you the free svg file.
How to Make a Disney T-Shirt
I've been making custom Disney tees for years to wear while we are in the parks. The "pre-trip" excitement is one of my favorite things about visiting a Disney Park! My girls love to design the tees and plan out which Mickey Ears they want to wear with them each day we are in the parks. Once my younger daughter even wore a tiara with hers (apparently you're never too old to be a Disney princess *wink*).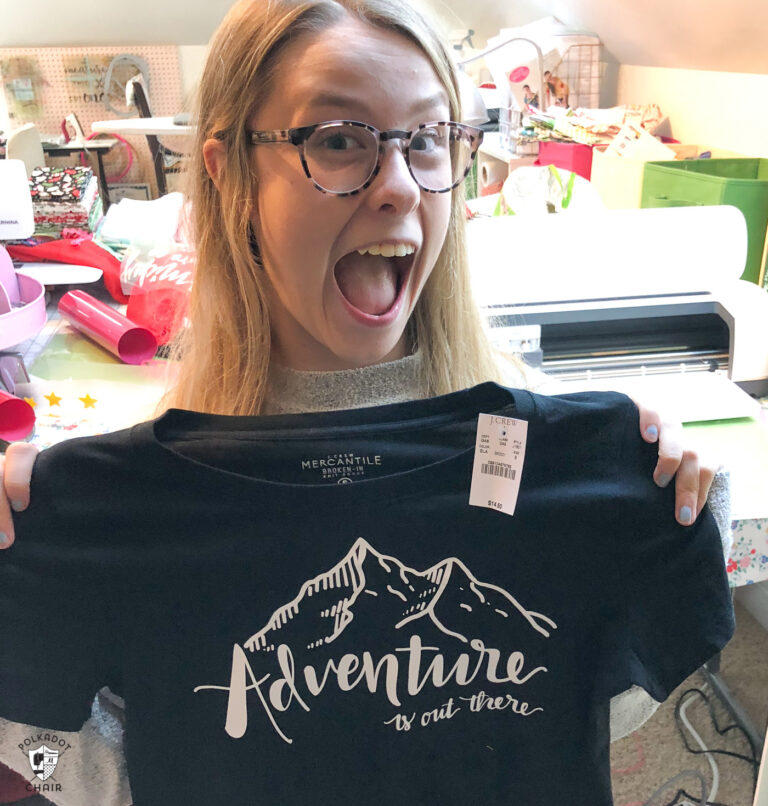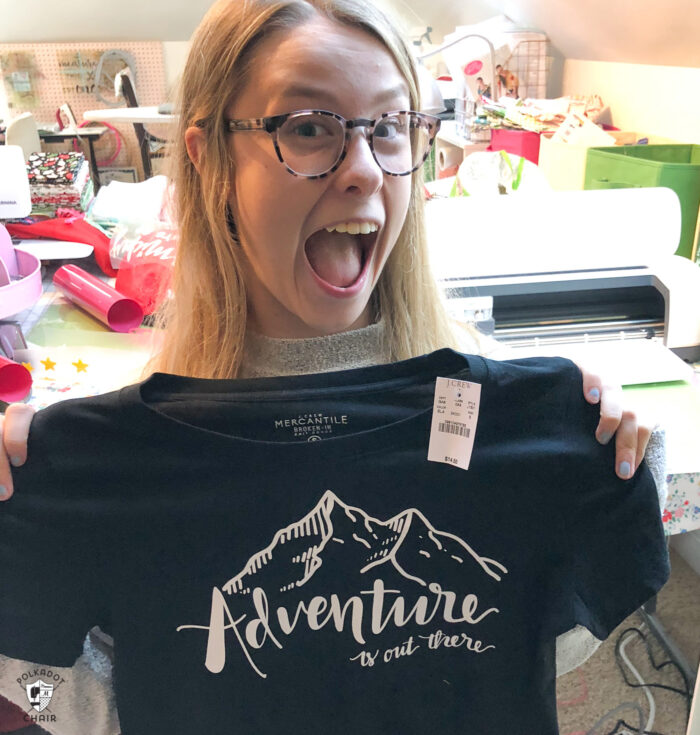 If you've never made a t-shirt with iron-on vinyl before, be sure to check out our tutorial. It's really easier than you think!
More Disney Inspired Craft Projects
Free Printable Disney Luggage Tags