If you like these St. Patrick's Day Mason Jar Gifts then you may also like these Christmas Mason Jar Gift Ideas.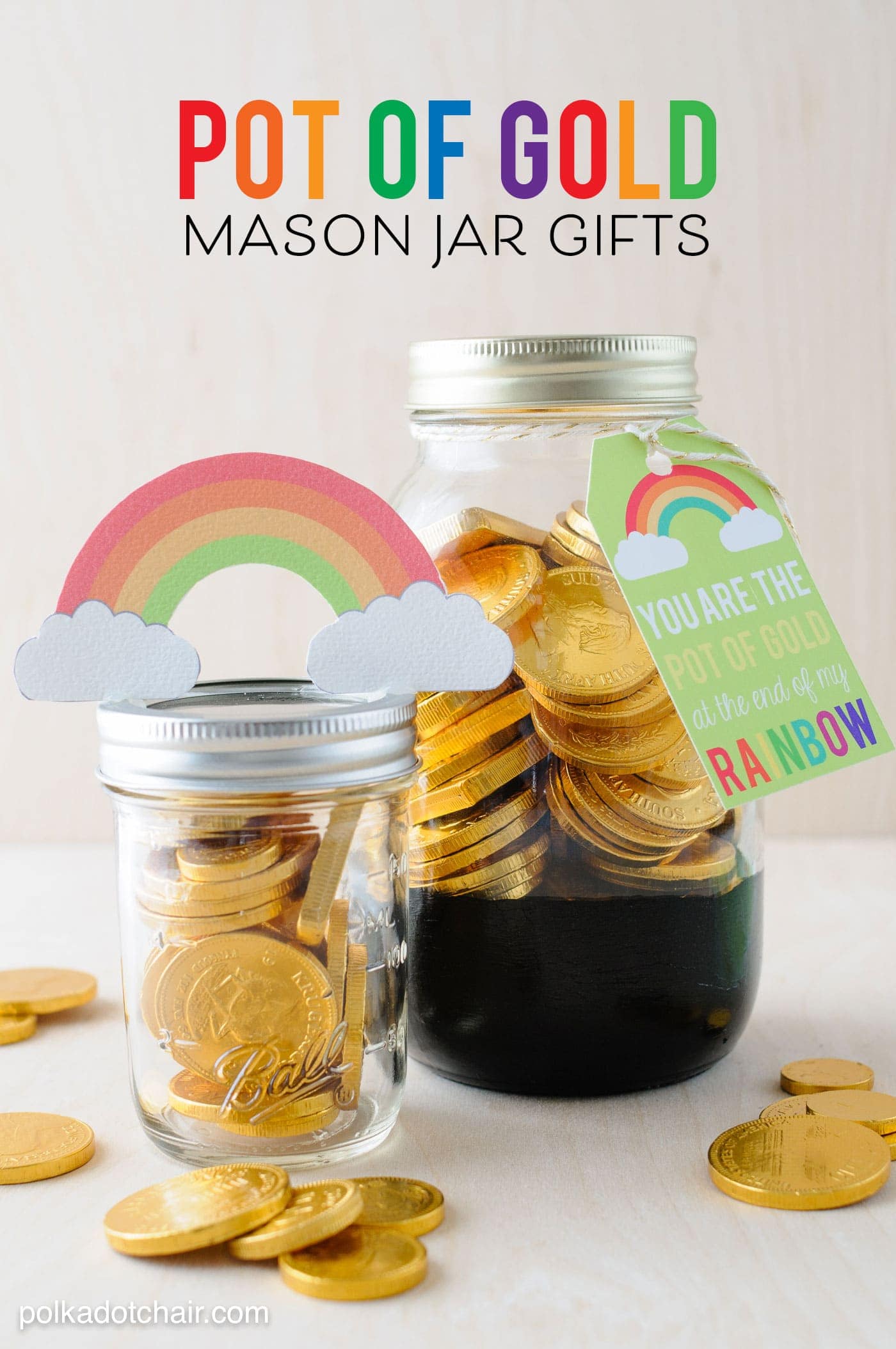 We like to say in our house that we are a "Wee bit Irish".  We have Irish ancestry on both mine and my husbands side of the family.  My girls also spent years perfecting their jigs and reels in Irish Dance Class.  Although gone are the days of dancing our way through the St. Patricks Day Parade,  we still love to celebrate St. Patrick's Day in our house.   Going with my "use all of my mason jars" idea from earlier last year, I decided to make some cute "Pot of Gold" Mason jar gifts. These would be fun to give away to friends and family that are also "a wee bit Irish"!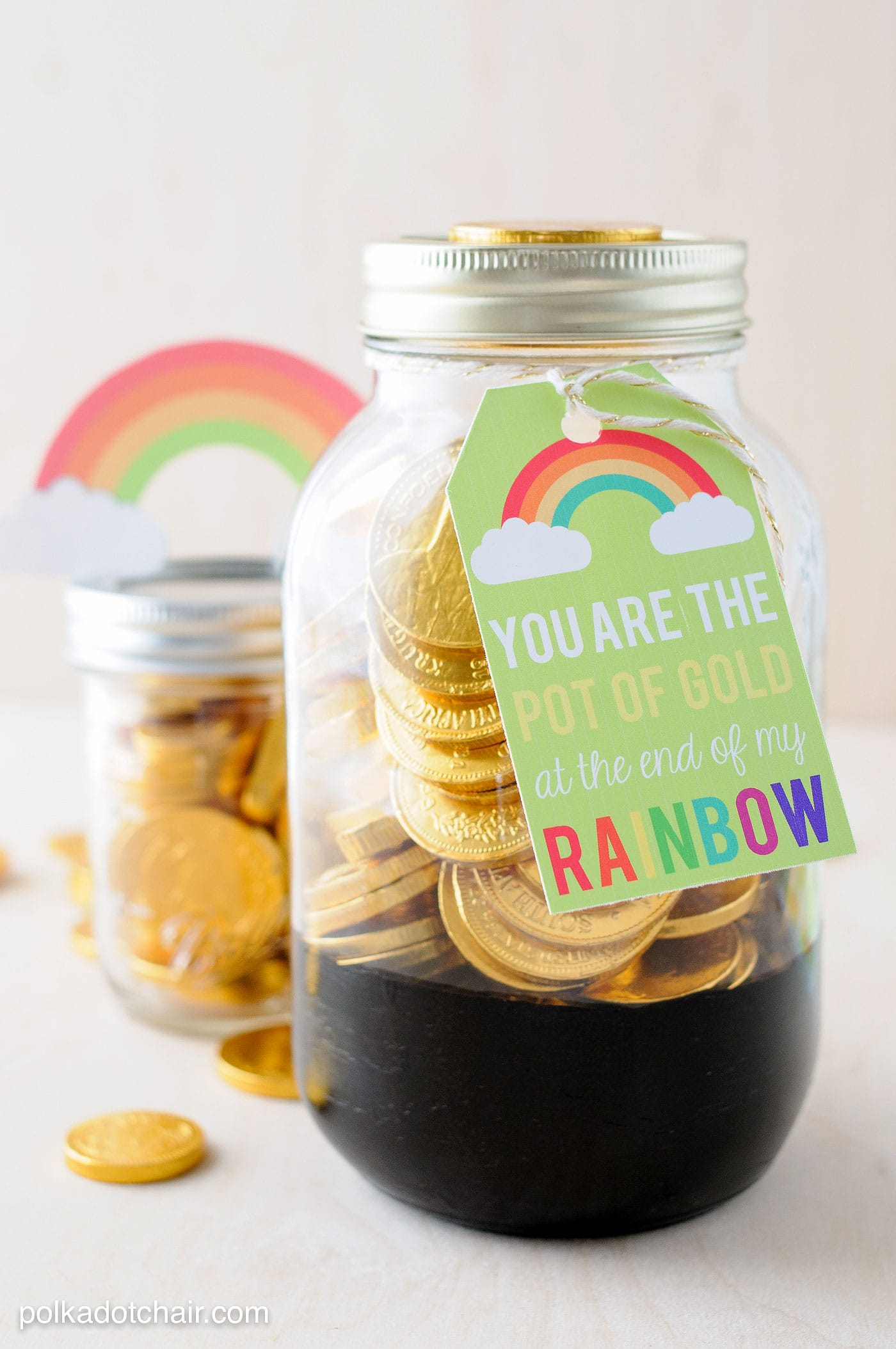 I've included FREE printables for you to make your jars.  I've also made two different types of Mason Jar Gifts.  One large one and a smaller one, since I know those gold coins are not super cheap. (Ironic isn't it? Money candy is expensive)
For the large jar you'll need 3 bags of gold candy, a mason jar, some black paint, gold twine and a tag, that you can download here.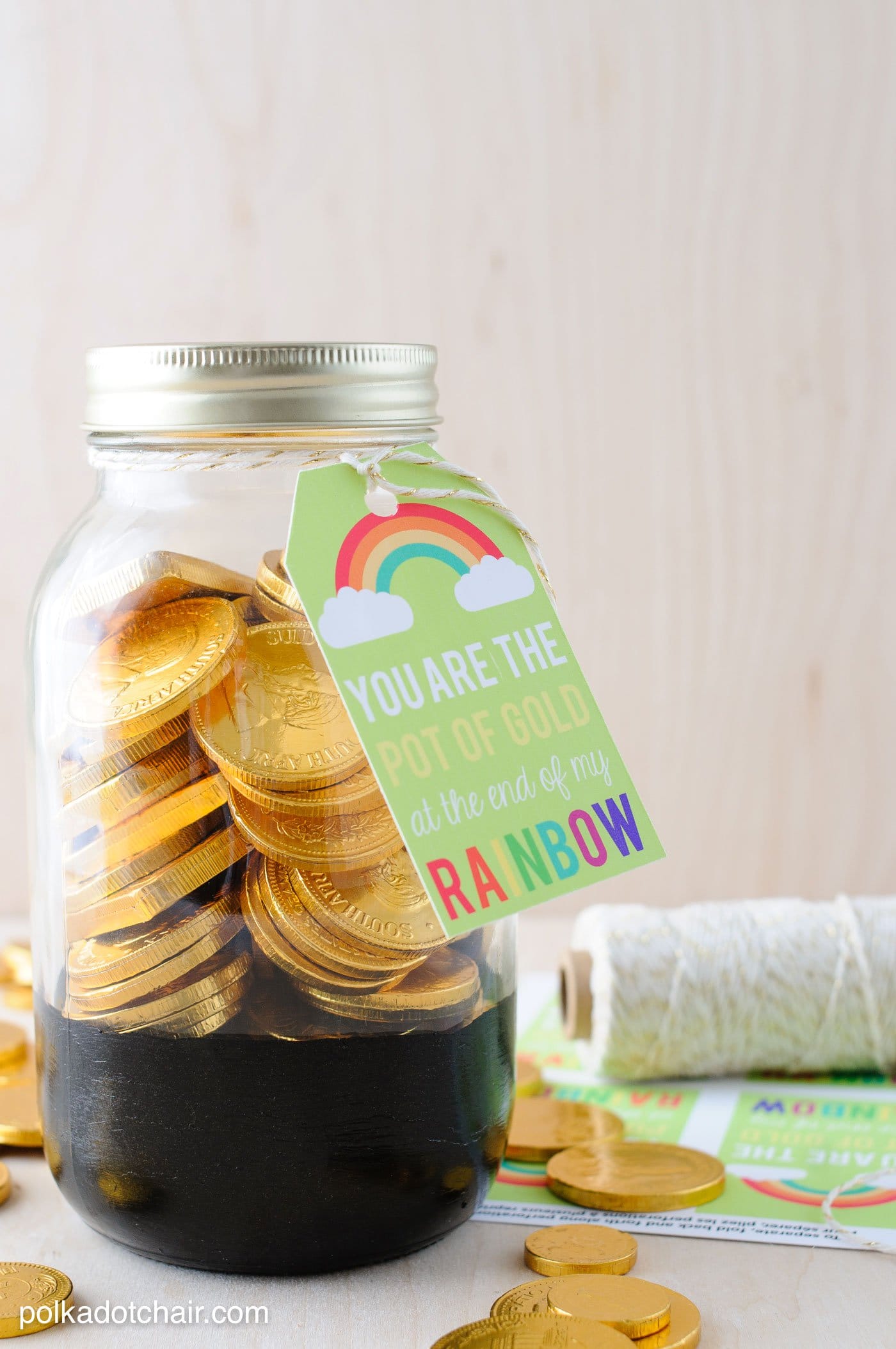 Tape off the bottom of the jar to make your "Pot" then paint it black with acrylic paint.  Remember if you want to set your acrylic paint permanently, bake the mason jar at 350 for about 15 minutes. Otherwise the paint will just peel off.
Fill it with gold coins, and tie the tag on with a bit o' twine.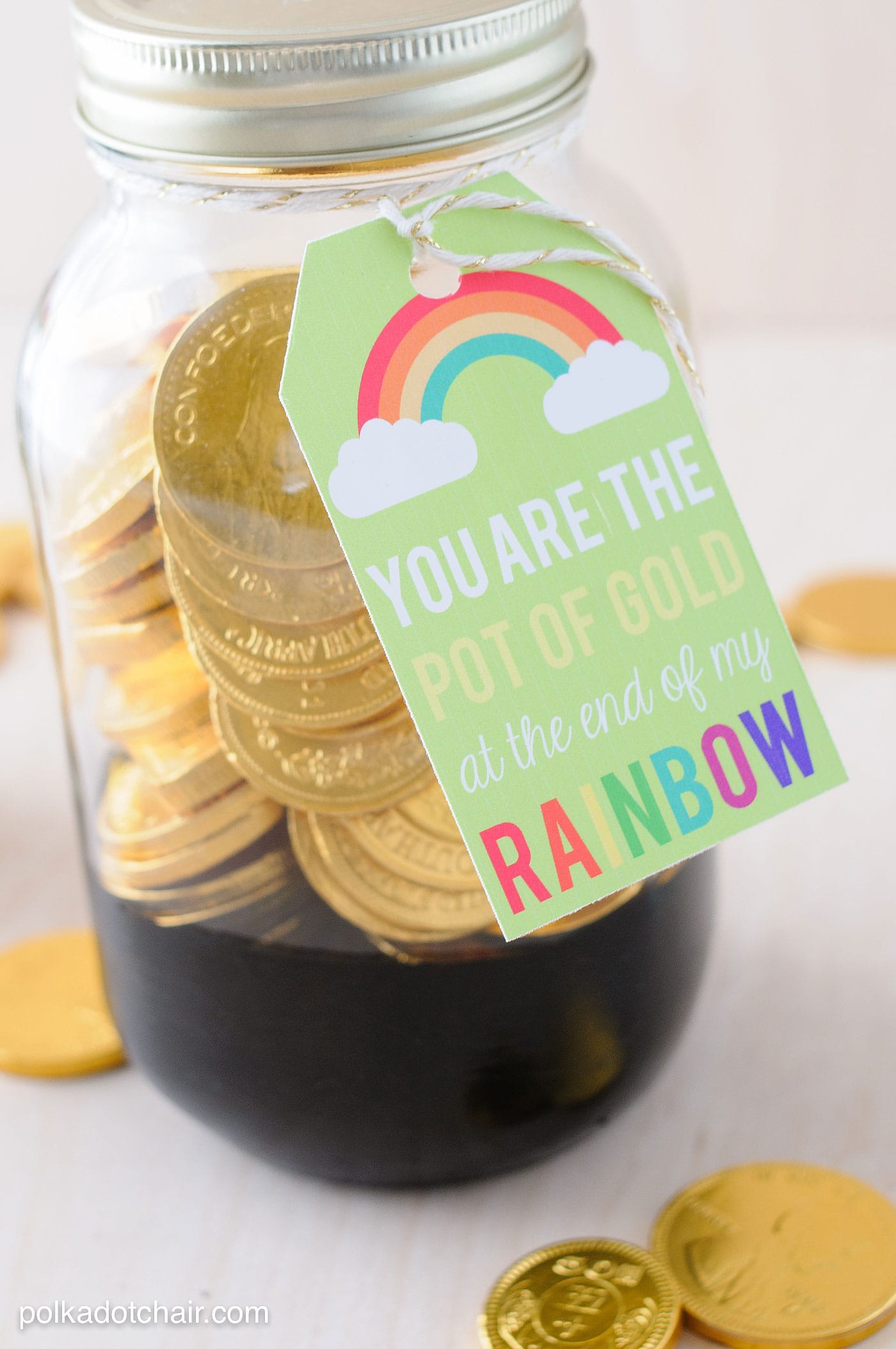 To make the smaller mason jar, print off the rainbow printable found here.  I've included 2 sizes of rainbows depending on your project. On the printable you'll find a front and a back.  Cut each one out and glue them together, so that your rainbow is double sided.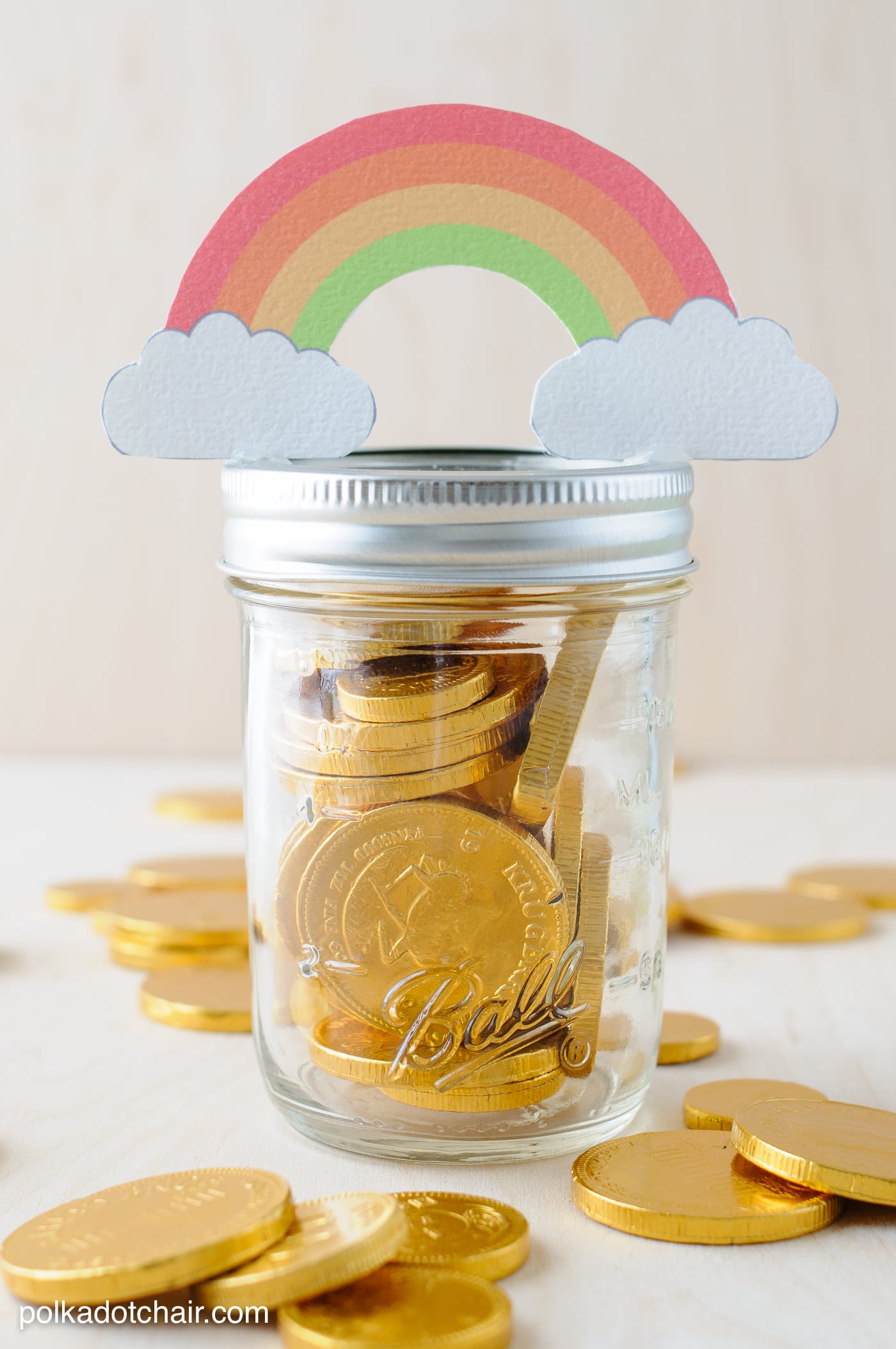 Then simply put a bit of hot glue on the rim of the mason jar lid and glue the rainbow down so it's standing up.
Voila! A Pot of Gold at the end of a Rainbow!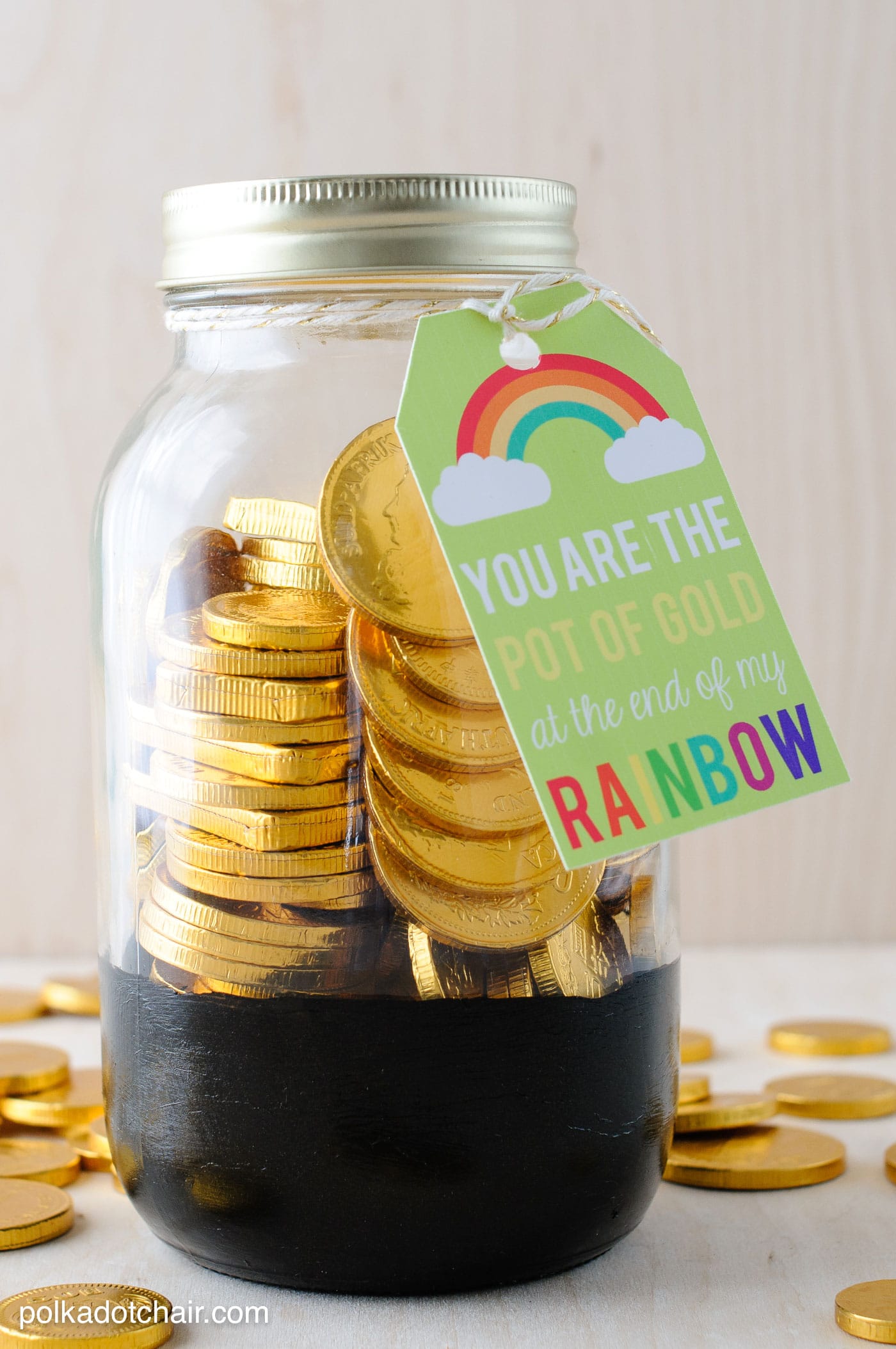 You can visit my templates page to download these and MANY more free printables!  You'll find two options, one for printing the tags on Avery Labels (my favorite) and one for printing the labels on plain cardstock. You can also find the link to download the rainbows on the template page.
Now, go forth and craft!! And may the Luck of the Irish be with you!
Supplies Used (affiliate links):

Mason Jars