Today I am so excited to introduce you to my new fabric collection, Derby Day! It was inspired by the Kentucky Derby and all of the fun things that go along with it! I've also included some sneak peeks for my new sewing and quilt patterns that coordinate with Derby Day Fabric and are due to arrive very soon!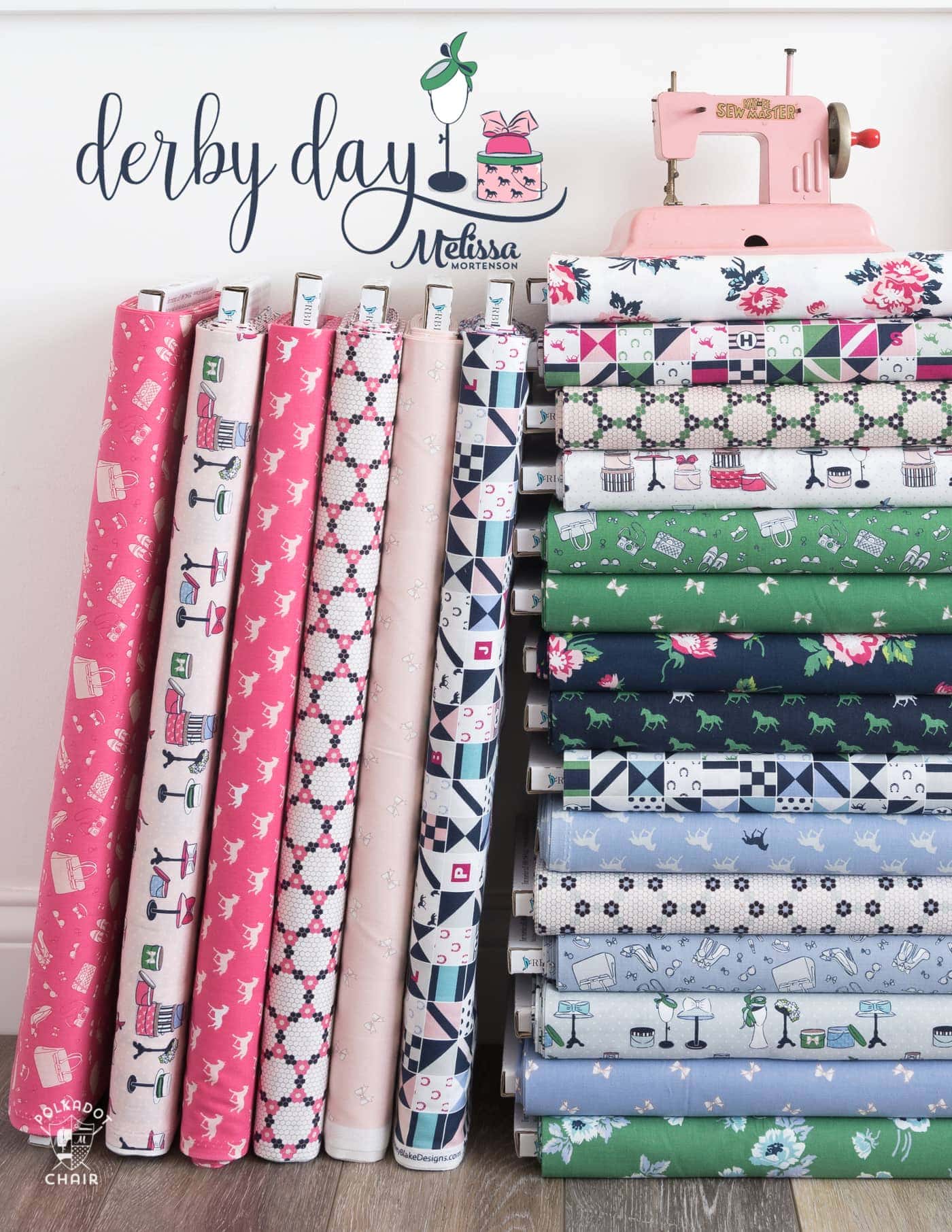 About the Derby Day Fabric Collection
One of my favorite things about living in Kentucky is the giant spectacle that is the Kentucky Derby. When I created this line, I was inspired by all of the bright colors and fresh florals that are associated with the Derby. If you've ever been, then you know that it's a sight to behold. Big hats, bright colors, bow ties, fascinators and fabulous fashion abound.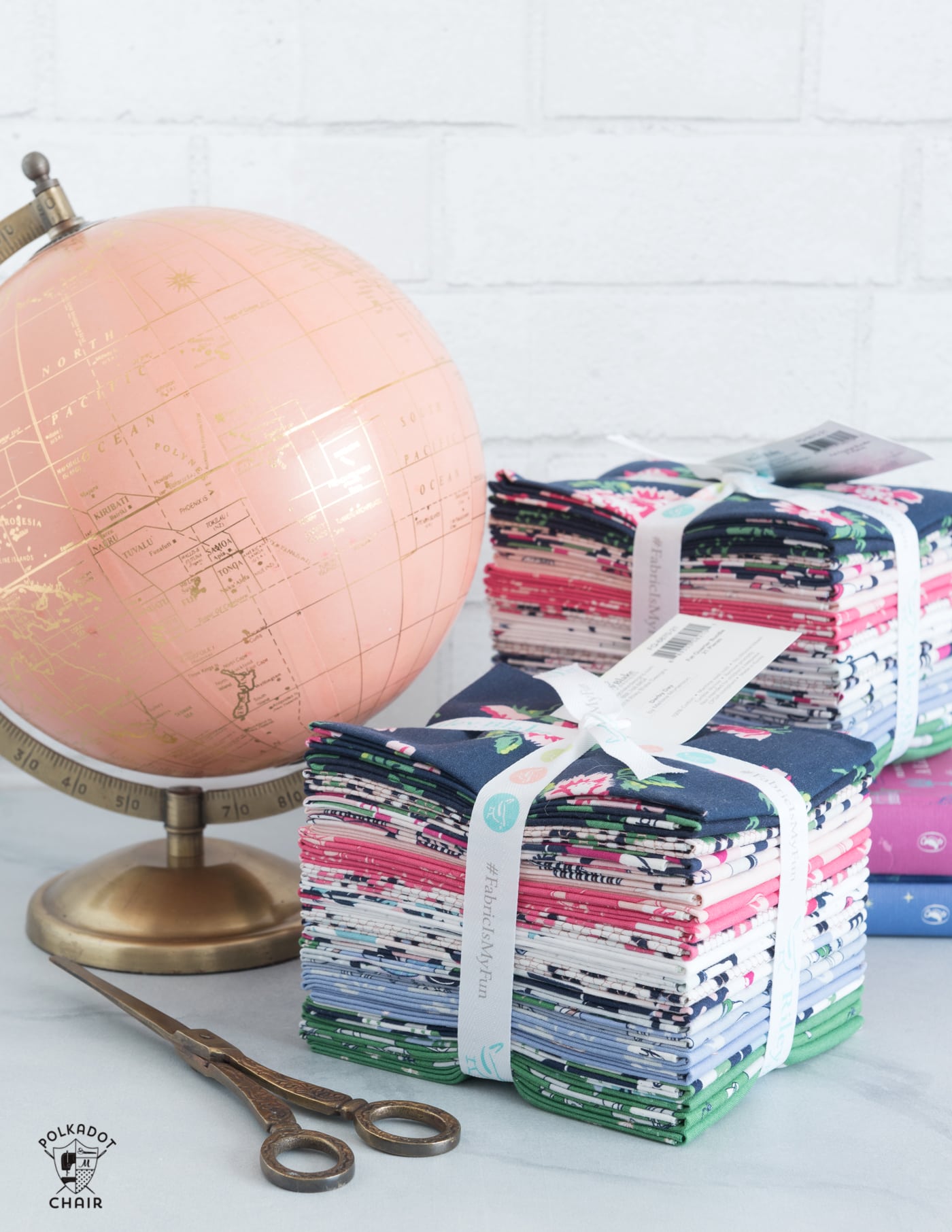 Derby Day Fabric tells the story of a day at the Derby. From picking out your hat to finding the perfect dress and accessories. The story finishes with a day races complete with jockey silks, floral garlands and of course, horses!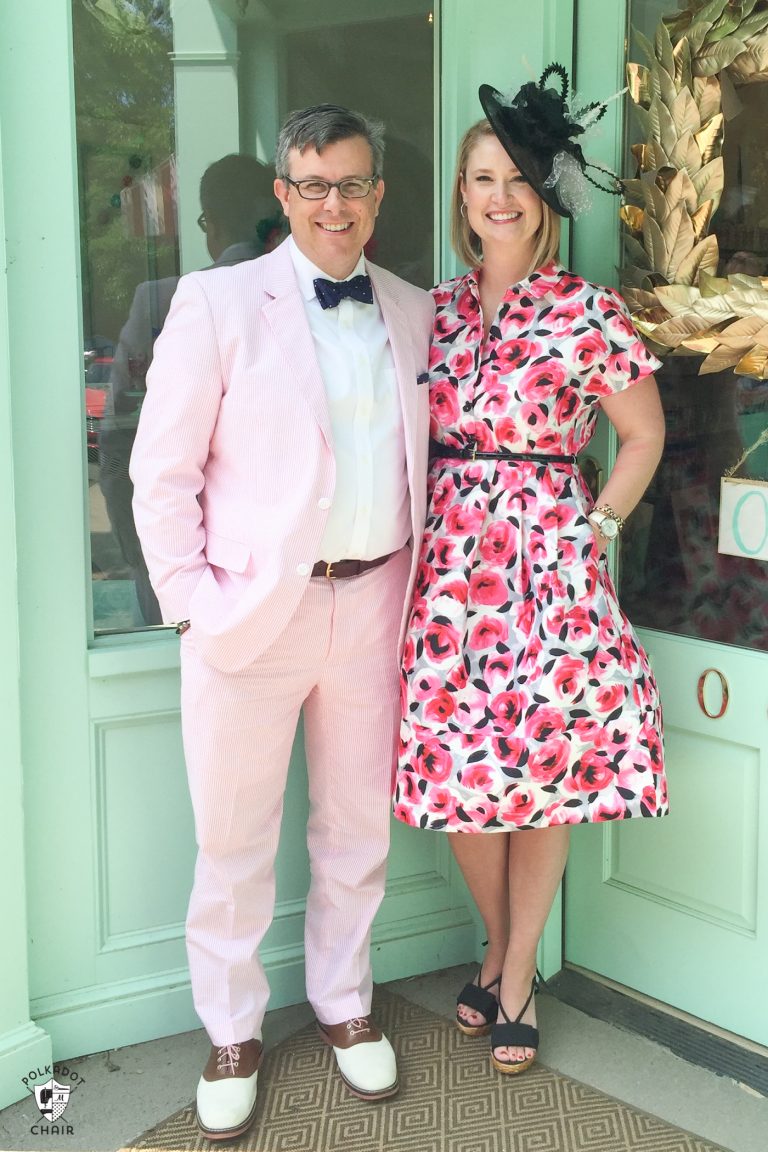 To be honest with you, I've never been to the ACTUAL Kentucky Derby, just the races the day before. Everything you've heard is true when it comes to scoring tickets to the Derby, it's notoriously difficult (or expensive). 
Thankfully though, there are many events the week of the Derby that we as locals enjoy! One of my favorites is the Kentucky Oaks races the day before the Derby. It's the Derby for the "fillies" and is many times a "pink out" with lots of bright colors and florals.  I'd have to say this line is a bit more inspired by the Oaks than the Derby that way.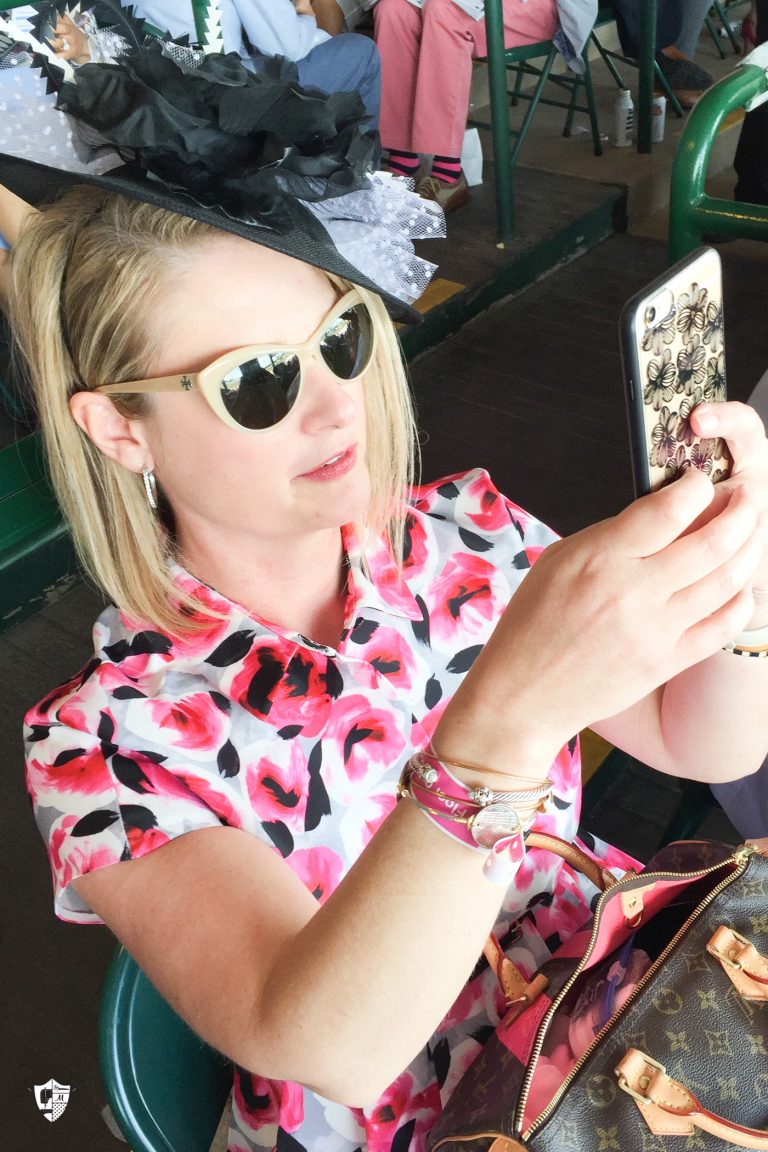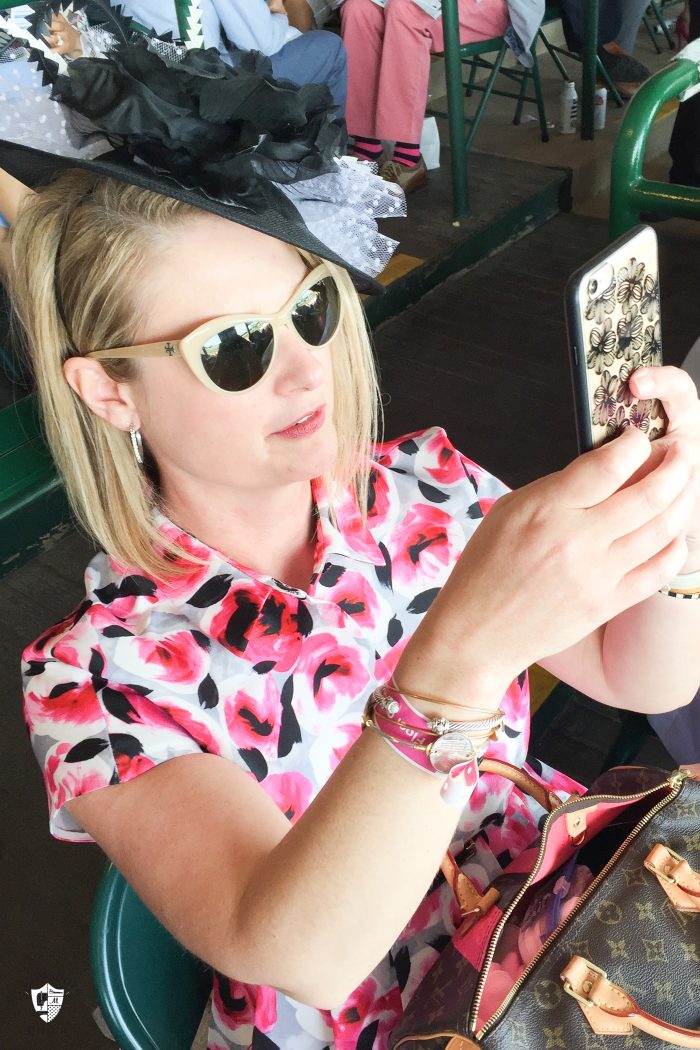 I should make it clear, this is not Kentucky Derby Fabric. It is fabric inspired by all of the sights, and fashions of the Derby. It's a follow up to my first line, Derby Style which came out in 2015.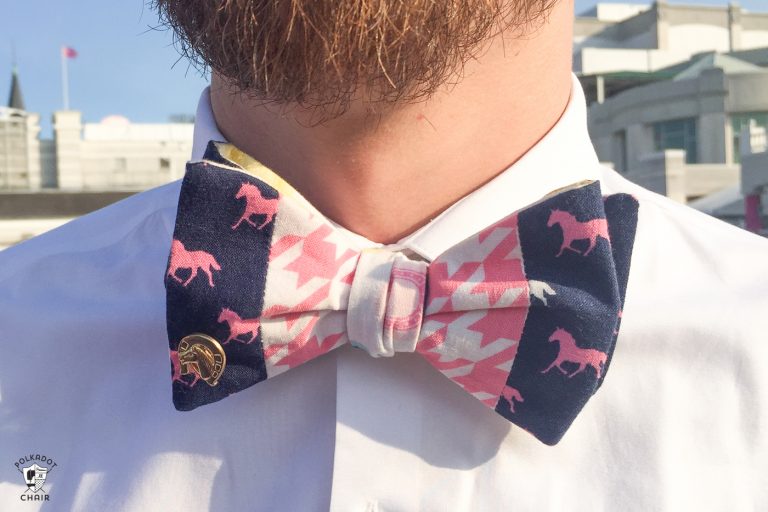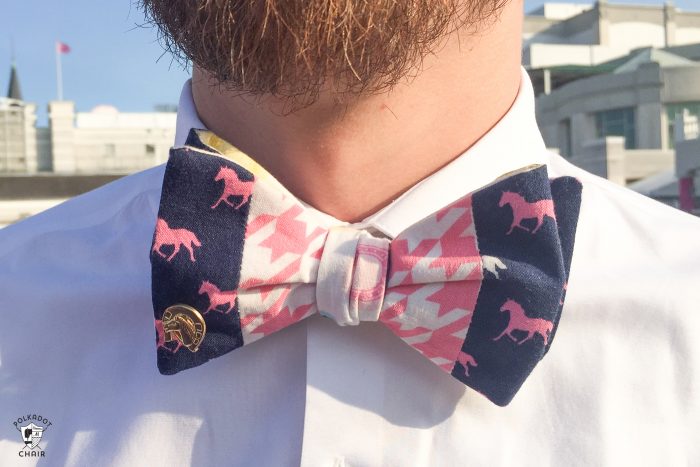 Would you believe that while I was at the Oaks the year that the fabric came out(2015) that a guy walked up behind me wearing THIS bow tie!? It's made from my fabric, how wild is that?!?! Seriously what are the odds? It was really fun to spot all of the Derby fashions that year, look at this family, so cute I could die!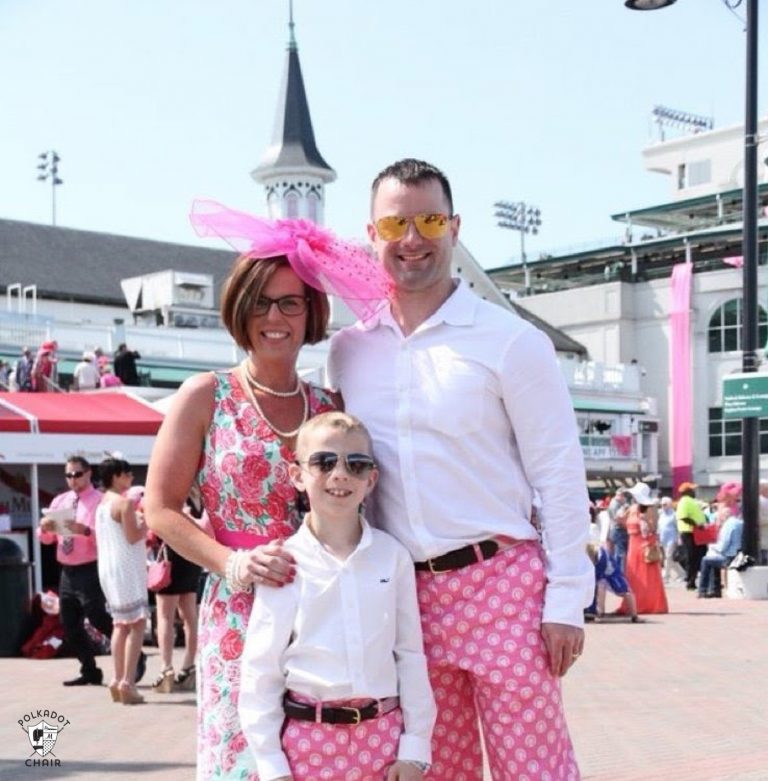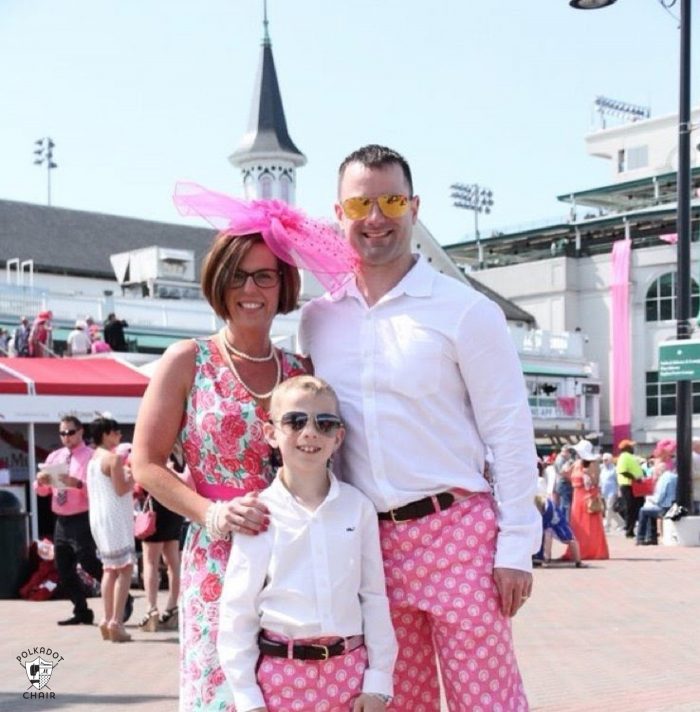 I pitched the idea of a follow up to Derby Style a few years ago, and I was so excited that Riley Blake liked the idea.  Not only did I have more ideas for Derby themed fabric, I also had expanded my fabric design skills was finally able to make many of the patterns I had swirling around in my head a reality.
Prints in the Fabric Line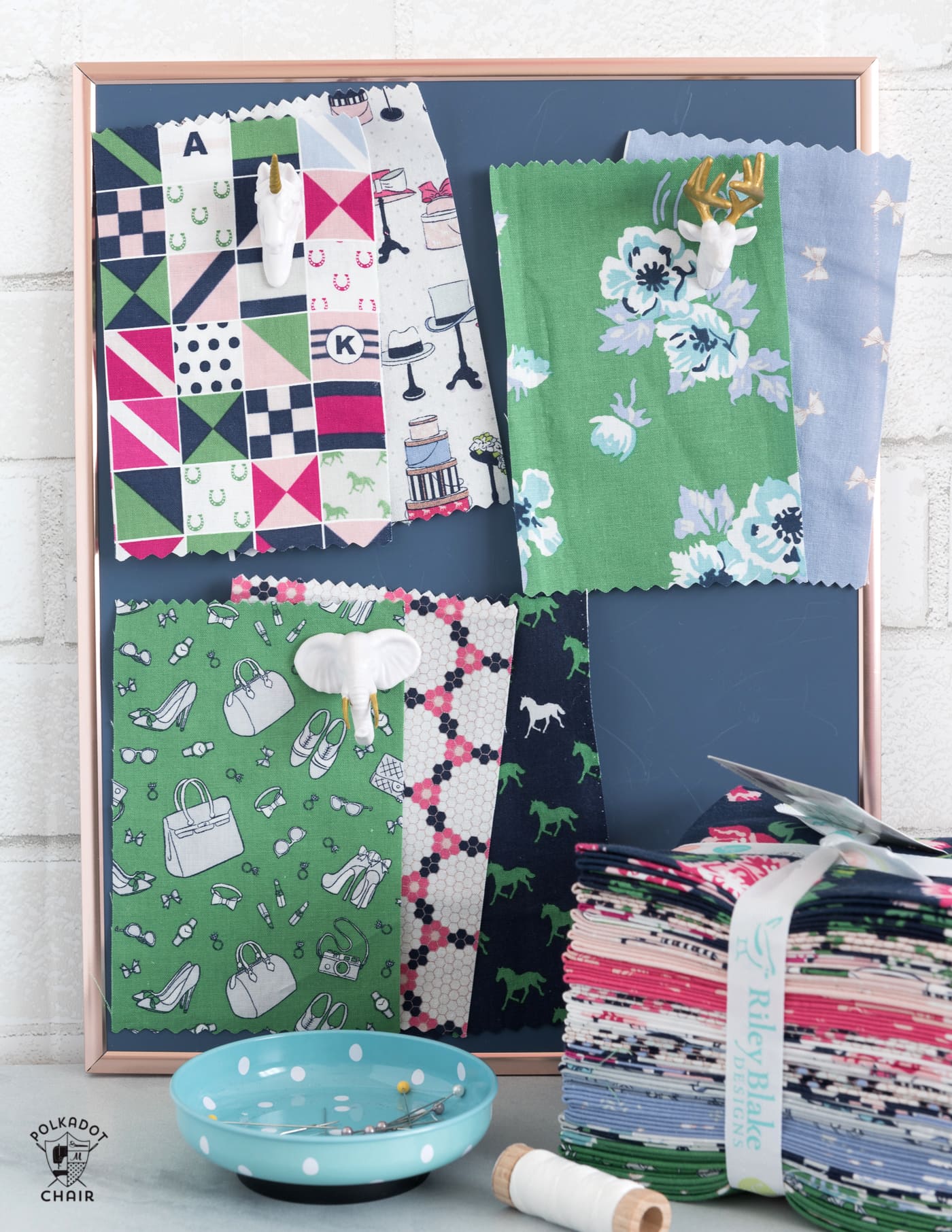 The line is available NOW and should be showing up in your favorite quilt shop very soon (if it's not there already). It features 21 prints of quilting cotton and 6 prints in Knit, which I am so dang excited to get my hands on! I'm dying to make a pair of joggers out of that Navy floral.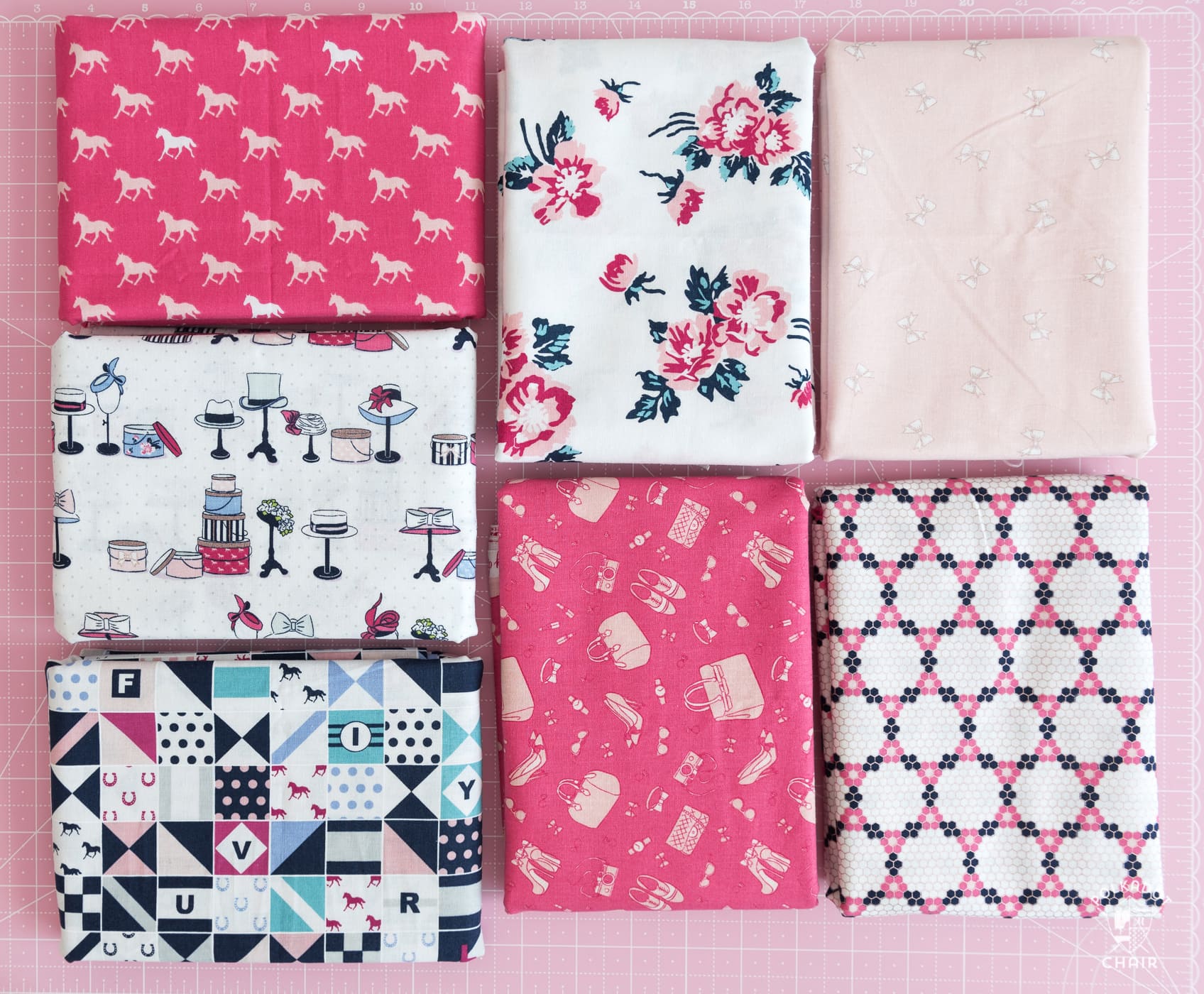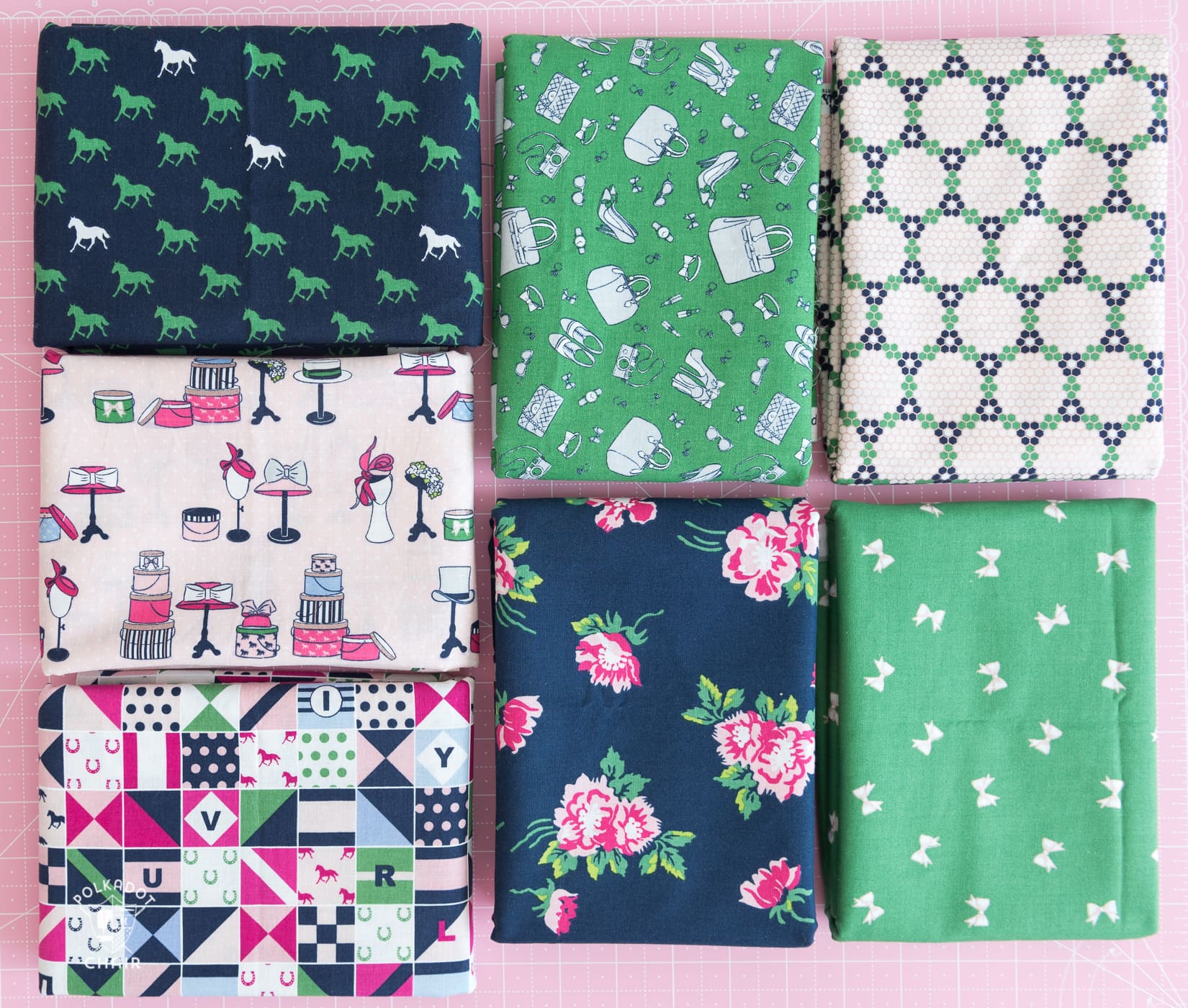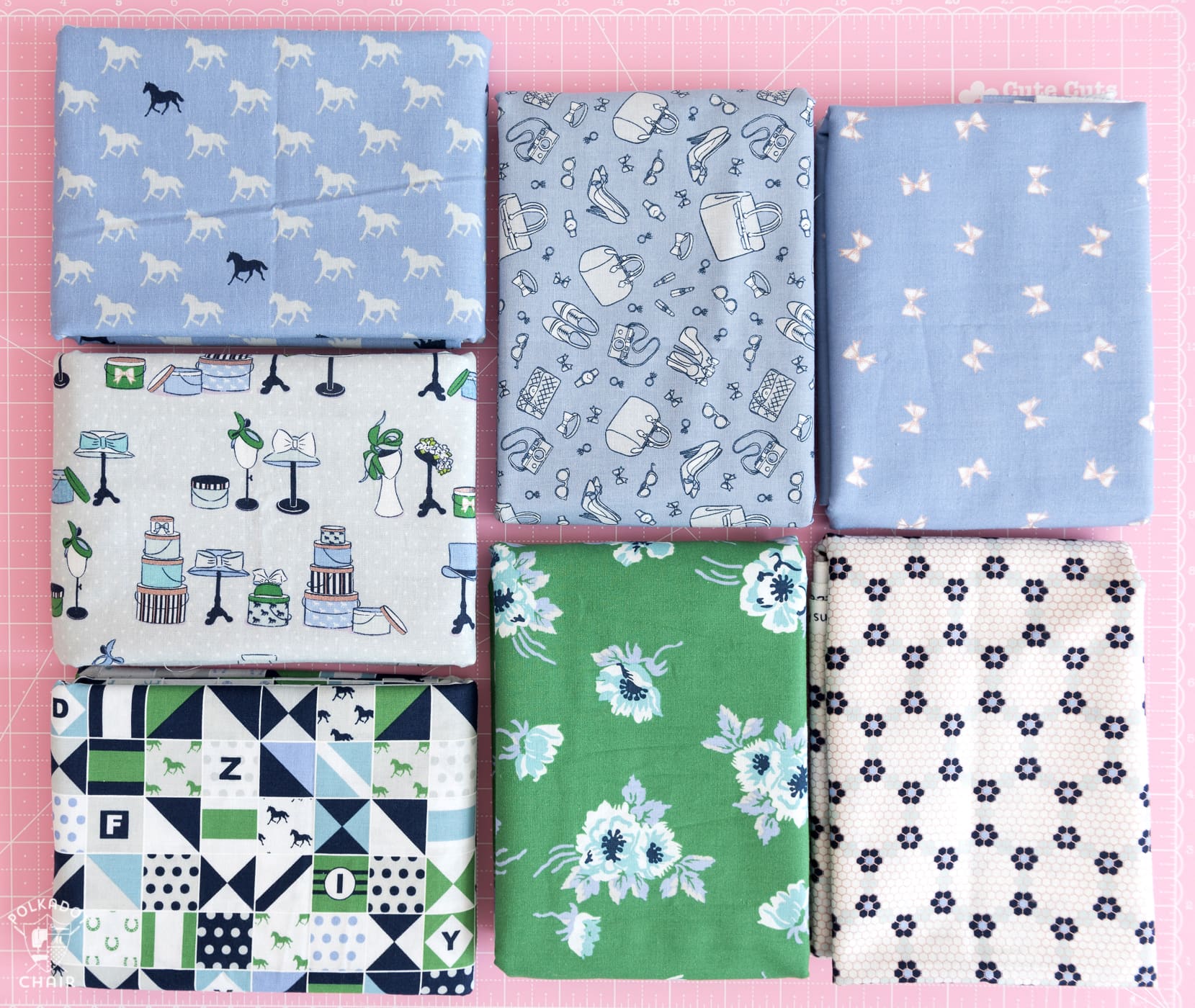 I've been "busy as a bee" stitching up samples and taking loads of photos. Since I can't fit ALL of the photos in this post (it's already going to be too long, to begin with) I created a Derby Day Fabrics Lookbook! You can view lots of more ideas in the book. I've included information about all of the patterns and projects in the book.
Sewing & Quilting Patterns for Derby Day Fabrics
Featured in the collection are three new quilt patterns.  They are all available in the shop!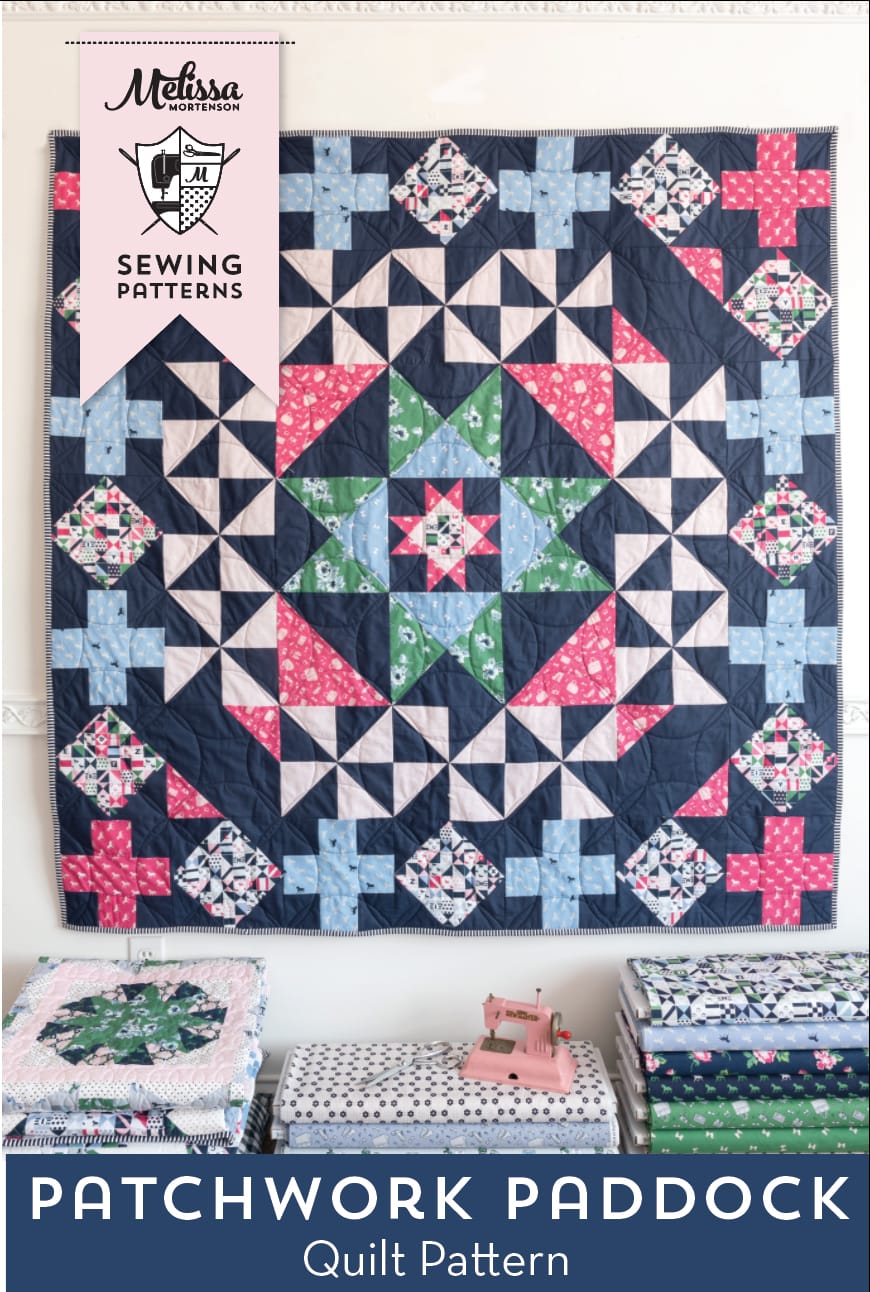 Patchwork Paddock Quilt Pattern
The first one is called Patchwork Paddock. It is offered in both PDF and Print Format. 
Derby Sampler Quilt Pattern
The second quilt is called Derby Sampler. It's a funs ampler quilt, that uses both pieced and applique blocks. It will be in PDF format only, as it's served best in that format I've decided. I'll also share more when it's available.
Project Ideas
I was able to get my hands on some advance digital yardage of the line in October, and since I had time, I stitched up several samples and had time to snap some photos. Luckily I had a friend with a horse, and she was gracious enough to let us shoot photos at her barn for the day.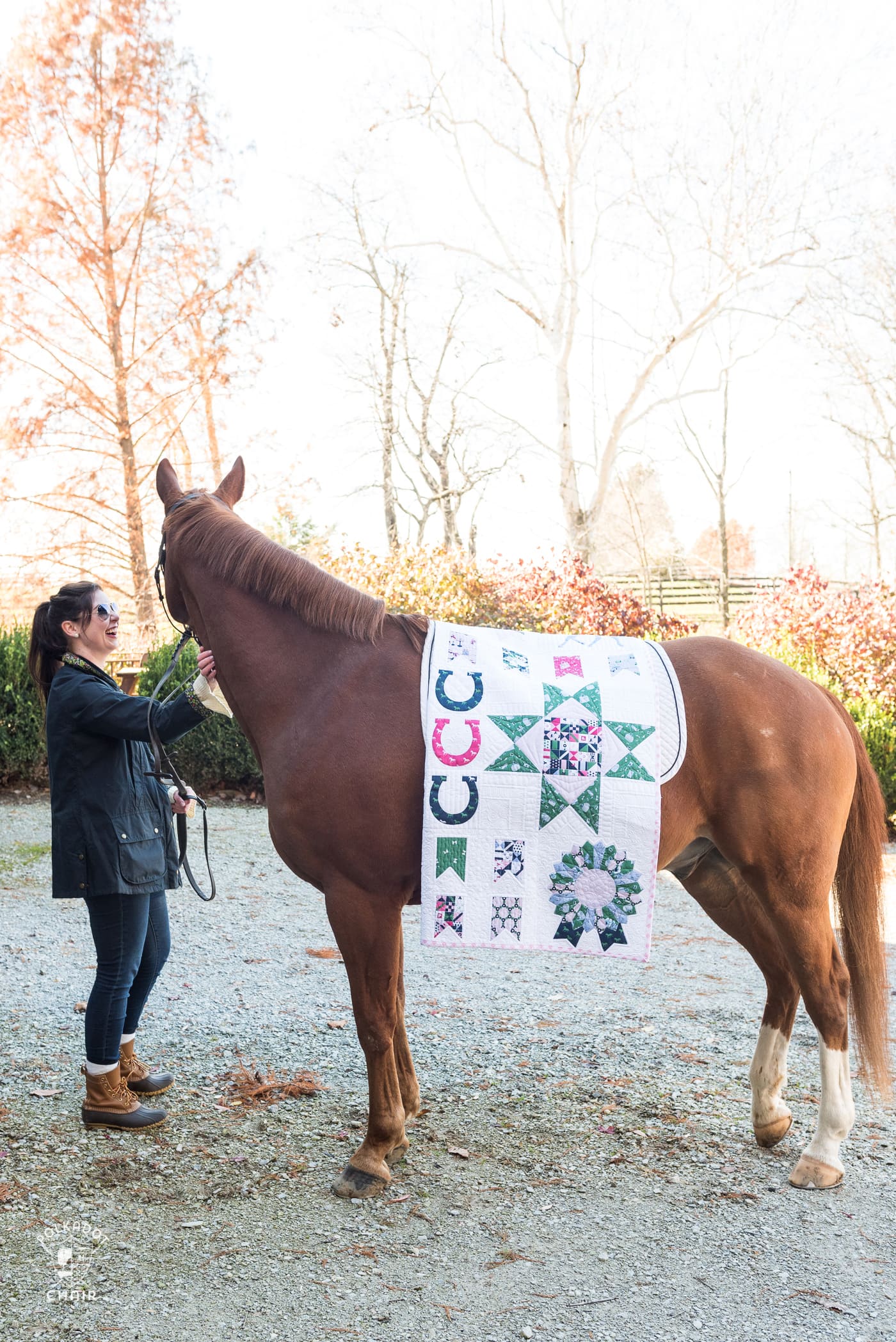 My college daughter tagged along (she was home for break) and loved every second of it. I'm starting to regret not getting her riding lessons when she was young. She took to the horses right away and was not intimidated by them at all.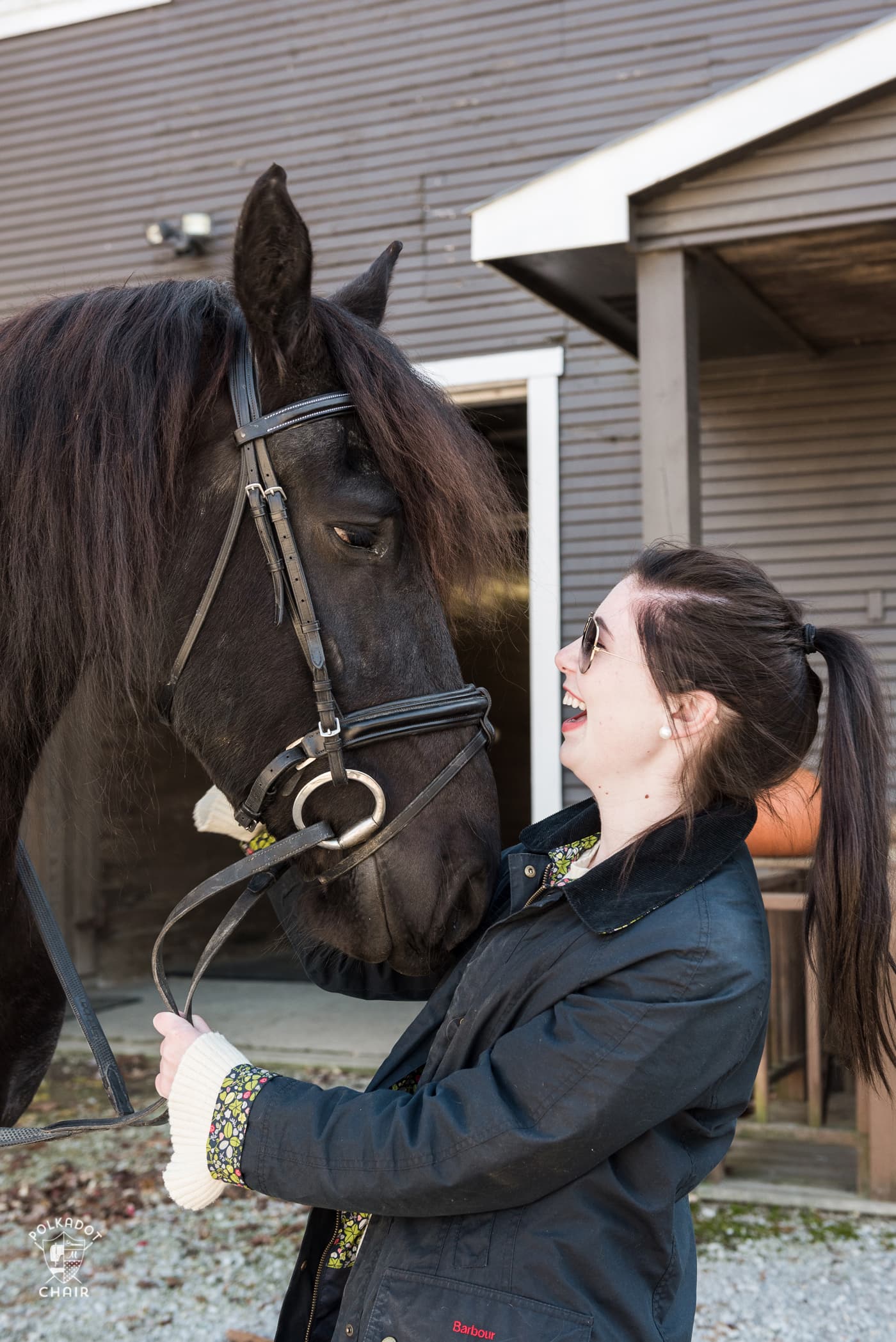 I'll leave you with a few more photos of the line. Like I said before, it is in stores now. If you are a shop and carry the line I'll add you to my SHOP SOURCES list. Just shoot me an email!