Today I'm excited to introduce to you a new modern quilt pattern that is completely customizable! The Letter Board Quilt pattern is a fun take on an alphabet quilt pattern. Spell what you'd like and create a quilt that's uniquely you.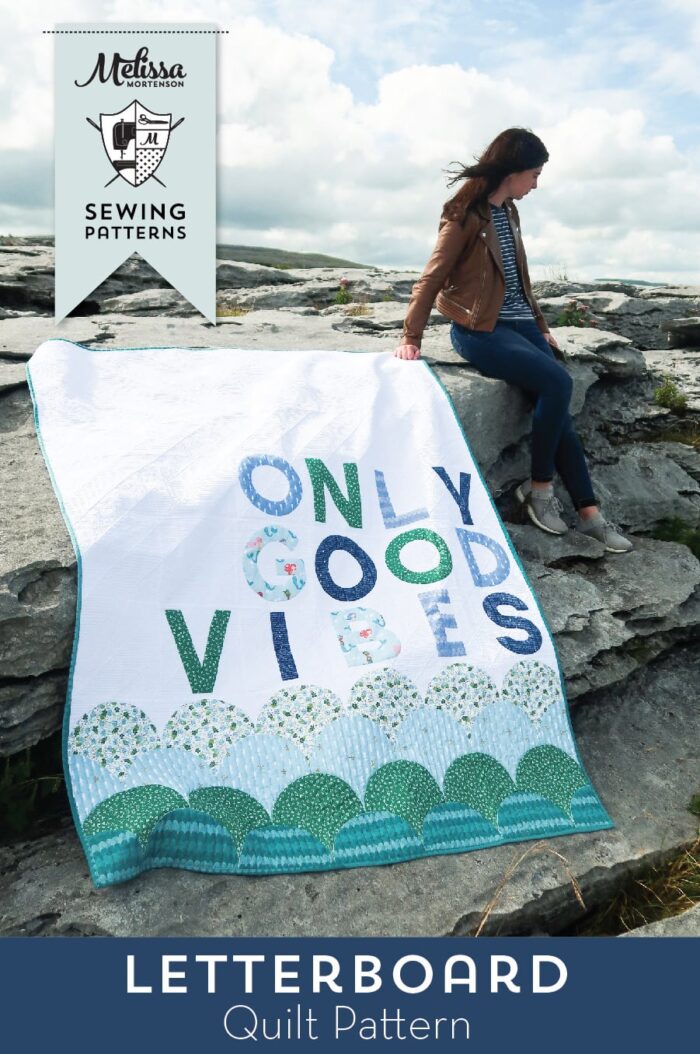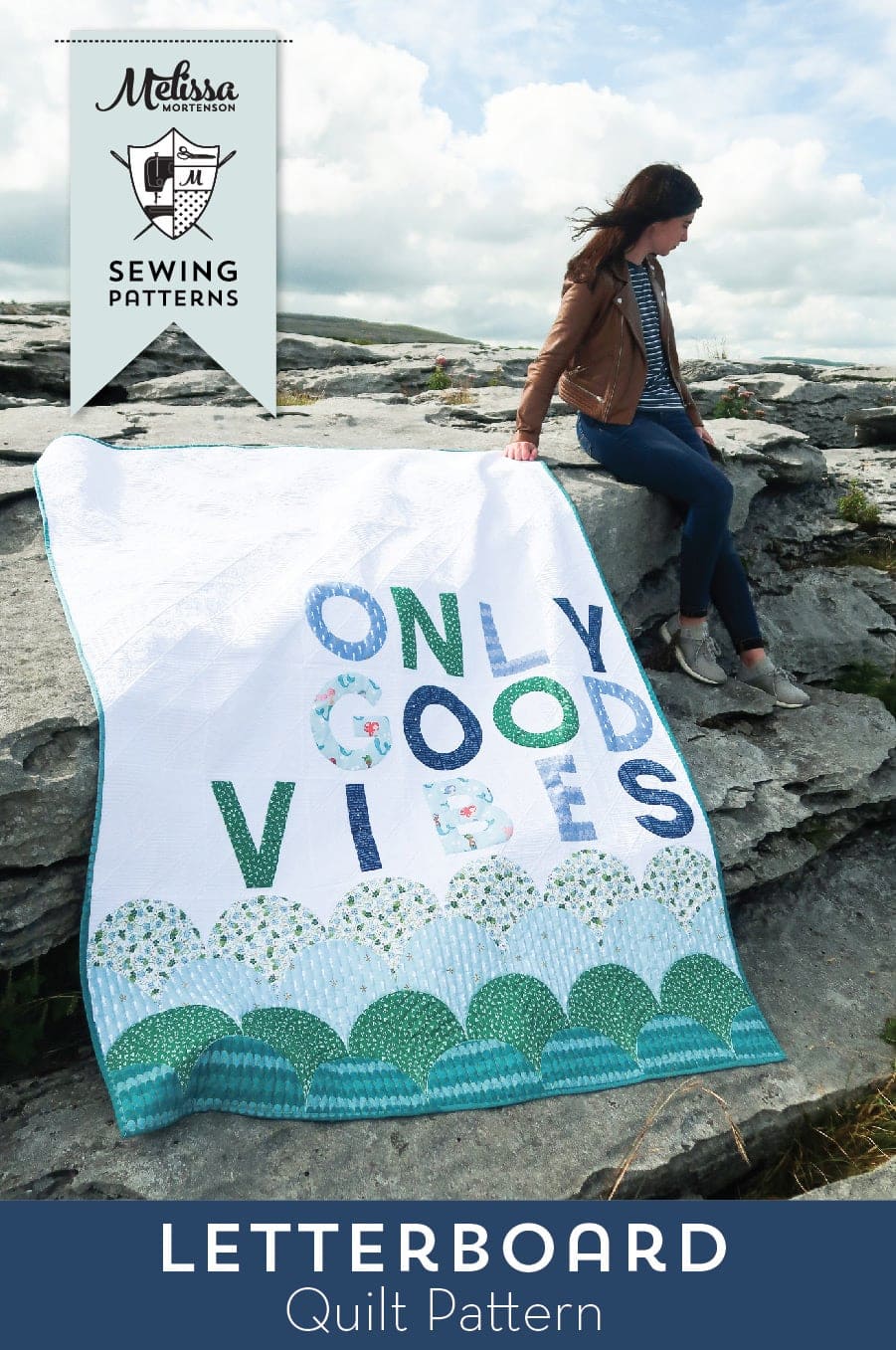 While I was planning out quilt projects for my booth for Spring Quilt market I knew that I wanted one of the quilts to make a big statement. The quilt show floor can be crowded so getting one project to stand out can be a challenge.
I'm also the mother of 2 teens and an adult child. Let me tell you, those ages come with a lot of DRAMA! I think the weeks leading up to the creation of this quilt must have been a bit challenging because I kept repeating to myself "only good vibes, Melissa… just chill… take a deep breath". (Don't get me wrong, my kids are GREAT, but they are still teenagers).
The Letter Board, Only Good Vibes Quilt Pattern: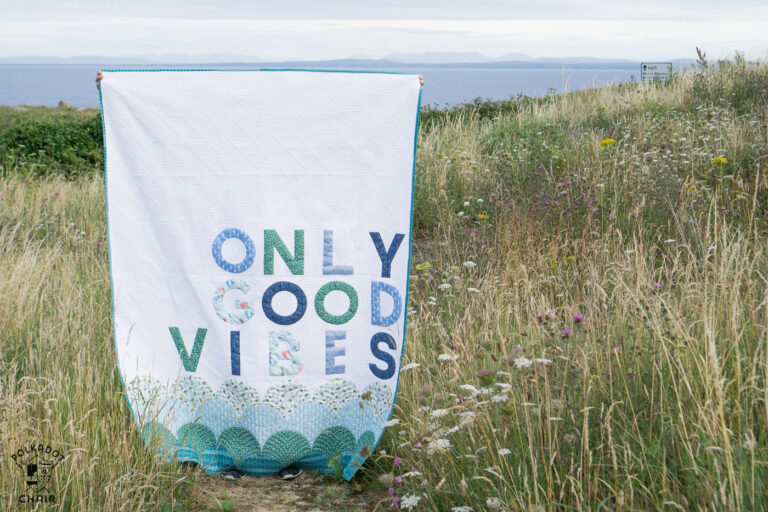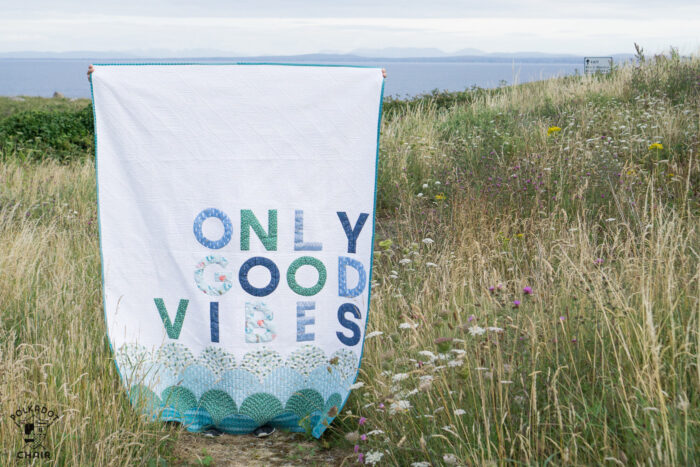 I ended up making the "Only Good Vibes" quilt to go in my booth, with intentions of writing a pattern for the quilt with that phrase on it.
After I created the quilt, I got the idea to include the entire alphabet in the quilt pattern. That way you can spell out your own personal "mantra" on it! You can even personalize it with a name or a monogram.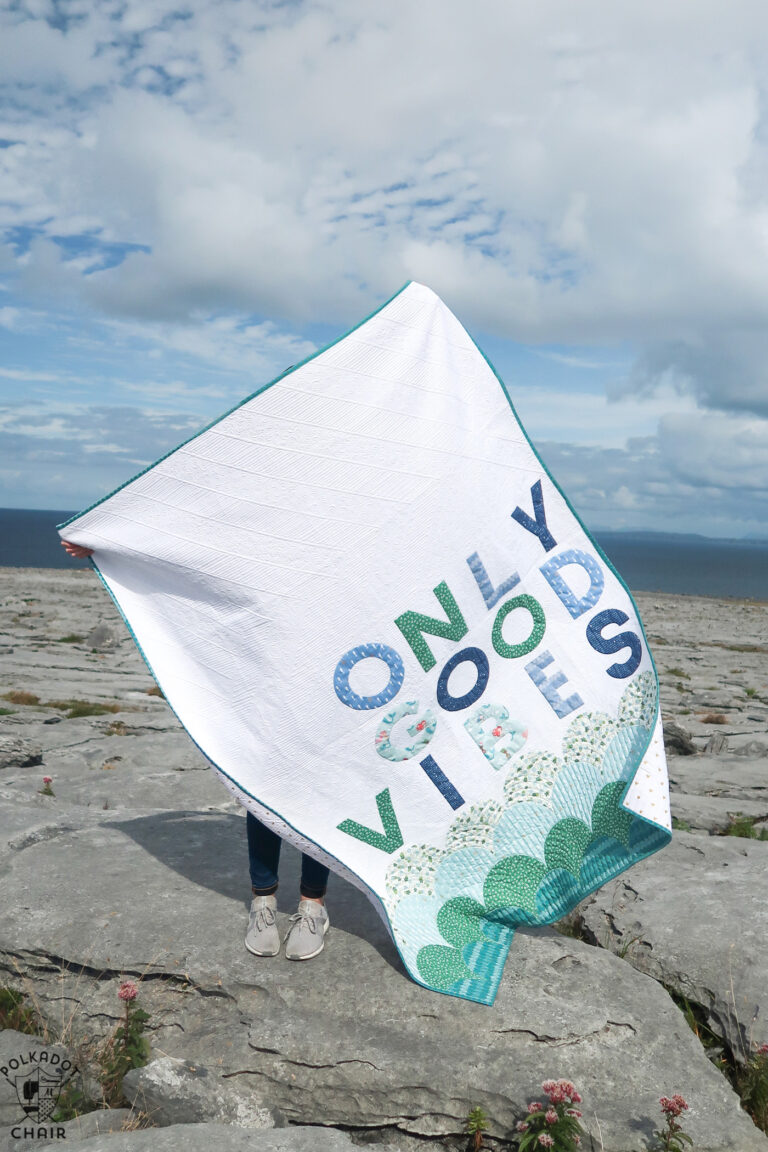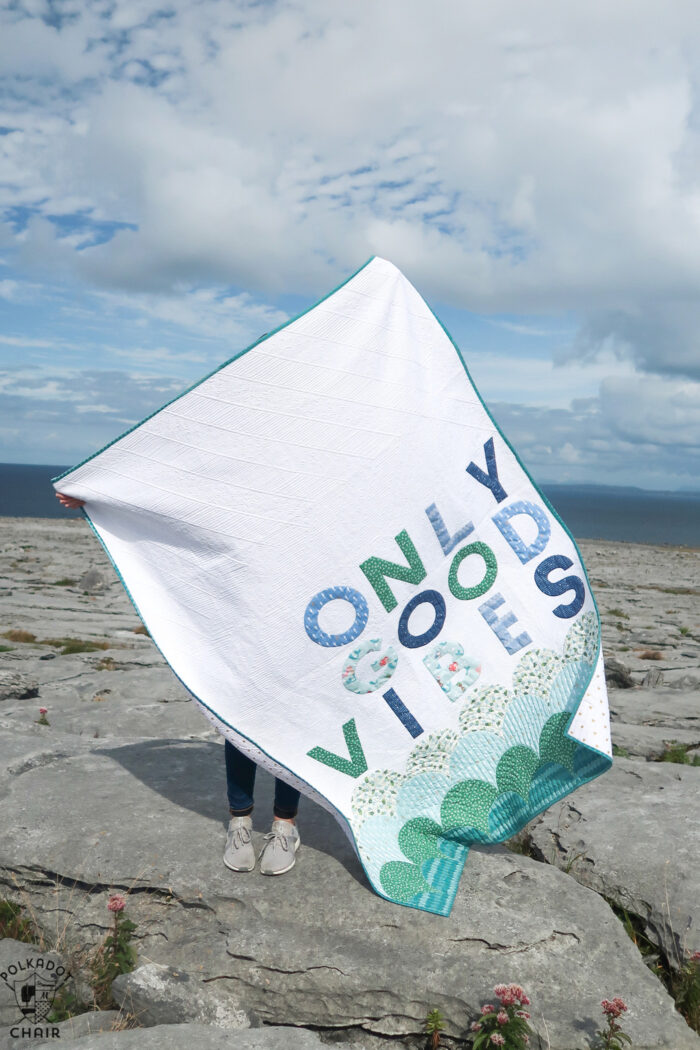 The quilt pattern features a variety of techniques. The letters are raw-edge appliqued (full instructions are included in the pattern), and the clamshells are created using the clamshell fabric and a lining fabric so there are no raw edges.
It's a Pre-Cut Friendly Quilt Pattern
This quilt comes together FAST and is designed to work with 10″ pre-cut stacks of fabric! You can actually make it with ONLY pre-cuts (aside from backing and binding) if you'd like.
Note: If you make the quilt from all 10″ precut stacks, you won't have enough of the same print of fabric for the clamshells at the bottom. You'll need to make a scrappy bottom border quilt. Which would also be cute.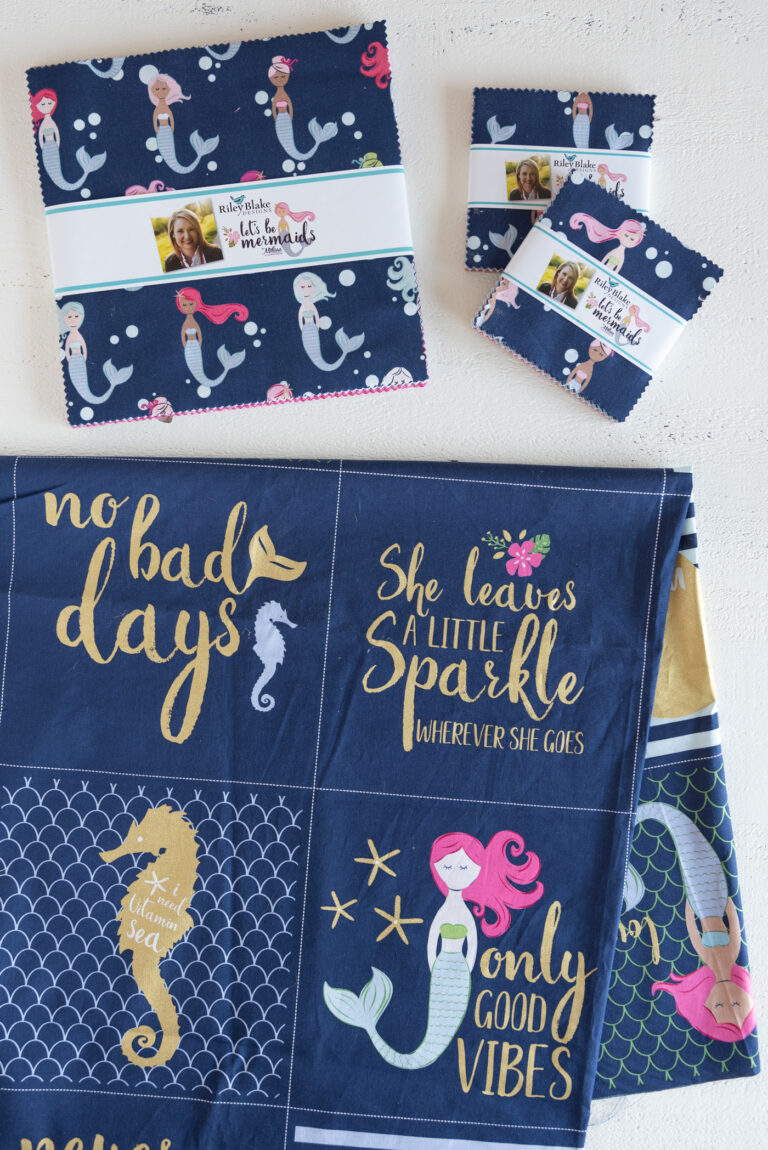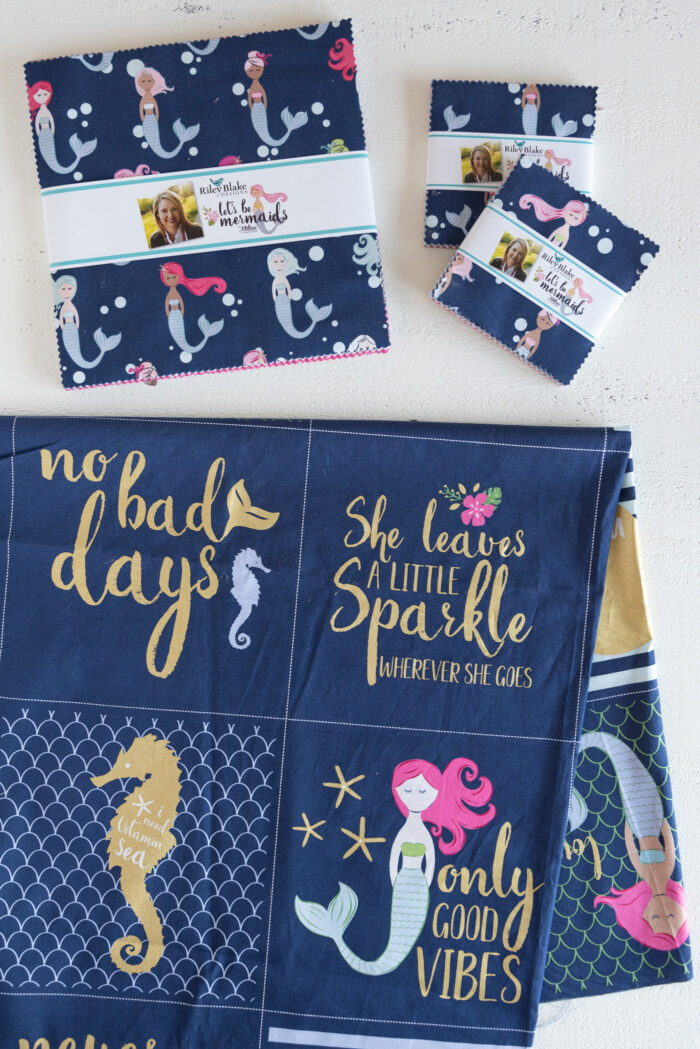 The pattern also includes applique patterns for the ENTIRE Alphabet so you can spell out whatever you'd like on your quilt!
Examples of the quilts you can make with this pattern
Since the quilt pattern is designed with 6 rows of 6 letters each, there are so many possibilities for the message on the front of the quilt.
Here are some of the ones that I had fun brainstorming. I've mocked them up so you can get a good idea of how they'd look on the quilt.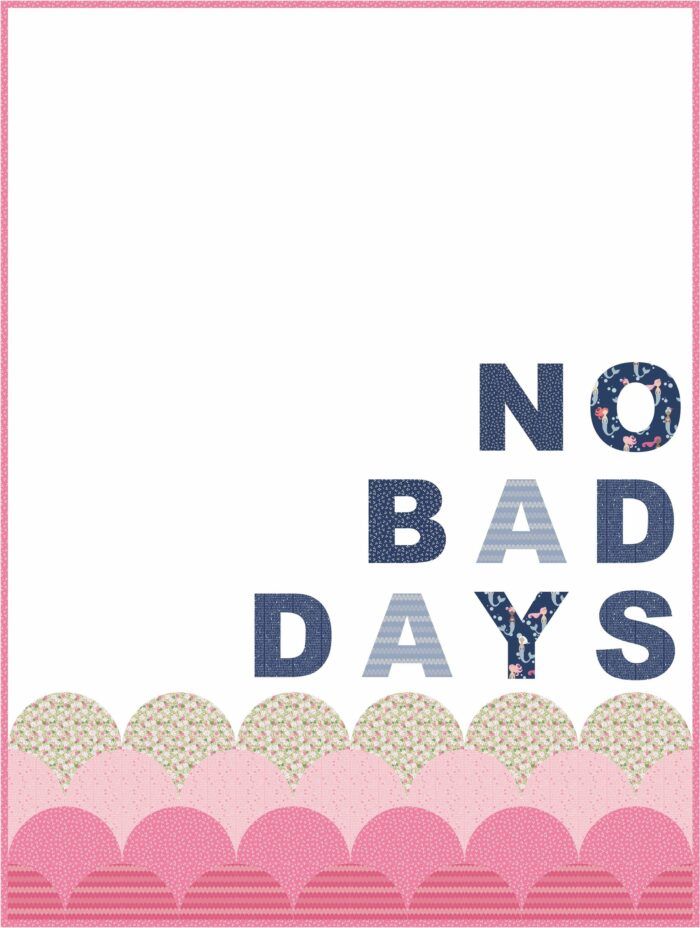 (Quilt Fabric is Let's Be Mermaids)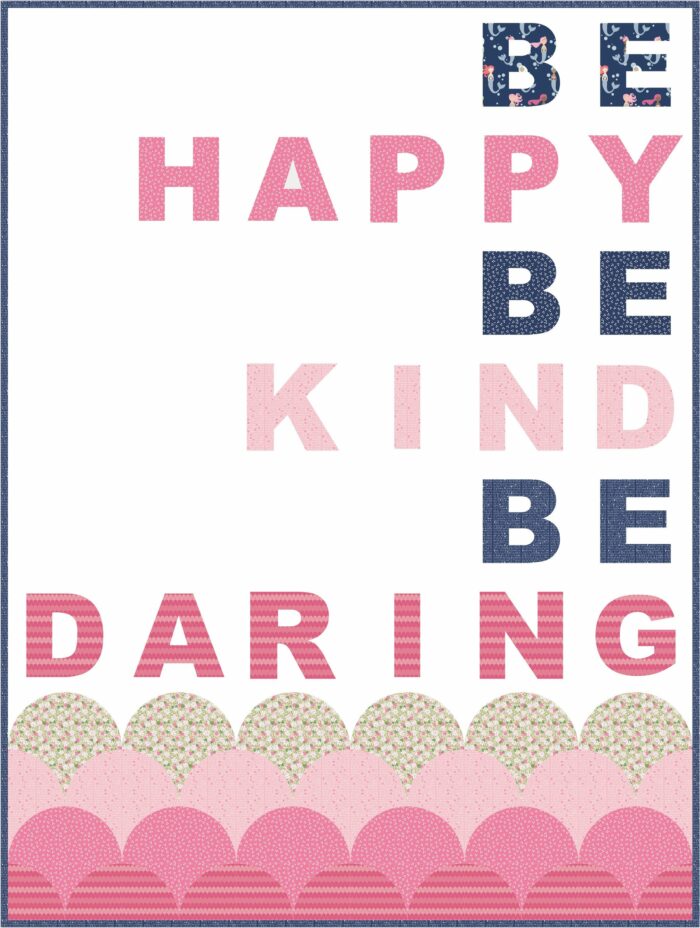 (Fabric is Let's Be Mermaids)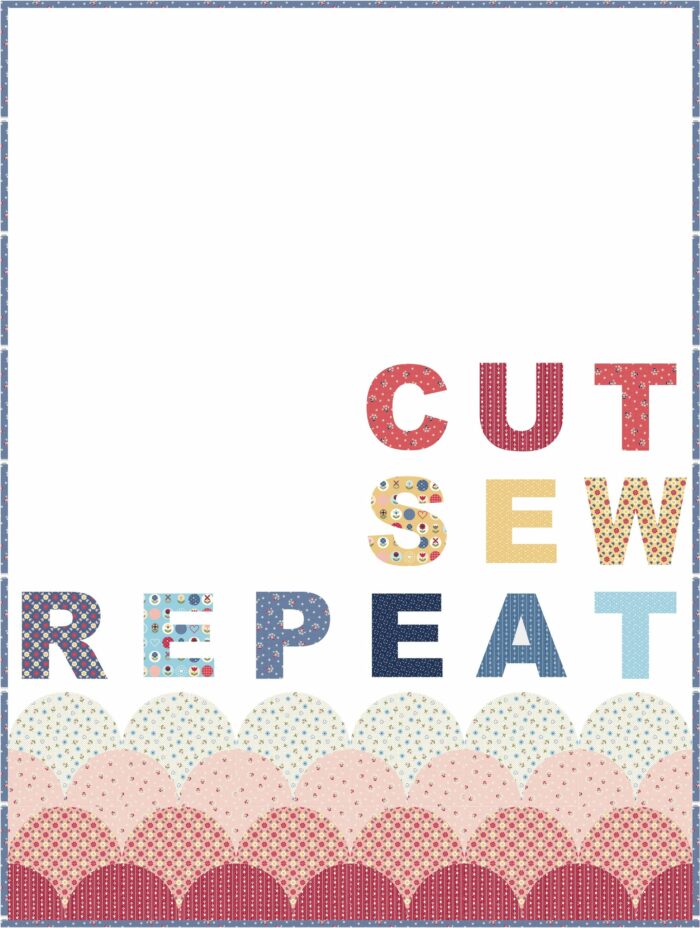 (Quilt Fabric is Gretel by Amy Smart for Riley Blake Designs)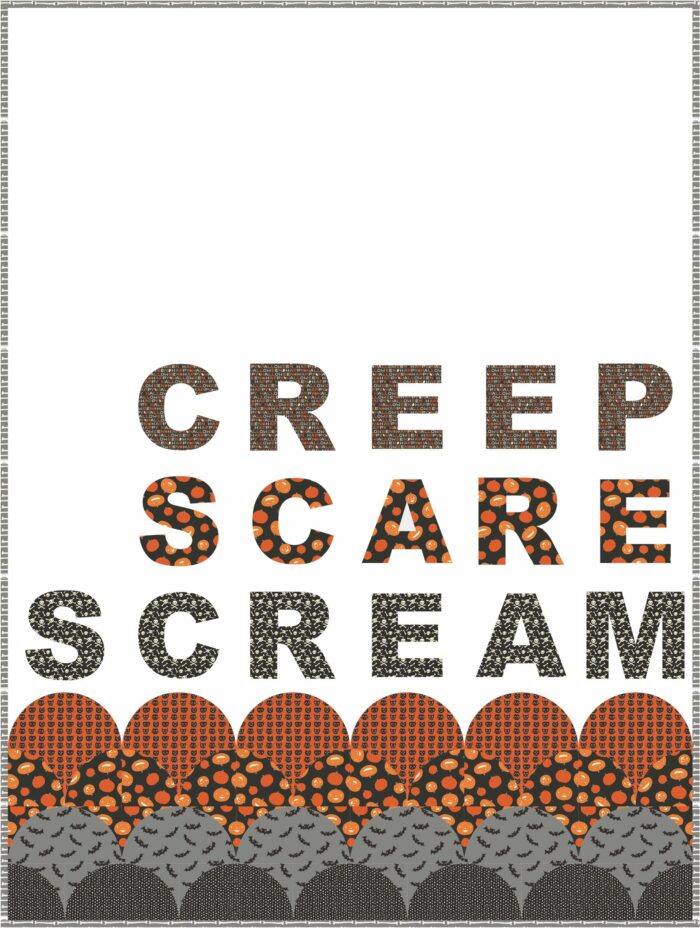 Holidays Too! Here's an idea for a Halloween Quilt – Fabric is Cats, Bats & Jacks.
About the Quilt Pattern
The letters measure approx: 8 ¼″ tall, and the quilt measures 58″ x 76″ when finished. FYI: Most twin mattresses are 39″ x 75″, so this one will fit on a twin bed, but there might not be enough "drop" to cover the mattress and sheets.
Honestly, I think this might be one of my favorite quilt patterns to date! Natalia Bonner machine quilted it for me and I'm in LOVE with all of her free motion quilting and ruler work.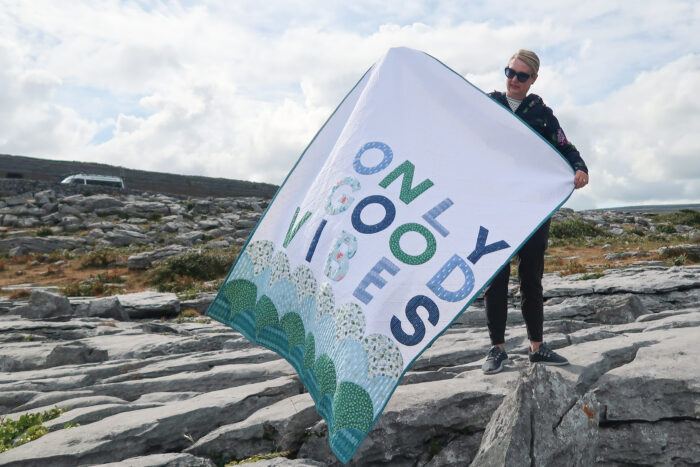 We lugged the quilt to Ireland with us last summer and had a lot of fun finding unique places to take photos of it. This photo was taken in Western Ireland in the Burren.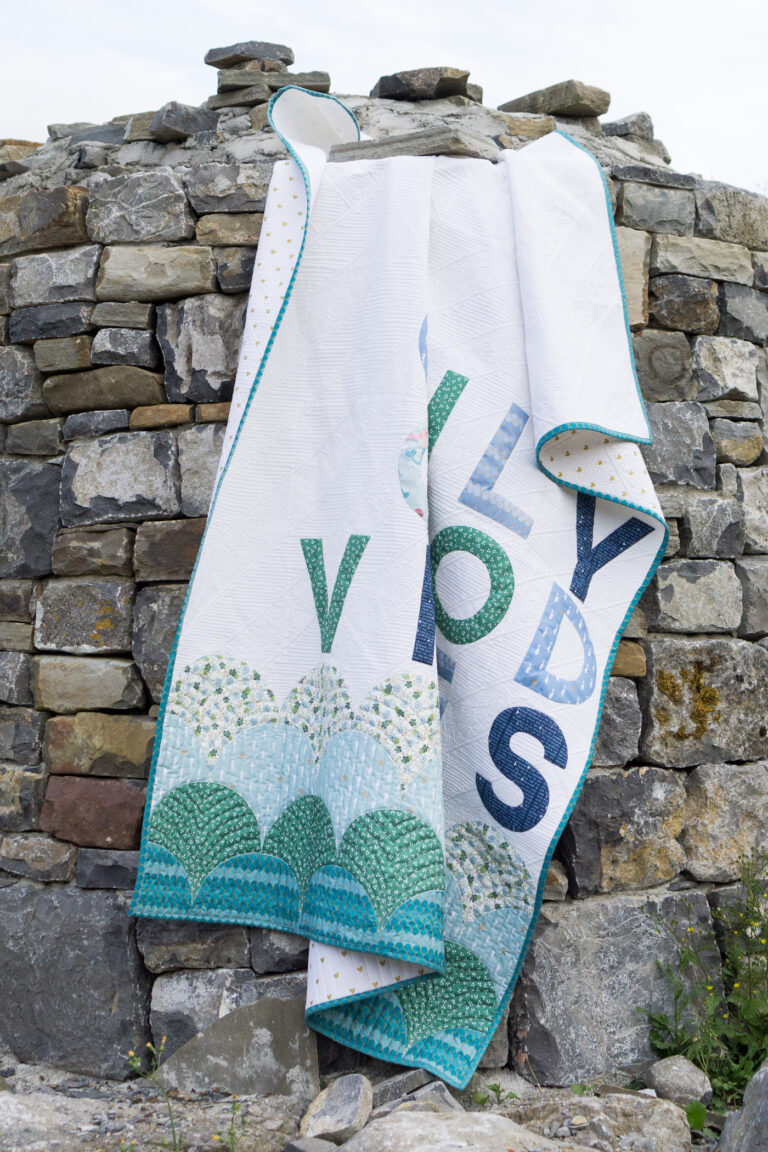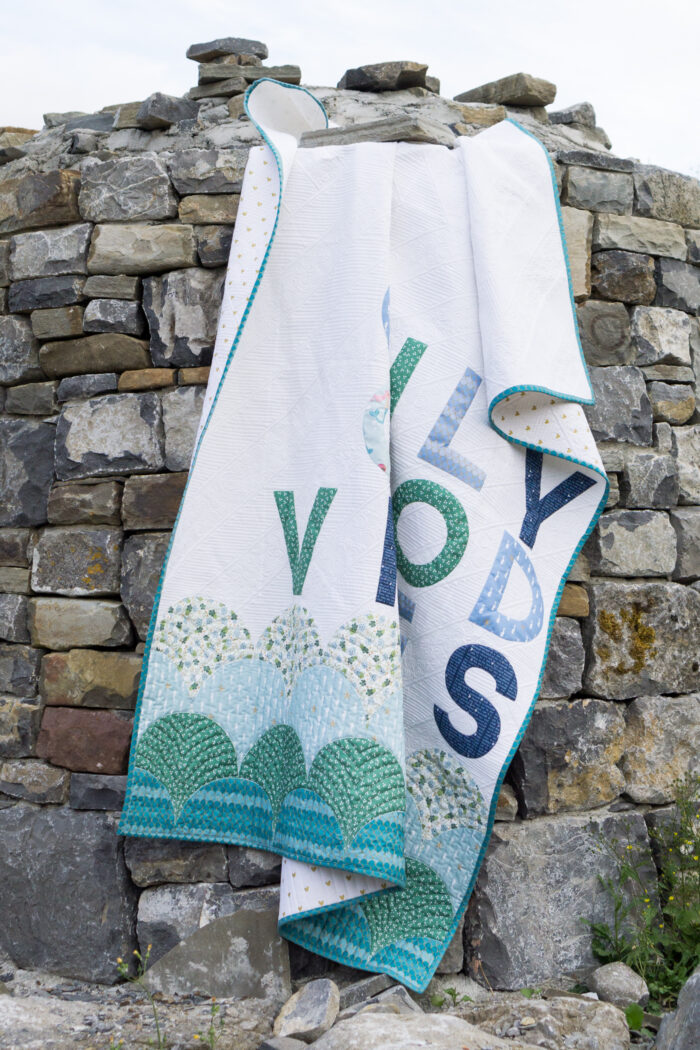 The quilt pattern is currently in PDF form in the shop. It is also available in print form. We offer wholesale copies to quilt shops. Just contact us for more info.
Also, if you've purchased a PDF pattern from me recently, if you look on the last page of your pattern, you'll find a coupon code you can use on this (or any) pattern in the shop!
More Modern Quilt Patterns you May Like:
The Santa's Hat Shop Quilt Pattern