If you are looking for a quick and easy to sew baby gift, then you may like today's tutorial. I'm going to show you how to make a Self-Binding Minky Baby Blanket.  It is made using a fun technique that I learned years ago which sews and binds the blanket at the same time!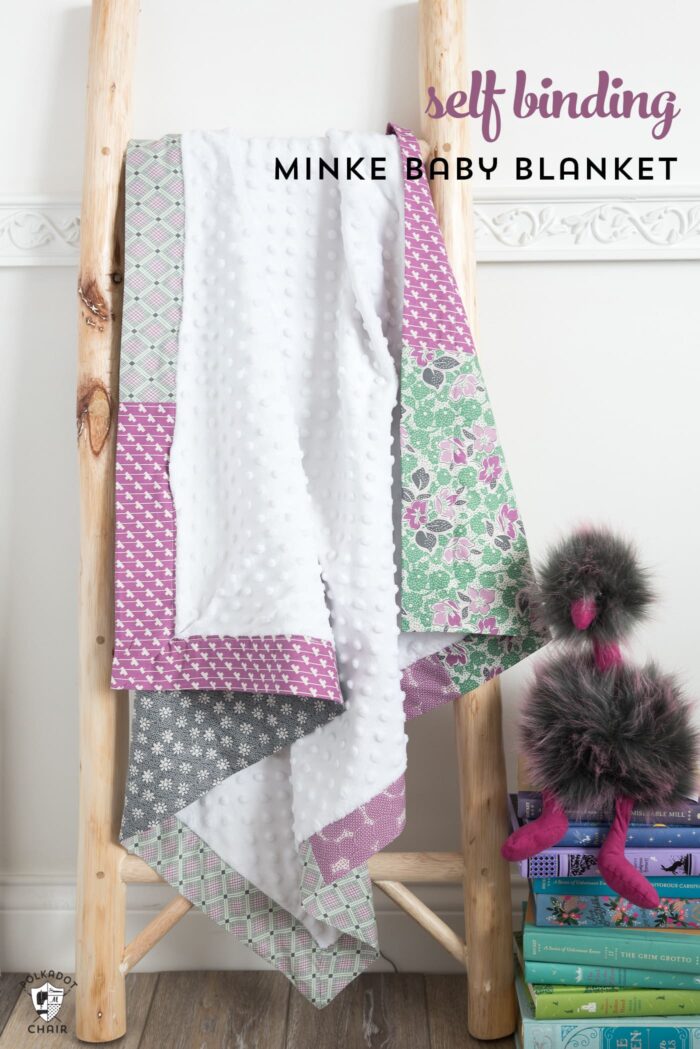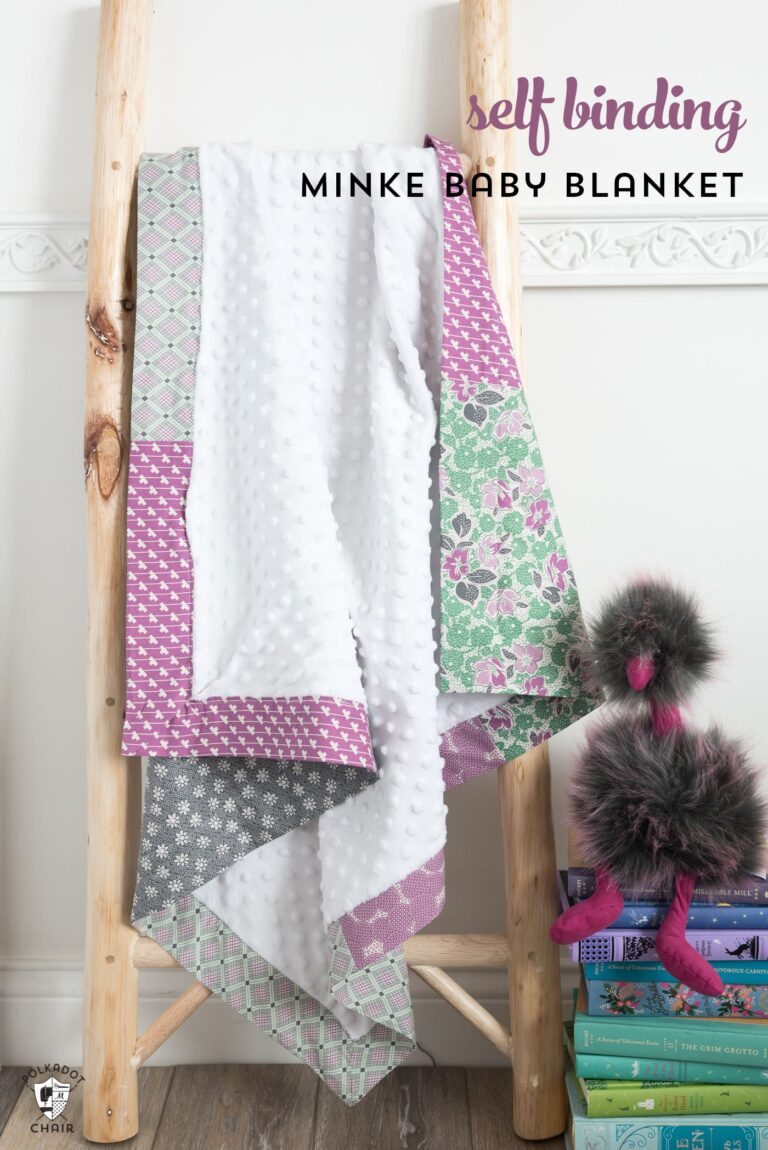 Last Fall at Quilt Market I fell in love with Leonie Bateman's new fabric line, Sorbet. Leonie is an amazing quilter who hails from Australia. I've been lucky to get to know her over the last year or two. Let me tell you she's a hoot!
Leonie designs for Riley Blake's sister company, Penny Rose, which focuses on vintage and reproduction prints. The line designed by Leonie was inspired by vintage prints, but I think has such a fun modern vibe!
Table of Contents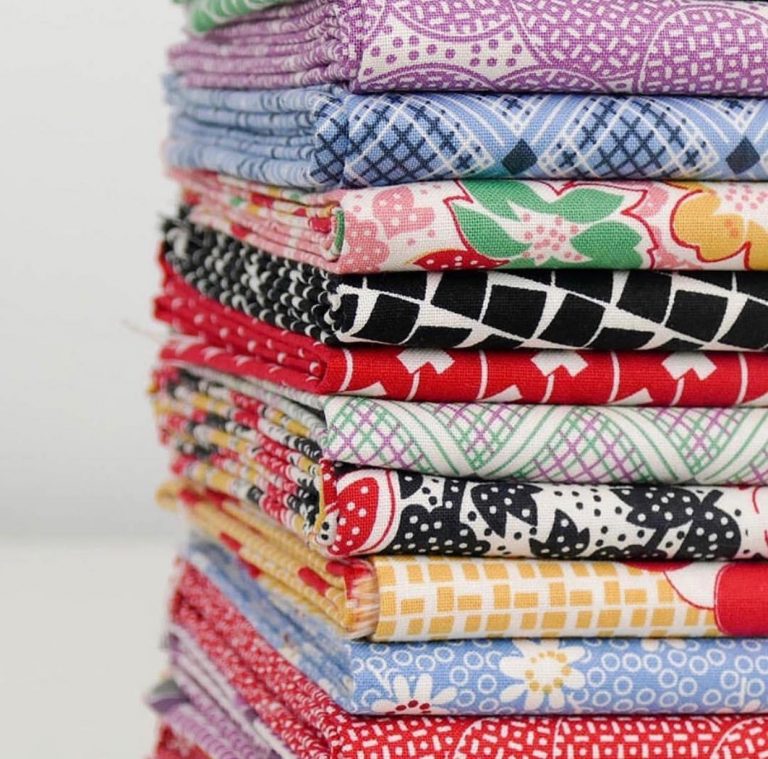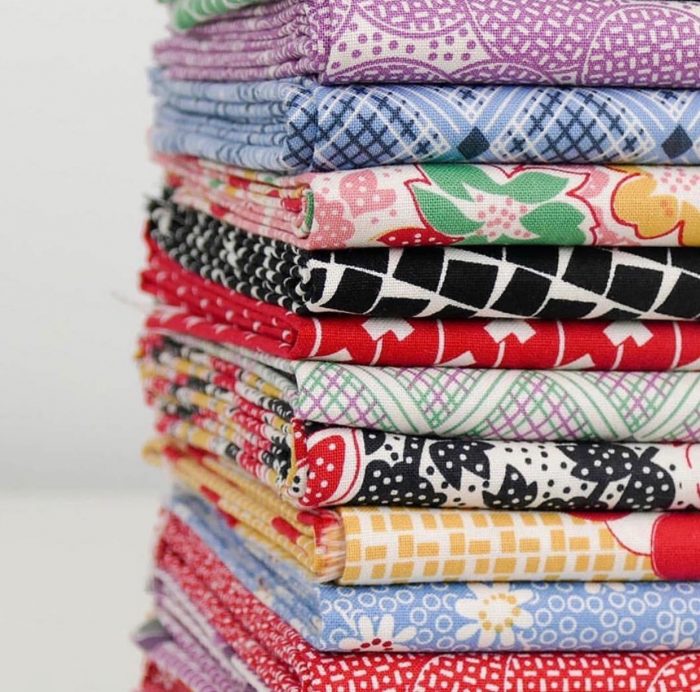 Here you can see a sampling of some of the prints and colors of the line.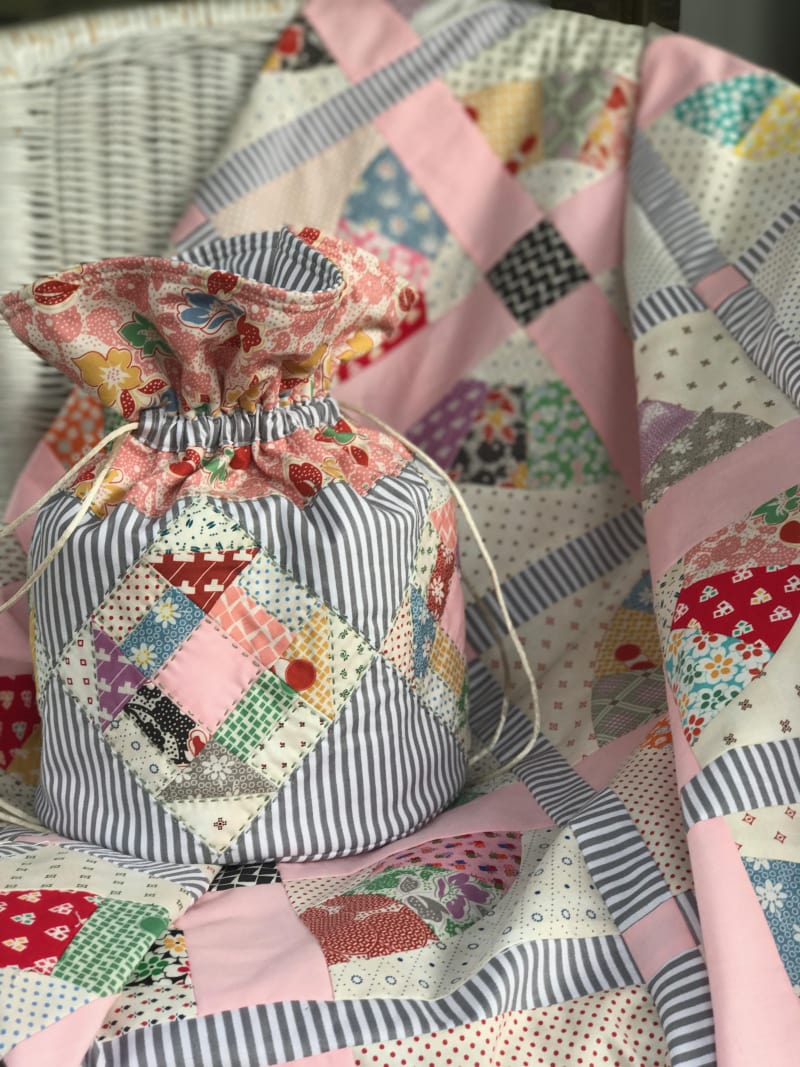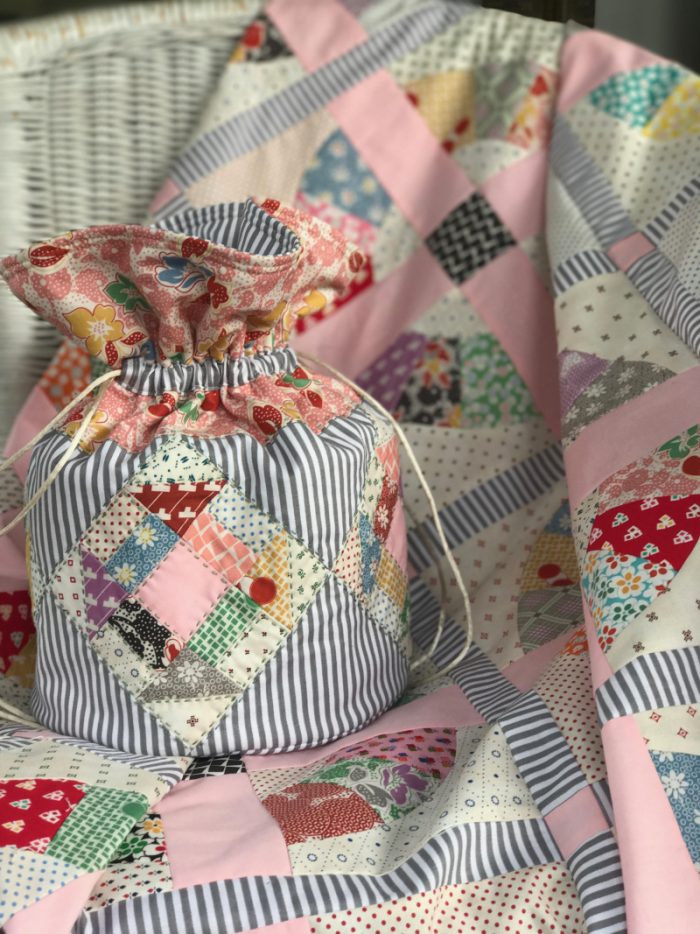 Photo is from the Sorbet Look Book
Although it was designed to work with traditional quilting projects, I think it works wonderfully on other projects as well.
I thought that the purple and green palette would make a great baby blanket. The prints and colors are timeless. I think they make a great baby blanket for a baby girl that is sweet, but not too frilly.
How to Make a Self-Binding Baby Blanket with Minky Fabric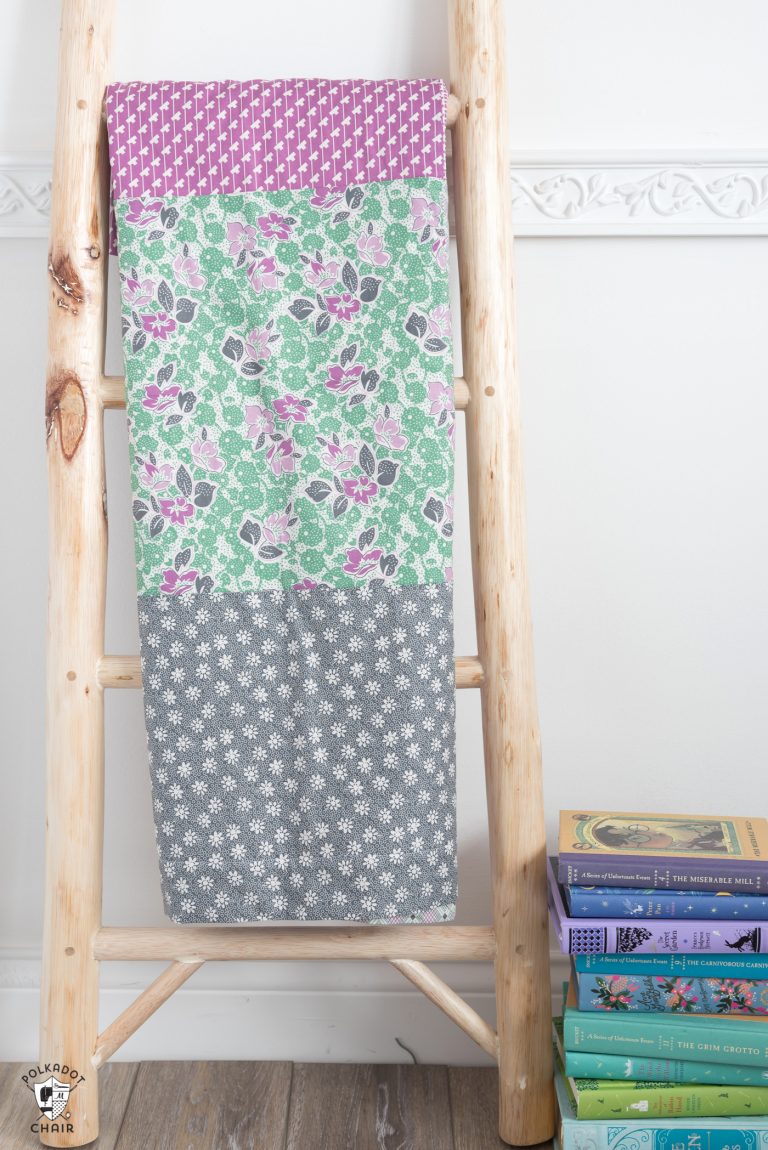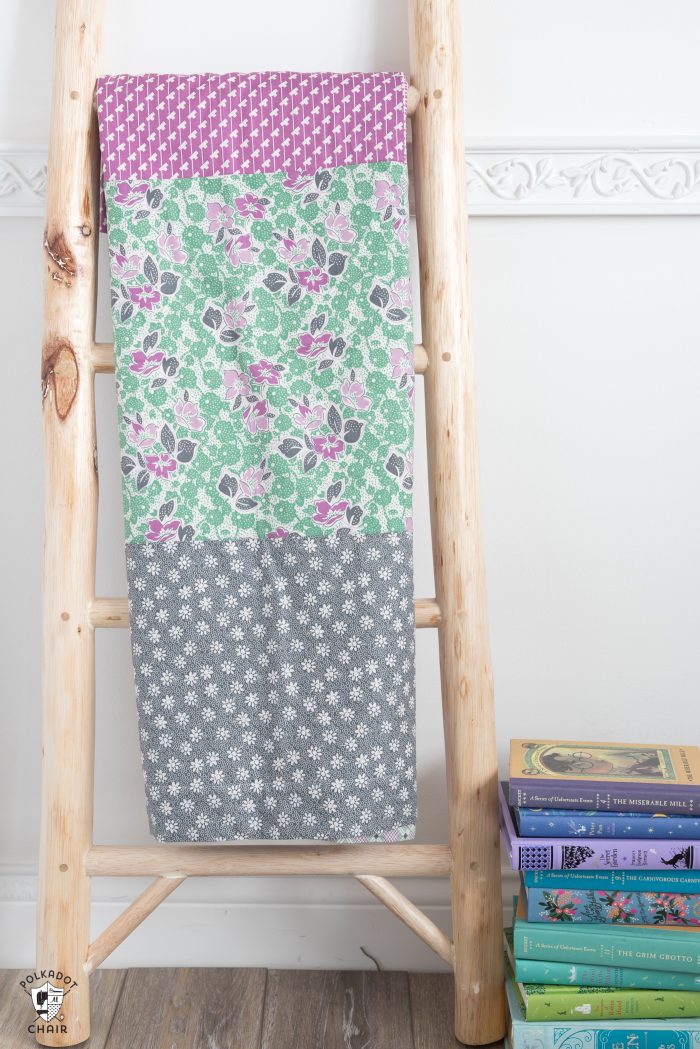 This project stitches up really quickly. It's great to make for a fun and quick baby gift.  It's also a great way to showcase some of your favorite prints of fabric since you don't have to cut them up into tiny pieces! 
The back of the quilt is made using a very simple patchwork. The fun part is that you use the back of the blanket to bind the blanket, so you get a fun scrappy binding that shows on the front.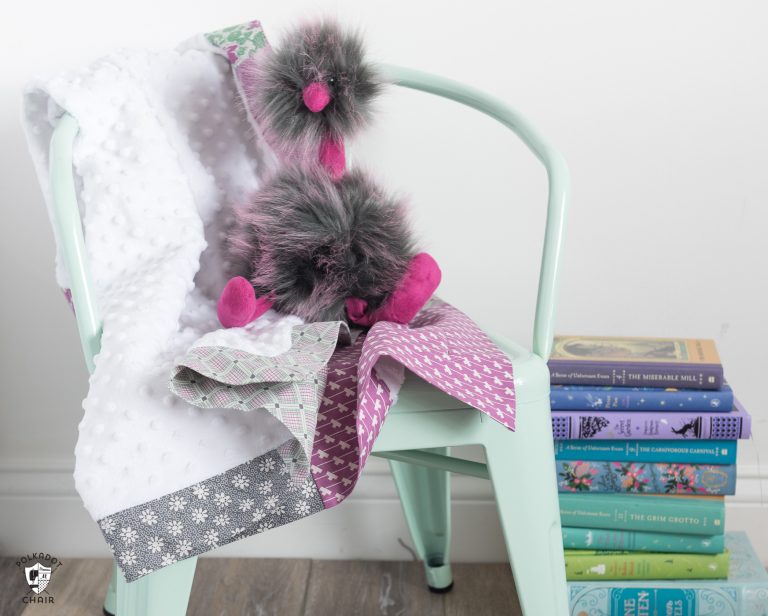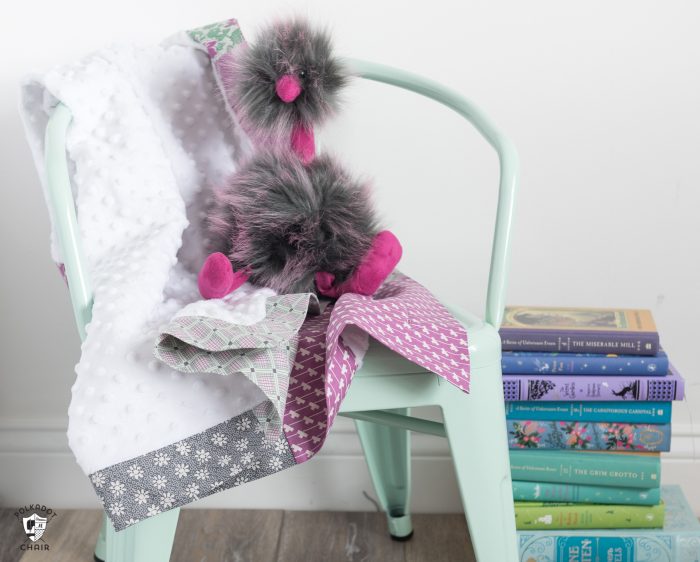 (the bird in the photo can be purchased HERE or HERE) Are you ready to make one?
Self Binding Blanket Tutorial
Supplies
may contain affiliate links
Just a note: I used a 32″ x 32″ piece of Minky because that is what I had on hand. The tutorial calls for 1 yard of minky. You can use the whole yard. If you do that, you want to cut it to 36″ x 36″ and increase the size of your squares to 15 ½″ x 15 ½″
Cutting Directions
Cut from the Fat Quarters:
9 pieces each 14″ x 14″
Cut from the Minky:
1 piece 32″ x 32″
Instructions
Finished Baby Blanket Size: 39″ x 39″
Begin by laying out your nine 14″ squares into 3 rows of 3. I just did a random layout making sure that I didn't have two of the same print of fabric next to each other.
Stitch the squares into 3 rows of 3 using a ¼″ seam allowance. Press the seams to one side. Mark the center of this piece on all 4 sides.
Mark the center of each side of your piece of minky as well.
Lay your sewn squares and piece of minky on top of each other, right sides facing.
Next pin your two pieces right sides together. To do this you want to find the center of each of the 4 sides of both pieces and begin my matching up the centers. Then pin out from there. Since the pieces aren't the same size you'll end up with a funny bunny ear-looking thing at the end; don't worry this is correct.
Sew each of the 4 sides starting and stopping ½″ from the end of the fabric. Leave a 4″ hole in one of the sides so that you can turn the blanket right side out.
How to sew the corners
After you've sewn all 4 sides fold the blanket in half diagonally so that it makes a triangle.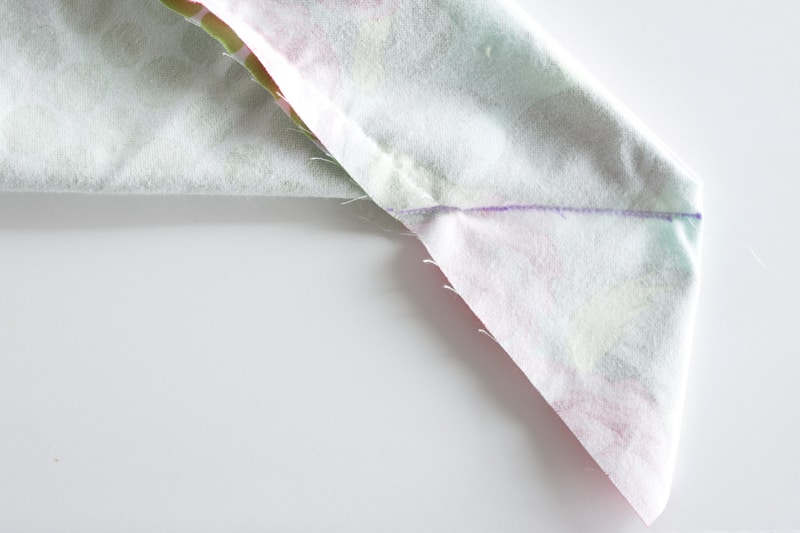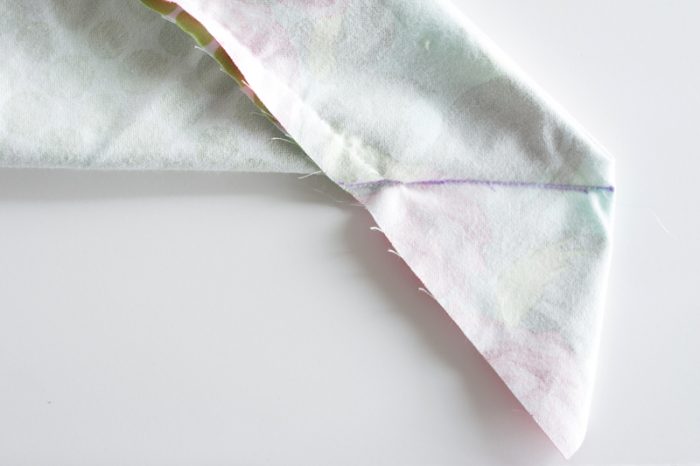 (photo from an older tutorial that is why the fabric is different)
Two of the corners will look like this. Using a pen draw a line from the point you stopped sewing to the end of the fabric. Sew.
Fold the blanket the other way and sew the other two sides. Quickly turn the blanket right side out to make sure you've sewn the corners correctly.
If you have then turn the blanket back inside out and trim off the excess fabric at the corners.
Turn right side out and press the blanket well. Topstitch along the edge of the center of the blanket making sure to catch the opening in the blanket as you go.
Just a note: Minky is stretchy. It's normal for your blanket to shift a bit as you sew. This is not a precise project, so if you get a pucker or two don't worry. Pick out the big ones but don't worry about the smaller one. That's just kind of how it works when you sew with minky.
If you like this project then you may also like this Soft N Snuggly Baby Blanket Tutorial (psst… the tutorial is a great way to use up a bunch of scraps of minky fabric) 
Other Free Sewing Tutorials you may like:
Double Gauze Quilted Blanket Tutorial
Fat Quarter Baby Quilt Pattern