It's almost Graduation season again! If you're looking for a fun way to celebrate the Graduation of someone you love, then you may like today's project. I'm sharing with you lots of fun Graduation Cap decoration ideas, along with how to make a Graduation shadow box.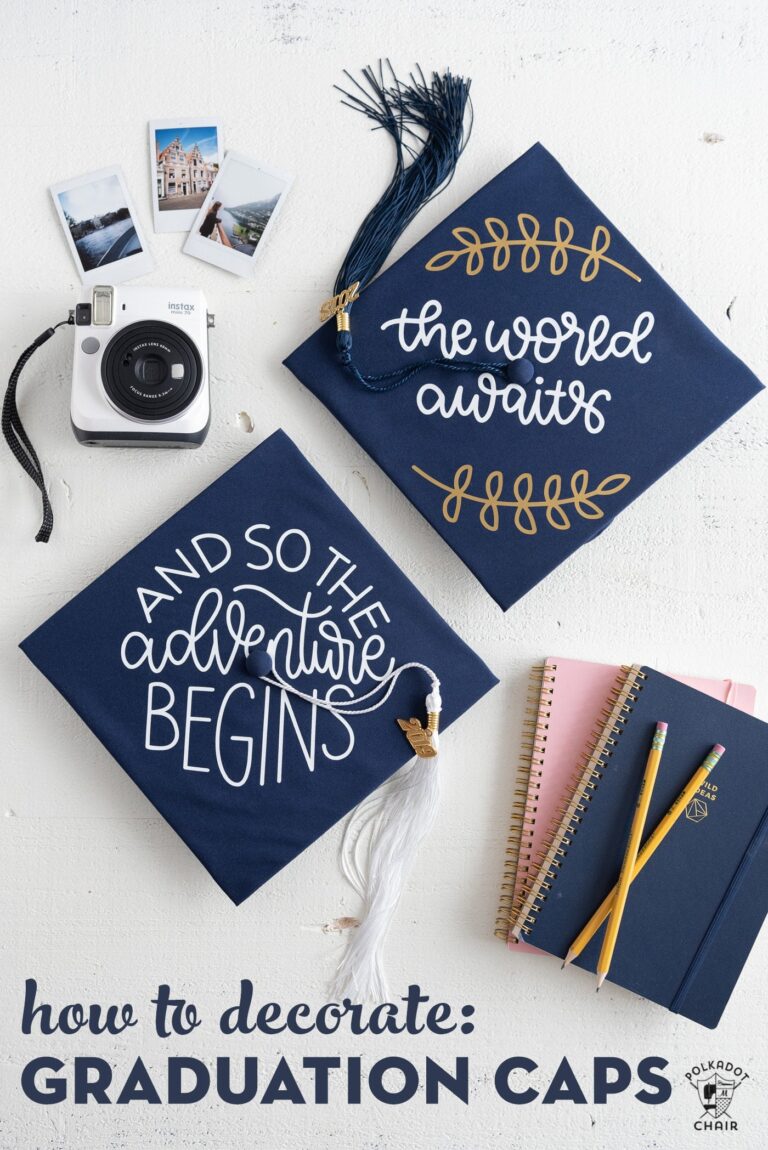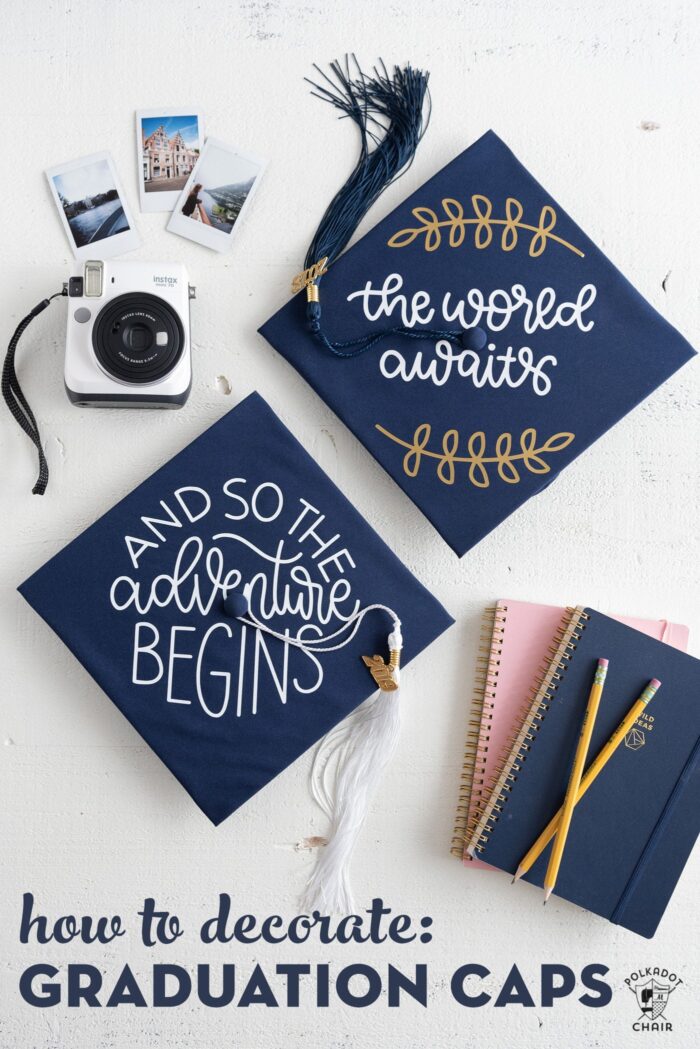 I am thrilled to be working with Cricut as a Brand Ambassador on this project. This is sponsored content.
Jump to:
I'm not quite sure how it happened, but all 3 of my kids are graduating from something this year. 1 from college and 2 from High School. I obviously expected the twins to graduate the same year, but when I realized my oldest would also be graduating college at the same time I had to giggle.
This April, May & June will be crazy busy for us with all of the graduation celebrations (3 kids graduating, and none of them from the same school or during the same month… way to stretch things out LOL!). Let the celebrations begin!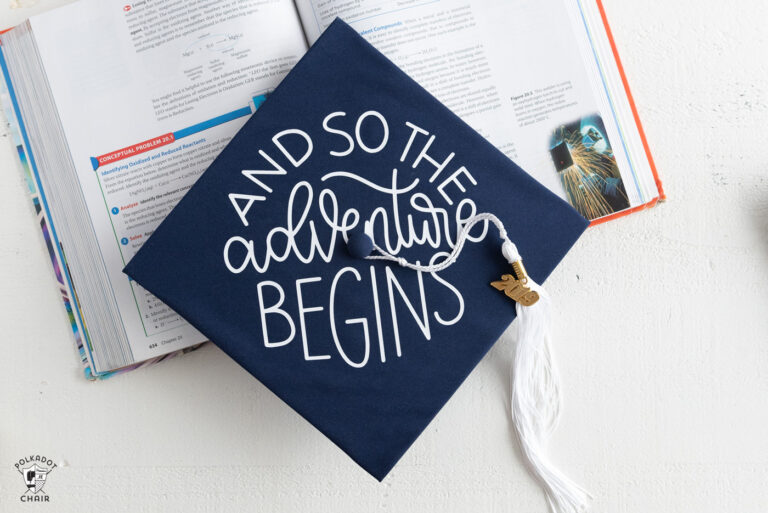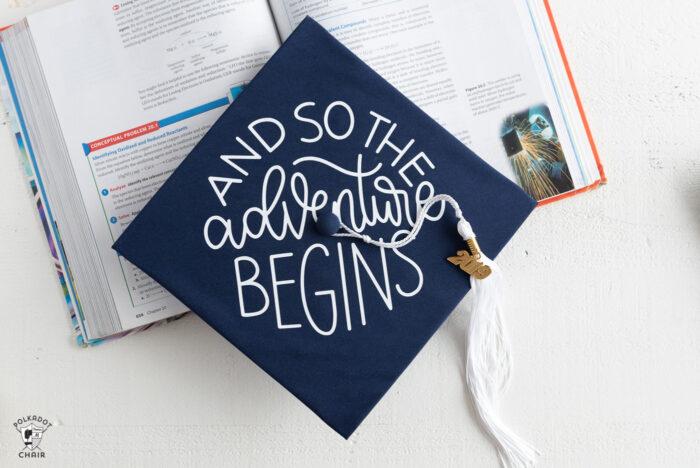 DIY Graduation Cap Decoration Ideas
I've noticed a trend lately of decorating graduation caps. I know that this is not allowed at some schools, but I still think the idea is genius! I've seen all kinds of graduation cap decorations ranging from inspirational to funny. I think that it is a great way to celebrate what is a pretty amazing accomplishment.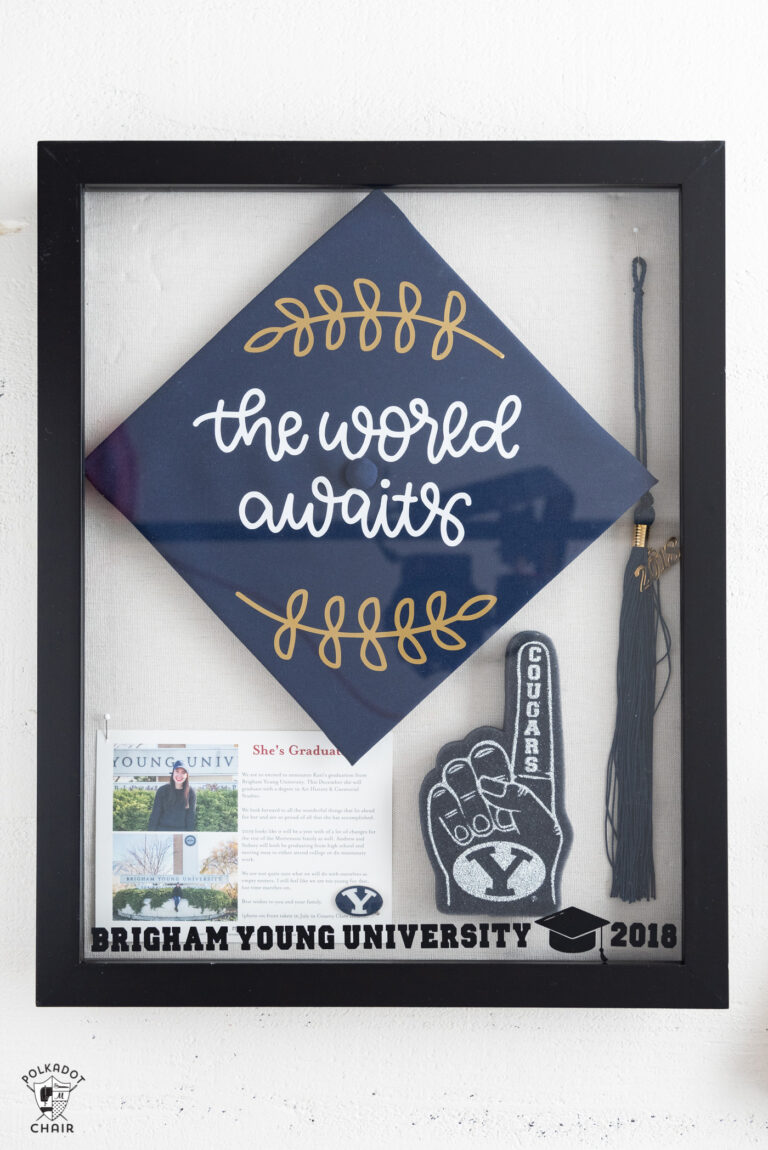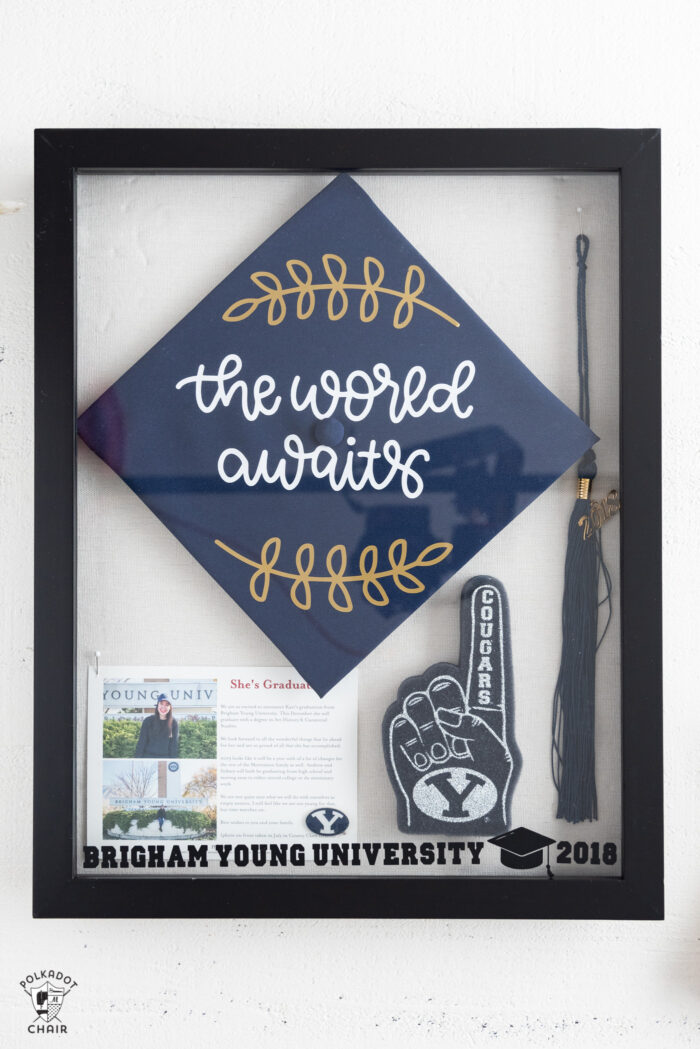 I'm not sure if my kids can wear a decorated grad cap but thought that it would be fun to decorate some for them as a keepsake. I'm going to take the decorated caps and use them in Graduation shadow boxes.
Since I didn't want to change the caps they would be getting at school, I ordered an extra set of caps online. My plan is to replace the tassel with their actual graduation tassel in the shadow box after they graduate. I'm also going to add a few photos of the commencement ceremony.
For those of you with eagle eyes looking at the shadow box and wondering why it's not complete. My oldest graduated in December from BYU. They don't do commencement in December so she will walk in April, but her graduation year is still last year. So we don't have an official graduation tassel or photo of her to use in the box yet.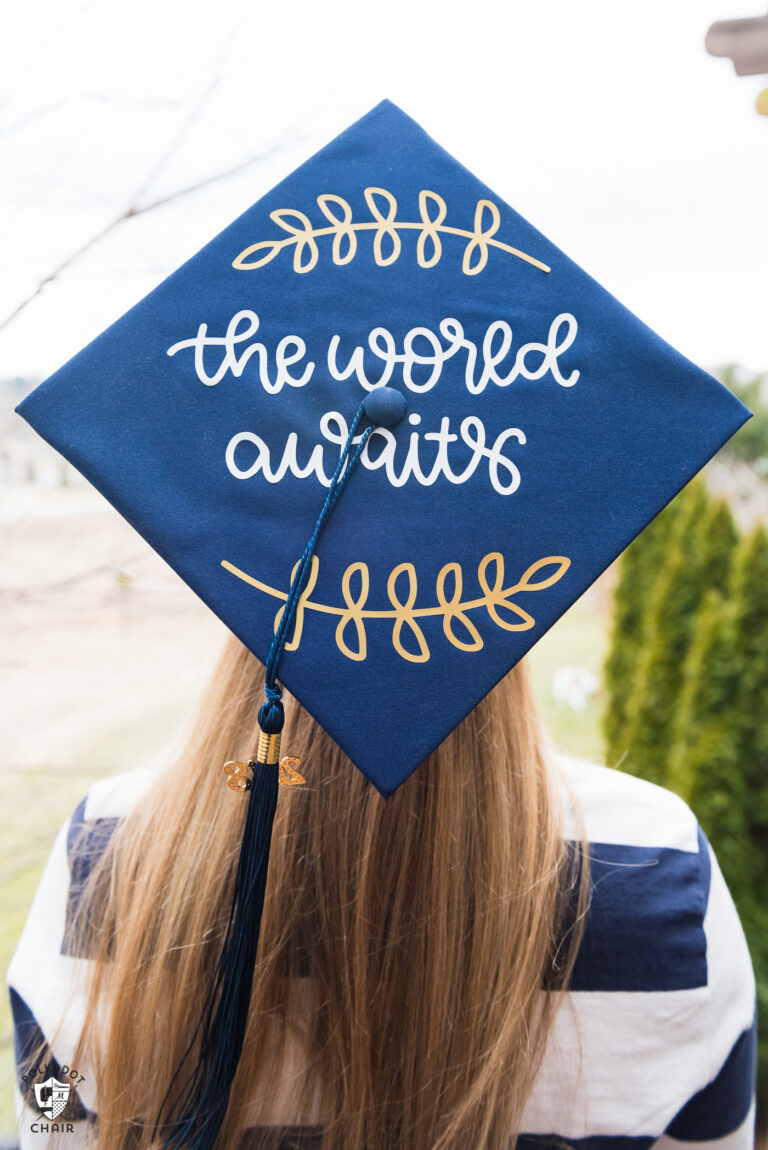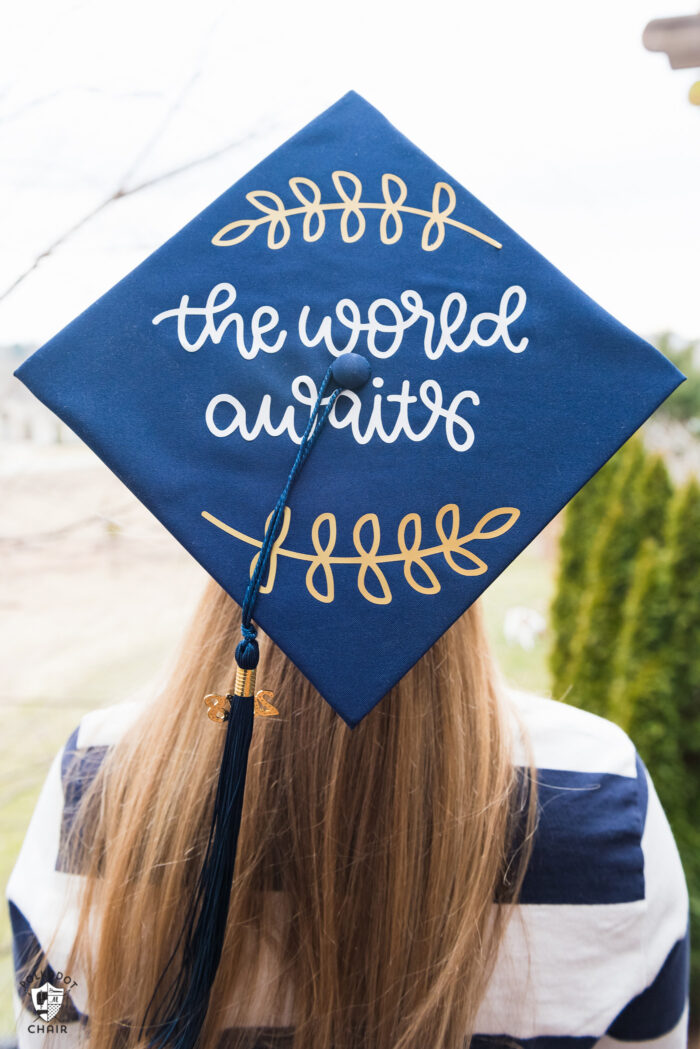 To decorate my Graduation Caps and matching shadow box I used my Cricut Machine. In Cricut Design space I found loads of fun images perfect for graduation caps. All of the images shown in this post are Cricut files, not mine.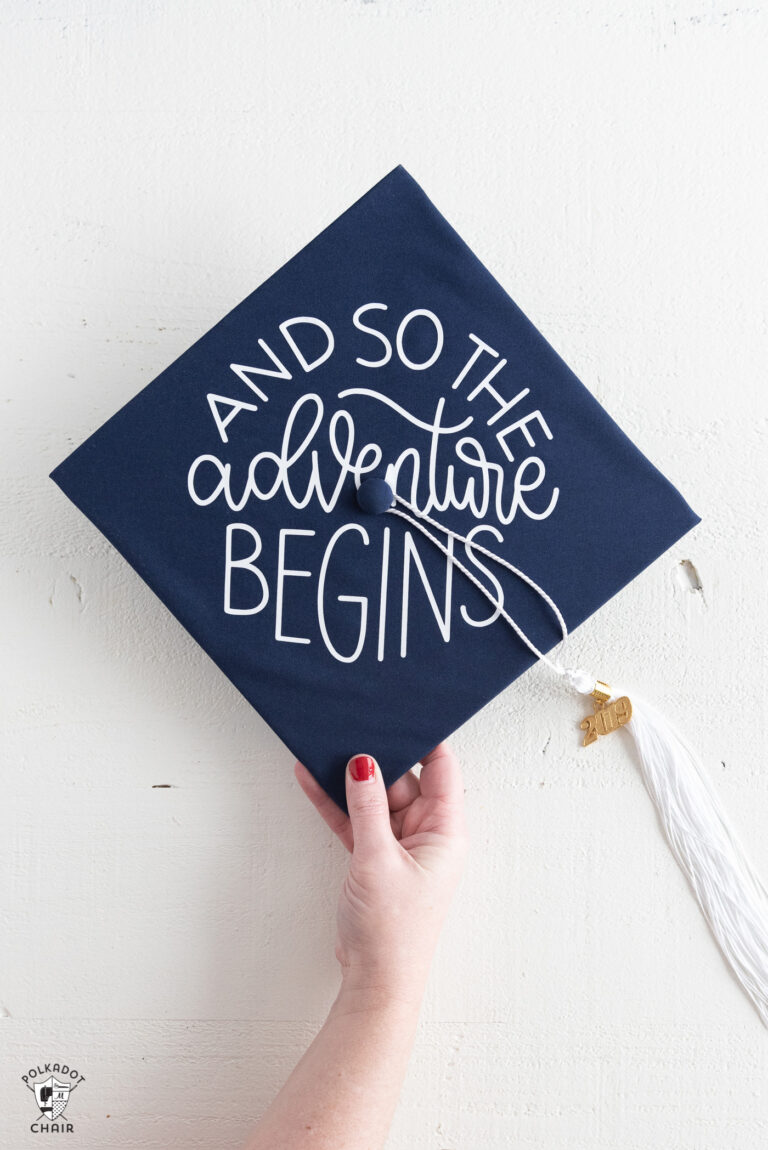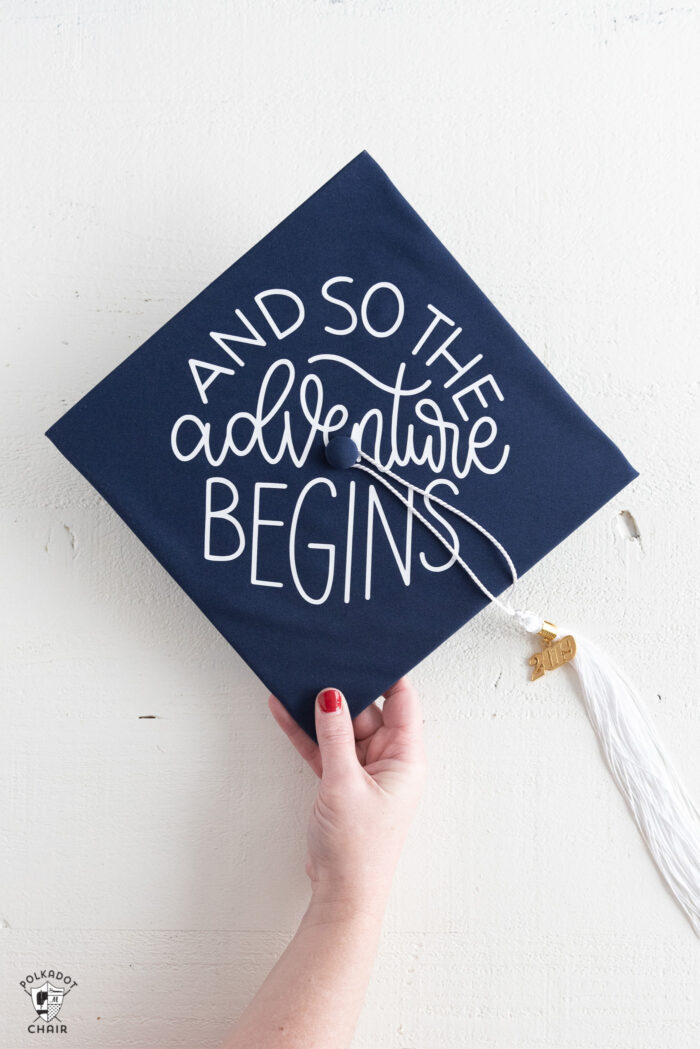 What Materials Should I use to Decorate Graduation Caps?
For the Graduation Caps I used Cricut Iron-On Vinyl and I used regular vinyl on the shadow box. Here's how I did it.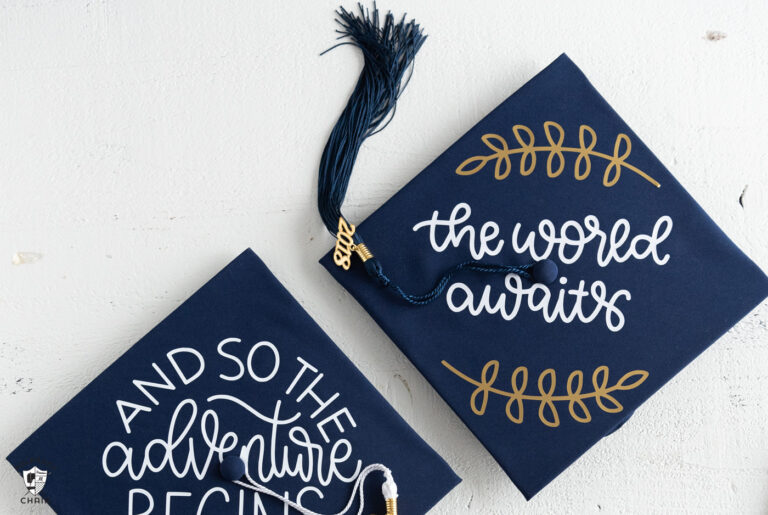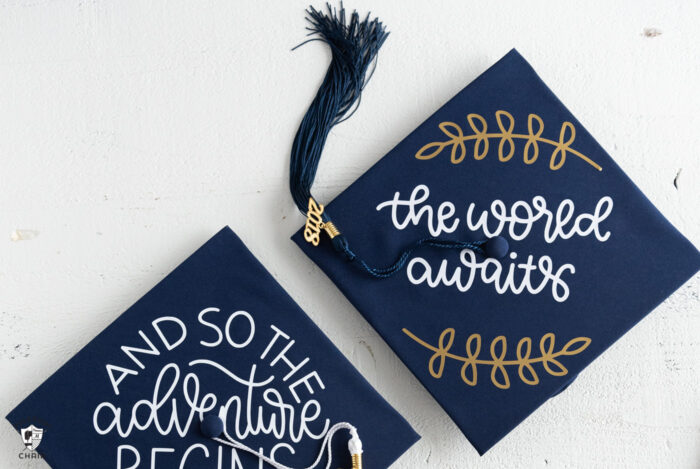 Supplies
Supplies are linked, click to find purchasing sources.
Everyday Iron-On Vinyl from Cricut (I used white and gold)
Cricut EasyPress (for the iron-on)
Graduation Caps (here are the ones I ordered)
If you want to make the same Graduation Cap that I did, I've shared my Design Space file HERE.
Instructions
How to Decorate a Graduation Cap
Use your Cricut to make an iron on to decorate a graduation cap.
Materials
1

roll

Cricut Every Day Iron On

Can also use Foil Iron On

1

Graduation Cap
Instructions
STEP ONE: DESIGN THE CAP
The first thing you need to do is design the cap. If you look in Cricut Design Space there is a collection called "The Tassel is worth the hassle". There are lots of fun graduation phrases in that collection. You can also type keywords like "adventure", "Goals", "I Did it" into the search box and you should be able to find something you like.

Next, measure your graduation cap.

Open Cricut Design Space and draw a square the same size as your graduation cap, rotate it 45 degrees.

Insert the image you want to apply to the cap. Size it so that it's the same size as the cap (remember there is a non-removable button on the top of the cap so plan accordingly).

After you've got your image the size you want, delete or hide the square graduation cap (it was only in there for size reference).
STEP TWO: CUT OUT THE IMAGE FOR THE CAP
Send the image to the machine, and cut it out from Iron-On Vinyl

Weed the vinyl until only your image remains.

If you are using two different colors of vinyl, you'll need to cut out the 2nd color as well.

Place your image on your graduation cap to see if it fits the way you want it. You may have to cut parts of it apart to get it to fit around the button.

When you've got it where you want it, you're ready to set it with the EasyPress.
Top Tips
Since you're working at an angle that you might not be used to, it's a bit harder to get the words straight across the cap. Remember the cap is worn as a diamond, not a square. 

Use a large ruler to help you place your image in the correct spot.  Just place the ruler on the cap from the outside corner to outside corner and you should be able to check the placement of your image easily. Also, make sure you know which end is the front of the cap!
STEP THREE: HOW TO SET THE IMAGE WITH THE CRICUT EASYPRESS
Set your EasyPress to 305 degrees and 30 seconds. Since your cap is polyester you'll also need a pressing sheet to protect the fabric.

Place the pressing sheet on top of the iron-on then the EasyPress on top of that and hit the button and wait for the timer. When you're done, move it to another section of the cap and keep moving until you've adhered the entire iron on.

If you're using a 2nd color, apply it now, again making sure to use the pressing sheet to protect both the fabric and the iron-on you've already attached.

Then just peel off the plastic backing.
Copyright Notice
This is Copyrighted Content. You may NOT Copy it, Distribute it, Sell it or Package it with a Kit. You may NOT teach a class using it. If you do, it is not only dishonest, but also a violation of the terms of use of this website. We will pursue damages from violators. All items are for personal use only. No commercial use is allowed.
How To Make a Graduation Shadow Box
In Cricut Design Space, spell out the phrase you'd like on top of the glass of the shadow box. Measure it so that it will fit on the glass. I used the Cricut Varsity font.


Cut out the image from Vinyl. Peel away the excess. Apply a bit of transfer tape to the top of the image. Then peel off. Place the image/transfer tape on the glass and use the Cricut tool to adhere.
The last thing you need to do is peel away the transfer tape.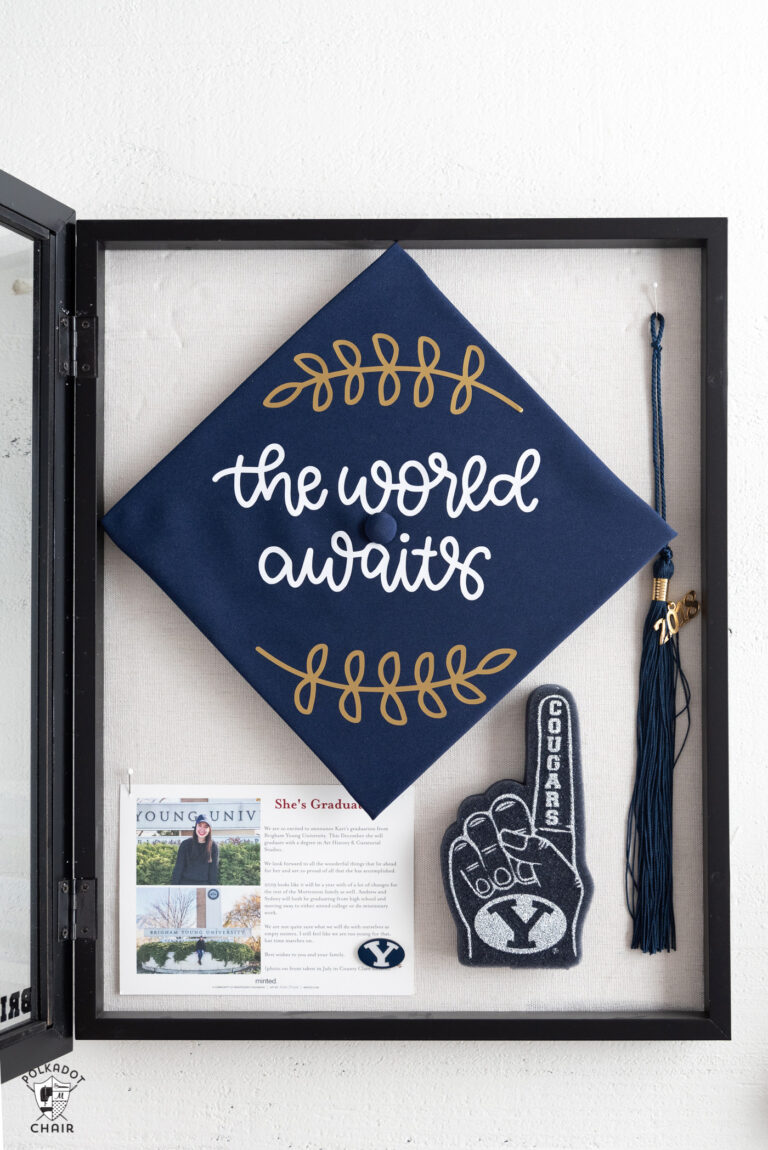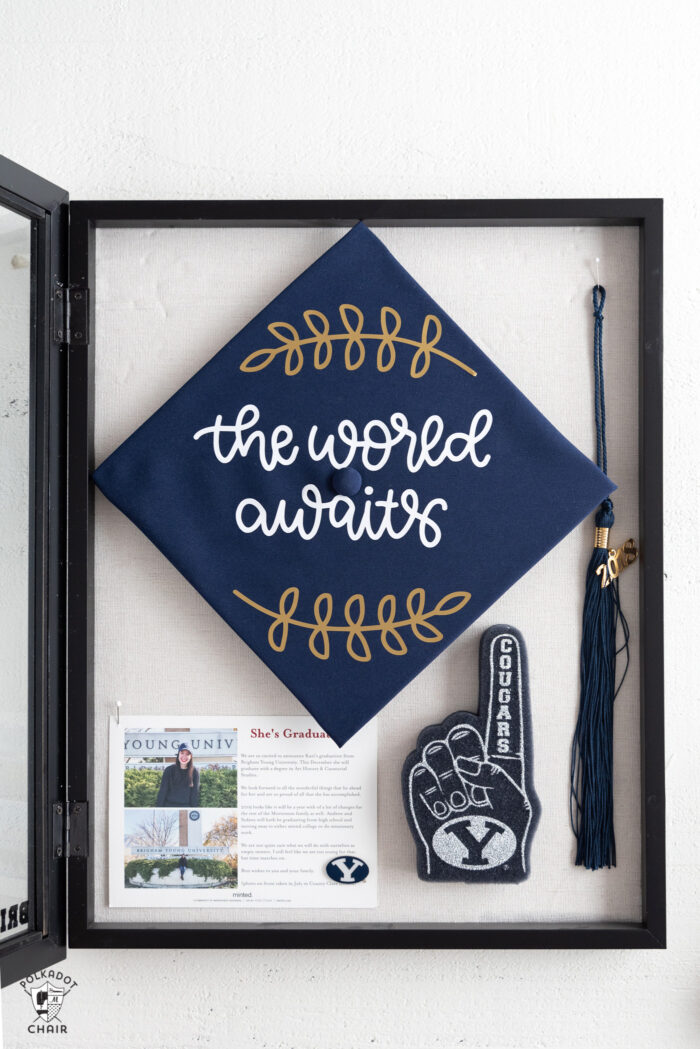 For the last step arrange the items you want in the shadow box.
That's it! There are so many fun possibilities when it comes to decorating graduation caps! You can even design your own lettering if you'd like.
More fun Cricut DIY Projects:
How to Make a Canvas Banner for a Dorm Room
Answers to your FAQ's about the Cricut Rotary Blade
How to Make a Fabric Scallop Banner or Pennant
Make a Personalized Wood Sign using your Cricut Machine


This is a sponsored conversation written by me on behalf of Cricut. The opinions and text are all mine.