I'm so excited to announce that there is a new Christmas Quilt Pattern in the shop! The Santa's Hat Shop quilt pattern is a Santa Hat quilt pattern that is fun, bright and oh so festive!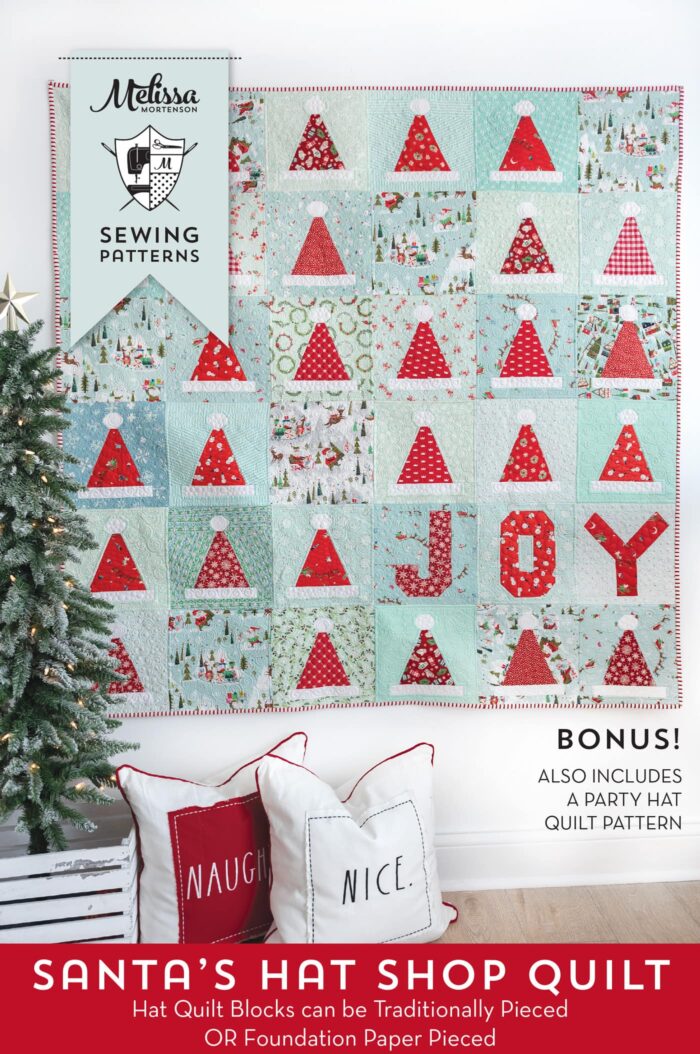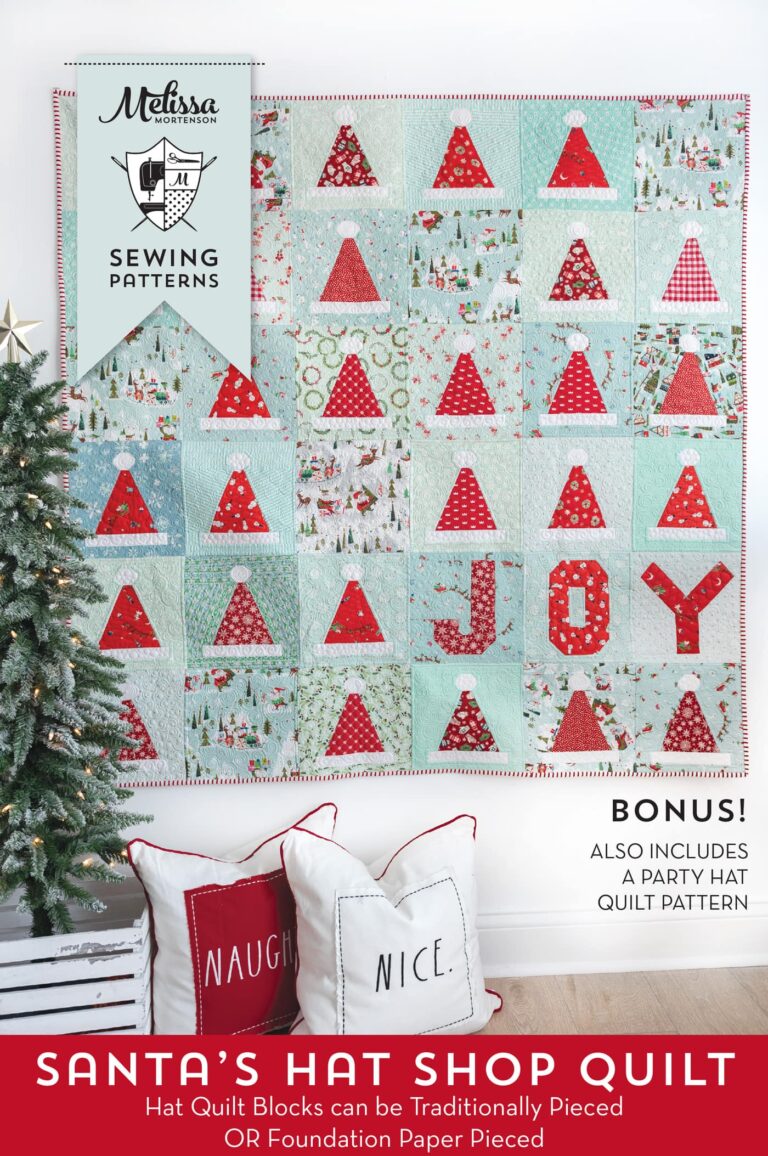 I am finally ready to share my newest quilt pattern with you, the Santa's Hat Shop Quilt! I got the idea to make this quilt after developing a Foundation Paper Piecing (FPP) pattern for my Halloween Haberdashery quilt.
Table of Contents
After I figured out how to create FPP the Witch Hat quilt block, I thought "hmmmmm…. this could be helpful when making a Santa Claus Hat, and what a cute Christmas quilt pattern that would be!"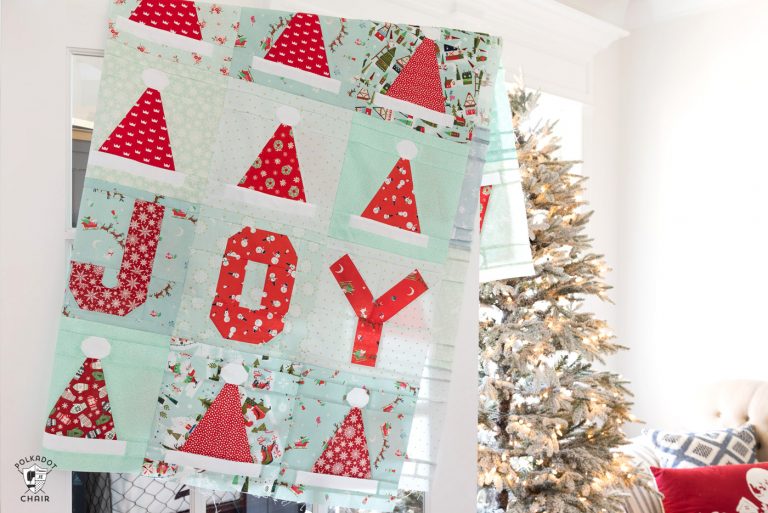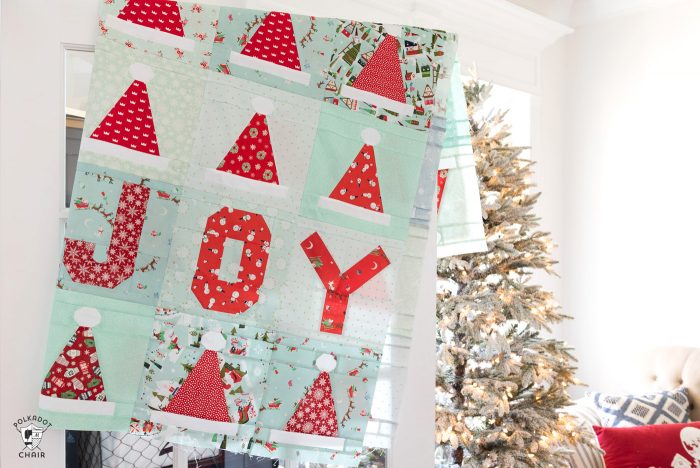 About the Santa's Hat Shop Christmas Quilt Pattern
Back in September, I started playing around with layout ideas and patterns. I went through quite a few drafts of the pattern before I settled on one that I was happy with.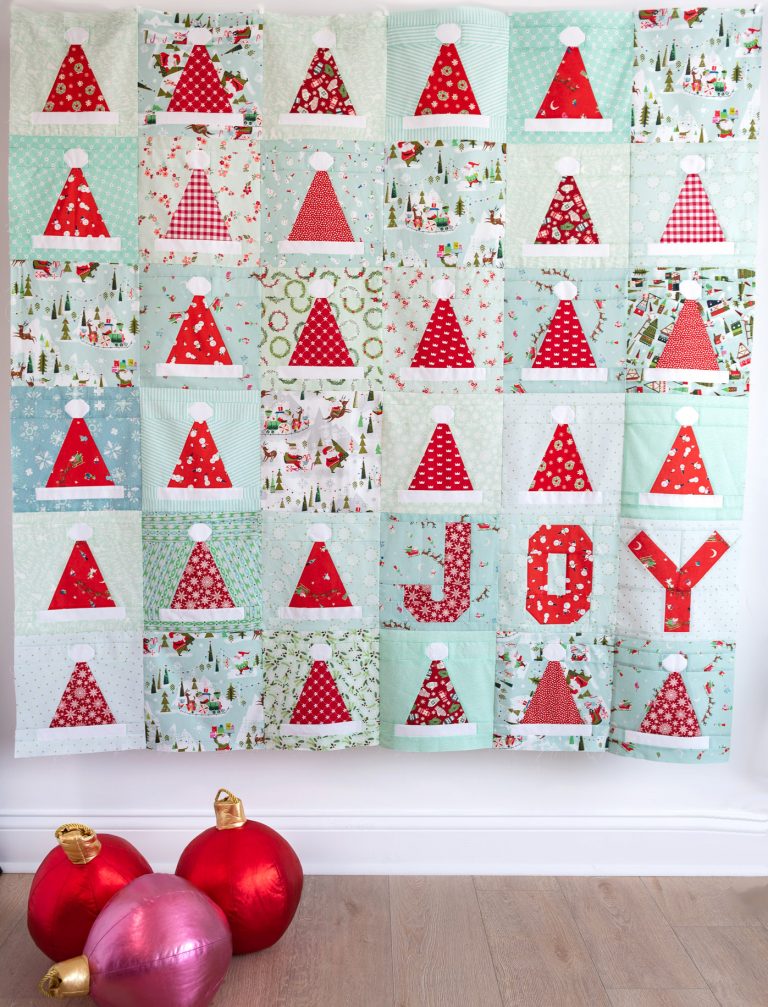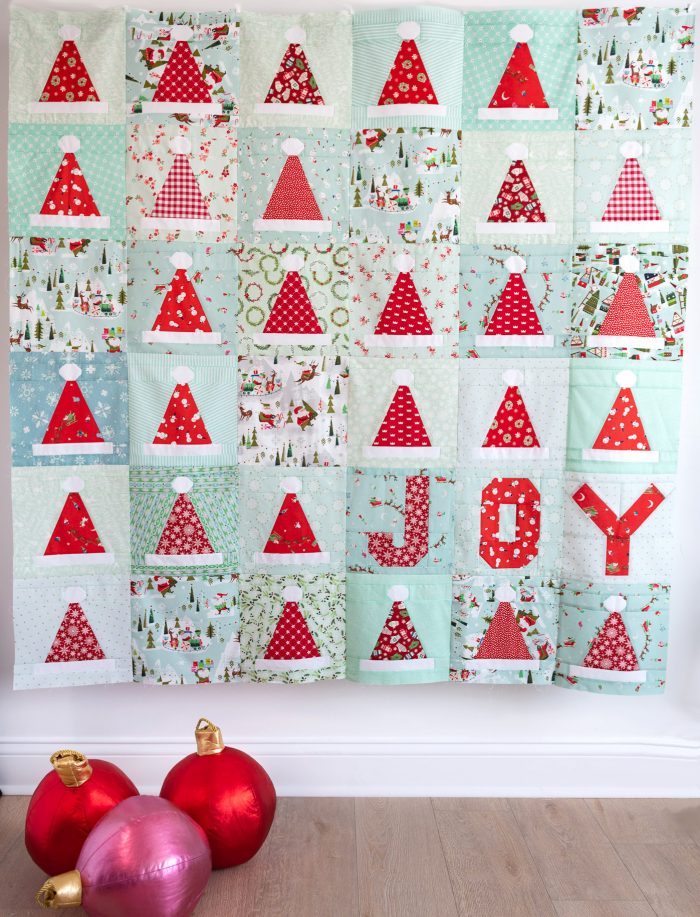 The Santa's Hat Shop quilt pattern differs quite a bit from the Halloween Haberdashery pattern. This pattern has larger blocks (and fewer blocks), and it has the option to be foundation paper piece OR traditionally pieced.
Note: I tried a traditionally pieced version of the JOY blocks but it was just too hard to get all of the seams = lined up correctly. In the end, I decided that it would be quicker and more precise to just develop a FPP pattern.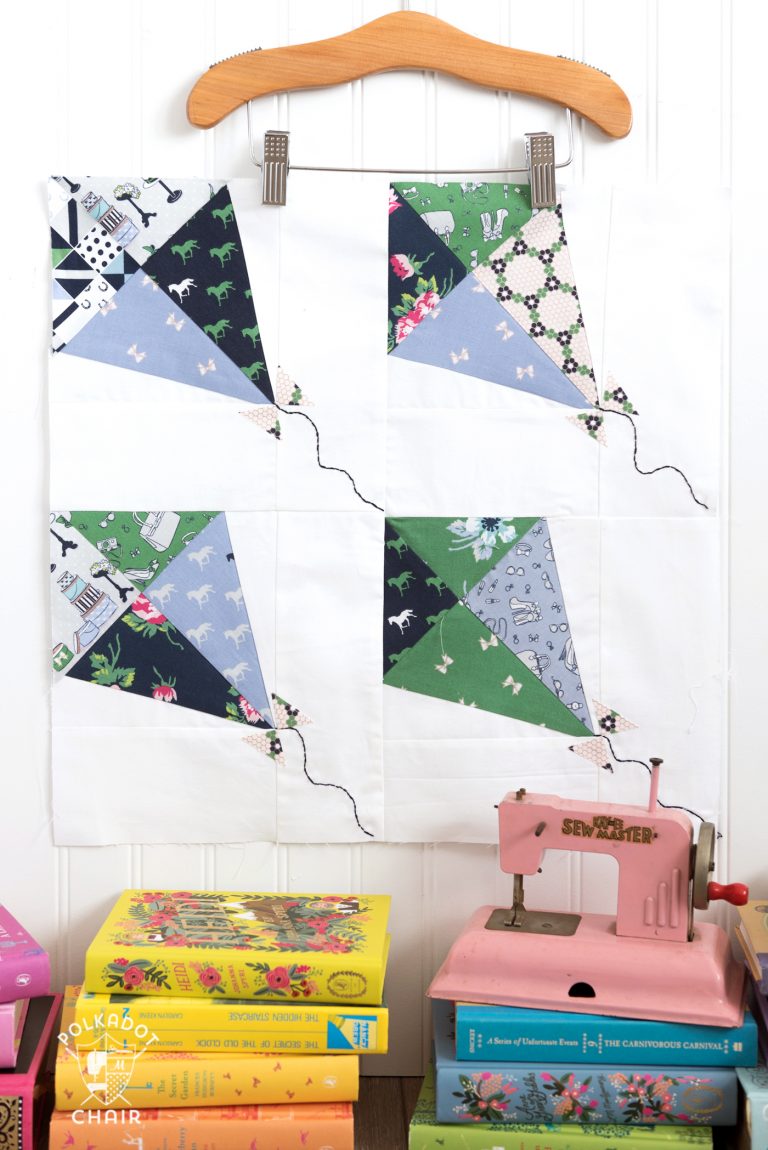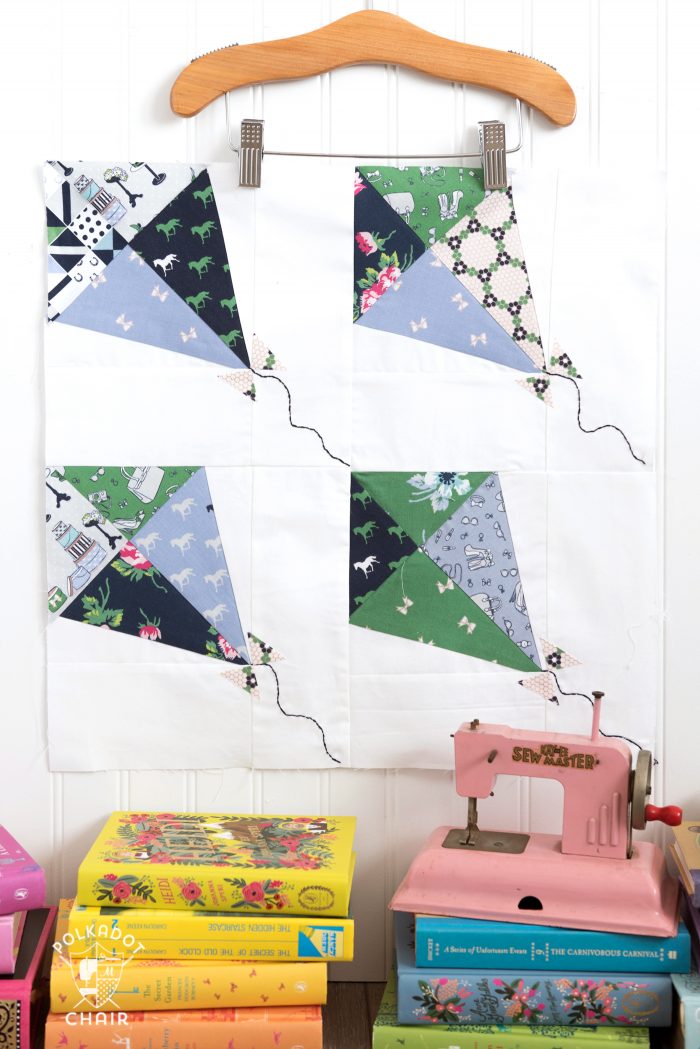 If you're not familiar with foundation paper piecing, you can find a beginner foundation paper piecing pattern by Sarah Ashford, HERE on the blog (and free kite FPP block). It goes through the process step by step.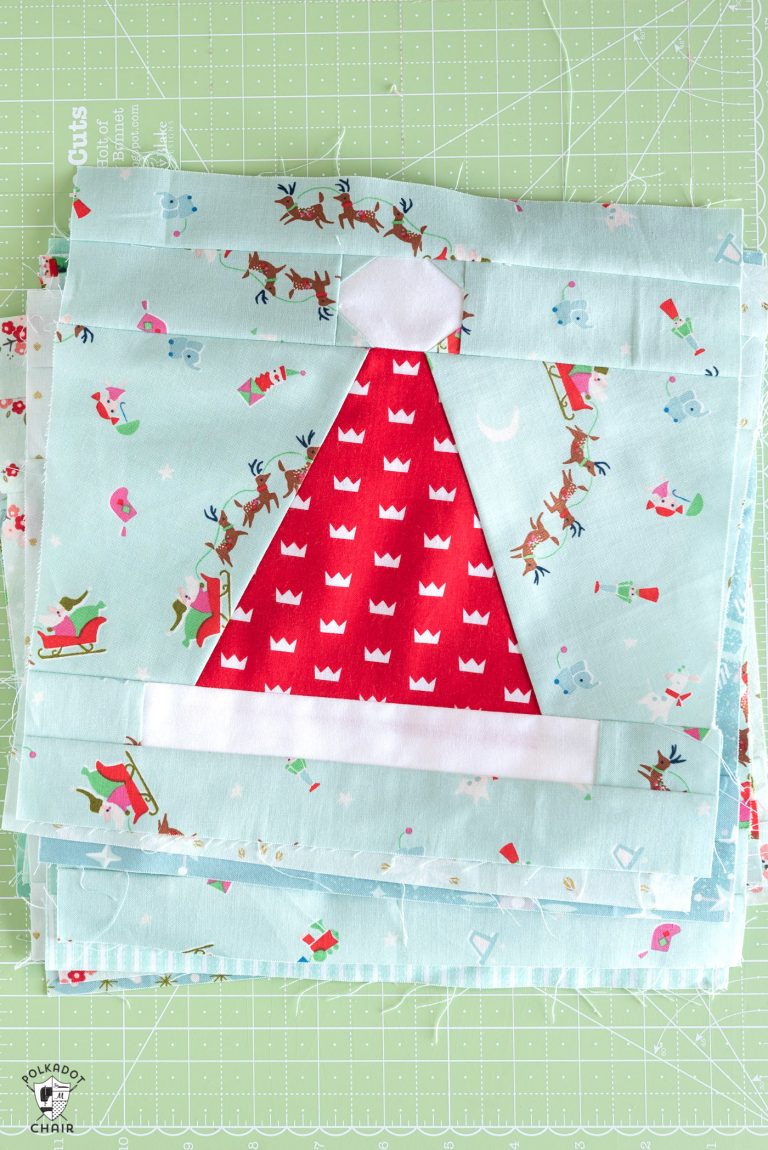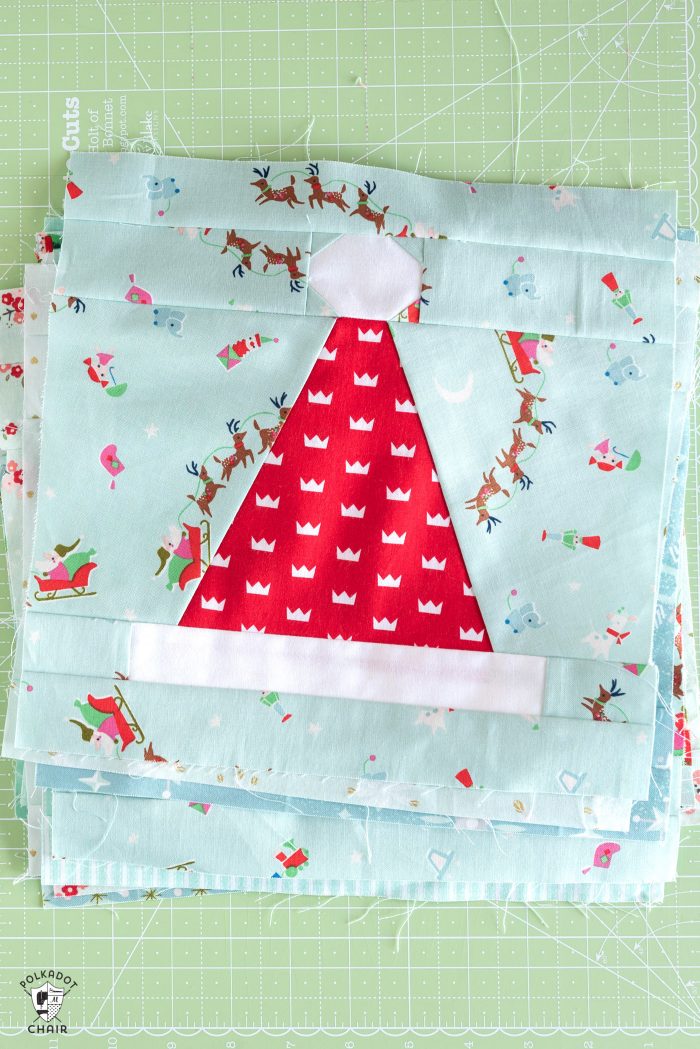 The foundation paper pieced options on the pattern are a beginner level FPP pattern. No crazy seams and most of the pieces are pretty big, so it's not too fussy. I'm a beginner to FPP and I was able to make the quilt pretty easily. The only thing you really need is time 🙂
This pattern now includes directions for BOTH Foundation Paper Piecing AND Traditional Quilt Piecing. Find out more info HERE.
I spent most of October and November stitching the blocks together. Just stealing time away from other projects when I had time. The quilt top is now done, the pattern has been tested and it's ready for sale!
The pattern comes with 3 different PDF's.
Where to Buy the Pattern
What the quilt pattern includes
Fabric requirements
Instructions for Traditional Piecing of the Hat Quilt Blocks
Cutting directions (if you like to pre-cut your fabric for FPP patterns. Everyone has a different preference, but I did include cutting suggestions for you)
Full-color photos of each FPP step. Honestly, there are more photos than I think you'll need, but I wanted to make sure you're prepared!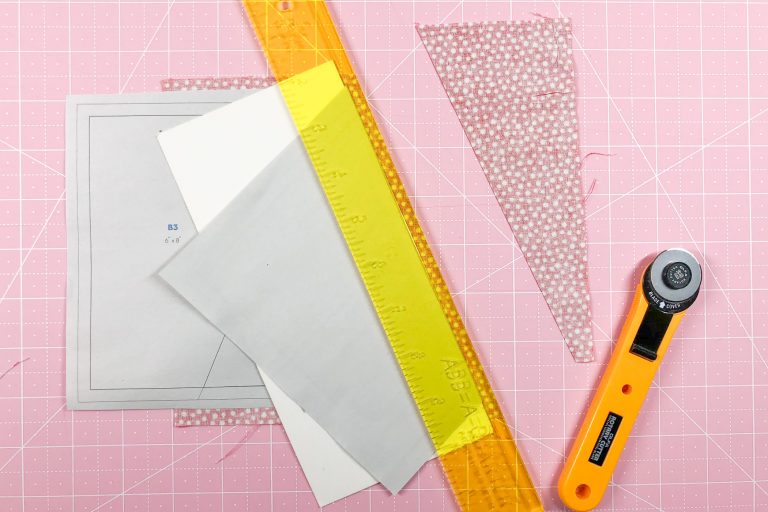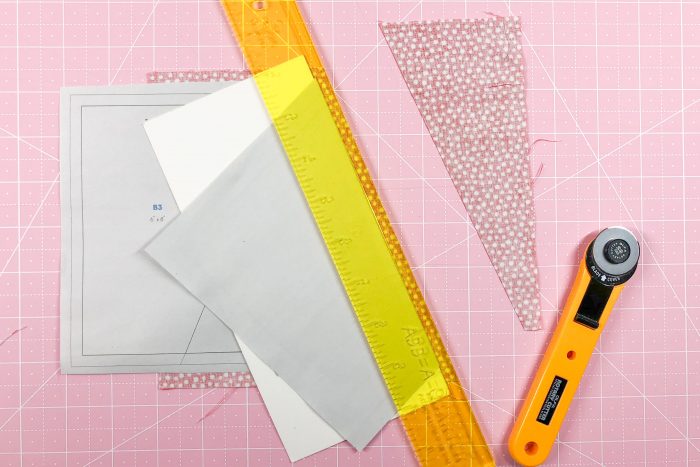 Also included:
One PDF for the FPP for the Santa Hat
One PDF for the JOY FPP
The FPP's are color-coded and I've noted on each section which piece of cut fabric that you use. So no more sorting through piles of rectangles to figure out which one to use!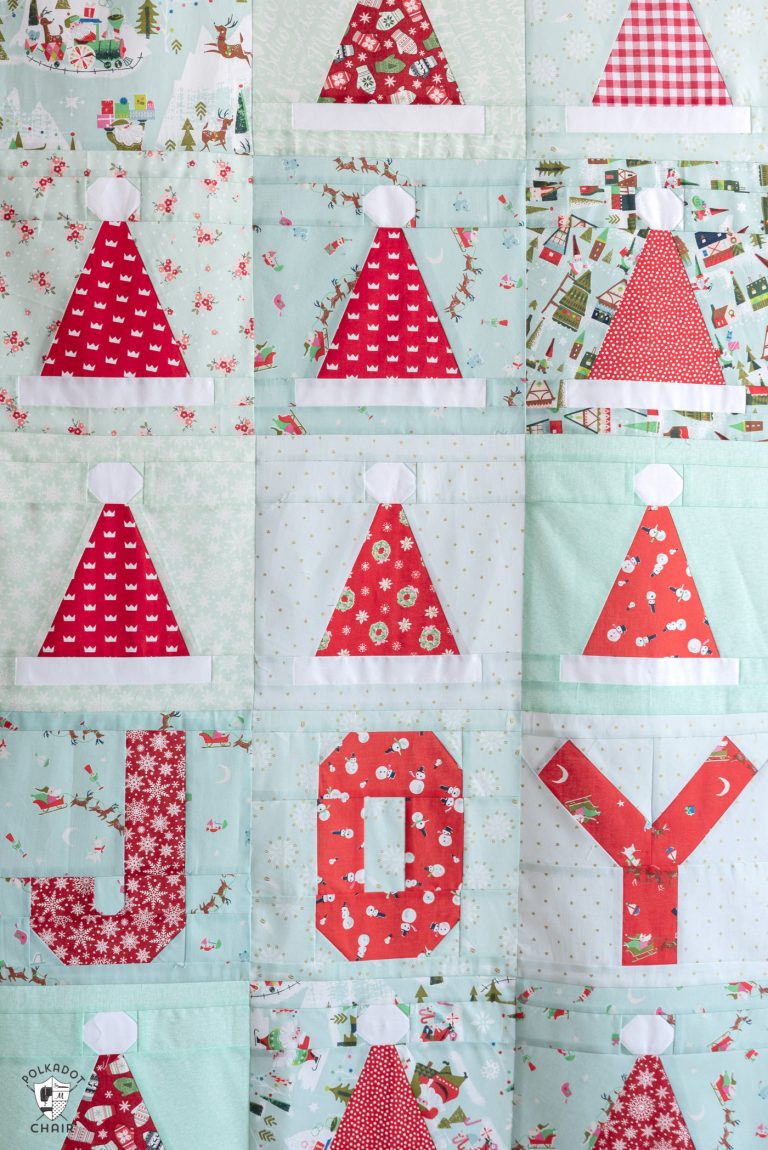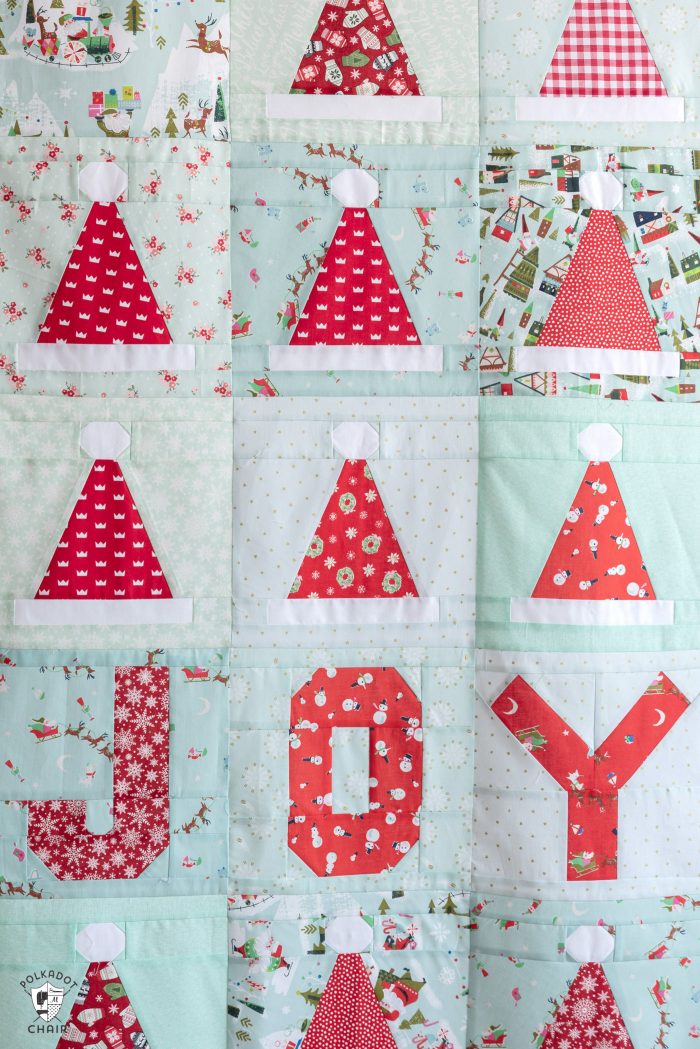 All the Details of the Christmas Quilt Pattern
Features 28 Santa Hat Quilt Blocks, 5 "blank" blocks, and a J, O, & Y block.
Hat Blocks can be Foundation Paper Pieced OR Traditionally Pieced
Measures approximately 60″x60″ when finished.
Blocks are 10″ finished.
A note about the fabric requirements. I never like to round down when it comes to fabric yardage requirements, there is nothing worse than running out of fabric on a project. Each of the blocks takes approx 1 fat quarter of fabric for the background. If you were to buy ALL the same fabric print or fat quarter print, you may be able to get by with less fabric, but not by much. I checked my math several times, I do think that FPP's, in general, take more fabric than traditionally pieced patterns.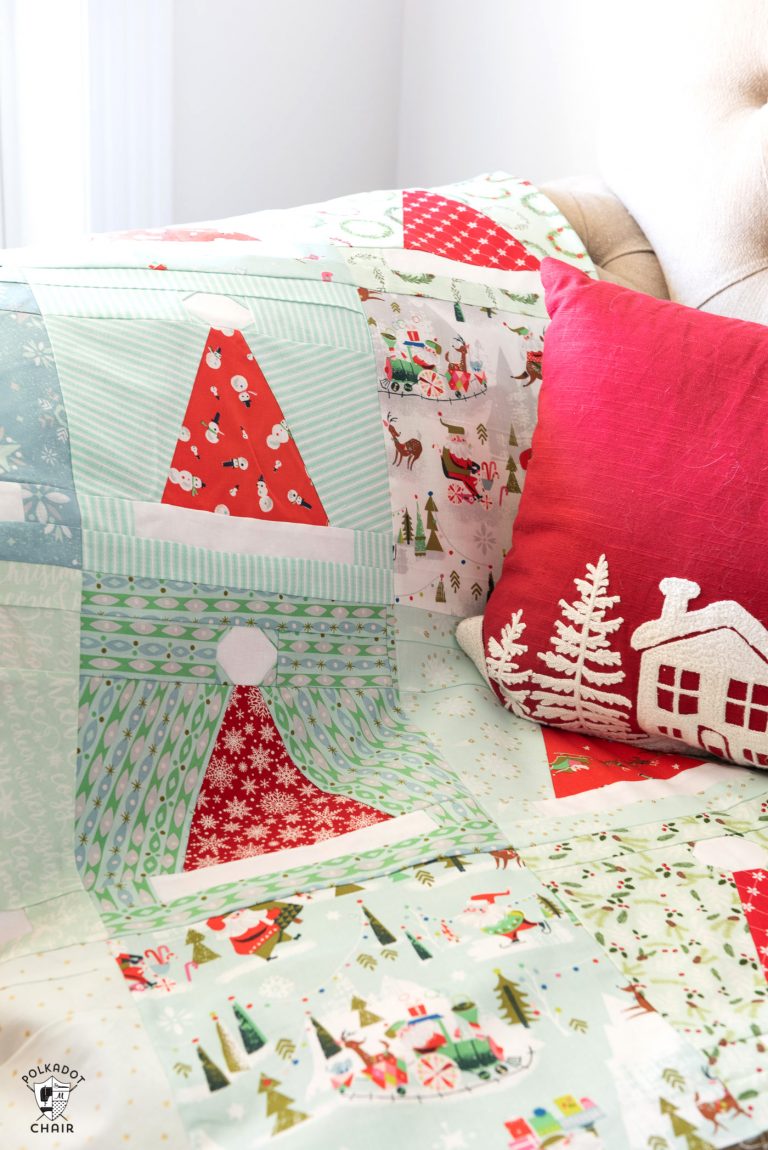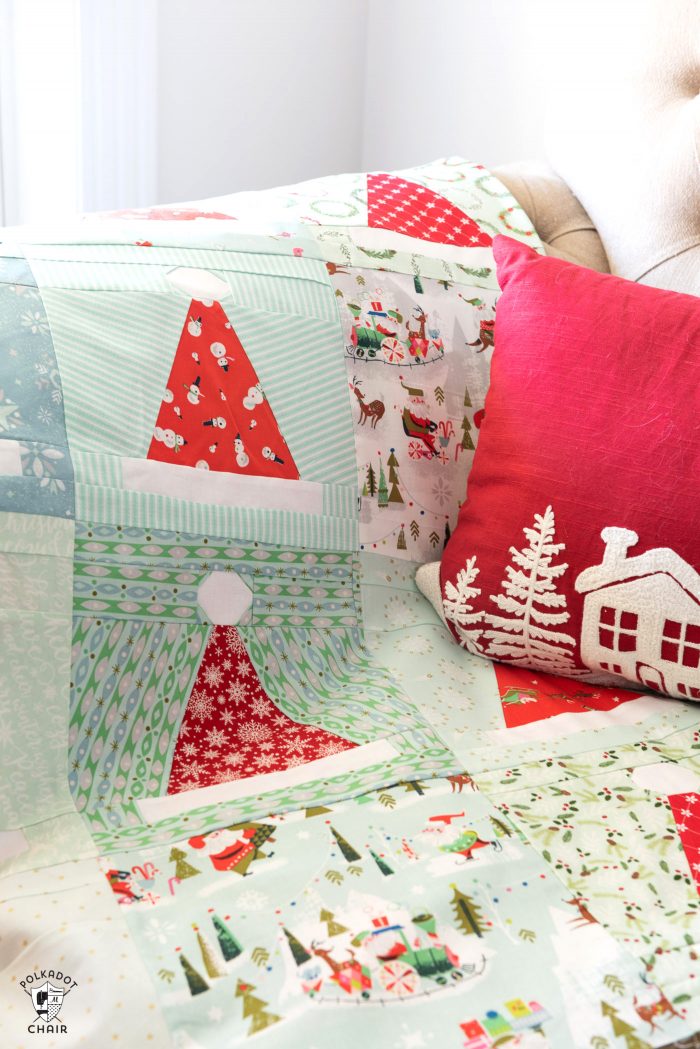 More Fabric Ideas for the Quilt
My quilt is scrappy I raided my stash and used up a bunch of my light aqua fabrics. I think this quilt would also be amazing with a dark background like navy!
Here you can see it mocked up in a Navy background (obviously the JOY is different, I couldn't mock up my JOY FPP in the program I used.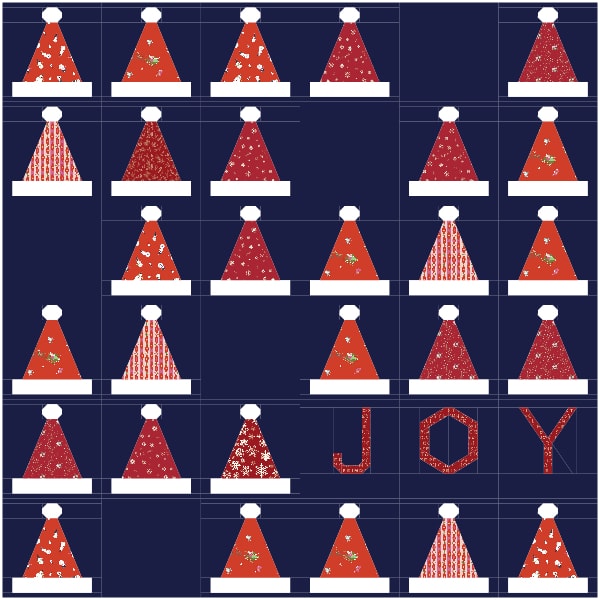 I also think it would be super cute to swap out a few of those Santa Hat's for Elf Hats! Just change the fabric colors and use a geometric print for the hat.
The majority of my quilt is made from Way Up North fabric by Riley Blake Designs. It's one of my all-time favorite Christmas fabrics! I bought a fat quarter pack, but that's not enough to make the entire quilt, I ended up buying more fabric. I'd recommend yardage instead if you're going that route.
You can grab the fabric at Fat Quarter Shop or Etsy.
The Santa's Hat Shop pattern is now in the shop! It's in PDF format and paper pattern format.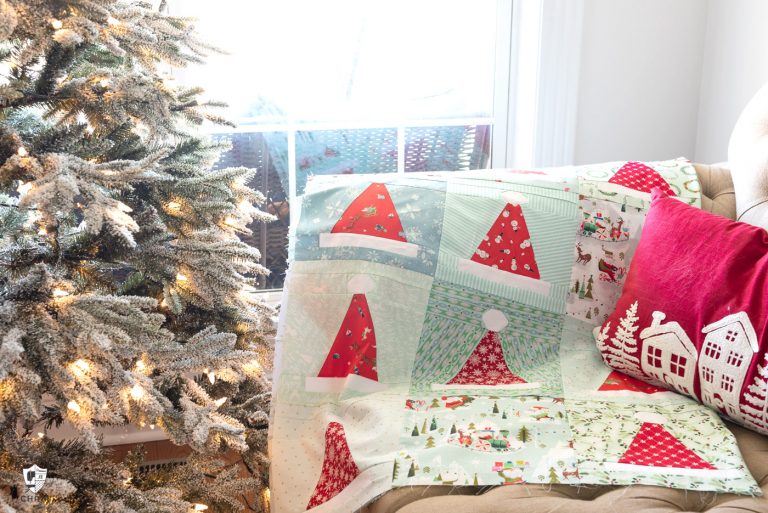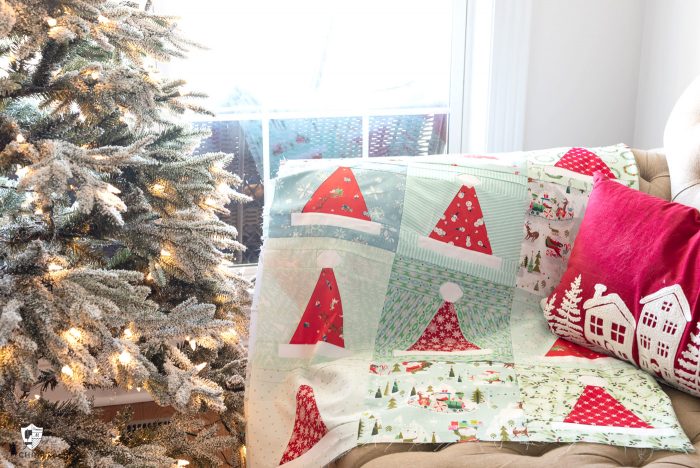 If you make the quilt MAKE sure you tag me. There is nothing I love more than seeing your makes on Instagram. I'm @polkadotchair on Insta. You can also use the #polkadotchairpatterns #polkadotchair or #santashatshop hashtags.
p.s. if you bought the Halloween Haberdashery quilt this year and scroll to the last page of the PDF, you'll find a coupon code that you can use on this pattern!
Some of our best Quilting Tips & Techniques