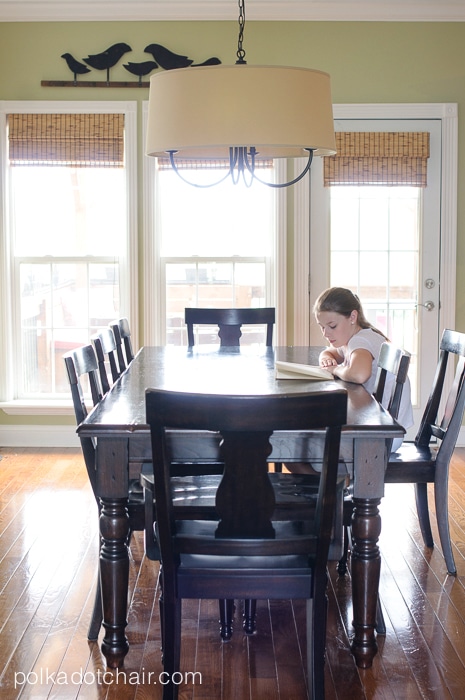 Do you ever feel like your house is just one stream of never ending projects?  You finish one and then you're on to another. Once you work your way through the whole house it's time to go back and start again!  One of the big projects we've had on our list for about 3 years now is to paint our kitchen cabinets white.  It was supposed to be our project for the Spring, but then we decided to paint the Guest Room instead.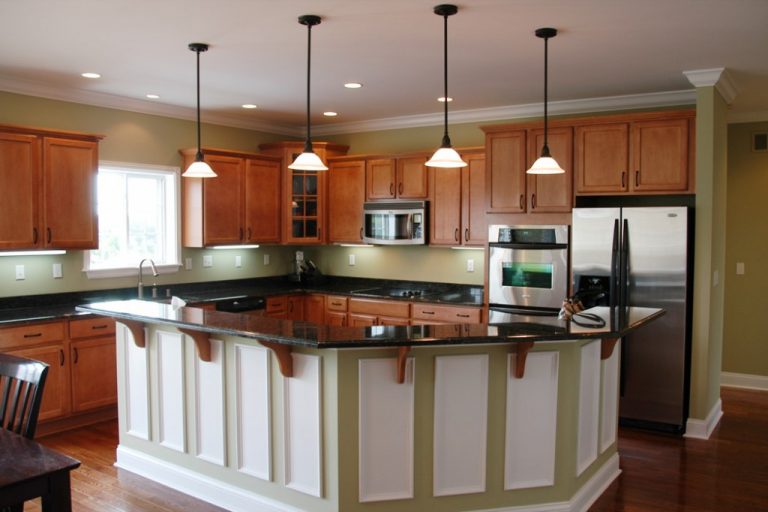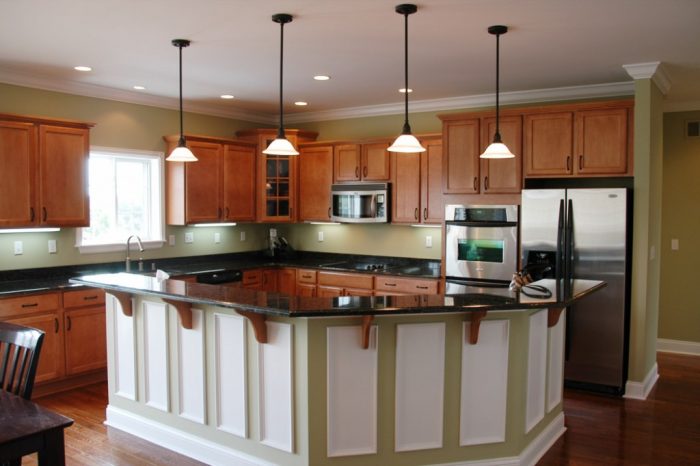 This is what our kitchen looked like the day we moved in.  Not bad, it's big but was definitely lacking personality and charm.  It's been my dream to have a white country kitchen, so we decided to paint the kitchen cabinets when we moved in 7 years ago.  I know that painting over wood is a touchy subject for some people, but I don't like that shade of wood at all.  I think it's too dark and pulls light out of the kitchen.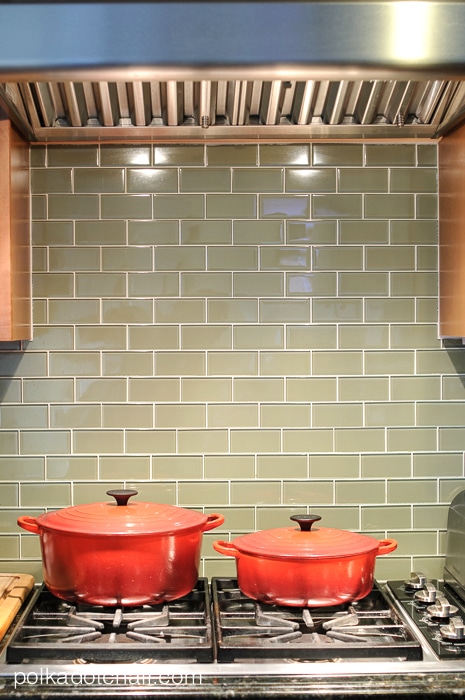 The first phase was to replace the microwave above the stove with a vent hood and to replace the electric cook top with a gas cook top.  We bumped up the cabinet above the stove to give a bit of height and interest to the kitchen.  This we did about 5 years ago but have yet to fix the crown molding that we pulled off. Sometimes I forget it's missing *wink*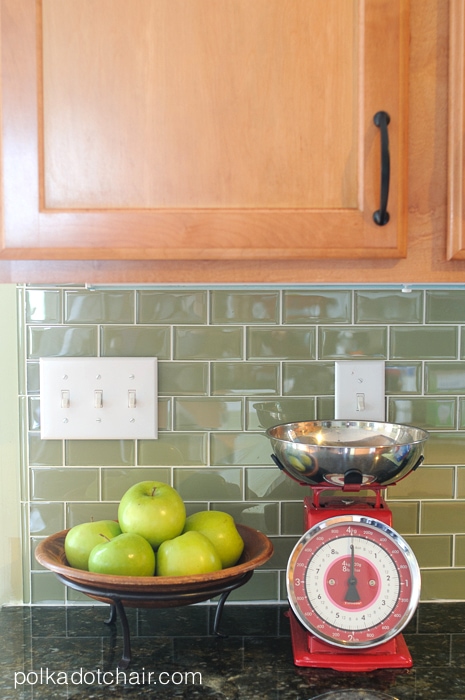 The next step was to tile the backsplash. I found a green glass backsplash tile that I LOVE and had it installed.  We are big DIY'ers, but I recognized that this was a project better left to a professional. I love the sparkle and finish that it gives the kitchen. Now onto the cabinets.  Since we aren't going to be making any big changes, we are looking to make small changes that will have a big impact. Painting the cabinets is one of those changes. I picked a nice ivory color for the main cabinets, but have yet to pick a color for the island cabinets. Anyone have any suggestions for me? We've gone back and forth between, white, light grey and dark grey. I even painted some samples ON the island but have yet to settle on a color. To help me get an idea of what I want, I created a Pinterst board and started collecting images of what I think my Signature Kitchen would look like.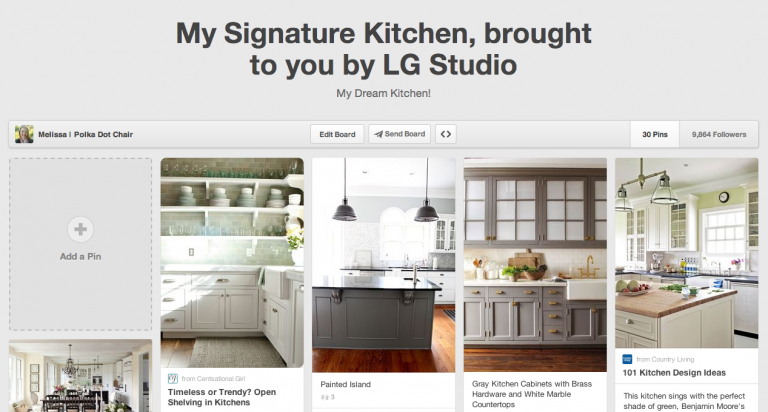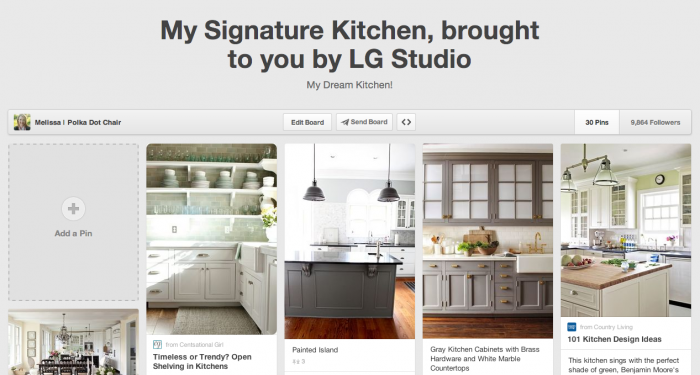 I am definitely drawn to kitchens that are bright and clean with little pops of color.  Right now I'm leaning towards a dark charcoal gray for the island cabinet color, but like I said, I'm open for suggestions! Pop on over to the Pinterst board and let me know which is your favorite cabinet color.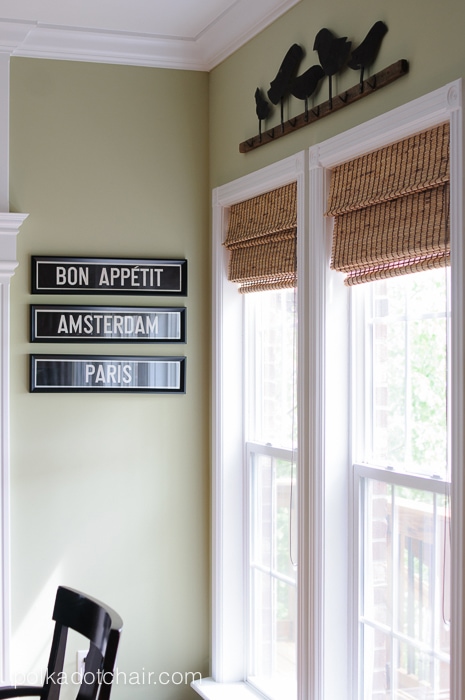 Drawing from the ideas on my Pinterest board, I created a mood board to help me going forward with the kitchen refresh.   Working with the elements I already have in the kitchen, the green glass tile backsplash, black decorative elements, dark countertops and stainless steel appliances, I picked a few other elements to introduce to give the kitchen some charm and personality.

(Items in board: Flag Wall Art from Pottery Barn, Depression Era Glass Knobs from Anthropologie, LG Studio Refrigerator, LG Studio Double Ovens, Clock from Sundance Catalog, LG Studio Cooktop, Barstool from West Elm, Pie Sign from World Market, Stained Glass pendants from Quoizel, Rug from West Elm)
Since I'm painting the cabinets, I want to make a conscious effort to include more natural wood into the room. I love the idea of the wood barstools to bring back a little bit of the feel of the wood. I also would love to replace (someday) our kitchen table with a large reclaimed wood farm table; we'll just add that one to the ever-growing "wish list".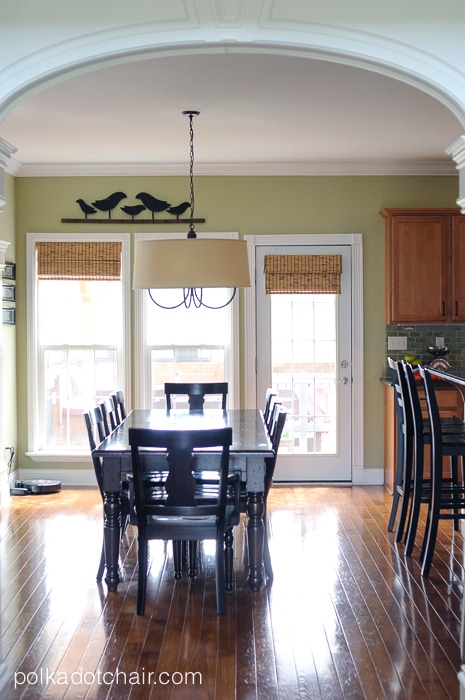 Well that's my dream for my Signature Kitchen, we will see if it ever gets finished… What about you? Do you want a chance to have your Signature Kitchen designed for you??? How would you like Nate Berkus to do that for you??? Hello!! Nate Berkus!!  LG Studio announced its partnership with renowned decorator and product designer Nate Berkus for its high-end LG Studio kitchen line earlier this year.  LG Studio chose to partner with Nate as a result of their shared commitment to living with what is well thought out and well designed, without sacrificing personality. His unique skill set complements LG Studio's plans to continue delivering premium appliances built with sophistication and functional elegance in mind. Timeless sophistication is the signature of the LG Studio Collection, a beautiful complement to the advanced technology that elevates the entire series. As the artistic advisor to the LG Studio Collection, Nate brings his celebrated style to LG's premium appliances. His sophisticated yet accessible style resonates strongly with homeowners, and he is recognized amongst them as an inspirational expert on kitchen remodeling and design. 
Nate and LG Studio have teamed up to help homeowners create their signature kitchen. The kitchen is the heart of the home, but for many, it's one of the most difficult rooms to design. His expertise and insight will provide consumers with useful feedback to help them create their most beautiful kitchens. The LG Studio Signature Kitchen with Nate Berkus focuses on a kitchen web series in which Nate responds to kitchen remodeling and design-based questions from his and LG's social communities in the form of personalized videos, some of which were shot during a live event at the LG Studio Kitchen in Manhattan last week. Nate also filmed five exclusive videos offering insight and expertise on various design trends, including achieving a well-appointed kitchen, summer in the kitchen, layered design, entertaining in the kitchen, and technology in the kitchen. Visit LGStudioKitchen.com to watch Nate in the kitchen sharing his expert design tips and insights! 
"My Kitchen Needs Nate" Contest 
Beginning June 19 and extending to July 31, consumers are encouraged to enter the "My Kitchen Needs Nate" contest in which the winner will receive a Nate Berkus designed and remodeled kitchen that incorporates LG Studio appliances. Contestants are asked to shoot a video of themselves in their kitchen, noting the personal inspiration point they want Nate to incorporate in his design and why they're excited about LG Studio's line of appliances. LG Studio and Nate will choose the winner based on the following criteria: compelling design opportunity, quality of LG Studio appliance-based answer and visibility of kitchen space. Once the renovation is complete, renovation episodes, tip videos and images capturing the renovation will be posted to LGStudioKitchen.com and shared across LG and Nate's social properties. 
Readers may submit video entries at LGStudioKitchen.com for a chance to win a new kitchen renovation, designed by celebrity designer Nate Berkus and furnished with LG Studio appliances.
Does your kitchen need Nate and the LG Studio line of appliances? Send LG Studio a video and tell them all about it. Make sure to include the following:
You are the star. Make sure you're in your kitchen and that LG Studio can see a 360° view of it.
Tell LG Studio your story. Describe for them the design elements that matter most to you. NOTE: They're going to see a lot of videos, so make it great!
Tell LG Studio what you love so much about LG Studio appliances.
Enter the My Kitchen Needs Nate contest for a chance to win a new kitchen renovation, designed by celebrity designer Nate Berkus and furnished with LG Studio appliances