I'm excited to announce that my Wonderland Two fabric collection with Riley Blake Designs is now hitting stores! If you're looking for a fun new sewing project to start then you may like some of these Wonderland inspired sewing and quilting projects!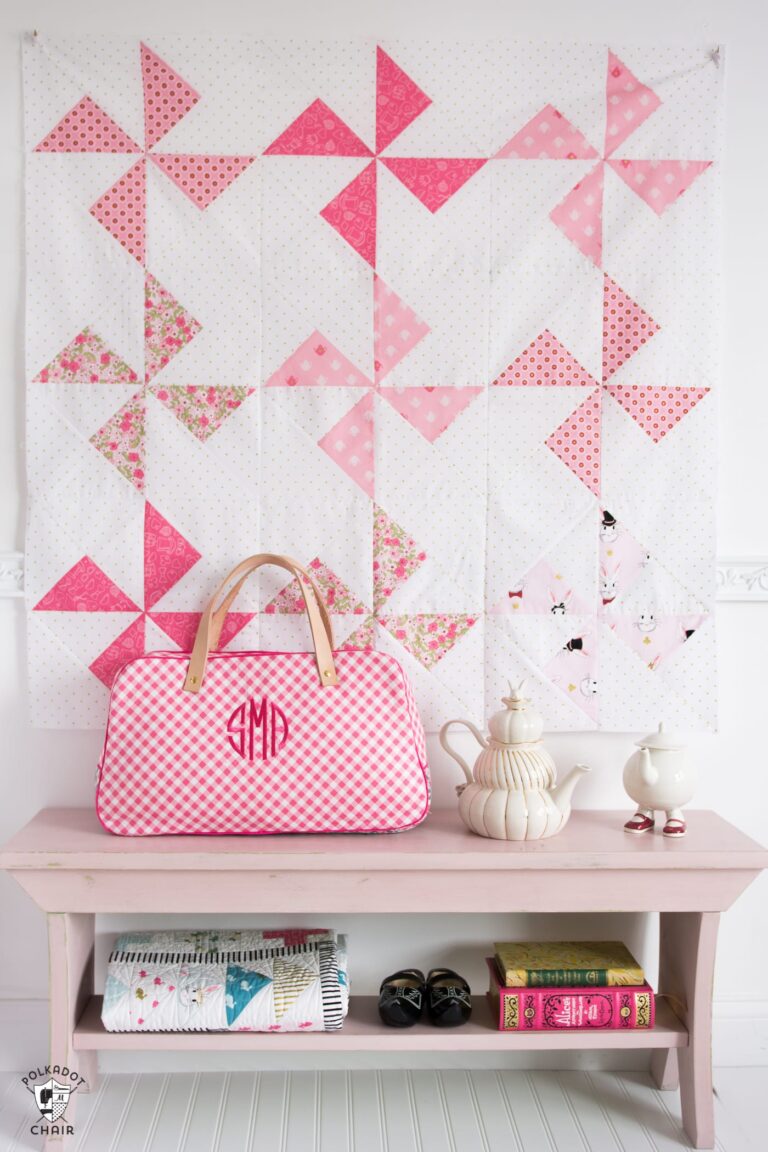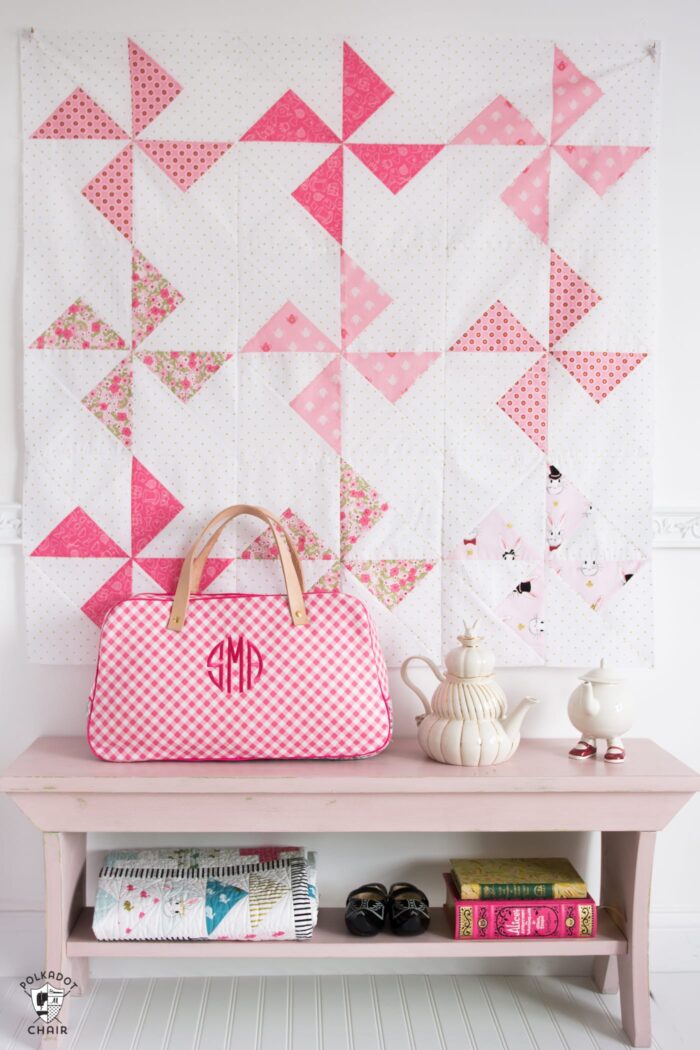 Does anyone else have a good case of the January "blahs"??  We do, and I hate it.  We returned from a trip to Utah for Christmas at the end of December, and I was excited to get started on all of my "new" projects for the new year. I had a whole list of things I wanted to tackle and a few things I wanted to change.  Then my husband and I got the flu (or at least I think it's the flu) and all of the plans got a bit sidetracked. Luckily the kids did not catch it but it seems to have stolen most of my new years momentum.
This week we had to say goodbye to our beloved Golden Retriever, Lilly. We knew she was aging, and not her "old self" but we did not expect her to get so sick so fast. My kids we inconsolable the day we lost her, that in turn made my husband and I much more melancholy over her death that we thought we would be. I have a little 'memory' project I'm working on for her, I'll share it here when we are done, and talk a little bit more about the whole thing then.
Over the last few weeks, I have MADE myself carve out some sewing time. I think when you're feeling less motivated the only thing that really gets you going is to GET GOING. Which sounds crazy, but it works. It's also not very easy.  I noticed that over the past month I had been spending more of my business time on computer related projects (blog programming, social media projects and fabric design) and less time on actually CREATING. After I got sick at the beginning of the year I decided to let myself ease up on some of the computer related projects for a while and concentrate on making things.  It's funny how sometimes you have to give yourself permission to do things like that.
I hope that doesn't sound dire. I don't mean it to be. I just think that honesty and transparency are sometimes warranted in this new "information age" that we all live in.
In December my sample yardage for Wonderland Two showed up! I was so excited to see it in REAL LIFE.  Since it arrived very close to Christmas, I didn't get much time to play with it before the Holidays, but have been working to stitch catch up as much as I can the last few weeks.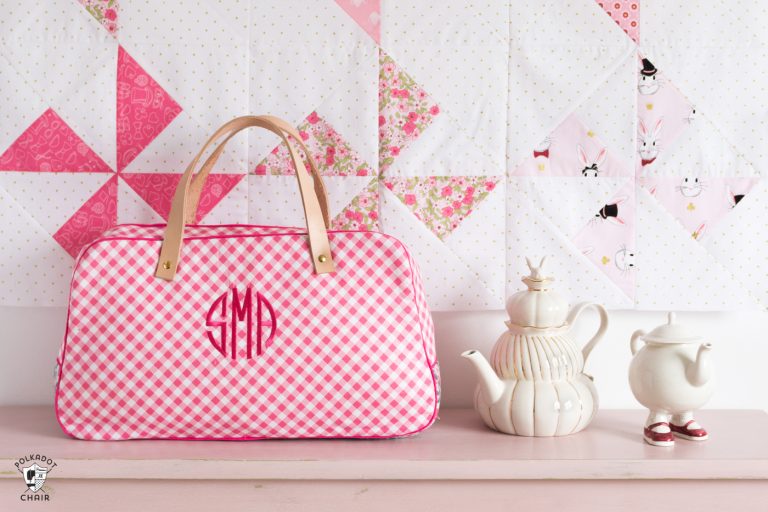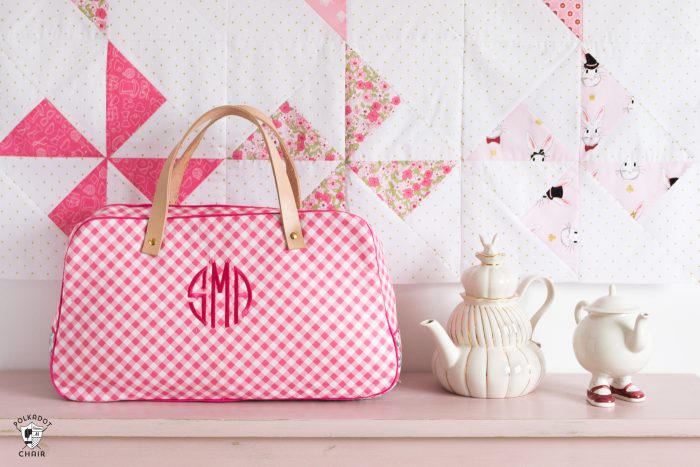 The line is called Wonderland Two because it's a follow up to my first line, Wonderland.  This particular line is inspired by an Alice in Wonderland tea party. I didn't want to make Alice in Wonderland fabric, rather fabric that felt like it could be "dropped" into a scene from the story and blend right in.
It features the white rabbit, flowers (with faces… look closely), teapots, cards, crowns & hearts — all of the things you'd expect to see at an Alice tea party!
You can see the entire collection by CLICKING HERE and visiting the Riley Blake Website.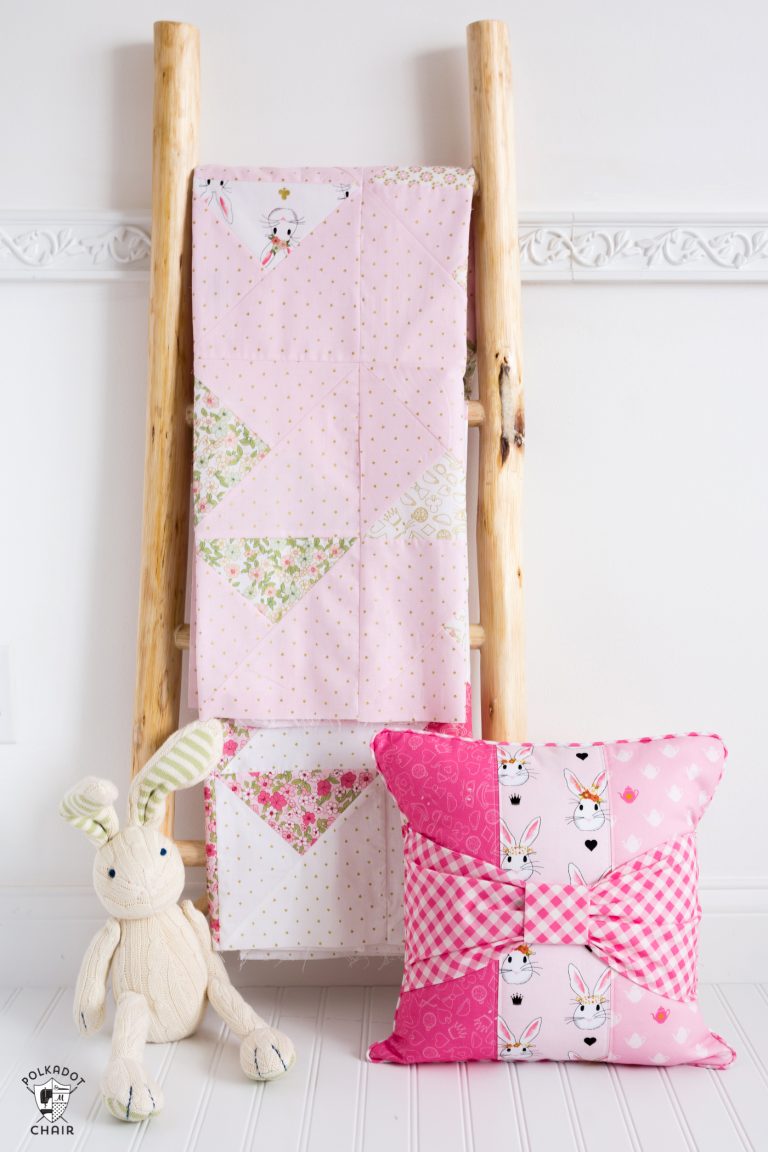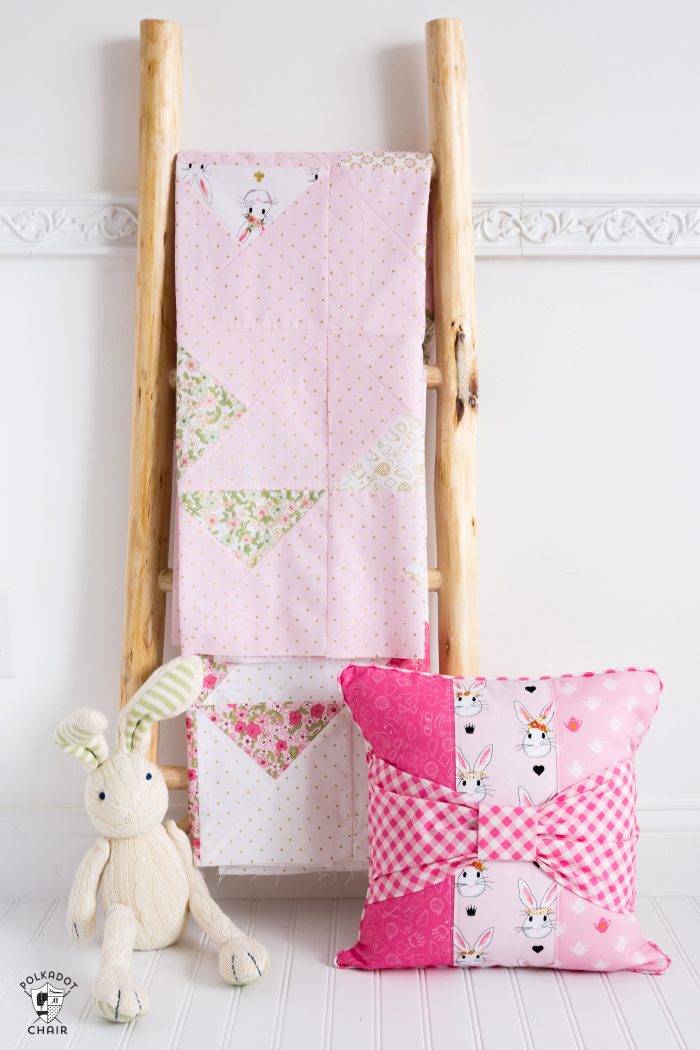 I'm excited to show you a little bit of what I've been working on this month, before I chat about the projects, I think we should talk about THAT bunny. Many of you have emailed me asking for a pattern for him (and by many, I mean at least 50 of you). I know you think I'm torturing you by showing him without a pattern, but he keeps showing up in photos cause he's just so darn photogenic!
I'm happy to announce that I "almost" have a sewing pattern inspired by him ready to go. Obviously, it won't be exactly like the bunny in the photo because 1) that would be dishonest and 2) I do not possess the skills to sew an exact replica of the little guy (also, funny story, when I was in high school to help me raise money for college, I made and sold stuffed bunnies.  How crazy is that? Talk about full circle).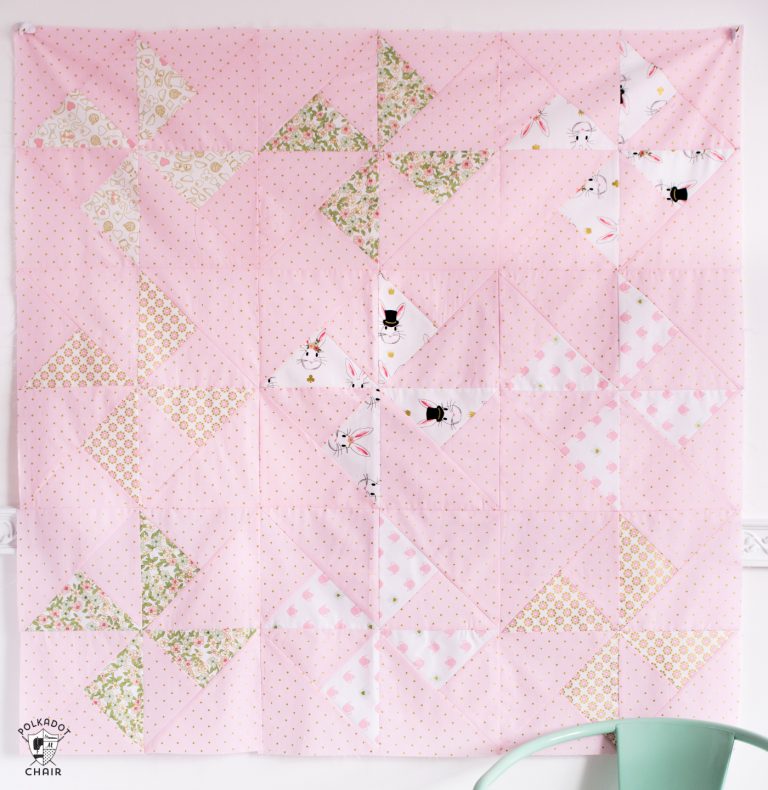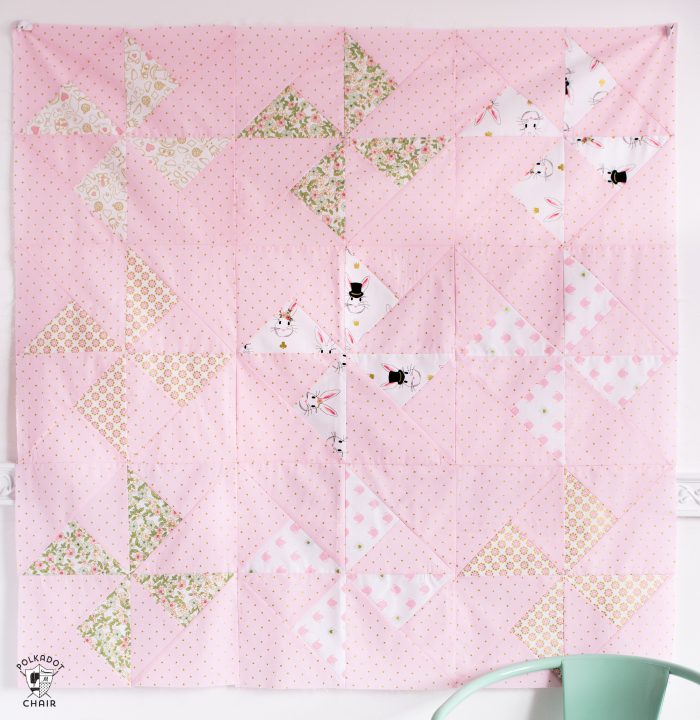 Okay now onto the projects. First up the quilts!
I have a dear friend who after years of struggle is expecting baby girl twins! As a fellow twin mom I knew I had to make her something special (I really hope she does not read this blog, because then I just spoiled the surprise). Also as a twin mom I knew that the quilts could not be "exactly" the same, but they also could not be drastically different from each other. I toyed with the idea of making one mint and one pink, then in the end decided just to be safe and make them both pink (to help avoid future fights over who's quilt is who's).
Here's the pink version, you can see the white version in the above photos. I made the quilts mirror images of each other, which seemed like an appropriate thing for twins. When I get the tops quilted I'll be sure to share more photos with you.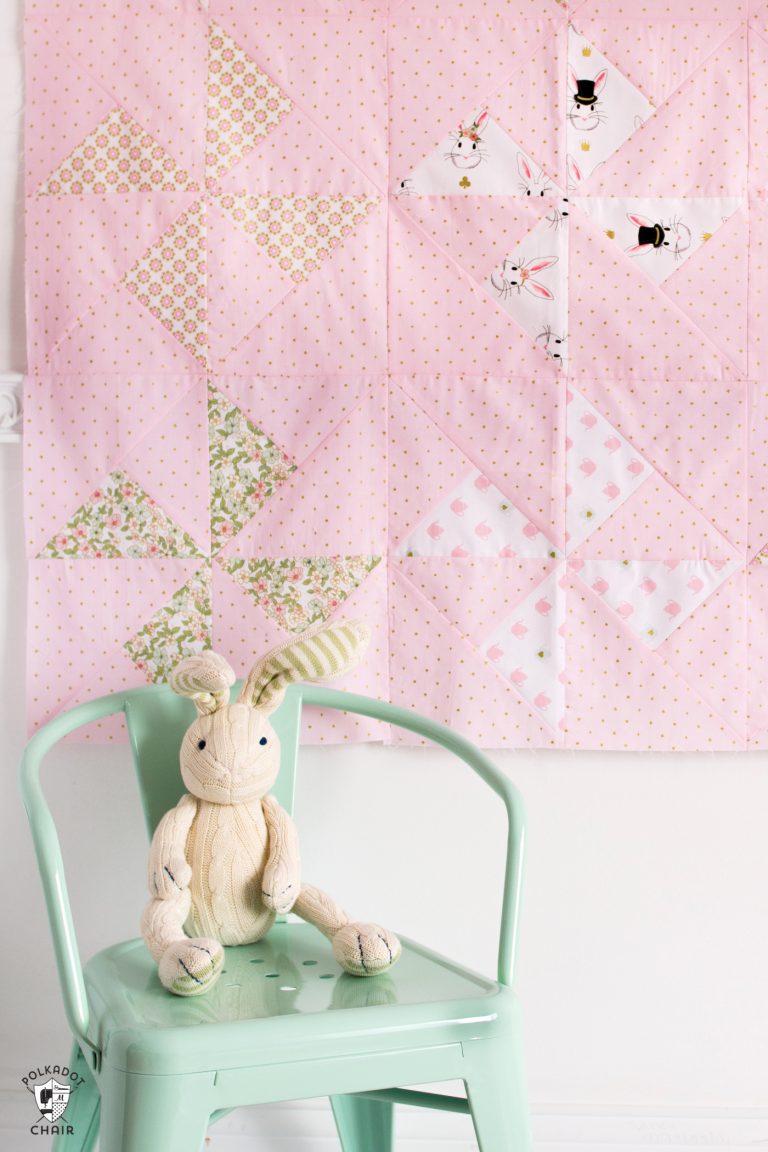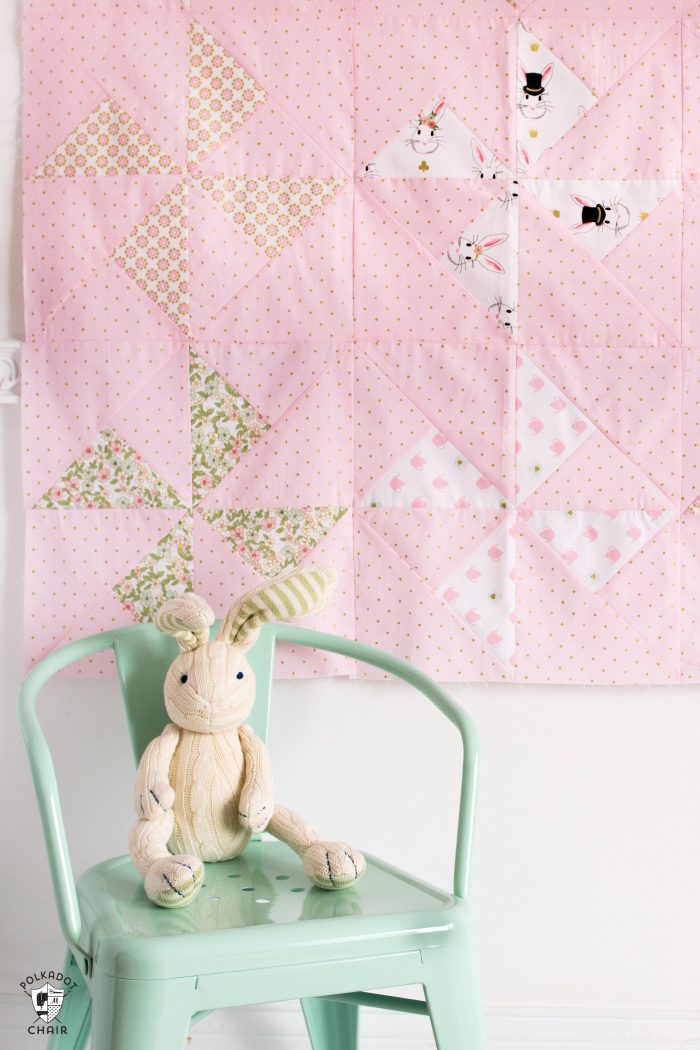 I finished the quilt tops last week and was just waiting for a "sunny day" to photograph them. Well, the sunny day never came, and I had to do the best I could with the gray light. So a reshoot is for sure in order when the quilts are finished (and we escape from the constant cloud cover).
The quilts are made from my Turnstile Quilt Block that was shared here as a part of our Block of the Month program. It's just 9 of those blocks sewn together in 3 rows of 3. The quilt measures pretty close to 45″ x 45″ right now, which I think is a good size for a baby quilt.  You can get the free pattern for the block by CLICKING HERE.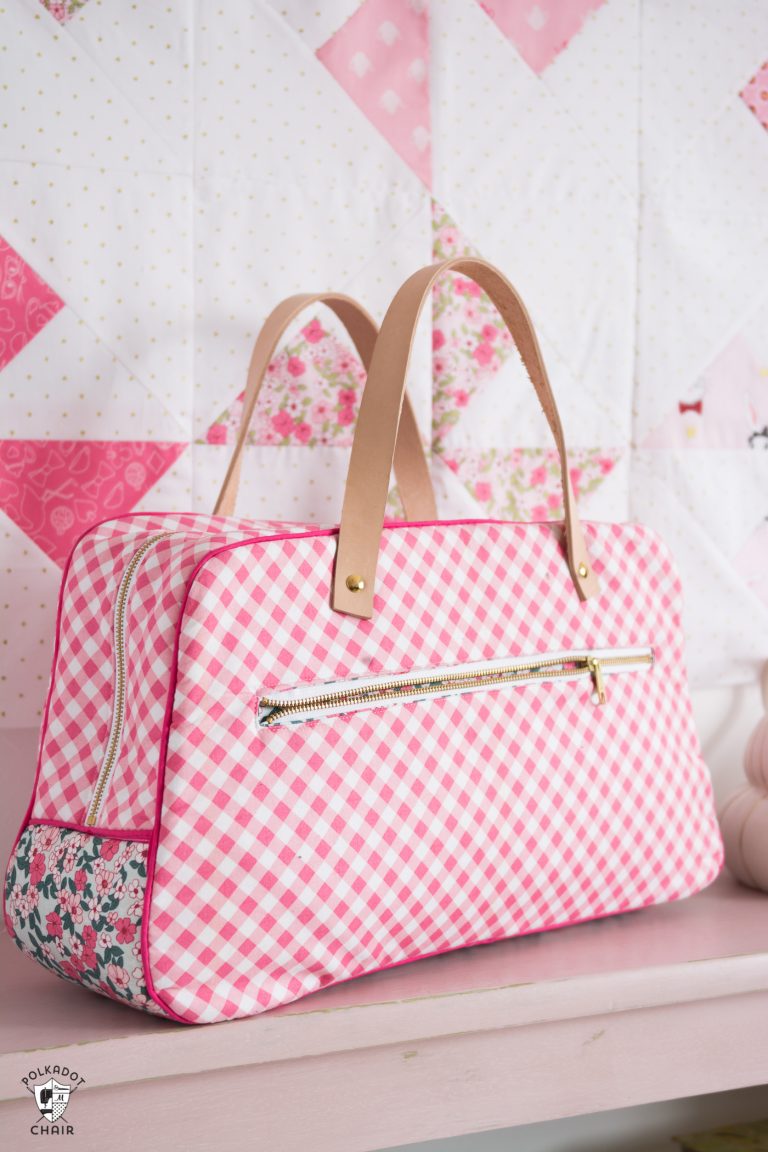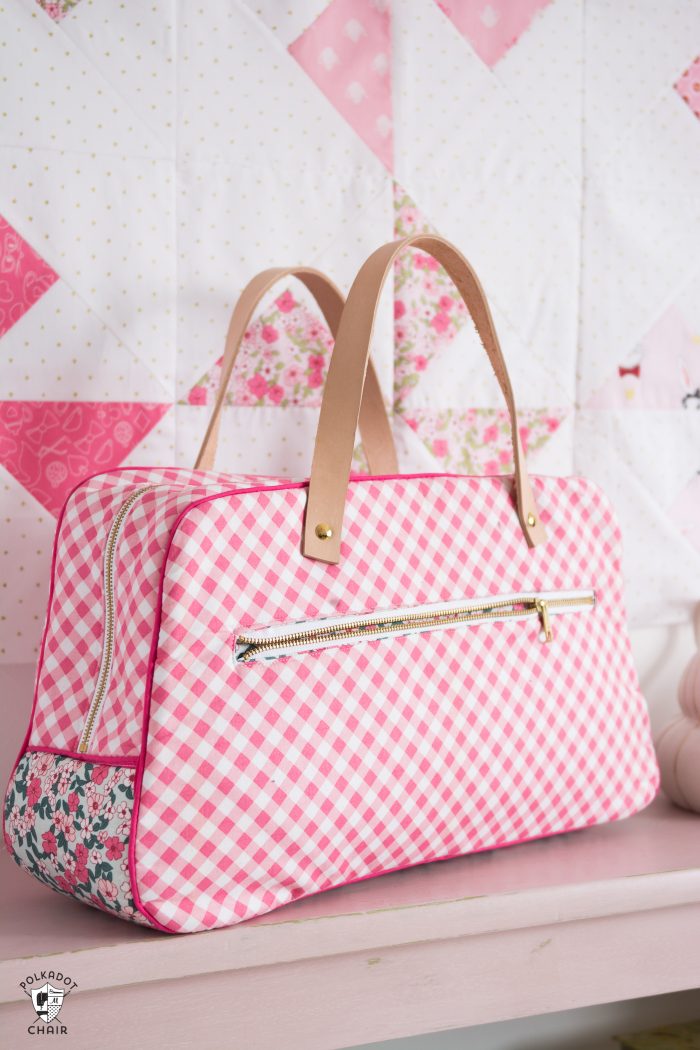 I also stitched up another Retro Travel Bag using the gingham from the collection. I'm absolutely smitten with gingham lately. I'm sure you've noticed. I added a fun monogram to the front of the bag using my BERNINA sewing/embroidery machine. I just figured out how to get the embroidery unit to work last month, and I have to say that I'm having a great time "monogramming all the things".
This bag is for my daughter. I made it for her right before Christmas and she took it with us to Utah over the Holidays. Funny thing, I didn't put the handles on right the first time (I was just being lazy and left off the reinforcement tabs on the inside) and they popped off in the airport (oops!!). Poor girl had to carry the bag around all day without any handles.  As soon as we got home I installed them again, this time properly.
You can find the pattern in my SHOP. It's available in both printed and PDF format. You can also order the printed pattern through Christensen Wholesale and Checker Distributors if you are a shop and want to carry the pattern.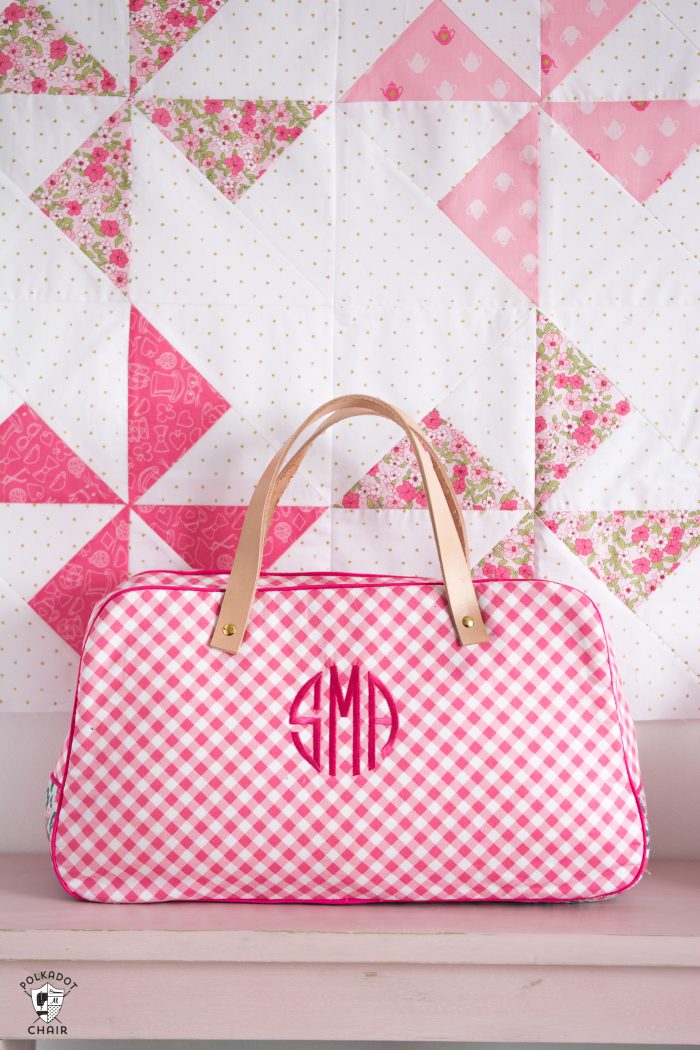 I have many more projects planned to share with you using the Wonderland fabric line, we also have a fun blog tour coming up in February and March. If you are a store and want to use these photos to promote the line you may, just please only use it for promoting the fabric line or patterns. To see all of the projects shared so far using this fabric line just CLICK HERE.