Learn how to "Quilt As You Go" when you make this simple patchwork pillow using today's tutorial!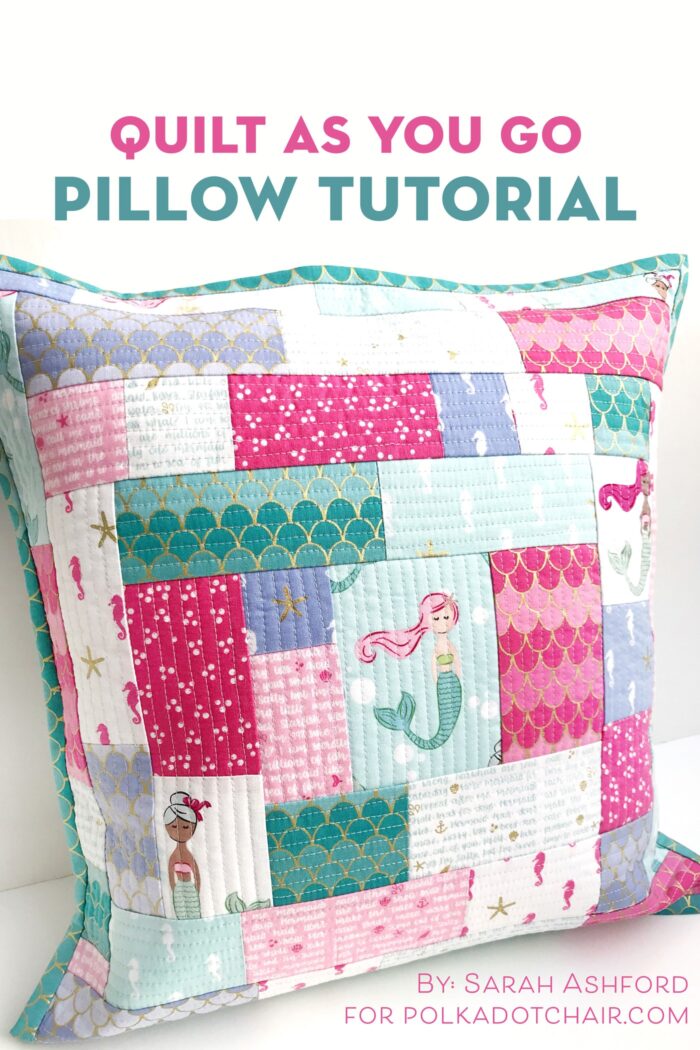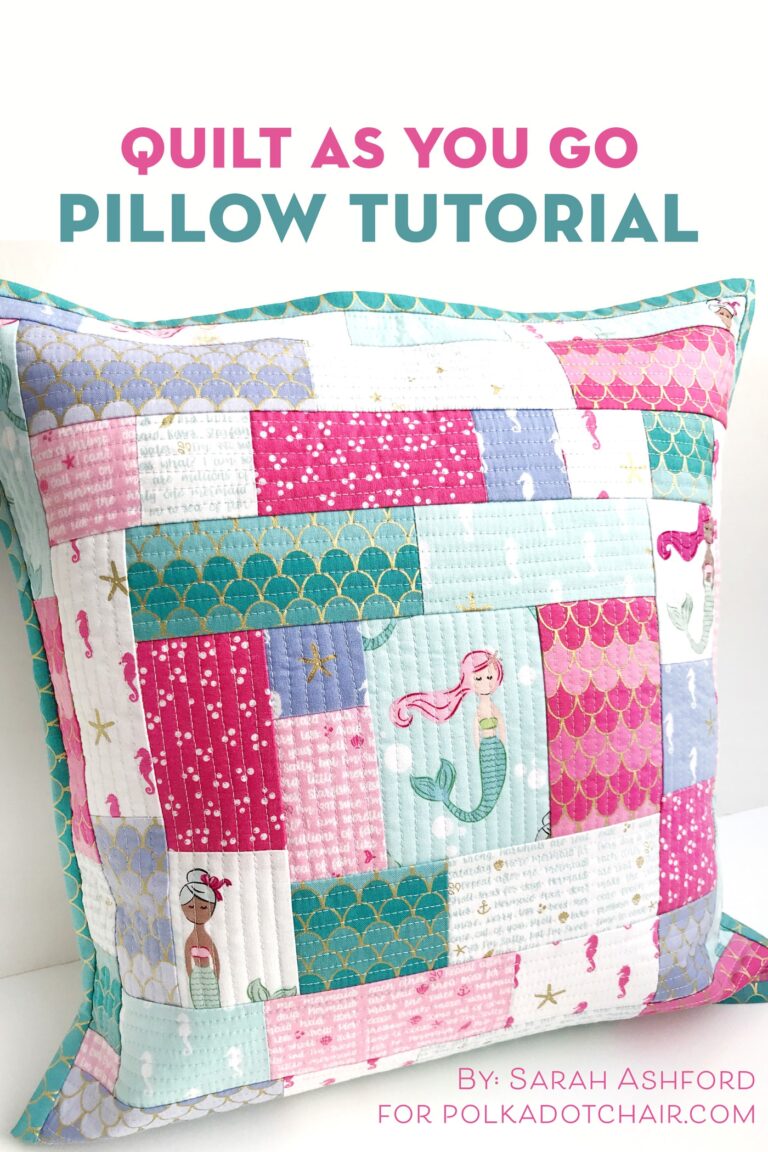 Back in February 2019 was Quilt Con in Nashville and I was so lucky to be able to attend, all the way from England!  And even luckier for me, I was able to meet Melissa for myself, which was just wonderful.  It really was such a pleasure, especially after about 18 months of knowing and working together online.
Table of Contents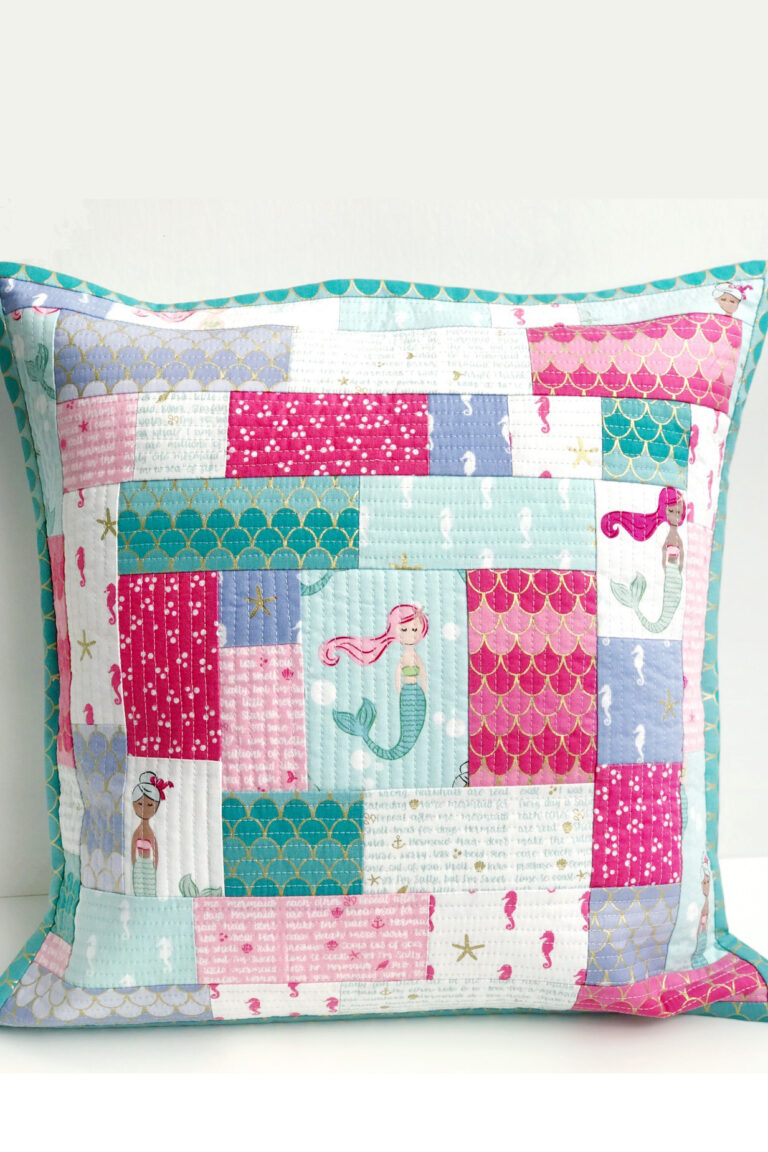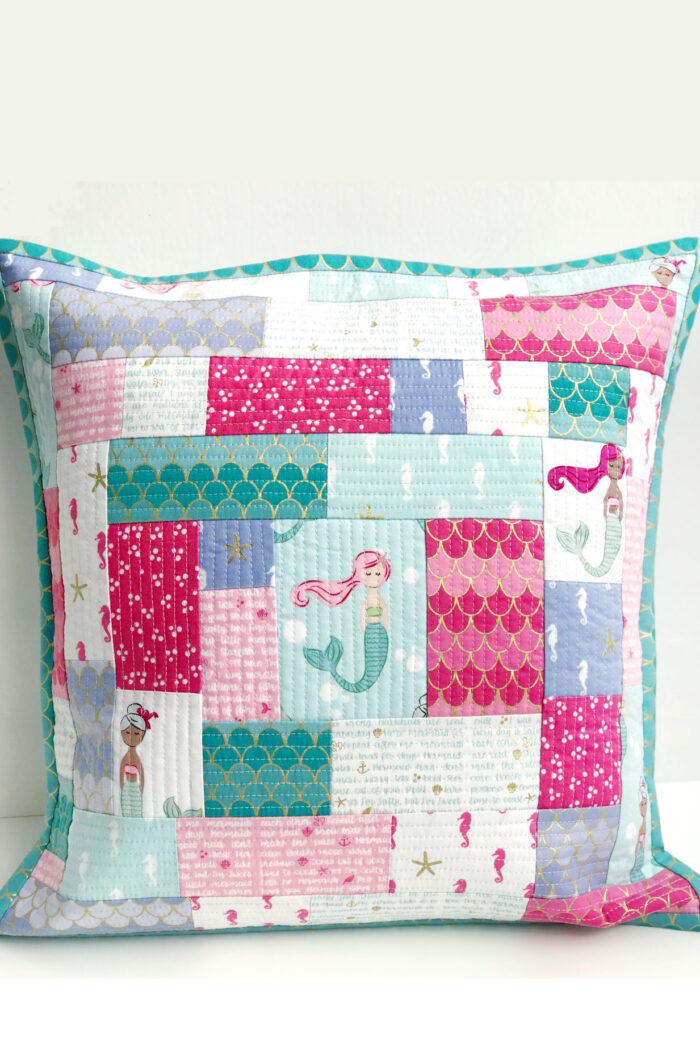 So what better way to celebrate than to create a project than using Melissa's latest fabric collection, Let's Be Mermaids.  My goodness, what an adorable collection it is; there are so many wonderful prints and designs to choose from, it really was tricky working out which ones to use. 
This is why I decided to opt for a scrappy improv quilt so that I could showcase a little bit of everything!  And I wanted to introduce a new technique too – quilt as you go.  This method is really fun because you do all the work as you piece and go along, then there's no quilting at the end, just a really quick envelope back, some binding, and ta-da, you have a finished cushion!
How to make a Simple Patchwork Pillow using the Quilt as You Go Method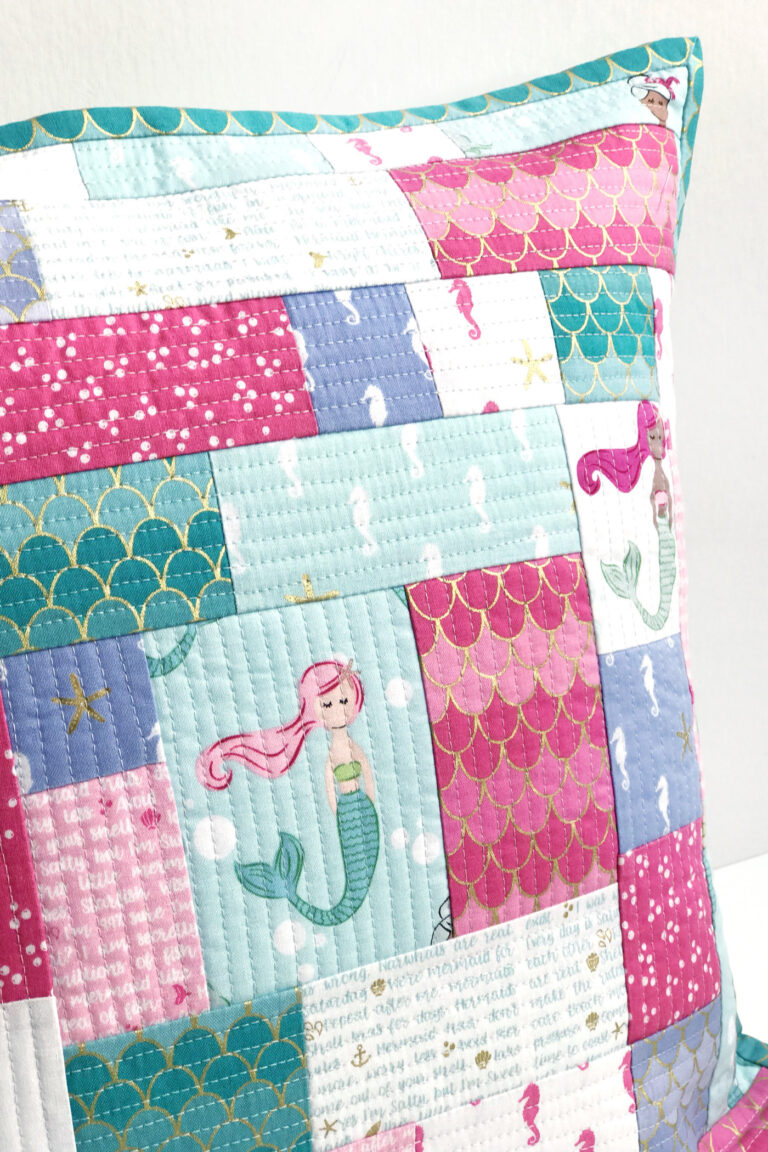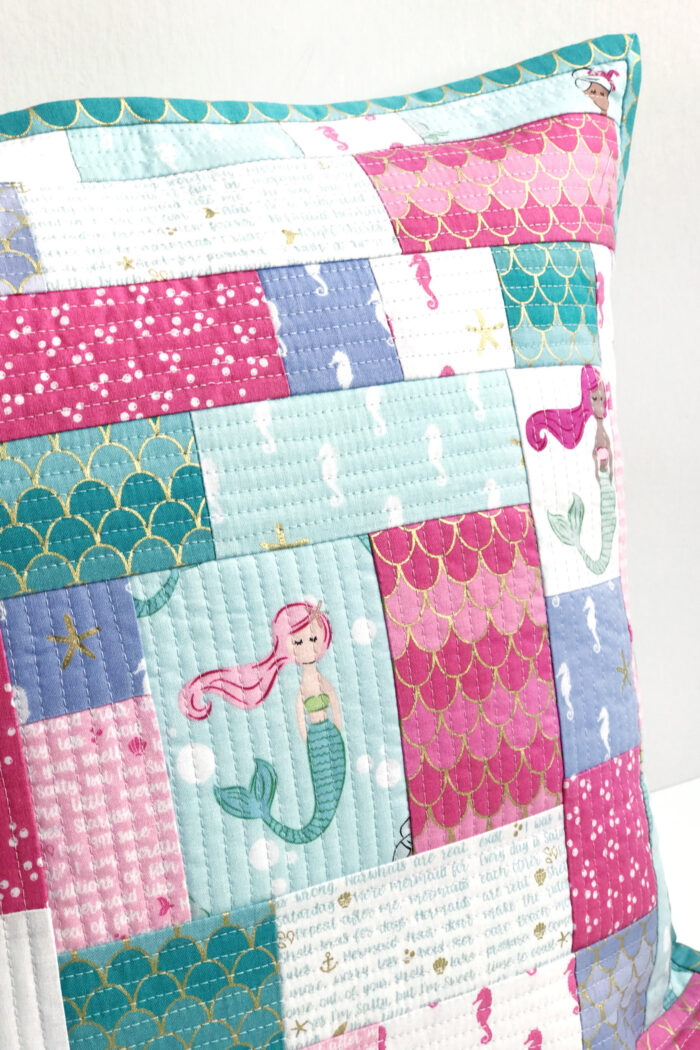 Quilt as You Go Patchwork Pillow Supplies
Central motif for the fussy cut center
Scraps of fabric from your stash or from a fabric collection
Batting 18" square
Basting Spray (optional)
Hera Marker
Neutral thread
Envelope back – top 16"

 

x 13"
Envelope back

 

– bottom

 

16" x 8"
Binding

 

–

 

70" x 1 ¾" wide
Cushion pad – 16" square
Usual sewing supplies (rotary cutter, mat, ruler, sewing machine thread, scissors etc.)
Note:
Given that this is an improv QAYG pattern, there aren't any set measurements, but it does help if you cut your pieces to easy sizes. So, for example, my fussy cut center measures 4 ½" tall by 3 ½" wide. So if I want to add a piece to the right of it, I know it needs to be 4 ½" tall.
How to Start
First of all, fold the batting in half and in half again to find the center.  Then take your fussy cut centerpiece, and place it in the center.  You may wish to fuse this first piece with basting spray.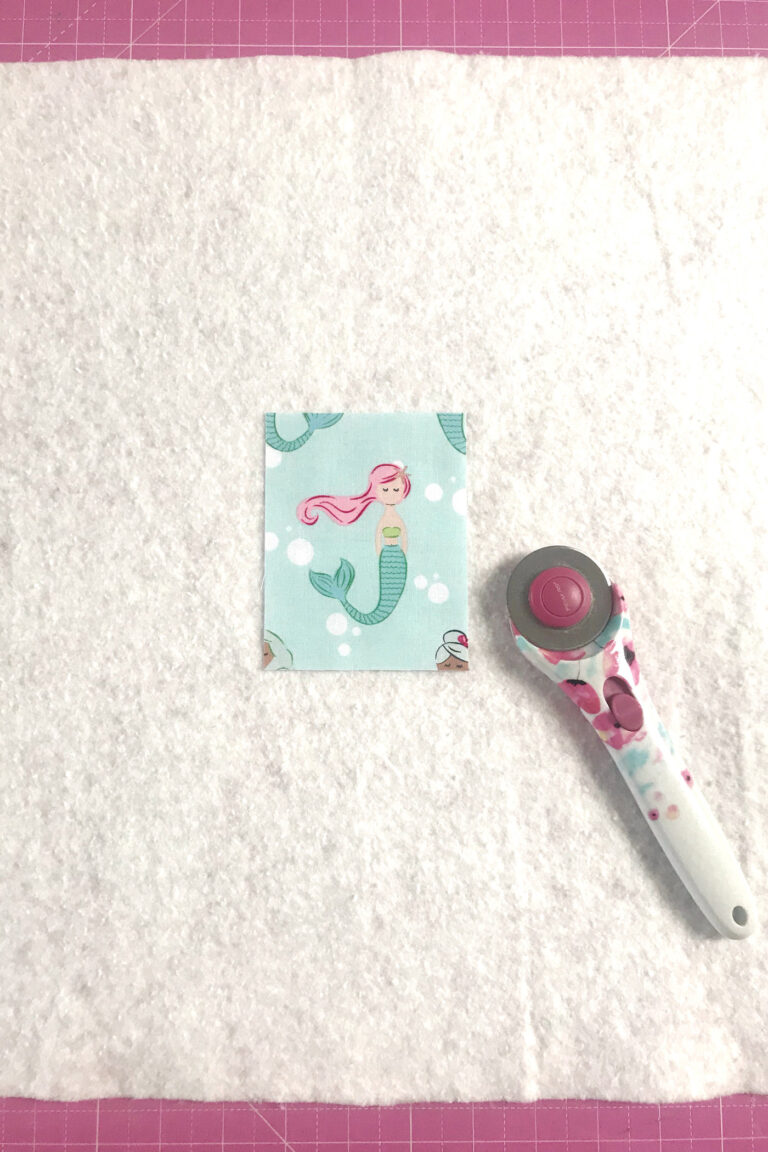 Use a Hera marker to draw a line down the centre of the fussy cut motif. I've chosen a vertical line but you may wish to have horizontal lines. This line will be your first quilting line, and then your guide for subsequent lines.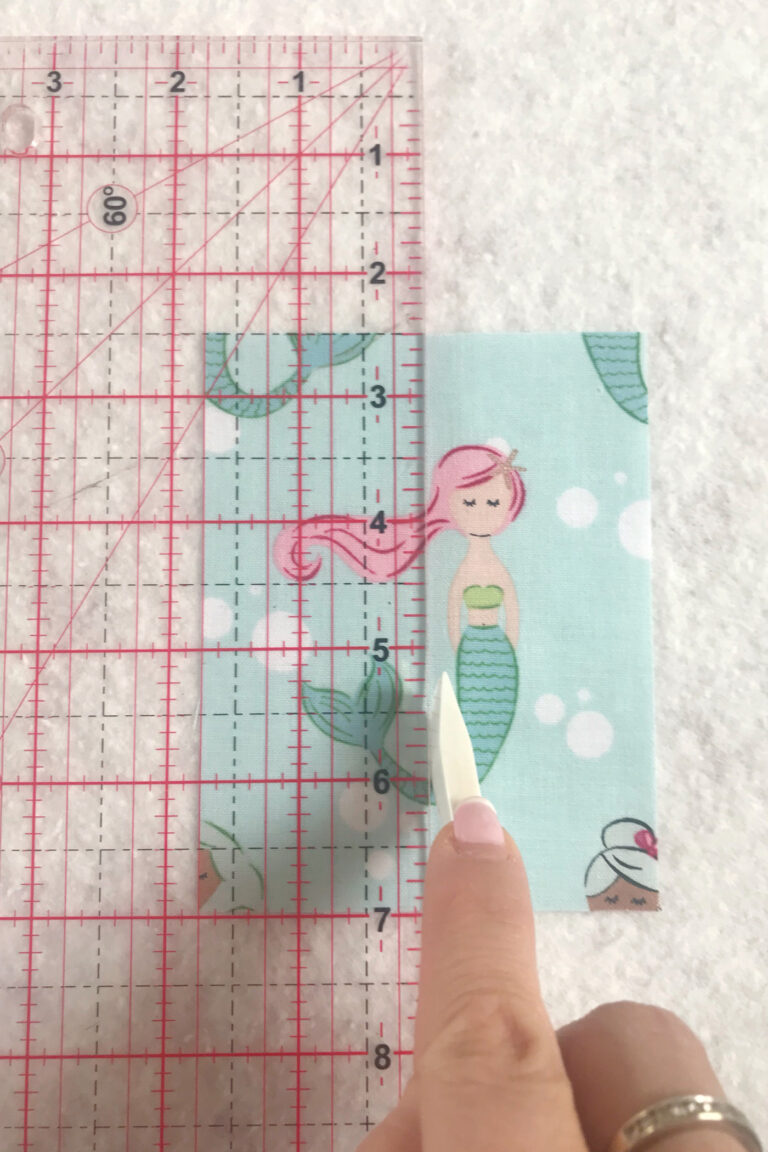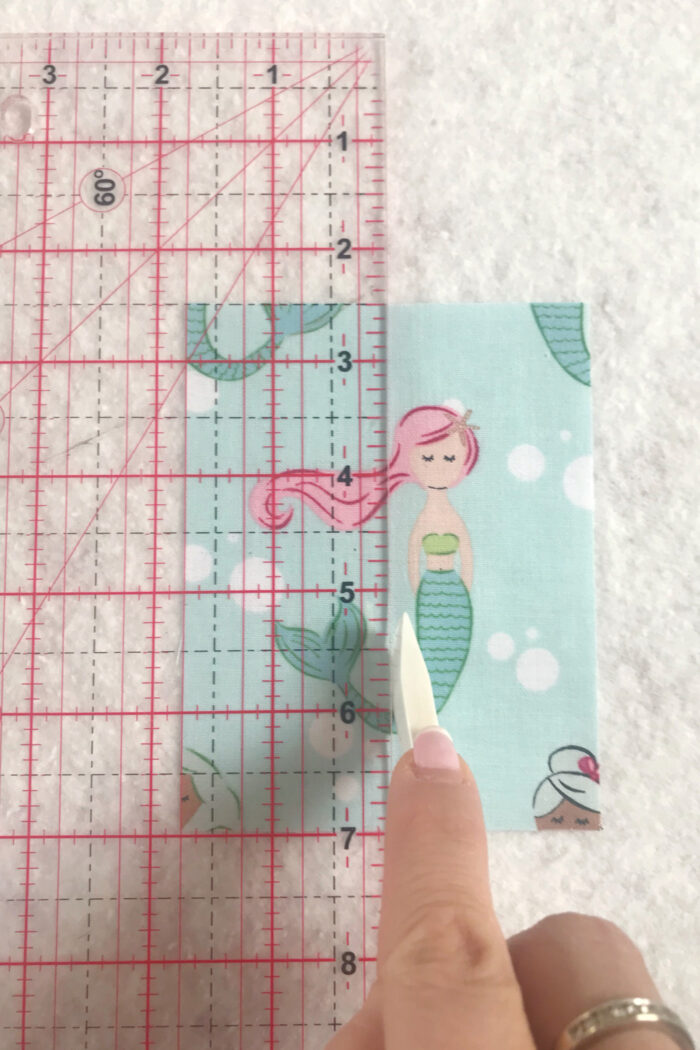 Using a neutral thread, stitch down this line, using a slightly longer stitch length. (I've used a 3.25 stitch length.) Using this line as your guide, stitch either side of the line until all the fabric is quilted.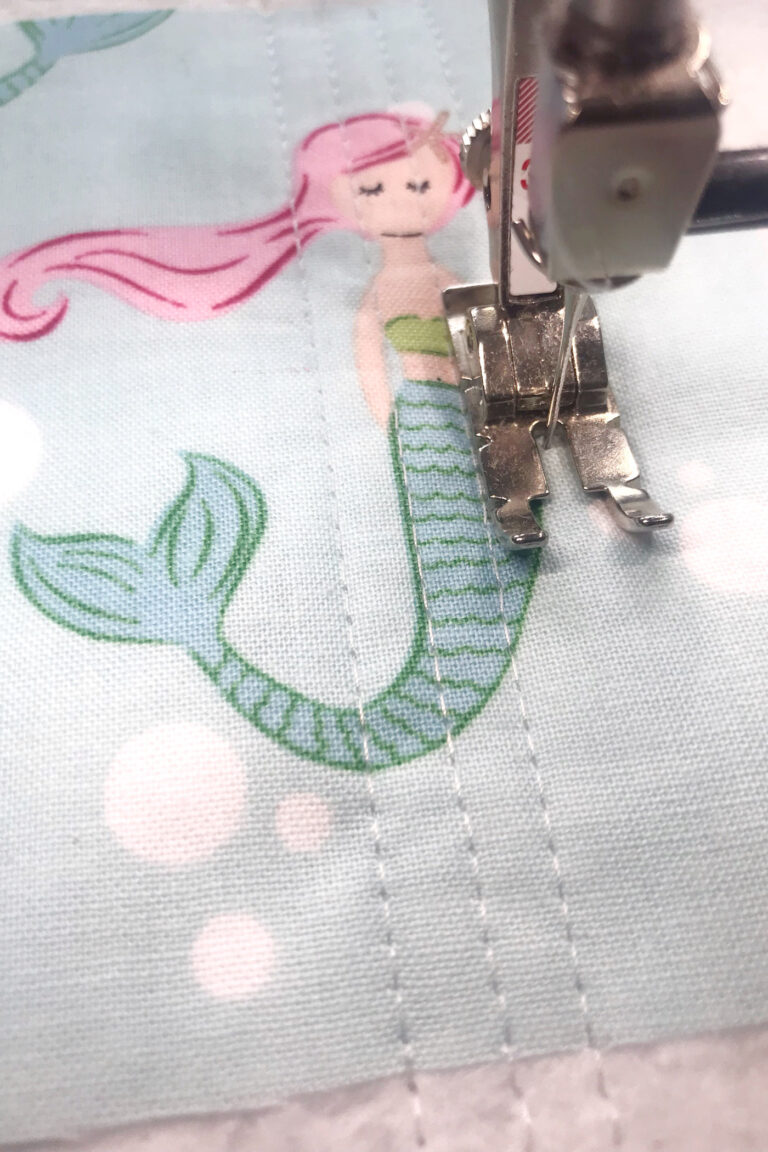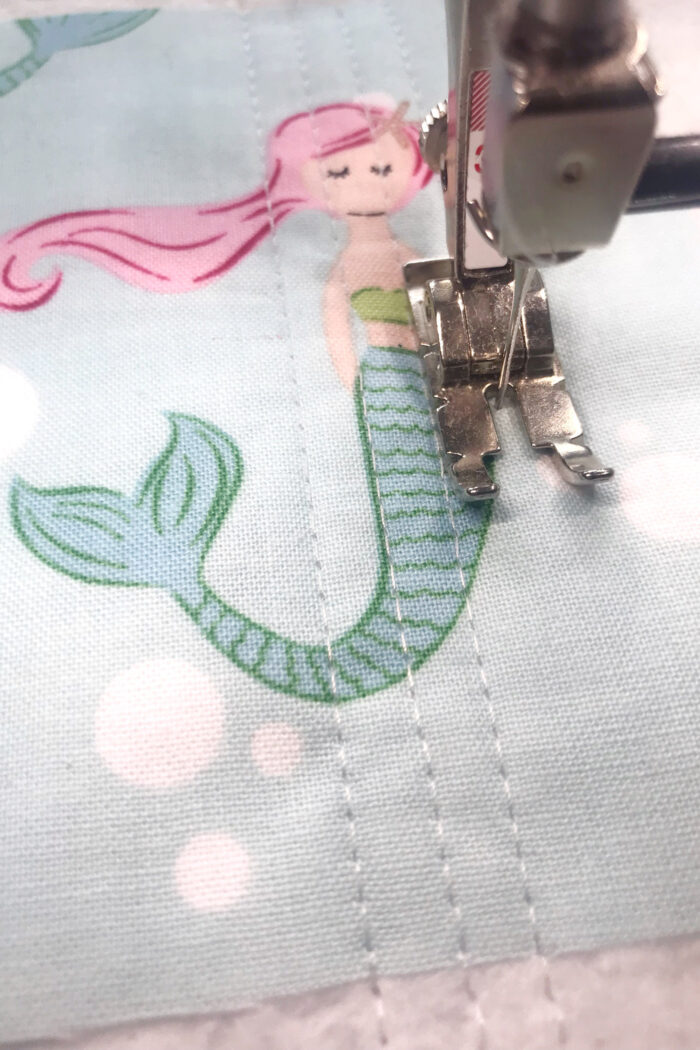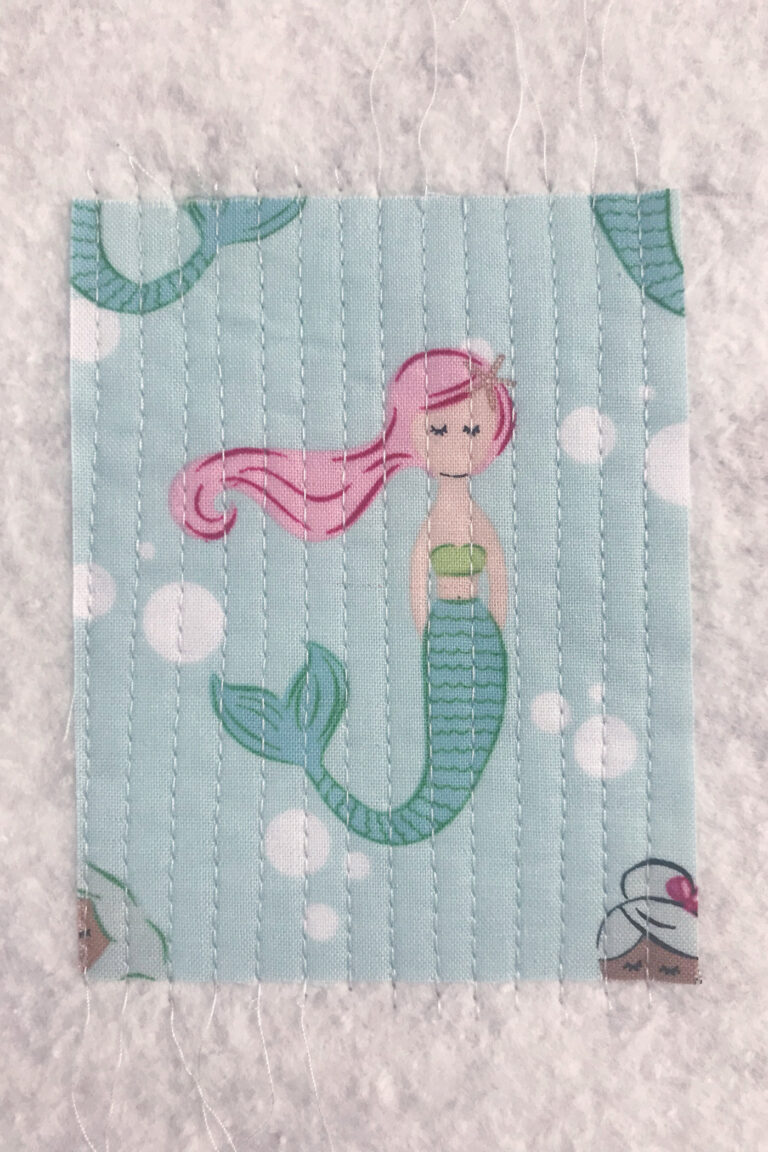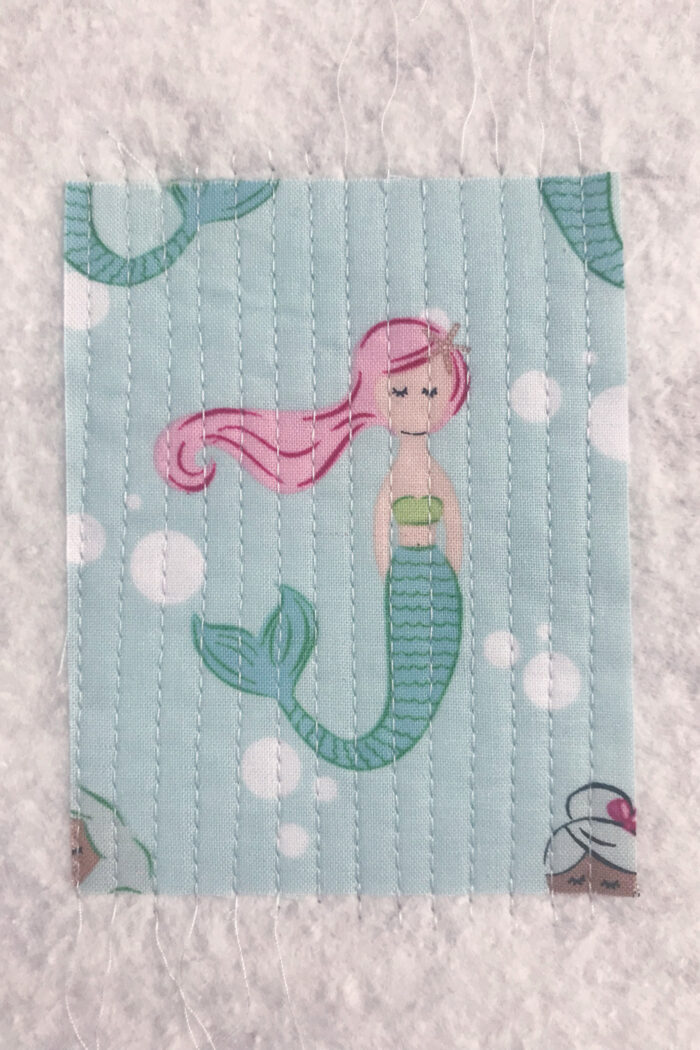 Now you can add to any side of your central motif.  I'm going to add a section to the right.  So I know that my mermaid motif measures 4 ½" in length so I'm going to cut a piece of fabric 4 ½" in length, and I can decide how wide it is, ideally using a whole or half number to make it easier.  (Don't forget to consider your quarter-inch seam allowance all the way around.)
Place your second piece right sides together with the first section, lining up the edge of the fabric to the side you want to join.  Stitch a quarter-inch seam along that edge.
Adding the Second Piece: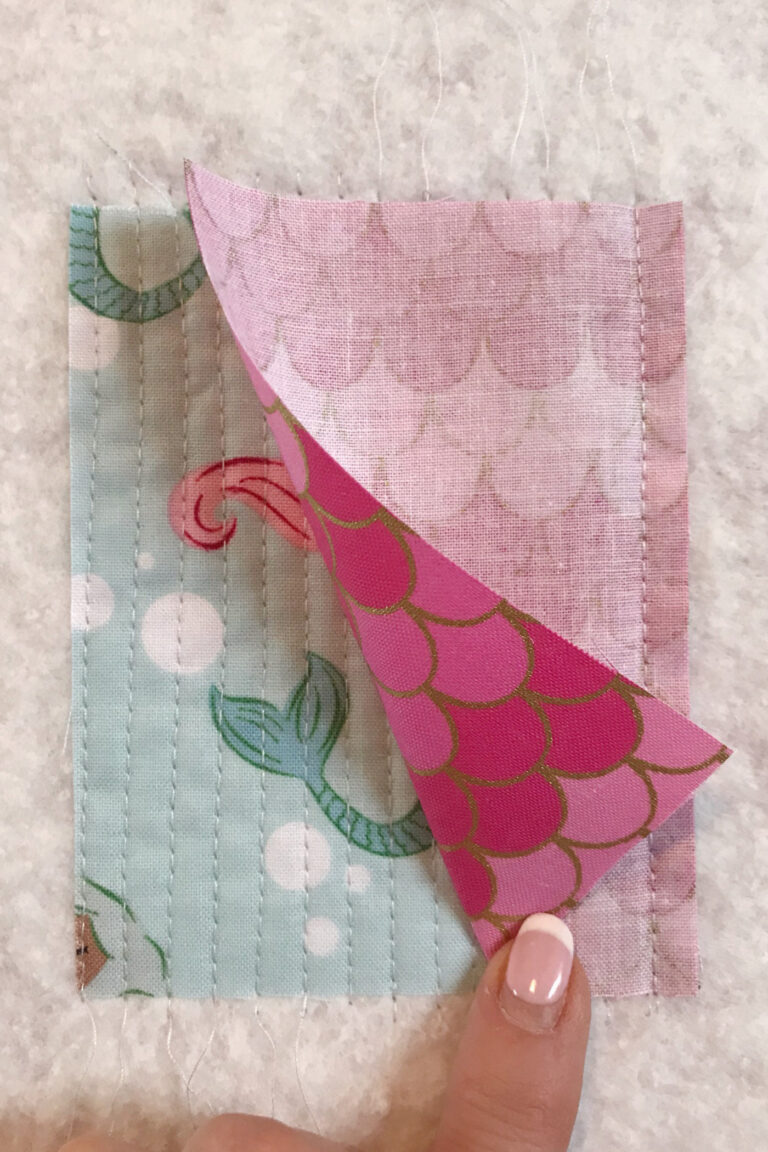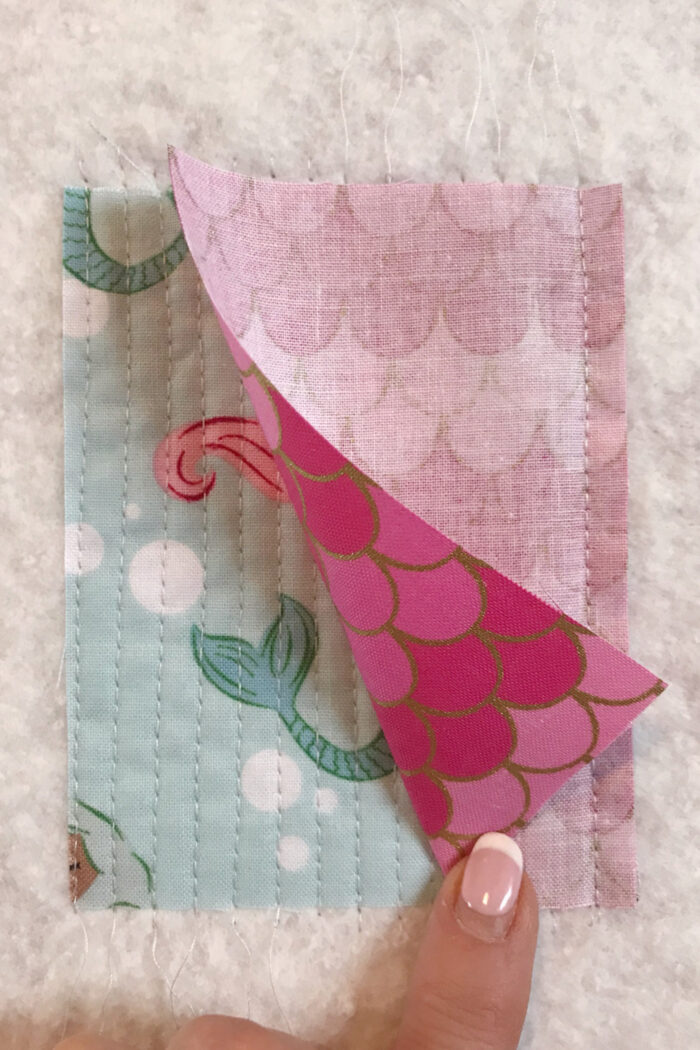 Open out and press, then quilt either horizontally or vertically according to your preference. Although bear in mind you might want to avoid having to pull seams to the back, which is why I've opted to quilt vertically again.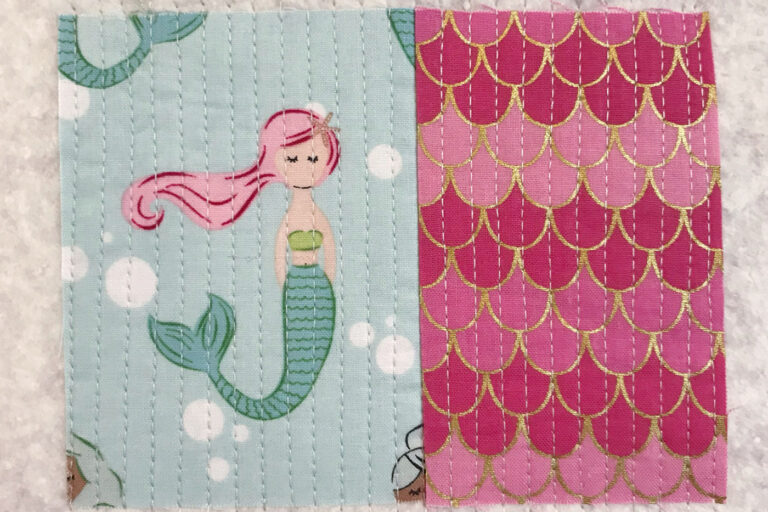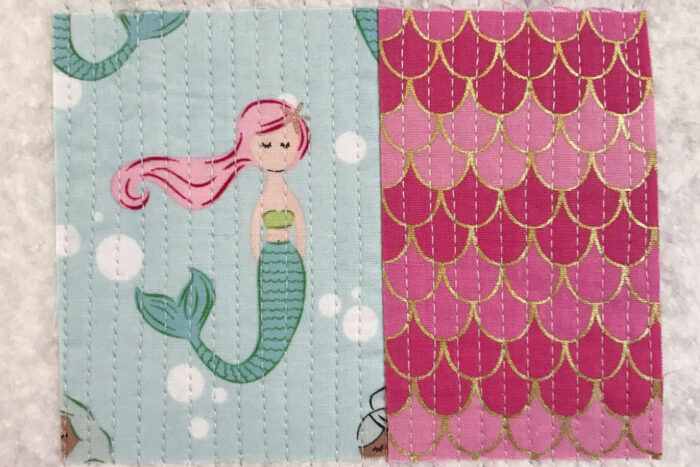 Adding Additional Pieces:
This time we're going to add a section to the left of the central motif.  But instead of using just one strip, I've taken two pieces and stitched them together.  As long as the length is 4 ½" inches in total, this strip can be made up of as many pieces as you like. Attach it with a quarter-inch seam and quilt in the same way.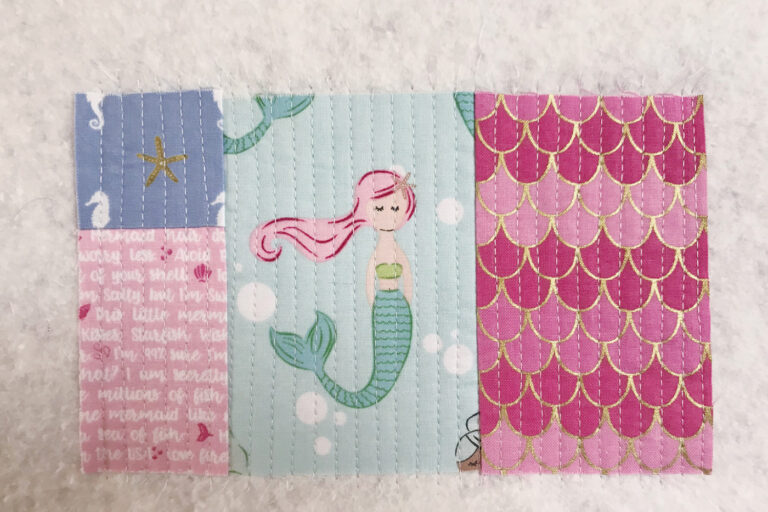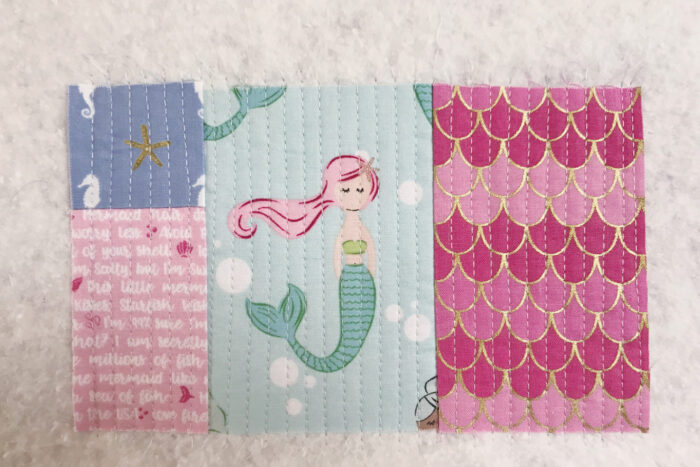 Now keep adding to the central section. I've added below by measuring the length of the central section and creating a strip made of two fabrics that is the same length as the central section. Add in the same way and quilt. This time I've changed the direction of my stitching and quilted horizontally.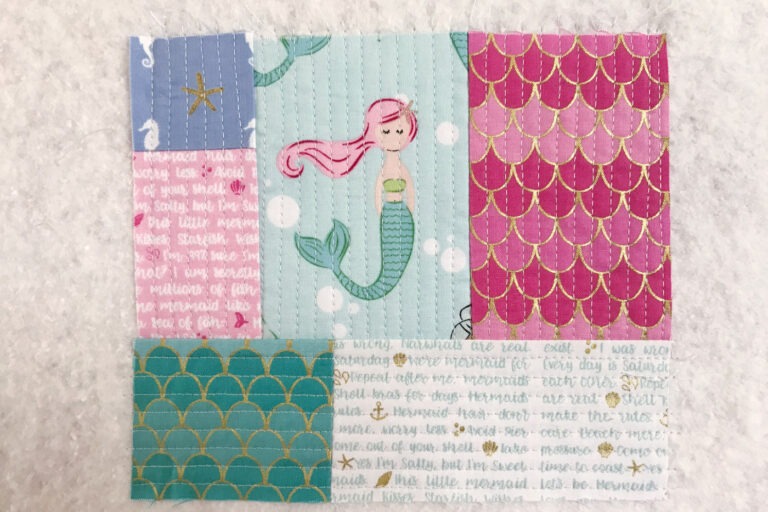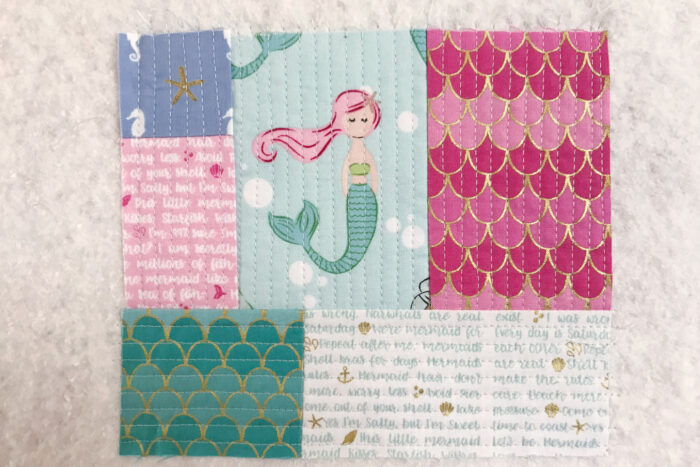 Keep adding to the patchwork in the same way until you have more than covered all the batting. Don't try to plan too far in advance, just try to work organically, step by step. I've also tried to offset my seams. I purposely don't want things lining up for this project.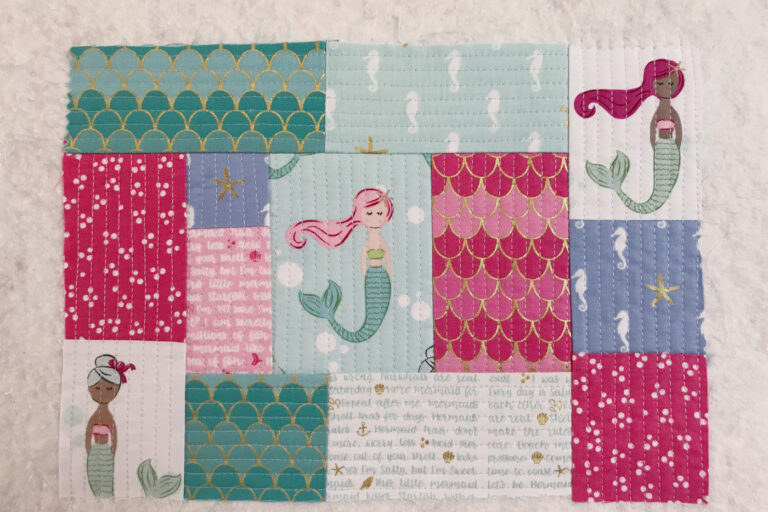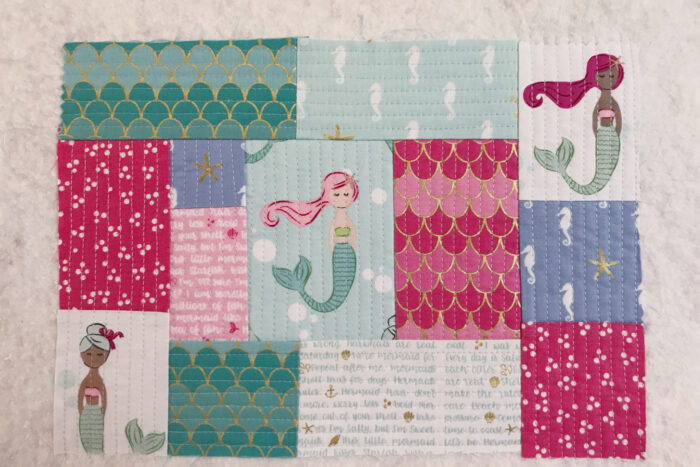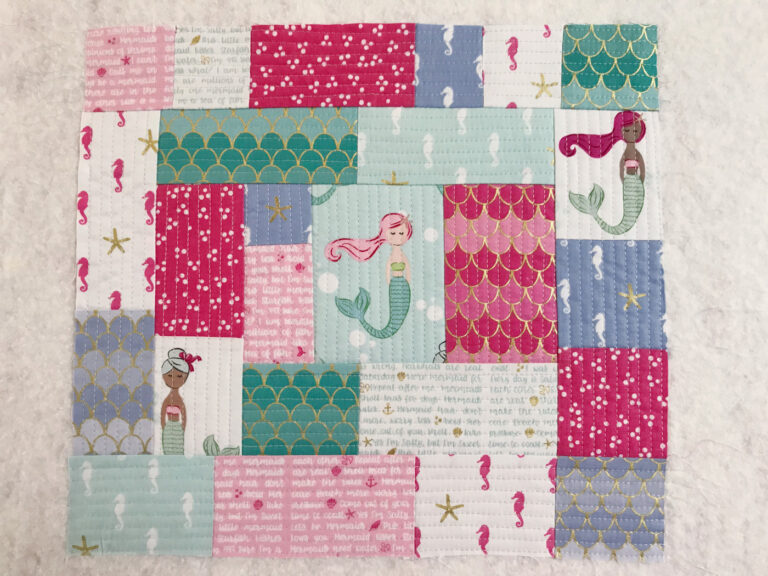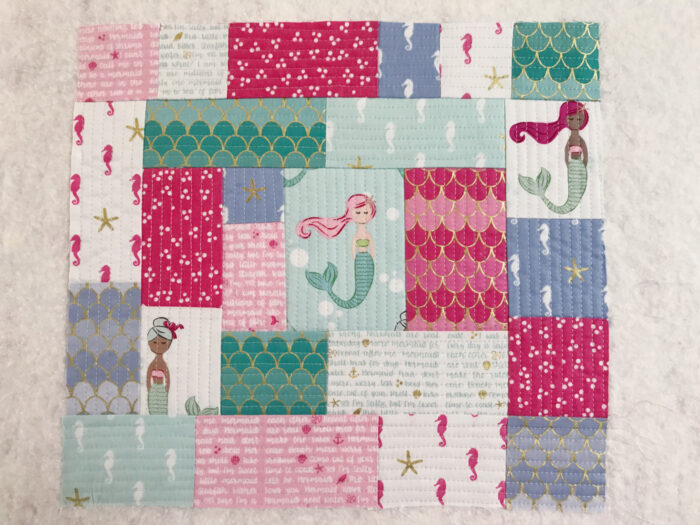 Finishing
Once you've covered all the batting with patchwork and quilting, you need to trim to 16" square. Find the center of the cushion (this will be the middle of your fussy cut center) and measure 8" from the center to each edge. Mark the edges and trim with a rotary cutter and ruler.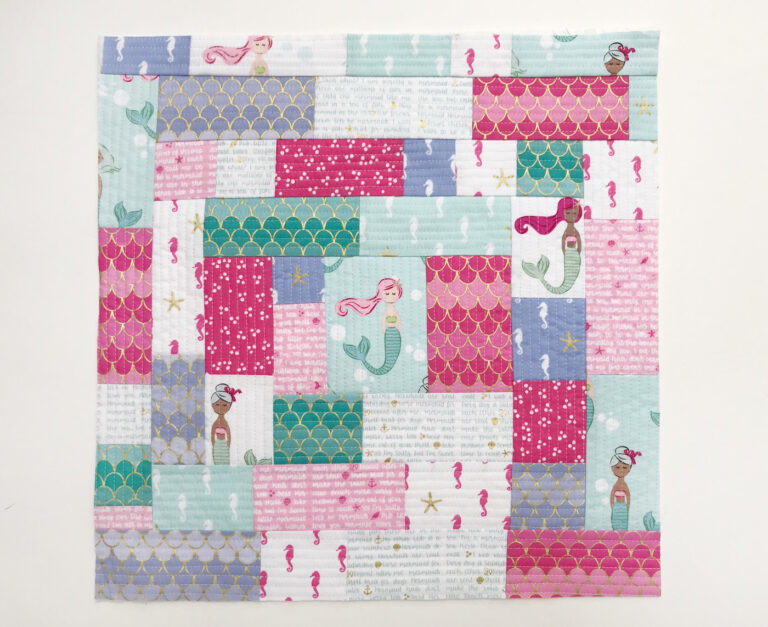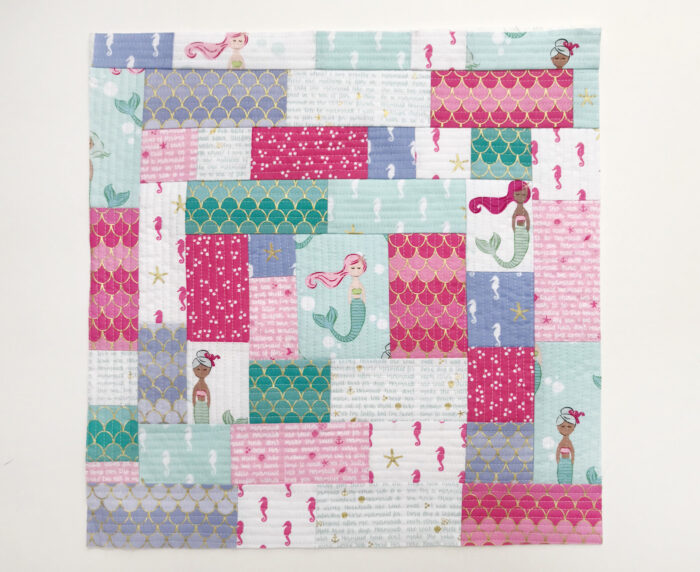 How to Make an Envelope Back for the Pillow:
Now to make the envelope back. If you're using directional fabric you need to ensure that you cut it 16" wide across, so that your motifs are upright. This is the case for me, as I'm using the beautiful mermaid fabric for the top piece, and a text print fabric for the bottom piece.
Hem the bottom of the top section and the top of the bottom section by turning once then once again. Pin in place to secure then stitch close to the fold. Press for a flat finish.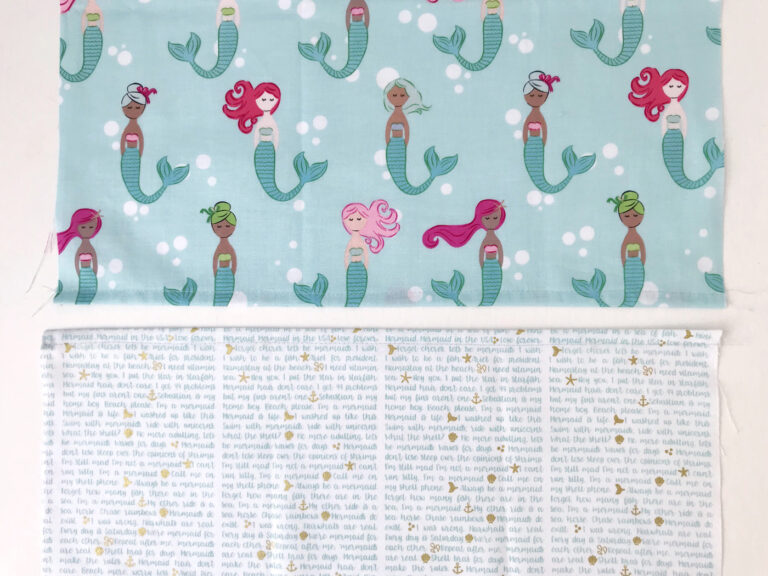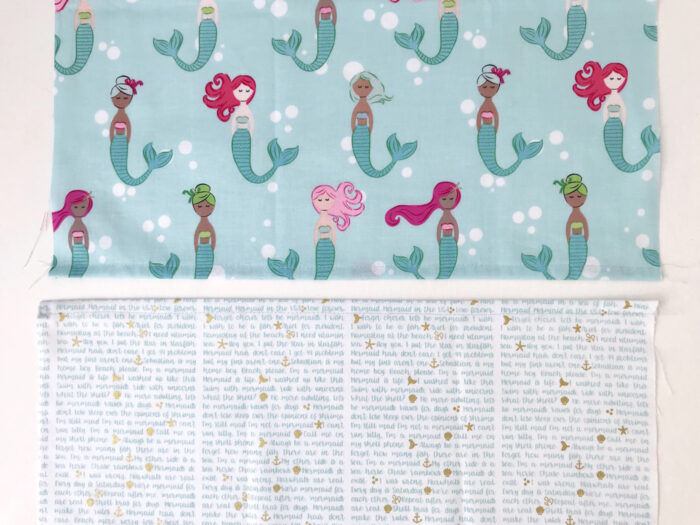 Take your cushion front and place right side down. Lay the raw edge of the bottom panel right side up along the raw edge of the bottom of the cushion front. The hem will be in the middle.
Take the large top panel and place on the top right sides up, aligning the top raw edge with the top of the cushion front.  Again, the hem will be in the middle.  Use binding clips to clip in place.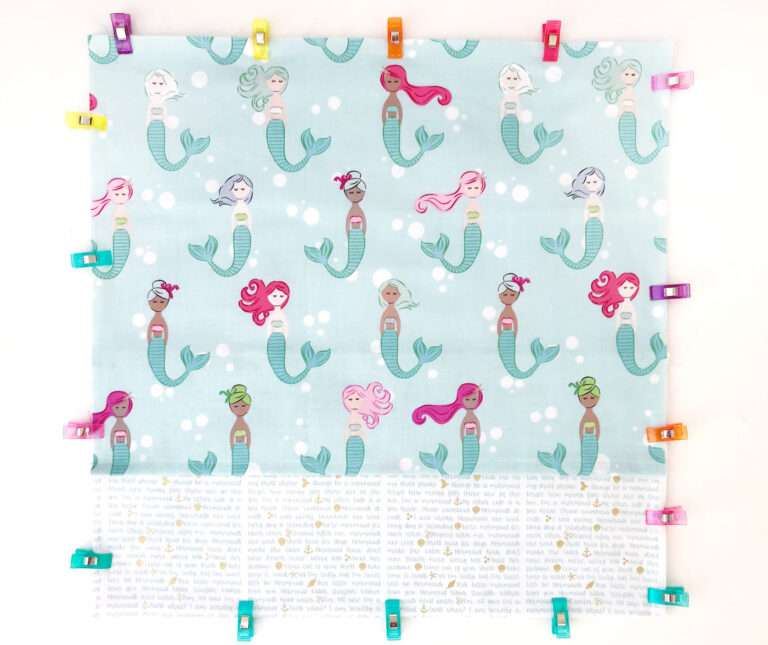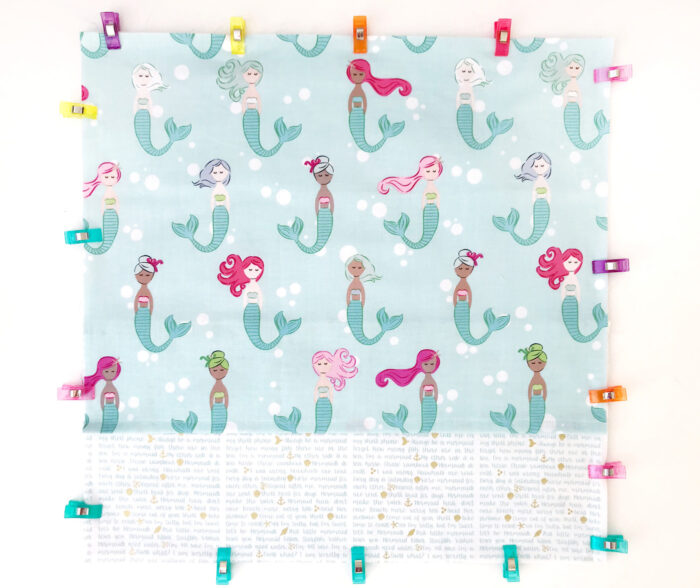 Stitch all the way around the edge using a quarter-inch seam.  Reinforce where the top and bottom panels overlap, as this is where there will be an extra strain as the cushion pad is inserted.
Top Tip:
I always like to put my cushion pad in the cushion at this point to check that the cushion is the right size. You can always make the cushion cover smaller by stitching a little further from the edge. Personally, I don't like baggy cushions! I'm pleased to say my cushion fits perfectly 🙂
For cushions, I like to use single-fold binding, as it's less bulky and uses less fabric.  Stitch the binding strips together and then machine stitch to the front of your cushion, mitering the corners. Hand stitch to the back of the cushion for a neat finish.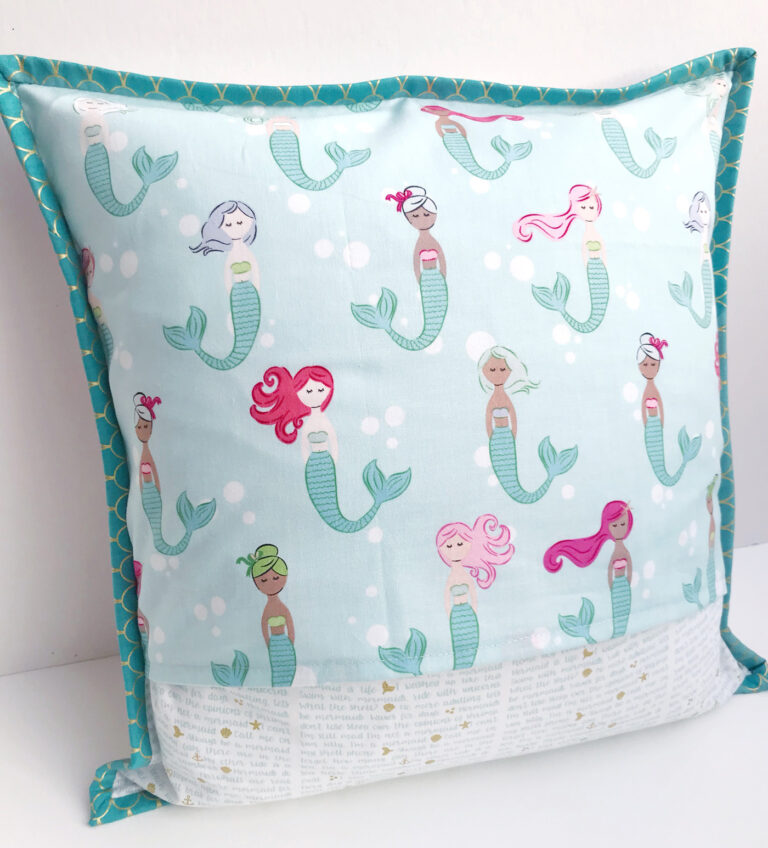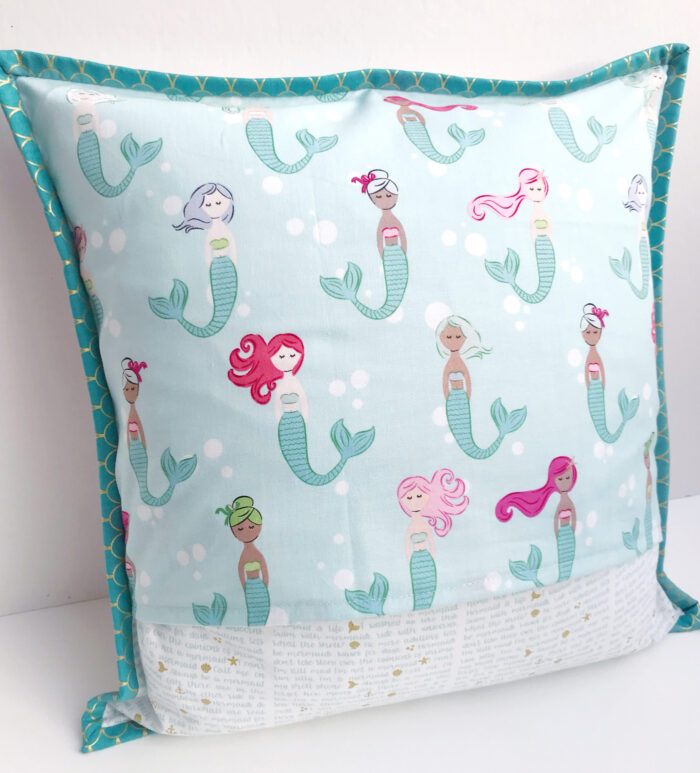 Oh my goodness, I'm so in love with this fabric! And I've so enjoyed this quilt as you go technique too. I hope you give it a try, it's a lot of fun!
Sarah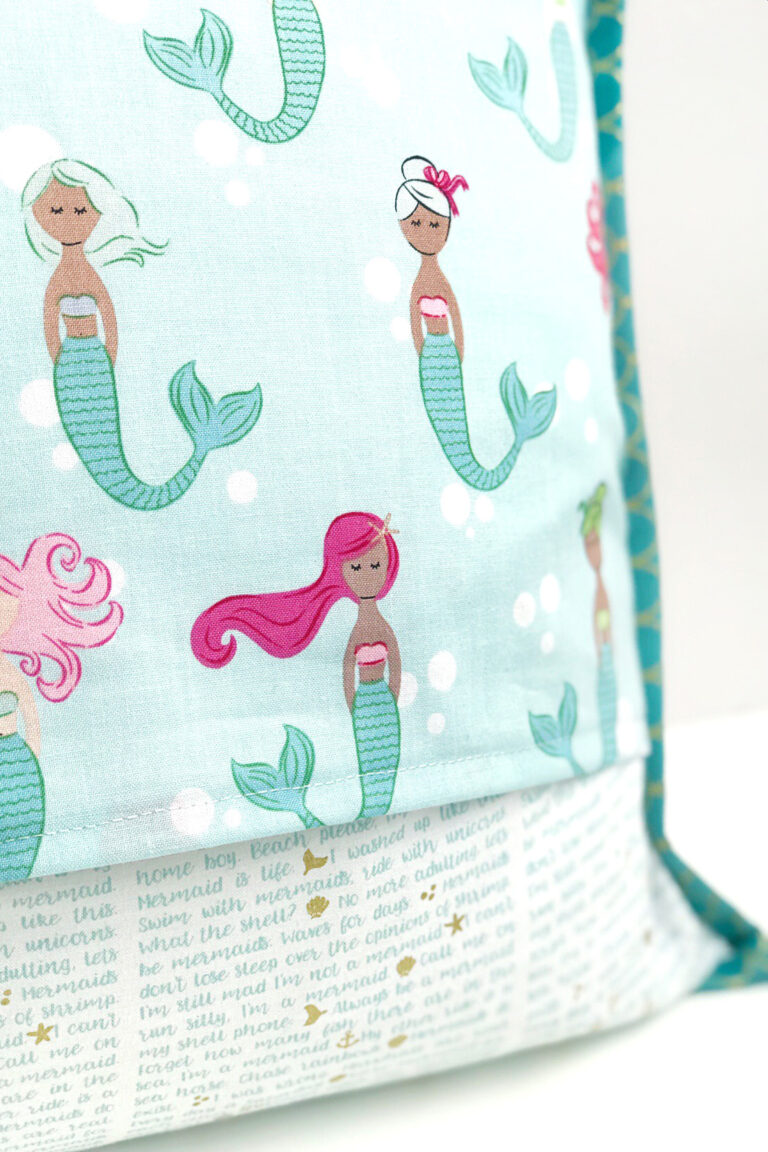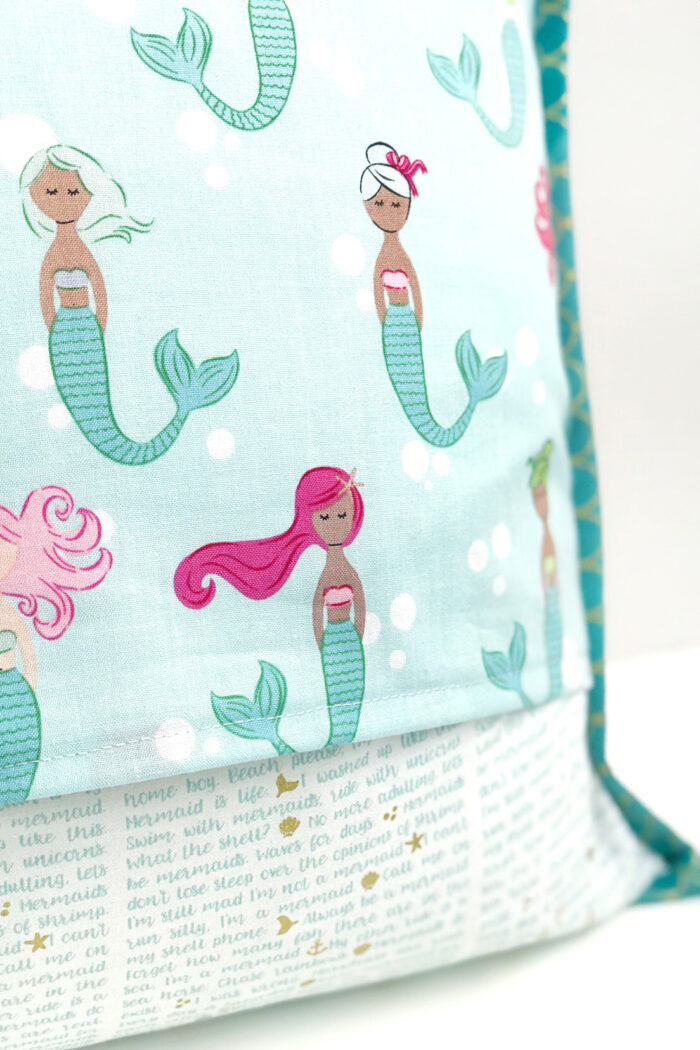 About the Maker: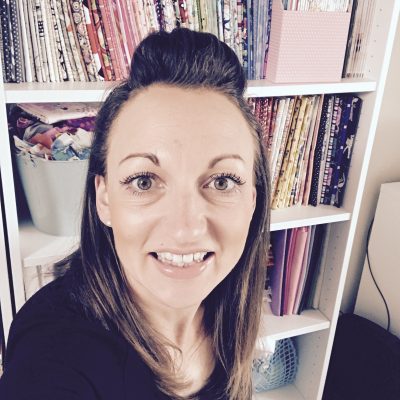 Sarah Ashford is a British Quilter and embroiderer and founder of the GreatBritishQuilter challenge on Instagram. Sarah regularly contributes projects to magazines and loves to spread the joy of quilting everywhere she goes. Follow her on Instagram at @sarahashfordstudio and be sure to check out her beautiful sewing room decals in her Etsy shop www.etsy.com/shop/sarahashfordstudio
More Simple Patchwork Projects You May Like:
How to Make Quilted Potholders
Scrappy Strips Baby Quilt Tutorial