Today I have a fun softie sewing pattern for you, "Sleepy Raindrops". These sweet little softie toys would make adorable gifts for a little one in your life. Keep reading to find out how to make them!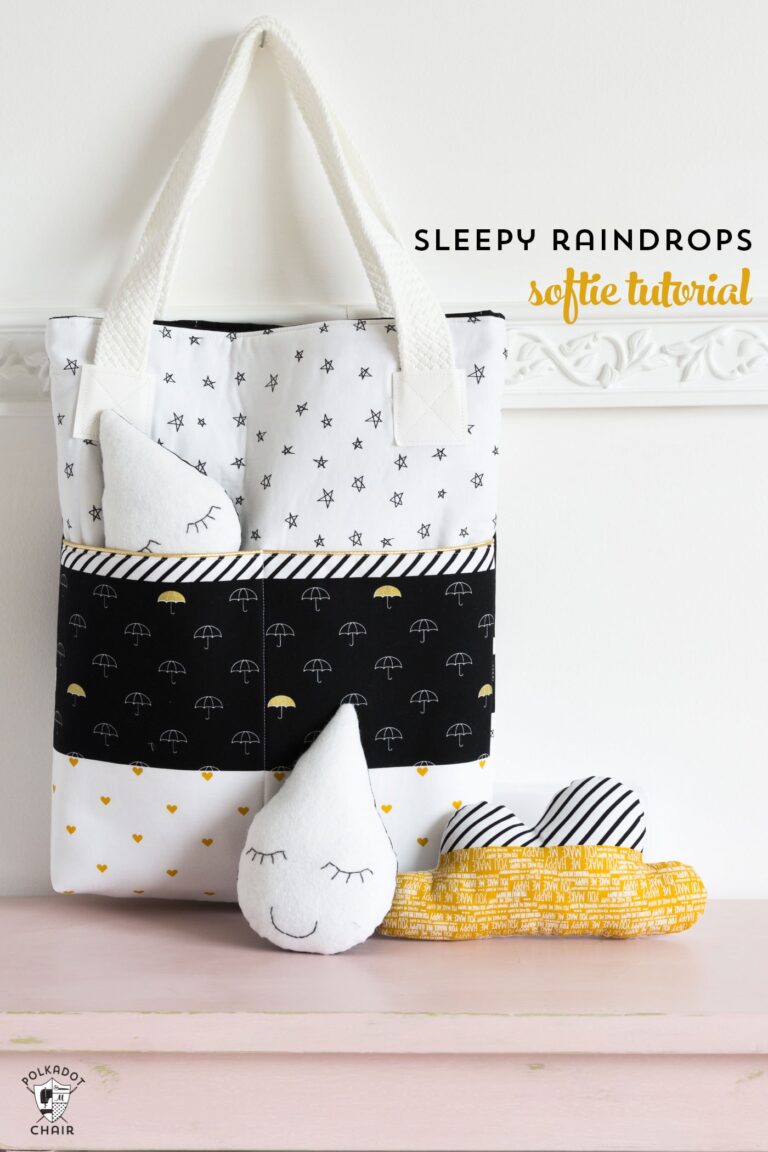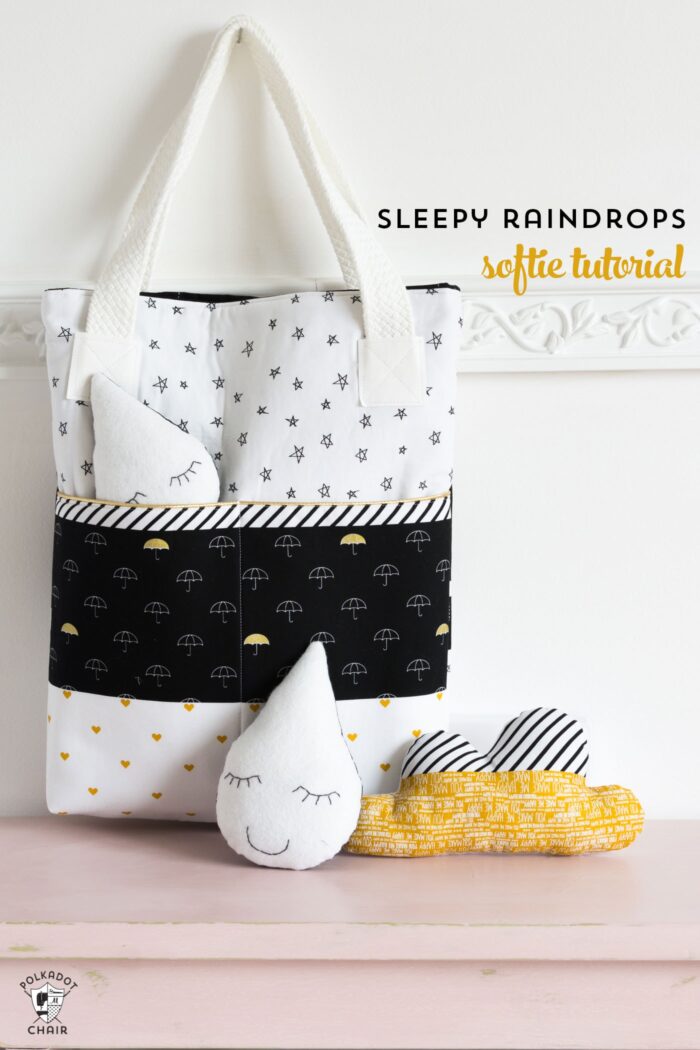 I have these two cute friends that I met over 5 years ago. They are sisters in law, who have the same name. How did that happen you ask? They are both named Elizabeth and they married brothers.
These two creative friends live halfway across the country, so I don't get to see them very often. They also happen to be very talented bloggers and fabric designers. (Hint: they are the Simple Simon & Co girls, if you haven't guessed that already).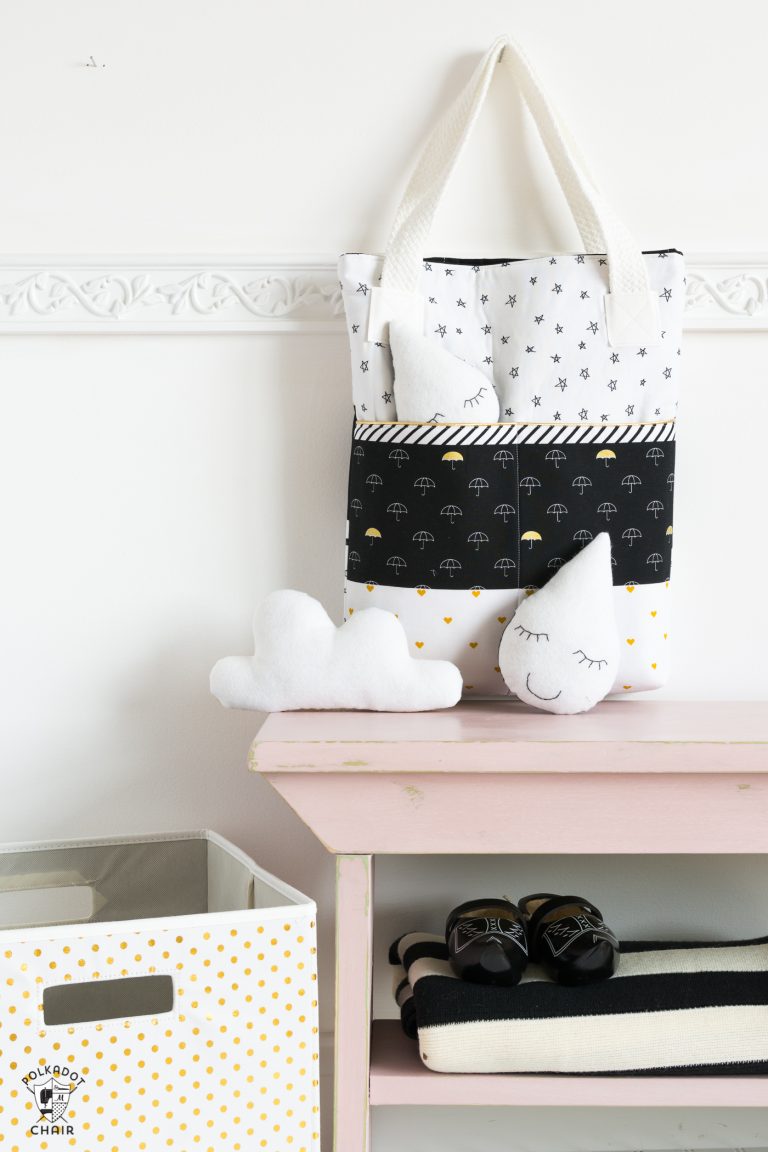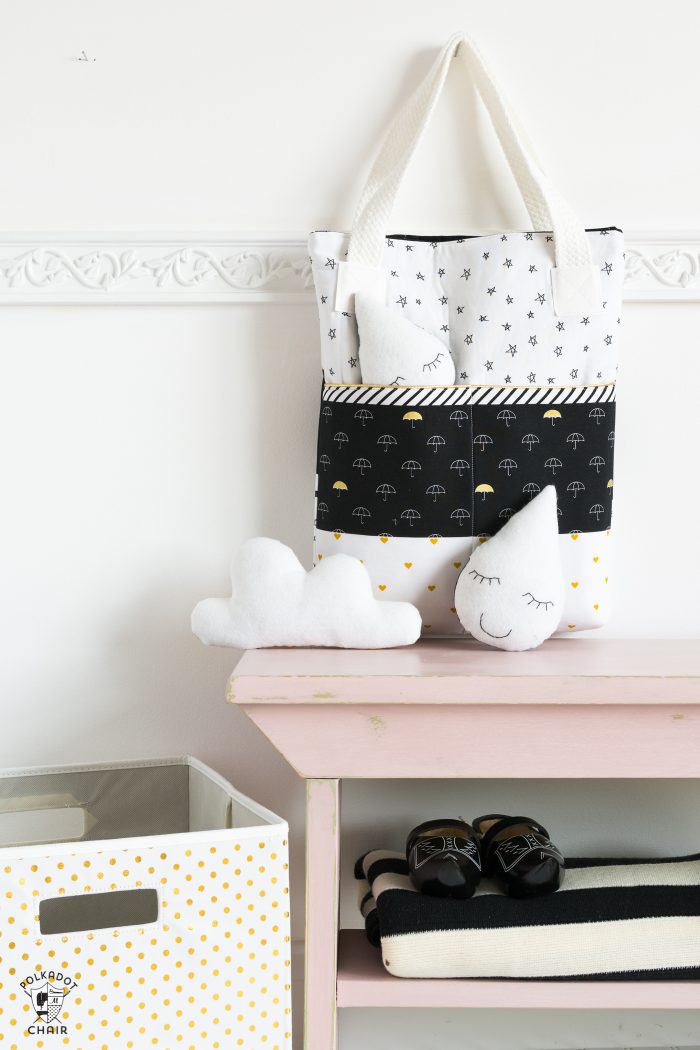 Things have changed so much since my kids were babies, there are so many other options for "kids stuff" than there were back then. I adore the modern vibe and variety of designs that you can now find in stores.
I was lucky enough to get my hands on some of the fabric this month and sat down and stitched up a tote bag with matching softies to fit in the pockets.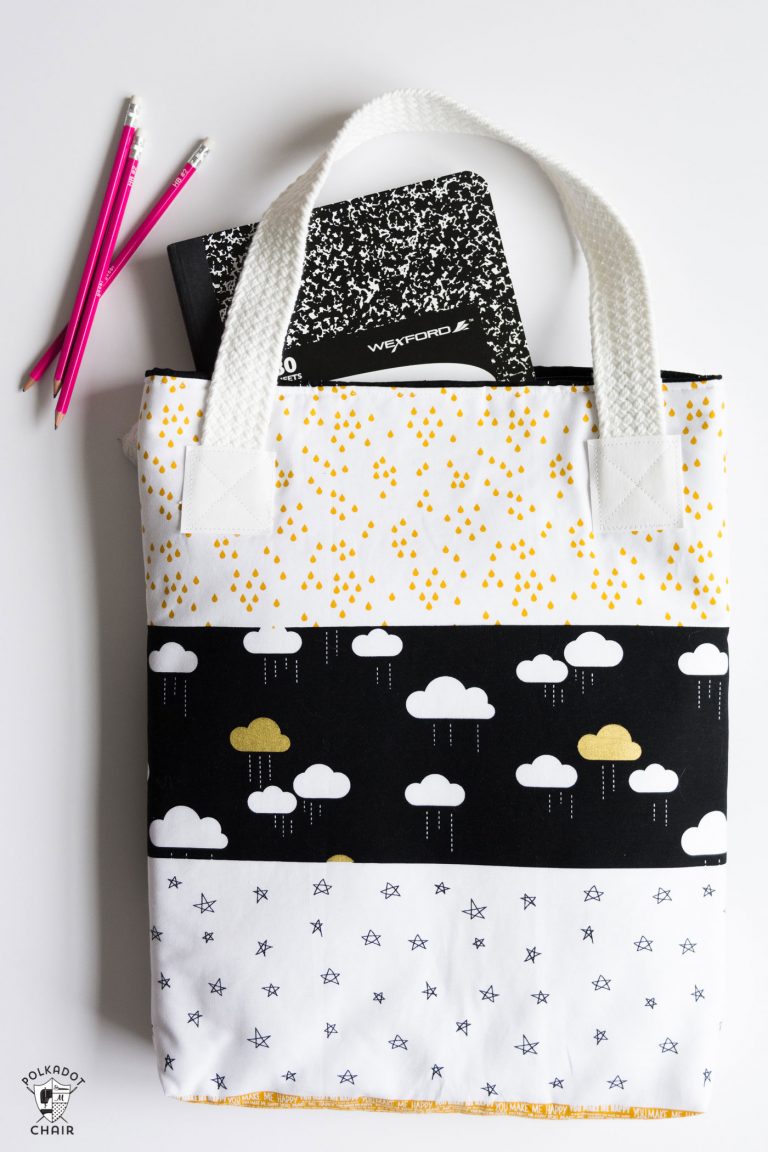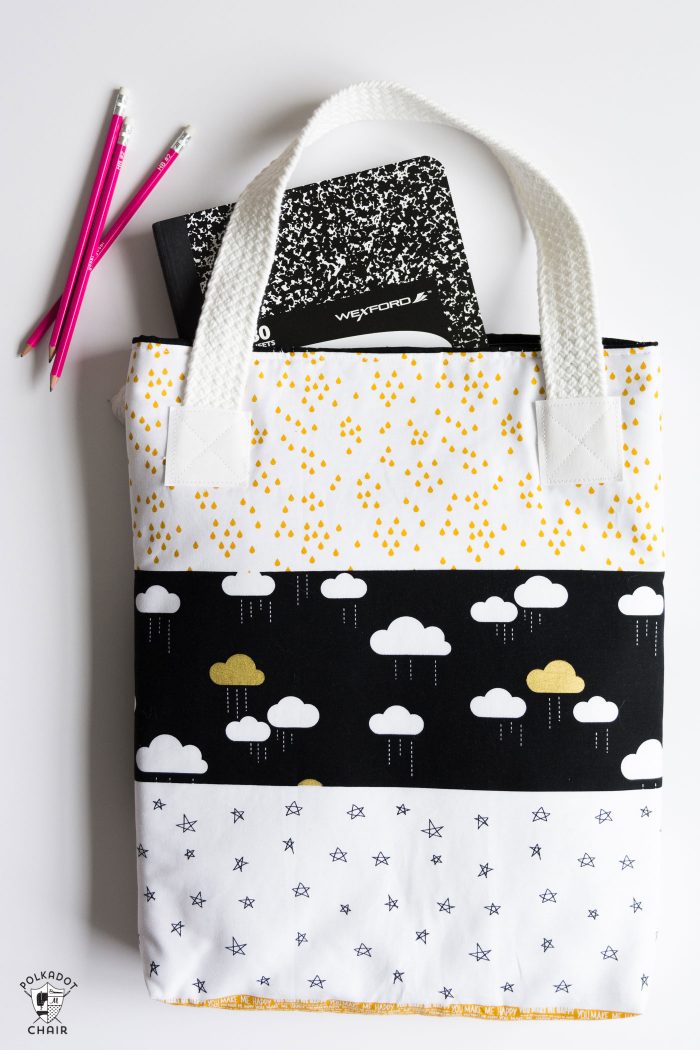 The bag in the photos is my Derby Tote bag pattern. When I designed the bag I always pictured little toys or dolls poking out of the pockets. To me, it seemed like such a good bag for kids to tote with them to church or school. I imagined it filled up with coloring books and crayons and a floppy teddy bear poking out of the top.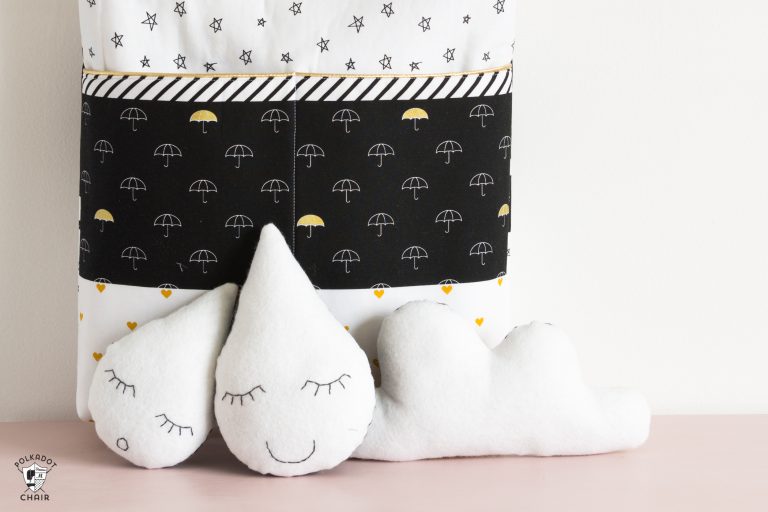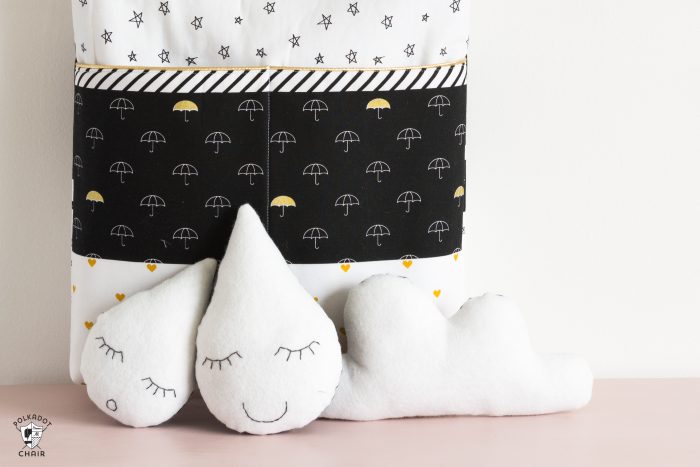 Raindrop & Cloud Free Softie Sewing Pattern
The girls at Simple Simon & Company asked me to be a part of the blog tour for their new "When Skies are Gray" fabric line. Like I mentioned before, it was designed as a "modern nursery" line. I think that it could be used for so many other things besides just nursery, but I thought it would be a fun challenge to make something fit for a modern nursery.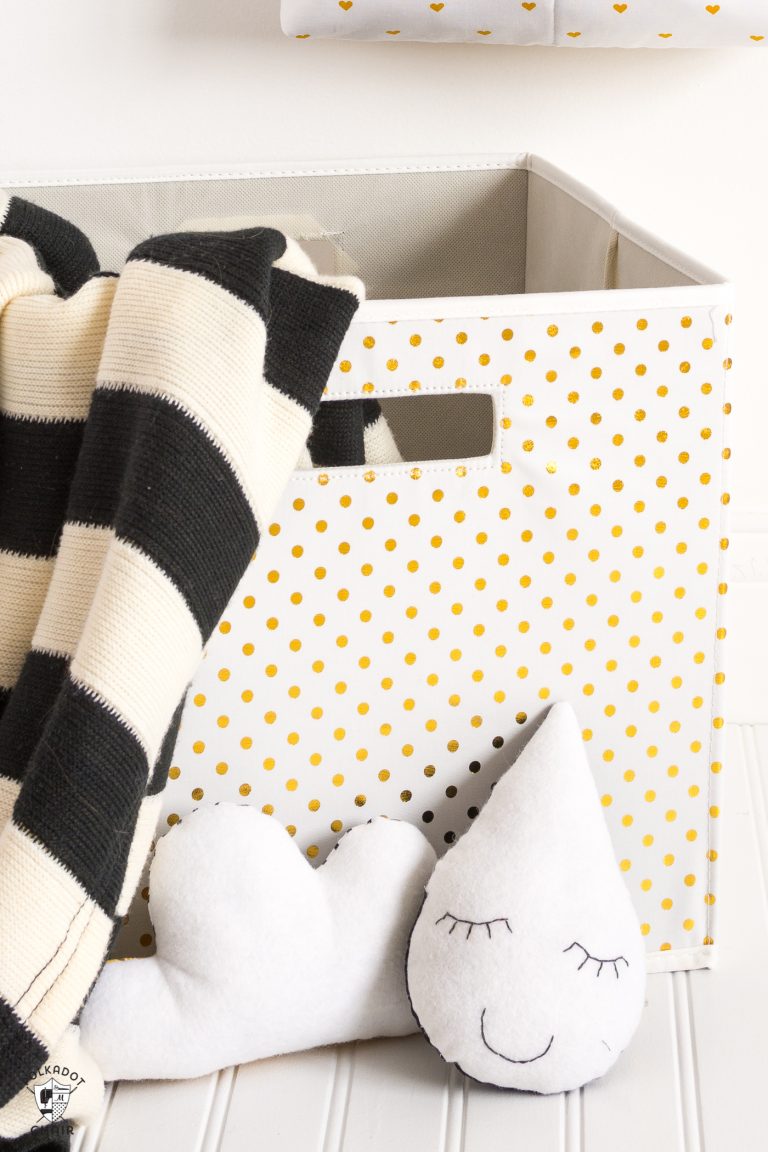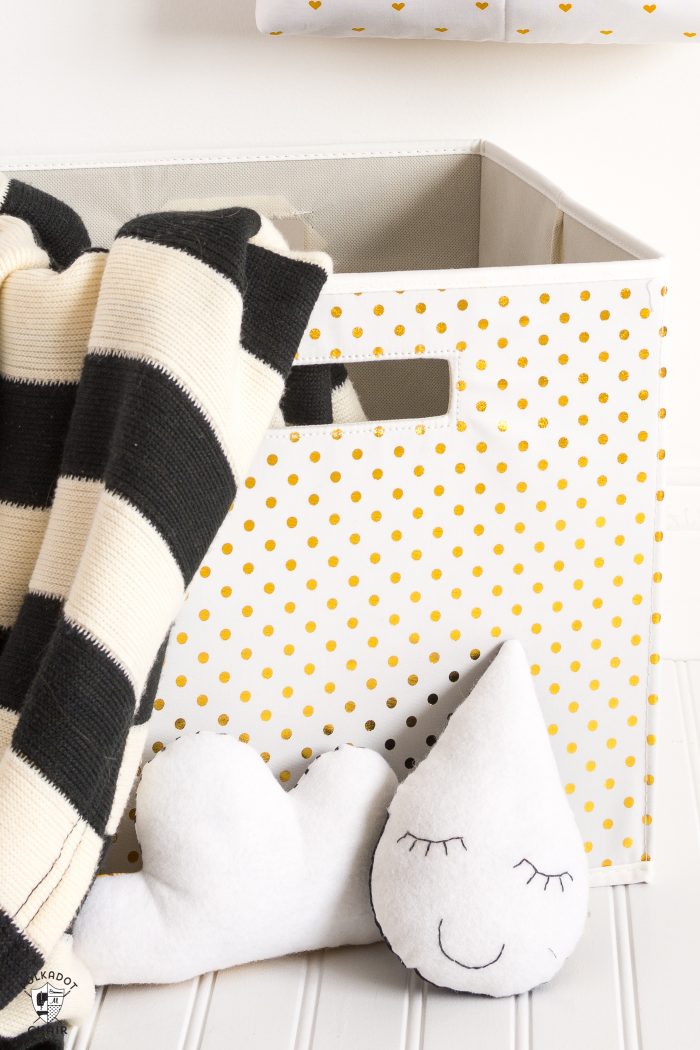 Inspired by the designs in the fabric, I decided to make a few softies to coordinate with my tote bag. I've included a free printable pattern for the raindrop and cloud softies in this post. The tote bag can be found in my shop.
These softies are just the right size to stuff into a tote bag and feature embroidered faces.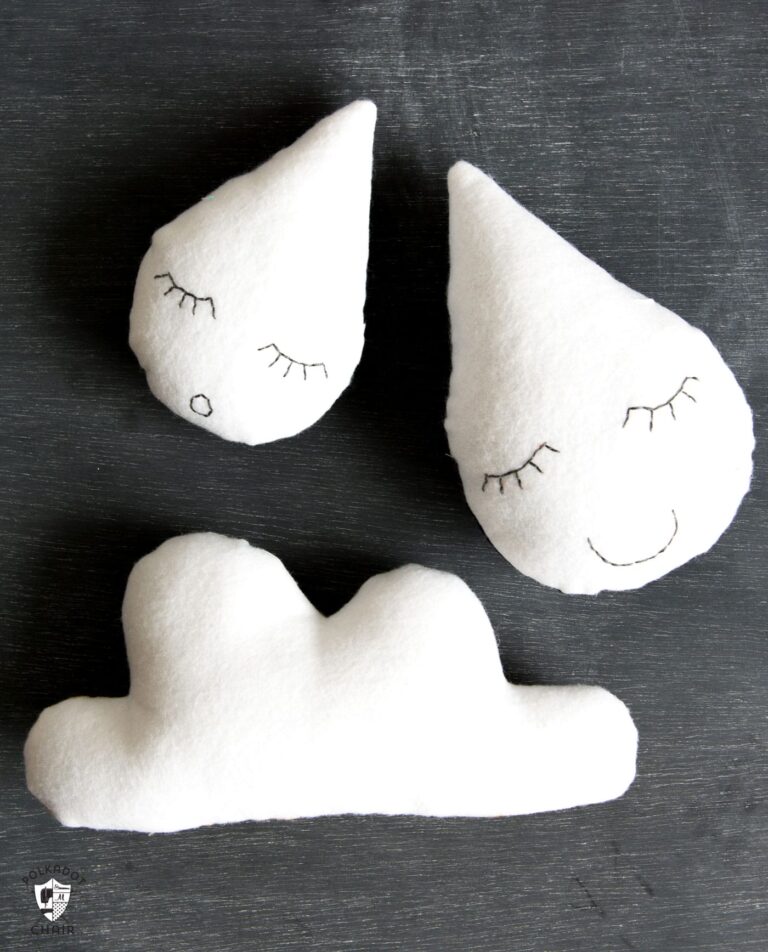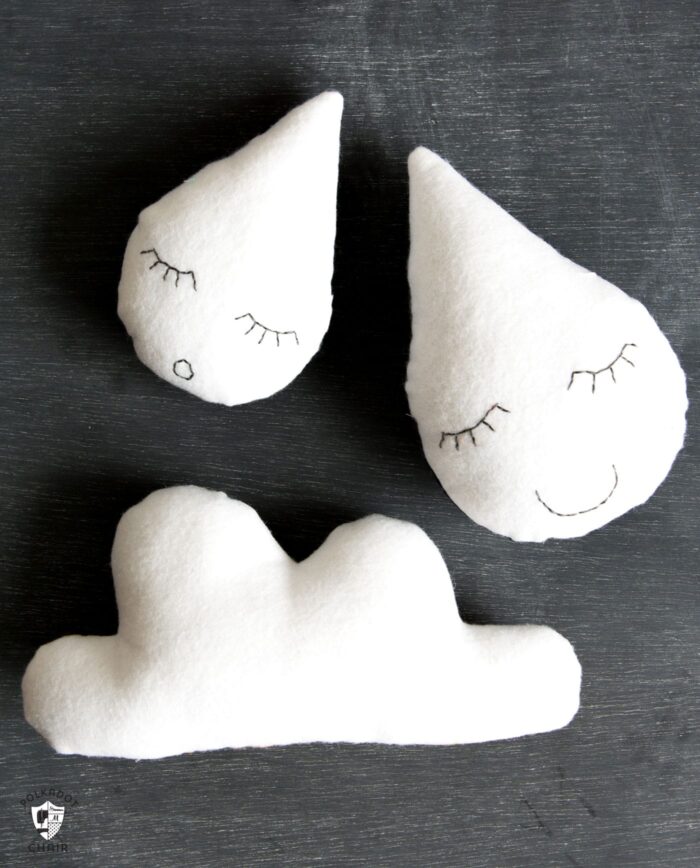 Do you want to make some?
Raindrop & Cloud Softie Supply List:
½ yard of felt – I prefer to use wool or bamboo felt
A few fat quarters of When Skies are Gray fabric for back of the softies
Sleepy Raindrop & Cloud Softie Pattern – download it on the TEMPLATES page CLICK HERE
Stuffing
Needle & thread
Embroidery Thread
Marking Pen – I use Frixion Pens
Instructions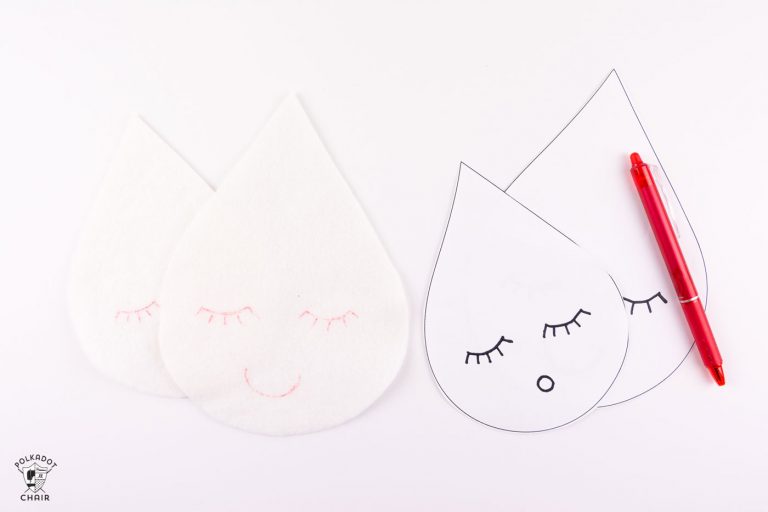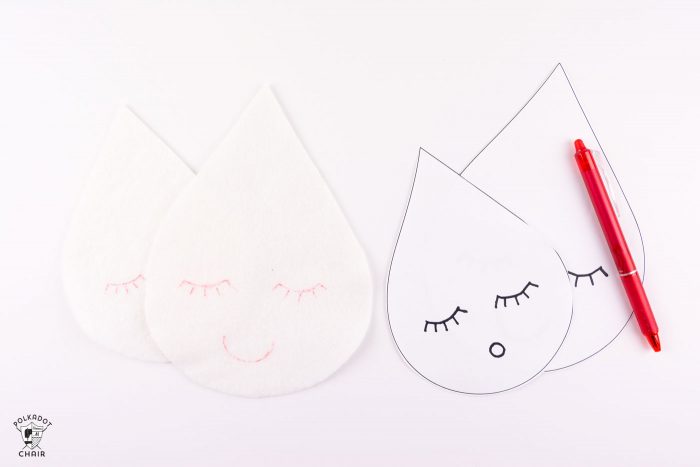 Begin by cutting out from the pattern pieces 1 piece of felt for the front and one piece of fabric for the back.
On the felt piece, trace (use a lightbox) the face on to the front of the fabric using a fabric-safe marking pen.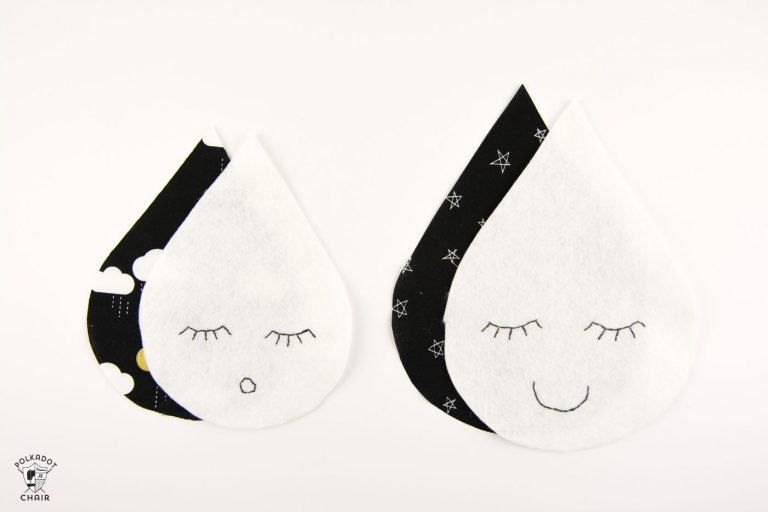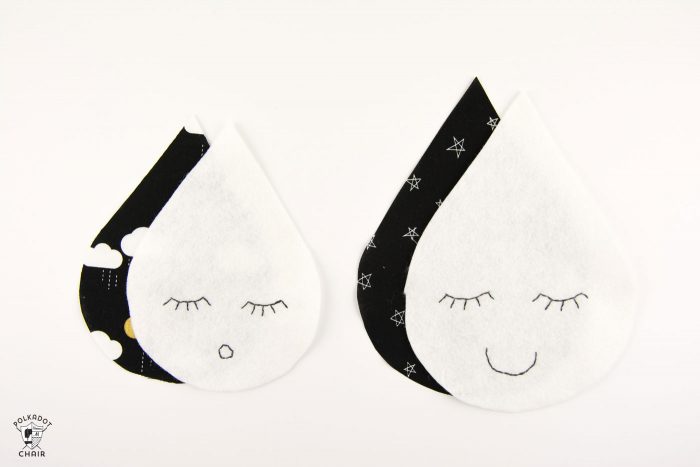 Using a simple backstitch and 3 strands of embroidery thread, stitch the face onto the raindrop pieces.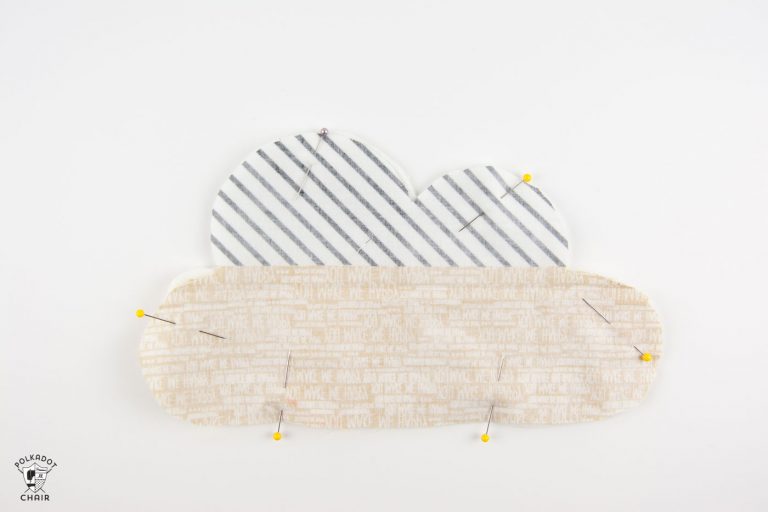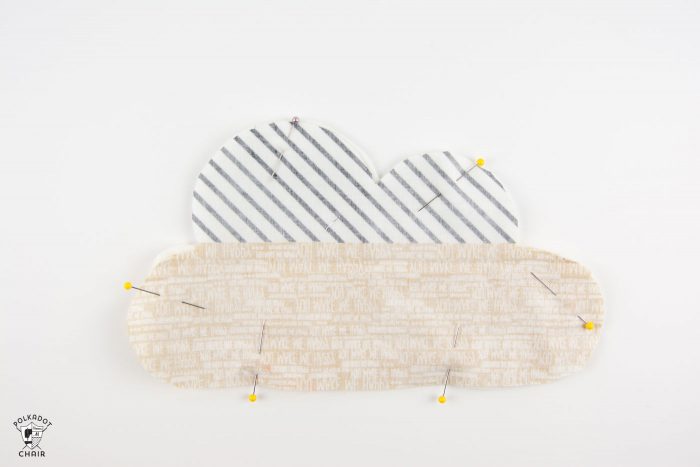 After you've finished the embroidery, stitch the felt piece to the fabric piece, right sides facing. Stitch around the perimeter with a ¼″ seam allowance leaving a 3″ opening.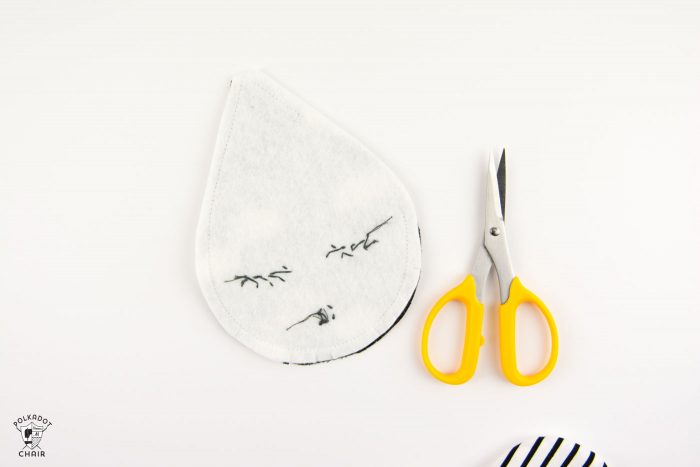 Clip the curves and turn the piece right side out.
For this step I find it helpful to use this Clover Hera Tool (you can pick it up on Amazon), it helps me to get all of my curves smooth.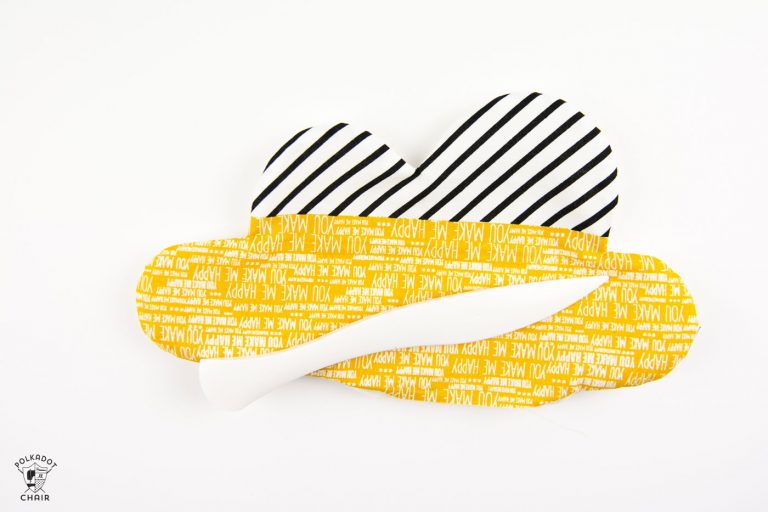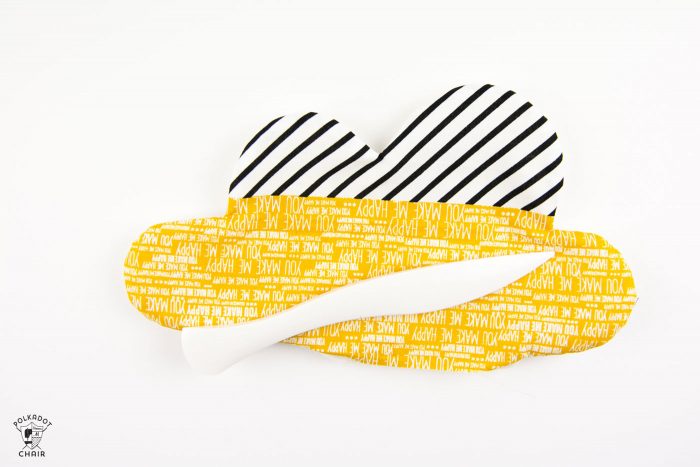 After you've smoothed out your curves, begin stuffing the pieces.
Melly (who is a softie making expert) taught me this trick when I saw her last May. Use a paint brush with the bristles trimmed down to get the stuffing into all of the little corners.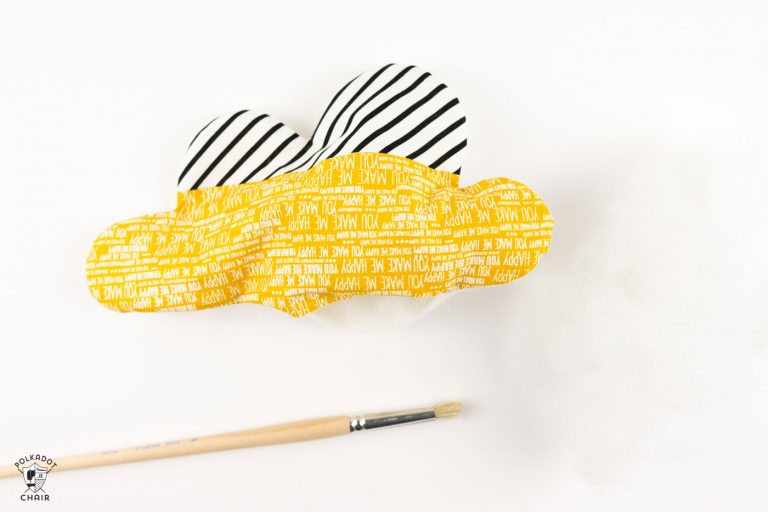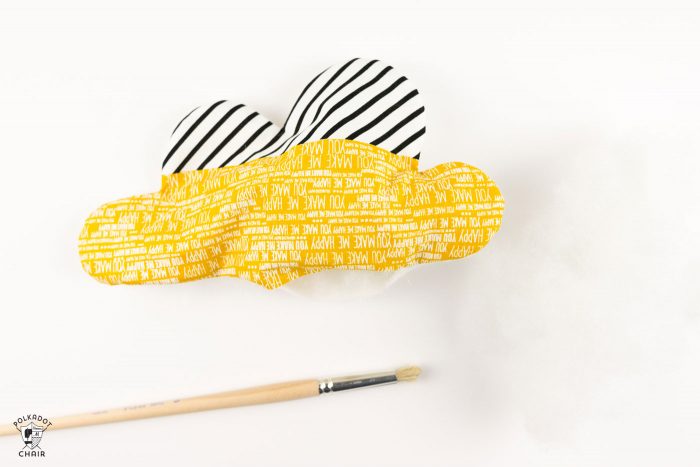 After you've stuffed the pieces, close the opening using a simple ladder stitch.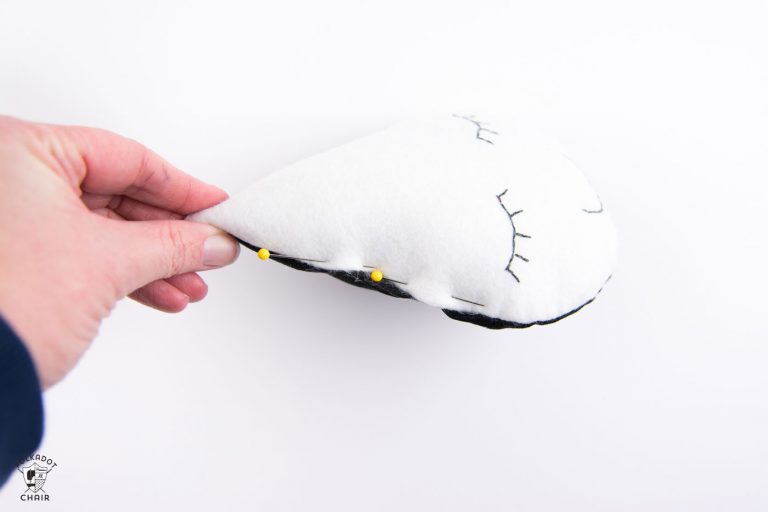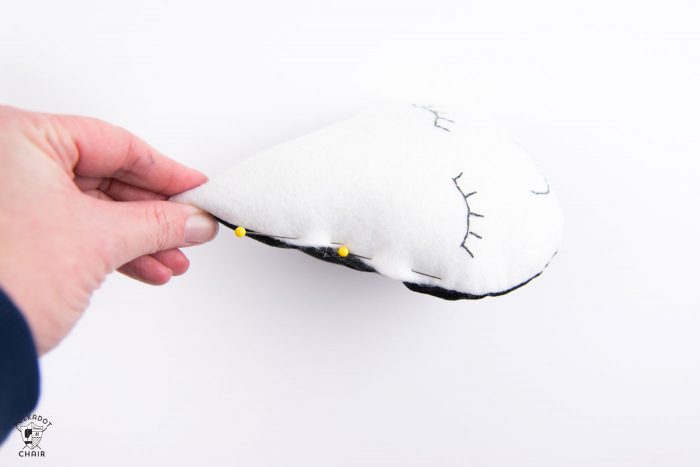 Clip your strings, remove your markings and that is it!
To see more projects created with When Skies are Gray fabric, hop on over to the Simple Simon & Co blog.