I just returned from exhibiting at the Spring Quilt Market. It was my first time to attend as an official exhibitor and I have to admit that it was A LOT of work and last two months feel like an absolute blur at this point. I thought I'd share with you a brief recap of the Market. I've broken it down into two parts. Today I'll share with you some of the projects that I made for my Wonderland Fabric booth at market and in the next post I'll share with you some of the other fabric lines and projects that caught my eye.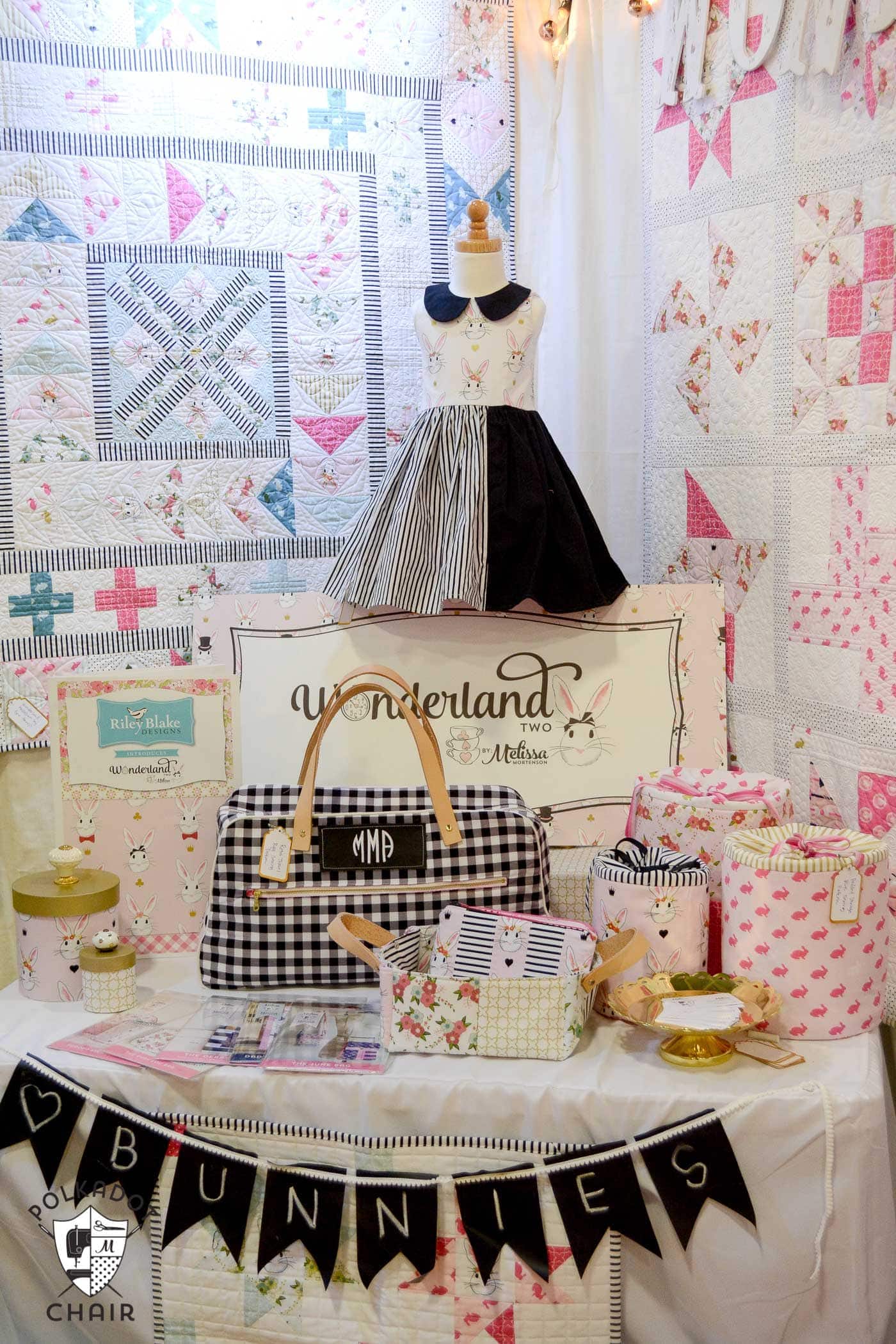 International Quilt Market is held twice a year. Always in Houston in the Fall then rotating locations for Spring Market. This year the market was in Salt Lake City, which turned out to be perfect for me, as my family lives there and it's the headquarters of Riley Blake Designs.
While I have had a small display at Market before (for Derby Style) this was my first time to put together a booth space. I ended up sharing my booth with Shari of Doohikey Designs, which turned out to be really nice since I had someone to chat with for 3 days.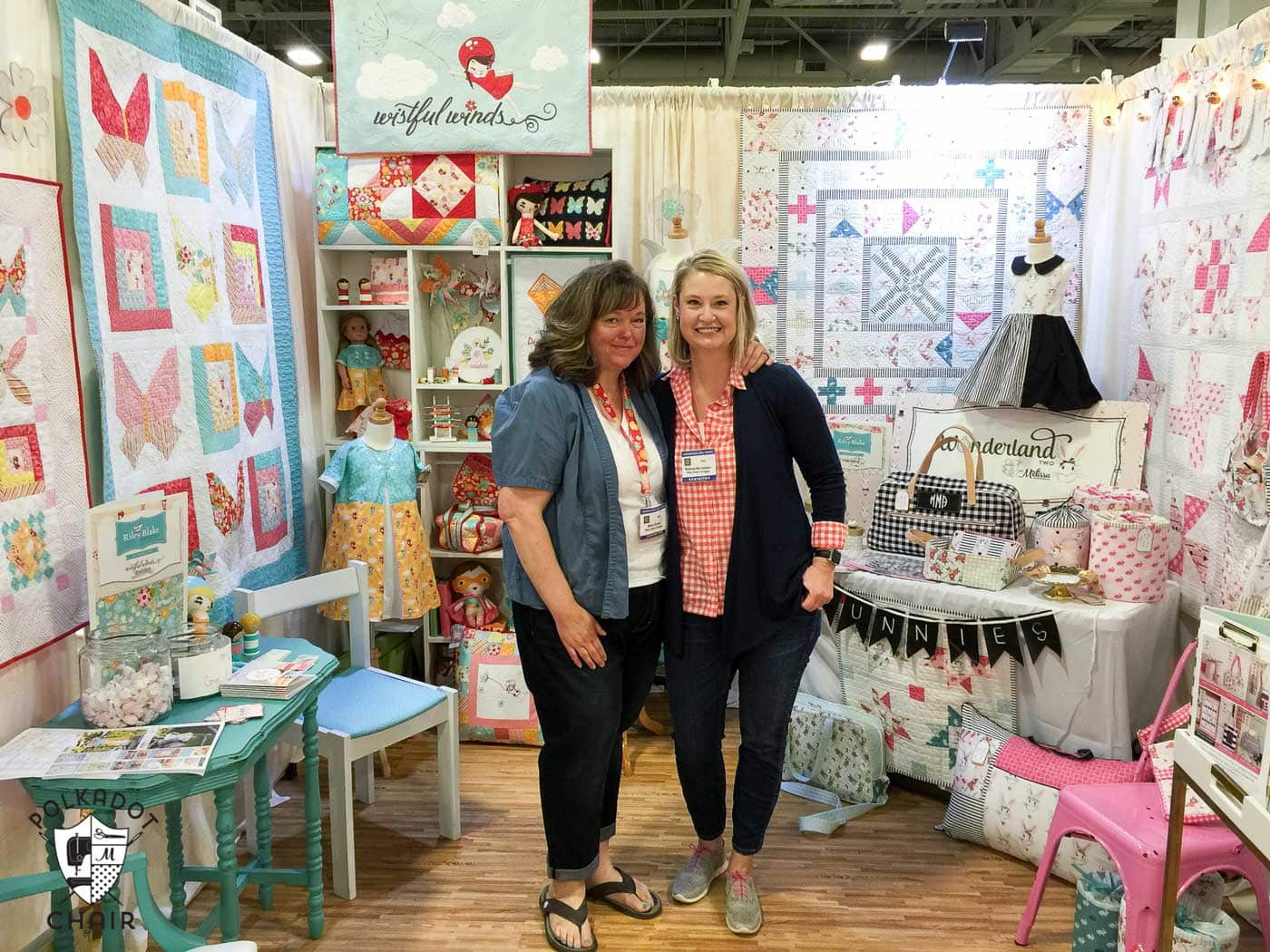 I've been busy sewing up samples using Wonderland for the booth for the last 3 months. Normally at quilt market, upcoming fabric lines are shown, and designers usually sew with advance or digitally print yardages.  I was lucky to be able to have actual yardage to sew my samples with since Wonderland came out in February of this year. Since a February fabric release comes right in between Spring and Fall markets, it's hard to gauge when to show it.   I decided to go ahead and show at Spring Market, since Wonderland Two is coming out in January (more on that later).
This is a view of my booth. I have to tell you the lighting on these photos is KILLING ME! I've retouched and edited them as much as I can, it was just bad lighting in there, I also realized afterwards that I should have turned off the spotlight above the booth. So just bear with me, we will be back to "pretty" photos with the next post!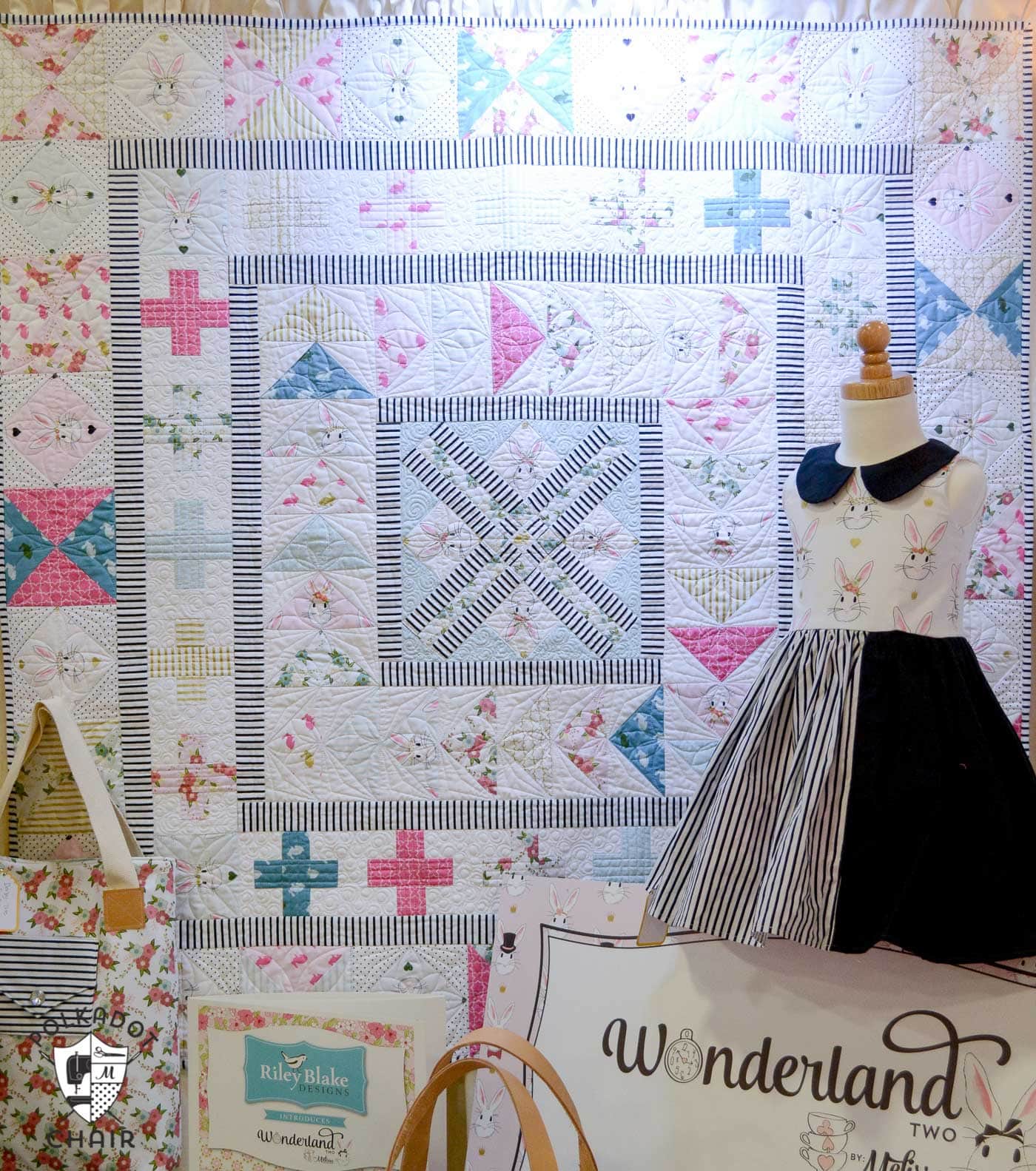 The main focus of the booth was this Wonderland Medallion Quilt made by Erin Harris of House on Hill Road. I am so grateful that she stitched up and designed such an amazing quilt for me.  She will share details about it on her blog later (YES, there is a pattern coming).  I'm also planning to take it out for a proper photo shoot this weekend, so I'll have better photos to share with everyone.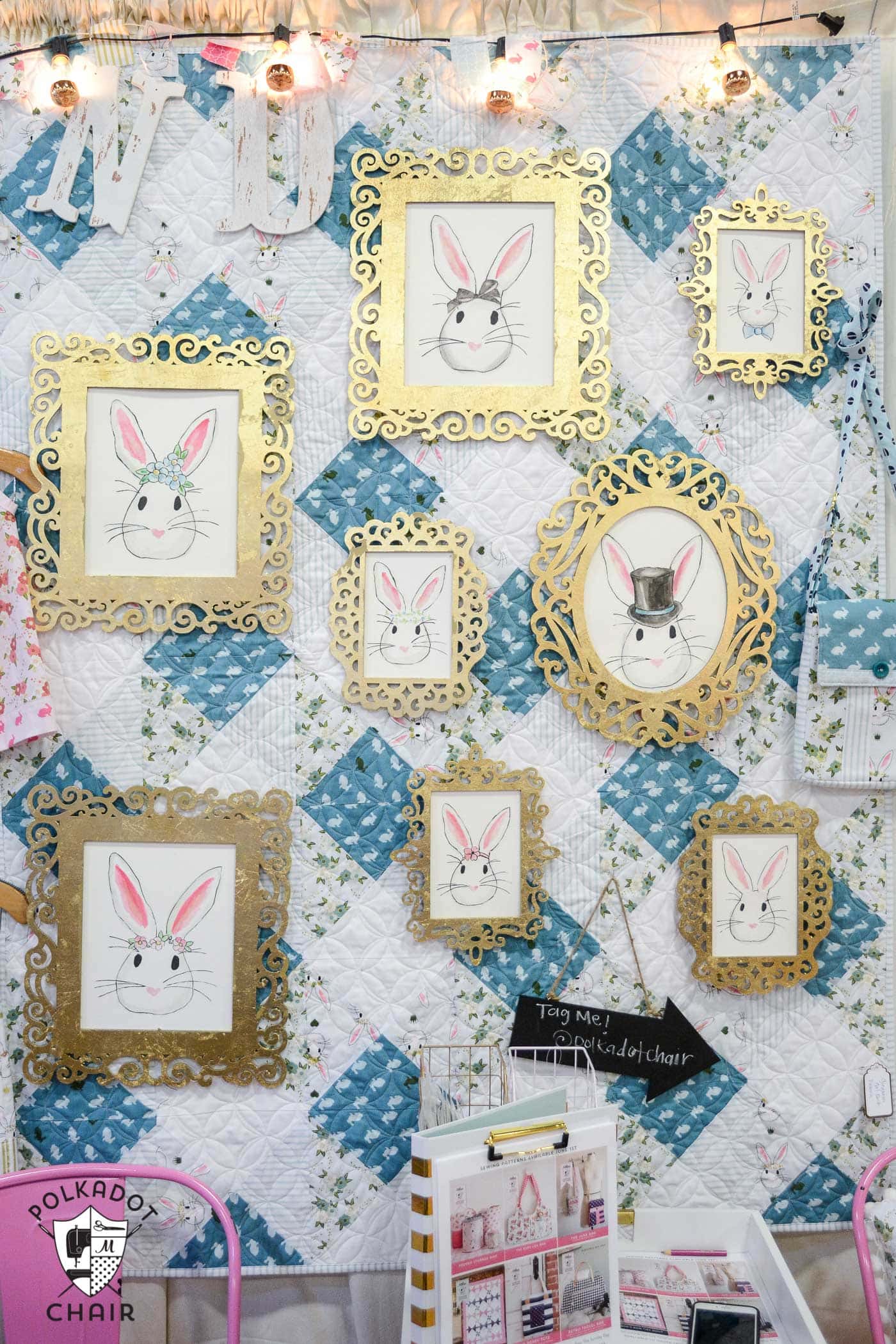 A few days before I left for market I got a crazy idea to paint a bunch of frames gold, then hand paint watercolor portraits of my bunnies.  One of these days I'll figure out why I can't come up with great ideas weeks BEFORE a deadline, but for now I'm just going to have to embrace the crazy, last minute hair brained idea approach.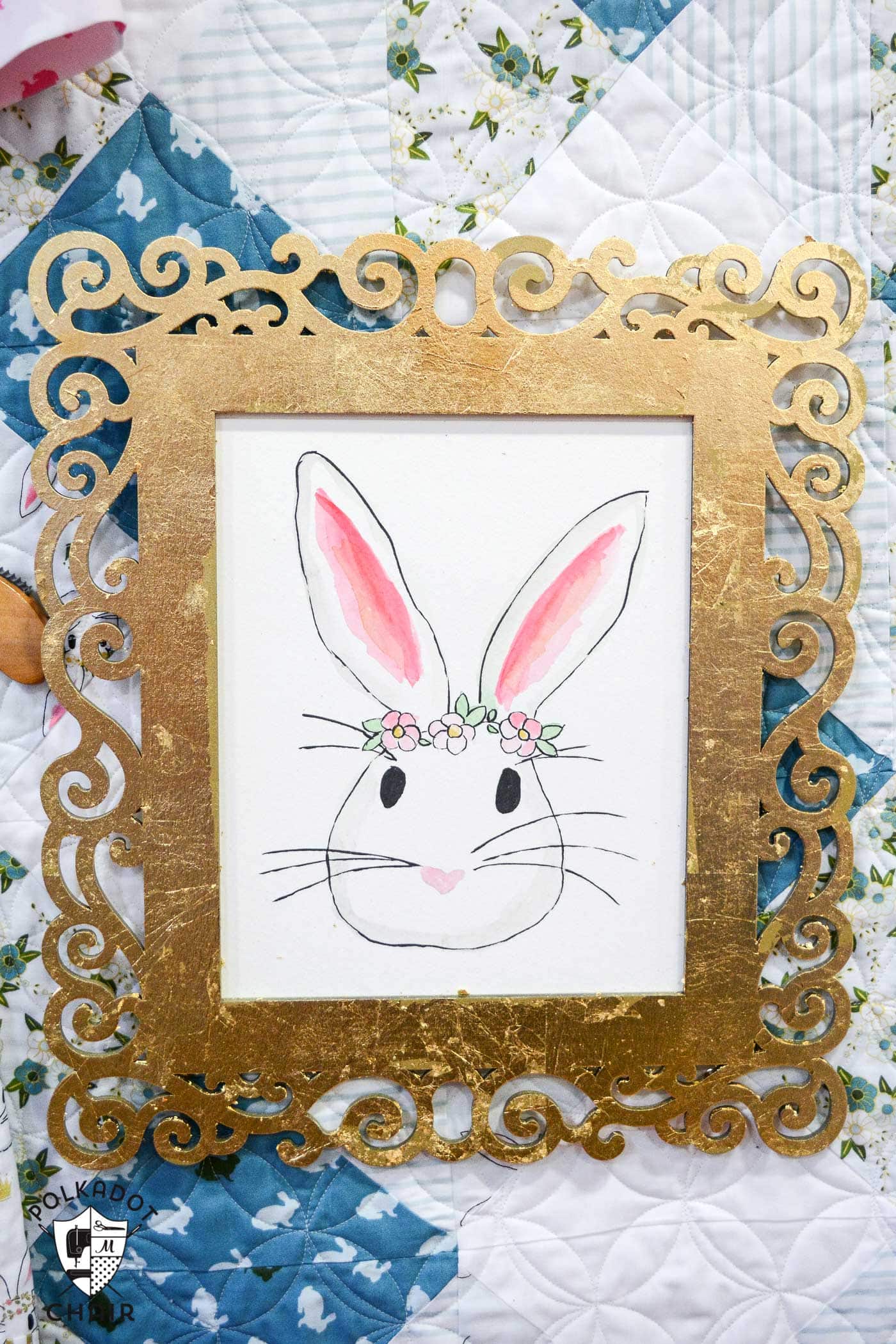 We spray painted the frames the night before I left, when I got to Utah I decided I didn't like the color of the paint. My daughter and I stayed at a hotel a few nights before market and decided late one night to gold leaf the frames.  We spent the evening making a GIANT mess all over the hotel room. Thankfully gold leaf does not stain, it just flutters EVERYWHERE. We cleaned it up the best we could but I'm sure the maid thought we were absolutely crazy the next day.
I hung the bunnies from fishing line in the booth.  They are hanging over my new Gingham Girl Quilt (another pattern coming soon). It's actually a quilt design that I made 3 years ago at Craft South, I got a last minute (again with those last minute ideas) idea to make the same quilt out of Wonderland fabric, I managed to piece it in one weekend, then Natalia of Piece N Quilt quilted it for me FAST (she quilted all of the quilts in the booth). I stitched down the binding the night before I left.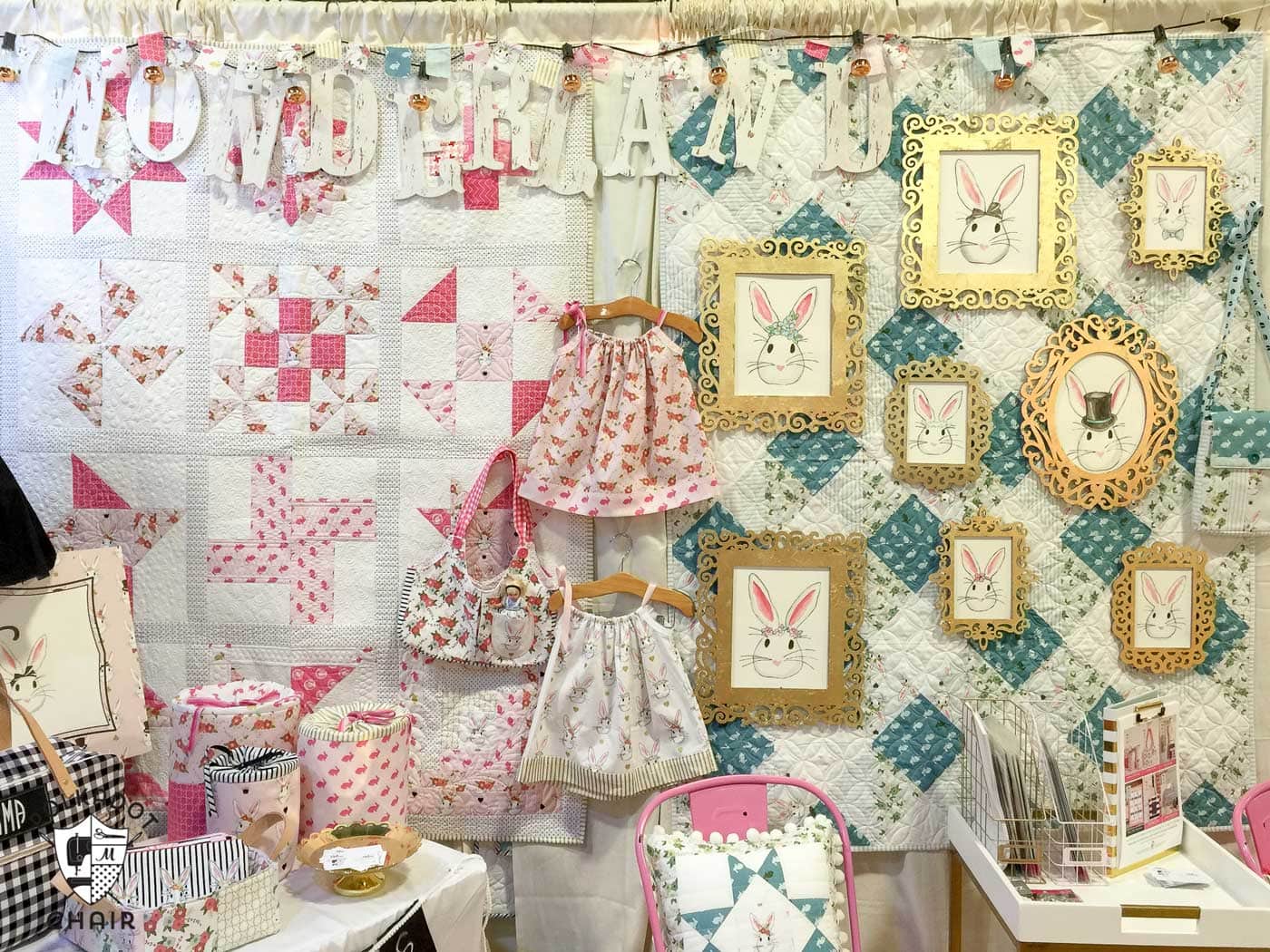 You can also see in this photo the COMPLETED Block of the Month quilt! I can't wait to show you the finished product and the rest of the blocks.  For now I'm just sharing this "teaser" photo of the completed quilt.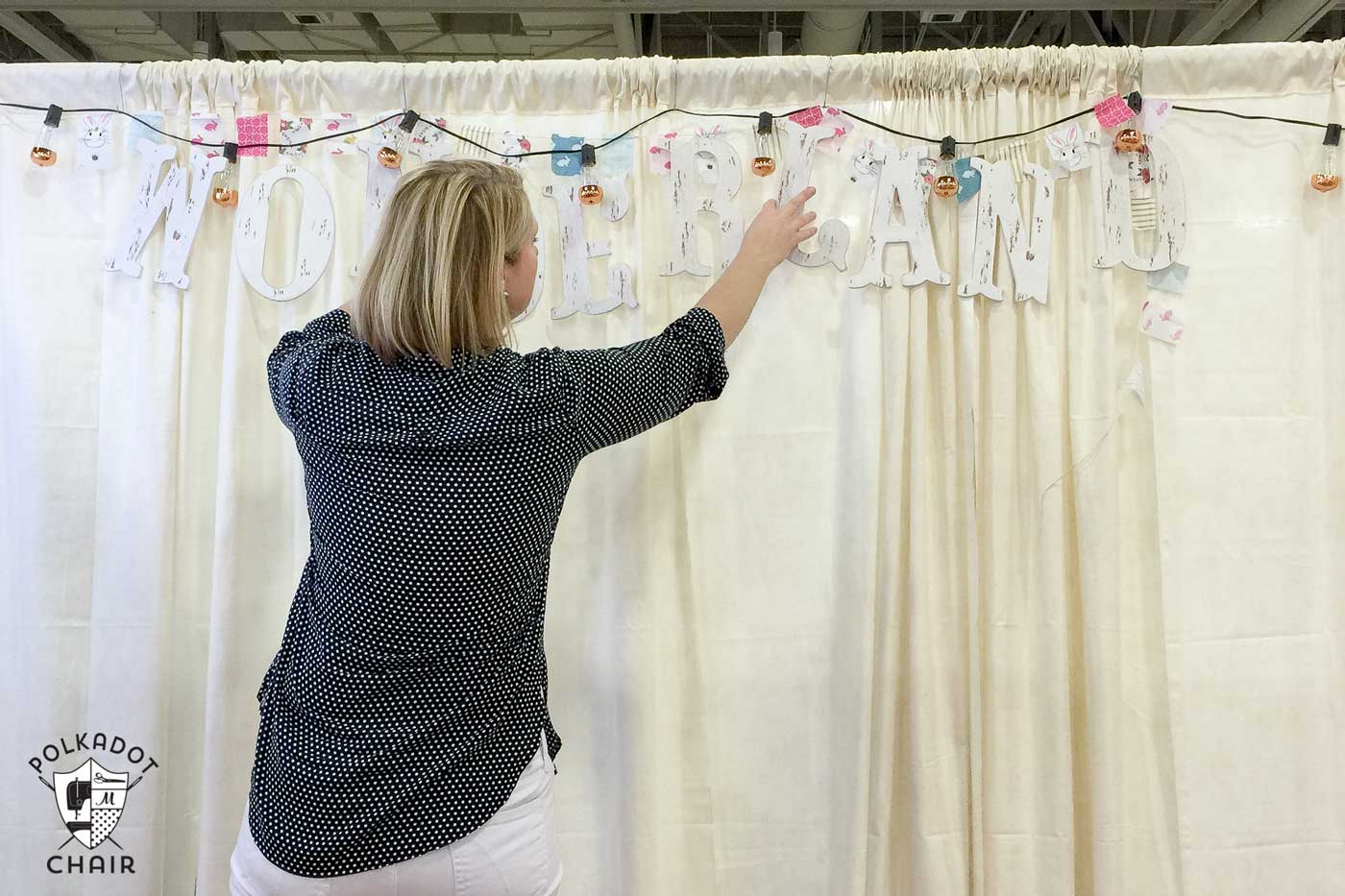 I will say that it took a lot more work and time to set up the booth than I thought.  Every time I hung one thing up another one would fall down.  Add to that trying to get the quilts and curtains straight while not knocking down the pole, is very hard! I definitely underestimated the time for set up, luckily we were able to get it all done before market opened. Here you can see just one of the piles of things that needed to be ironed, staged and organized inside the booth.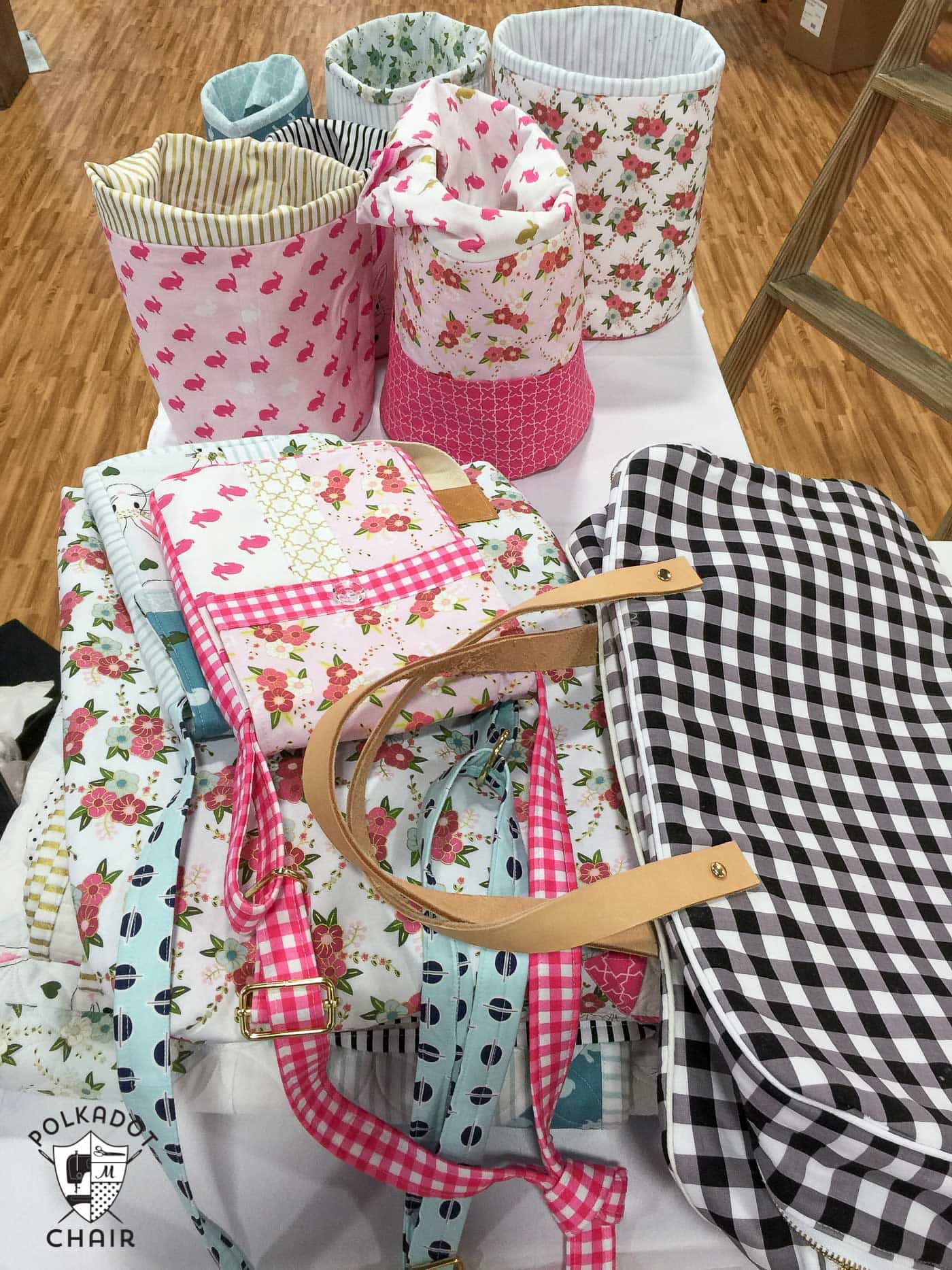 Here are a few other shots of projects for the booth: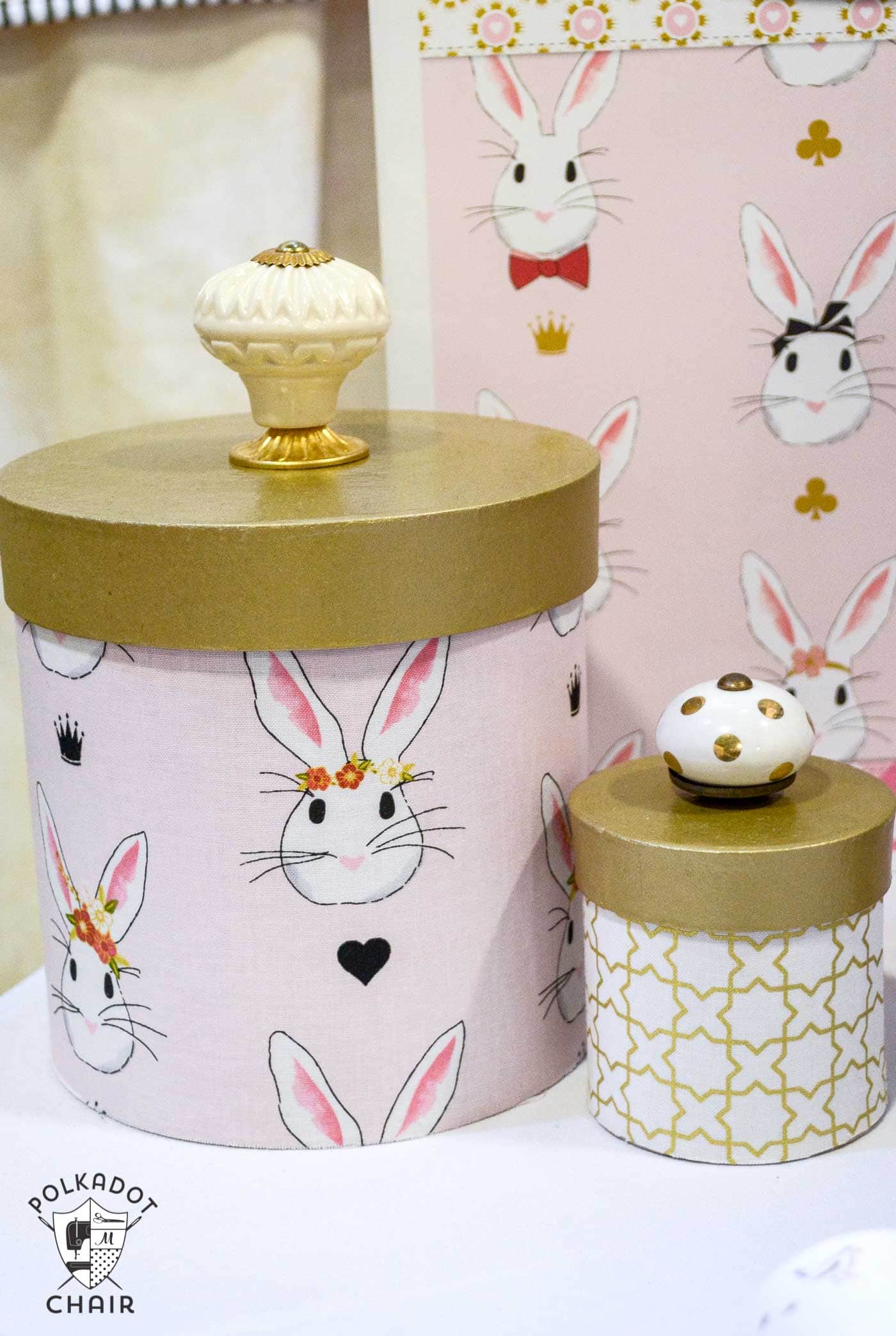 Fabric covered paper mache boxes (tutorial for these is coming soon!)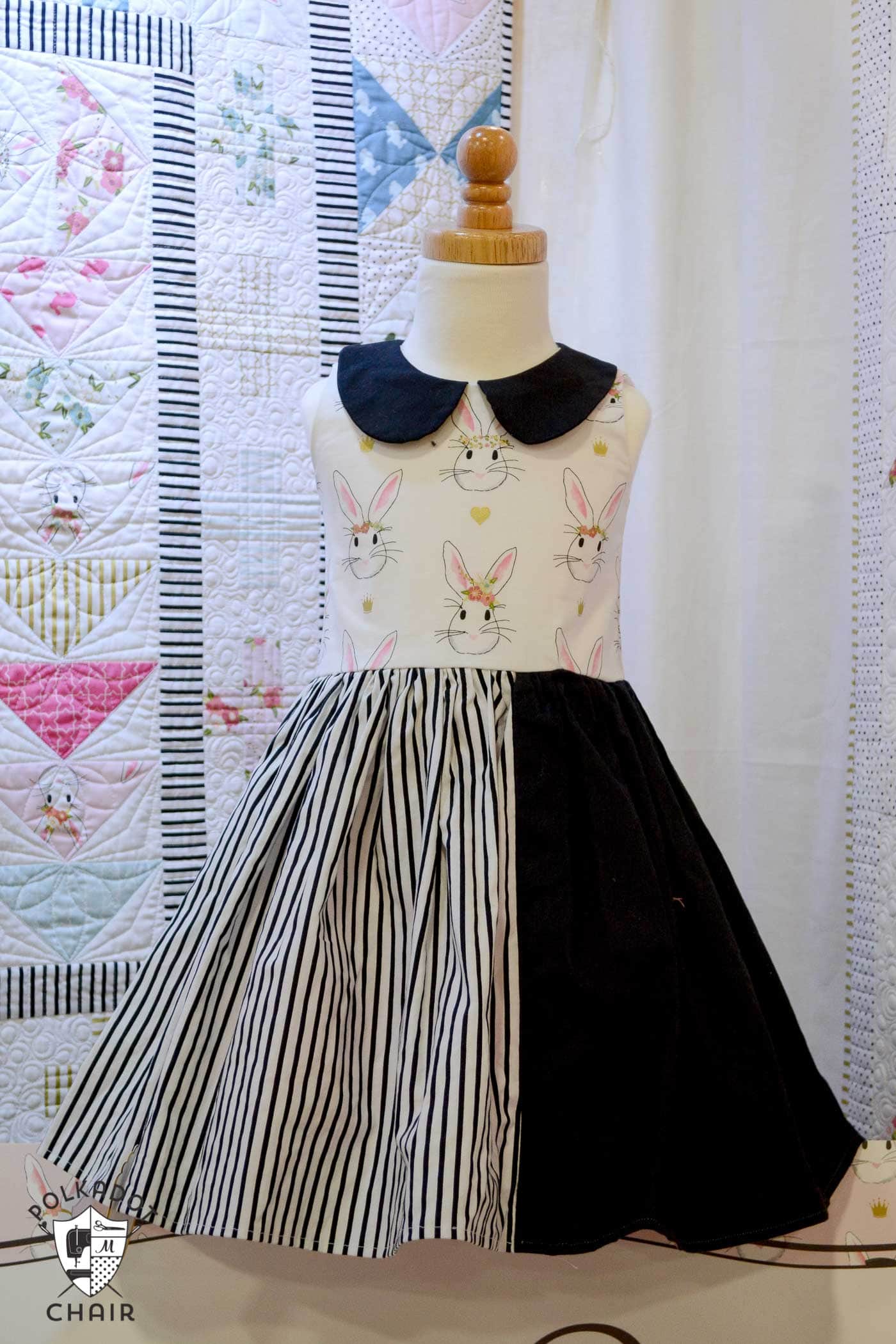 Basic Bodice Dress by Simple Simon & Co- it was shared during the Wonderland Blog Hop, for more details click here.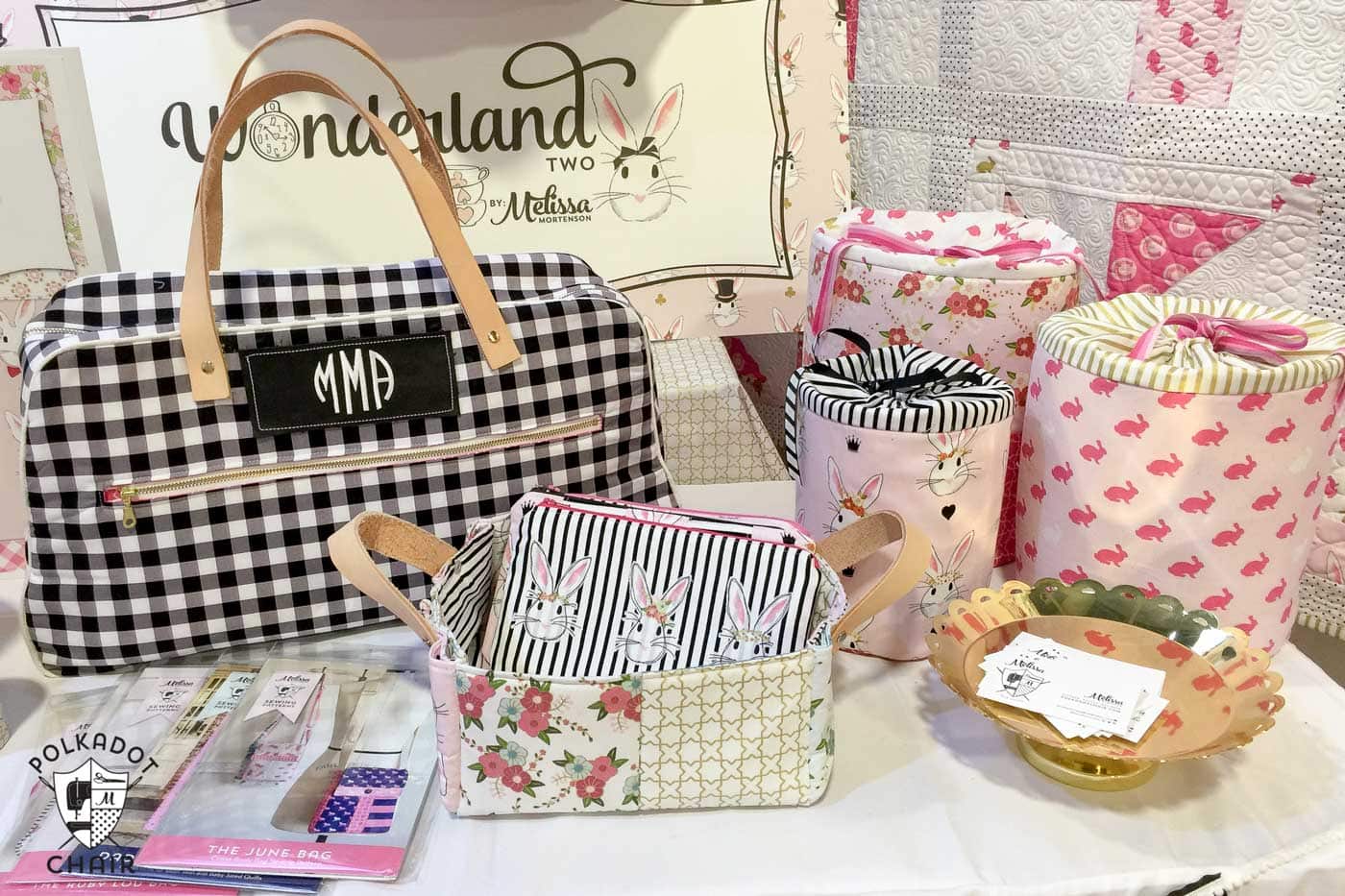 A table full of sewn items, from left to right; Retro Travel Bag, Patchwork Basket; Zippered Pouches; Padded Storage Bins (click links for more info about each project).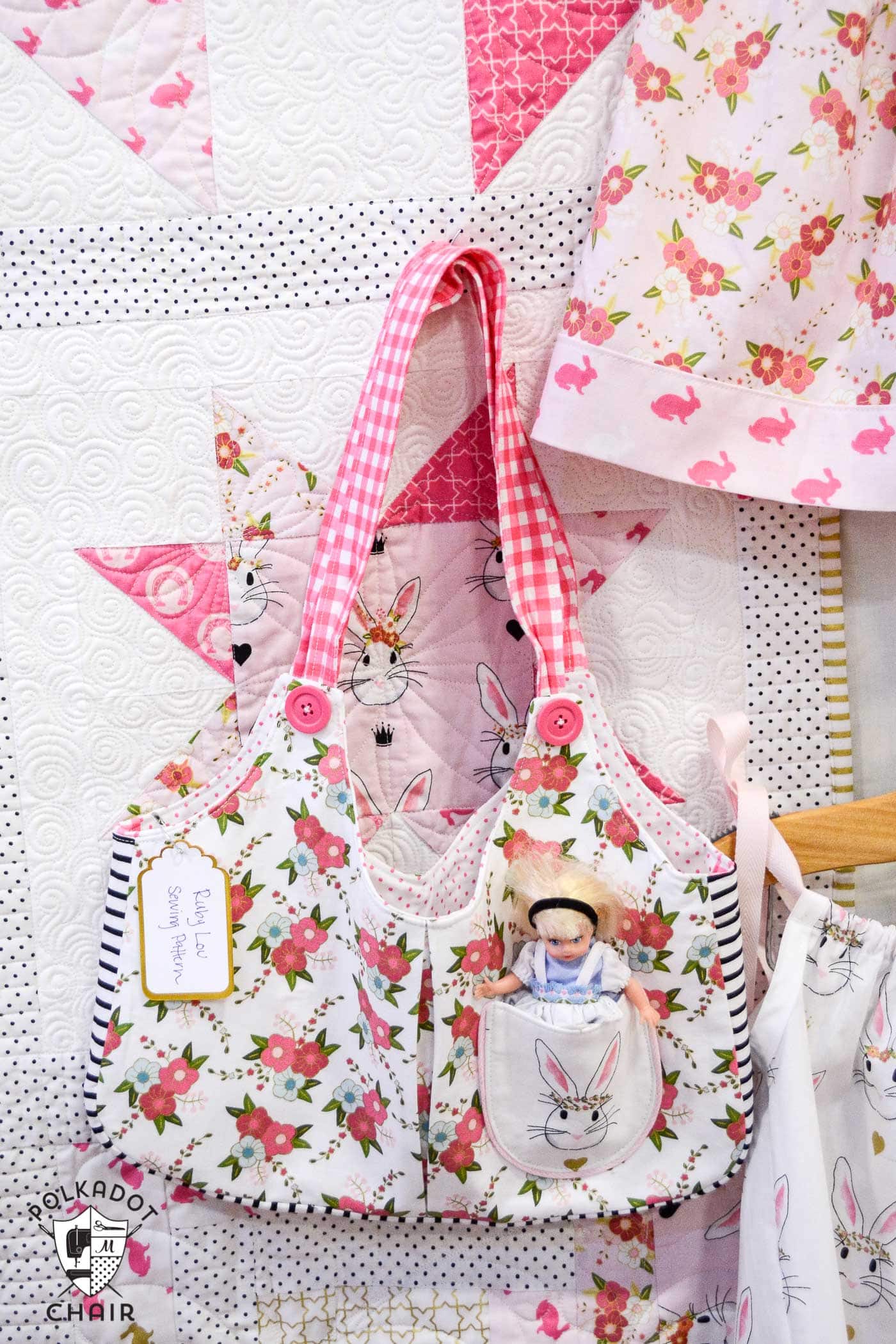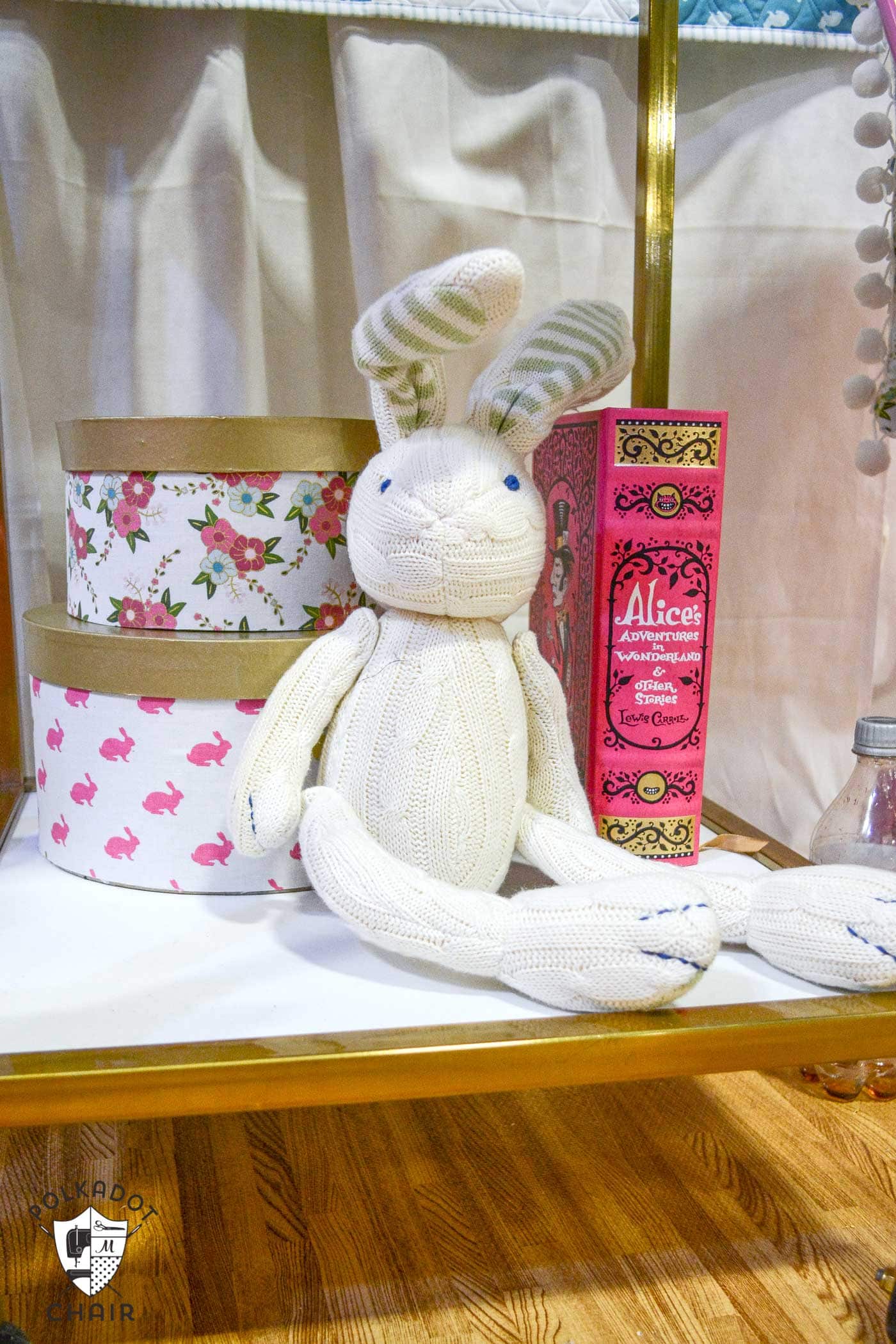 More covered Paper Mache Boxes.
As with any event, meeting people is always the BEST part! I loved chatting with everyone that stopped by the booth, naturally I forgot to take a photo with almost everyone, I've decided that I don't think well on my feet in situations like this…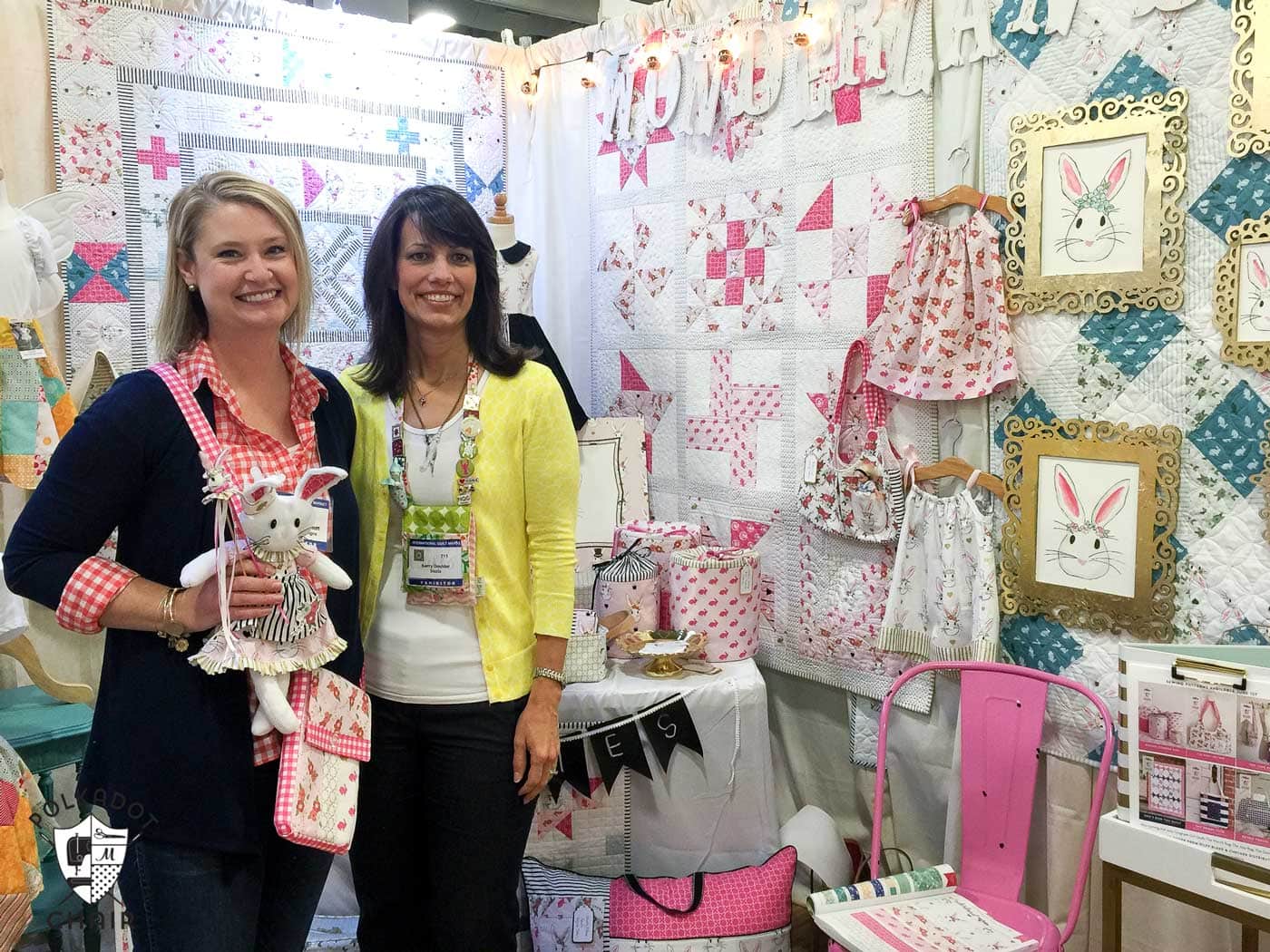 Kerry of Kid Giddy stopped by to bring Princess Phoebe for a little photo shoot. I have to say she's even cuter and softer in real life!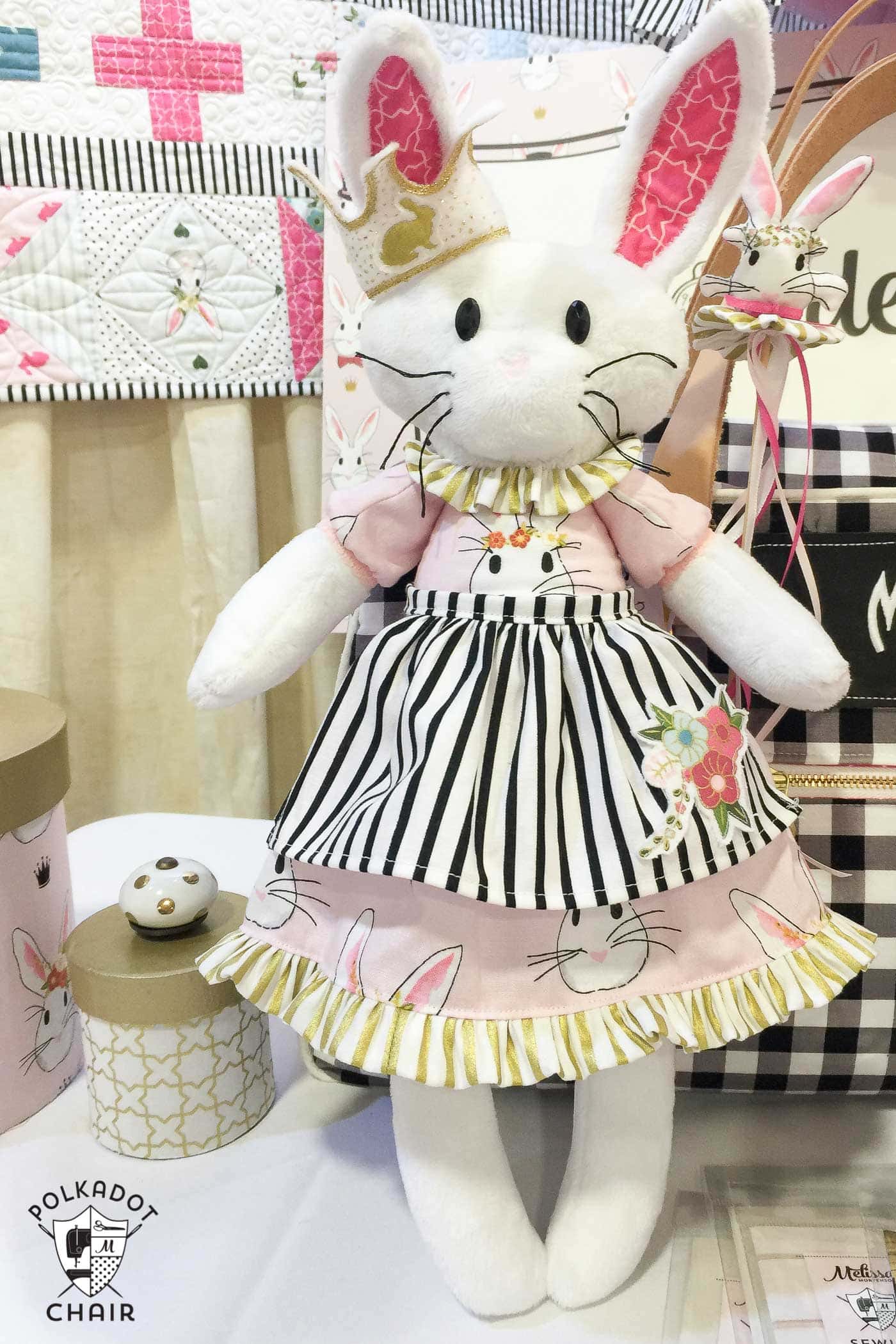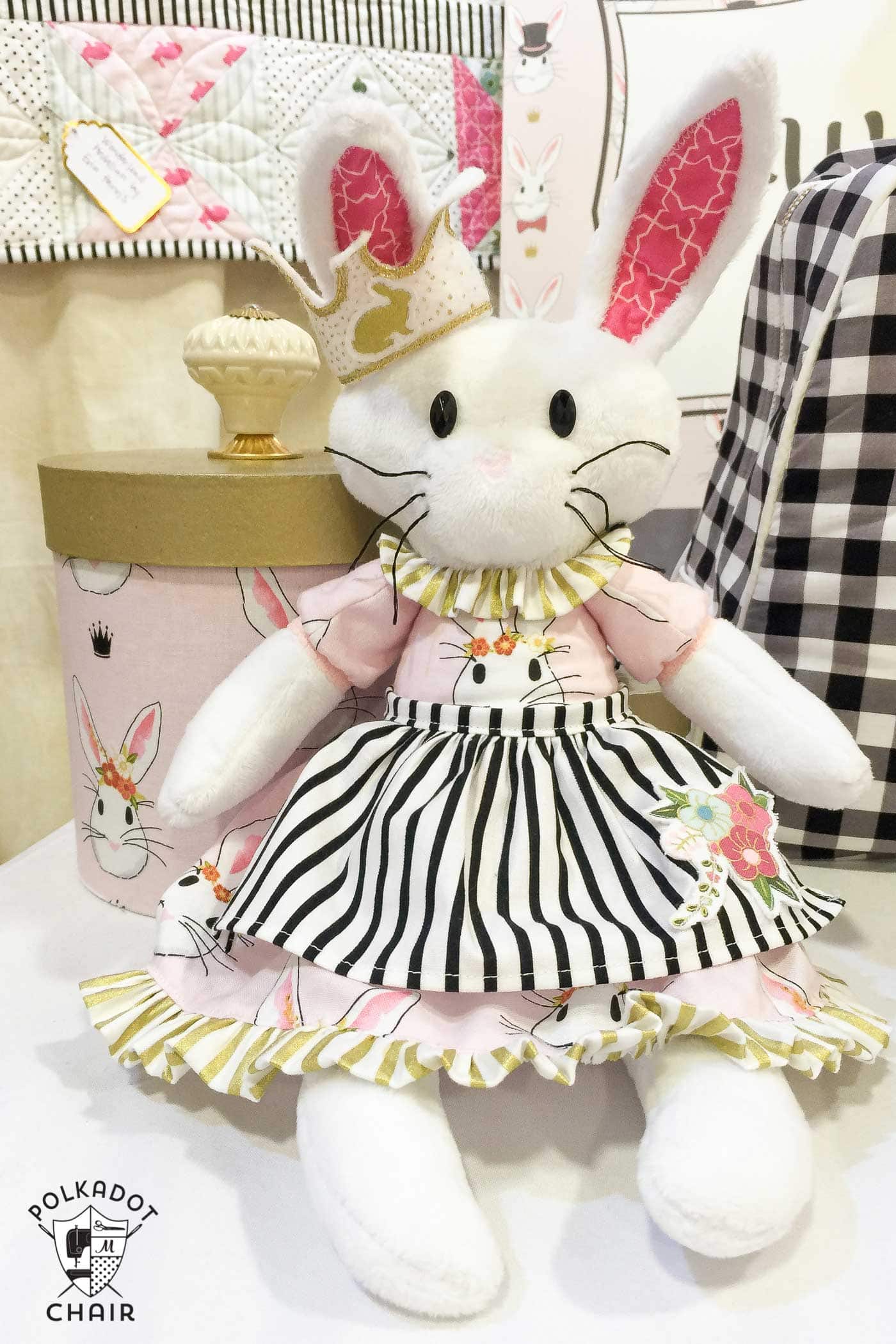 Everyone was asking me at Market whether I would do a booth again. I will say right now, I'm not sure. I'm going to wait it out to see what comes from the booth before I decide if I'd do it again. It's a lot of work and a financial investment, but it's also a great opportunity to meet and chat with people in the fabric biz from all over the world. For now I'm going to remain cautiously optimistic about the experience.
Oh, I think I mentioned that Wonderland Two is coming out in January, you can see it on the Riley Blake website and pre-order it now if you have a shop. I'll share more about it in a few months, right now it's just too early to talk about…