Learn how to make cute round potholders with this fun Merry Go Round Quilted Pot Holder tutorial and pattern. I've even included as a bonus a set of printable baking gift tags!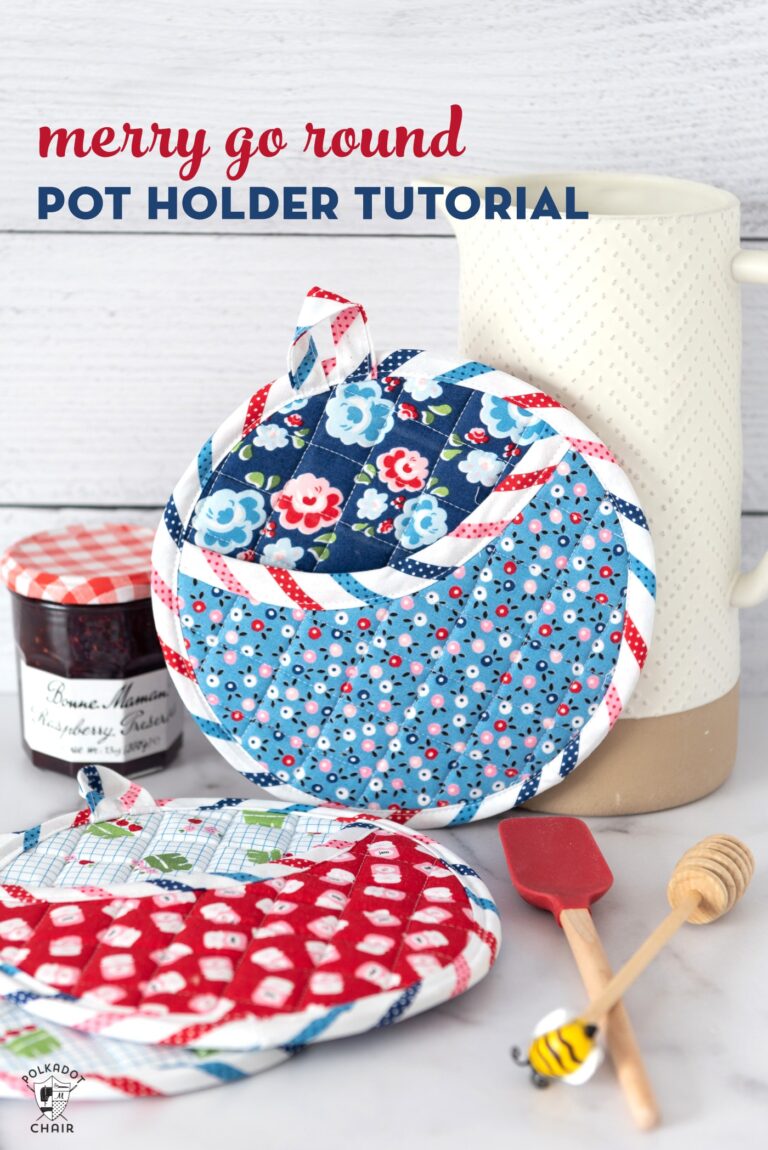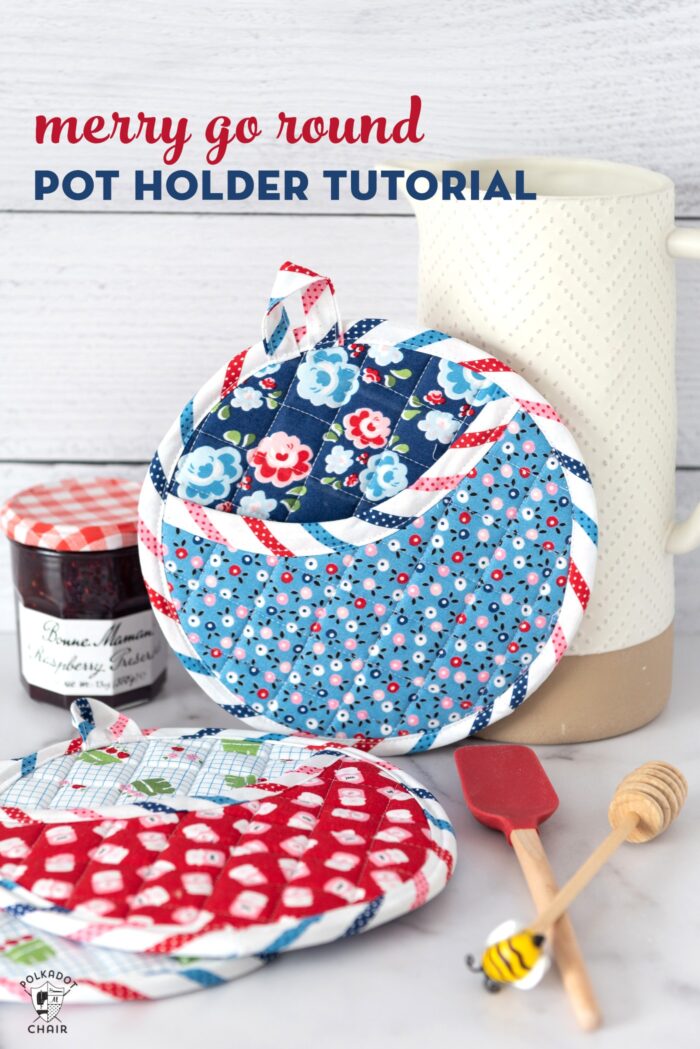 Last Holiday season I spotted some cute round pot holders at Anthropologie. I immediately thought "hey I could make those." Truth be told I think that about a lot of things I see in stores. However, I rarely seem to go back and actually MAKE the thing. Does anyone else do that?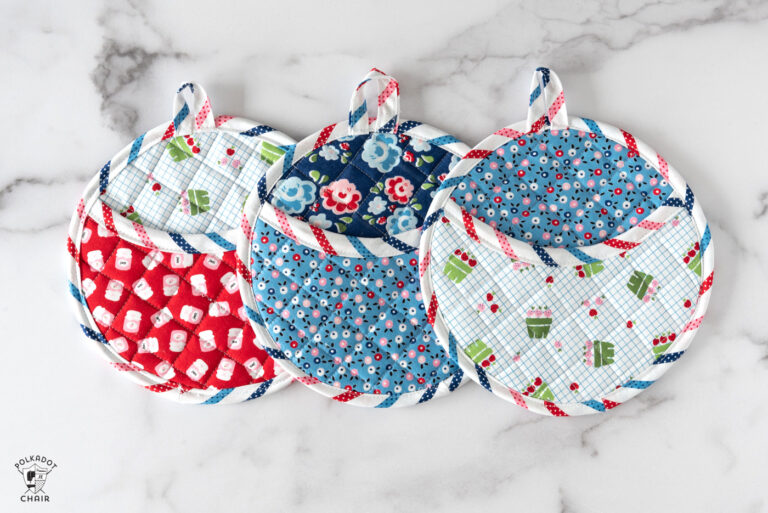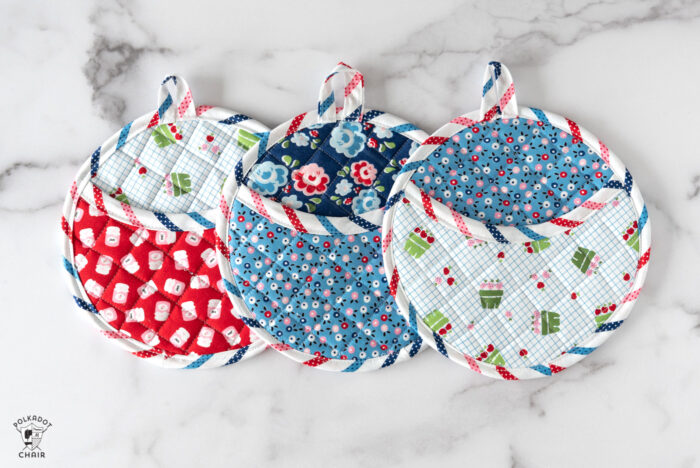 I'm happy to say that this time there's an exception! I actually made the pot holders I saw at the store.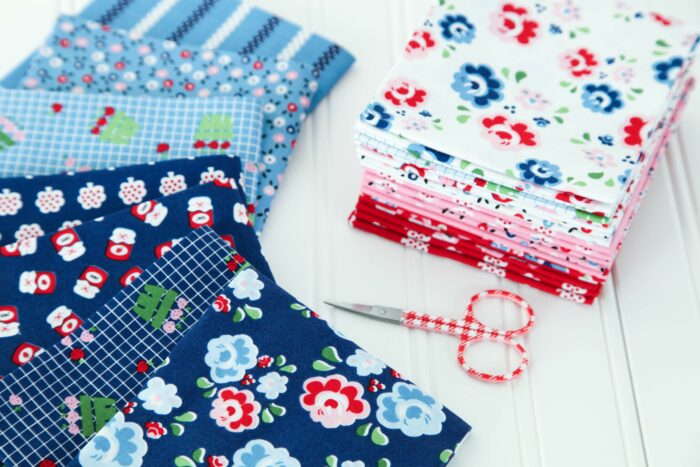 Heidi from Fabric Mutt just released her newest fabric line with Riley Blake Designs called Shortcake. And let me tell you it's as yummy as its name. It's full of vibrant red, white and blues with the cutest berry themed designs.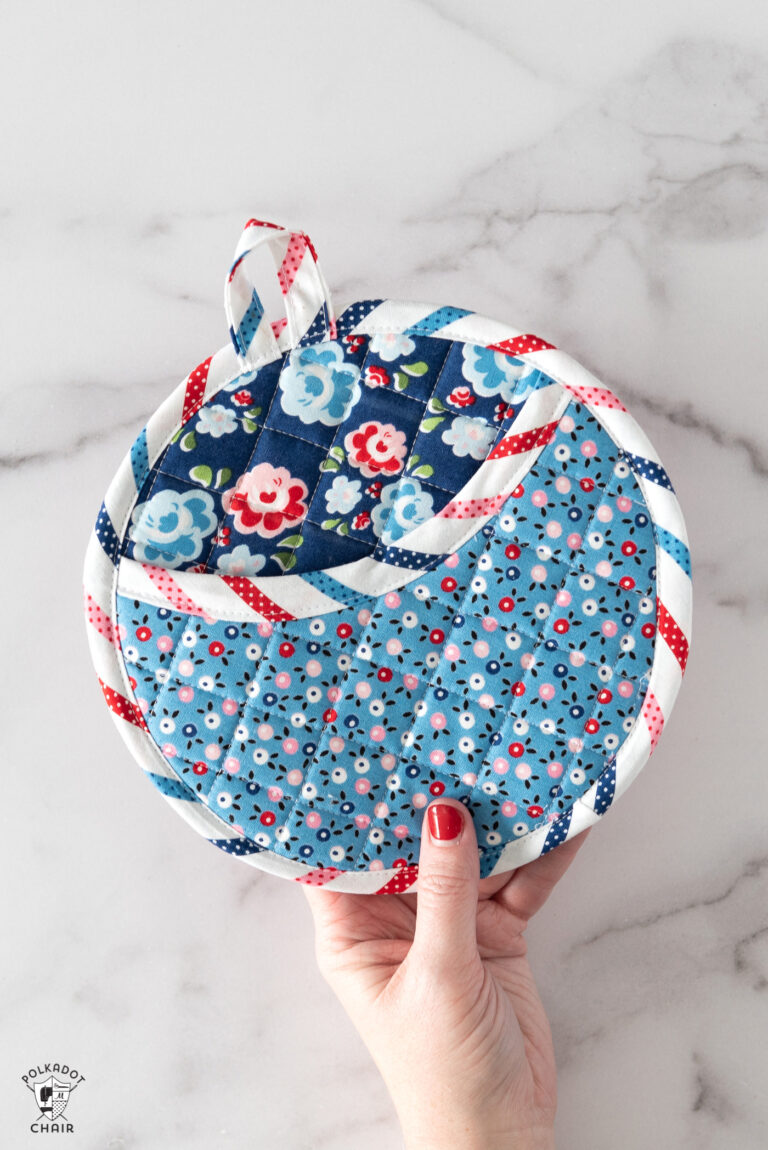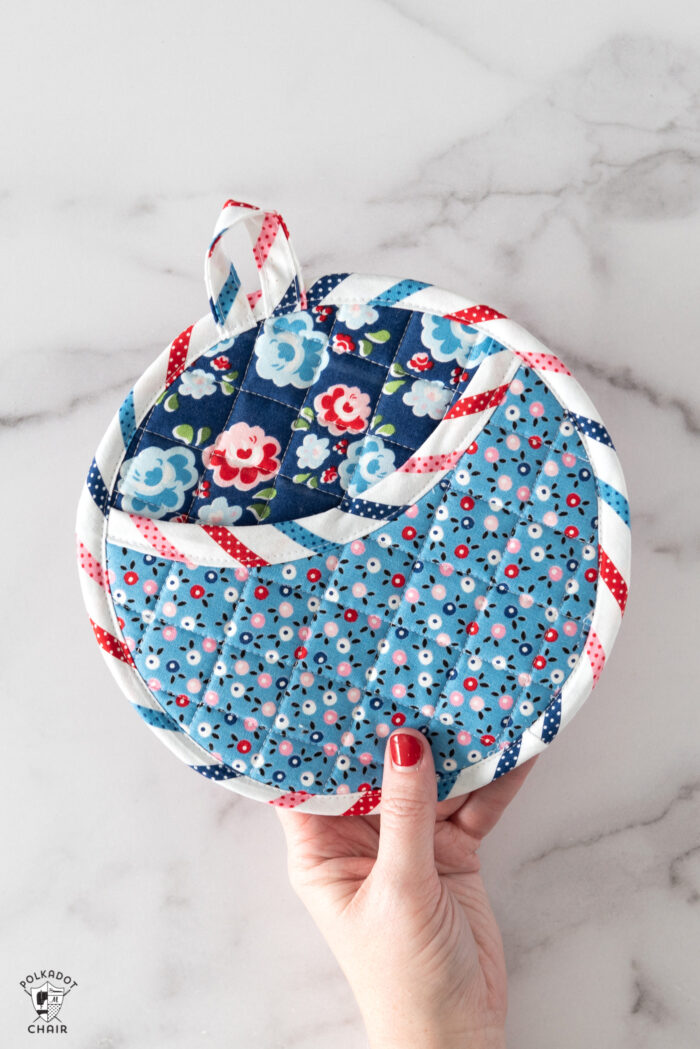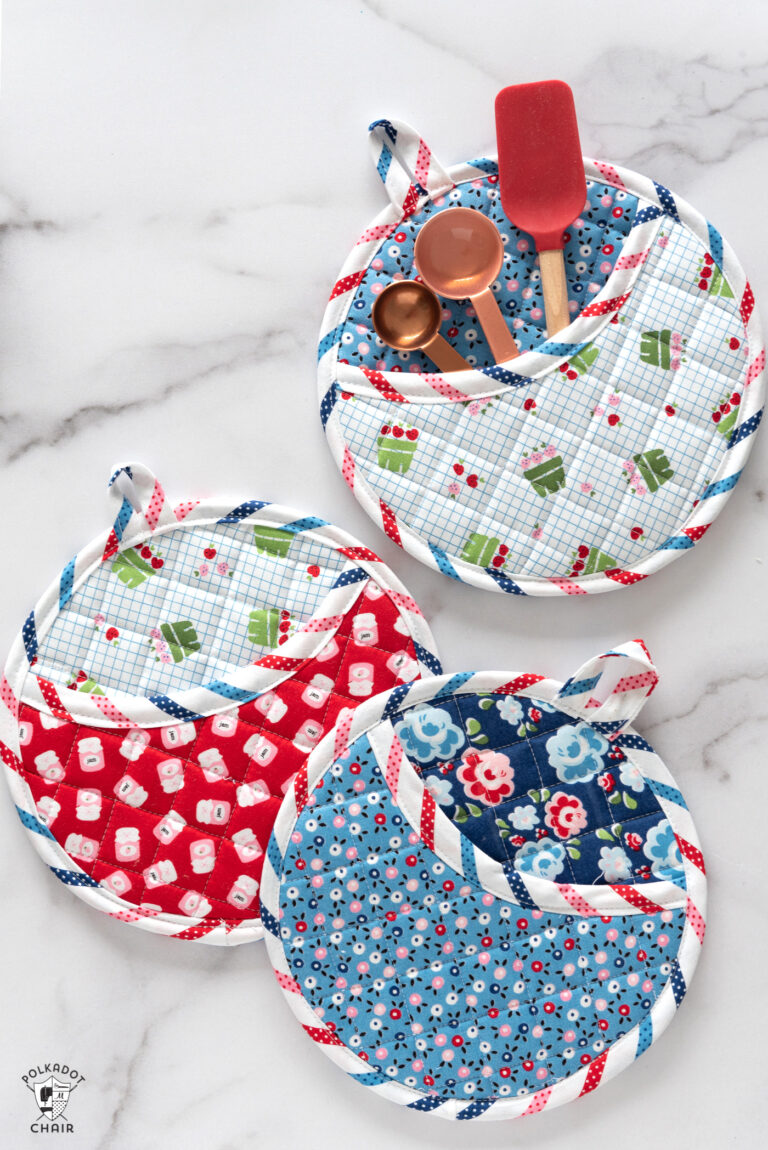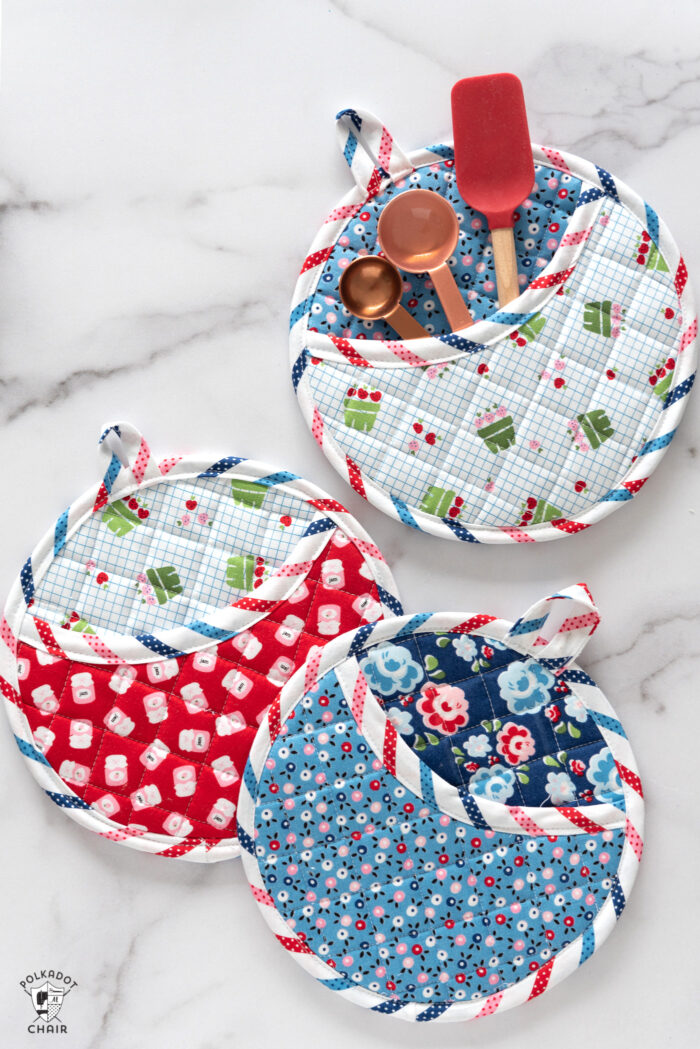 Given the kitchen inspired prints, I thought it would be the perfect fabric to use to create some round hot pads. I decided to name them Merry Go Round Pot Holders and am happy to be sharing a free tutorial to make them with you today!
Printable Baking Gift Tags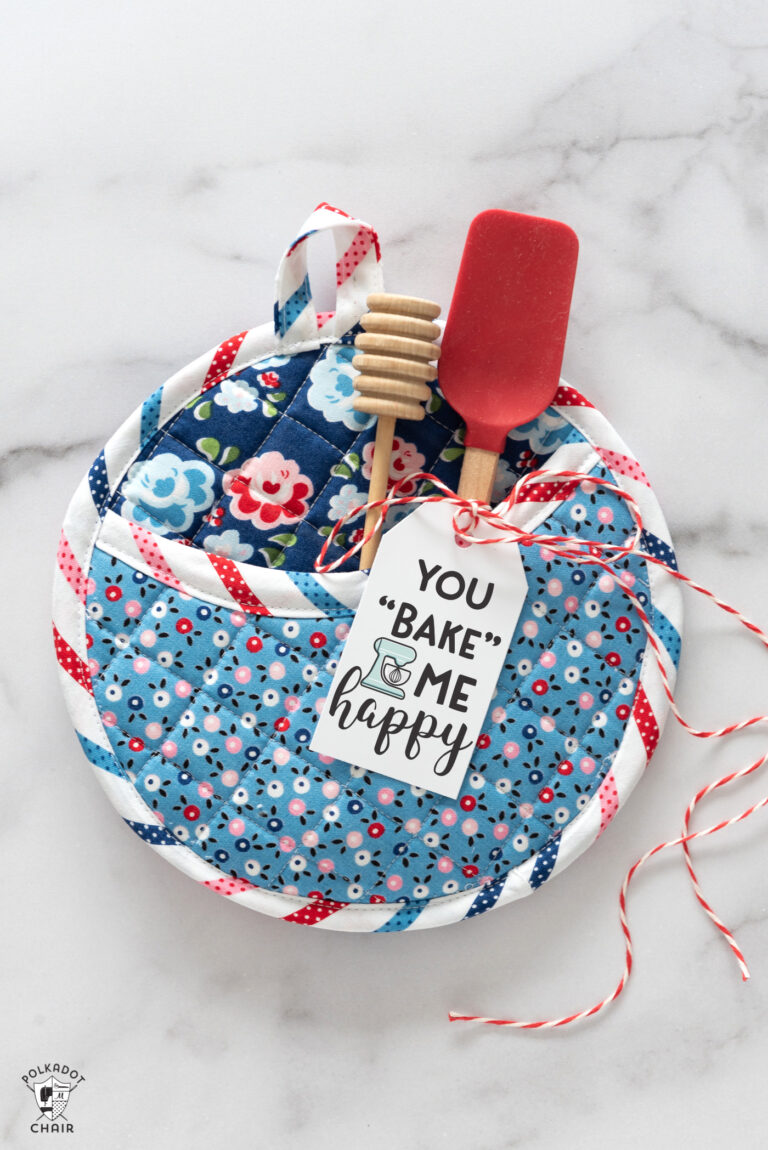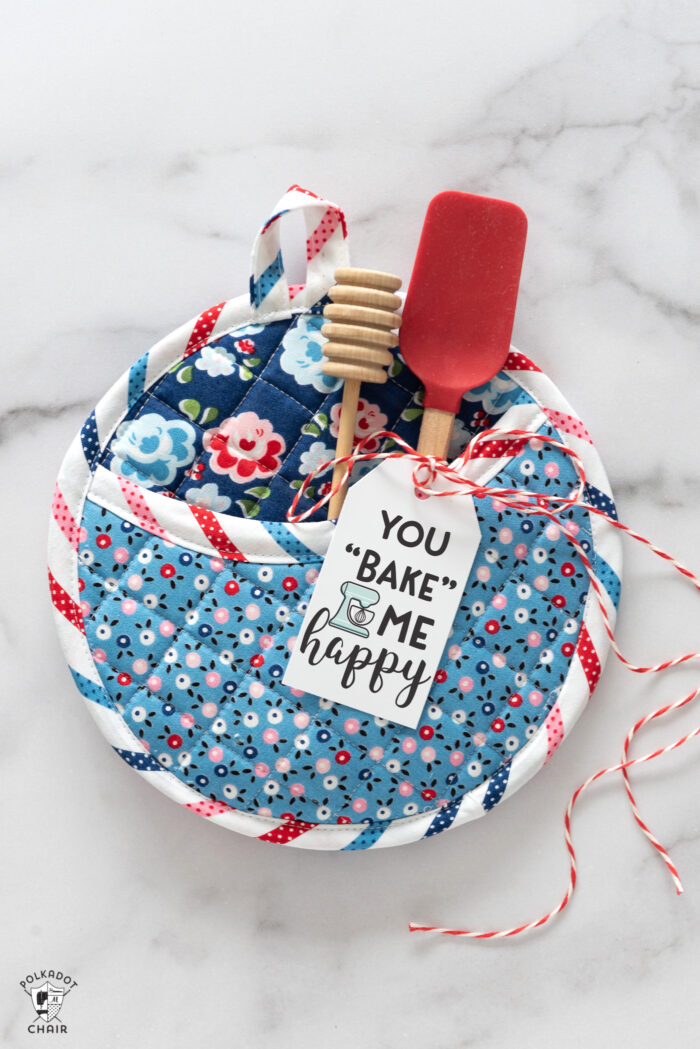 The reason that the cute potholders at Anthro caught my attention is that I thought they'd make great gifts! Just stuff a few baking supplies in the curved pocket and tie on a cute tag and you've got and you're done. It would be a fun gift for a friend that loves to bake or a teacher.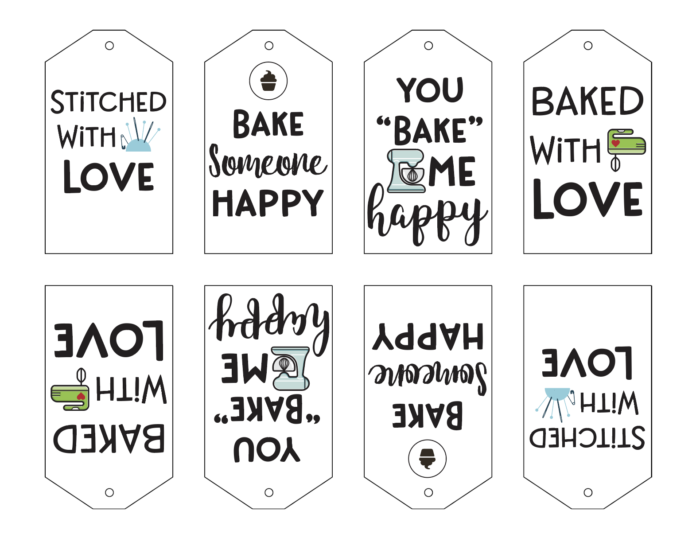 I've created a set of baking gift tags to go with the potholders. There are 3 baking-themed tags and one sewing themed tag. To download them just hop on over to our PRINTABLES or SEWING TEMPLATES download page.
Quilted Merry Go Round Potholder Tutorial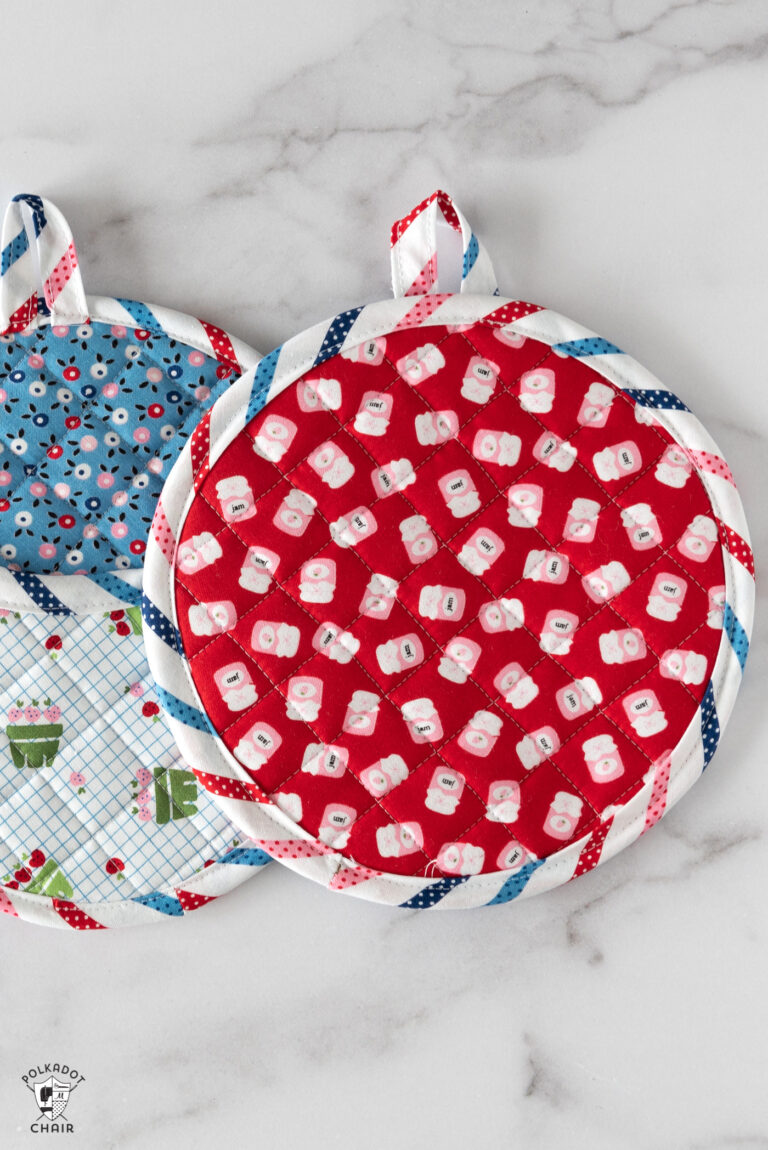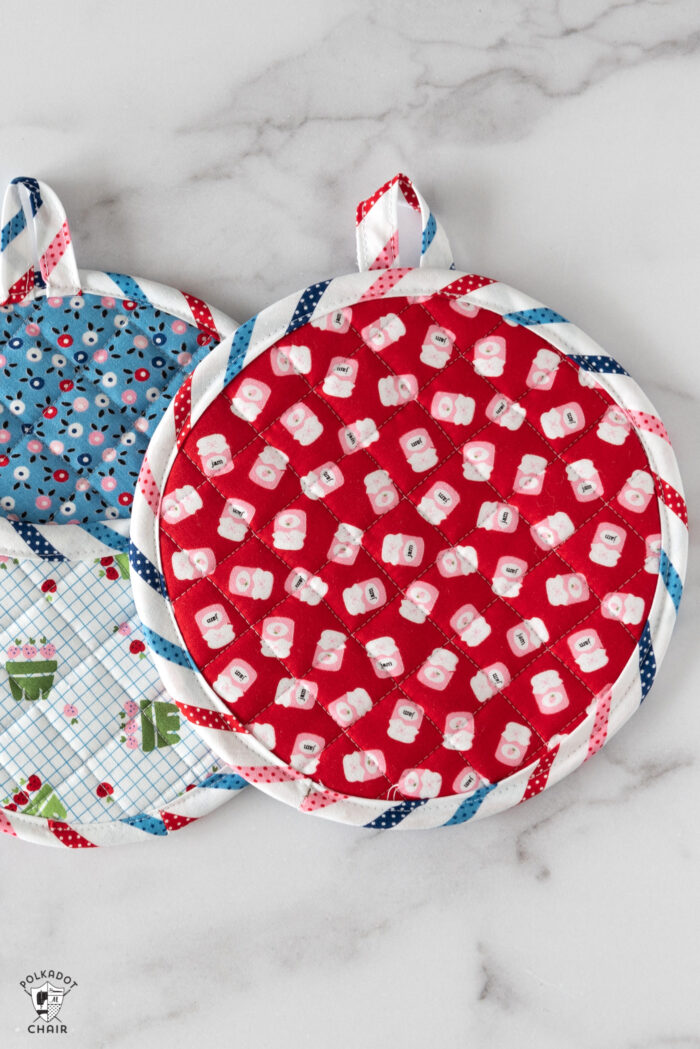 Purchase a Print Ready Copy of this Tutorial, it includes the Pattern Pieces and the Printable Gift Tags.
This Potholder Pattern is also included in our Potholder Parade Sewing Pattern.
The pattern features patterns for 4 different styles of hot pads and a matching stripey dishtowel.
Supplies for Pot Holders:
Yields 2 potholders.
TIP:  Double the supplies to make 4 potholders. Then you can mix and match the pieces to create 4 totally unique hot pads. Supplies are linked, contains affiliate links. 
1/2 Yard or TWO Fat Quarters of Fabric. If you want your pot holders to have two different prints you need to buy two prints of fabric or 2 different fat quarters. Fabric in my tutorial is Shortcake by Heidi Staples for Riley Blake Designs. If you only want to make one hot pad you can buy 1/4 yard of two different prints.
1/2 Yard Cotton Batting like Warm and Natural or Warm and White (you need one 18″ x 18″ square of batting)
Insul-Bright you need 1/2 yard or one piece 18″ x 18″
Walking Foot for Sewing Machine
1″ wide Bias Tape Maker (this is the bias tape tool that I use, it comes in a set with multiple sizes)
Quilting Needle for a sewing machine.
Helpful but not required: Round Spinning Cutting Mat
Binding Clips
Pattern Pieces for Pot Holders – DOWNLOAD HERE
How to Get the Printable Pattern Pieces. You can download a copy of the pattern pieces used in this project in our Template Library. Access to the library is for our Newsletter subscribers and subscriptions are free. Please CLICK HERE and follow the instructions to download the pattern pieces. PLEASE READ the instructions on that page. NOTE: The download only contains the pattern piece, you still need to read this tutorial to complete your project.
Potholders are 8″ in diameter.
Directions:
There are a few different ways to tackle this project. I tried a couple of different things, in the end, I found it quickest to first quilt a large square of fabric then cut out the pieces for the hot pads.
Step One: Quilt the Fabric
Cut 2 pieces of fabric to 18″ x 18″. Cut one piece of Insul-Bright and one piece of Cotton Batting to 18″ x 18″. NOTE: if you bought 1/4 yard of fabric you'll need to cut two pieces 9″ x 18″.
Using a generous amount of basting spray, make a quilt sandwich with your fabric and interfacings. you'll have fabric on the top and bottom right side out with the two lining pieces in the center.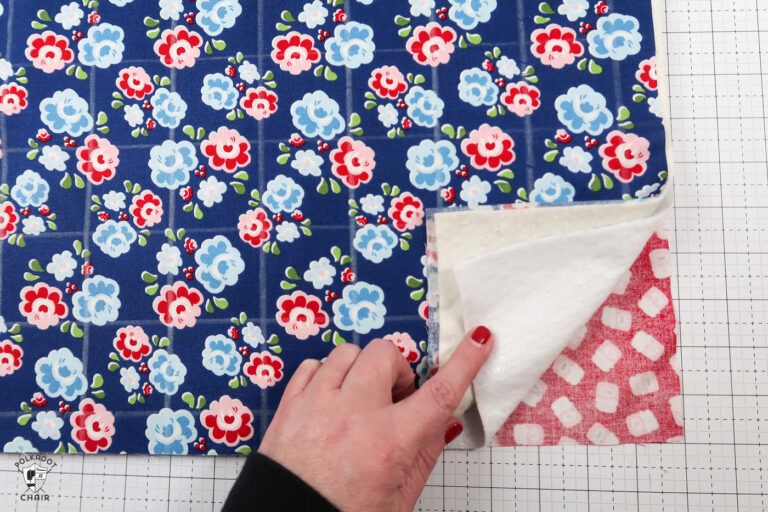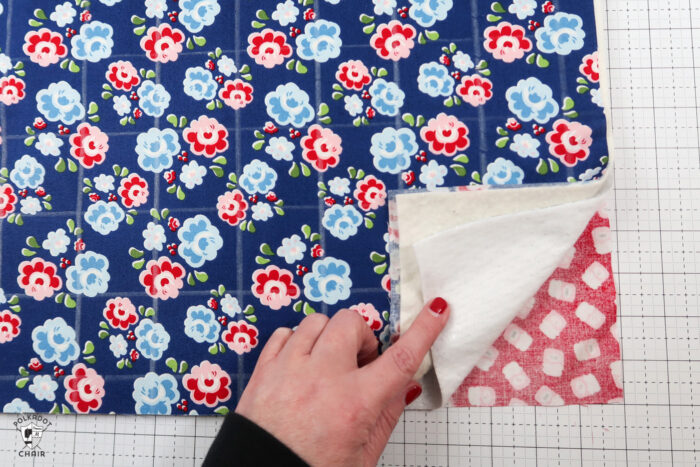 On one of your fabric pieces mark lines 1″ apart for quilting. You can also use a guide with your walking foot but I think you still need to mark lines. It's too easy to get off when you've not marked some lines.
Install quilting needle in your machine, and put the walking foot on.
Start quilting lines in your fabric 1″ apart. I found it best to work from side to side all in the same direction. You may need to adjust your pressure foot pressure since you're working with so many layers of fabric. After you're done, quilt again in the opposite direction.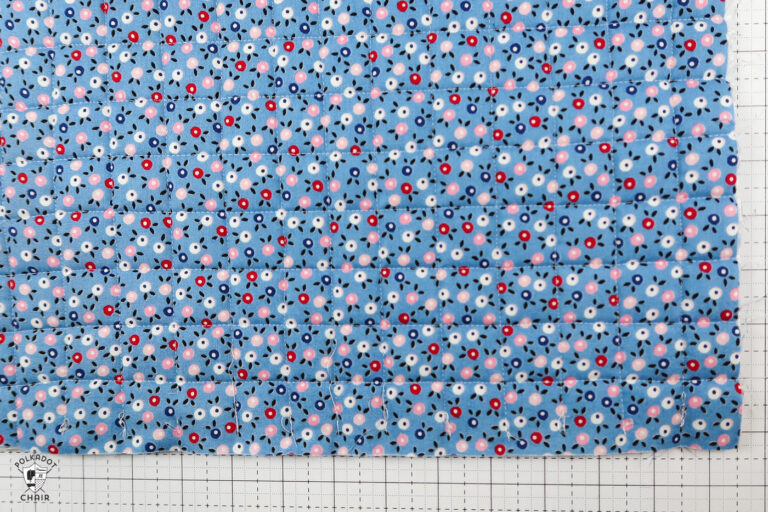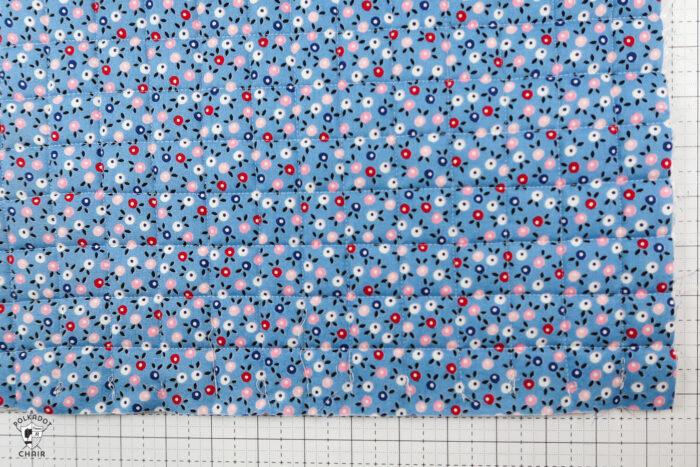 Step Two: Cutting
Using your potholder pattern pieces, cut out the quilted fabric. You need to cut one pot holder piece and one pocket piece for each potholder. Pay attention to where the quilting lines are on your fabric and try to center the potholder pieces on the quilting stitches.
I find it helpful when I'm cutting out circles, to trace the pattern onto the fabric, then use a round cutting mat and a rotary cutter to cut out the piece. You can "spin" the cutting mat to help you get a nice curve.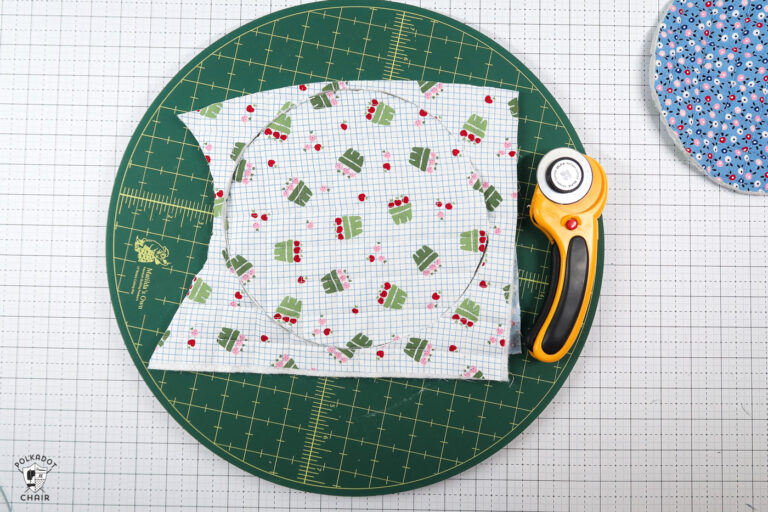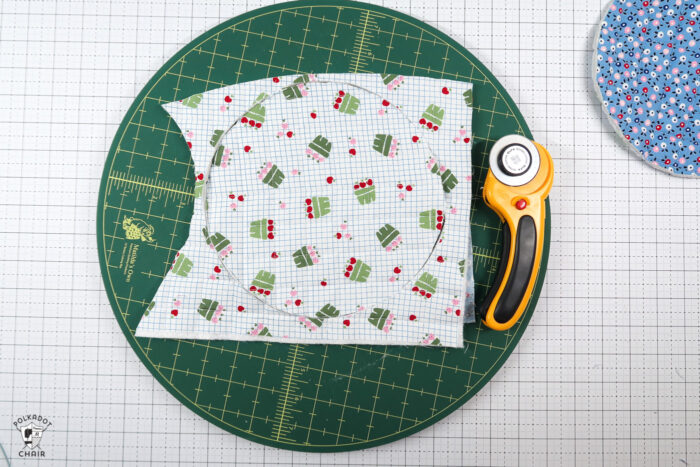 From your 18″ x 18″ piece of quilted fabric, you should be able to get 2 pot holder pieces and two potholder pocket pieces. I quilted two 18″ squares and was able to mix and match my pieces for my finished potholders.
Step Three: Bias
Cut 2″ wide bias strips from your binding fabric. Cutting on the bias means to cut the fabric at a 45-degree angle from the selvage of the fabric.
For one potholder you need a total of 45 inches of bias. You'll probably have to stitch a few pieces together to get that much bias. Just stitch them together and trim the seam allowance down to 1/8″.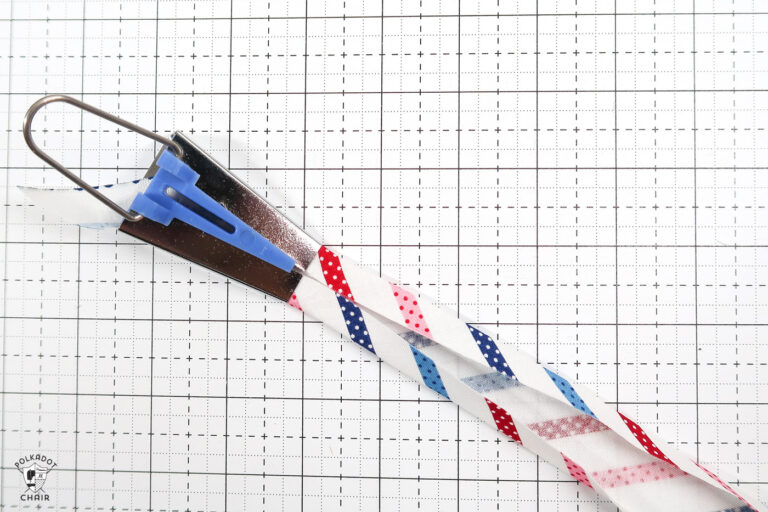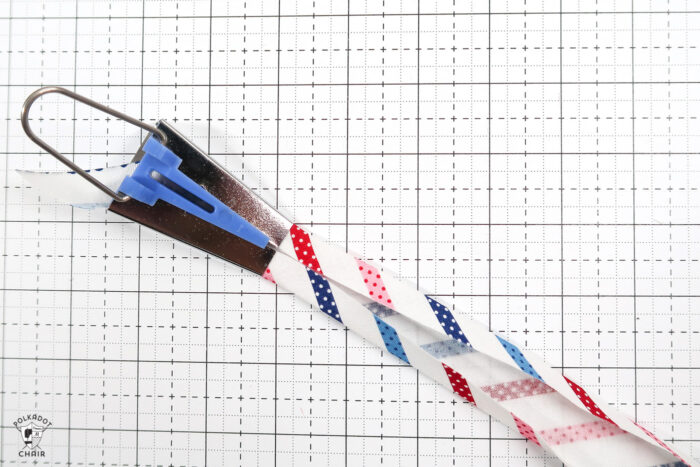 Run your bias strips through your 1″ bias tape maker. I find it helpful to pin one end of my bias to my ironing board then pull the bias tape maker in the opposite direction. With the iron moving with the bias tape maker.
After you've run the bias tape through the tool, fold the bias tape in half with the raw ends facing in and press.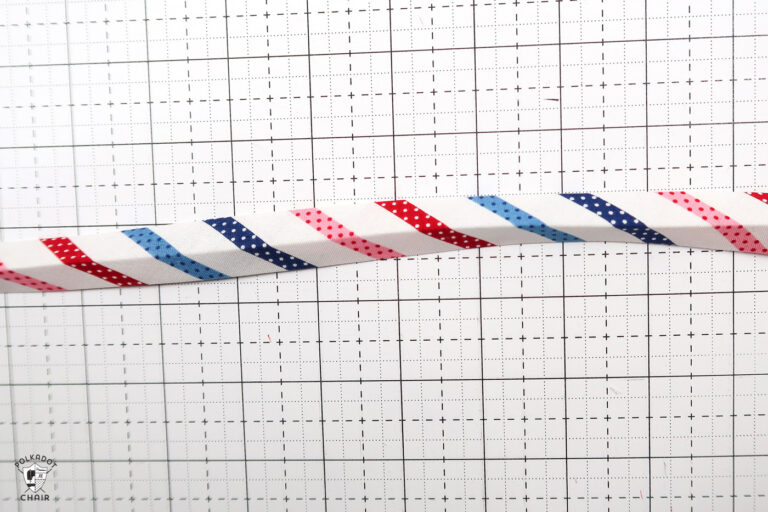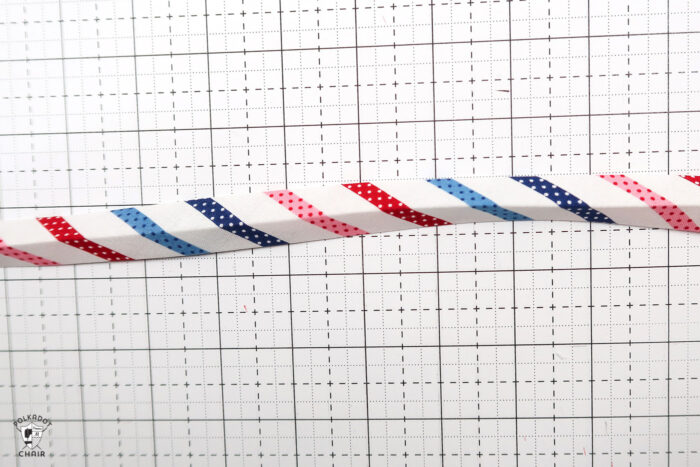 Step Four: Apply Bias
Pin the bias to the inside curve of the pocket piece. Open up the bias and pin the raw edge of the bias to the pocket piece, right sides facing.
Stitch the bias tape to the pocket piece close to the fold in the bias tape.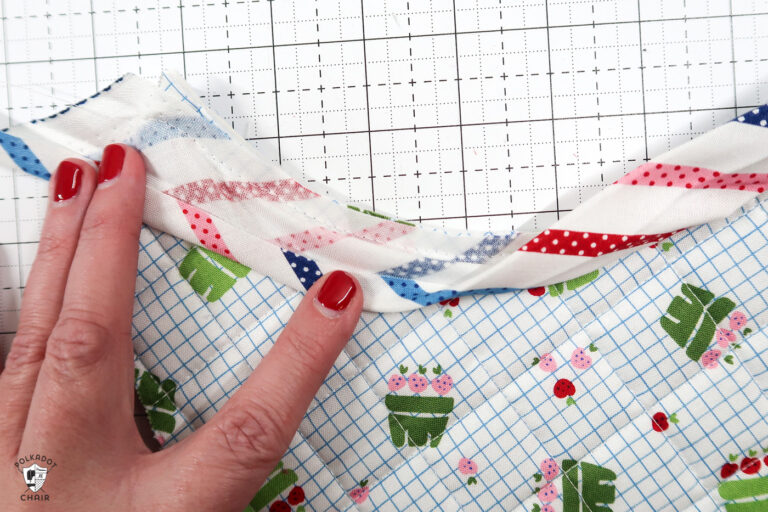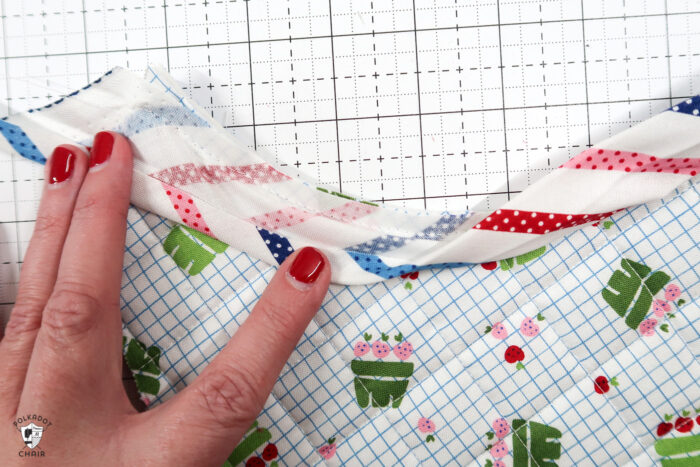 Refold the bias tape and press in place. Stitch it down, making sure to catch both sides of the bias as you sew.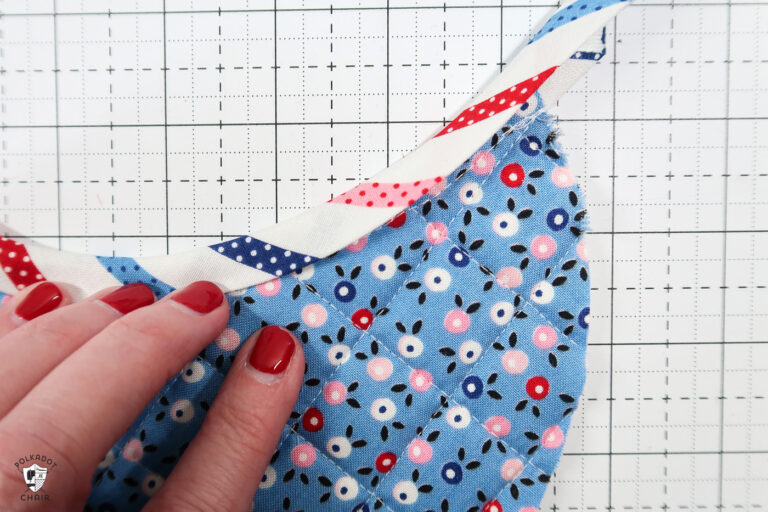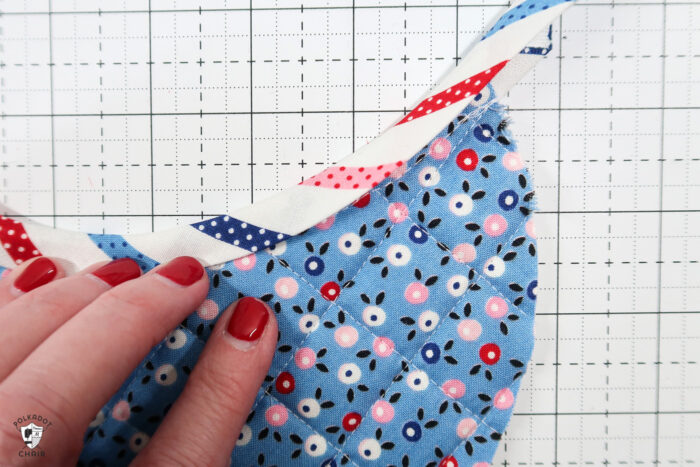 Step Five: Tab
Cut a piece of bias to 4 1/2″ long. Top stitch down both of the long sides.
Fold it in half and pin it to your potholder piece at the top. The raw edges of the potholder will face the raw edges of the tape.
Baste in place.
Step Six: Assembly
Place your pocket piece on top of your main potholder piece. Secure in place with binding clips and baste in place.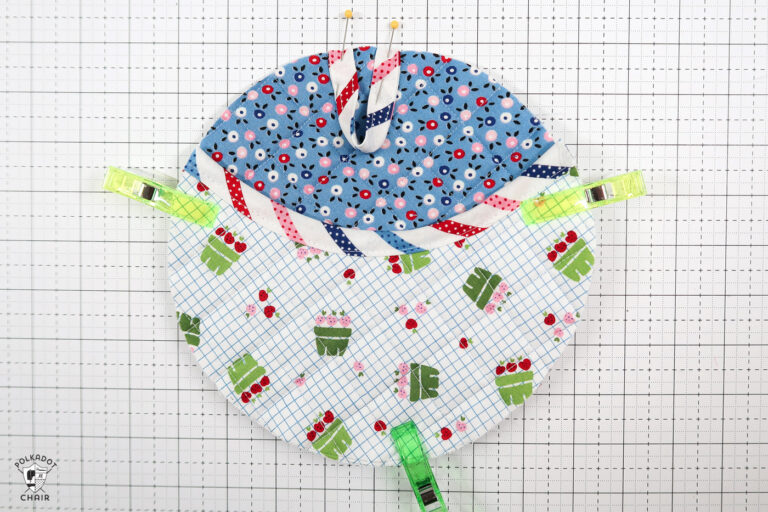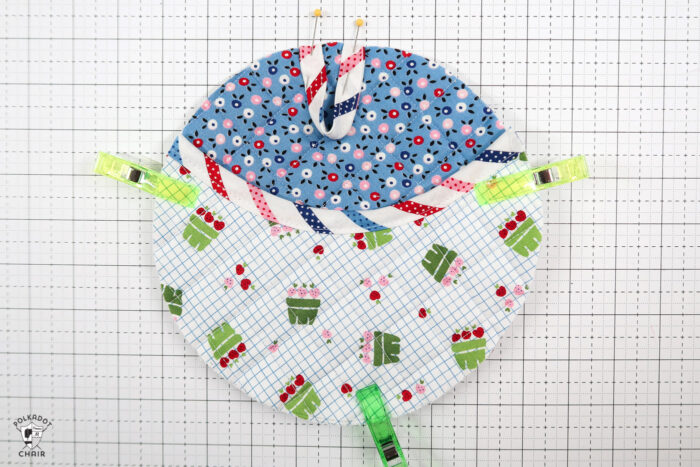 Stitch the bias tape to the potholder. To do this you need to unfold the bias tape and pin the raw edge of the bias tape to the front of the potholder, right sides facing.
You will then stitch the bias tape to the potholder, stitching close to the 1st fold in the bias tape. When you get back to where you started stitching, measure the bias tape, cut off the excess, and stitch the ends together. This step is similar to joining binding ends on a quilt.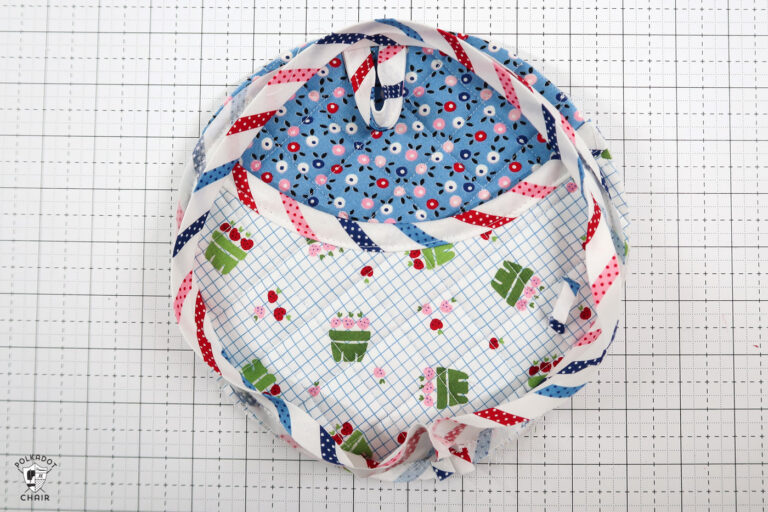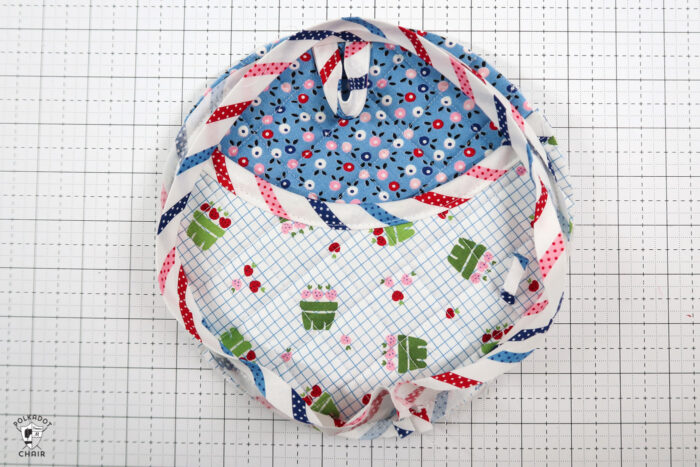 Refold the bias tape so that it covers the raw edge of the potholder. Press it well. When you've got it pressed well, stitch the bias tape down, making sure to catch all of the tape on both sides as you stitch.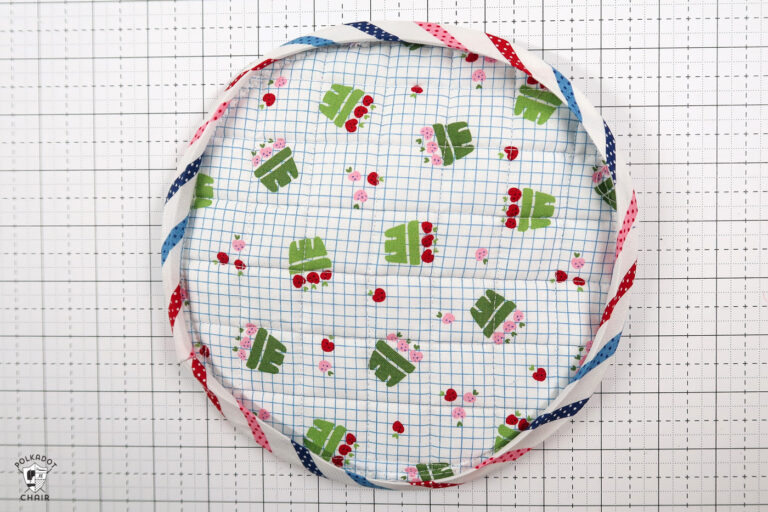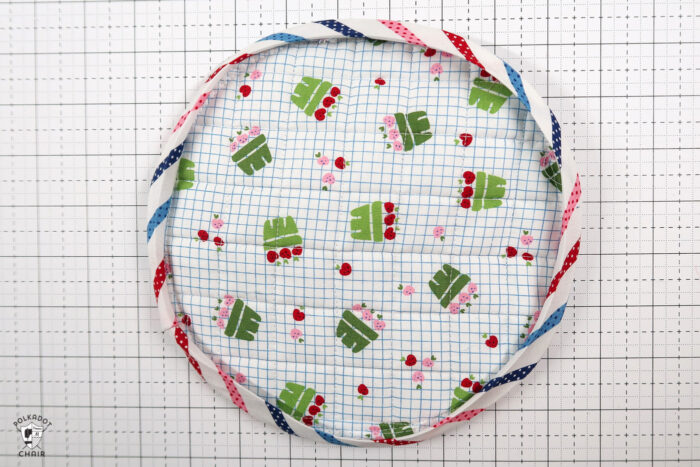 Make sure you fold your tab UP as you stitch. This will help to secure it in place.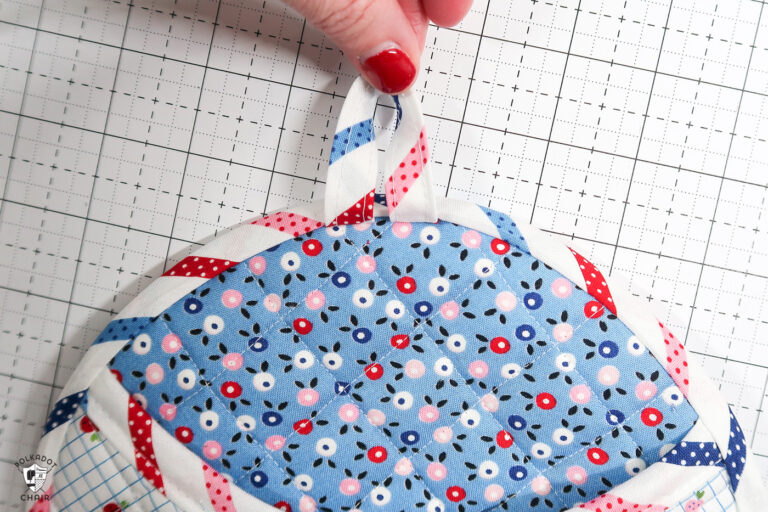 That's it! You can easily make a bunch of these as gifts! They are super quick to make and so fun.
If you liked this project, here are some other Gifts to Sew that you might like:
Roll Up Sewing Machine Mat Tutorial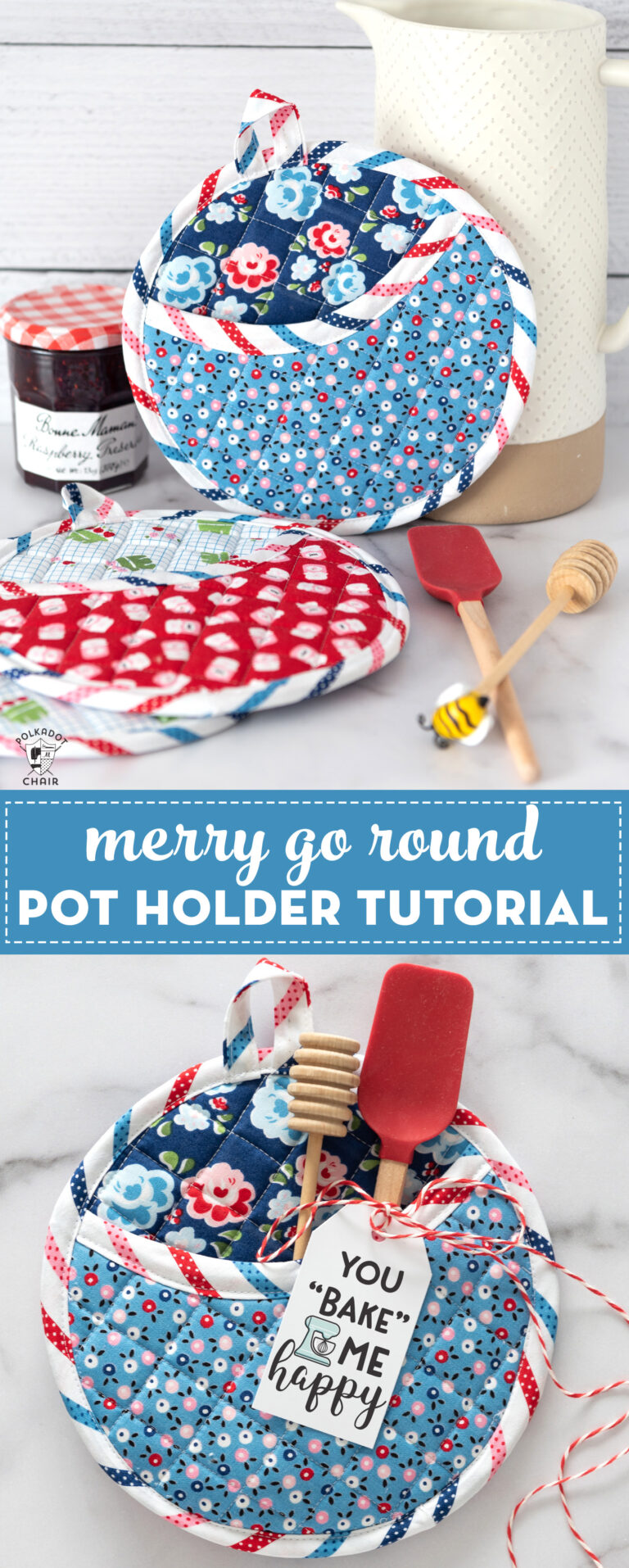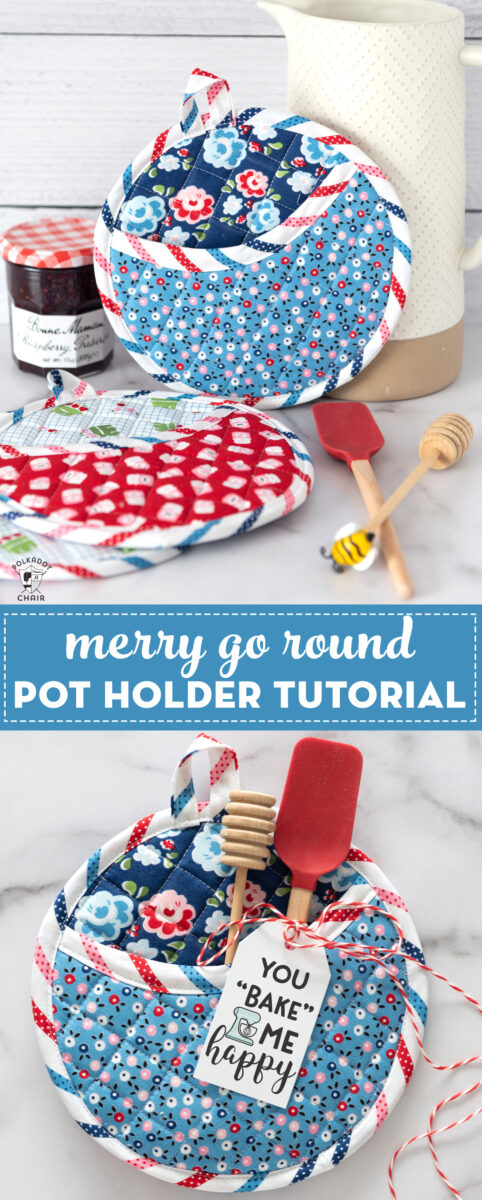 Click for Print Friendly Version