Are you intimidated by the thought of trying to learn how to Foundation Paper Piece? Maybe you've tried it before and gave up. Today I'm sharing with you 5 Foundation Paper Piecing Tips that are designed for beginning quilters (or anyone else new to FPP).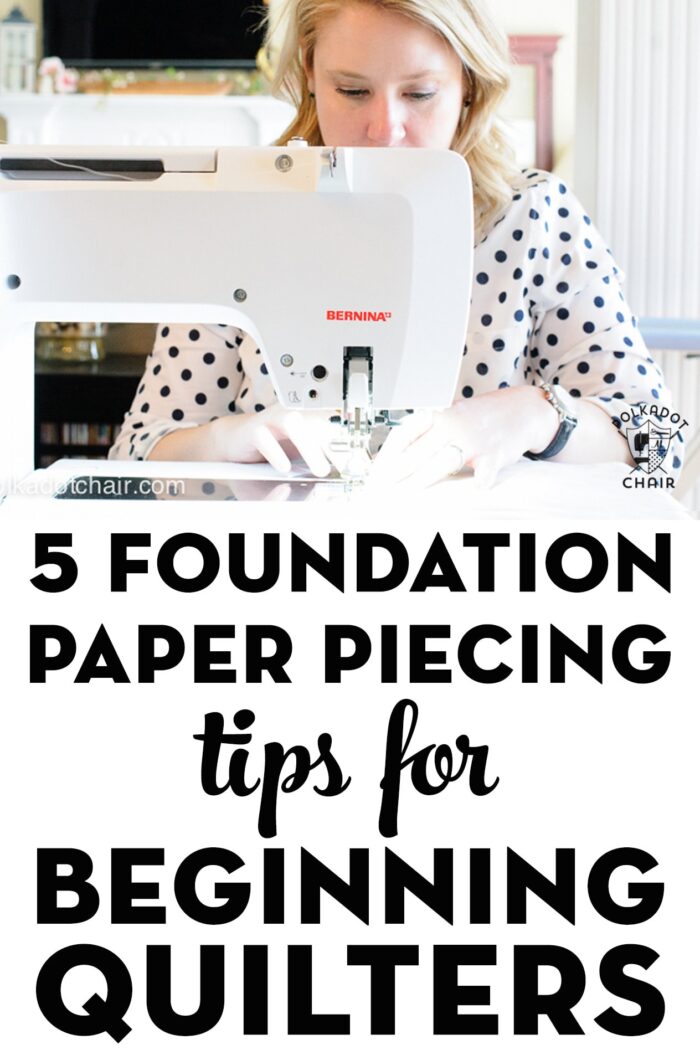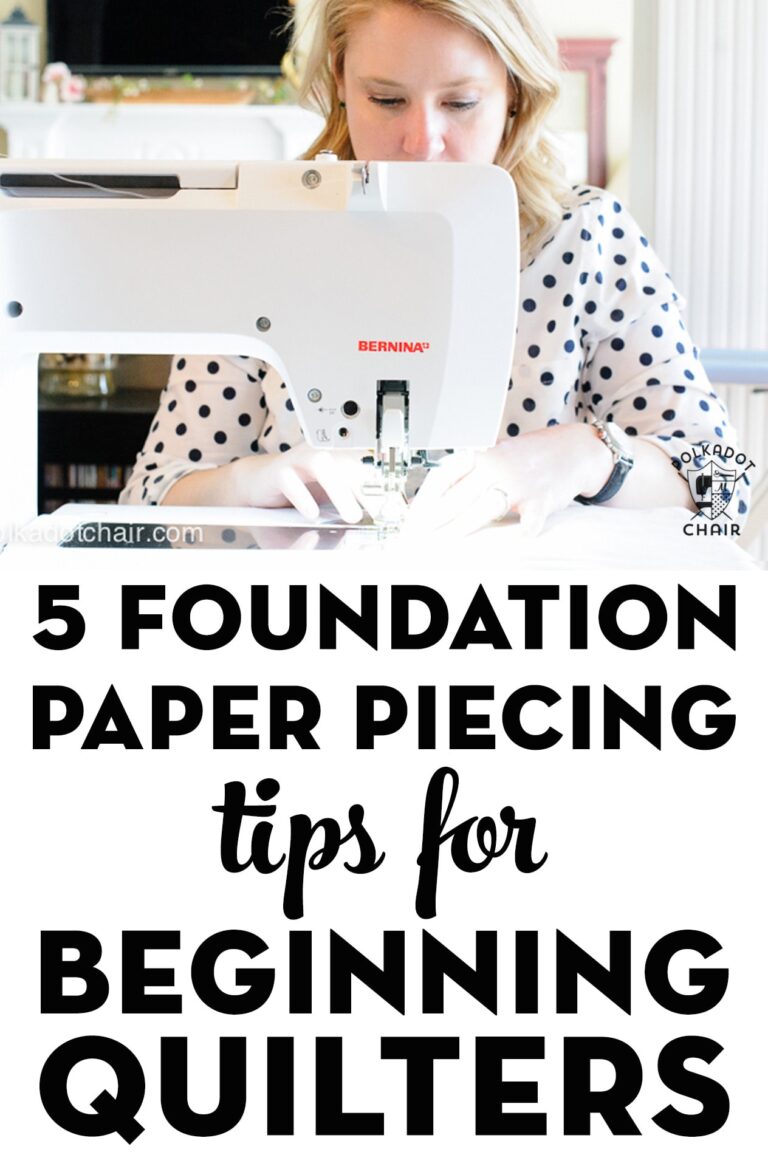 For those of you participating in the Let's Stay Home Quilt Along, today was supposed to be the final week. Since "Murphy's Law" seems to have taken over the quilt along, I'm moving the final wrap up out a week to give those who received incorrect kits a week to catch up.
Table of Contents
I'm also offering some tips for Foundation Paper piecing for those still working on their blocks or anyone else that would like to learn a bit more about FPP.
Okay so let's talk Foundation Paper Piecing (FPP)! I'm someone that likes to challenge myself to try new things and learn new skills. I designed the Let's Stay Home Quilt pattern with house blocks that are created using FPP to give you guys the opportunity to try something new! Which is also a lot of why I run this blog and put so much time into it.
I want to give you guys fun new things to try. Life can get boring and stressful and trying new things has always been one of the things that help me cope with life's stresses.
Why Use this Quilting Method?
I know many of you didn't like that the Let's Stay Home Quilt pattern had FPP (and you made it very clear in your emails – it's been a rough month LOL!) BUT I'm going to tell you that YOU CAN DO THIS.
It's not for everyone so if you try it and you don't like it, it's not a big deal. But IF you want to try it I'm going to share some Foundation Paper Piecing Tips for beginners with you today.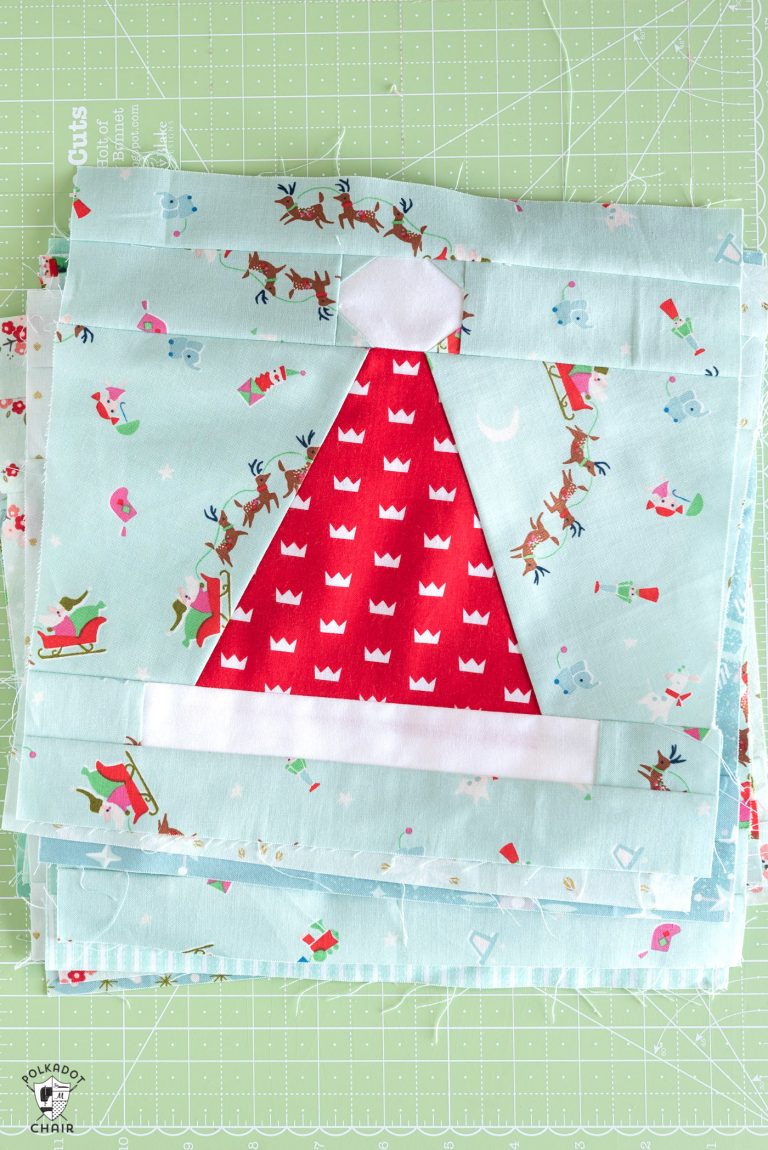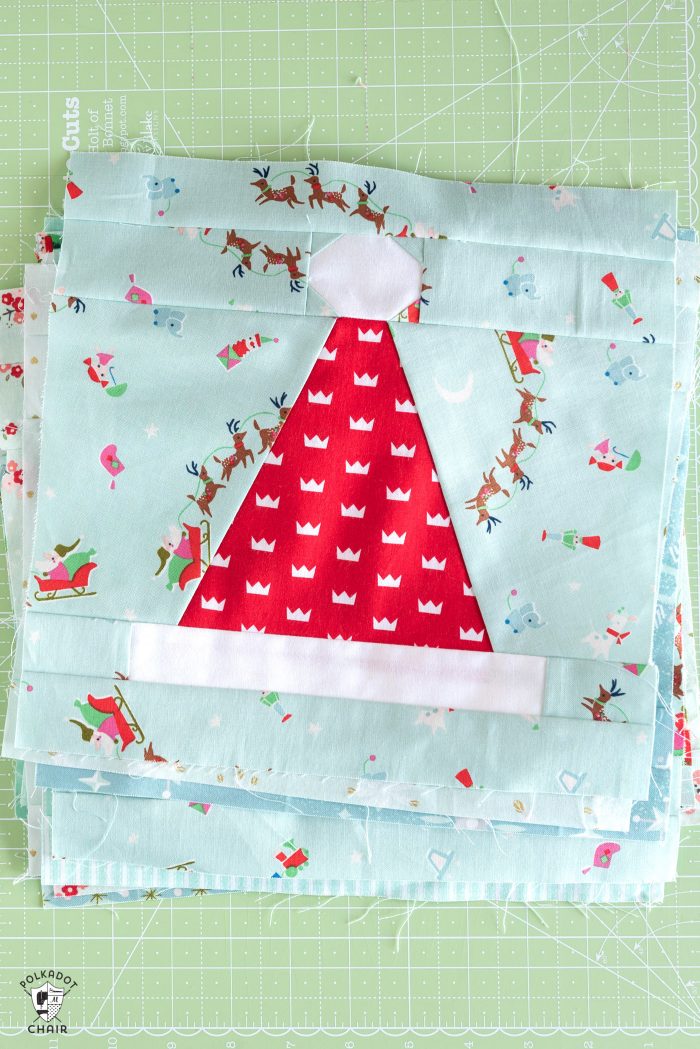 Block from Santa's Hat Shop Quilt pattern (it can also be traditionally pieced)
So why FPP? I find that you are more able to accurately piece your blocks when they are foundation paper pieced. Since the source of a lot of frustration in quilting occurs when your project doesn't turn out like you thought it would, FPP can help eliminate the source of some frustrations.
5 FPP Tips for Beginners
I'm a beginner to Foundation Paper Piecing myself, and all of these tips are shared from personal experience. Mostly because I made a lot of mistakes when I was learning. Mistakes are proof that you're trying so I try not to let them discourage me.
Note: I'll be referring to Foundation Paper Piecing as FPP frequently during this post.
Foundation Paper Piecing Tip One: Measure your Templates before you Start
FPP Blocks are made by sewing fabric to paper. The pattern is printed on the paper and you follow what's on the paper. Since the paper IS your design it's important that it's the correct size.
Did you know that most printers will print an image the size it "thinks" fits best on the paper? Many copy machines do this too. They are just machines so we can't blame them, they're trying to help us get the most from our piece of paper LOL!
Before you get started, measure your printed patterns and make sure they are the size called for in the pattern.
If you're having trouble, it's probably due to a setting in Adobe Acrobat. Go to File – Print- then look for either "page scaling" or a percentage box. Make sure it's set to either 100% or Actual size. If it's still not printing the correct size double-check that there are not any margins being added to your document. This setting can usually be found in the Page Settings or Advanced boxes in the Print Dialog.
Foundation Paper Piecing Tip Two: Color Code the Sections of your Design
Sarah Ashford shared a Kite FPP tutorial with us a few months ago. In her tutorial, she recommends color-coding your blocks before you sew. That way as you're picking up pieces of fabric to add to the paper you can make sure that you're picking up the right fabric.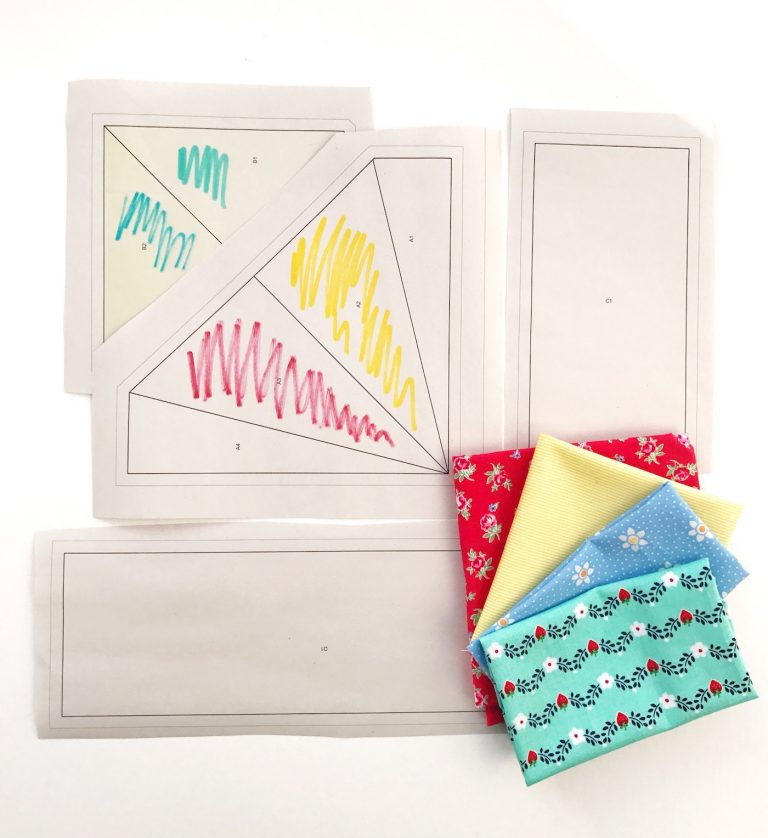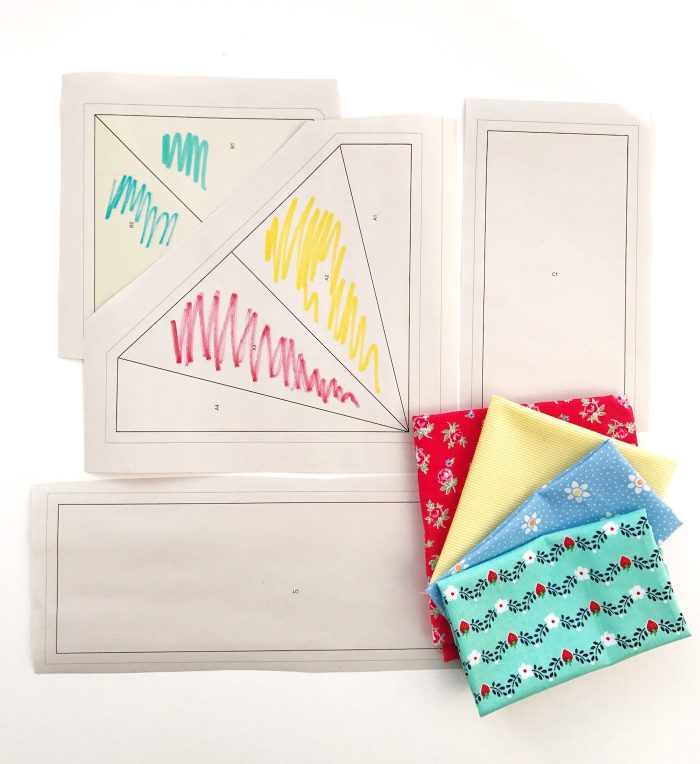 The FPP patterns that are included in my Santa's Hat Shop pattern are already color-coded for you. If you have a color printer the measurements for each section are in colored ink corresponding to the color of the fabric for that section.
Foundation Paper Piecing Tip Three: Be Careful with Trimming & Fabric Placement
Every mistake that I've made while working with FPP patterns has been due to overzealous trimming or misaligned fabric. I get in the "zone" while I'm sewing and stop paying attention to what I'm doing and make a mistake.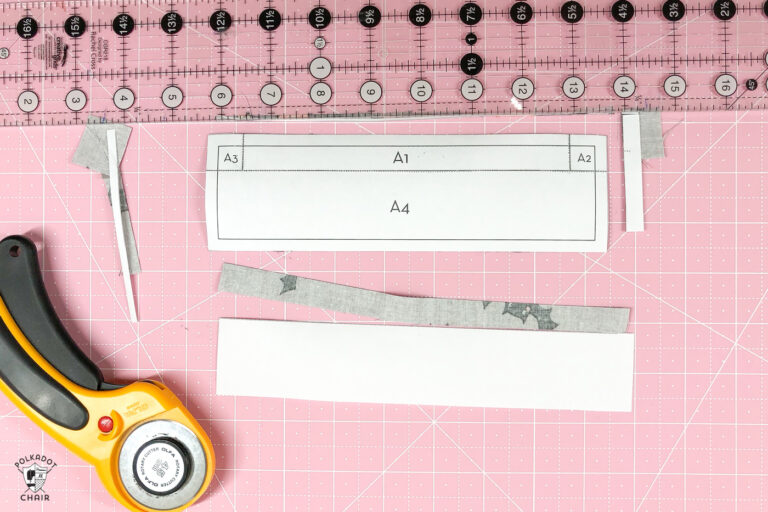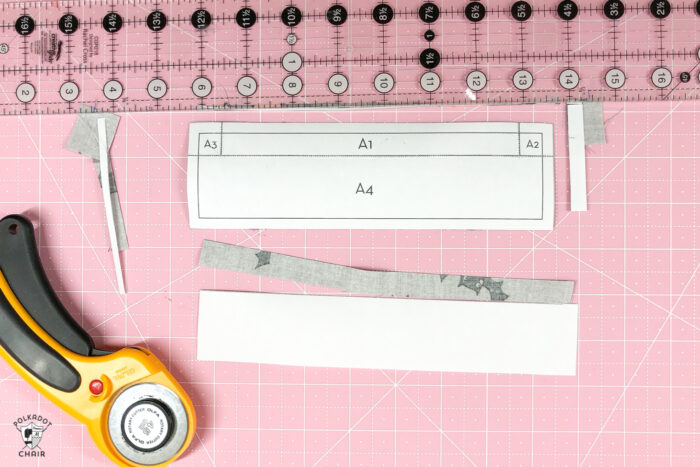 Most FPP patterns have two outer lines. The more inside line is the actual design and the outside line is the seam allowance. You want to make sure you trim your pieces on the outside line. If you trim on the inside line you have no seam allowance. Also, double-check before you trim to see if the FPP has seam allowance included or not.
If you're worried about misaligned fabric pieces Lee Heinrich of Freshly Pieced Quilts shares a tip for placing your pieces for FPP. Many times with FPP it's hard to visualize where the fabric will end up after you sew it. Especially when you're dealing with weird angles. I have many times thought I had enough fabric to cover a section of my pattern but noticed after I sewed the seam that I was short. This tip from Lee is brilliant.
Foundation Paper Piecing Tip Four: Use Paper Specifically for Foundation Paper Piecing
Let me preface this to say that you do not NEED to have special paper for FPP. You can use regular printer paper. It will work just fine. However, if you want to try it, I do find that Foundation Paper Piecing Paper is easier to work with.
I've noticed that it's easier to fold accurately and easier to remove from the block after you're done sewing. I like to use the Carol Doak FPP paper.
Foundation Paper Piecing Tip Five: How to Set up Your Space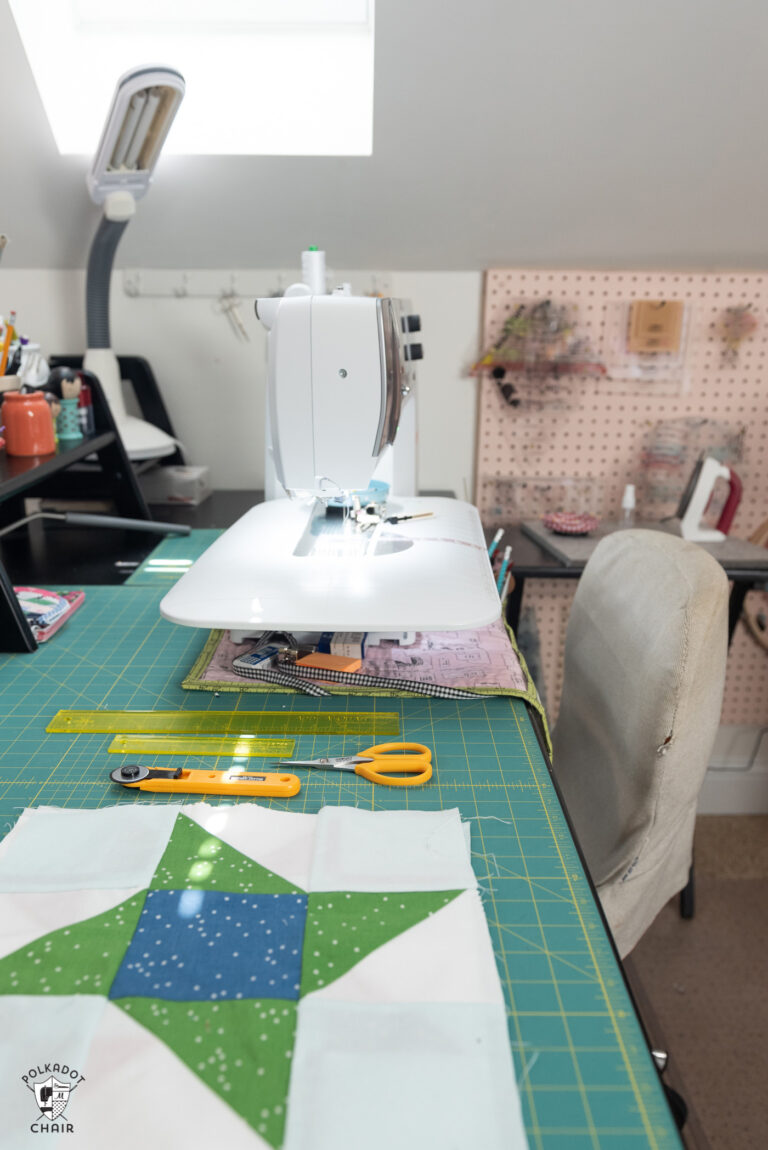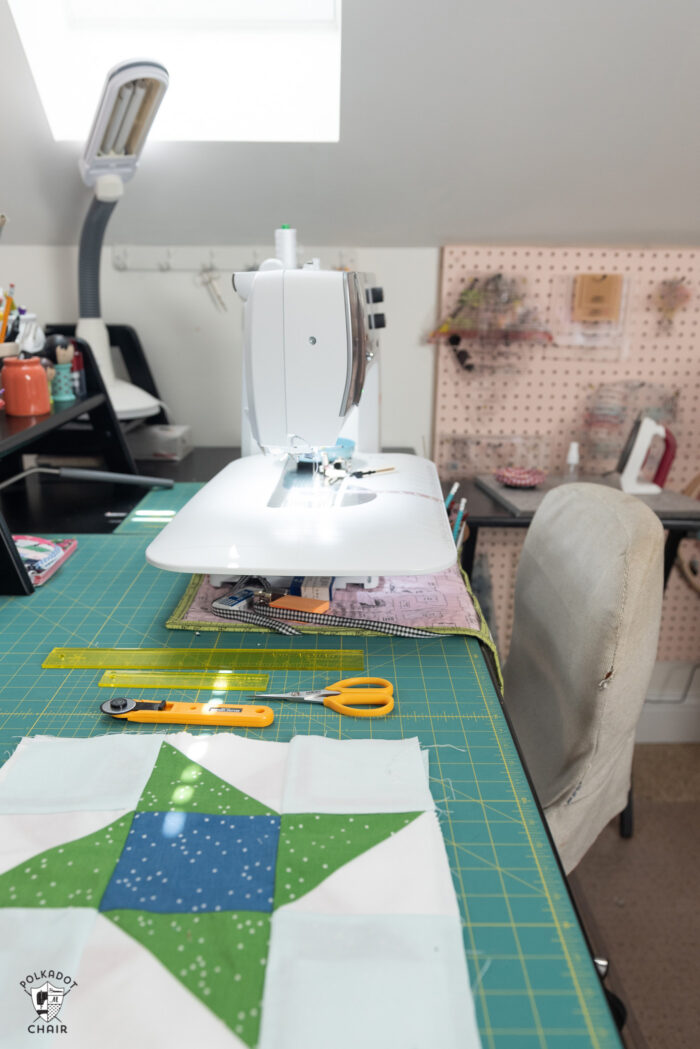 There is a lot of pressing and trimming involved in FPP. If you're constantly standing up to trim your fabric then moving to your ironing board to iron you're going to get worn out very quickly.
This is a shot of how I have my space set up. I have my machine on a cutting mat. So I can cut while I'm sitting down. I also have a small tray table close by with a wool pressing mat and small iron.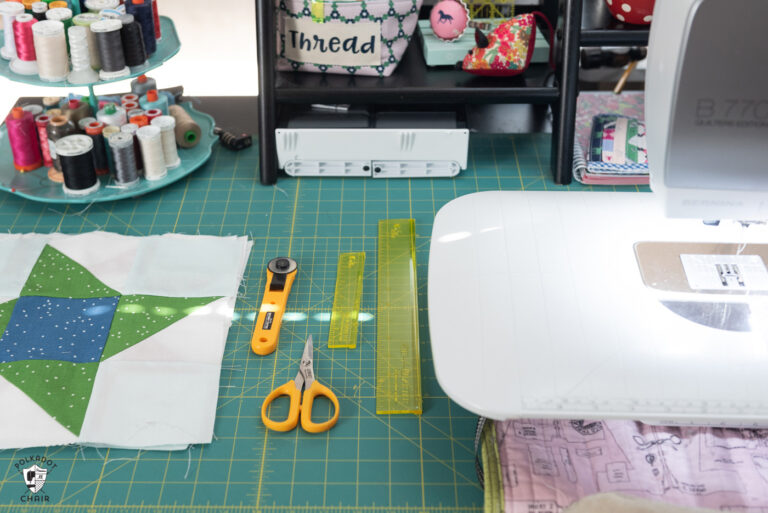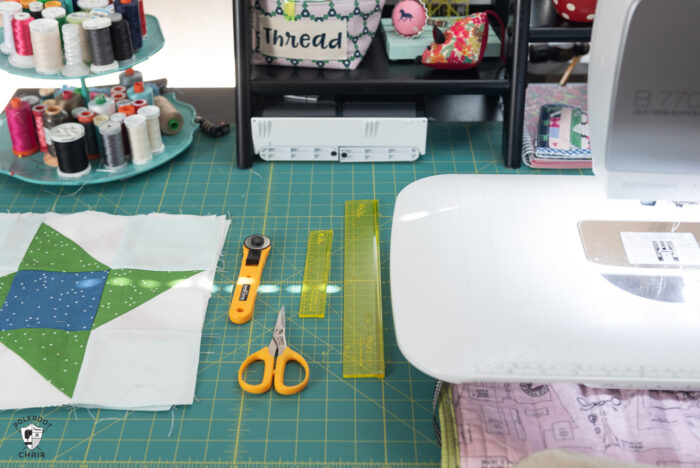 The iron I use is no longer sold. I have heard good reviews about this one.
This is the pressing mat I use.
Link to how I made my Peg Board
The pattern for my Sewing Machine Mat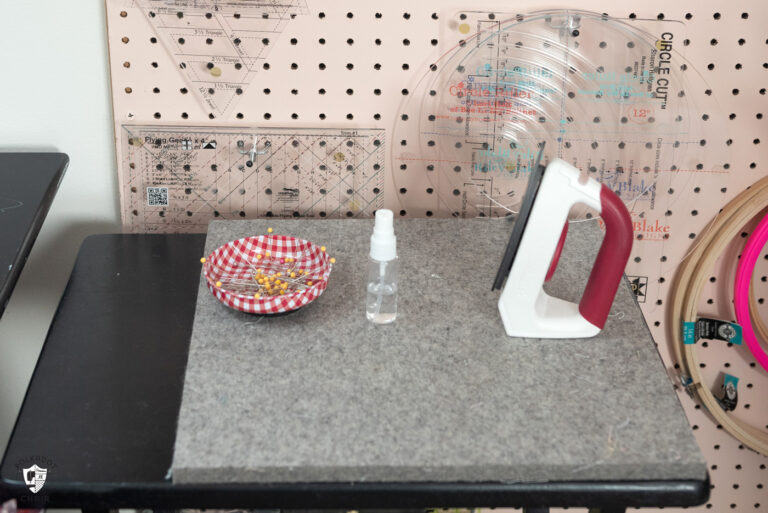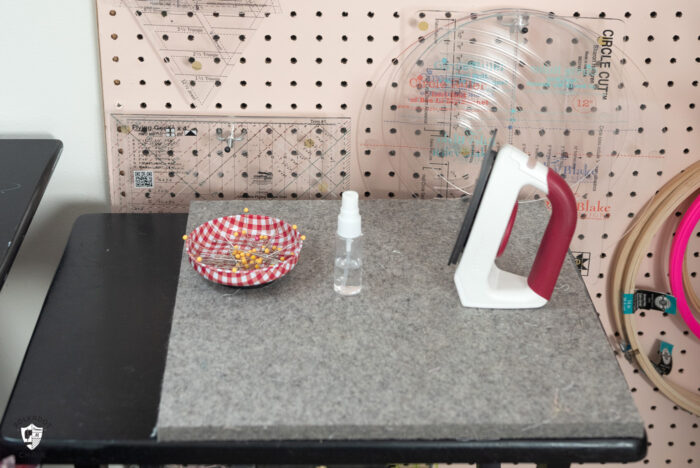 This way as I'm working I don't have to stand up and sit down over and over again. It makes the process much more pleasant. (You can see more photos of my studio space HERE).
So do those tips help? If you have any questions leave them in the comments and I'll try my best to answer them for you.
A few other Quilting Tips that I think you will like
How to Pick Fabric for a Quilt