Oh how I love vintage hankies!!! Last year I made a quilt with them and had a few left over. I like to throw them into projects when I get the chance…. One day while I was thinking about what else I could make with a vintage hankie… it dawned on me… "a burp cloth"… I mean they are designed for cleaning up messy faces right???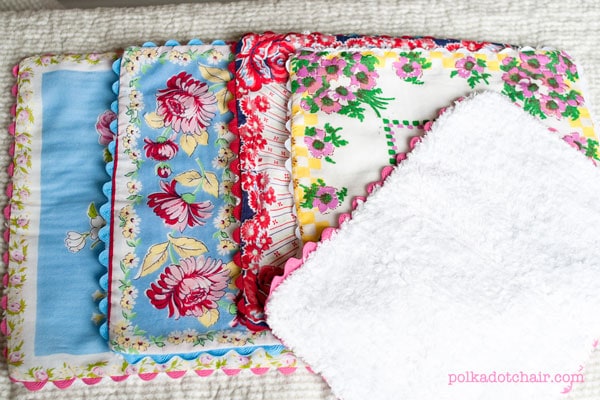 To make them a bit more absorbent I backed them with chenille. It only takes small squares of chenille so it was great use of some scraps I had.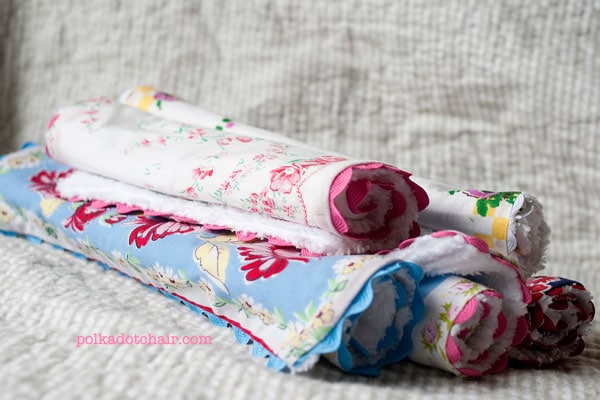 Here's what you need to make them!! They are SOOO easy, this is a good project for a beginning sewer.
Vintage Handkerchiefs- to find some in your area, try antique stores, junk stores and thrift shops. Many stains can be removed after a good soaking, but many can't- judge accordingly.
Chenille
Ric Rac
Okay, I'm lazy and normally don't pre wash ANYTHING… This project is an exception… besides the obvious germ issue with a used hankie, you need to pre wash and dry (in the dryer) the chenille. TRUST ME. If you don't you'll have a hot mess on your hands.
After you've pre washed your hankies and chenille, you need to cut your chenille to the size of the hankie you are working with.
Next stitch your ric rac to the edge of the right side of the hankie. Pin as you go. Stitch right down the middle of the ric rac.
Lay your hankie on top of your cut piece of chenille, right sides together. Stitch together, along the stitching line you just made to attach the ric rac. Leave a 2″ opening on one side to turn the hankie right side out.
Clip corners and turn right side out.
Press well and pin opening closed. Hand stitch or use seam tape to close the opening.