Learn how to make a soft & snuggly baby receiving blanket with this free Flannel and Minky Blanket Sewing tutorial! This Minky blanket is easy to sew and only takes a little over a yard of Minky fabric!
Today I'm going to show you how to make the easiest, most cozy baby blanket. It's so soft that you're going to want to make a big one for yourself! This blanket features one layer of flannel fabric and one layer of Minky fabric. The blankets also feature a bit of decorative edge trim.
Table of Contents
These blankets make excellent baby shower gifts because they are economical (you only need a little over a yard of each fabric), simple, and easily customized to your recipient.
Is it Hard to Sew a Baby Blanket?
No, it's pretty simple actually; the entire project is just four straight seams!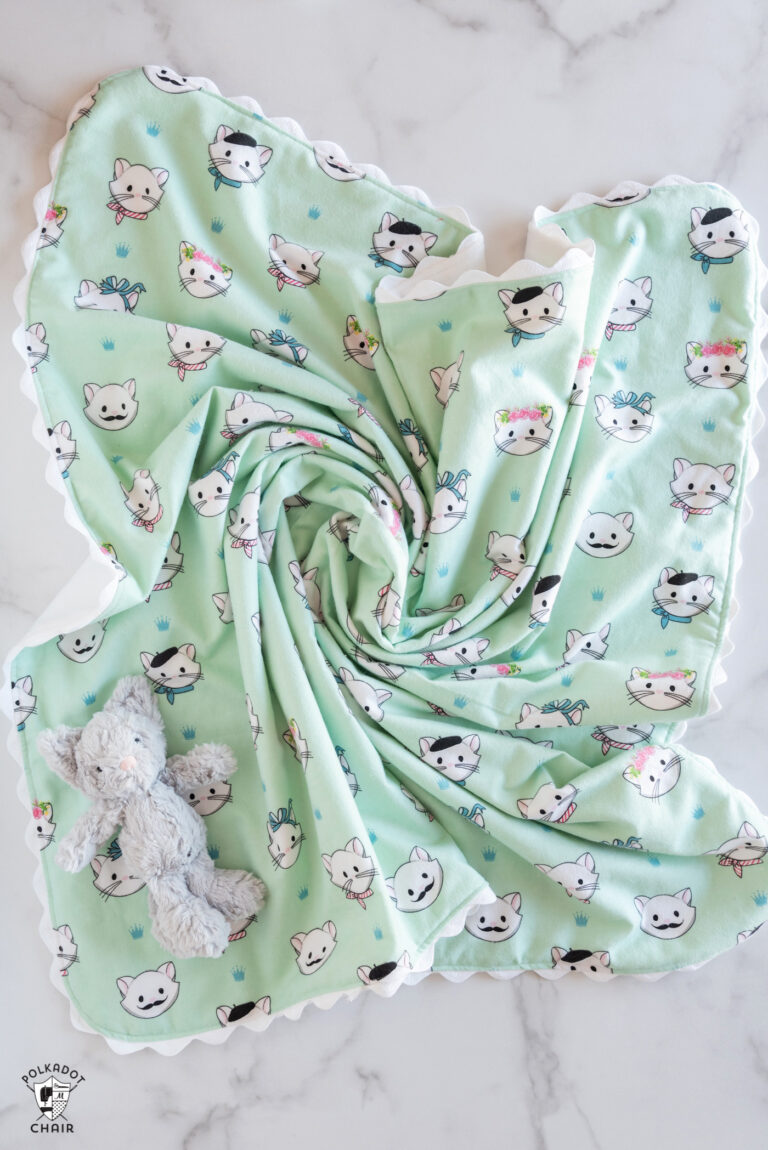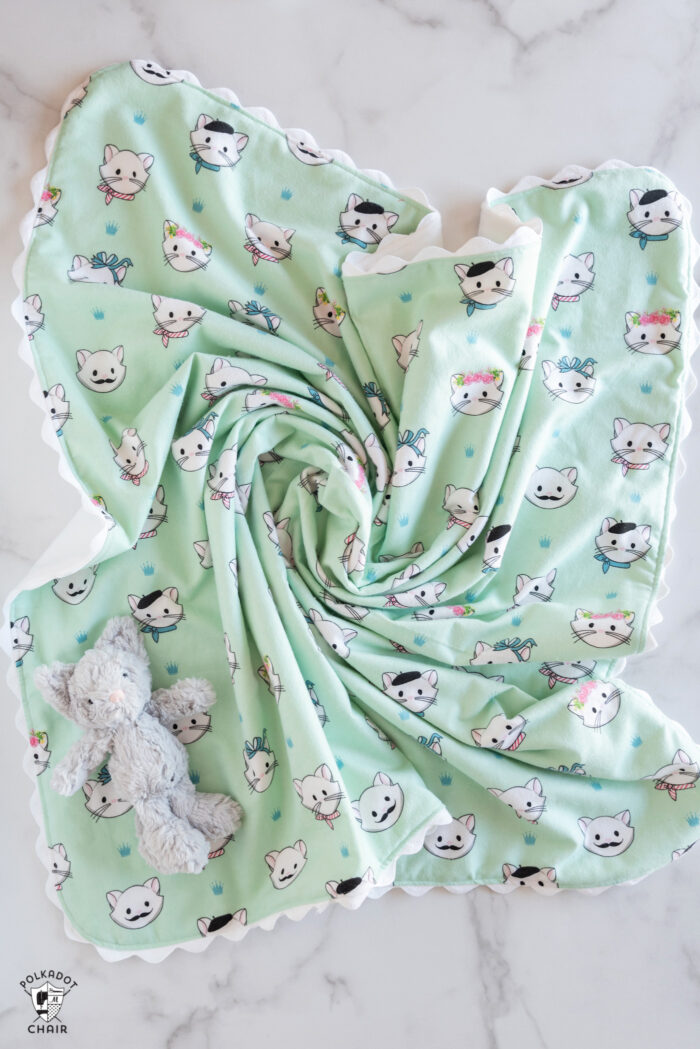 One of the EASIEST ways to sew a blanket for a baby is to take two pieces of fabric, cut them into a square, sew them right sides together (leaving a small opening), and turn them right side out. Voila, an EASY baby blanket. There's a bit more to it than that, but you get a general idea.
One of the biggest problems with a simple sew and flip baby blanket is getting straight sides on the blanket. You have to press your seam open before you turn the blanket right side out, and even then, the edge is sometimes wonky. I've made many baby blankets using that method and always find myself frustrated at the end.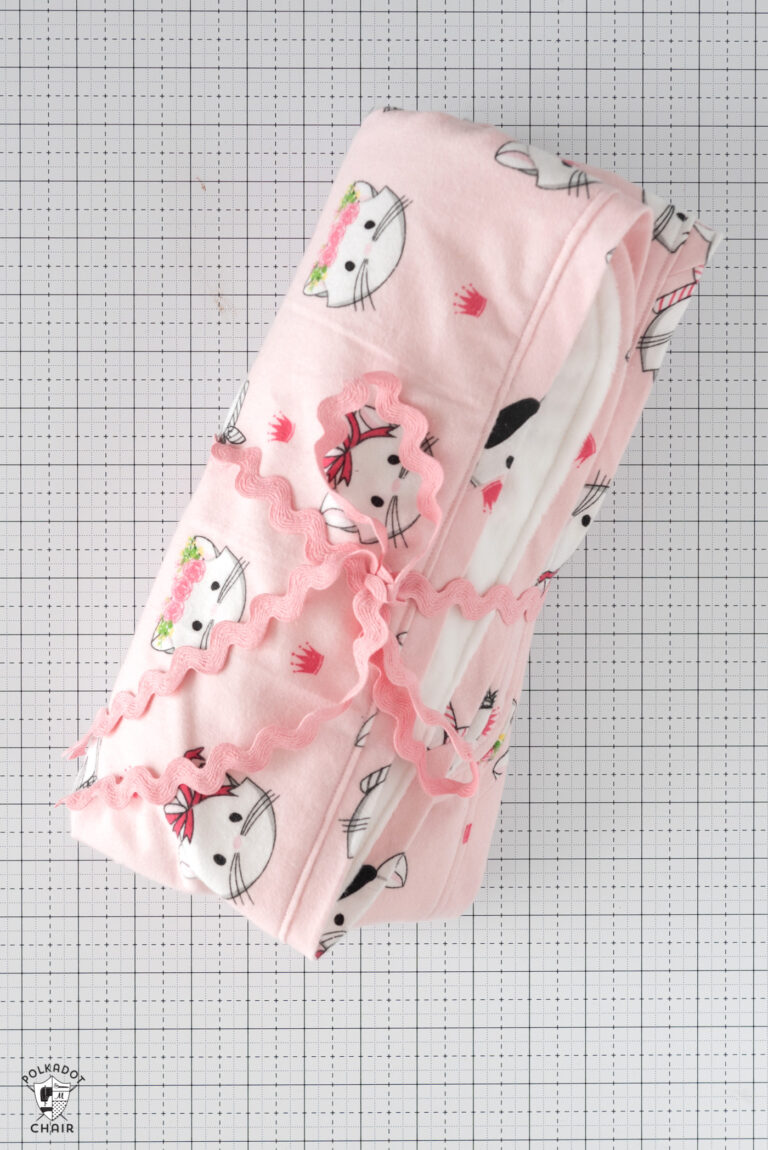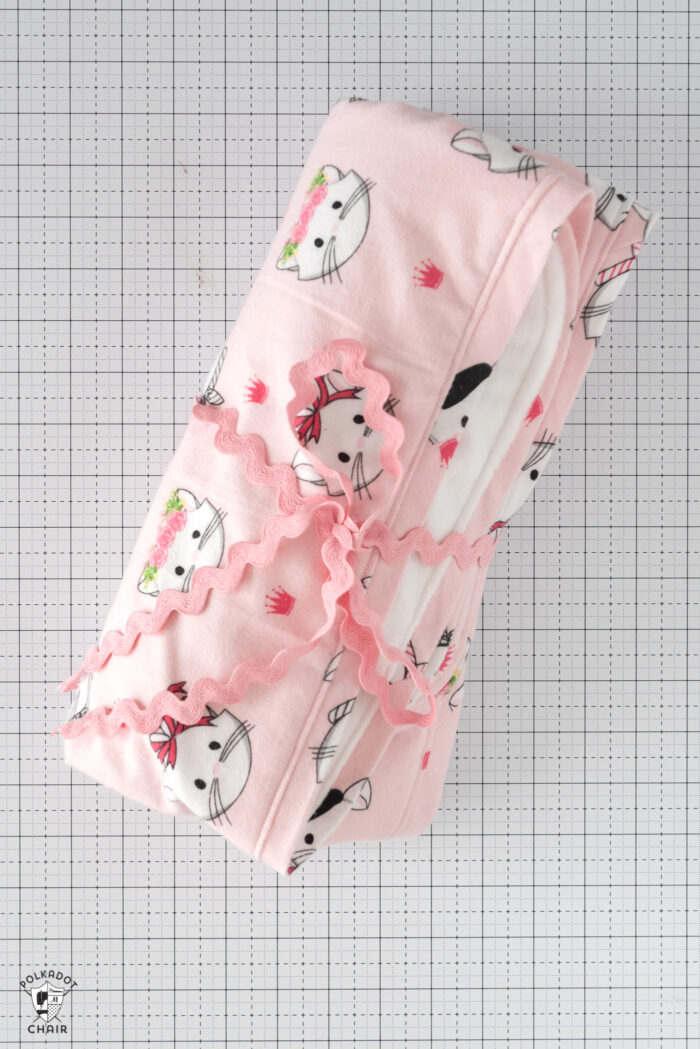 I have found that if you insert a bit of trim or fabric into the seam before you sew the blanket, not only does it look nicer, but it's easier to sew since the trim gives you something to pull when you turn the blanket right side out—making it MUCH easier to get a clean side seam.
I've been making baby blankets this way for years! I don't know why it has taken me so long to write a tutorial.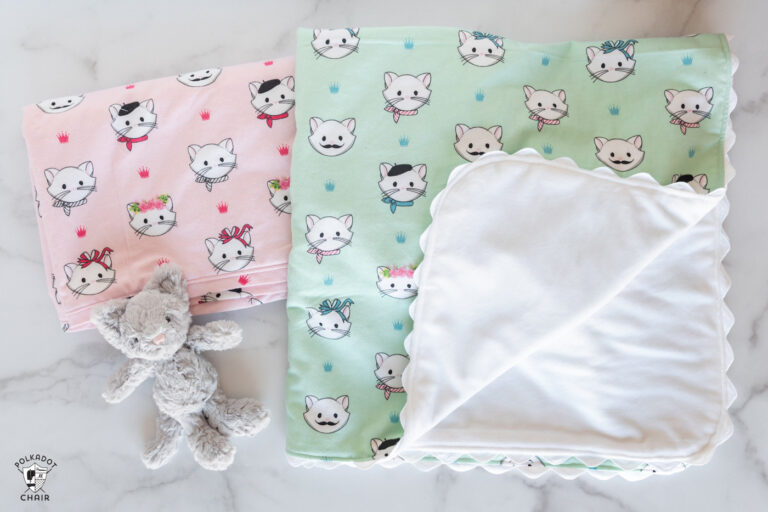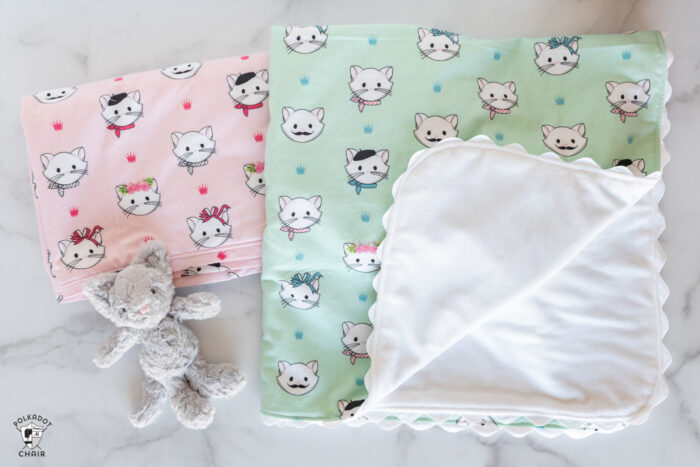 Baby Blanket Size
These baby blankets measure approximately 39″ x 39″ when finished.
Creating a blanket makes the most of the width of fabric (most flannel is 40″-44″ wide), leaving you with as little waste as possible. You can make them larger if you prefer, but you'll need to piece the flannel fabric to get a larger piece of fabric.
About the Sewing Pattern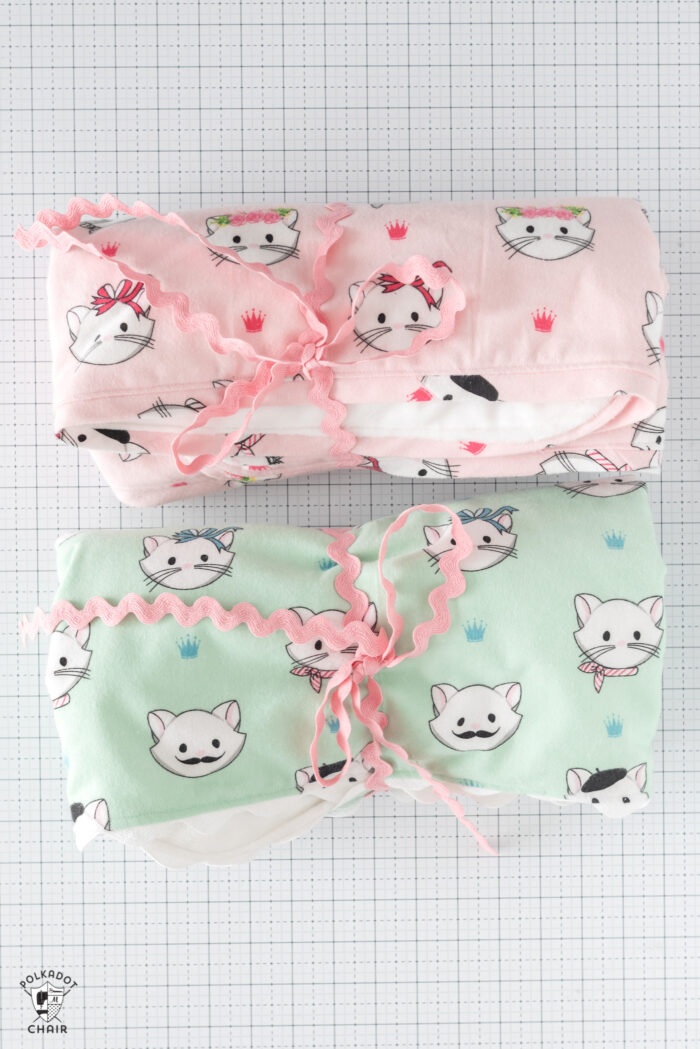 Instructions are included to make a Minky baby blanket with either a bias flange edge or a ric-rac edge. I prefer the ric-rac, but I know that some prefer the more modern look of a simple fabric edge.
The construction method for both is essentially the same, and you will need to make bias trim for the blanket with the flange (the pink one in our tutorial).
One side of this blanket is flannel (the print is from my Chloe & Friends fabric collection), and the other side is Minky, making this blanket SUPER SOFT!
A few tips for working with Minky Fabric
Cut Minky fabric with a Rotary tool. I recommend a rotary tool with a 45mm blade. if the minky you're working with is very thick, you may need to go up to the 60mm blade.
Minky fabric is messy when it's cut. That's just how it is. Instead of trying to avoid the mess, just plan around it and keep a lint roller close by. If you feel there is an excessive amount of "fuzz" simply wash & dry the fabric.
Use a lot of pins! Normally I'm not one who pins much as I sew. However, when I sew with minky fabric I am careful to pin every 1″ of seam. When you're going around corners you may need to pin every ½″.
When sewing minky and another fabric, always have the minky fabric closest to the feed dogs of the sewing machine. The feed dogs (those little metal plates under your presser foot), will help to evenly feed the fabric as you sew.
Use a walking foot. A walking foot is a presser foot that attaches to your sewing machine that "walks" over your fabric. I use a walking foot anytime I'm sewing multiple layers of fabric together or any thick fabrics.
A slightly longer stitch length will help your fabric feed evenly. I recommend a 3. If it's too much smaller the fabric may just bunch up as you sew and you will be left with very tiny stitches.
Try using a Stretch Needle. Personally, I sew with a Universal 90/14 needle and have been fine. However, alot of sewing is machine specific and your machine may be "happier" sewing minky fabric with a stretch needle. I usually use a 90/14.
Can I Make the Blanket Larger?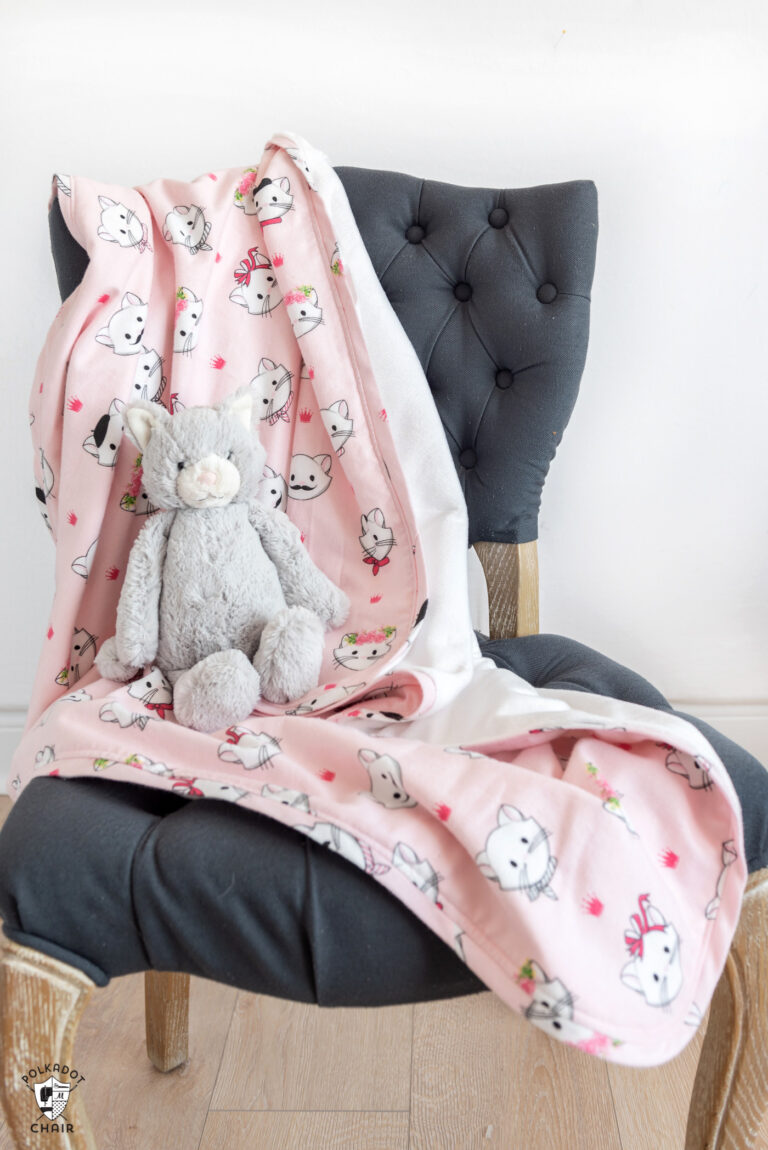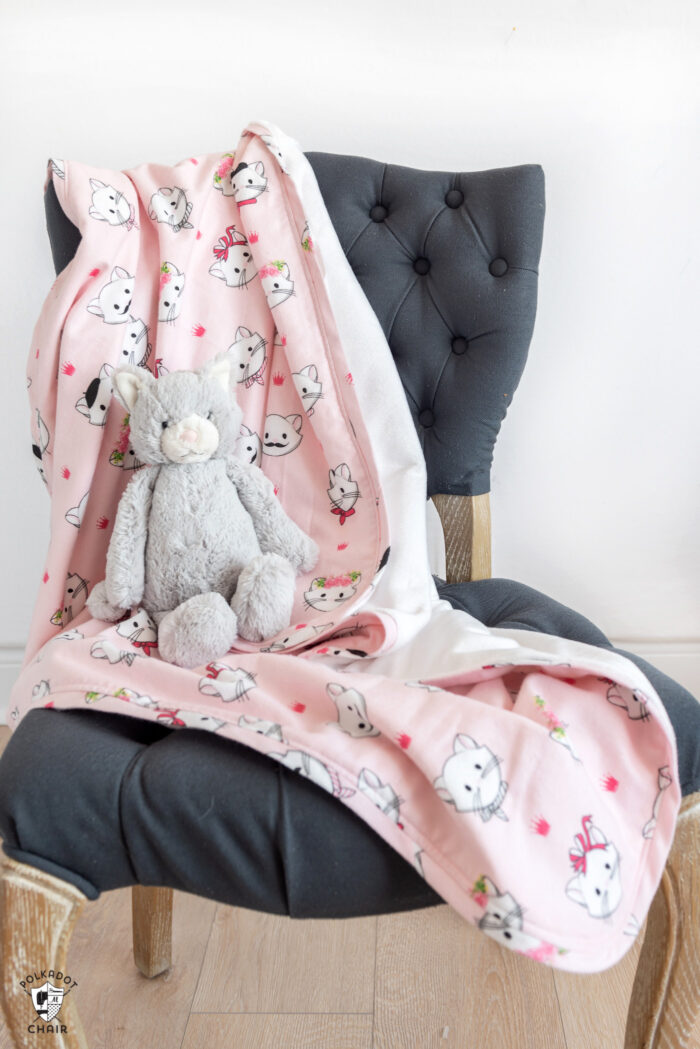 Yes, you can make it any size you want. But you'll need to do a bit of math. Flannel fabric is about 42″ wide. It needs to be prewashed and will shrink. To make a blanket larger than 40″ in one direction, you'll need to sew two pieces of flannel together. Most Minky fabric is 60″ wide. If you want a blanket larger than 60″ x 60″, you'll also need to sew two pieces of Minky together.
Do you Need to Use Batting with Minky?
I am not using batting since this is a baby blanket and not a quilt. However, when I make a quilt with Minky batting, I use lightweight cotton batting.
Do I need to Pre-Wash the Fabrics?
In this case, yes. Since the Minky does not shrink (or will not shrink much), and the flannel does shrink, you'll need to prewash and dry both pieces of fabric before you cut. This will ensure that the blanket remains the correct size after it's completed and washed.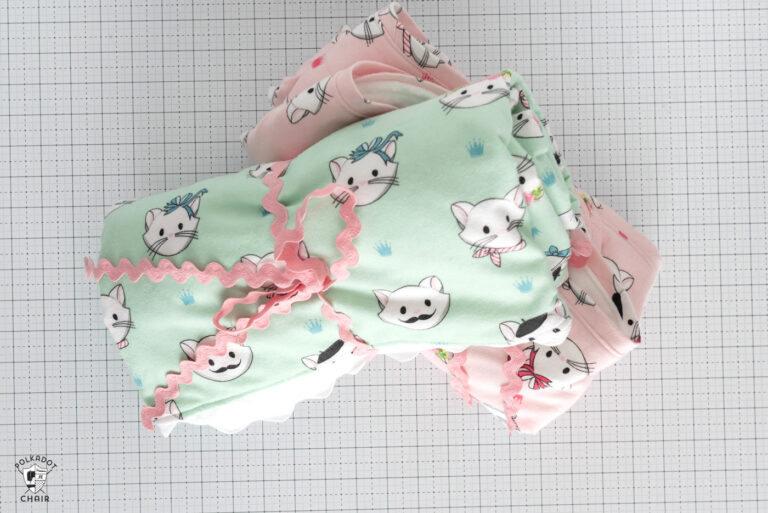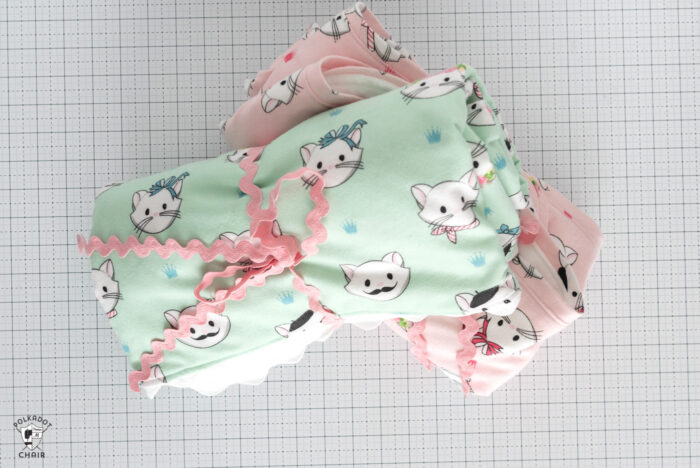 Minky Baby Blanket Supplies
1 ¼ yards of Minky Fabric
1 ¼ yards of Flannel Fabric
4 Yards Jumbo Ric Rack Trim OR
½ yard Flannel (for bias flange)
Long straight pins
Recommended but not required.
Walking Foot for Sewing Machine
Video Instructions
We've created a video outlining all the steps in the construction process. You can find it in the article below or on our YouTube channel.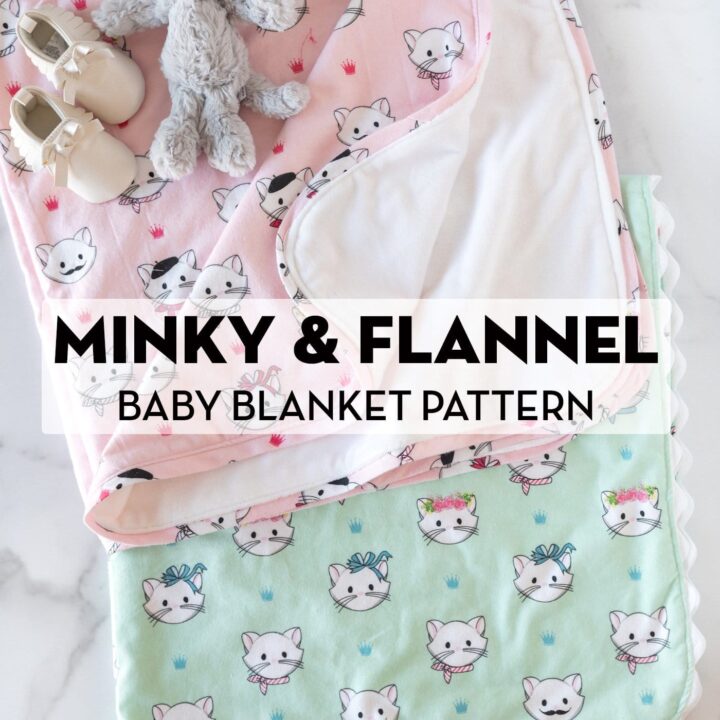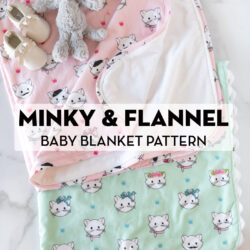 Flannel and Minky Baby Blanket Pattern
Learn how to sew a simple flannel and Minky blanket. This pattern is beginner-friendly and makes a great baby gift.
supplies
1 ¼

Yard

Minky Fabric

1 ¼

Yard

Flannel Fabric

Print is from the Chole & Friends Collection by Riley Blake Designs

4

Yards

Ric-Rac Trim; Jumbo

OR

½

Yard

Flannel

you do not need an extra ½ yard of flannel if you are making the blanket with ric-rac trim.
Instructions
Preparation
Pre-wash and tumble dry all fabrics before cutting.
Cutting
Cut the flannel fabric to 40" x 40".

Cut the Minky fabric to approximately 42" x 42"; this does not need to be an exact cut. You will cut the Minky again in a later step.

Using a Curved Corner Ruler or a round plate, curve all 4 corners of your 40" x 40" piece of flannel fabric.

To do this, I like to fold my fabric in half and curve two corners at one time.
Create Bias Trim
If you are making the blanket with a fabric flange, cut your ½ yard of fabric into 2" bias strips.

To cut fabric on the bias, line the fold or selvage edge of the fabric up with the 45-degree mark on your quilt ruler. Make a single cut.

Then sub-cut along the same angle strips 2" wide.

You will need approximately 160" total inches of cut bias. I cut most of my ½ yard of fabric and had plenty of fabric.

Sew the bias strips together at a 45" degree angle. Trim the excess seam allowance.

Press the bias fabric in half lengthwise, wrong sides facing.
Sew Bias to Flannel
Place the folded bias along the right side of the edge of the 40" flannel piece of fabric. The raw edge of the flannel piece will be even with the raw edge of the bias.

Sew the bias to the flannel using a ½" seam allowance. Be sure to pin the bias well around the curves so that you get a smooth edge.

When you get back to where you started, join the bias ends.
Ric-Rac Instructions
To make the baby blanket with ric-rac trim, pin the ric-rac trim to the outside edge of the right side of the 40" piece of flannel.

The edge of the ric-rac should be even with the edge of the fabric.

Sew the ric-rac to the flannel by sewing in the center of the ric-rac. Finish the ends of the ric-rac with a bit of Fray Check.
Assembly
Lay the Minky fabric piece on the floor right side up. Lay the sewn piece of flannel on top of the Minky right side down. Take care to smooth out any wrinkles in the two fabrics.

Pin the perimeter of the blanket VERY VERY well. You will want to place a pin at least every 1".

Move the pinned fabric to your sewing machine. Sew the Minky to the flannel with the flannel side up.

Stitch on top of the SAME seam you created when you stitched the ric rack or bias to the flannel piece.

Leave an 8" opening on one side of the blanket.
Finishing
Trim any excess Minky fabric from the seam allowance using large scissors or a rotary cutter.

Turn the blanket right side out through the opening you left in the seam.

Press the edge of the blanket well (you may need to use a pressing cloth with certain types of Minky, be sure to test it first).

Tug on the trim gently to ensure that you have a nice, crisp edge on your blanket.

Using pins, close the opening in the blanket.

Topstitch the entire perimeter of the blanket, making sure to close the opening as you sew.
PRINT
More Baby Blanket Sewing Patterns
Patchwork Minky Self Binding Baby Blanket Pattern
Upcycled T-Shirt Baby Blanket Pattern