Today I'm going to share with you a few tips to for caring for and sewing with vintage linens. I've also included a list of things you can make with vintage hankies, sheets & pillowcases.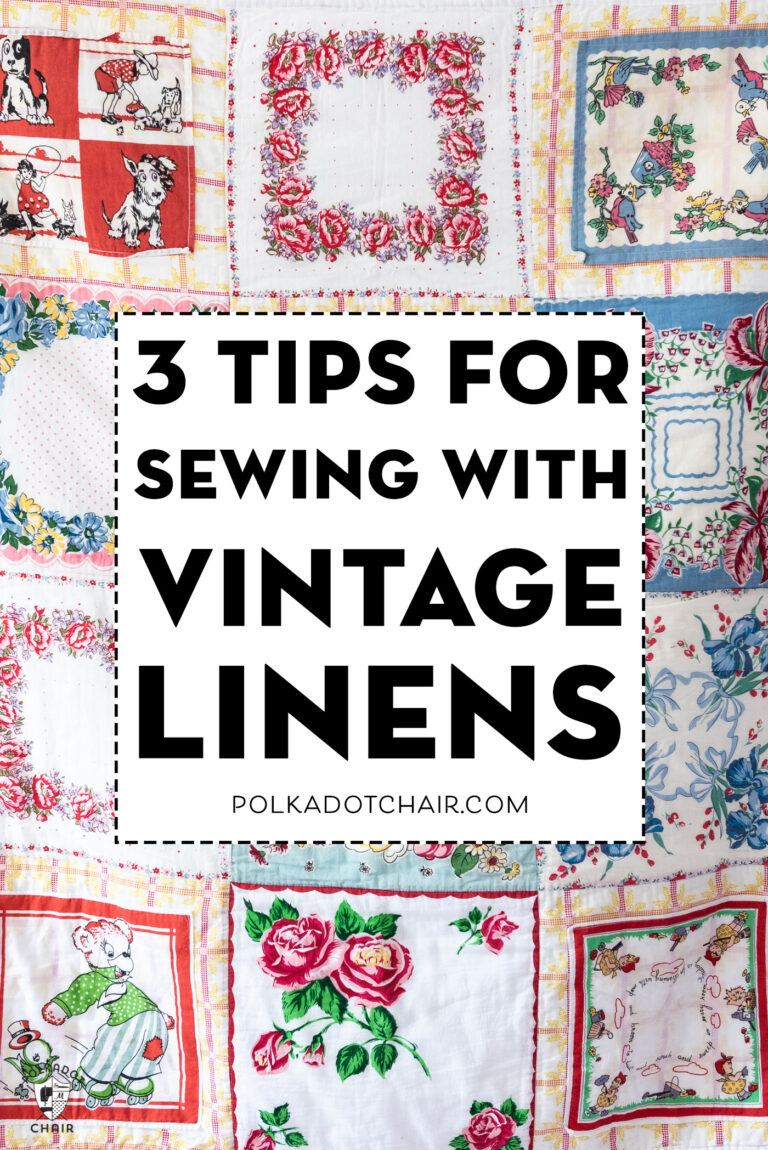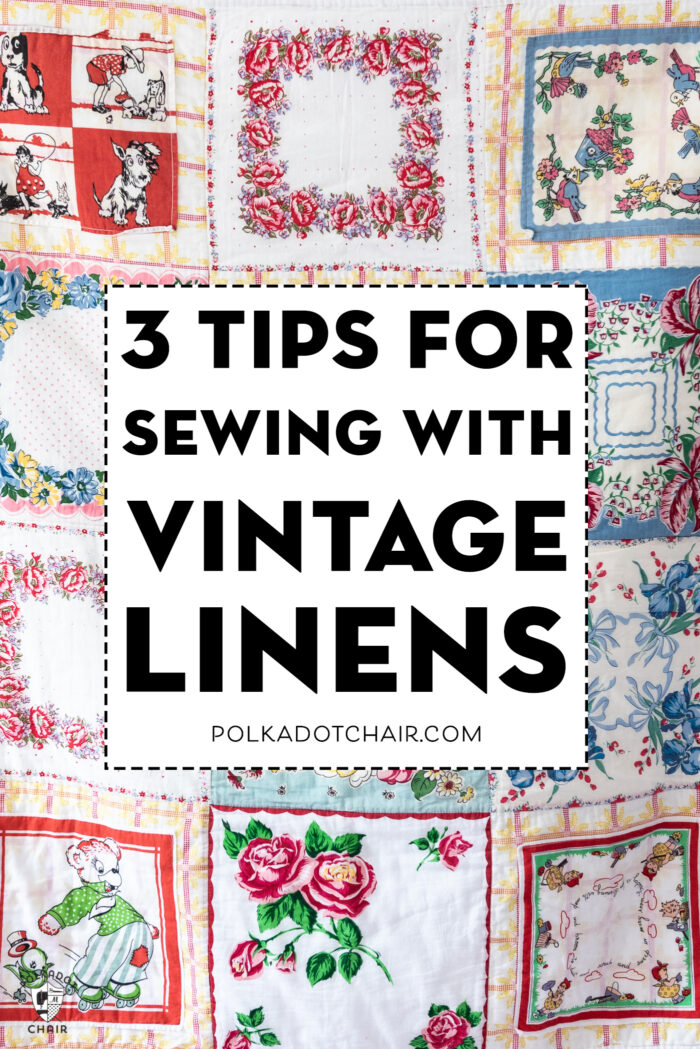 I ADORE vintage linens, I love the fabric, the patterns, and the bright and original colors.
I know that many people believe that you should NOT change/sew/or repurpose vintage handkerchiefs or other linens. I'll say now, I am not one of those people. I feel like the linens are so much better used and appreciated in a sweet quilt for a baby than in a box sitting in the closet. Obviously, if they are very rare or sentimental to you, you'll want to leave them intact.
But if you stumble on a pile of vintage linens at a thrift shop that's just sitting around not being used, you might as well turn them into something beautiful!
Another thing to consider, especially when dealing with vintage sheets (which tend to get thrown out a lot), is that you are repurposing something that might have just ended up in the dumpster.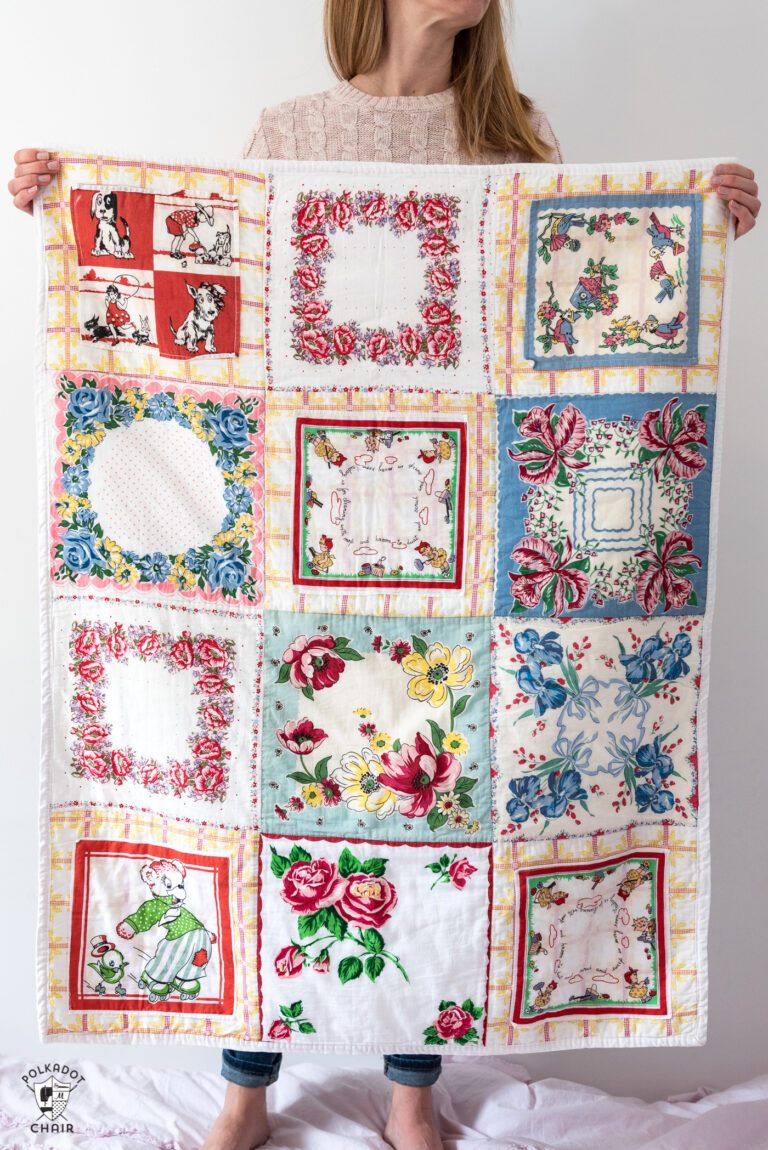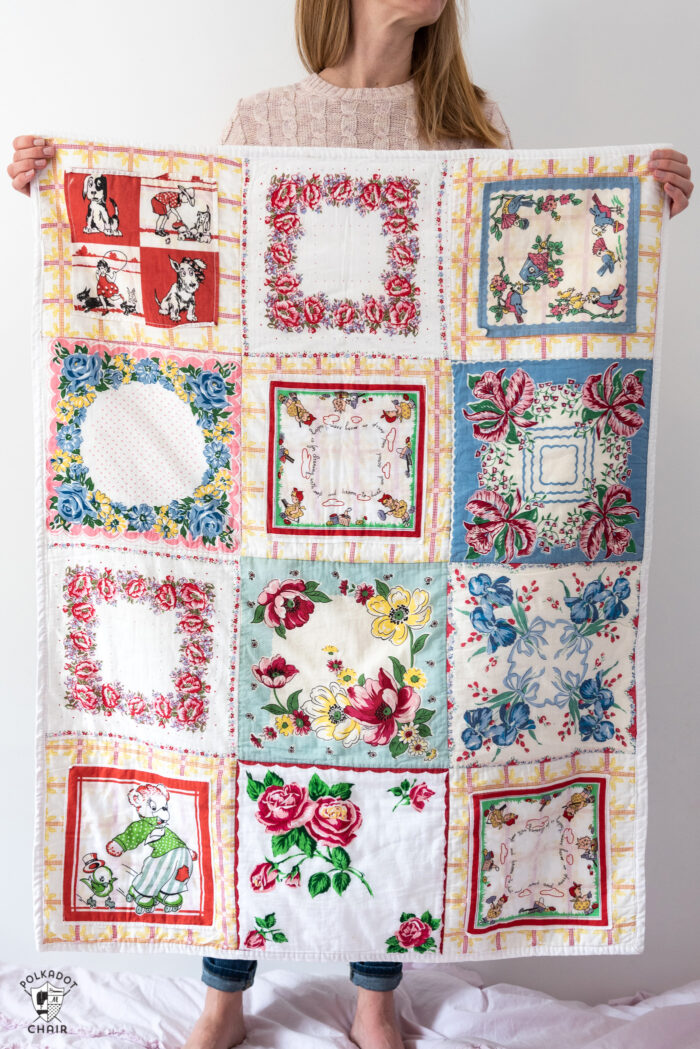 If you've not sewn with vintage linens before, there are a few things you should know before you start. They are more fragile than some fabrics produced today so there are some things to keep in mind.
I'm going to share with you a few tips to care for the vintage linens, then give you a few ideas of just what kinds of things you can sew with them.
Tips for Sewing with Vintage Linens
1- How to Clean Vintage Linens:
The first thing you'll want to do when you get your vintage linens home is to clean them. You have NO idea where they have been and I would not use them at all before they get a good wash. Many of the linens may be stained, and since the fabric is older you need to be very gentle with how you treat it.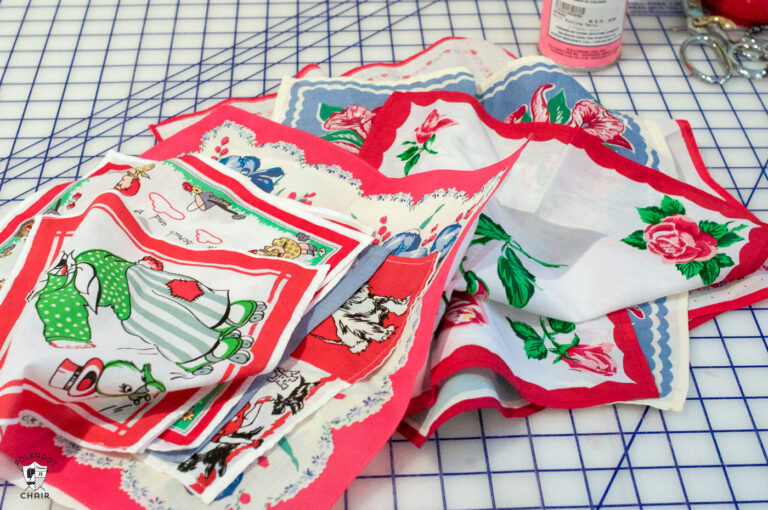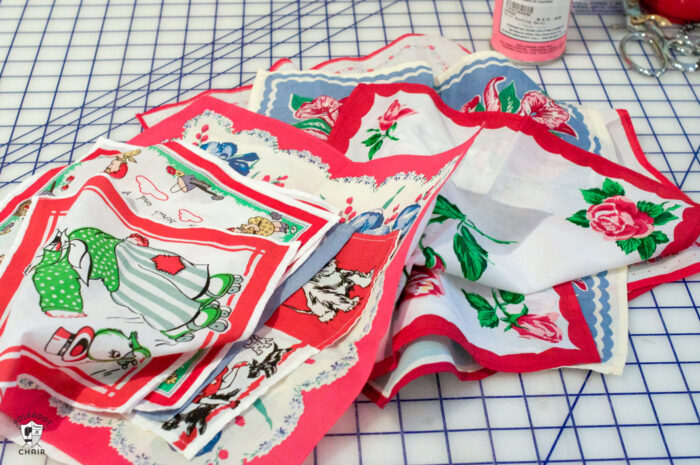 If your linens seem extra fragile you need to be careful before you wash them. Don't try this if you think they won't hold up well to washing. If they are very threadbare or torn they may be better off not being washed. You can also test a small corner with detergent to see how it reacts.
Start with a simple wash in cold water using a gentle phosphate-free detergent like Woolite for Delicates. Fill a sink (or plastic bucket) with cold water and add a capful of detergent. Let soak for about 1 hour. Rinse them VERY well in cold water. If they are clean then lay them flat to dry on a white towel. After that, If they still look stained keep working.
If the Woolite didn't work try White Vinegar. You'll just want to use a capful in your bucket. After the linens have soaked, give them a good rinse.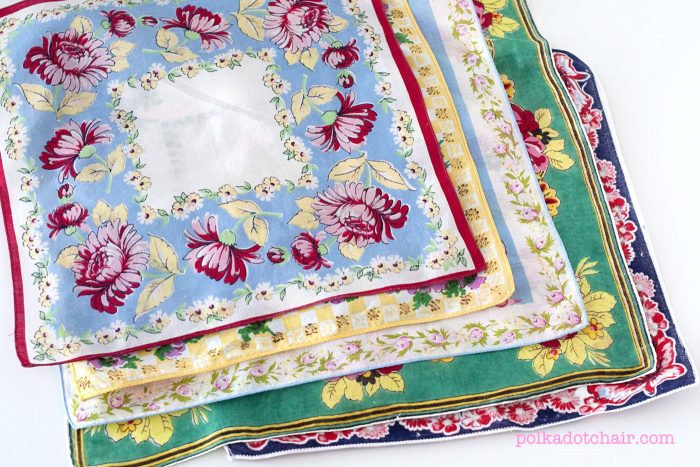 If none of those two things worked, pull out a bit of Oxi Clean. Soak the linens then rinse them well and allow them to dry in the sunshine. Just make sure if you try ALL of these cleaners that you rinse very well in between steps, and you DO NOT combine any of the cleaners with each other. Also, be sure to test for colorfastness before you get ANY vintage linen wet.
To try to remove stains in white linens, you can try a combination of lemon juice and salt.
Projects to Make with Vintage Linens: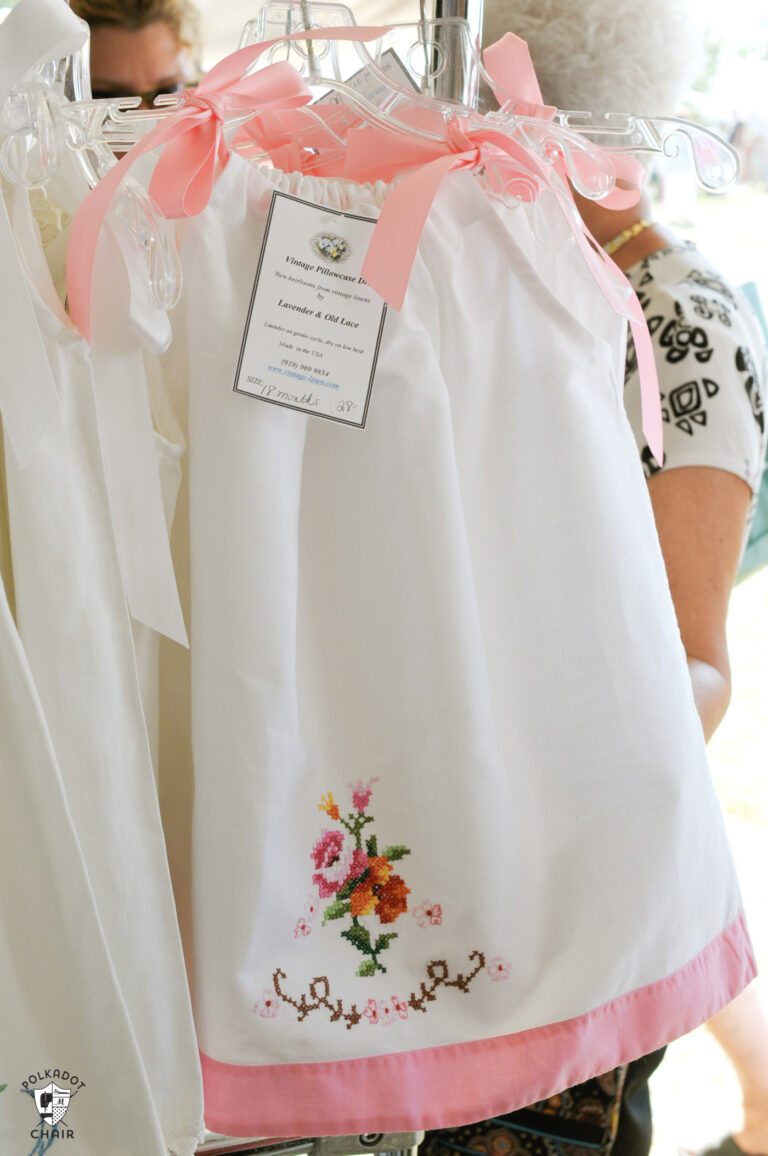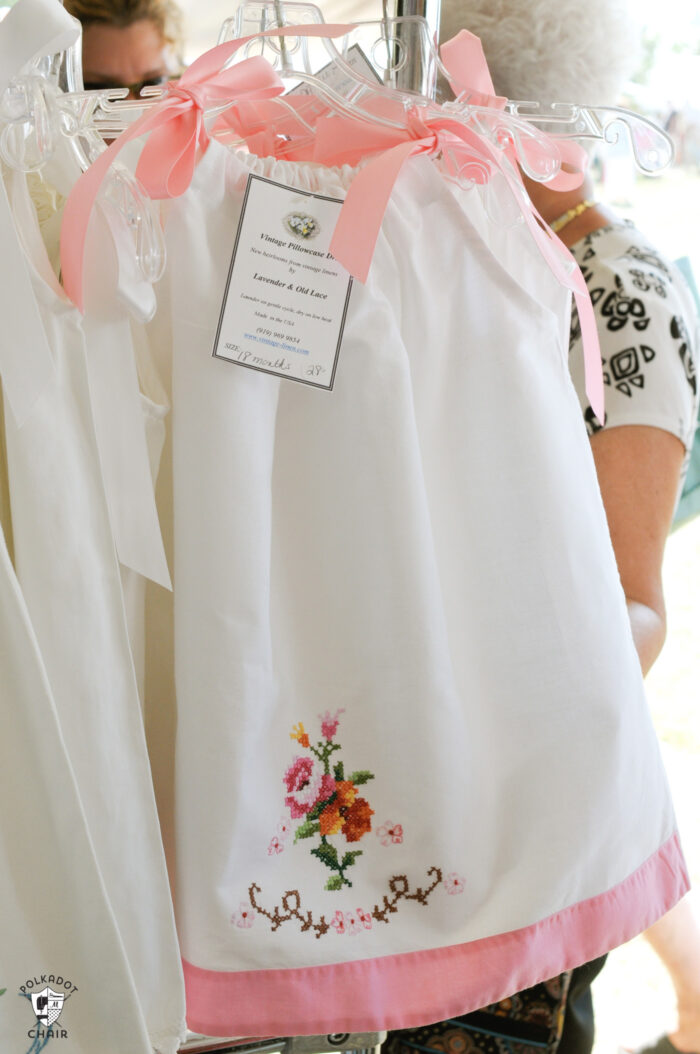 Now that your linens are clean you can start to sew with them. Not sure what to make? There are a million possibilities. A few suggestions:
Stuffed Toys
Patchwork Table Runners
Jenni Baker (of InColorOrder.com) created a gorgeous vintage sheet quilt- you can see it HERE.
I actually wrote an entire post all about project ideas for Vintage Linens, you can see it HERE.
2- Stretch your Vintage Fabrics by Mixing with other Fabrics
If you are sewing a quilt or other large scale item and find that you run out of vintage linens, you can easily mix store-bought fabric in.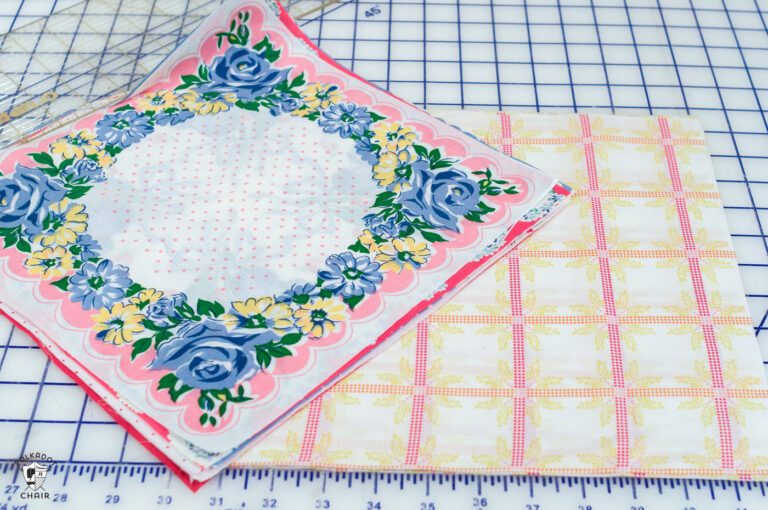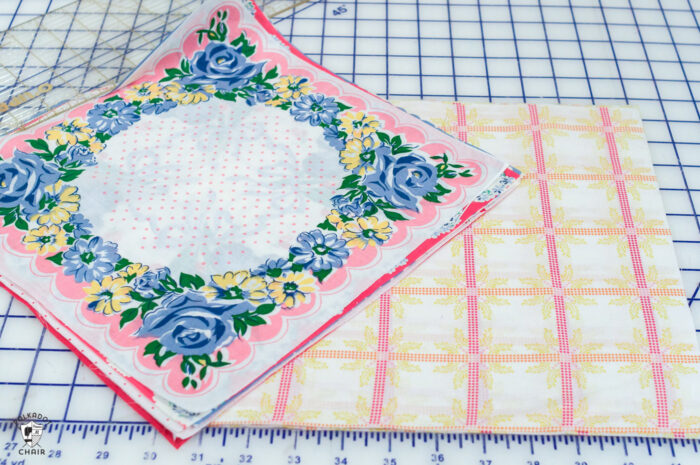 Just buy voile lawn or other lightweight cotton fabric, it is the same weight as the vintage hankies and will help you to stretch your stash. You have two options when using other fabrics.
You can either substitute it for the vintage linen (assuming you're using hankies, tablecloths will be an entirely different weight of fabric) or sew your vintage fabric ONTO the voile. This is what I did for my Vintage Hankie Quilt to make sure that all of the squares in my quilt were the same size.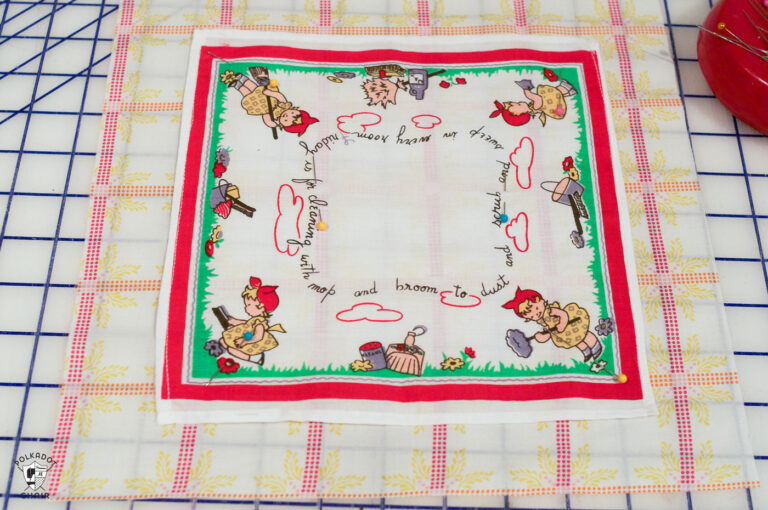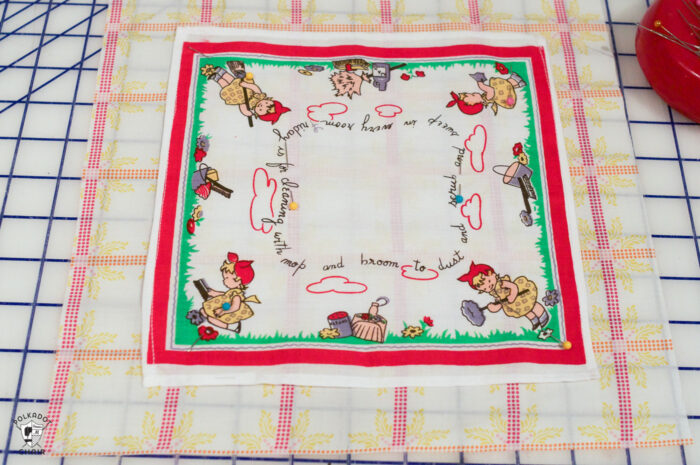 If you sew the hankie fabric onto the voile it will also help to stabilize what may be otherwise fragile fabrics.
3- Sewing Machine Tips for Vintage Linens:
Since many vintage linens are a cotton blend or are a bit fragile, you'll want to make sure that you use a SHARP needle. This will help the machine more easily feed the fabric. I like to use MicroTex needles. You can also use an 80/12 needle. Just make sure that it's NEW. If you try to use a dull needle you may pull the fabric.
If the linens are very lightweight or somewhat fragile (like Vintage Handkerchiefs), I use a bit of starch to give them a bit more body when I'm working with them.
3- Where to Buy Vintage Linens:
I live in Kentucky and we are lucky to have a lot of thrift and antique stores close by. When we are on road trips I love to stop in vintage shops to see what treasures they may hold. If you don't have antique stores in your area, you can buy a lot of vintage linens on Etsy. Just be sure to thoroughly read the sellers reviews before you buy.
Before you buy vintage linen or sheet, check for tears or stains. Depending on what you are making the stains may not make too much of a difference. But if you want the sheet to use for something like a quilt back then you do need to check that.
Also, check the condition, many times you can wash out bad smells and stains. Other times you can't. The good news is that most vintage sheets are inexpensive so it's worth the "gamble" to see if you can clean it up and repurpose it.