Today I'm sharing with you a tutorial for a waterproof patchwork picnic blanket pattern. It is made using squares of fabric and a vinyl tablecloth for the back! If you like this project, then you may also like this "Hit the Open Road" Pillow Pattern.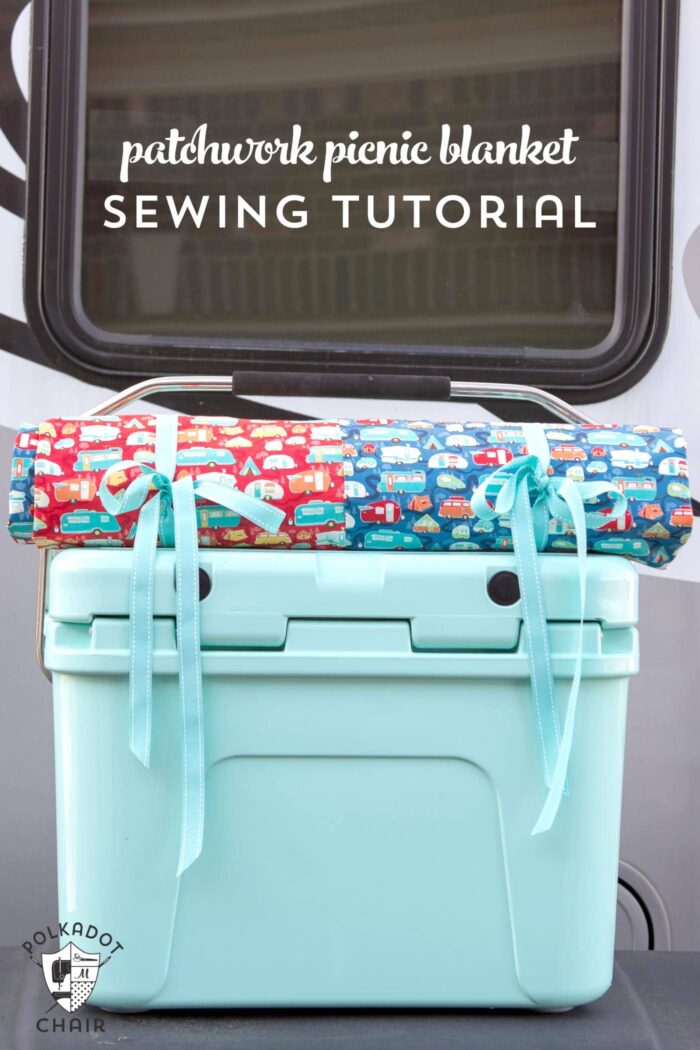 I've mentioned a few times that our family started RV'ing this year. As soon as we purchased our RV, I started planning out some fun things to create to use in the RV. So far this year, it seems that I've managed to do more "crafting" for the RV than actual RV'ing, as much of our Fall RV plans ended up being waylaid by the kid's sports schedules.
Table of Contents
Just this weekend, the weather turned cold and crisp, and we had our first freeze. It's time to winterize the RV and "put it away" for the next few months. That thought makes me a bit sad, but it does give us something fun to look forward to in the Spring. (Next summer, we have a cross-country road trip planned, and I could not be more excited)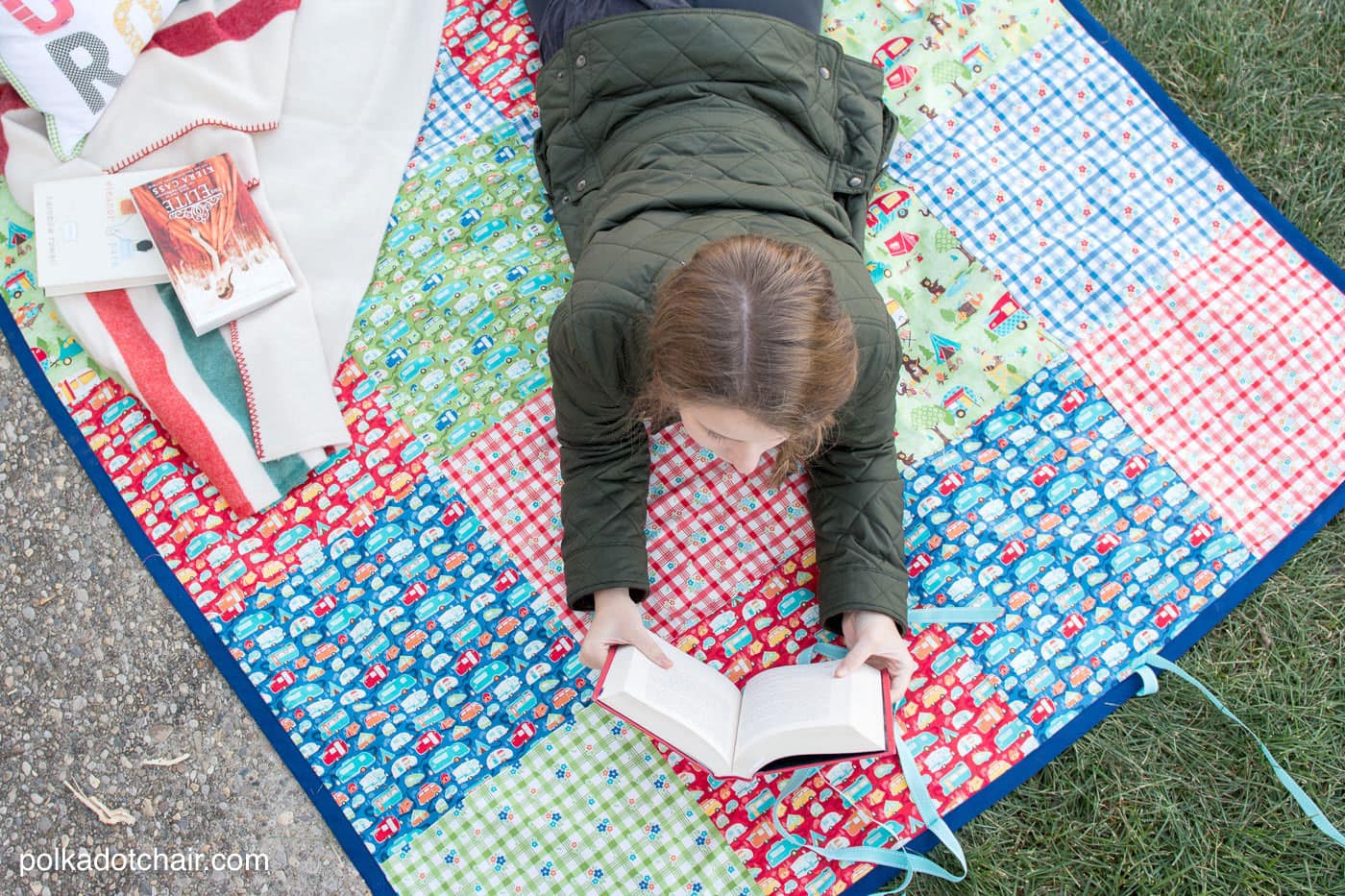 About the Roll-Up Picnic Blanket
I was able to complete one last RV project before the cold weather hit, a waterproof patchwork picnic blanket. I noticed that when we are camping that we frequently need both picnic blankets and tablecloths.
We have a few simple tablecloths in the RV but we also wanted something cute and fun (that is part of having an RV, right?). When I saw Kelly Panacci's new Road Trip line of fabric, I knew right away that I HAD to make something for our RV with it. Look at all of those cute trailers!! Don't you just love it??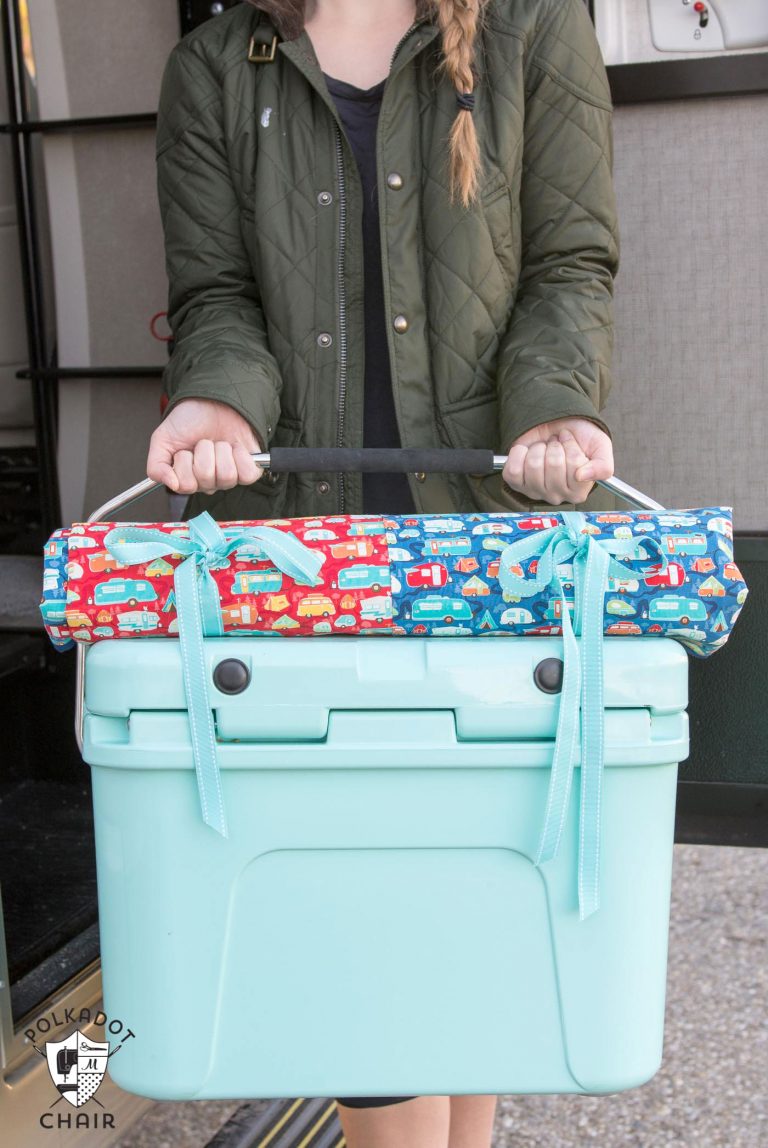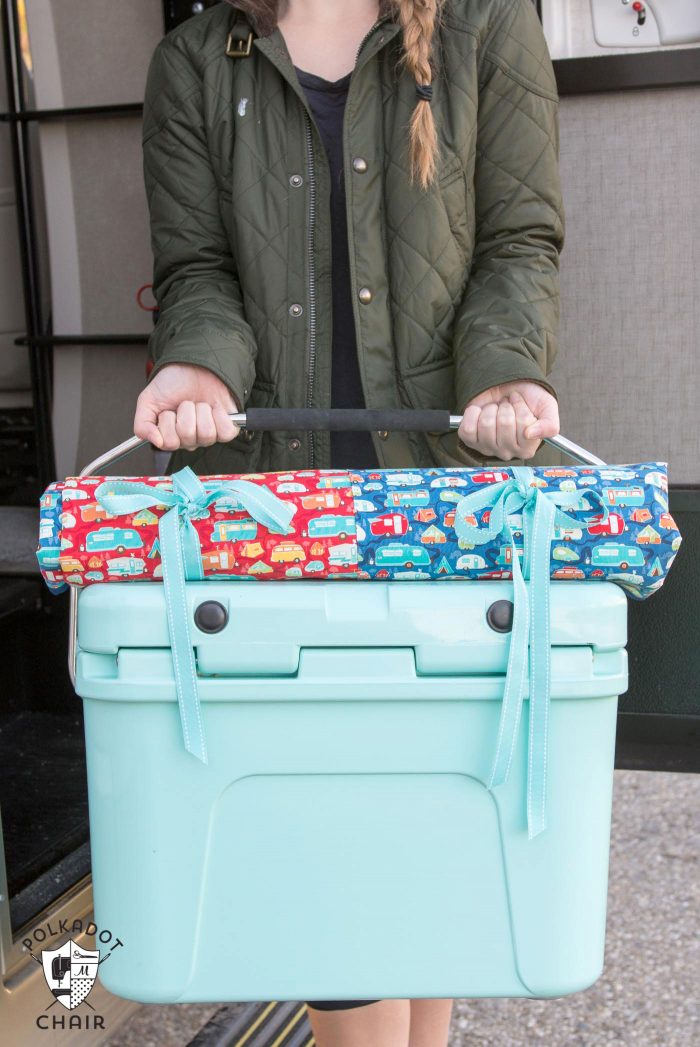 I designed a picnic blanket with ties so that it can be rolled up (for easy storage). To keep it waterproof, I backed it with a purchased vinyl tablecloth. This blanket could be used on the ground (like a traditional picnic blanket) or on the top of a picnic table as a tablecloth.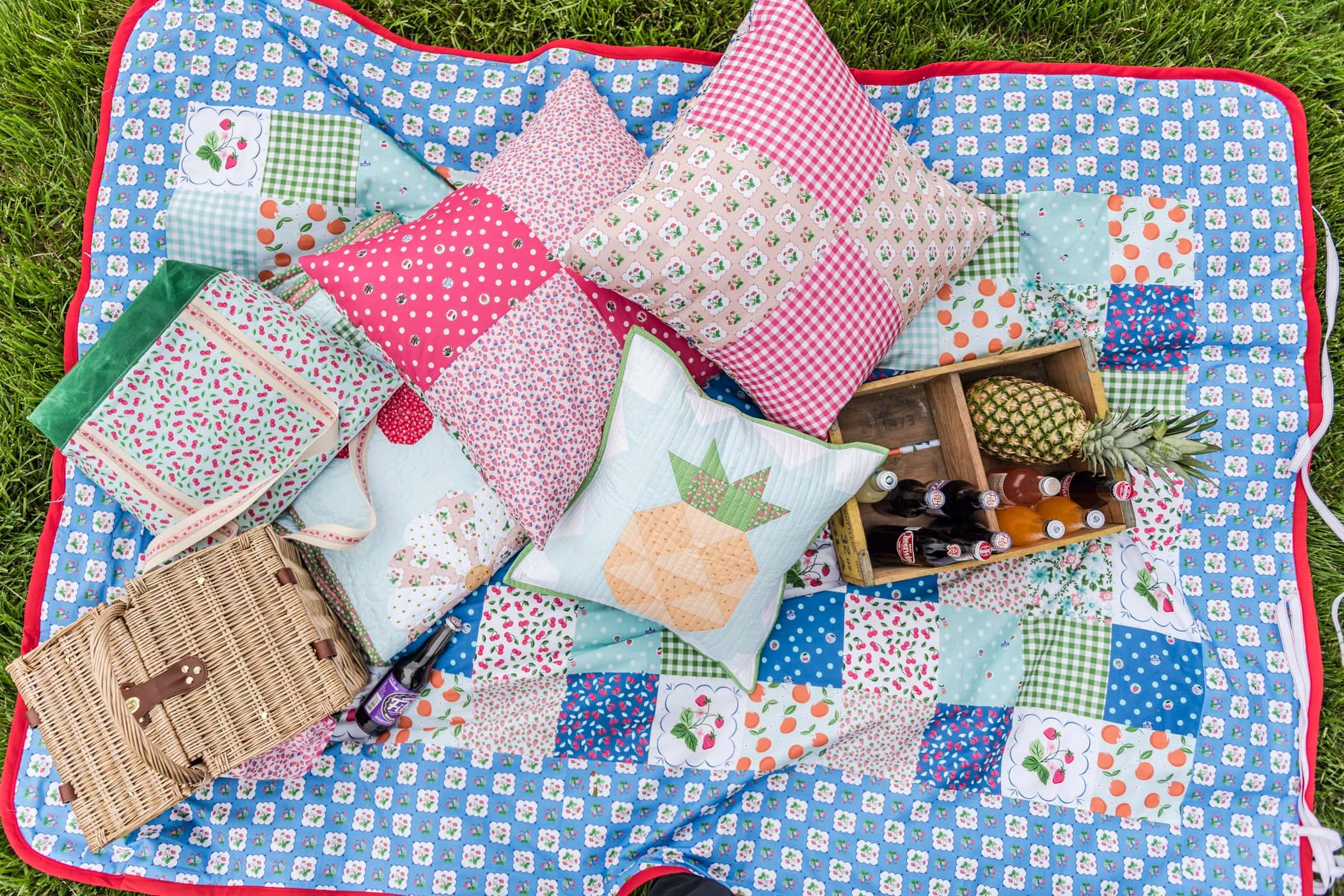 UPDATE: I made a second picnic blanket, this time with my Summer Picnic collection! I used smaller squares for this version and added a large border around the edge.
I kept the patchwork pattern on the front simple to show off all of the cute prints of fabric and used my serger to save a bit of time. All in all, the blanket took just over 2 hrs to make (I know this because I was watching a movie when I was making it, and I finished it just after the movie ended 🙂 ).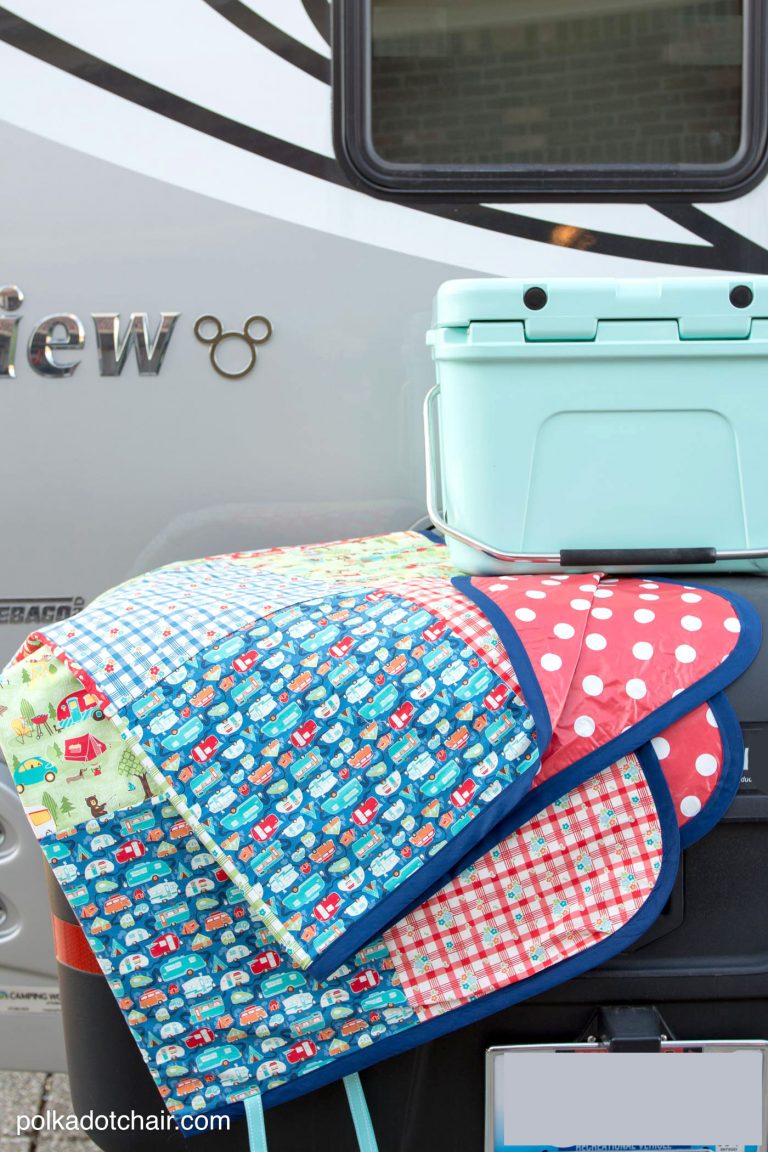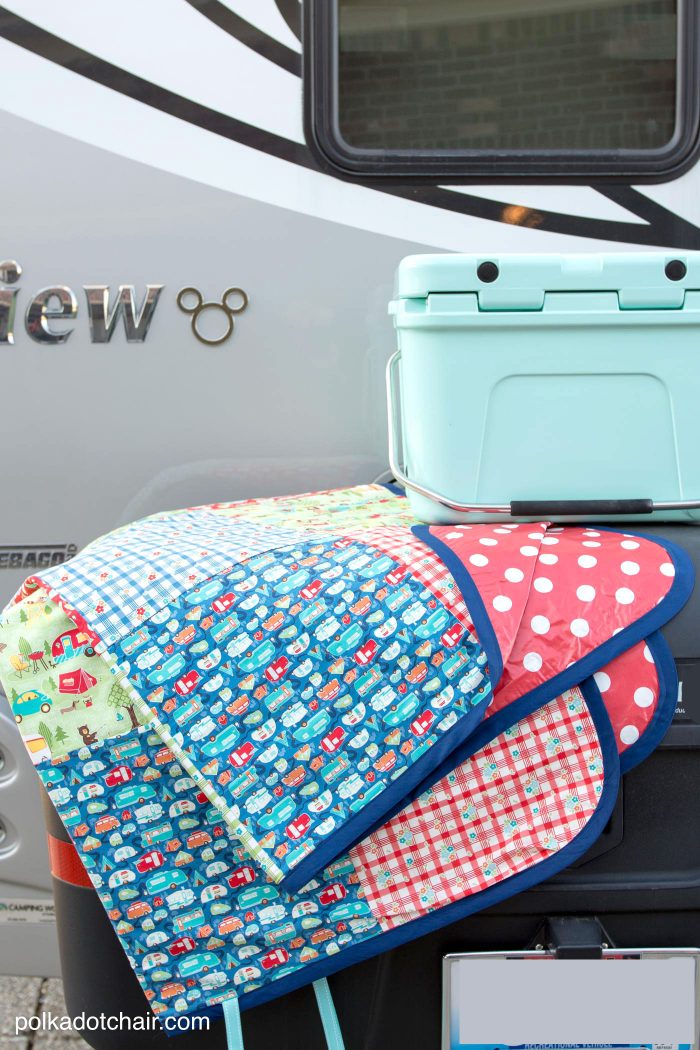 Making the blanket (and needing to photograph it) gave us a great excuse to take the RV out for a little 'mini trip'.
We packed up the kids and the dogs and just hung out at a local spot for a few hours. The dogs were not supposed to be in the photos, but one of them managed to work his way into them. He's becoming quite a little attention hog.
I wonder at what point I can start counting him as a business expense as he's turning out to be the "unofficial" mascot of this site (he is polka dotted, after all *wink*).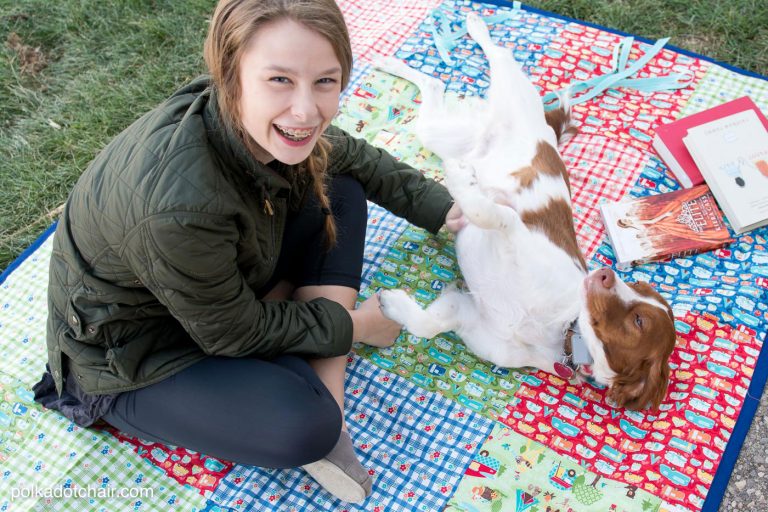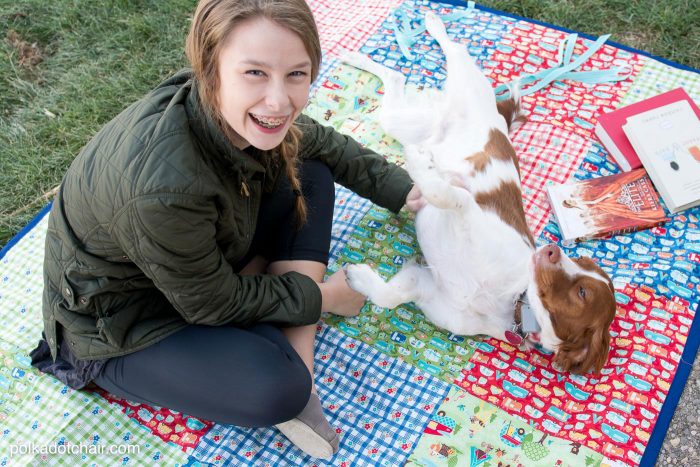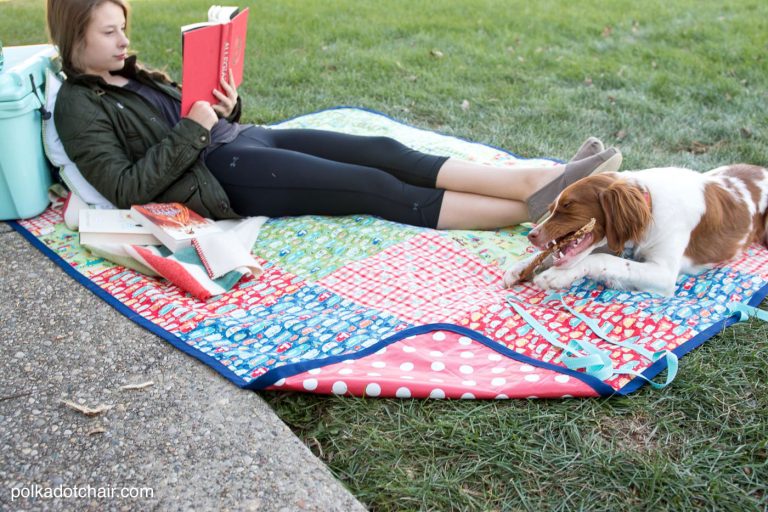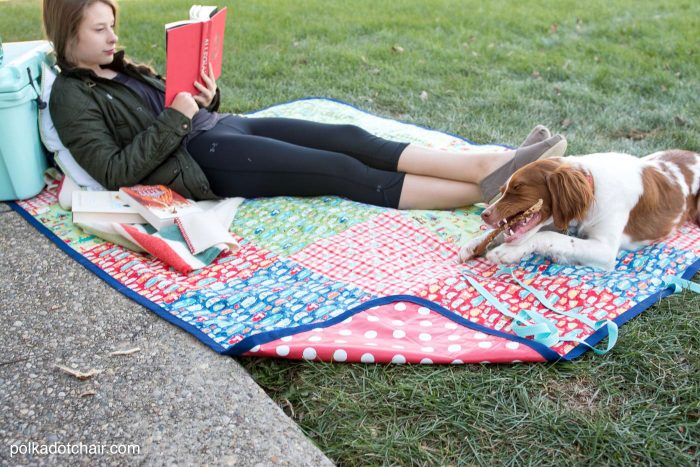 Okay, are you ready to make a blanket?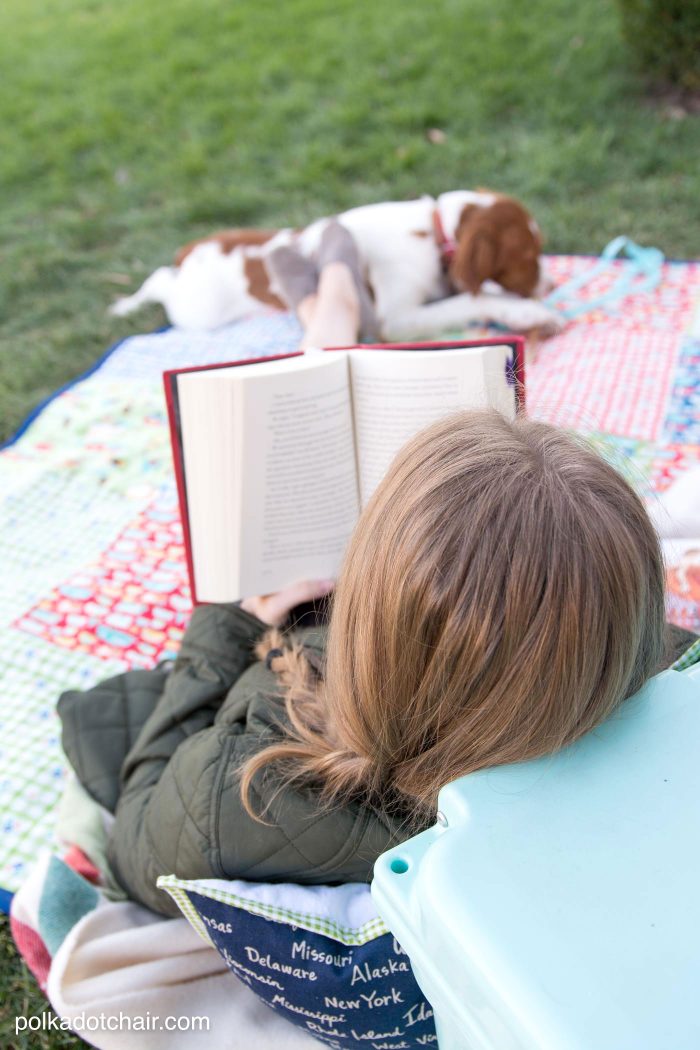 Waterproof Patchwork Picnic Blanket Pattern Instructions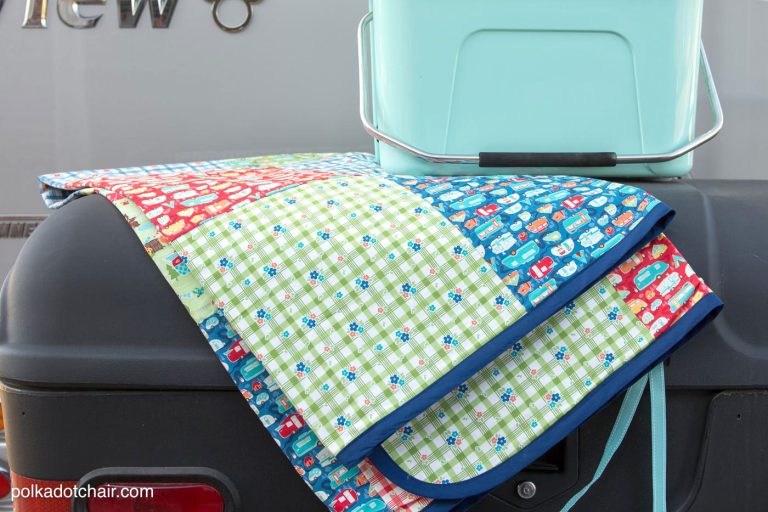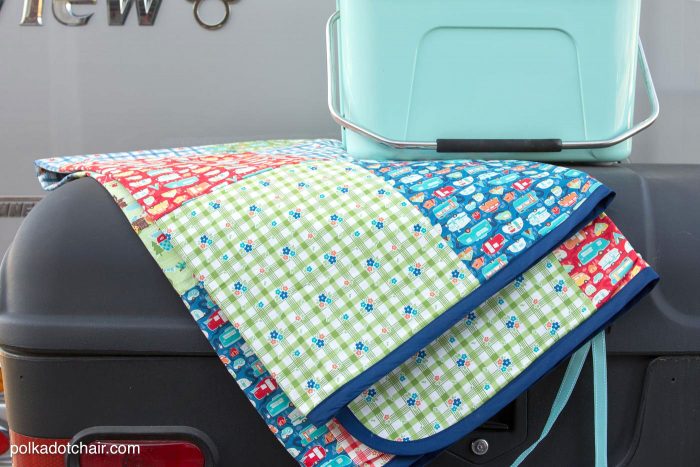 To make the blanket, you will need the following:
½ Yard each of 7 different fabrics ( total yardage 3 ½ yards)
1 55×70 or larger vinyl tablecloth: edited to add… mine was purchased on AMAZON, click here to buy it (you could also use laminated cotton, you'll just need to stitch it together so that it is 55″ wide)
3 packages of double-fold packaged quilt binding
2 yards ½ wide ribbon
Basting Spray
Safety Pins
Step One:
Begin by cutting 21 pieces, each 14″ x 14″ out of the 7 different fabrics. You need a total of 20 squares, each 14″ x 14″. You will have 1 square left over (also, if you want to use fewer fabric prints, it doesn't matter, as long as you end up with 20 squares overall).
Stitch the squares together into 5 rows of 4 squares each. Use a ¼″ seam allowance.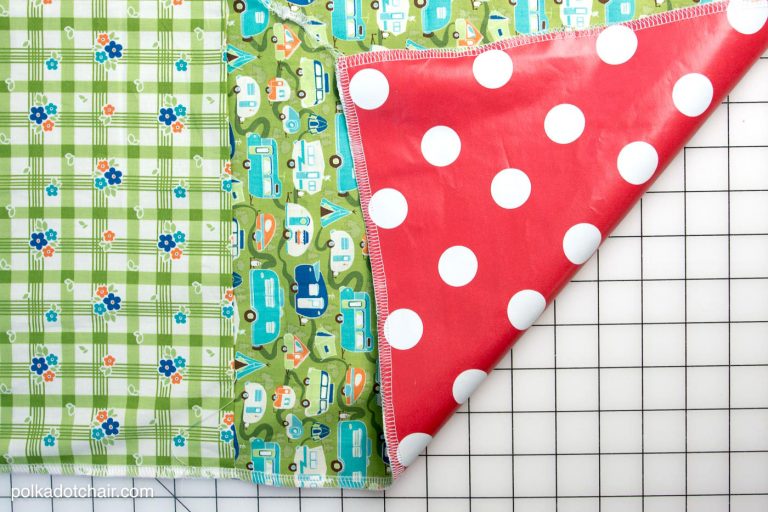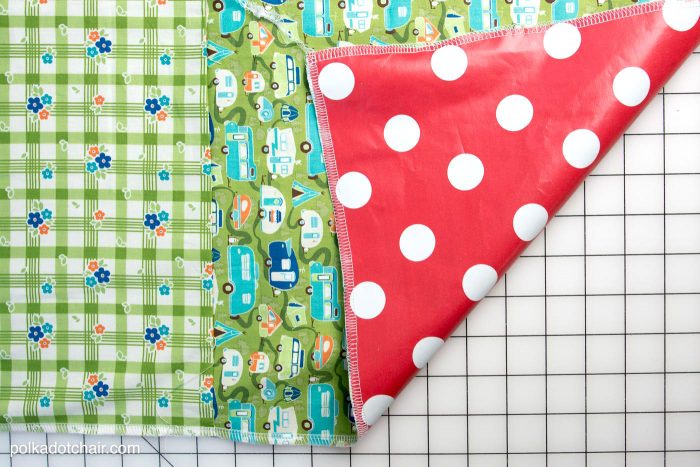 Lay the vinyl tablecloth out on a large table or the floor, the wrong side up. Spray it with basting spray.  Lay the completed picnic blanket top on top of the tablecloth, wrong sides facing. Secure in place around the edges with safety pins.
The vinyl tablecloth will be larger than your sewn picnic blanket top. Trim it so that all the edges are even.
Step Two:
You next need to stitch the top to the tablecloth. To do this, I used my serger. If you don't have a serger stitch them together with a straight stitch about ½″ in from the outside edge.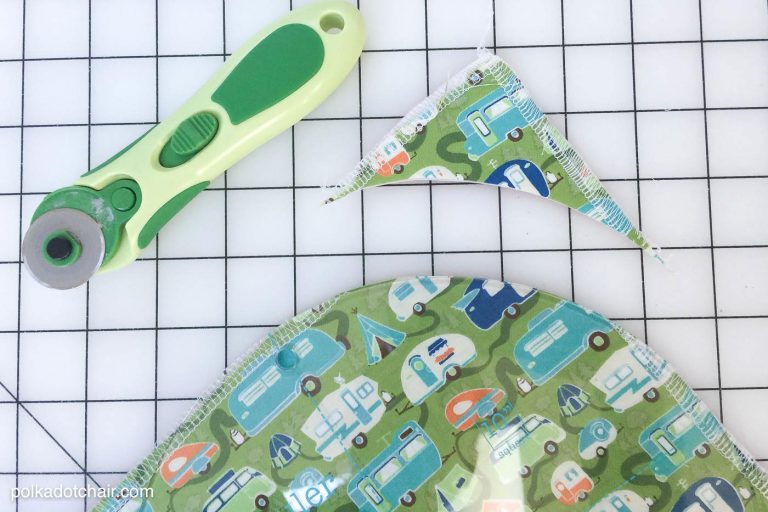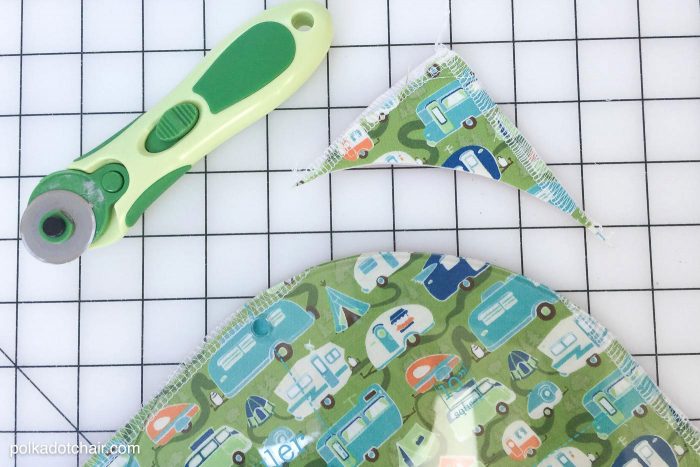 I decided that I wanted my edges to be rounded, so I used a circle quilt template and curved the corners. This step is optional.
Step Three:
Cut two pieces of ribbon, each 60″ long. Fold in half and pin to one of the short ends of the blanket. Each one will be 7″ out from the center of the blanket.  The fold of the ribbon will be flush with the raw edge of the blanket.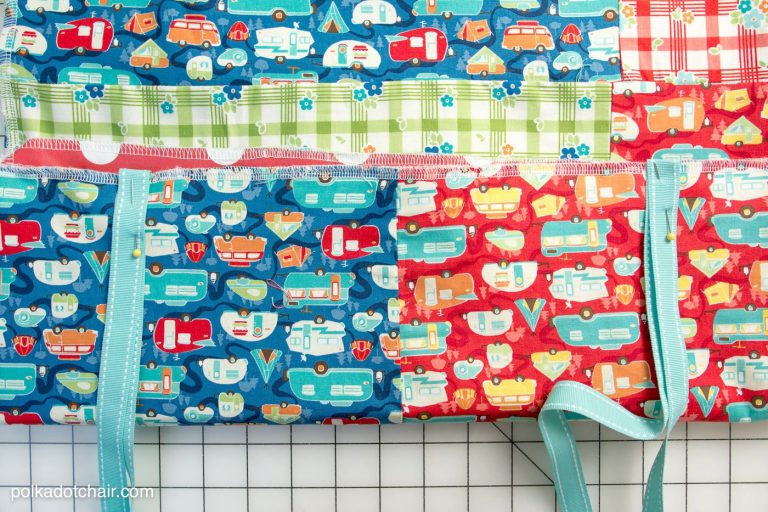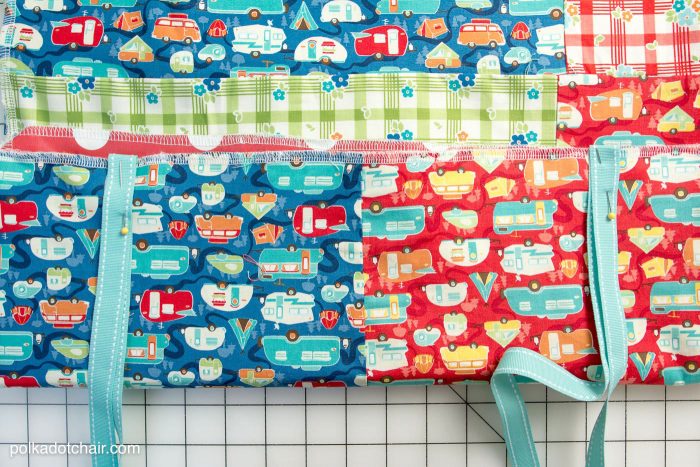 To Bind the Blanket:
Stitch the 3 packages of double-fold quilt binding together.
Open up the quilt binding and line up the raw edge of the binding with the raw edge of the blanket. Stitch the binding in place close to the 1st fold in the fabric. (if you need help with this step, CLICK HERE).
When you get back to where you started, match the binding ends and stitch closed.
Refold the quilt binding and stitch in place on the right side of the blanket, just in from the fold in the binding.
To roll up the blanket, fold the blanket into thirds lengthwise. Then roll up towards the end with the ties. Wrap the ties around the blanket and tie them to secure.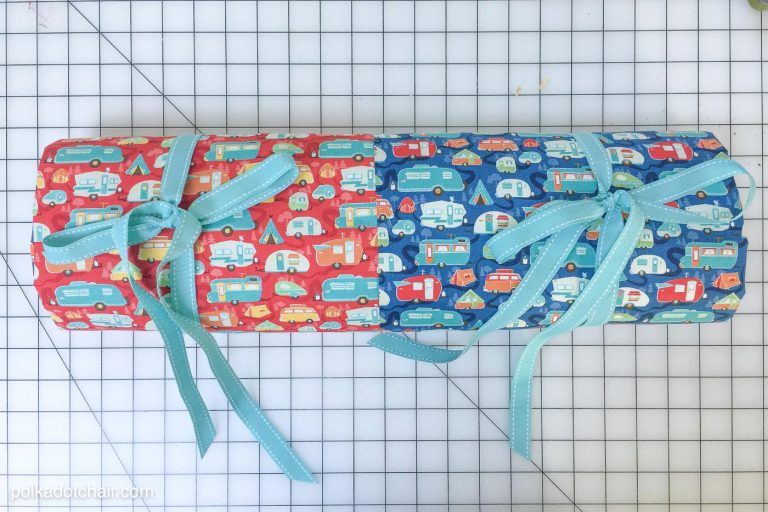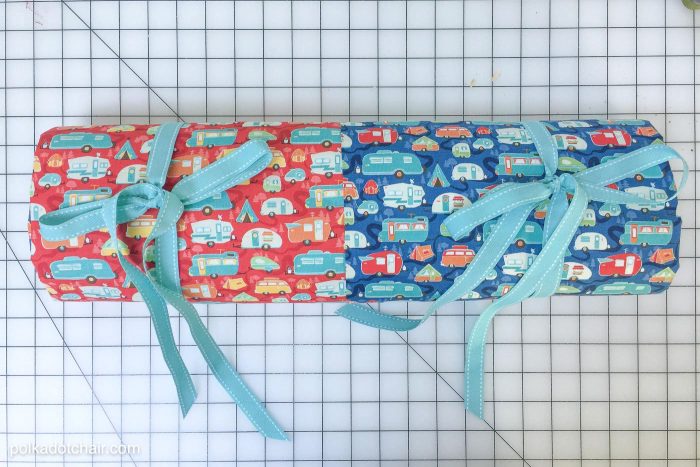 One last thing. When this is washed, I do not recommend drying it on high heat. It may damage the vinyl tablecloth. Best to line dry or tumble dry on air only.
That's it, you're done!