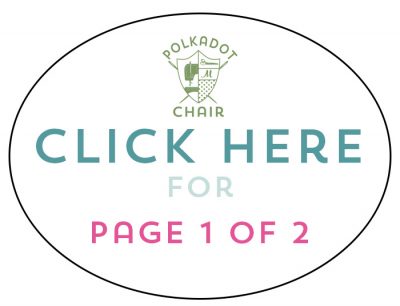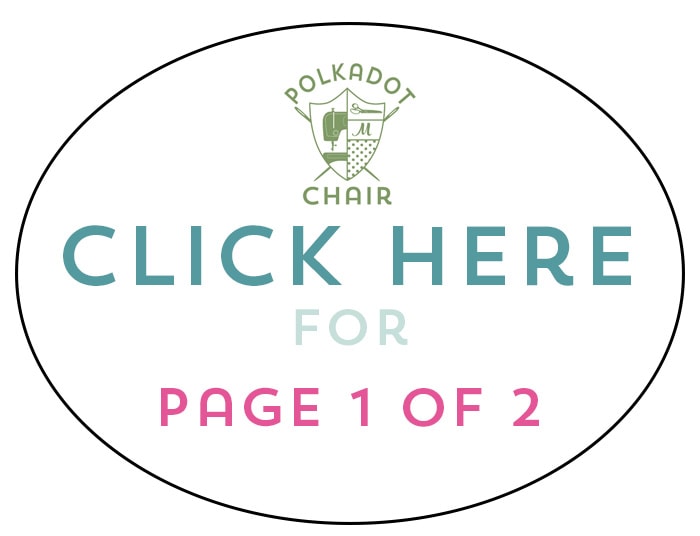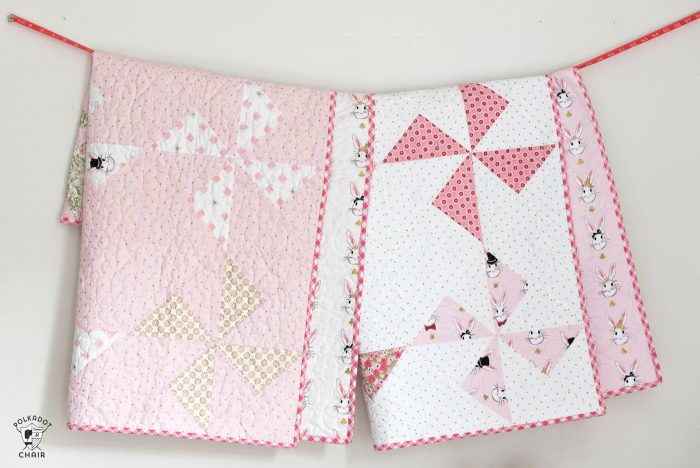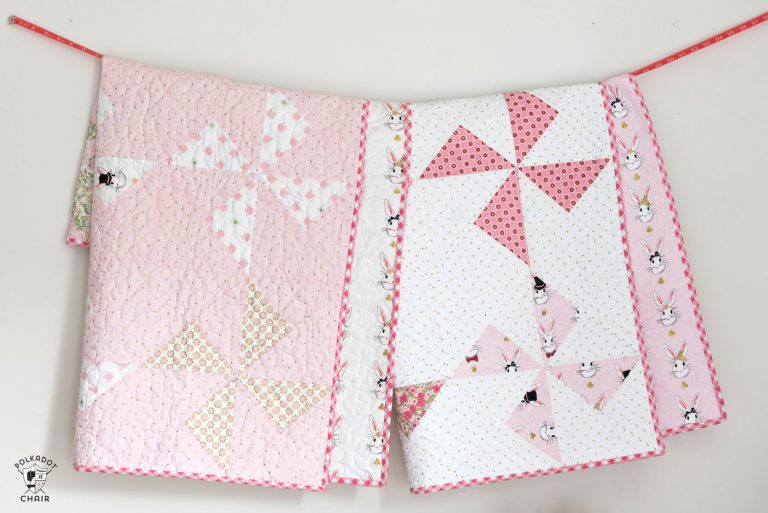 Here's what you'll need- Quilt measures approx. 45″ x 45″ when finished, and the instructions are for ONE quilt.
Supplies:
9 Fat Quarters of Fabric for Blocks
2 Yards of Fabric for Background
1/2 Yard Fabric for Binding
3 Yards of Fabric for Backing
Cutting Directions:
CUT for EACH BLOCK (there are 9 blocks in the quilt):
9 x 9 square of fabric cut from print fabric
9 x 9 square of fabric cut from background fabric
Two 8 1/2″ x 8 1/2″ squares of fabric cut from background fabric
Cut backing fabric into two pieces 54 x width of the fabric and sew them together along the 54″ sides using a 1/2″ seam allowance. This will become your quilt backing.
Assembly Instructions: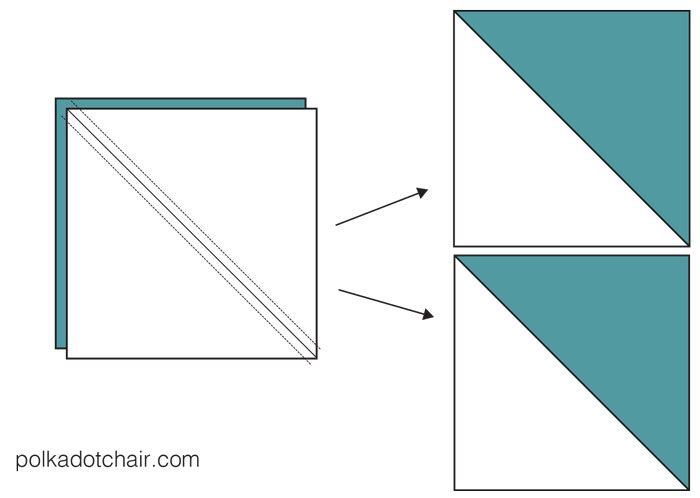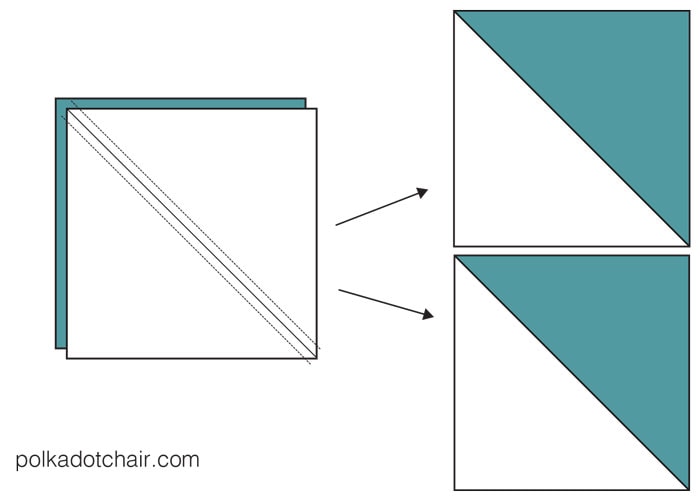 Begin by making two HST from the 9×9 pieces of fabric. Draw a diagonal line on the wrong side of the 9×9 background fabric. Lay it right sides facing with the 9×9 print fabric. Stitch 1/4″ off each side of the line.  Use a rotary cutter to cut the blocks in half along the line you drew. Press, and square up blocks to 8 1/2 x 8 1/2 (for more help with making HST see THIS post or THIS post)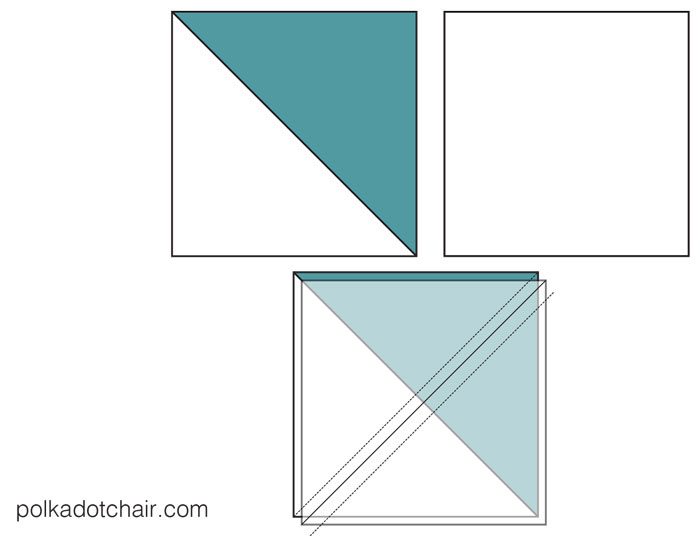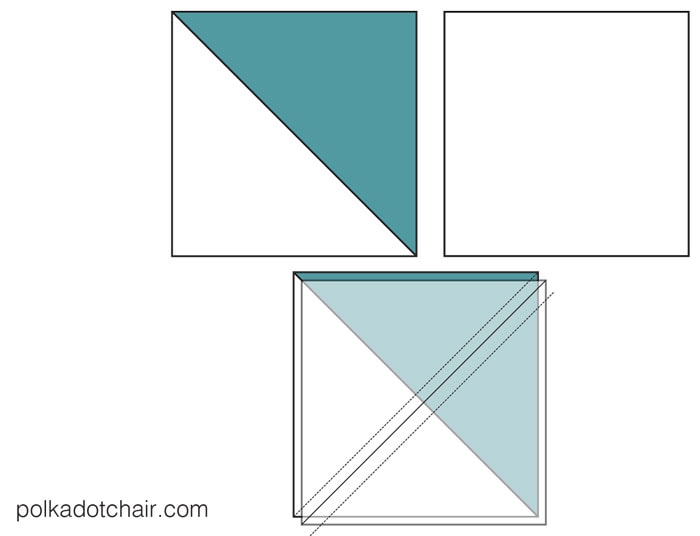 Draw a diagonal line on the wrong side of both of the 8 1/2″ squares cut from your background fabric.  Layer one square on top of one of the sewn HST so that the diagonal lines are facing in opposite directions. In the above illustration I've adjusted the opacity of the top fabric a bit so you can see how the squares line up on top of each other.
Stitch 1/4″ on each side of the line you drew. Cut along the line and square up the blocks to 8″ x 8″. Repeat for the other HST and background fabric.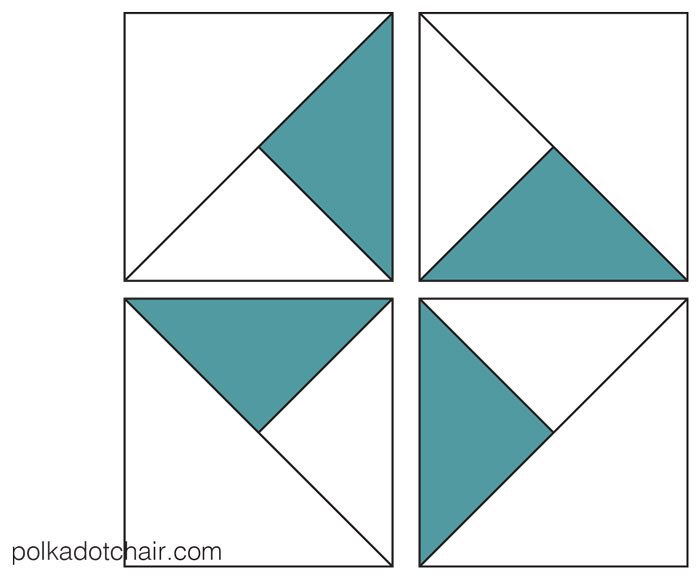 You will now have 4 blocks. Line up as shown in the diagram above. Stitch the squares together in the top row, then stitch the squares in the bottom row. Press seams and stitch two rows together.
Repeat until you have sewn 9 blocks.
Stitch the blocks together into 3 rows of 3 blocks.
Quilt and bind as desired
Just a quick reminder: This project along with ALL of the other projects on this blog are offered to you for free. The only thing that I ask is that you do not use them for any commercial purpose.  If you have a shop, this is not meant to be a pattern  for you to use in your store. It's meant to help build the online community of people who all LOVE quilting.  Please respect that so that I can go on sharing these projects for everyone.  If you have a shop and want to kit this quilt, just shoot me an email and I'll send you a PDF with a unique url to include in the kit taking your customers to the directions online. If you are playing along and have a blog of your own, PLEASE feel free to post the blocks on your blog, just link back here for the instructions. If you have a friend that wants to join in, send them the link to this page, please don't print out the instructions and make a bunch of copies. Thanks!!!!
If you liked this baby quilt pattern then you may also enjoy these free quilt patterns and tutorials!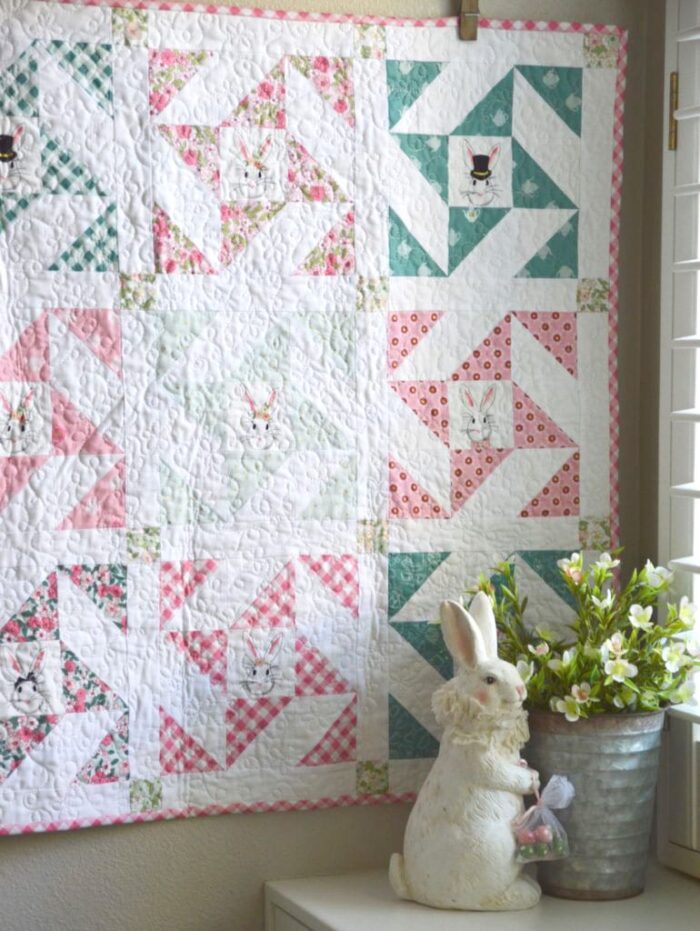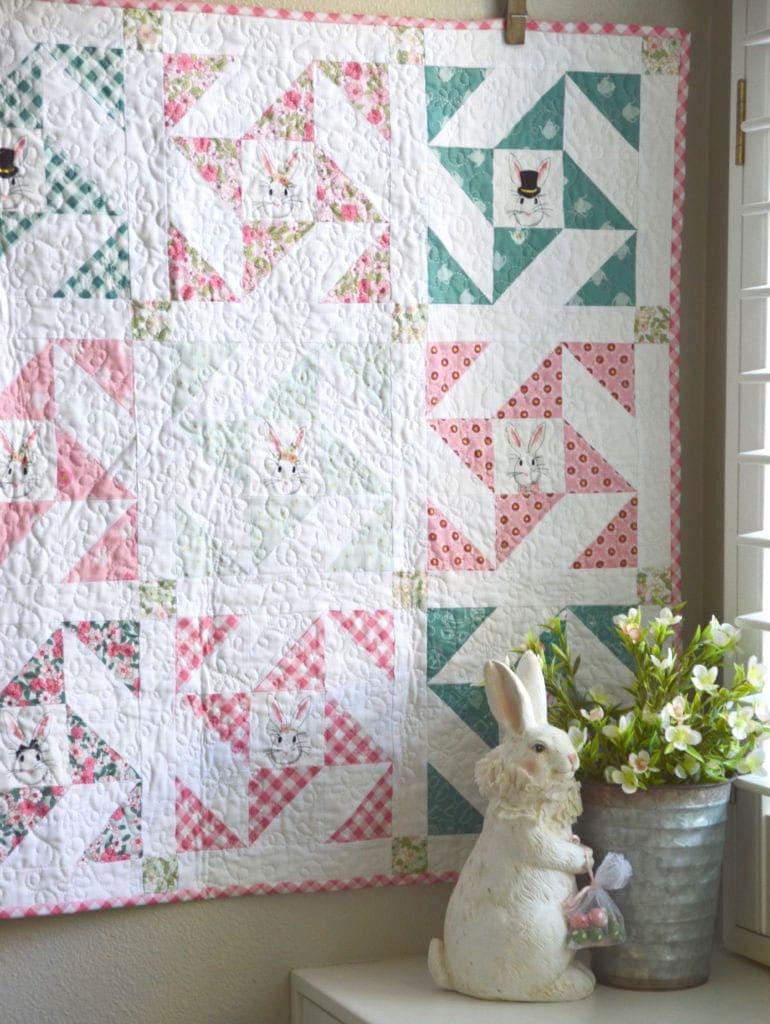 Snuggle Bunny Quilt Pattern by Amanda of Jedi Craft Girl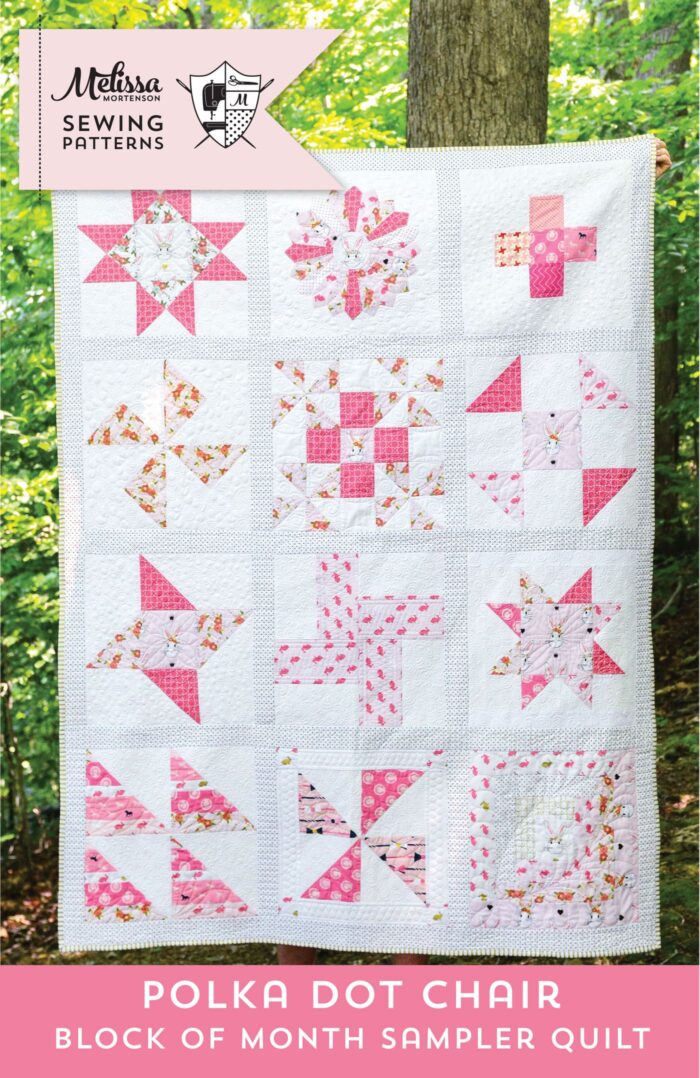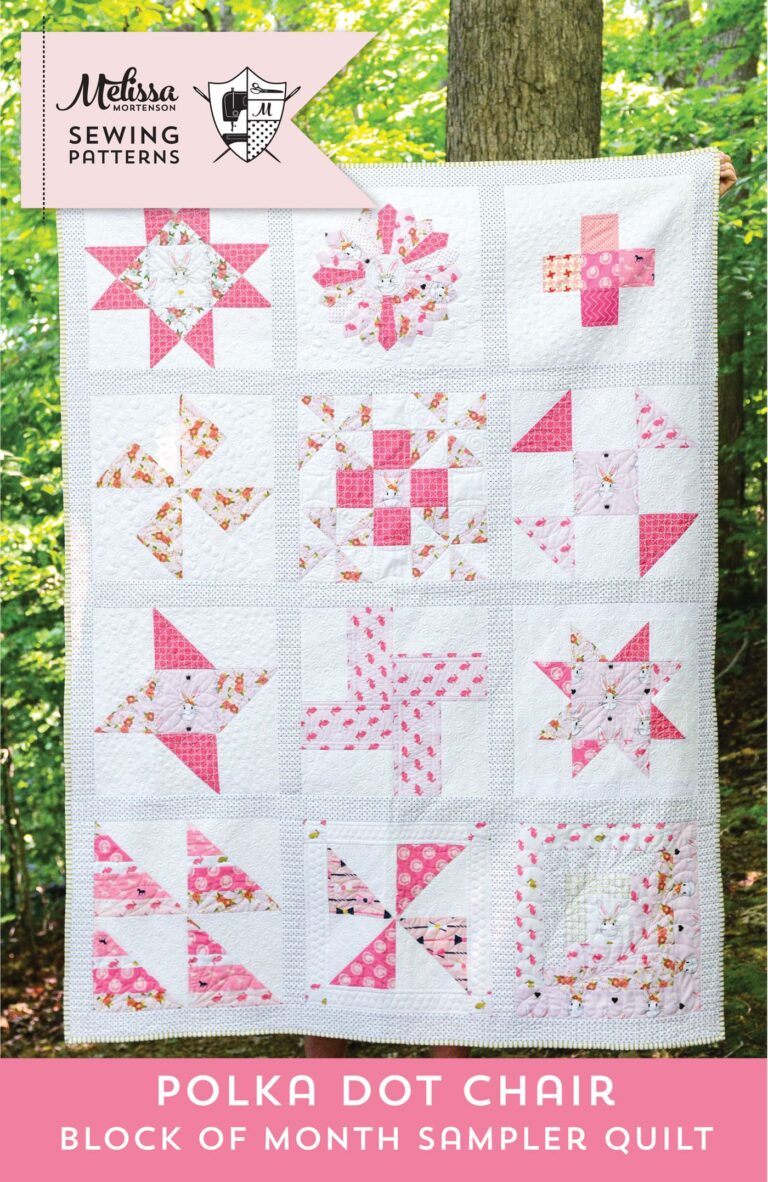 Polka Dot Chair Block of the Month Sampler Quilt