Today is June the 1st and with it comes our next Block of the Month in our Polka Dot Chair Quilt Block series.  This month we will be making a Grandma's Favorite Quilt Block. I really love this block, it may be one of my favorites. It combines elements (the pinwheels and the plus sign) from some of the previous blocks of the month.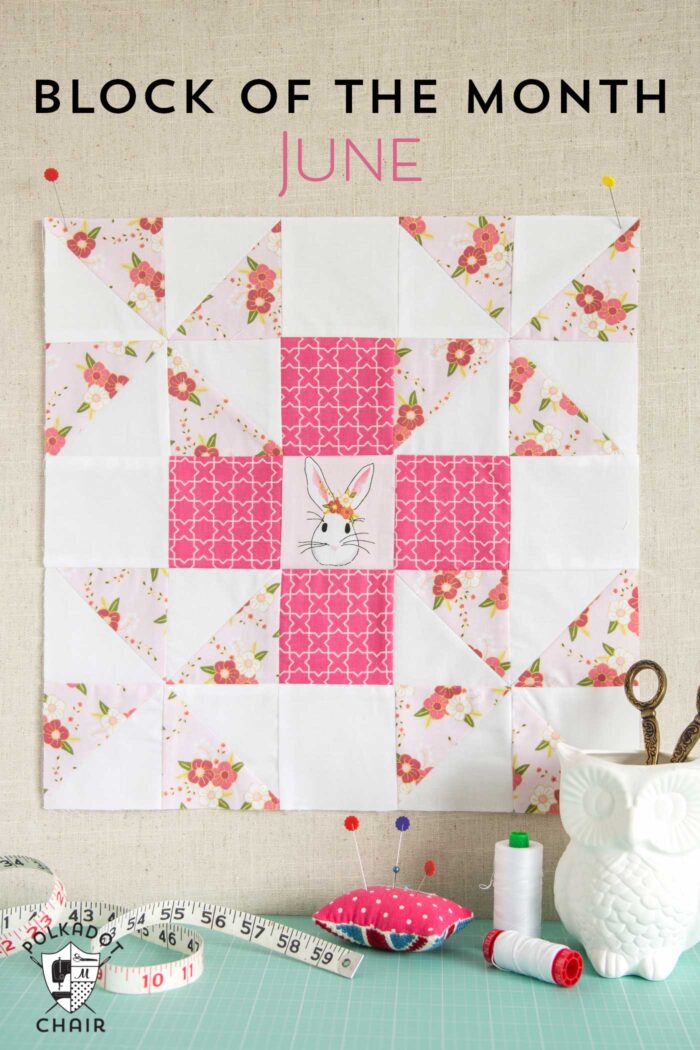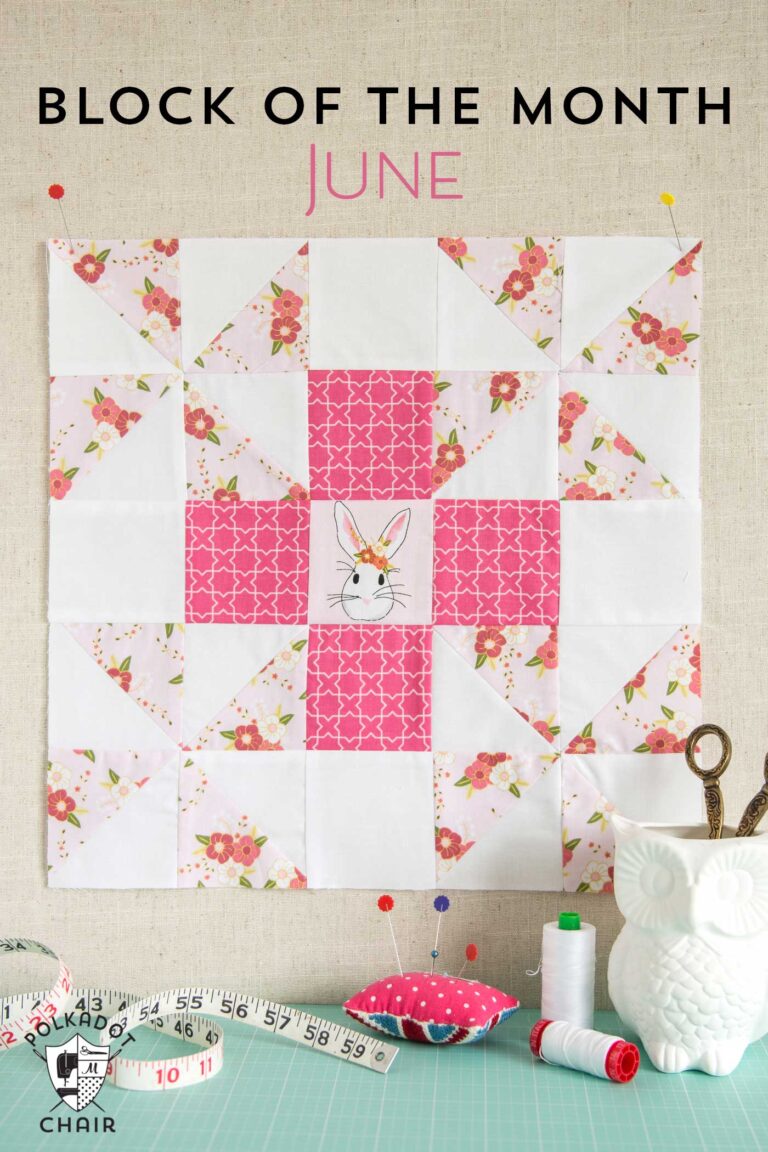 If you're playing along be sure to share your finished blocks on social media with the hashtag #PolkaDotChairBlocks. Note: if you have a private IG account, hashtags won't work for you, so share it to my Facebook instead. I'm on Instagram as @Polkadotchair or you can also share it right to my Facebook Page (you can post a photo over there)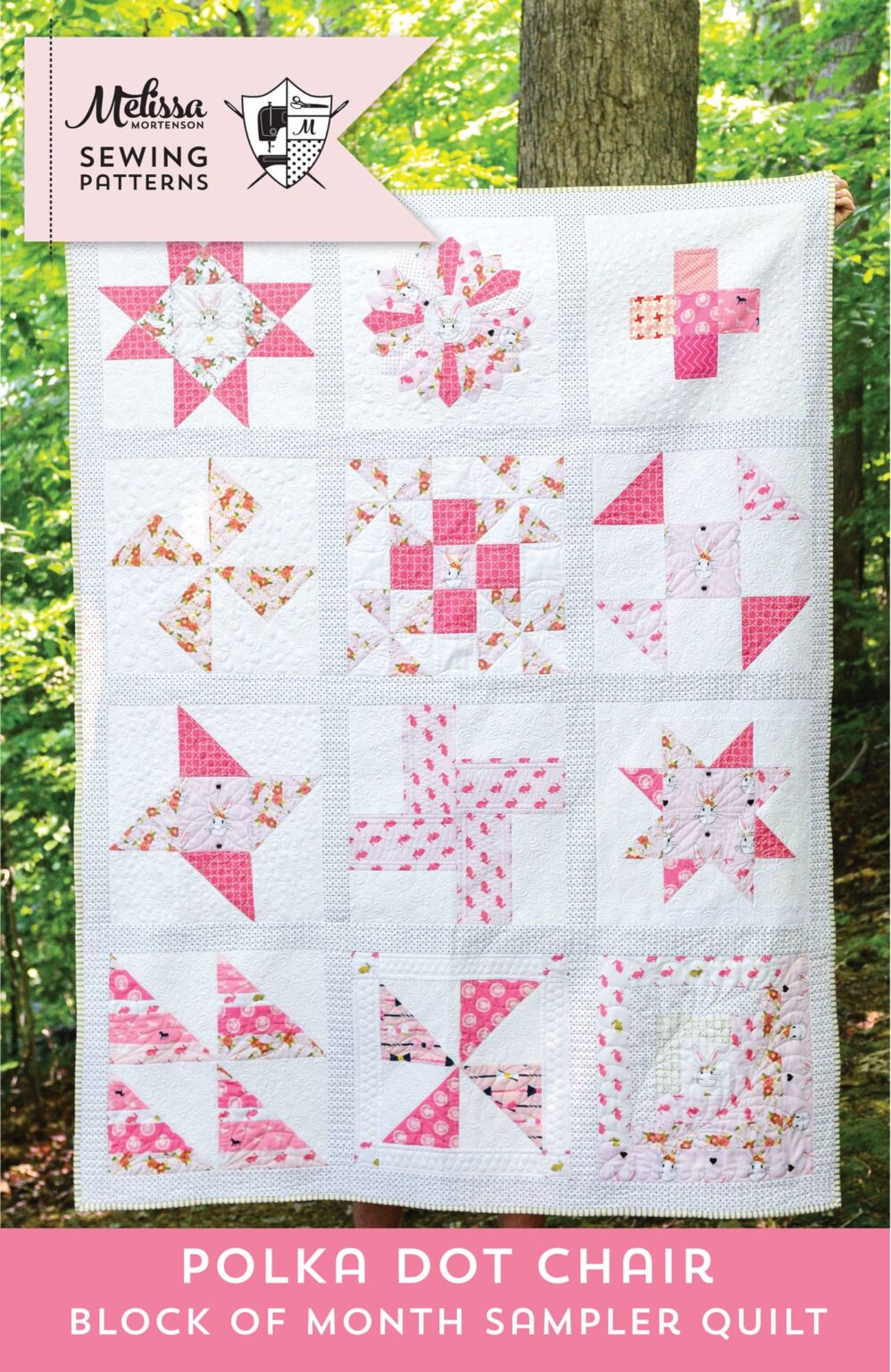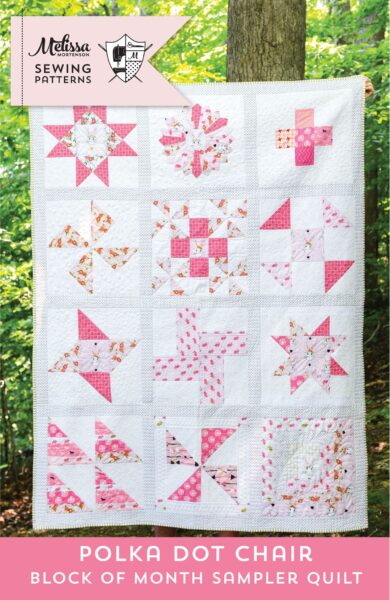 UPDATE: You can now purchase a PDF with ALL of the block instructions for each month in one place!! Click here to PURCHASE

If you missed it be sure to check out this post on Quilt Block Construction Tips. You can find an index to all the posts in this quilt block series to date by clicking here.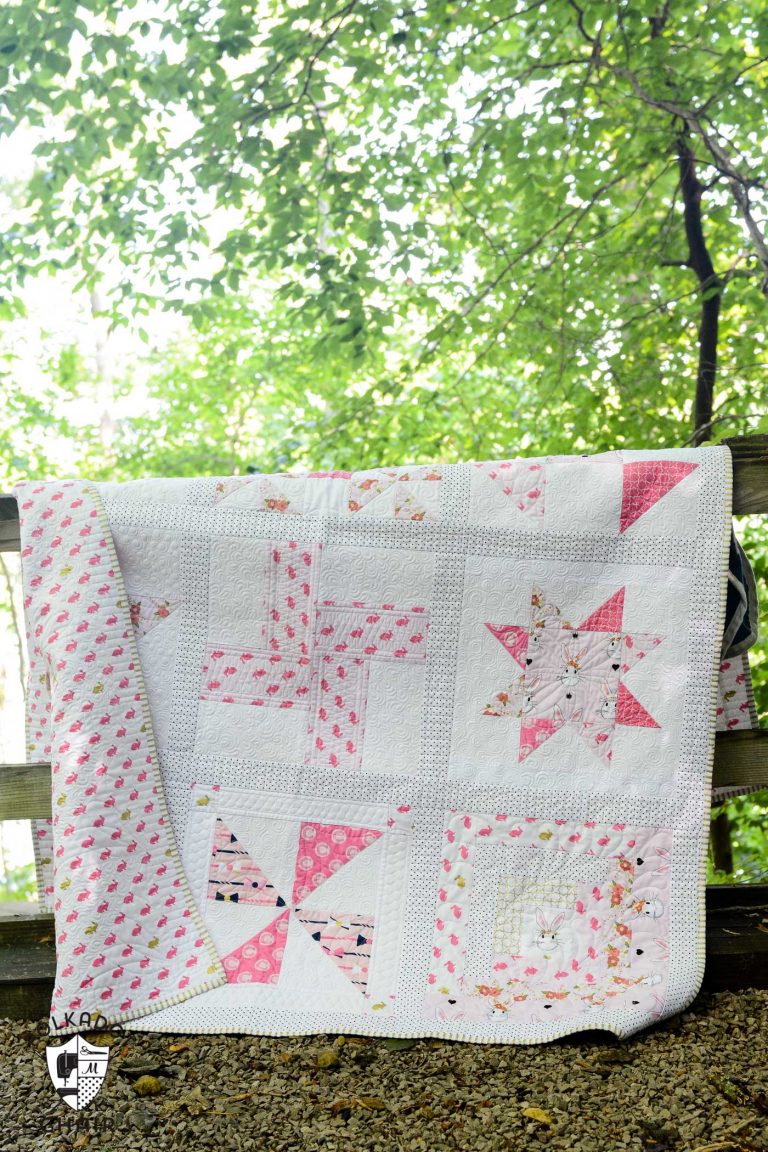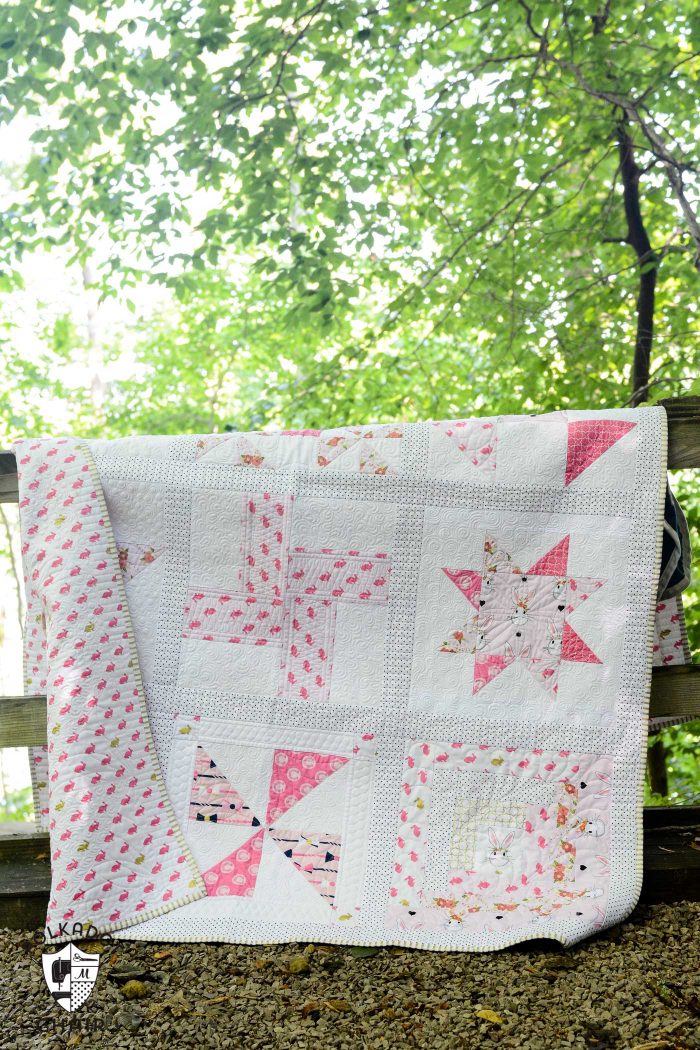 We are down to the last three blocks in our annual series. I hope that you've loved playing along, I've had a great time dreaming up the blocks to share with you each month.  
Currently, I'm working on four quilts using our block of the month quilt blocks. One for my teenage son, one for Christmas and one to use on the bed in our RV featuring low volume fabrics.  Let me tell you a secret, the fourth quilt is DONE!  It featured many fabrics from my Wonderland and Derby Style fabric collections and a few months ago I decided to finish it up in time for Quilt Market.
What the Finished Quilt Looks Like:
I want to keep the rest of the blocks secret for now, but I thought I'd share with you a few shots of the finished quilt.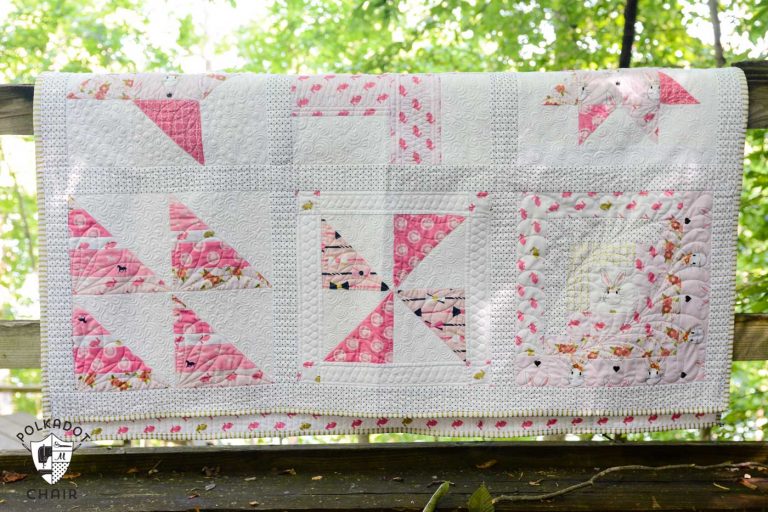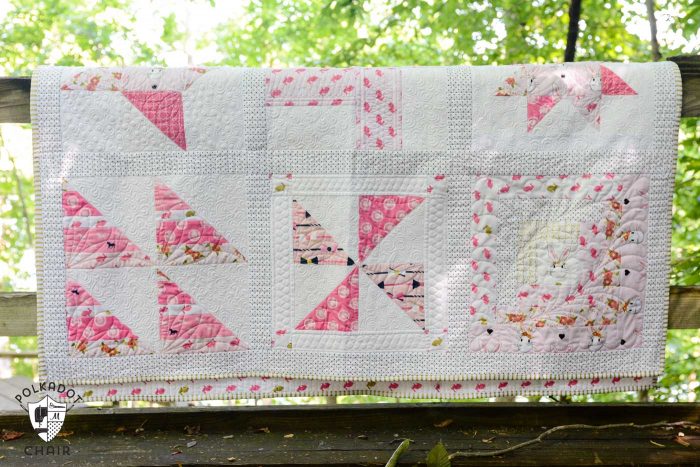 We went camping for Memorial Day weekend and I took the quilt along with me incase I found a fun place to photograph it.  For those of you that have not ever made a block-based quilt I think the photos show you a bit about how the blocks come together.  
For this particular quilt, I chose to add a swiss dot sashing after we finish our last block, I'll share directions to do that along with other block assembly ideas and techniques.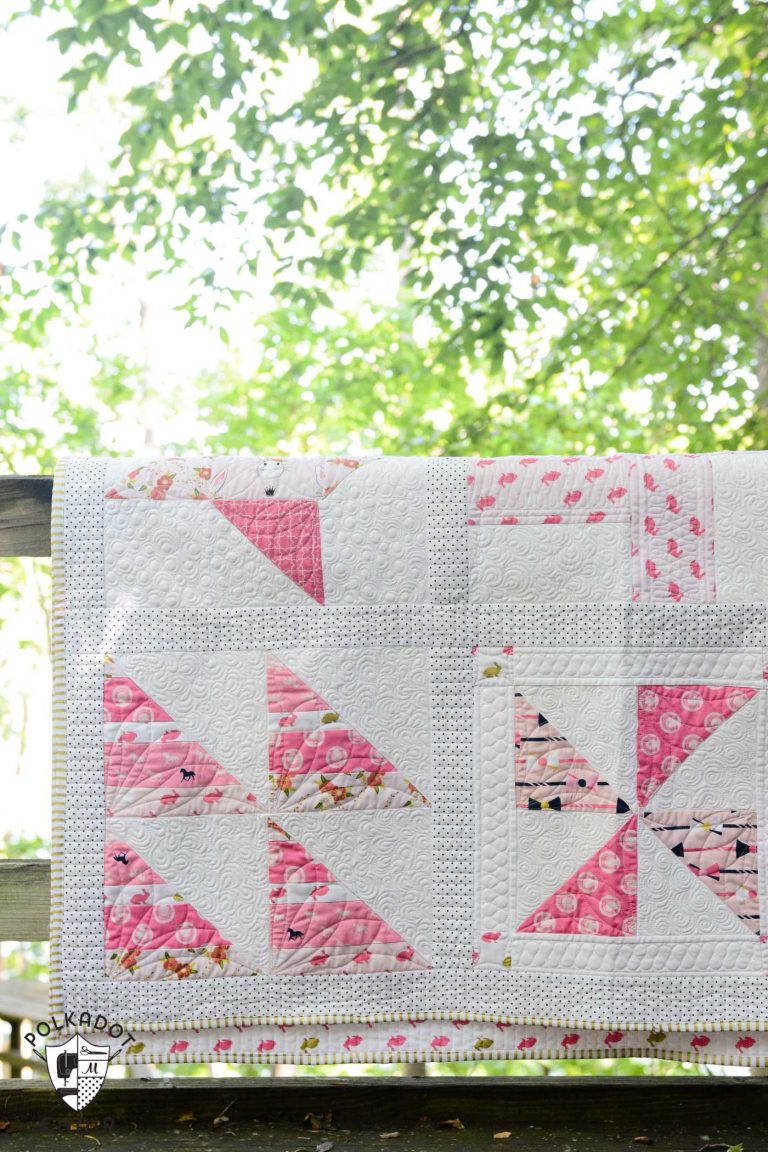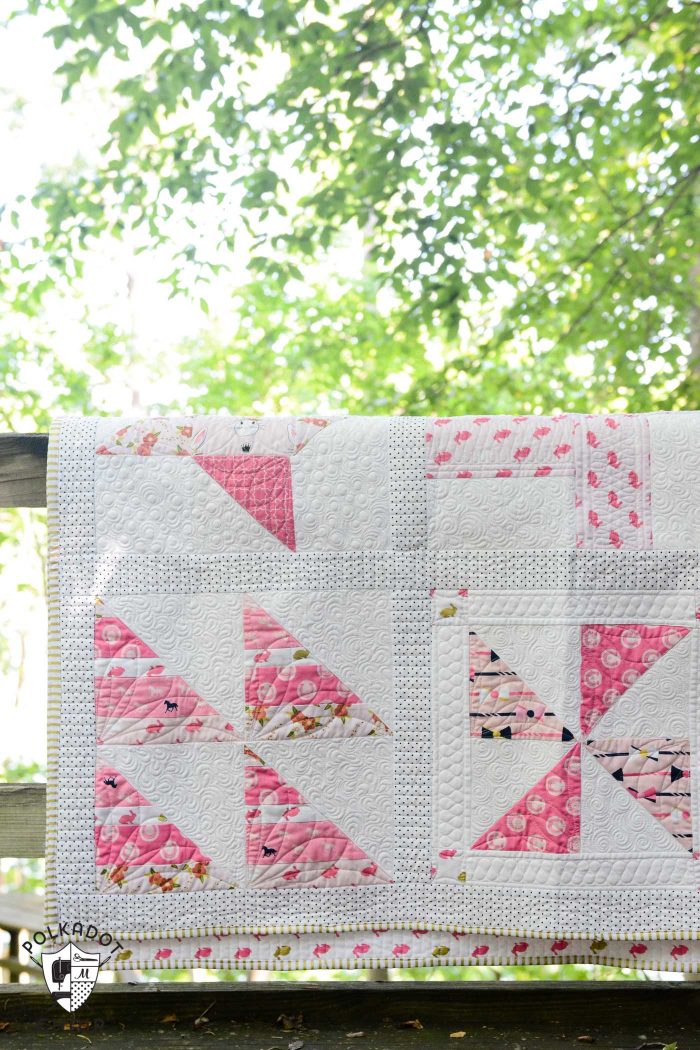 Natalia Bonner of Piece N Quilt did the machine quilting and did a fantastic job as usual. She never ceases to amaze me with her mad quilting skills.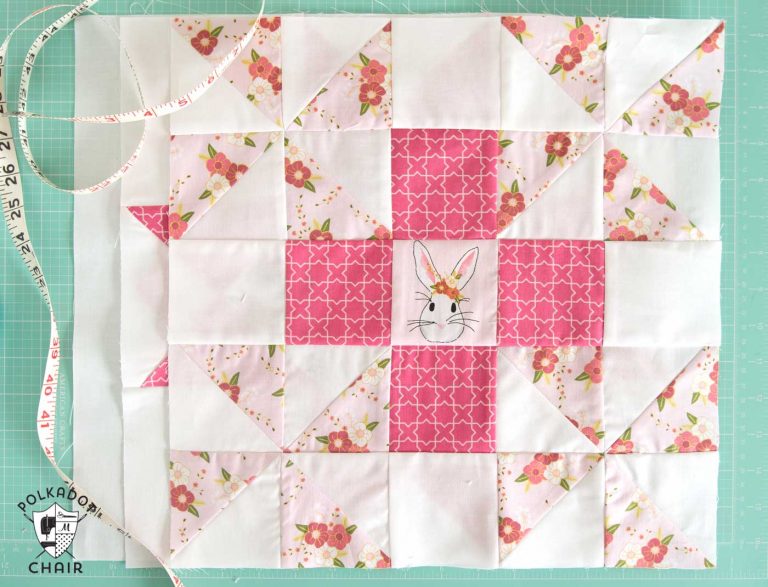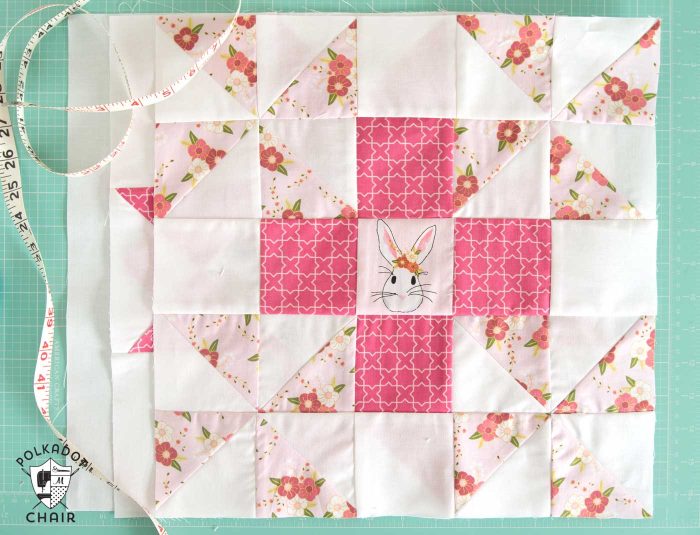 About the Quilt Block:
Okay now for the block. It's called Grandma's Favorite, I don't know why but I saw it a long time ago and filed it away in my "someday" folder. It seemed like the perfect block to pull out for this month's project.
I recommend using 3 colors of fabric for this block (not including the background). You need to keep the 4 squares that form the plus the same color to get the effect that you want.  
For this block I chose to have my darker fabric as the plus and my lighter fabric as the pinwheels. That way the pinwheels blend into the background a bit and the plus is able to come to the front when you're looking at the block. For the center square I fussy cut one of the bunny heads from my Wonderland line.
are you ready to make one???
How to Make a Grandma's Favorite Quilt Block:
Yields: One 14 ½″ x 14 ½″ Finished Size Quilt Block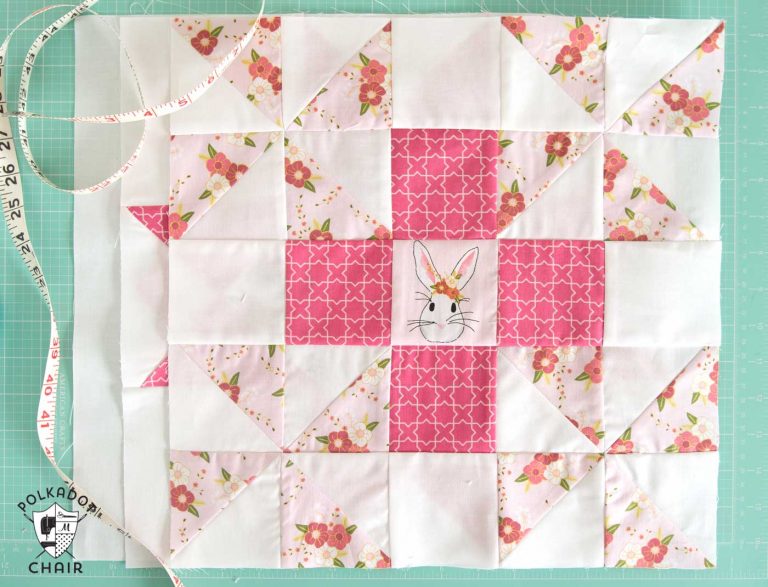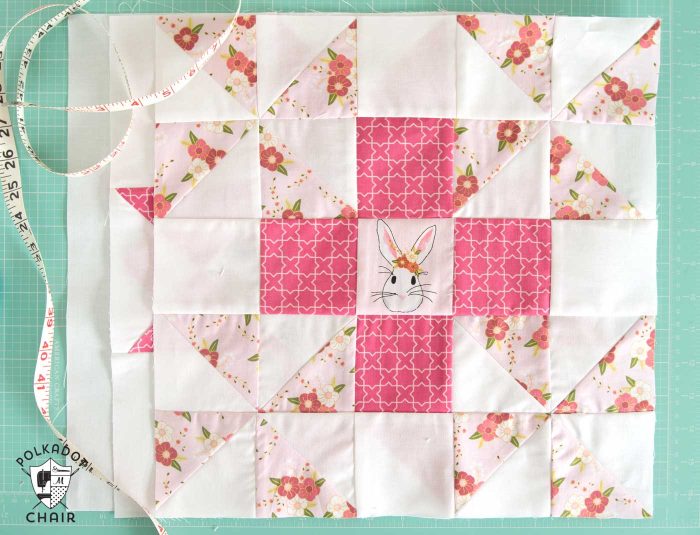 To make the Grandma's Favorite Quilt Block you need:
4 pieces background fabric each 3 ½″ x 3 ½″
3 ½″ x 3 ½″ piece for center square
4 pieces each 3 ½″ x 3 ½″ for the PLUS
8 pieces each 4″ x 4″ for pinwheels
8 pieces background fabric each 4″ x 4″ for pinwheels
marking pencil
basic quilting tools
1. Create the Half Square Triangles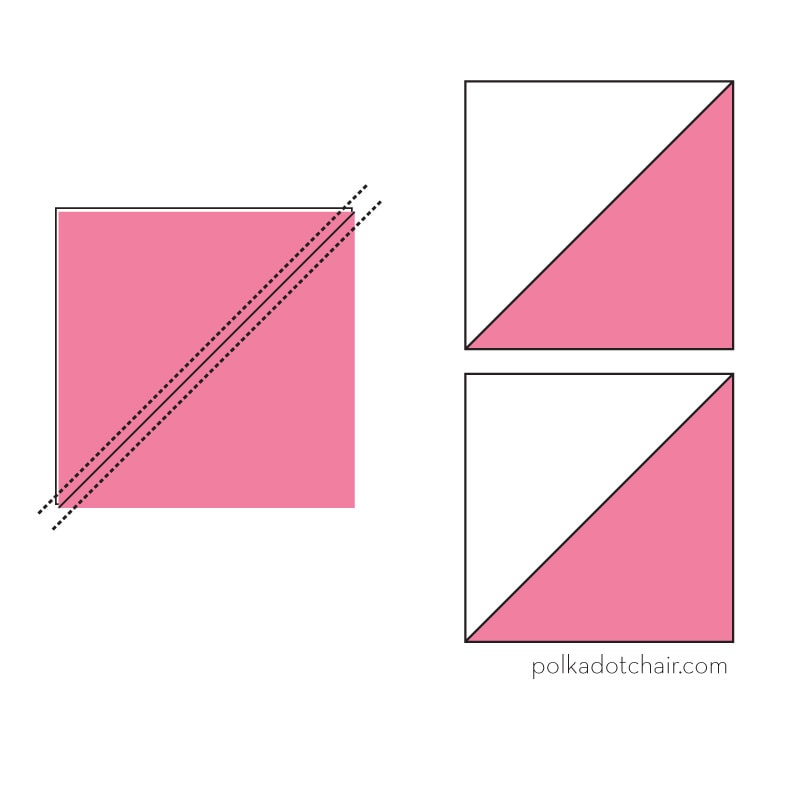 Using the eight 4″ x 4″ background and eight 4″ x 4″ print fabric pieces, create 16 half square triangles (HST's).
To do this layer 1 print piece on top of one background piece right sides facing.  Draw a diagonal line down the center of one of the pieces. Stitch ¼″ on each side of the line and cut apart on the line you drew.
Press seams to the dark side of the fabric and trim the pieces down to 3 ½″ x 3 ½″.
If you need more detailed instructions for creating Half Square Triangles you can find them on THIS POST. Tips for trimming the HST's on THIS POST).
2. Lay the Pieces Out and Construct the Block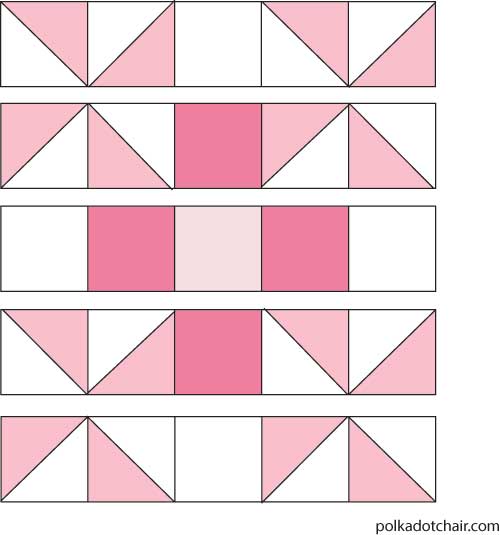 After you have completed and trimmed the HST's lay the sewn triangles and cut blocks out in rows as shown above. Stitch together one row at a time.  Stitch row 1, Press seams to one side.  Next, Stitch row 2, press seams to the opposite side of row 1. Repeat for all 5 rows.
Then just stitch the rows together. When you're finished trim your block down to 15″ x 15″.
Just a quick reminder: This project along with ALL of the other projects on this blog are offered to you for free. The only thing that I ask is that you do not use them for any commercial purpose.  If you have a shop, this is not meant to be a program for you to use in your store. It's meant to help build the online community of people who all LOVE quilting.  Please respect that so that I can go on sharing these projects for everyone.