A couple of years ago I made my first mini quilt and was instantly hooked! They are perfect when you're in the mood for a "quick fix" project.
Today I'm excited to be releasing my first mini quilt patterns.  These Wonderland-inspired mini quilts would make wonderful gifts for a little one in your life!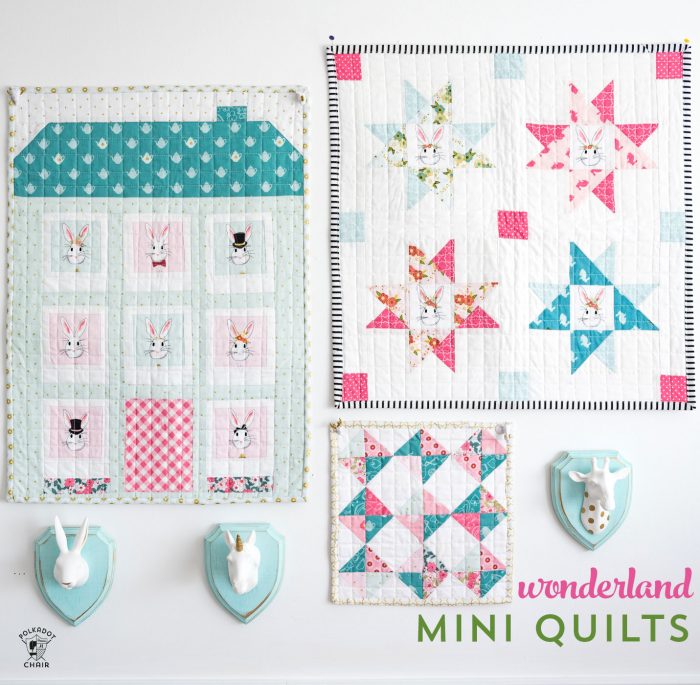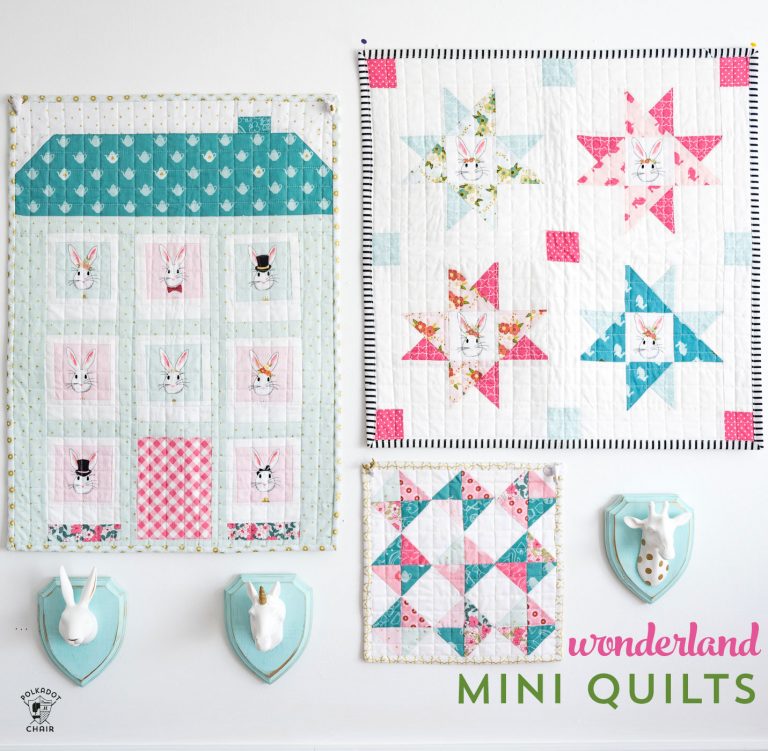 When my oldest daughter was little, we used to read her books before she went to bed each night. She had a few that she loved having us read to her over and over again. One of those favorites was the Madeline series by Ludwig Bemelmans.  
Table of Contents
I can still remember the opening lines, "In an old house in Paris that was covered in vines, lived twelve little girls in two straight lines."  That line about the "old house in Paris that was covered in vines" always stuck with us, and we'd find ourselves frequently over the years remarking that homes we came across reminded us of Madeline's house. I think my subconscious must have been thinking of that house when today's project "popped out" of my brain.
Why I love Mini Quilts
Have you ever started a project, gotten halfway through, and realized that it was taking a LOT longer than you thought it would? Sometimes I feel that way when I make a large quilt. I really enjoy the process but sometimes I just need a "quick fix" project.
When I design and make mini quilts, I like to think of them as a little storybook. I plan out my fabrics carefully and always fussy cut most of my squares.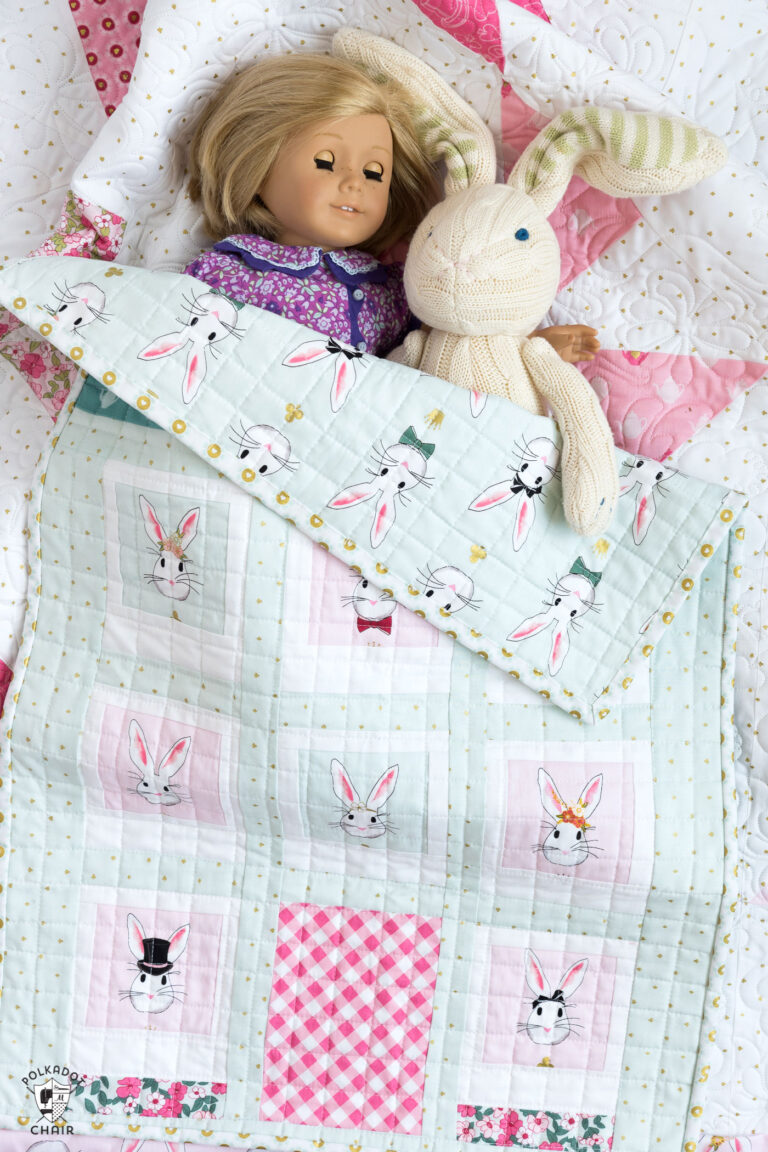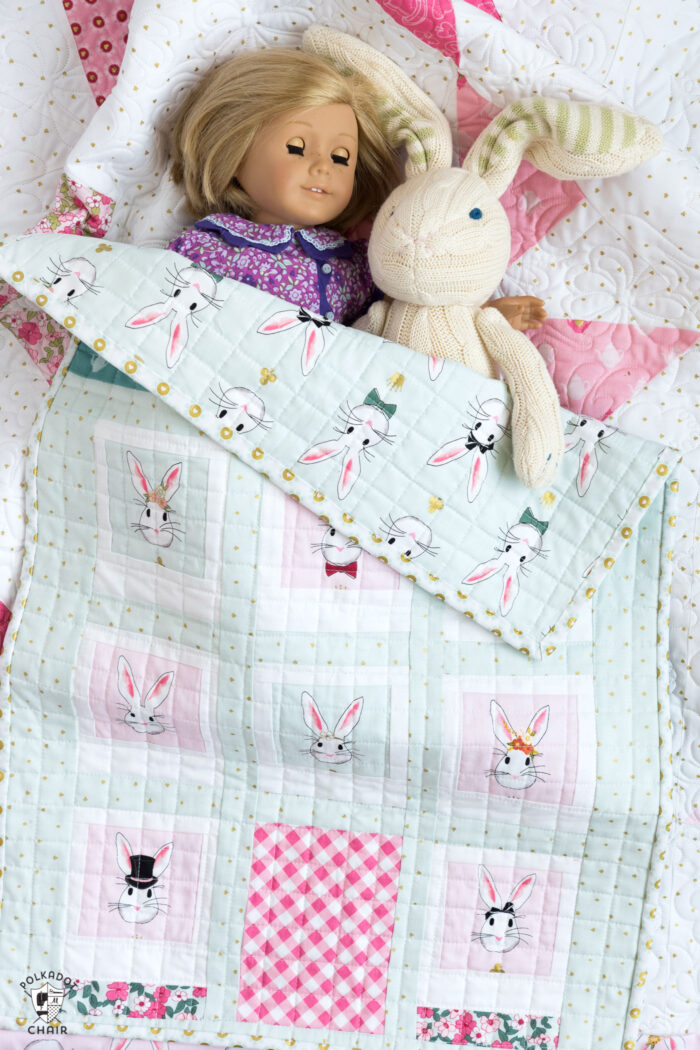 The idea to create a few Wonderland-inspired mini quilts came from a demonstration I did in February at QuiltCon. I taught a mini class on how to make Polaroid quilt blocks (you can see the full tutorial for those HERE). In preparation for my class, I made a bunch of blocks to use as examples.  
As I started making the blocks, I decided that I needed to turn them into something. I got the idea to make a mini quilt, since I thought the finished blocks looked like bunnies peering out the window of a house!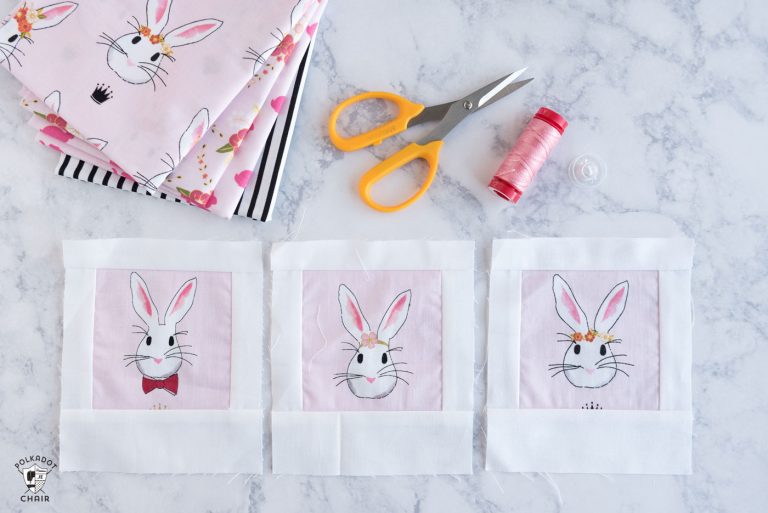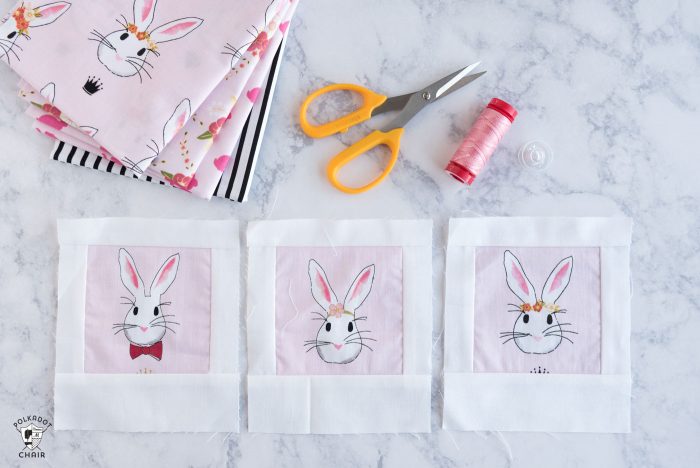 After I made the dollhouse mini quilt, I thought, "hey, I should make another mini to go with it." The rest of the story pretty much reads like "If you give a Mouse a Cookie". (hmmm….. lots of children's book references in today's post, must be because my teenagers are driving me crazy right now).
How to Get the Pattern
Today I'm releasing a PDF Mini Pattern for 3 Wonderland Mini Quilts! I think the PDF format is a great format for larger projects like these quilts. The pattern includes 3 mini quilts, full-color photographs, and instructions and is 12 pages long.  12 pages are too long to be readable on a blog, so it just made sense to turn the quilts into a mini pattern.
I have an entire section of my shop dedicated to these "mini" patterns. I call them "Pint-Sized" patterns. They are quick to make projects and offered at a special price in my store.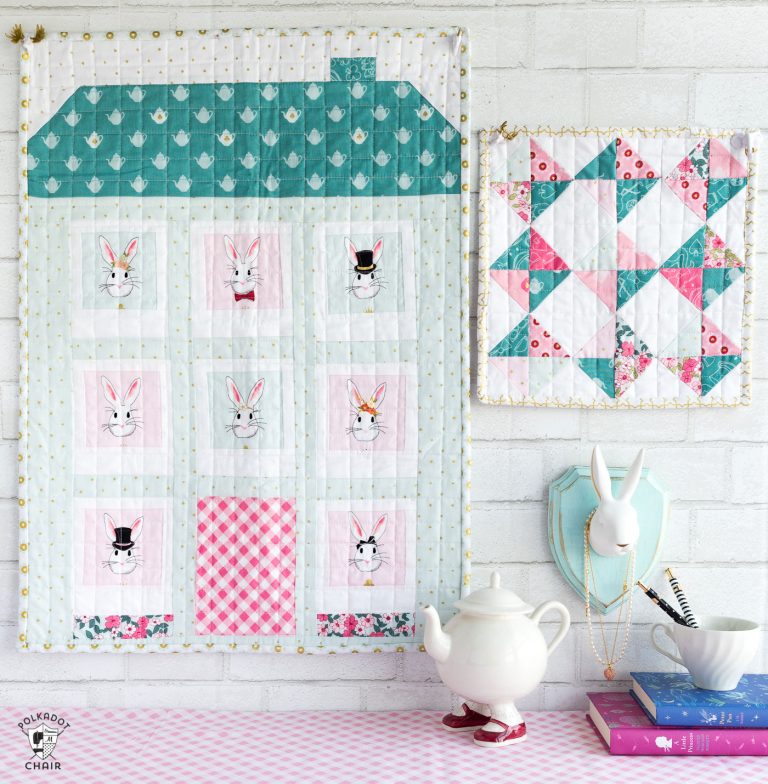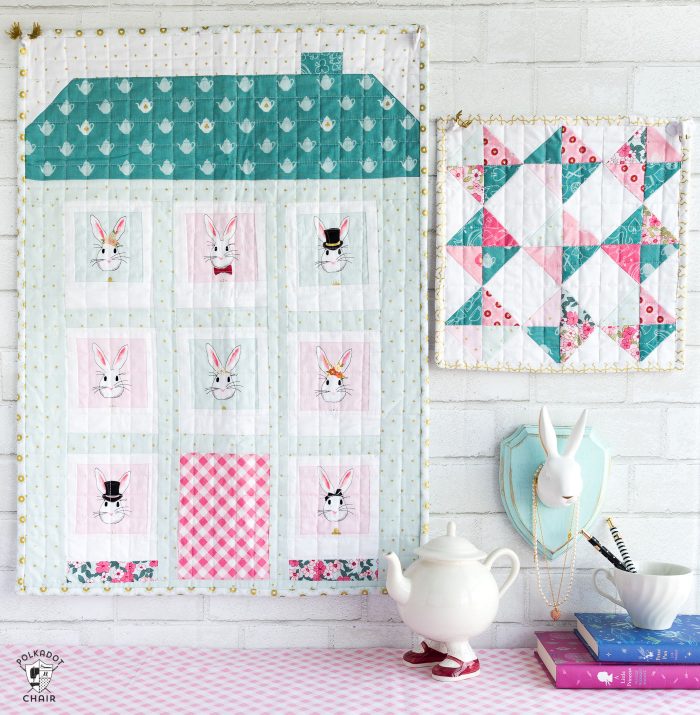 With the "mini" theme comes a "mini" price, the pattern is listed for half of what my other PDF patterns cost, even though it is in the same format and contains close to the same amount of pages as my other PDF patterns.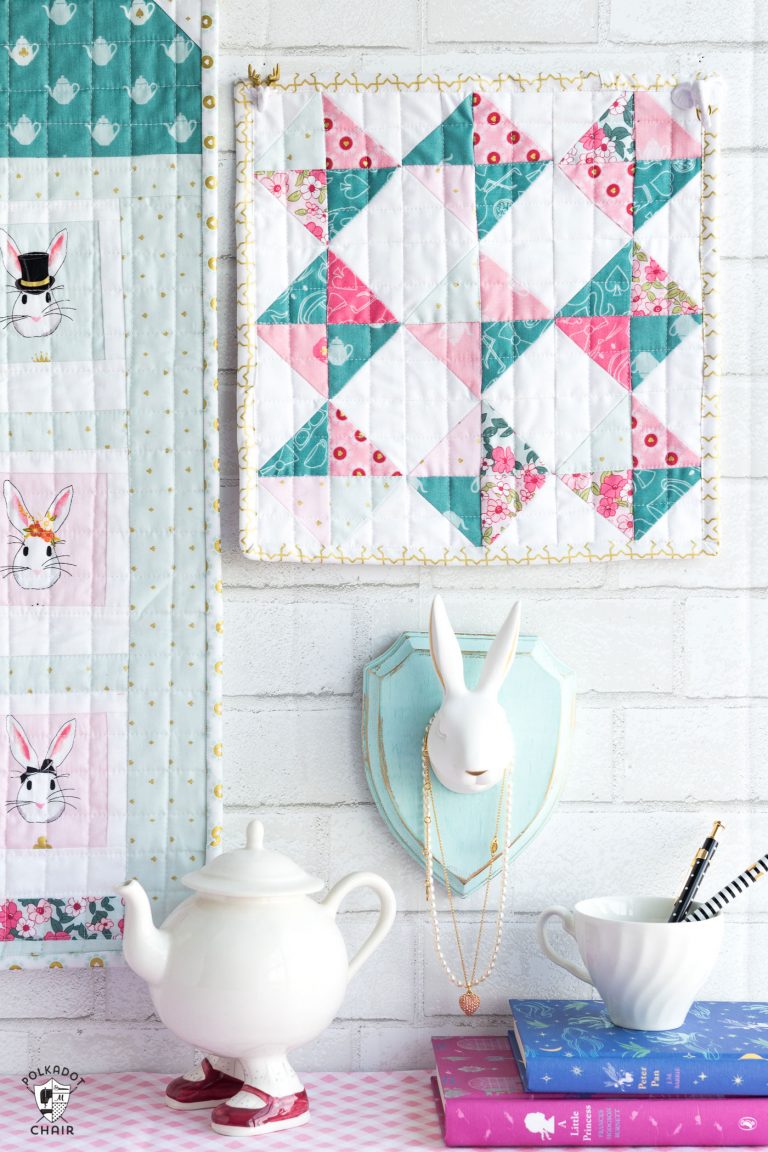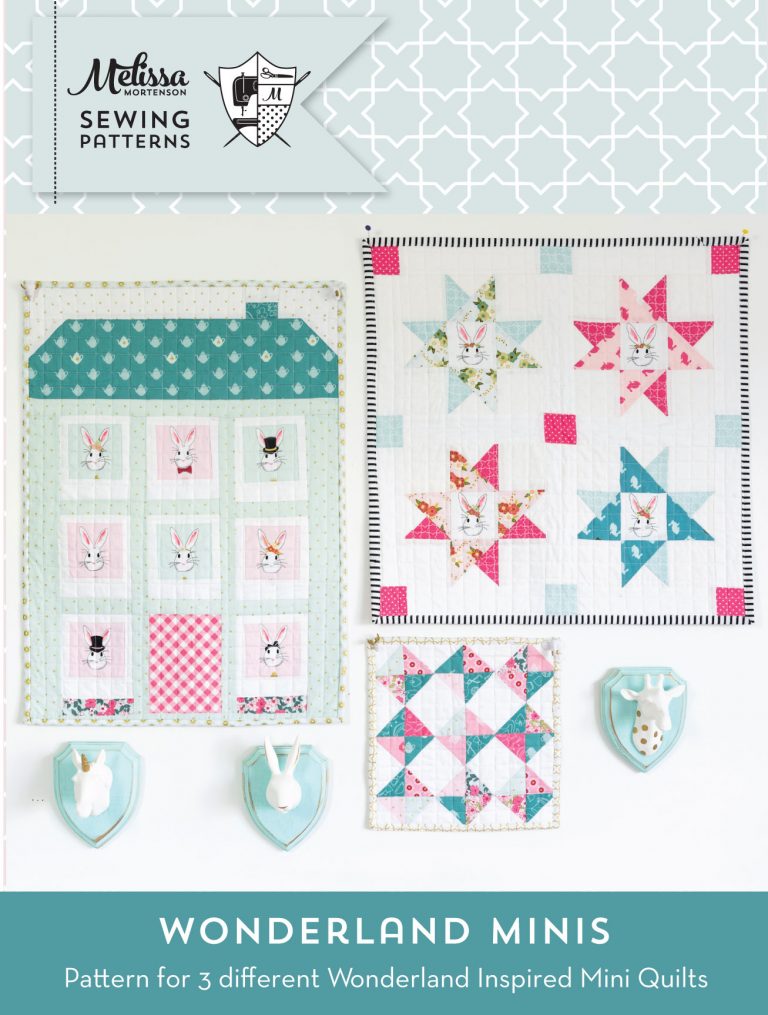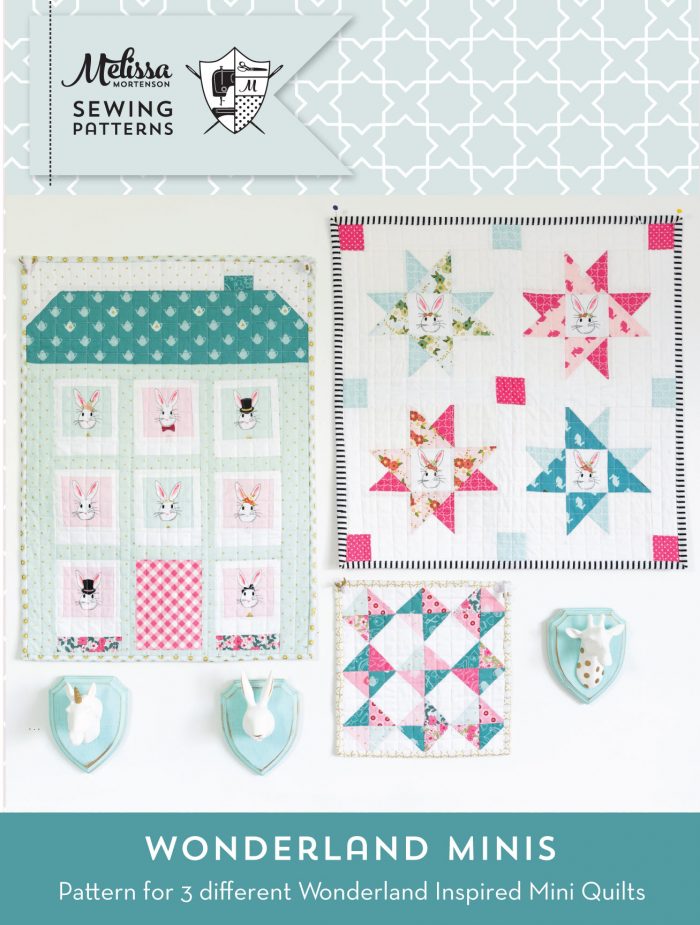 Quilt Patterns Included in the Bundle
Now let me tell you about the pattern, it includes instructions for 3 mini quilts.
Lost in Wonderland Pattern
The first one is called Lost in Wonderland, it's a simple star block quilt and measures approx. 23″ x 23″. (This pattern was previously featured as a free tutorial, and will remain live on this site).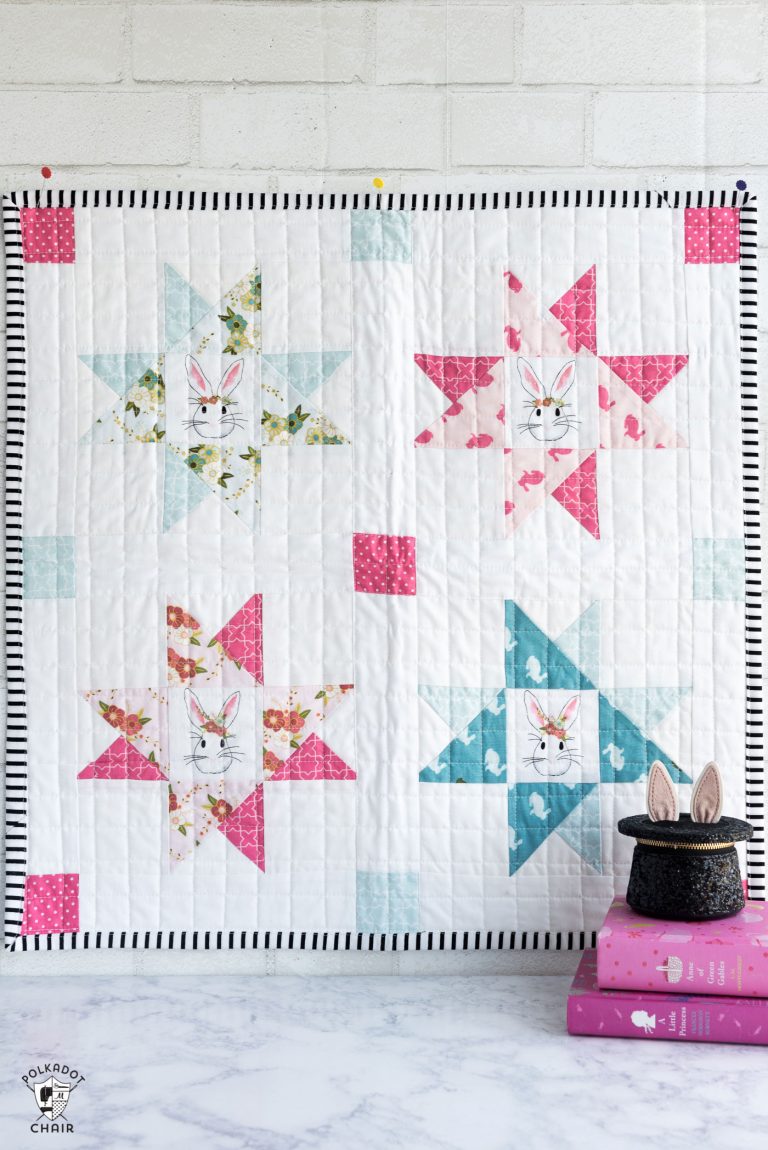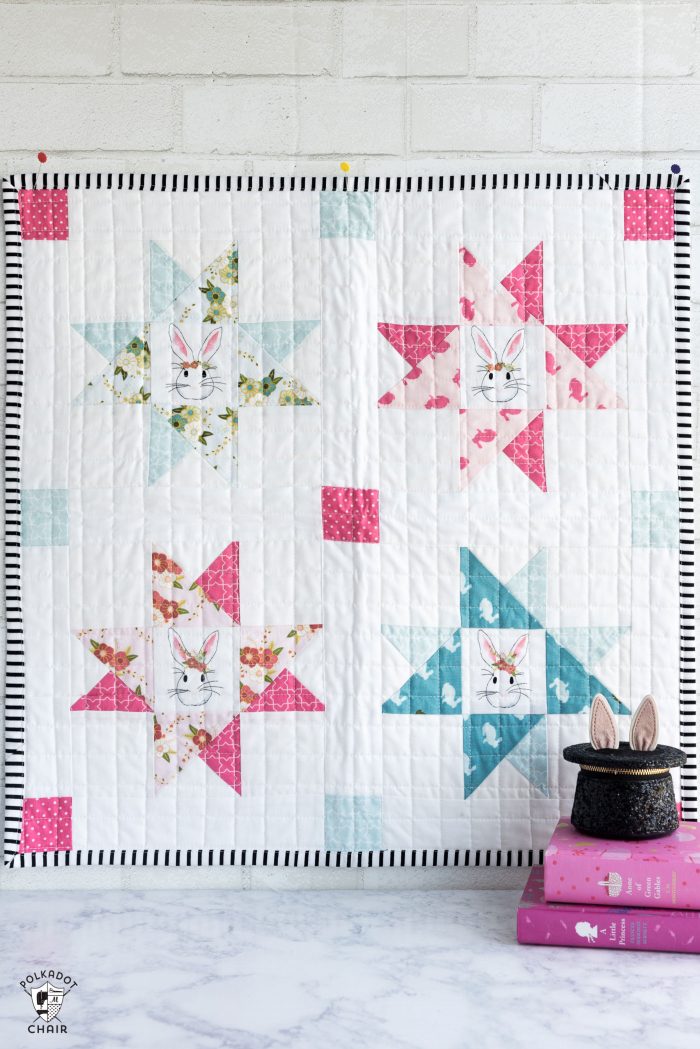 Wonderland Cottage Quilt Pattern
The second quilt is the Wonderland Cottage Quilt, it measures approx. 20″ x 27″ and I think would be ADORABLE as a baby doll quilt or as a wall hanging in a child's room.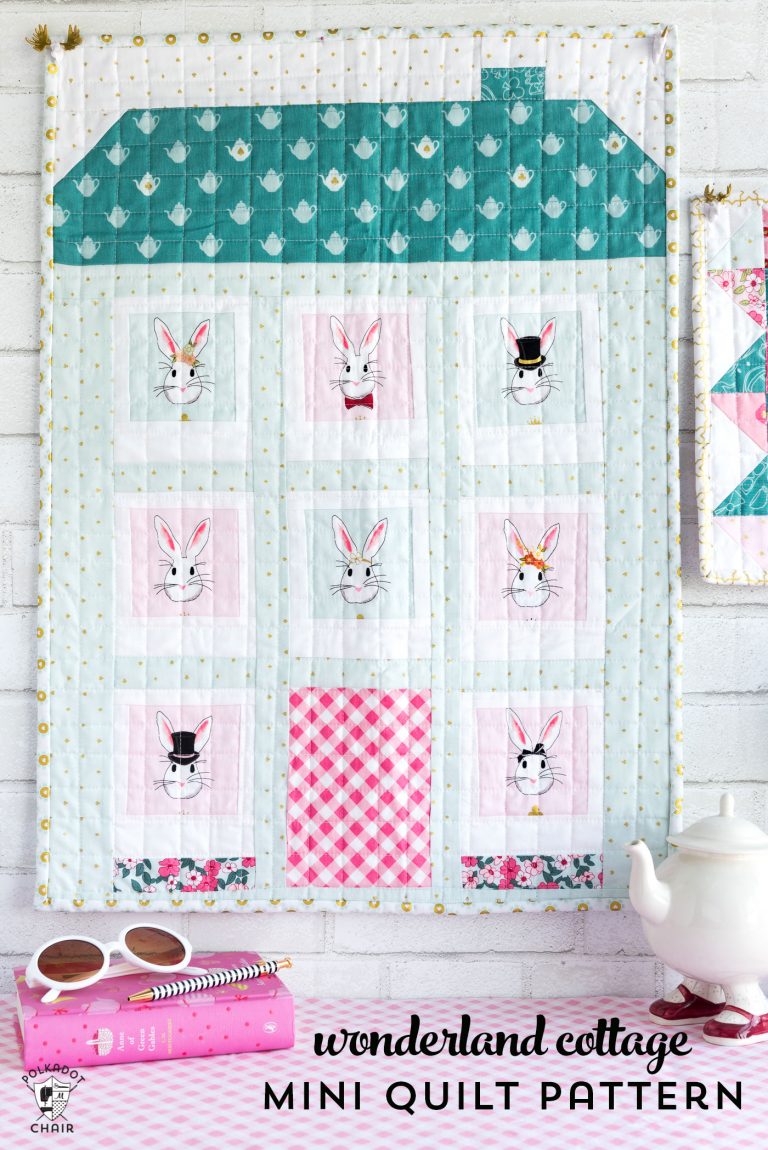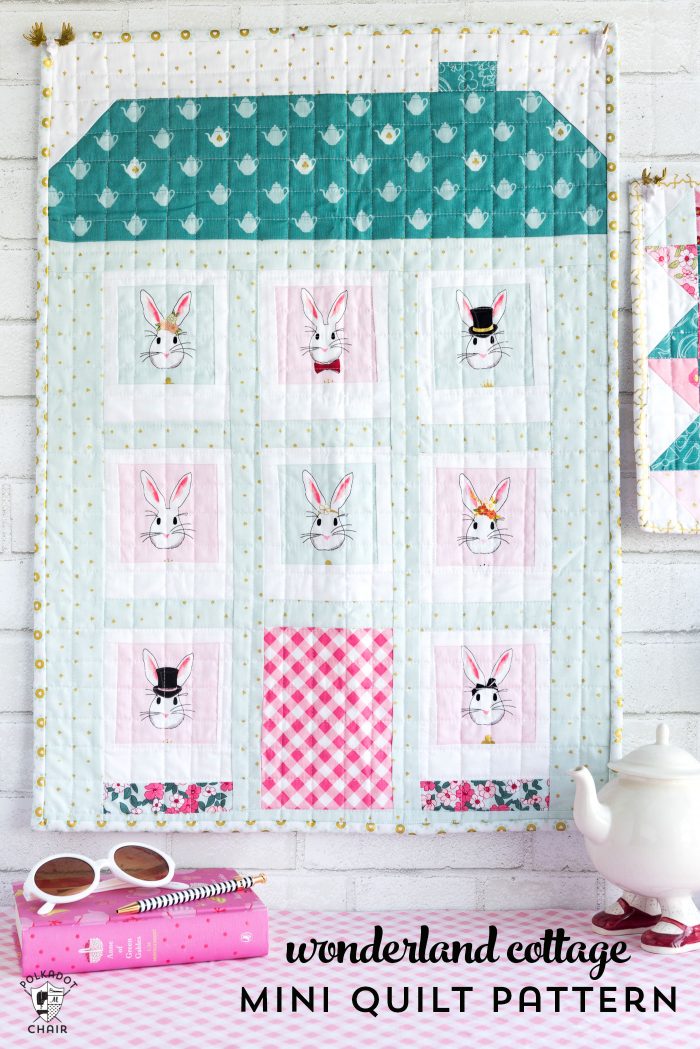 Broken Tea Party Dishes Pattern
The 3rd mini quilt is a variation on a broken dishes block and is called Broken Tea Party Dishes. It measures approx. 12″ x 12″.  You could easily make it larger if you'd like, just by making twice as many blocks!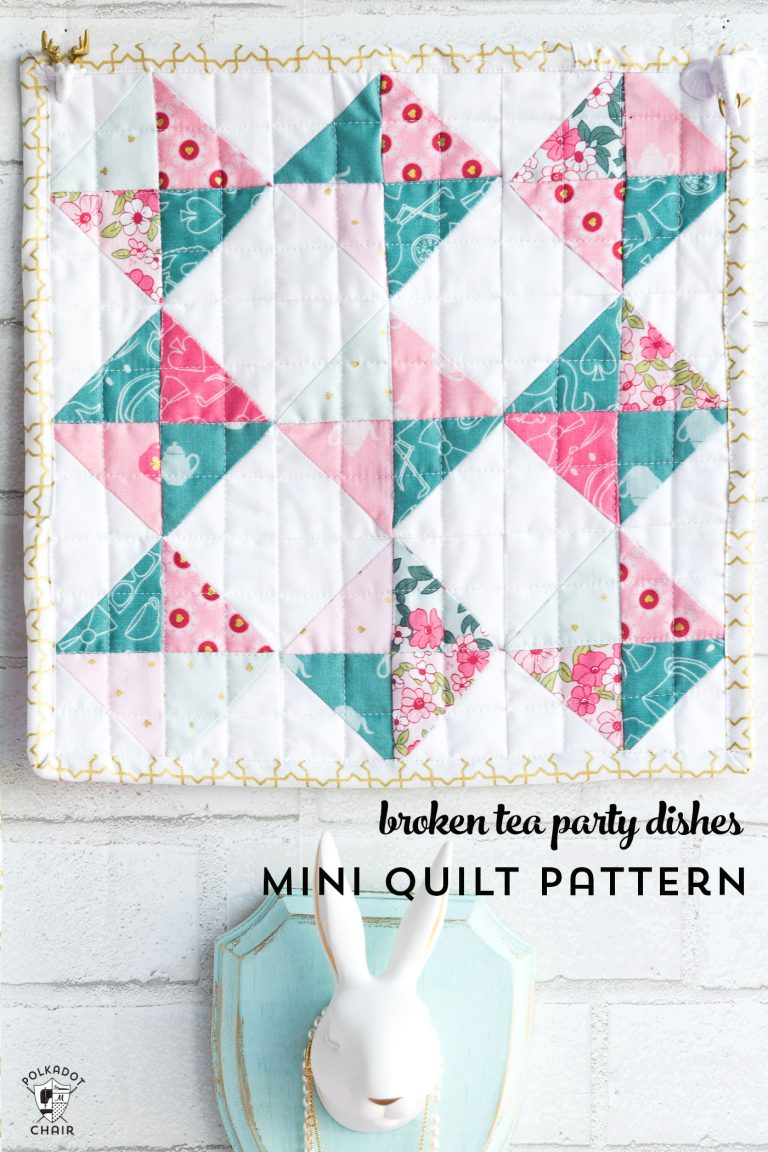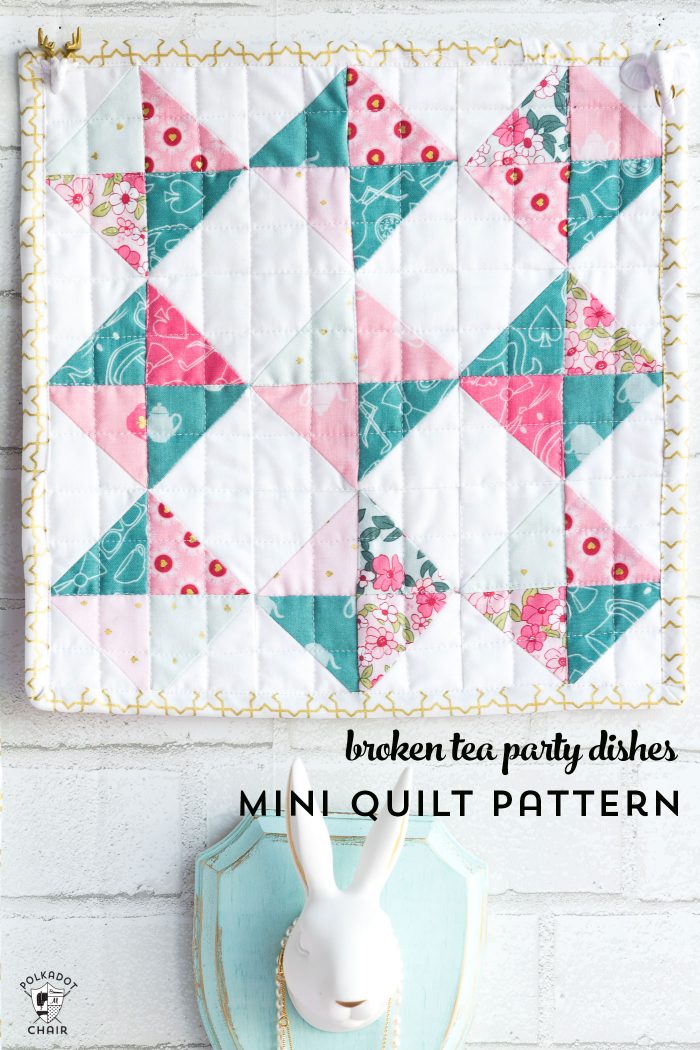 The pattern is now listed in my shop. After you purchase the pattern you will be emailed a link to download the pattern yourself. If you have any troubles be sure to shoot me an email and I'll make sure to walk you through it.
If you are an international buyer you need to purchase the pattern thru Etsy (due to VAT issues).
About the Fabrics
The fabrics used on these quilts are from my Wonderland Collection. I know that these fabrics are not currently available, however, you can use any fabric line that features illustrations that can be fussy cut. Riley Blake offers many fabric collections that would work perfectly with these patterns.
If you make one of the patterns, make sure you tag me on social media! I love to see what you're doing! I'm @polkadotchair on Instagram and Twitter.