Learn how to make a Face Mask with one of these 7 free face mask sewing patterns. Each is simple, easy to follow, and suitable for those who are new to sewing.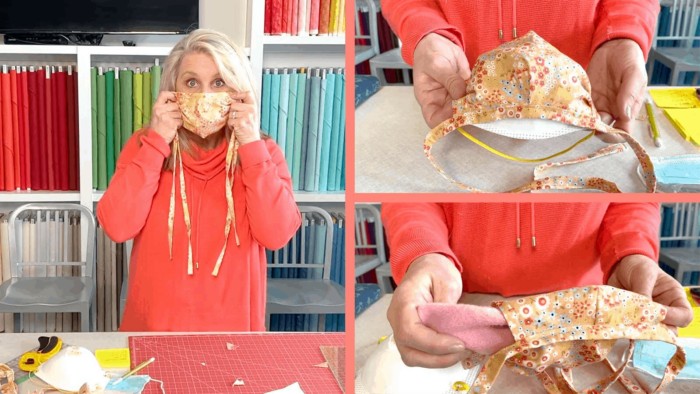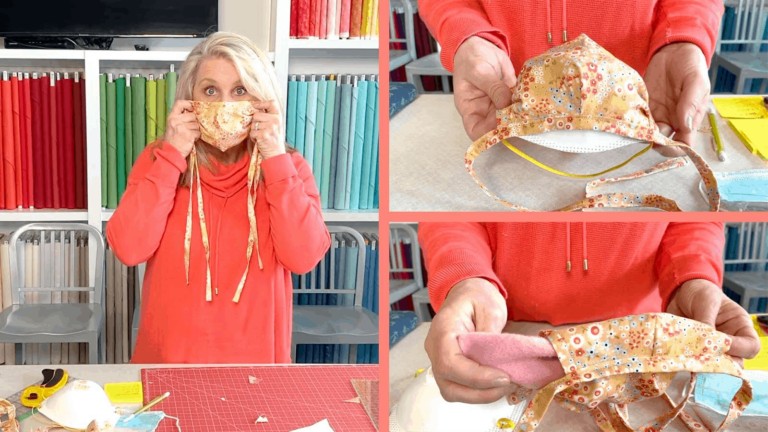 Photo from the Riley Blake Designs Face mask video tutorial
A few weeks ago many readers reached out to me asking for face mask sewing patterns. They asked me specifically if I had one on my site. I didn't so I sent them to other trusted sewing blogs for directions to make the masks.
Table of Contents
In the days since many more of you have reached out asking about patterns and tutorials for sewing face masks. I've tried to answer each email and Instagram message I've received. If I missed one I'm very sorry.
I have not written a tutorial to make one, not because I didn't want to (I would jump right in if it is needed without hesitation), but because so many of my colleagues had already written tutorials that were thorough, clear and tested.
What I want to do today is share with you some of the resources that I know of for sewing the masks. Over my 10+ years as a sewing blogger I have had the privilege to meet and collaborate with many other bloggers. All of the tutorials below are from makers and designers that I know.
Free Face Mask Sewing Patterns & Tutorials
Note: I'm working to keep this post updated as makers share more information or have more tips.
Choose the tutorial the works best for your needs. If you are looking to make a mask and find yourself short on cotton fabric with a tight weave, might I suggest cutting up a men's dress shirt to use? You can also try old sheets/pillowcases. Assuming it meets all of the fabric recommendations in the pattern. You want a tight weave fabric, t-shirt, and other knit fabric is not tightly woven.
If you are looking to make masks to donate, I only have personal experience with one organization, JustServe.Org is run by my church and lists opportunities for service in your area. You put in your zip code and it gives you suggestions for ways to serve in your local community.
Types of Face Mask Patterns
There are a few main types of face mask tutorials online now.
Pleated Face Mask
Clamshell/ Fitted Face Mask
A 3D Fitted Face Mask
One features pleats on the side, the other is a "shaped" mask, also referred to as a "clamshell mask". It is designed to fit over your face and chin.
Face Mask Pattern Printable
About the Pleated Face Mask Patterns:
After sewing many face masks, I find it hard to sew the pleats. It's a bit fussy to get them even. They can also be hard to sew if your machine does not stitch over multiple layers of fabric easily.
About the Clamshell Face Mask:
I prefer for myself the clamshell-style masks. I think they are easier to sew and wear.
About the 3D Fitted Face Mask:
Recently a 3rd type of face mask sewing pattern has popped up online. The 3D face mask by Sweet Red Poppy is a bit more labor-intensive to sew but wearers report that is more comfortable for long term wear.
My daughters however, prefer to wear the pleated face masks. So I am making both.
I'm also planning to make a few for each of us (those living in my house) so that we have clean ones, and can wash the ones we wear after one use).
How to Add Ties to the Masks
There are few ways to add ties to the masks.
Small elastic or sewn fabric ties. Some ties go behind the ears and others tie behind the head. I have read that long term the behind the ear ties can be bothersome. However, the ties behind the ears may make the mask quicker to put on and take off.
Many have been making ties out of old t-shirts as well. The mask needs to fit snugly over the face so be careful that the ties you create do not stretch out too much over time.
You can also make ties from bias tape (if you have some at home). I have read that some are using the loops from kids loom as well (you know those craft kits that were totally going crazy a few years ago). I am going to experiment with ribbon when I make masks for my family. If you try ribbon be sure to finish the ends so they do not fray when washed.
How to Add Wire to the Nose of Face Masks
I purchased these wire bars on Etsy. I then stitched them into the masks after they were sewn. To attach them to the masks, I simply sewed a piece of bias tape to the inside of the mask then inserted the wire and stitched the opening closed.
Which Elastic to Use for Masks
I prefer soft elastic. I have been using this elastic that I purchased on Etsy. I have also purchased the rubber stoppers. This allows the face masks to be adjustable around the ears and makes them easier to fit for my family.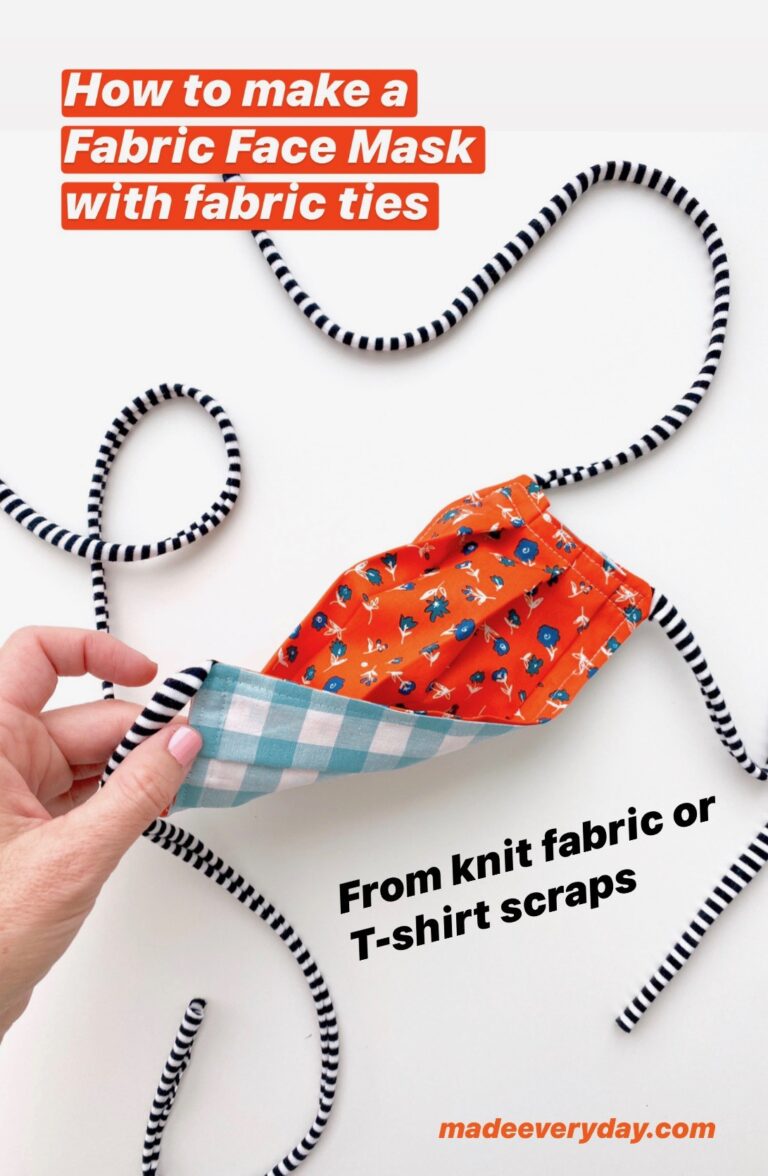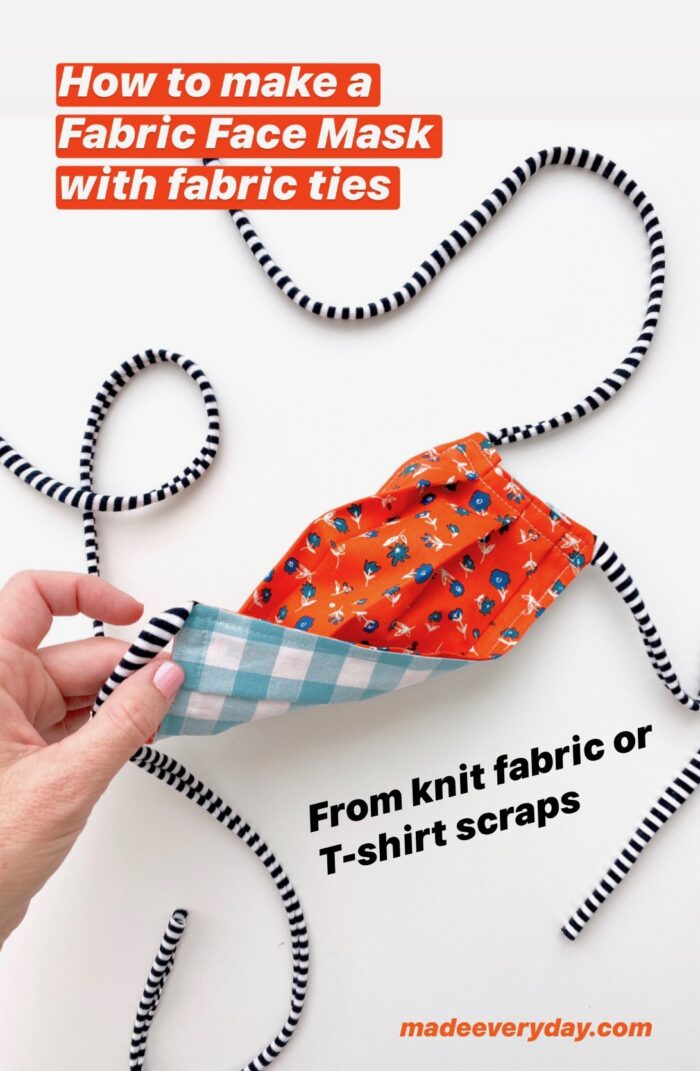 2. Dana Willard of Made has also shared a video tutorial on her YouTube page. Her tutorial features a few different options for ties, and she has shared many tips for making the masks on her blog. These masks are made using the pleated method.
Printable Face Mask Patterns
Updated Information:
3. Kate of See Kate Sew has a tutorial for a mask on her blog that features a pocket and does not require elastic. The download is free. Find all of the information here. This mask is also made with the pleated method and also feature sewn ties.
4. After the need arose, Kerry Goulder of KidGiddy quickly posted a thorough tutorial for sewing masks. Her pattern features either the use of elastic or woven fabric straps. She also offers lots of tips and suggestions for making the masks on her site. To see it click here. This mask also uses the pleated method and she walks you through some options to add a pipe cleaner or twist tie to the bridge of the nose to help the mask fit tighter.
This facemask pattern is a bit more involved than the rest I've linked to. I recommend it if you're looking for a complete pattern, but it would not be a good one if you're looking to sew a lot of face masks quickly.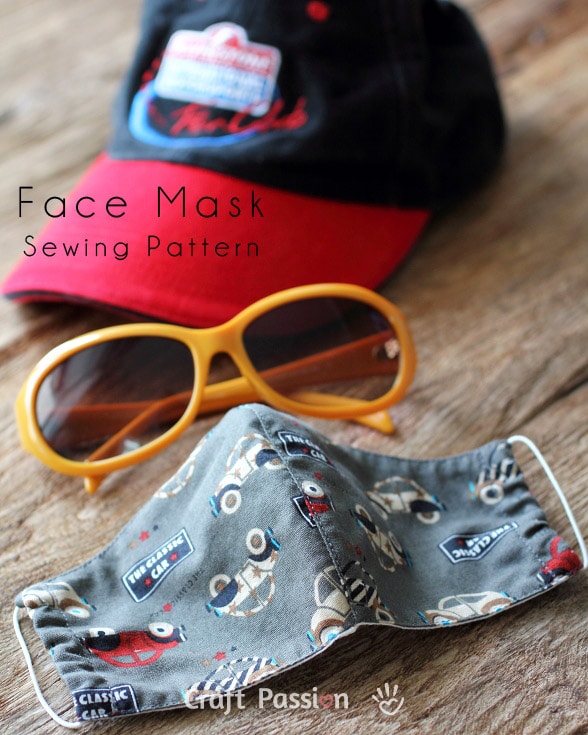 5. I have heard from many of you that the face mask pattern at Craft Passion is a great one to sew as well. You can find the free sewing pattern here.
6. Sweet Red Poppy has a free printable pattern for a 3D (sometimes referred to as an Origami) face mask.
My Favorite Face Mask Pattern
Face Mask Acrylic Template
Creative Grids has released a Face Mask acrylic template. It is very helpful if you're looking to cut out a lot of masks fast. You can find them at local quilt shops, and several stores online.
This acrylic template will help you sew a "clamshell" or fitted mask. I have made several face masks using this template and find that for me, it's the quickest and easiest face mask pattern.
Face Mask Patterns for Cricut Machines
6. Cricut has uploaded a face mask pattern and cut file to design space. It is free. Their mask is a fitted type mask that does not have pleats.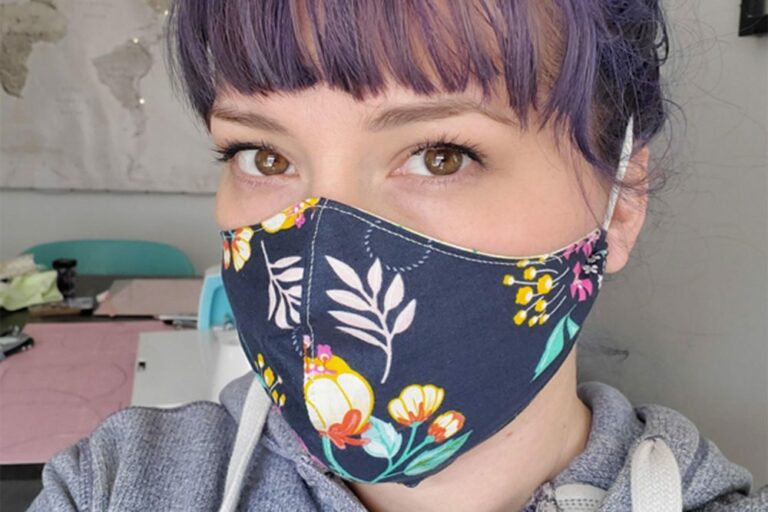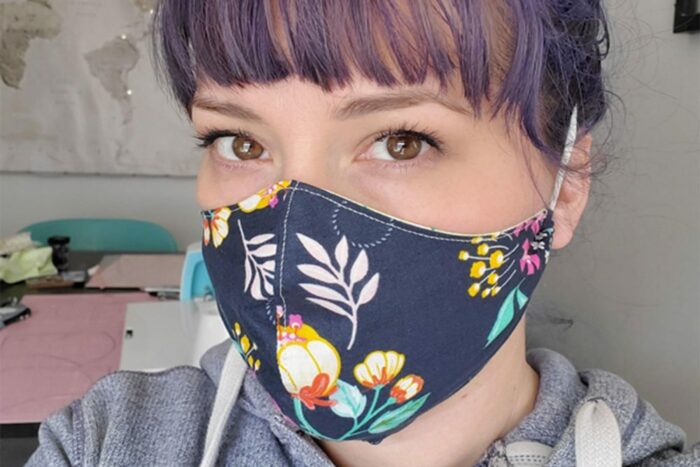 They are walking you through the steps to make the mask on their company blog. There is also a video tutorial.
If you have a Cricut Maker you can use it to cut out the fabric pieces to sew the mask. Just go to Cricut Design Space, the tutorial is right on the introductory page. If you don't have a Cricut Maker you can use a pen with an older machine to draw a pattern out on paper to then cut out with scissors.
What is a Cricut? A Cricut Machine is an electronic cutting machine. It hooks up to your computer via USB or Bluetooth and cuts images you send to it, much like a printer. It just cuts instead of prints. It can cut vinyl, paper, fabric, and much more. The images are all digital; you can upload your own images or buy images in the Cricut Design space individually. You can read my full review of the Cricut Maker Machine HERE.
No-Sew Face Mask Tutorials
7. The CDC just posted a video showing you how to make a face-covering yourself at home. You can view it on YouTube here.
There are many more tutorials out there. These are just some of the ones that I have personally come across that seemed to have clear and precise directions.
IMPORTANT INFORMATION: The facemasks and patterns described in this blog post are not considered Personal Protective Equipment (PPE) and cannot prevent the spread of any virus or disease. These facemasks should only be used by Health Care Professionals as supplemental protection or to help extend the life of N95 or other PPE masks as described by the CDC in Strategies for Optimizing the Supply of Facemasks.
I like so many of you am praying for safety and peace right now. This is a blog post I never wanted to have to write. I hope that it helps you find the resources that you need if you would like to make a mask.
If you're new to sewing, we have a lot of resources to help you out. Start out with some of my favorite tips for beginners.