Just last week I was getting ready to hand-stitch a project and I could not find my small scissors anywhere! If I had a pincushion with a pocket like the one that Sarah Ashford created for today's tutorial, I would not have had that problem. I love that this project is so useful and it gives you the fun opportunity to stitch up a mini churn dash quilt block as well (I'm enamored with all things mini lately).  Keep reading to get this cute free pincushion pattern.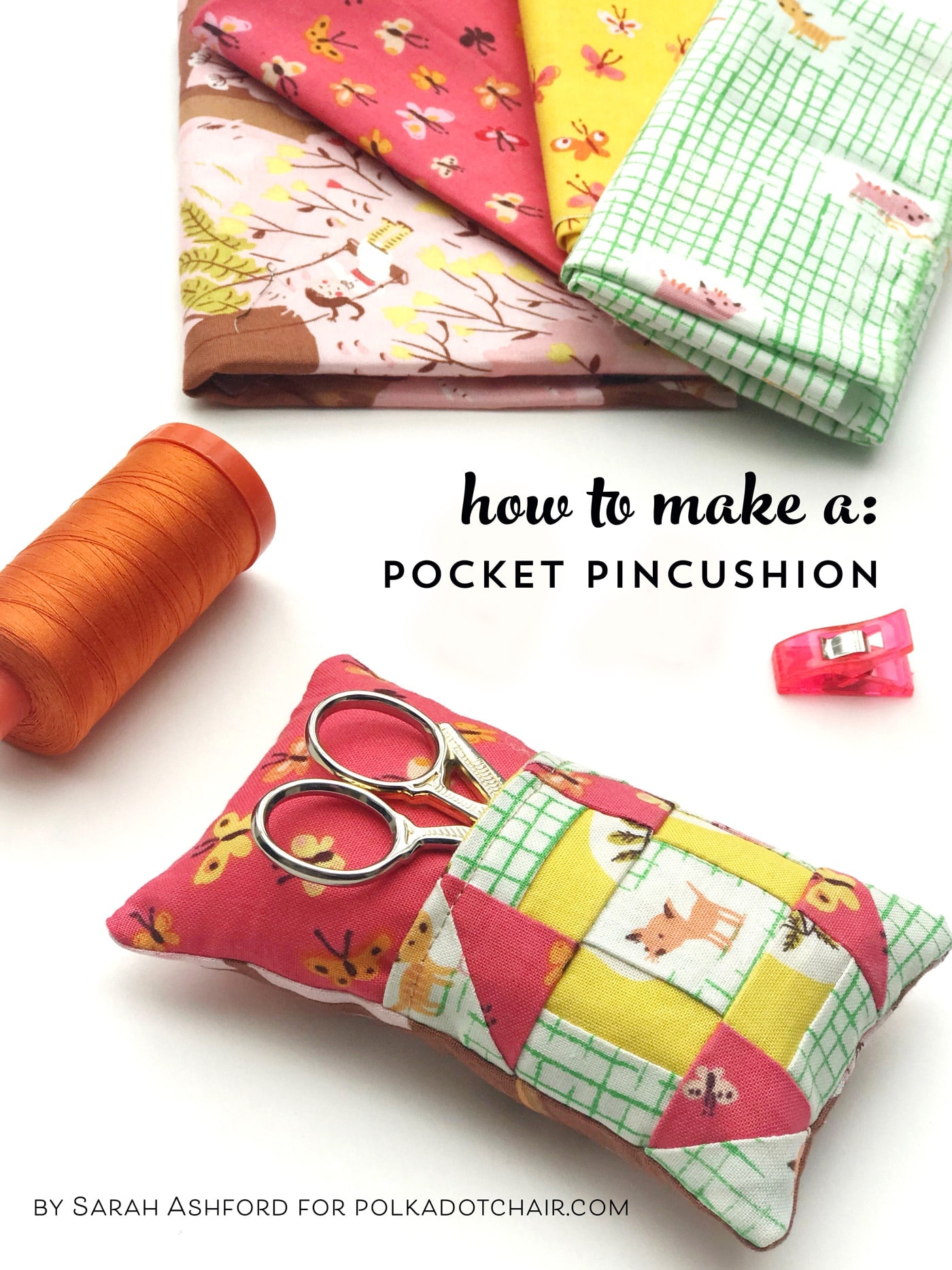 Tutorial for a Churn Dash Pin Cushion with a Pocket for your Scissors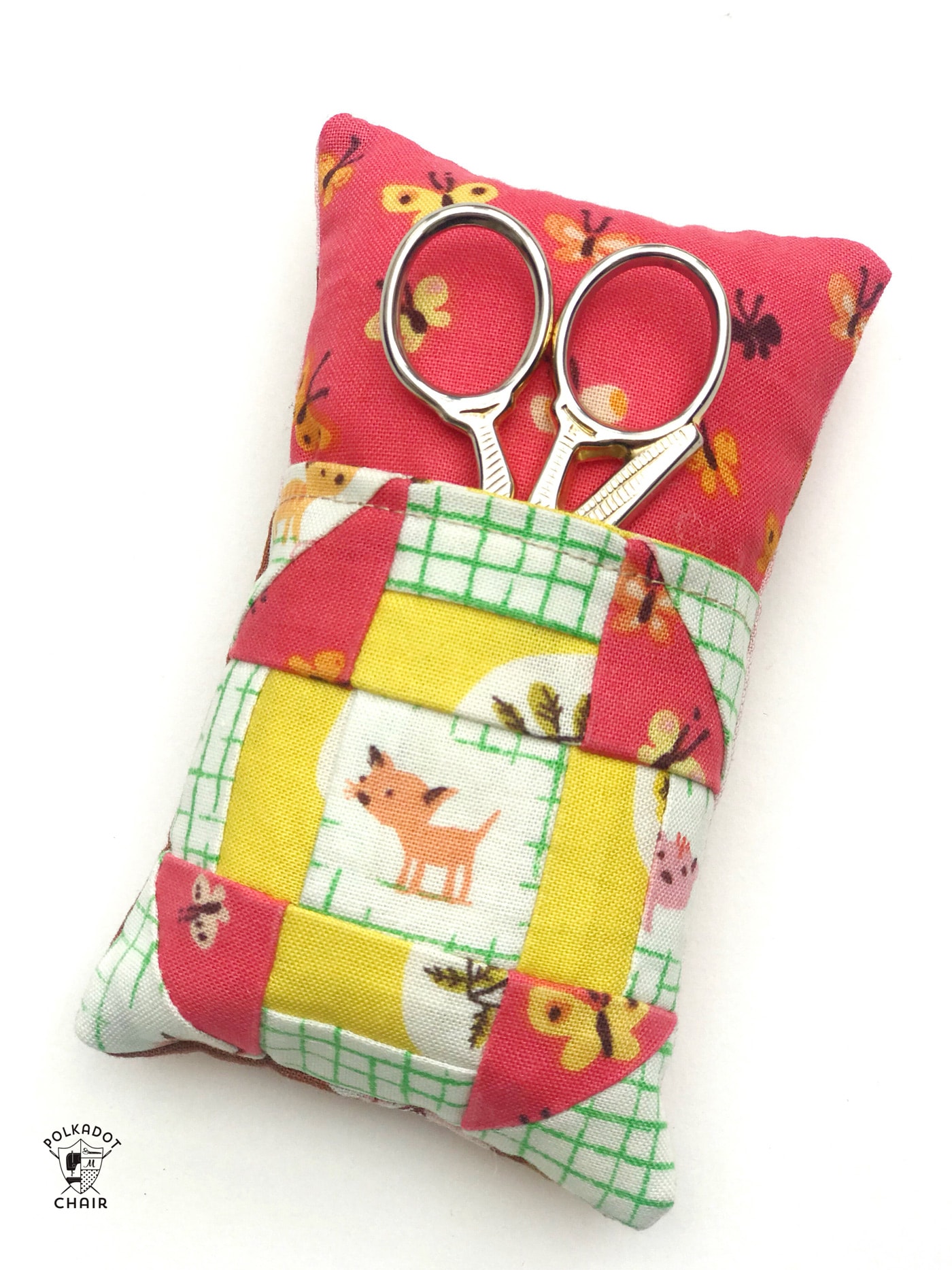 I don't know about you but I'm always dropping pins, losing pins, hunting for the right type of pin, just when I'm at the critical moment in a project. And as for embroidery scissors for snipping those loose threads, I can never find them when I need them! So it gave me the idea to make a pincushion, that also keeps my scissors safe too, so I can always find them! I decided to create a pincushion with a pocket.
I've worked on a lot of projects recently that have been really modern in design. I've done lots of foundation paper piecing, some improv piecing, and used lots of solids. So I wanted to go back to the roots of quilting and use a traditional method and a traditional quilt block.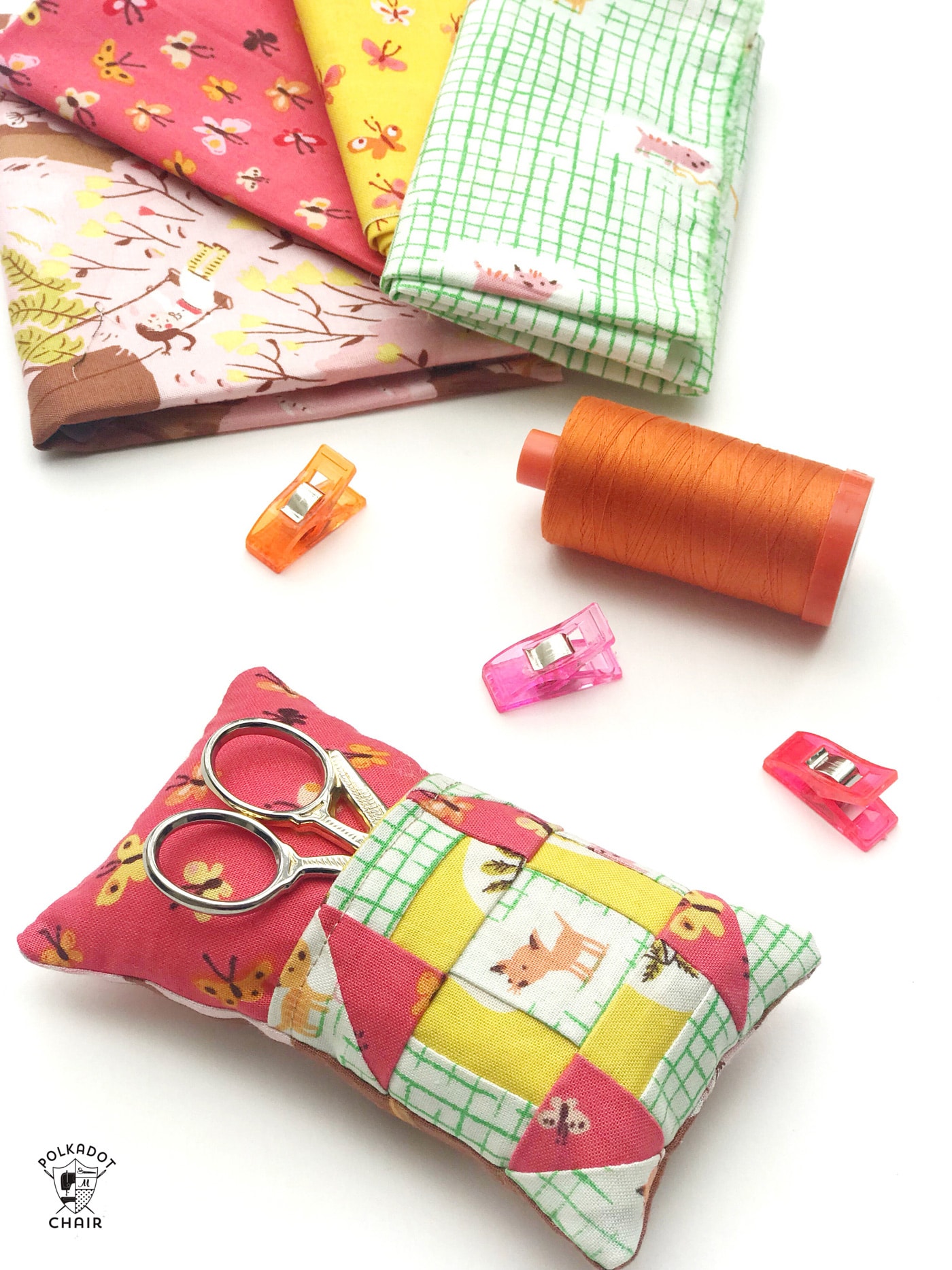 One that I love but I've not used for some time is the Churn Dash Block. This is a very old 9 patch block and one that girls first learned in the 1800's because of the simplicity of its rectangles, triangles, and squares. It gets its name because the perimeter resembles the butter churn and the square center resembles the stick – also known as the dash. So there you go, a little bit of history before you embark on this cute project!
Traditionally Churn Dash blocks are made up of 2 high contrasting fabrics. Well, I'm abandoning tradition for this bit and throwing in as many adorable Heather Ross Tiger Lily fabrics as I can find, but you can use any fabrics you choose. You might want to consider some contrast but why not add in 3 or even 4 different colors. See if it works and if it doesn't, try a different combination!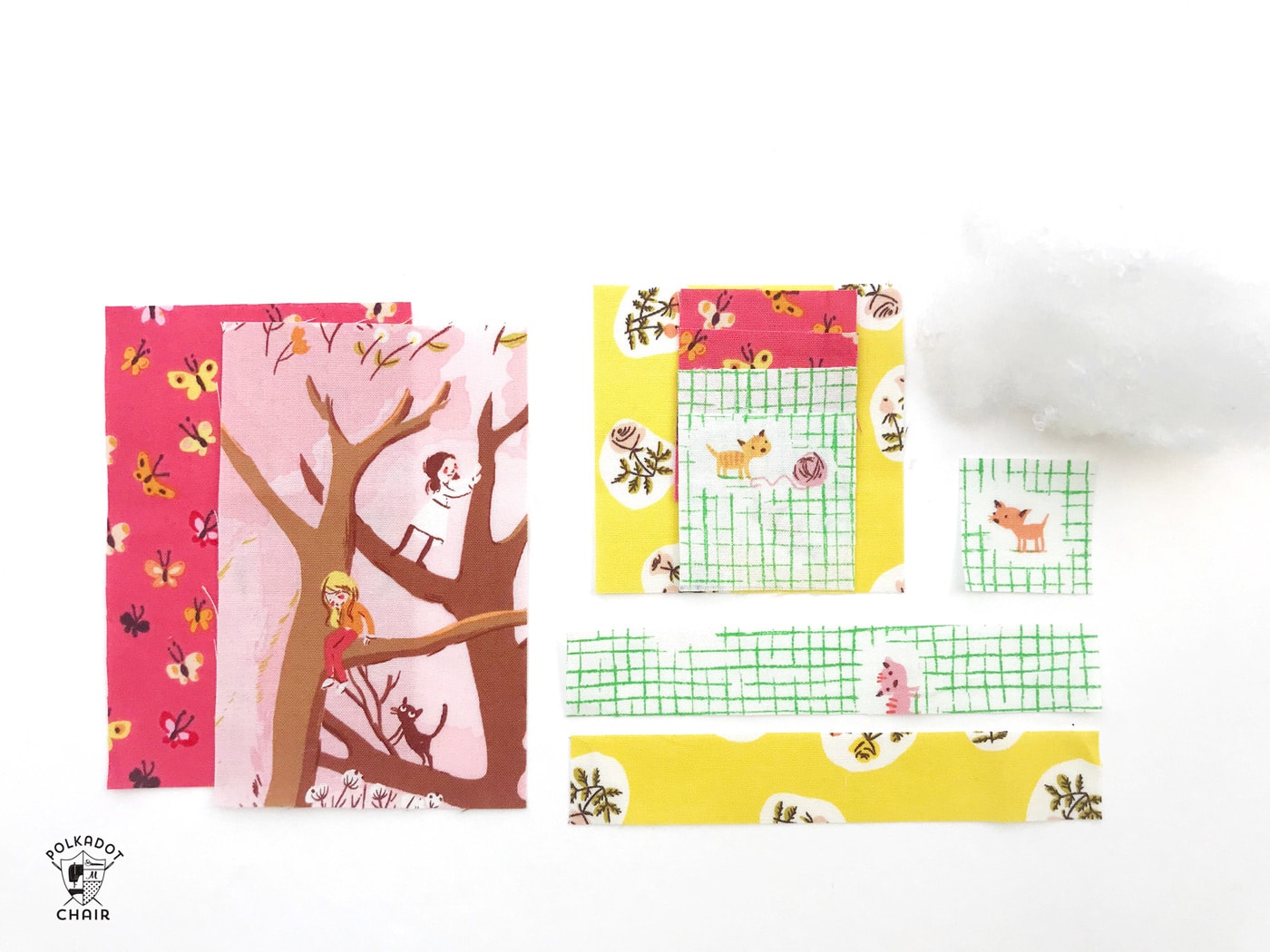 Supplies for Pincushion Pattern:
You will need:
Center square 1 ½"
2 x colored squares 2" for the triangles (slightly larger to allow for trimming)
2 x background color squares 2" for the triangles (slightly larger to allow for trimming)
6" x 1" colored strip
6 x 1" background color strip
For the Pocket:
1 x 3 ½" square (pocket lining)
For the Cushion:
2 x 5 ½" x 3 ½" (front and back of cushion)
Toy stuffing
Instructions to make the Pincushion with a Pocket:
Step One: Make the Mini Churn Dash Quilt Block
We are going to start off by making a 3" (finished) Churn Dash block.
Take the colored strip and stitch right sides together with the background color strip. Press open and sub cut into four 1 ½" inch strips.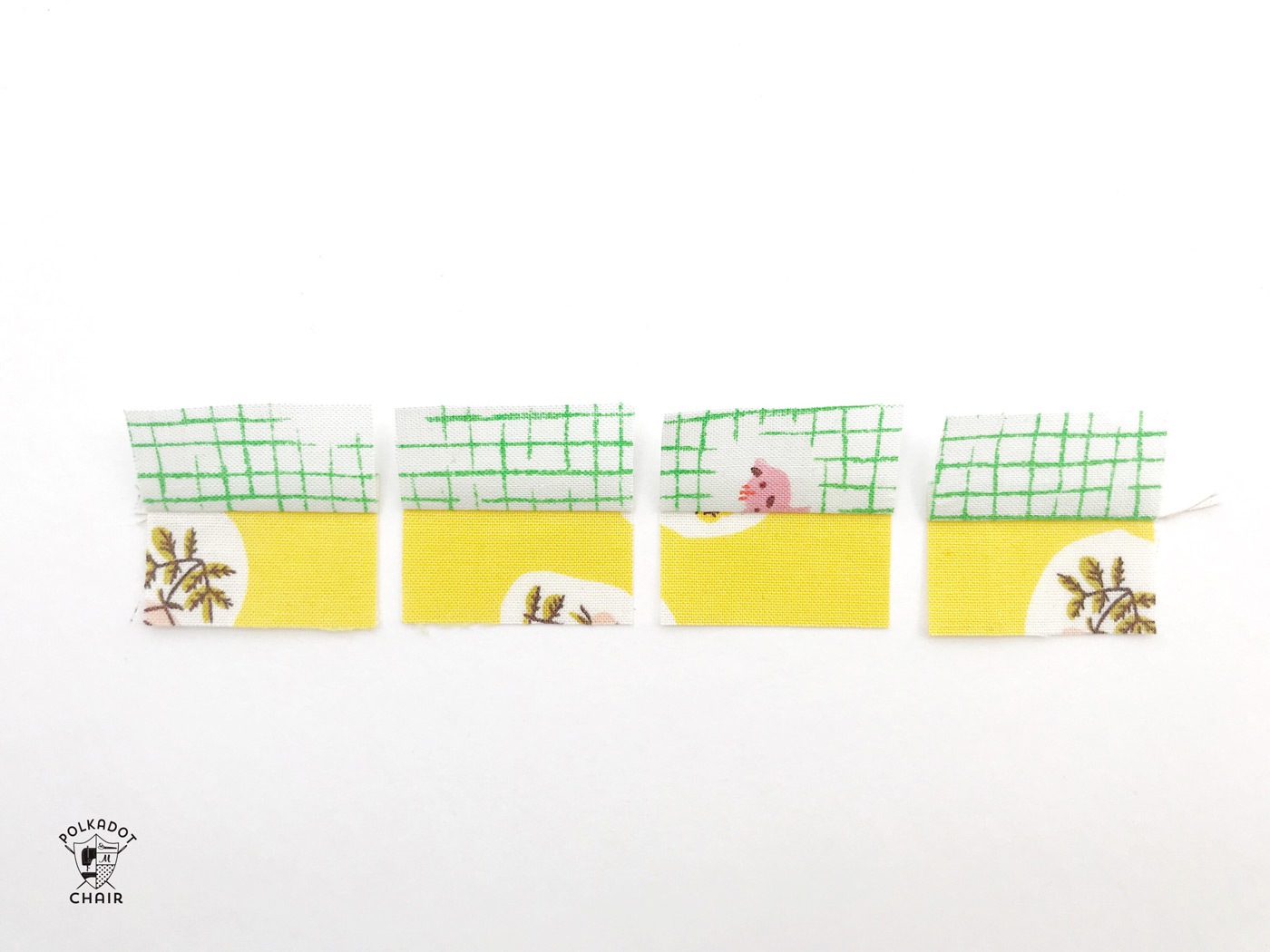 Next, create the half square triangles (HSTs) by taking 1 colored 2" square and placing it right sides together with a background 2" square. Draw a line down the center and pin near the edge of the square on either side. Repeat with the other pair.
Using a ¼" foot, stitch down either side of the drawn line. Using a rotary cutter, cut down the drawn line creating two HSTs.
Open out, press to the dark side and trim the ears. Trim to 1 ½". Repeat with the other pair of squares to create 4 HSTs in total.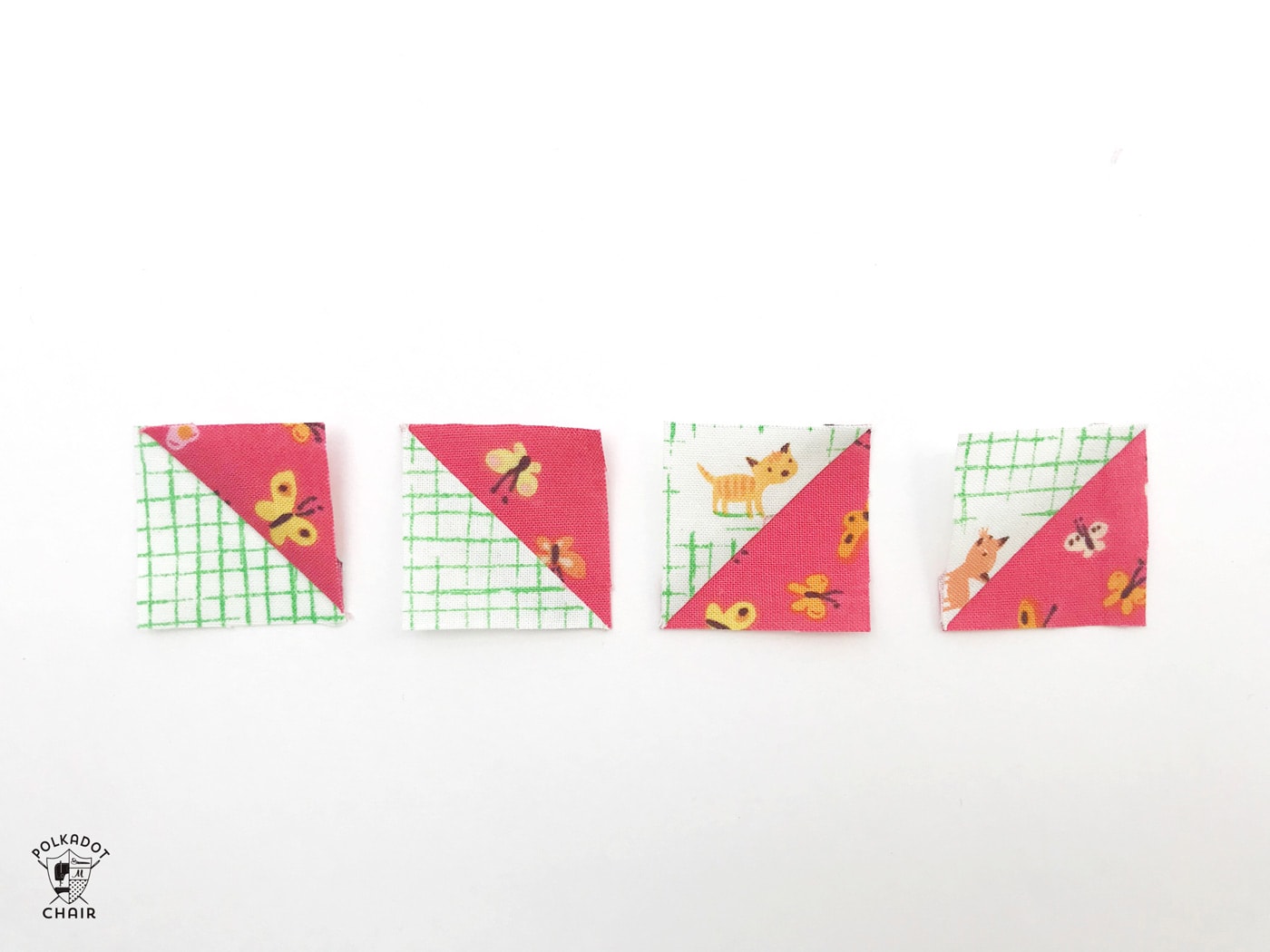 You now have all the components of the block, ready to stitch together.
Starting with the top row, take the square made of two rectangles and stitch a HST to either side, checking the orientation of the block.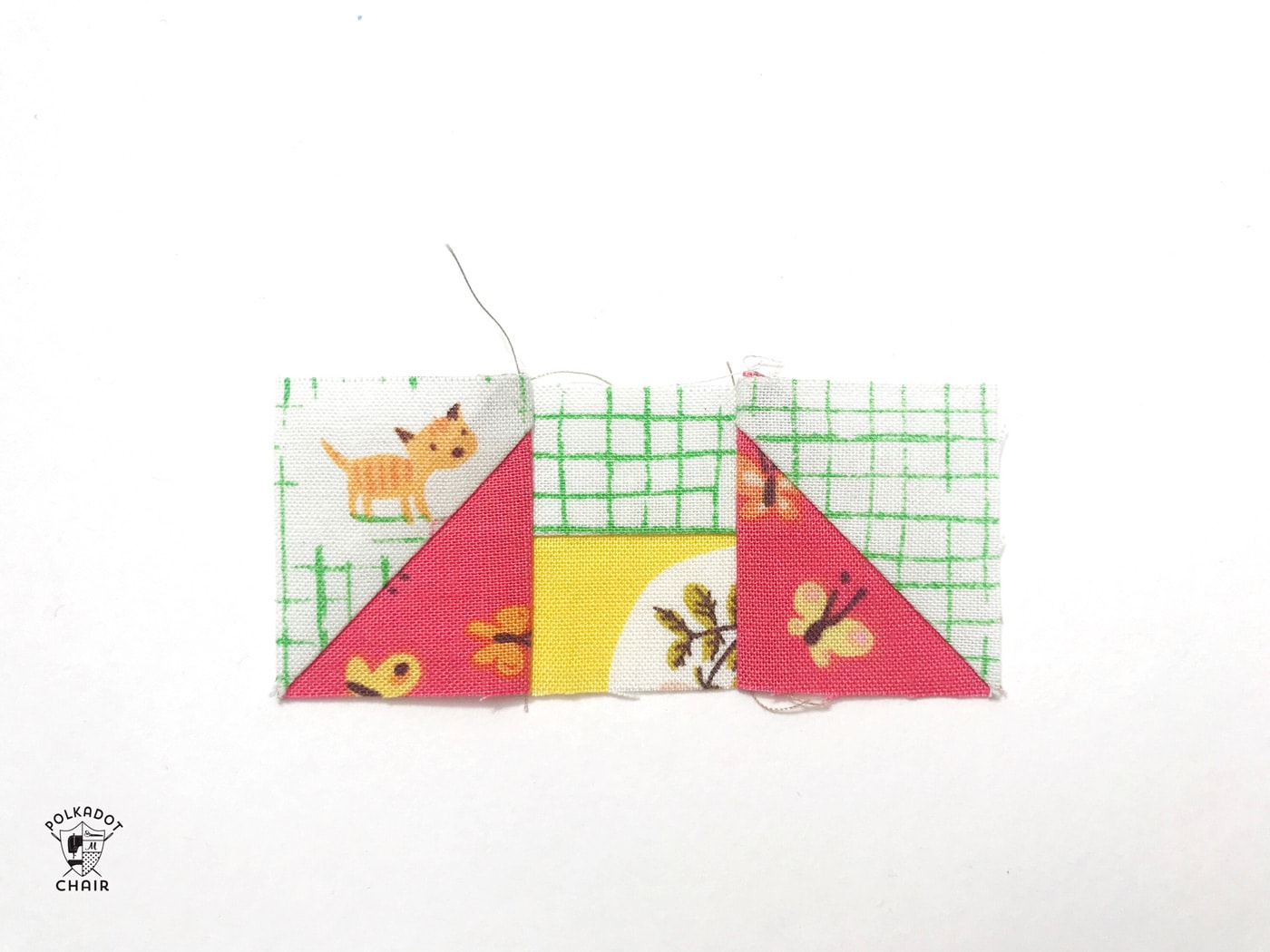 Take the center square and stitch a square made of 2 rectangles to either side, checking that the background fabric is on the outside of each square vertically.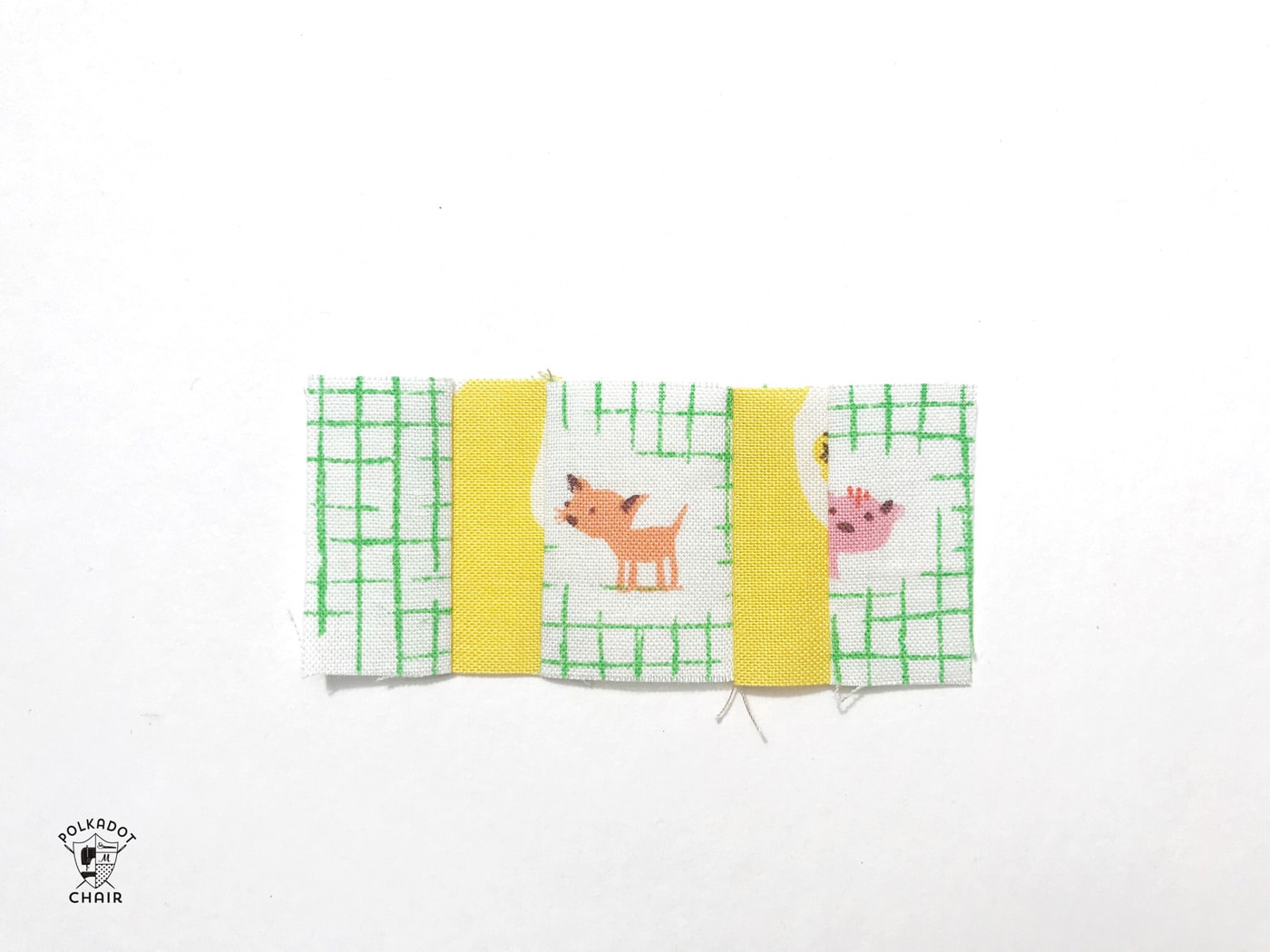 Take the final square made of 2 rectangles and stitch a HST to either side, checking the orientation of the block.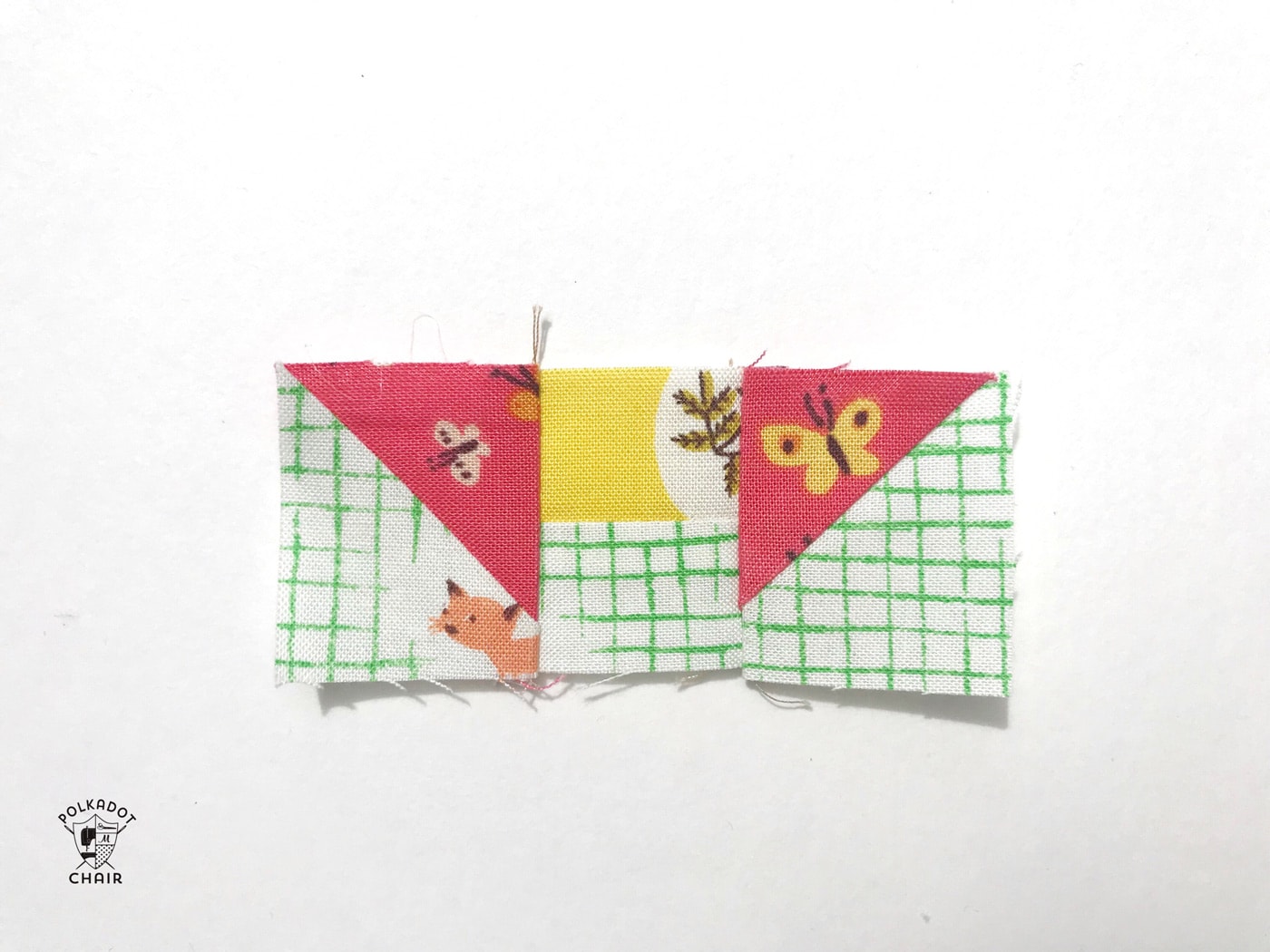 Stitch all the rows together to complete the Churn Dash block.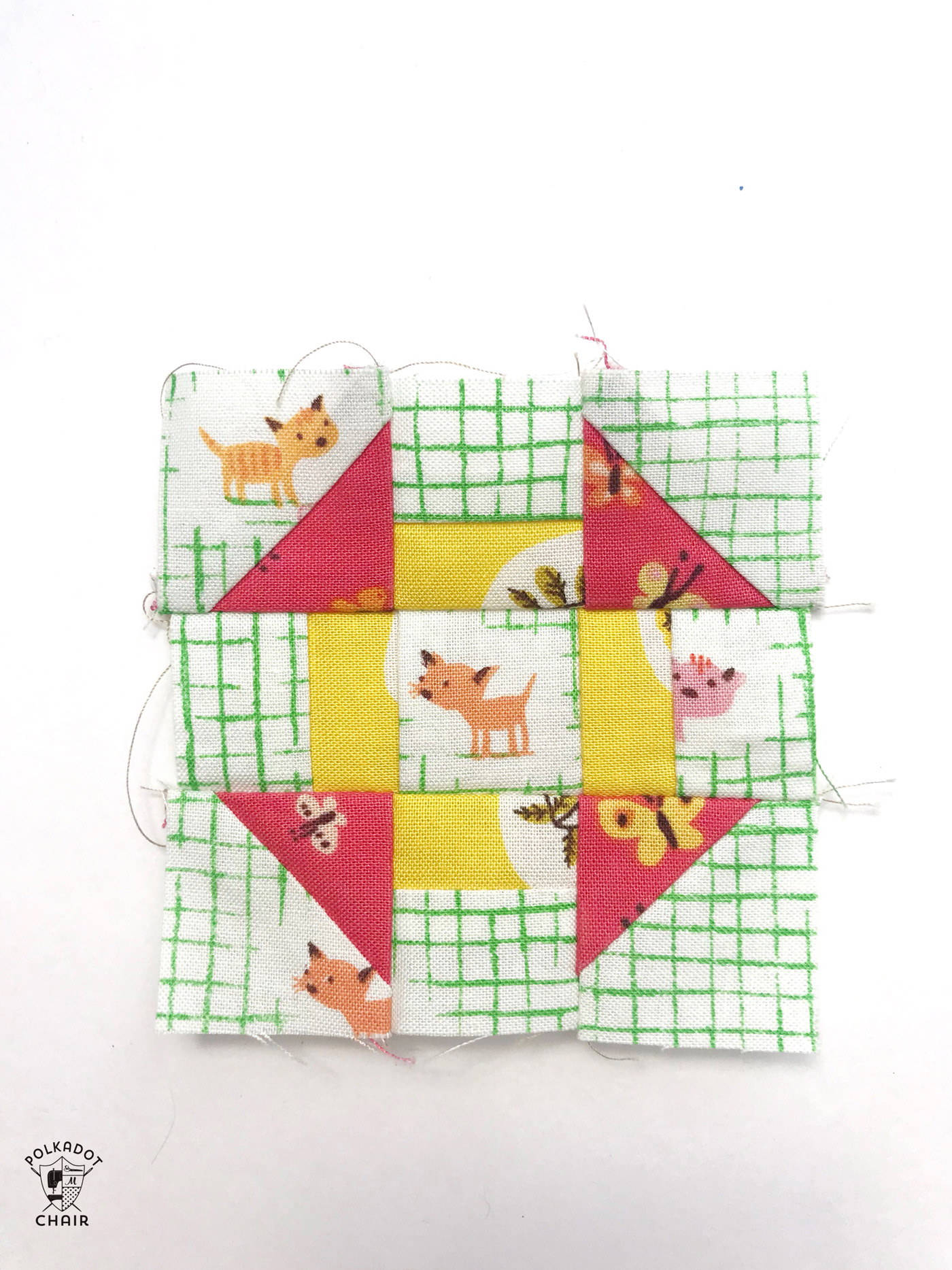 Step Two: Make the Pocket for the Pincushion
Take the pocket lining piece and place right sides together with the Churn Dash block. Stitch across the top to join the two blocks together. Open out and press.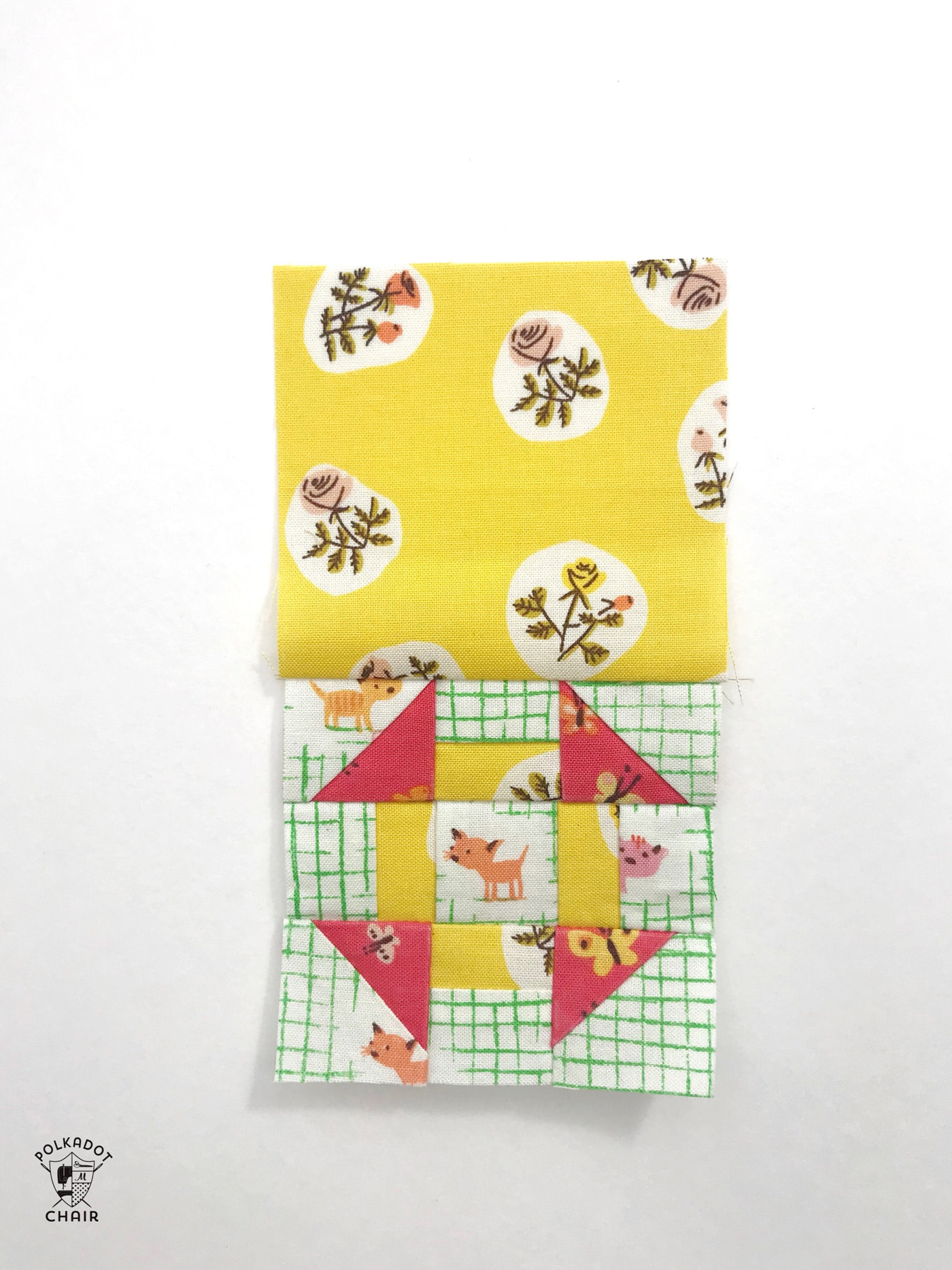 Fold the lining fabric so that it is wrong sides together. Press in place and top stitch ⅛" from the top.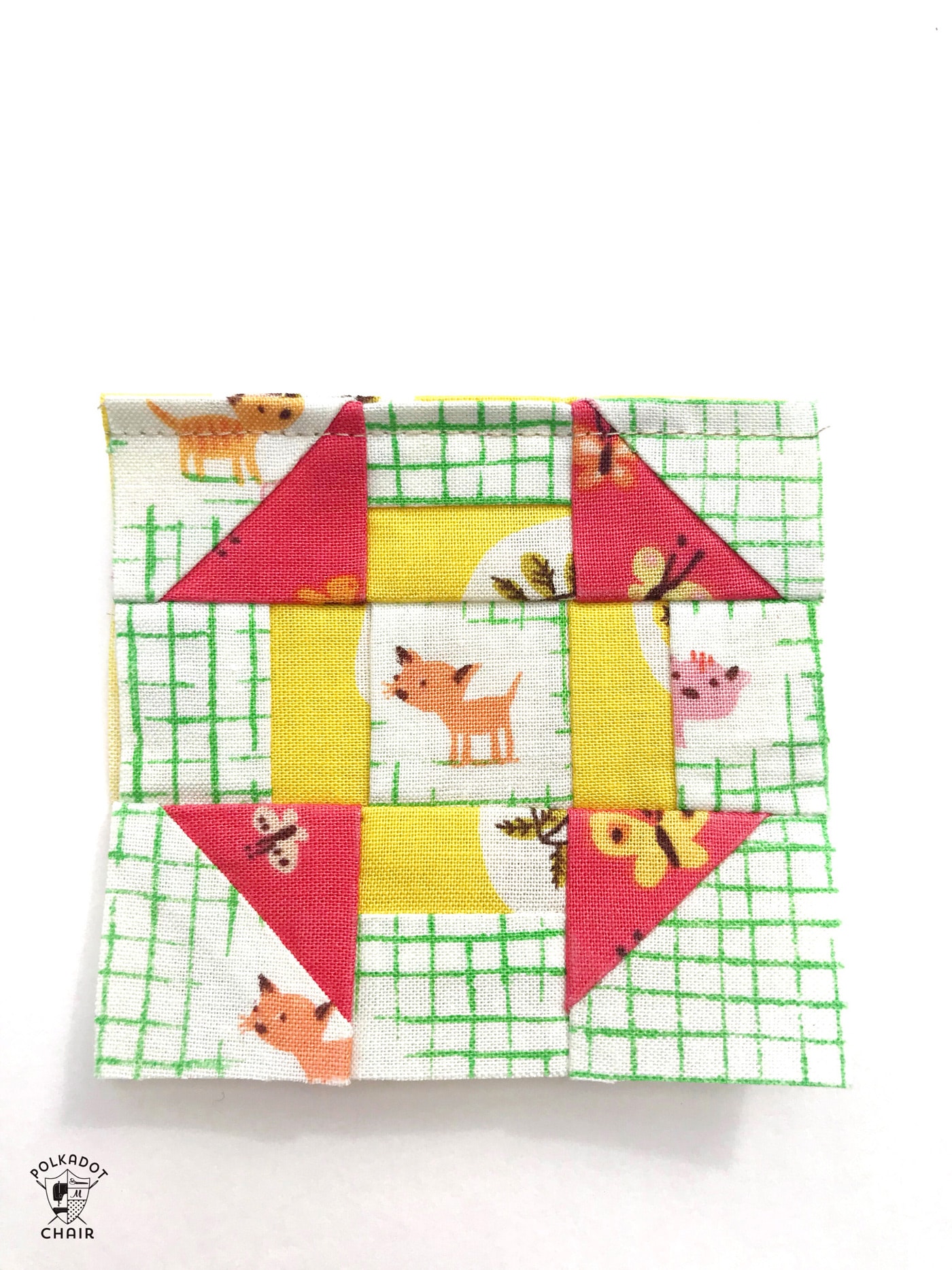 Step Three: Construct the Pincushion
Now to construct the pincushion. Lay the pieces down in the following order:
Top cushion fabric right side up, pocket lined up with the bottom, right side down, back of cushion right side down. Use basting clips to pin in place, leaving a gap for turning.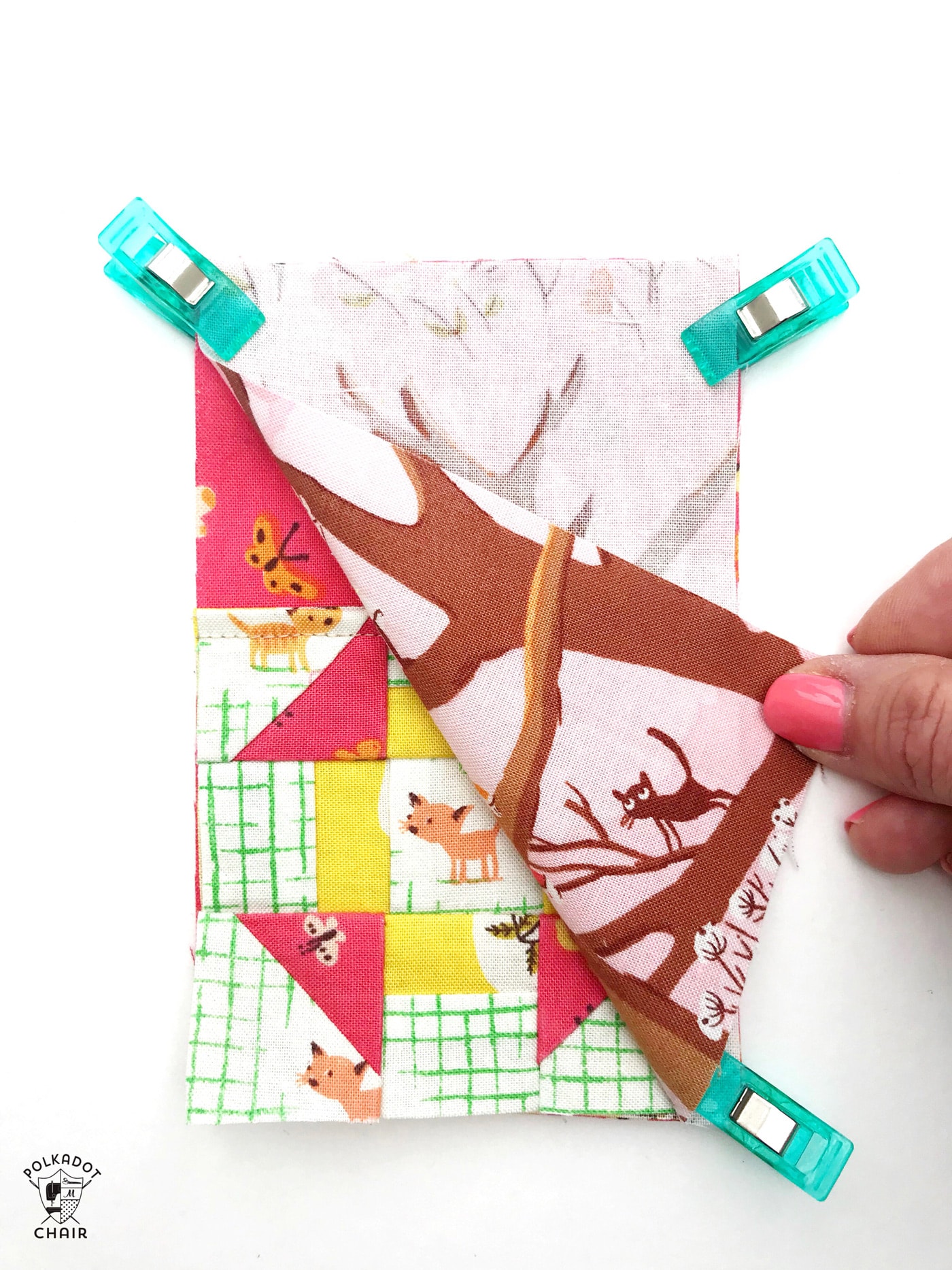 Clip basting pins all around the outside, leaving a gap at the top for turning. Stitch all around the edge using a ¼" seam, and reinforcing beginning and end.
Clip the corners and turn out. Stuff with toy stuffing.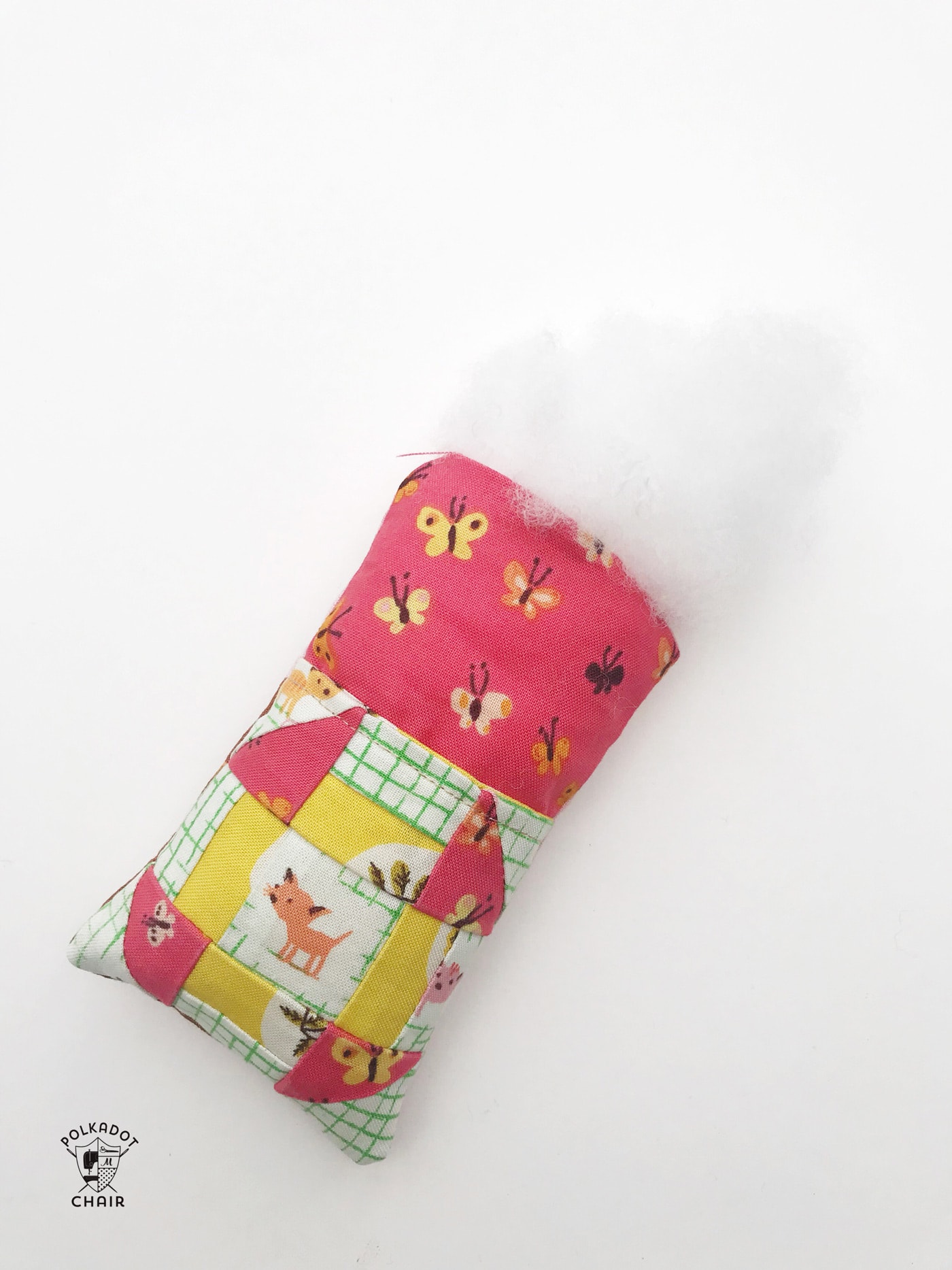 Use basting clips to hold the opening closed and use a small slip stitch to close the gap.
Add your scissors and pins and you are finished! Now you've no excuse to ever lose your scissors or pins again!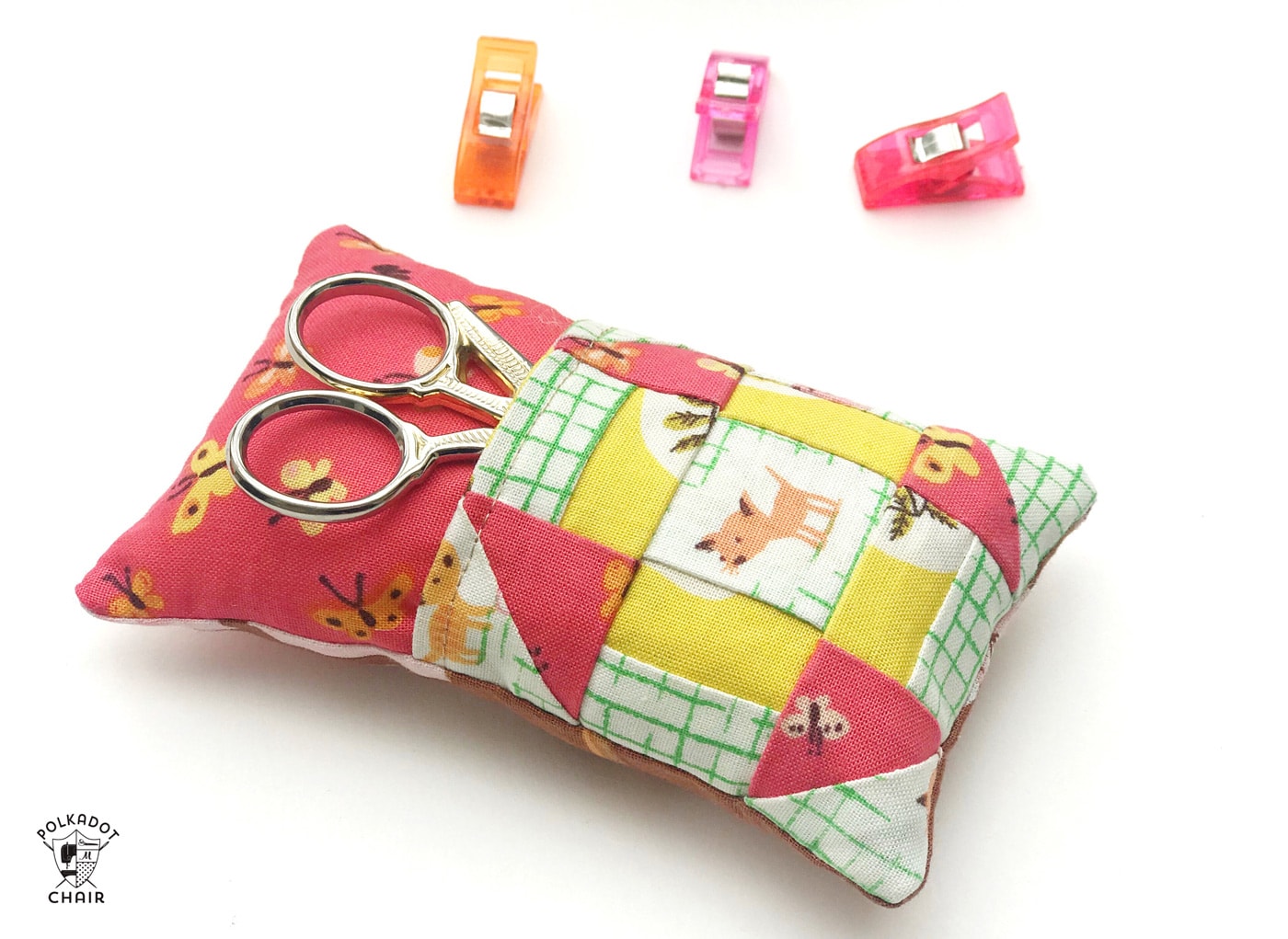 About the Maker: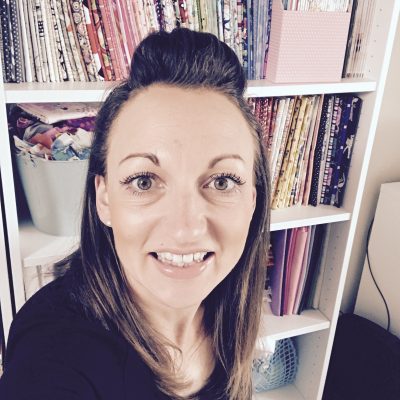 Sarah Ashford is a British Quilter and embroiderer and founder of the GreatBritishQuilter challenge on Instagram. Sarah regularly contributes projects to magazines and loves to spread the joy of quilting everywhere she goes. Follow her on Instagram at @sarahashfordstudio and be sure to check out her beautiful sewing room decals in her etsy shop www.etsy.com/shop/sarahashfordstudio
Other projects you may like: