One of my favorite baby quilts to make my Soft N Snuggly Sensory Baby Quilt. It pieces together quickly and is a great way to use up some of your scraps. All of those fun textures and colors really appeal to babies and children.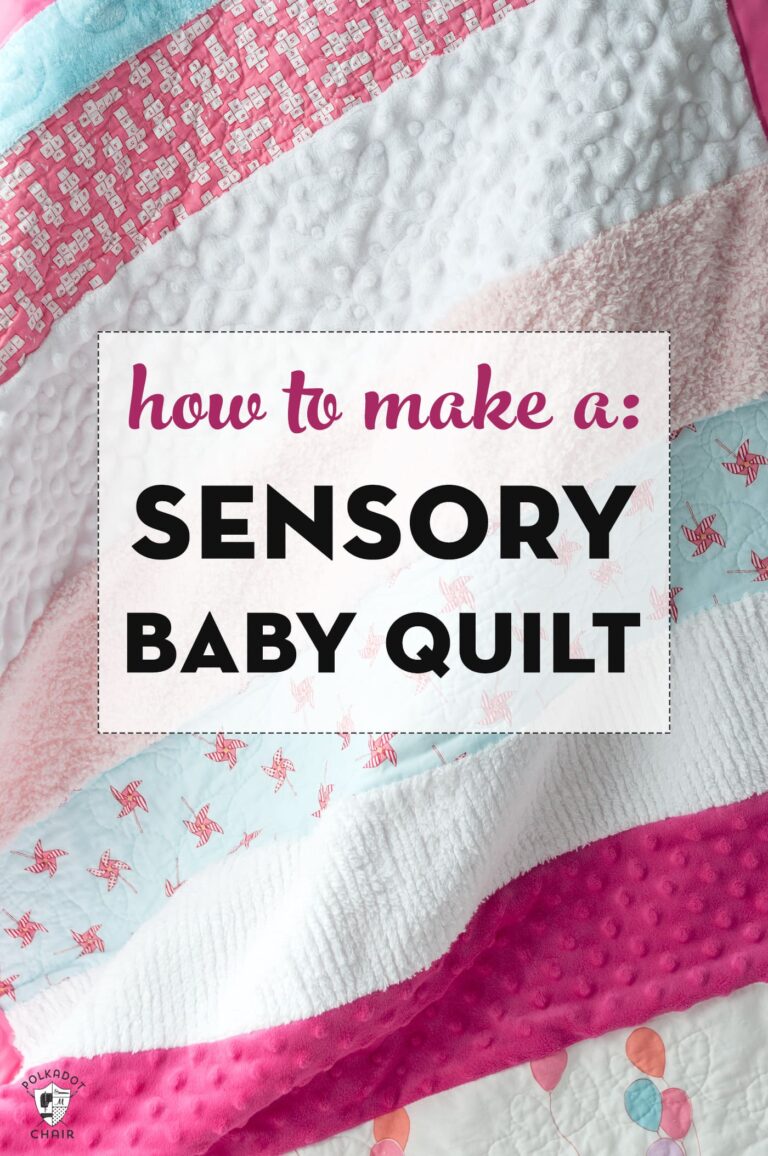 A few years ago, a friend of mine was expecting a new baby girl and I thought it would be the perfect opportunity to make another sensory baby quilt.
I've made a few in the past (I've been making these quilts for over 10 years now) and I love to make them because they are so simple to make. Since there are no points to match they are great for beginning quilters or someone looking for a fast finish for a gift.
I've shared these sensory baby quilts with you guys a few times in the past but have not written a FULL tutorial to make one. Today I thought I'd show you how I make a simple strip sensory baby quilt.
Sensory Baby Quilt Tutorial:
[printfriendly]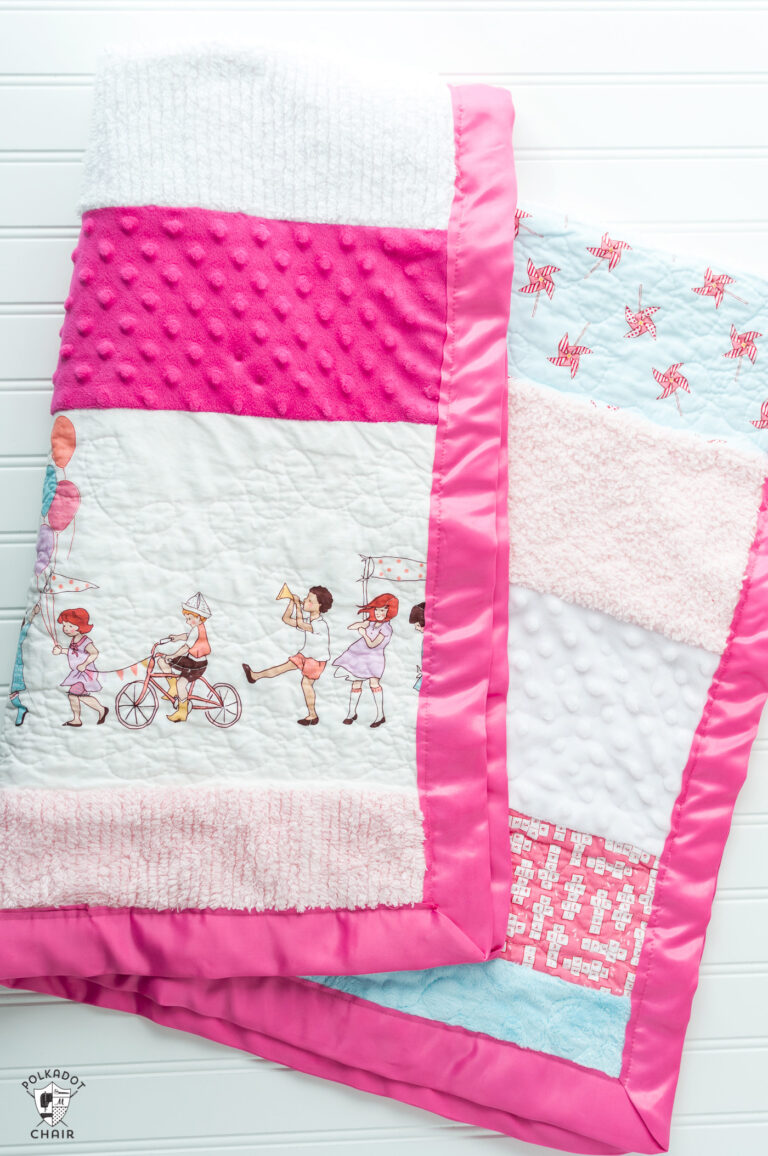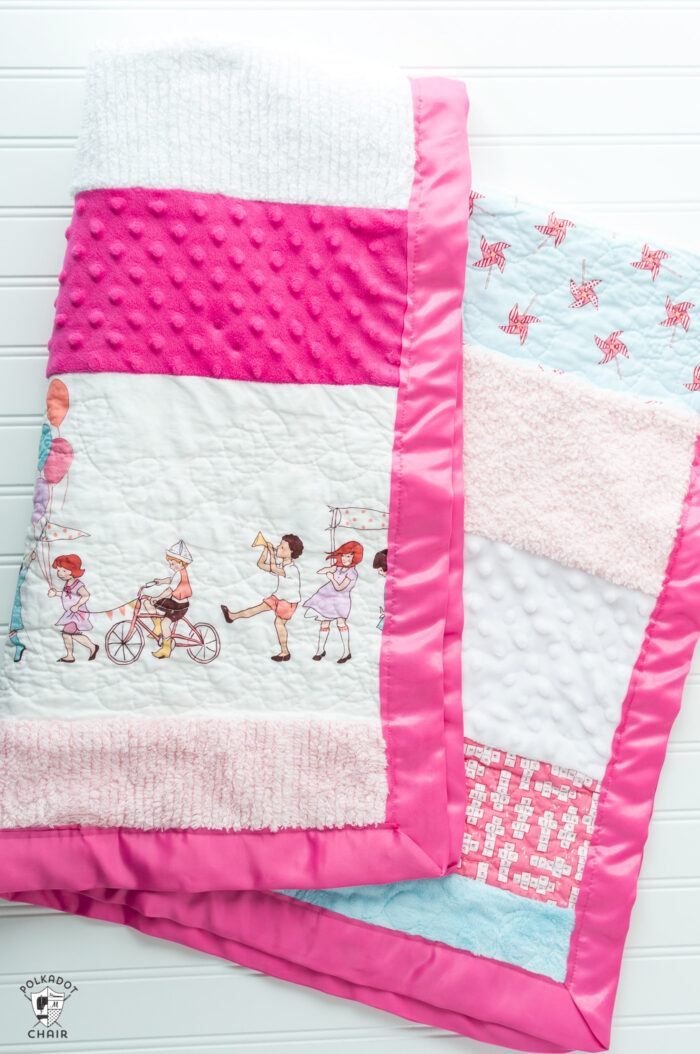 About the Fabrics in the Sensory Quilt:
The quilt is designed to have many different textures for a baby to feel. There is flannel, minke, chenille, and cotton. It's a GREAT way to use up a bunch of fabric scraps. I always end up with lots of extra strips of minke fabric, which is expensive. I don't want to just throw it out so these strip baby quilts are a great way to use it up.
To make my quilts, I just cut each fabric into strips anywhere from 4″ – 8″ wide and pieced them together in random order. To finish it off I added satin blanket binding around the edges. Satin binding is not my favorite since I have a hard time getting it to lay flat, but I think the texture that it adds to the quilt makes it worth it.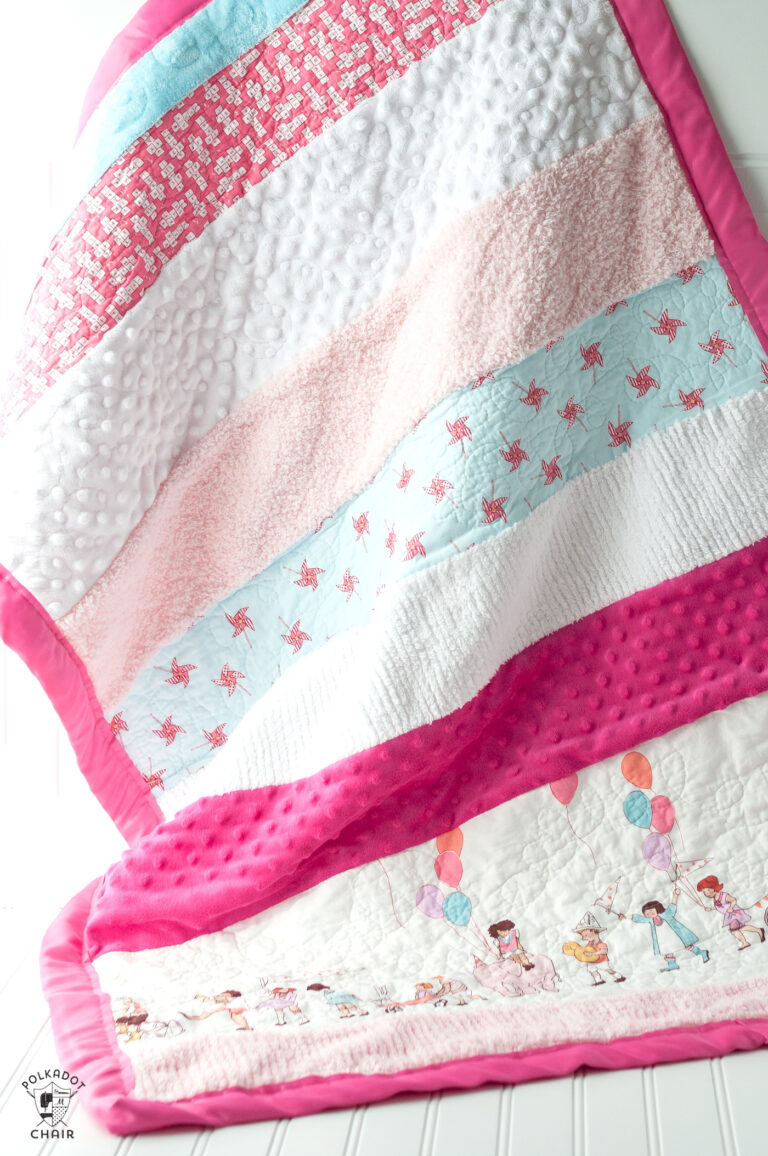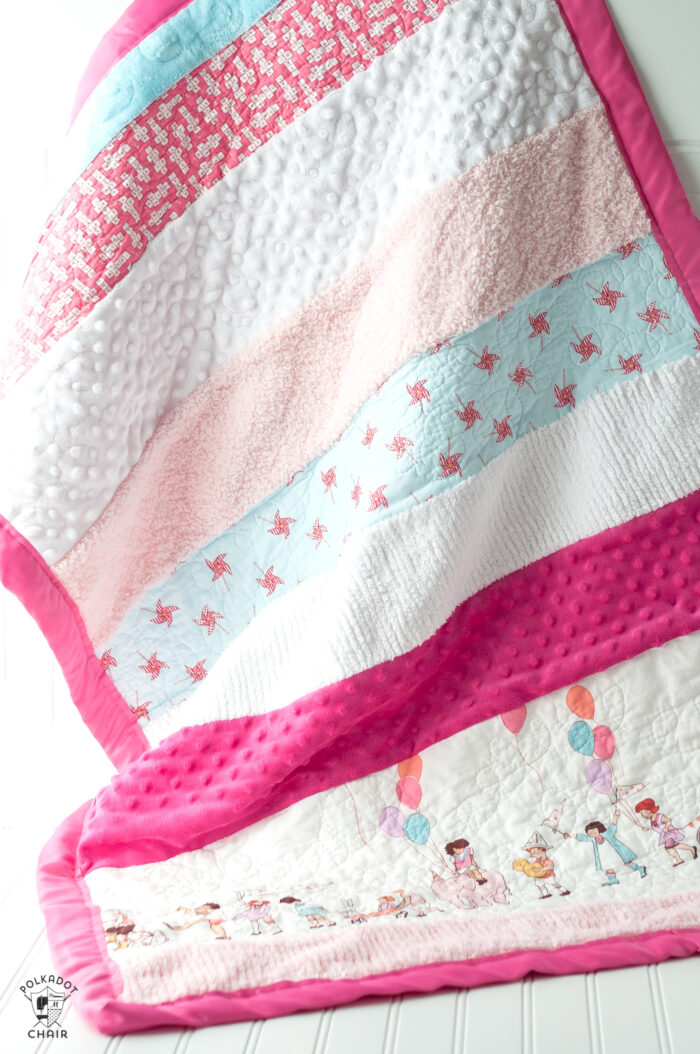 After a good washing, the blanket comes out soft and super textured. One thing to note, since each of these fabrics shrinks at a different % the quilt is not going to be 100% perfect, but that's not really the point of a quilt like this if you ask me. Because of this reason however you may want to prewash your fabrics.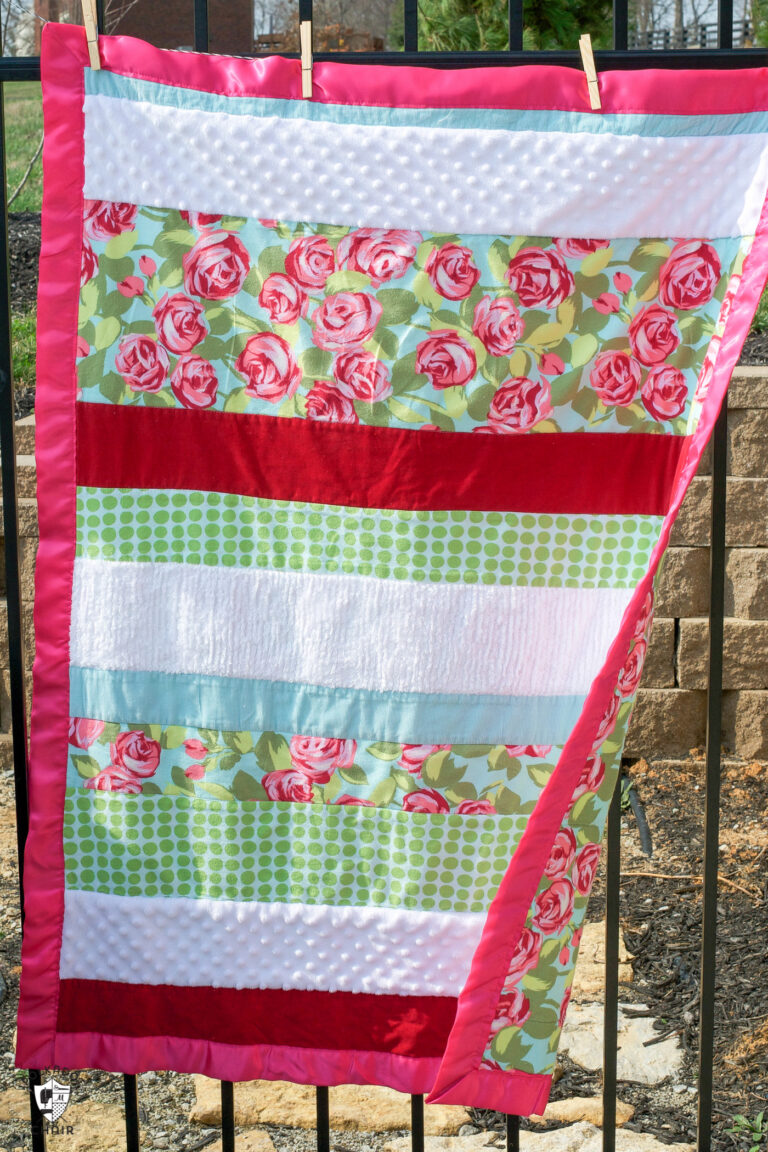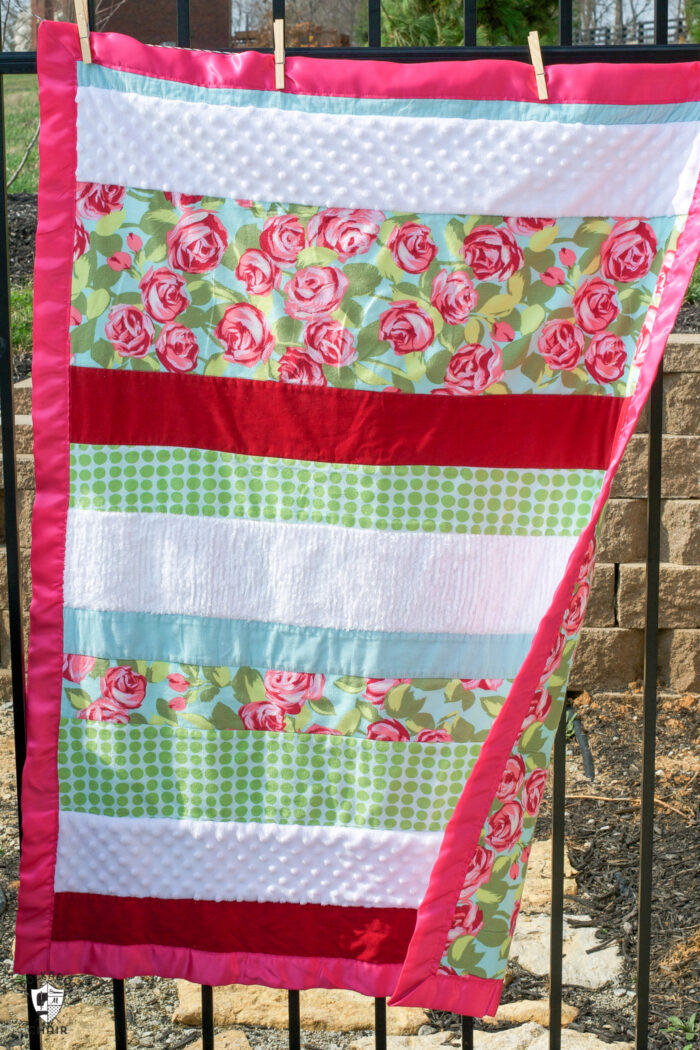 How to Make a Sensory Baby Quilt
Supplies:
A variety of fabrics in a variety of textures. Do not use a jersey knit or anything super heavy. I recommend using quilting cotton, chenille, flannel, minke, and light wale corduroy.
1 ½ Yards of Fabric for Back (I recommend Chenille, Cuddle or Minke)
1 ½ Yards Cotton Batting
A Package of Satin Blanket Binding
Basic Quilting Supplies – you can find a list of the basics HERE.
To make the Sensory Baby Quilt:
Step One: Gather your Fabrics
TIP: This project is GREAT for leftover scrap fabrics. I chose the size of my quilt based on my smallest fabric scrap.
Start by gathering fabrics that all coordinate and cut them into random sizes. You're going to want a variety of quilting cotton, flannel, minke, corduroy, and even lightweight denim.
If you think any of the fabrics may bleed I would recommend pre-washing them.
If you are using chenille then I DO recommend you pre-wash it as it's a MESS after it's washed and you don't want it to get on your other fabrics.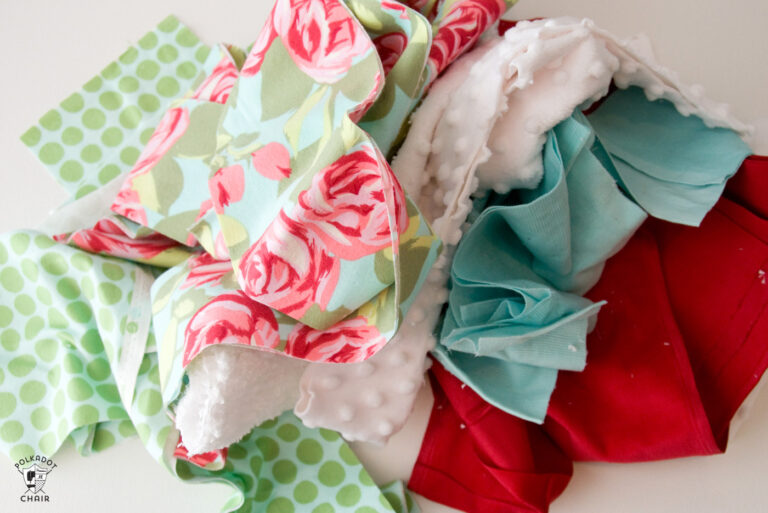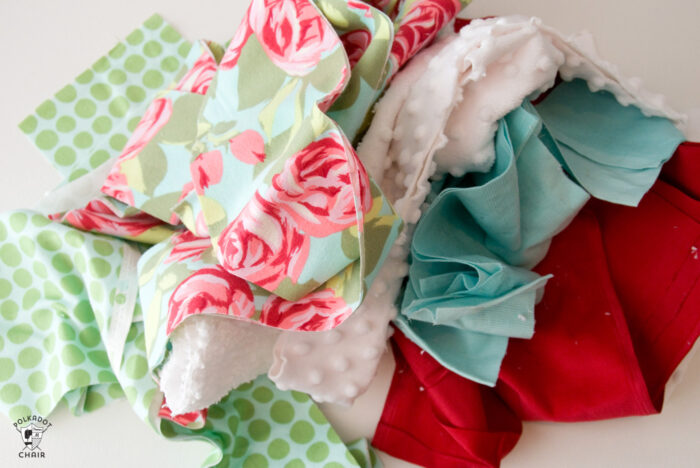 Step Two: Cut your Fabric Strips
For the red and green quilt pictured above, my smallest piece of fabric was 35″ long so I cut all of the fabrics to 35″ with widths varying from 3″ – 10″.
I didn't plan it out at all or think about it, I just started chopping up the fabric. You do not have to make your pieces 35″ long. If you have 42″ of fabric, you can use that. I didn't want to use more than one width of fabric for the back of the quilt so I make sure my quilt was narrower than the standard 42″ fabric width.
Assembly:
Start by sewing the strips together. As you do this make sure the minke is not the top or bottom strip as it stretches and might make quilting a bit more difficult.
I like to "lock-in" my strips with a flannel or corduroy on the top and bottom. You'll notice in my pink and blue quilt, that I do have minke on one of the ends. It made it harder to make that one. I prefer to put a flannel or corduroy on the ends instead. Also, make sure that no two "like" fabrics are next to each other.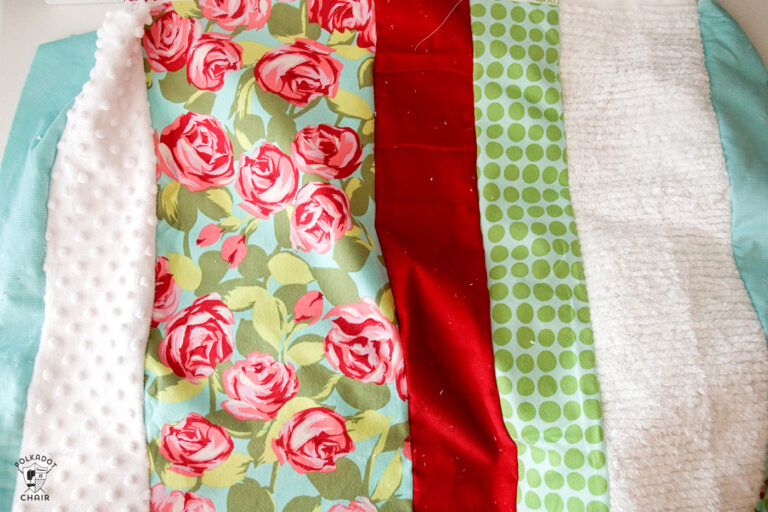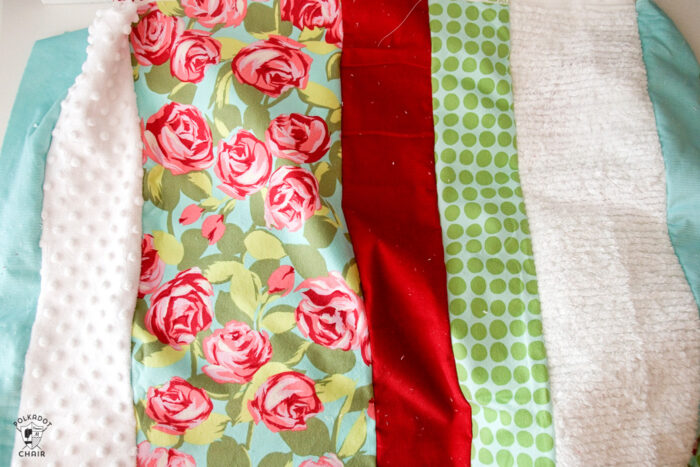 You might not be able to tell from the photo but I cut the 2 corduroy fabrics (the red and turquoise) opposite ways so that the wale of the corduroy was different on each one. (Just to add more visual texture).
After you have the quilt the size that you'd like, stop sewing on extra strips. My quilt ended up being about 35″ wide by 50″ tall. Which is a good size for a baby quilt.
I think an "ideal" size would be about 40″ x 50″, but like I said I was working with what I had my shortest strip was 35″ long.
To Finish the Quilt: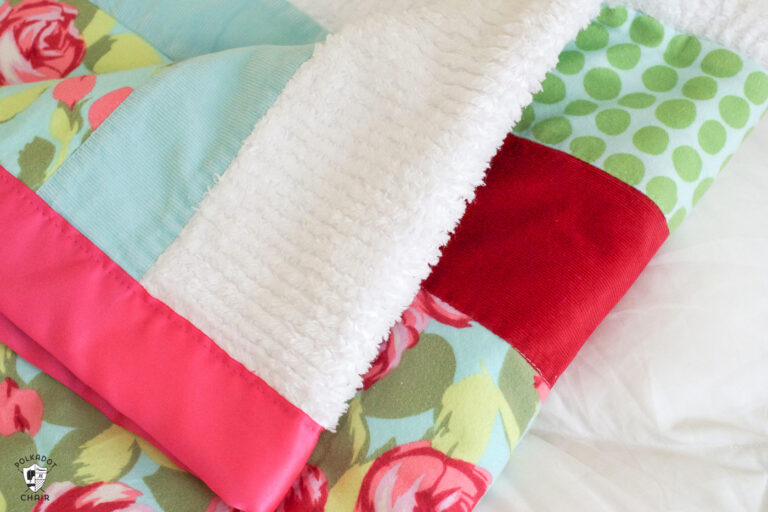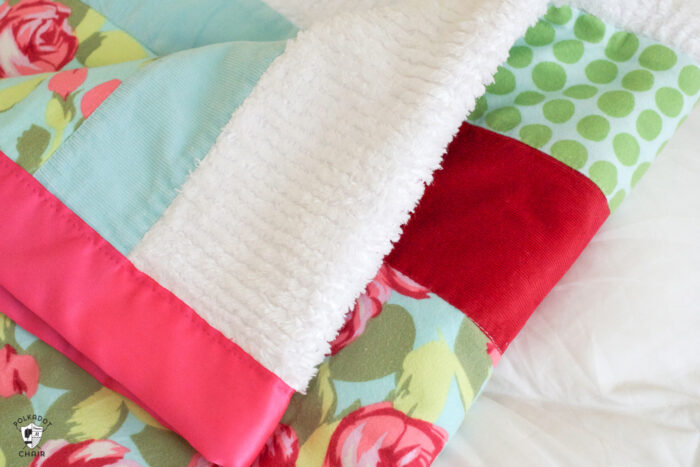 Make a quilt sandwich with the quilt top, cotton batting and flannel (the process is similar to this table runner if you need help).
Quilt it simply using the stitch in the ditch method. You can also add extra lines of straight stitching to sections of the quilt as you'd like. However, know that many of the fabrics will stretch as you quilt them. So you might want to keep the machine quilting to a minimal.
Bind the quilt using a satin blanket binding that you can purchase at the store. There is a great tutorial for attaching Satin Blanking binding by Blair Stoker of Wise Craft found HERE.
More Free Baby Quilt Patterns:
Easy Scrappy Strips Baby Quilt
More than 25 Baby Quilt Patterns
Cute and Cozy Cheater Quilt Tutorial