Sarah Ashford is back with us again today sharing a fun tutorial for a set of Quilted Placemats. They are made using square in square quilt blocks and are perfect for fussy cutting your favorite fabrics.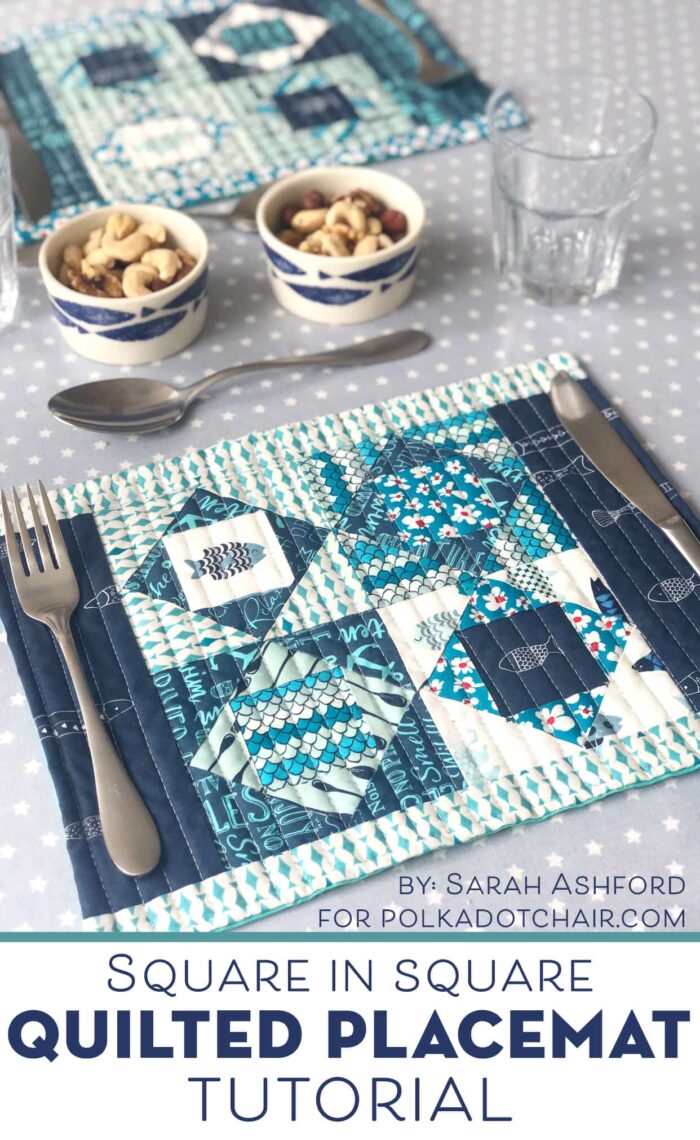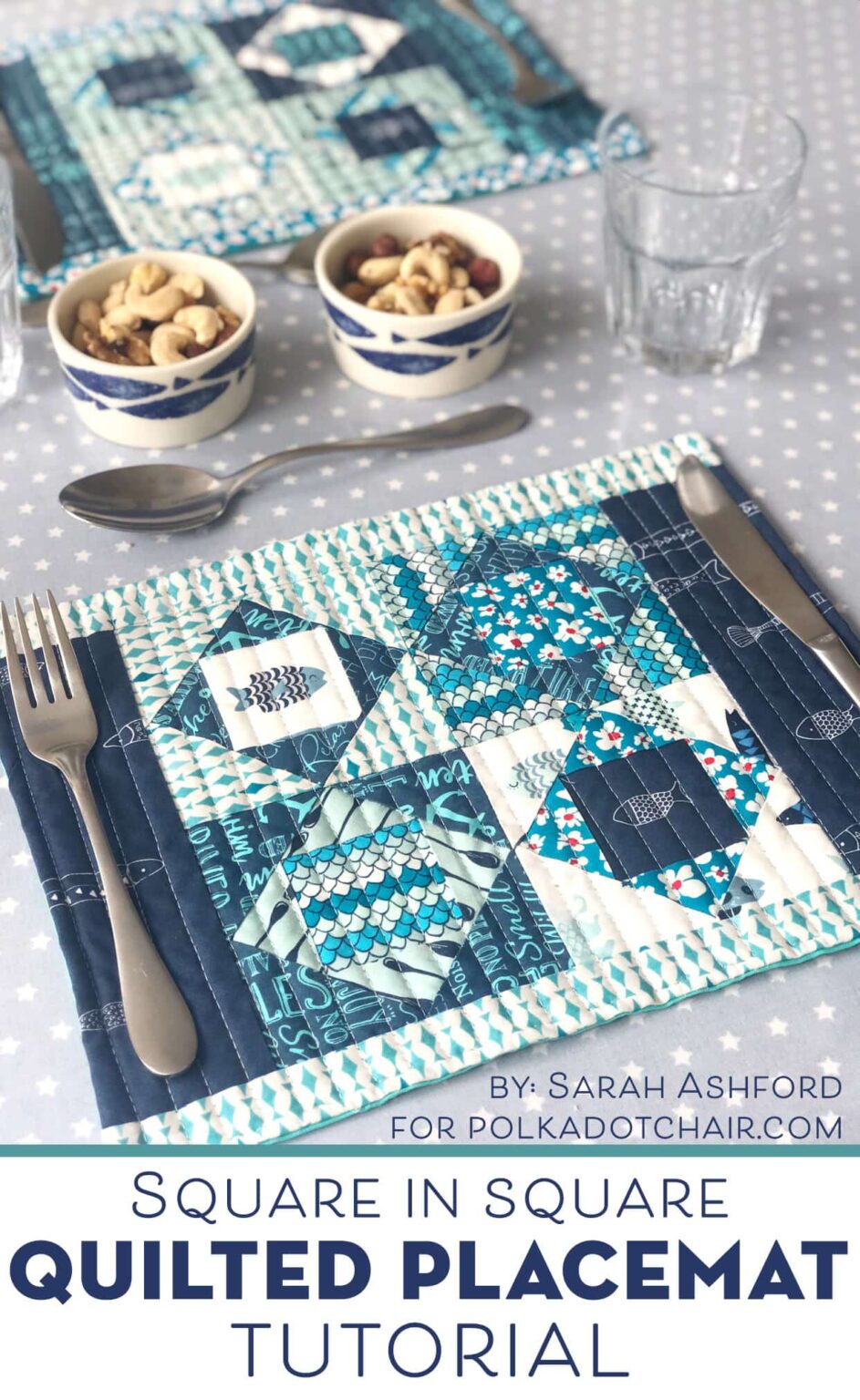 Is the sun still shining where you are? I'm based in the UK so it's a little hit and miss, and I had planned to make some placemats for the garden, but low and behold it's an unpredictable British summer as usual and it's raining! (And not even a little rain, we're talking lots of rain and high winds too…typical!) So My placemats for the garden are now well and truly for the kitchen, and maybe if the sun does come out again in the future, I'll take them outside!
But anyway, I wanted to show you how to make some placemats, and also share a new technique with you, where you don't have to do any binding 🙂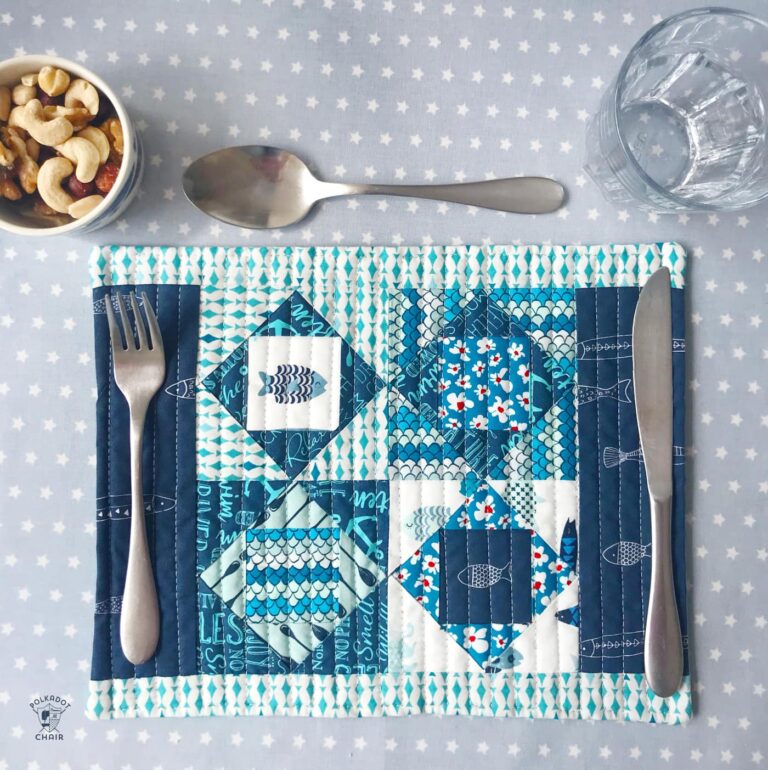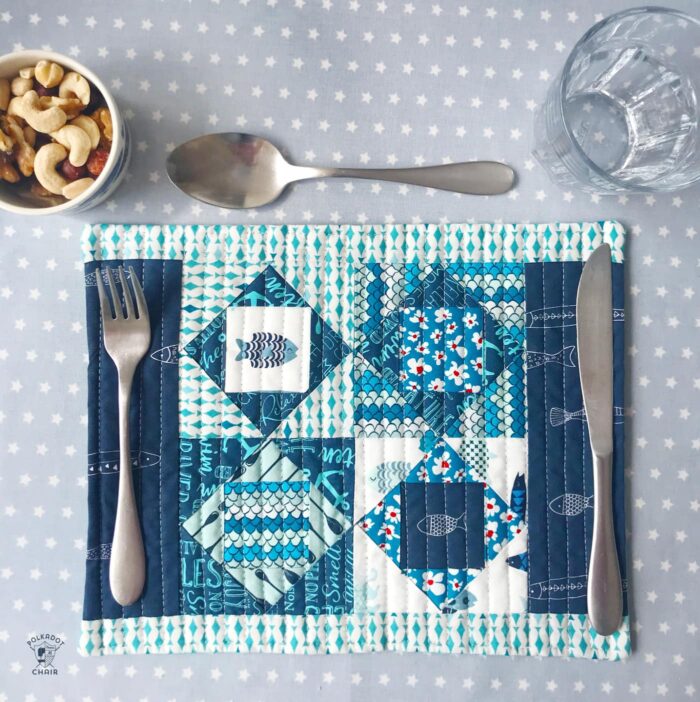 About the Pattern:
This pattern assumes Foundation Paper Piecing knowledge. Not sure? Then head to my tutorial for a step by step guide designed for even the most apprehensive of beginners! Once you get the hang of it you will love it, I promise.
How to Make Quilted Placemats using Square in Square Quilt Blocks:
Use whatever fabrics you like; cute animal or floral motifs really work well for the fussy cut centers.
To make 2 Square in Square Fishy Quilted Placemats you will need:
A selection of coordinating fat eighths including fabric with motifs for the fussy cut centers
Backing fabric – 14" x 10"
Batting – 14" x 10"
About the Quilt Blocks:
Each placemat is made up of 4 economy blocks (also known as a square in a square)  and each is foundation paper pieced.  Here I've given you the amounts you need to cut for each section of the block, but remember, it's better to be generous with fabric for FPP as if you fall short it causes problems! 
I recommend for EACH section you will need to cut:
Fussy cut center – one 3" square
Inner on-point square – two 3" squares and cut each on the diagonal to form 2 triangles
Outer square – two 3 ½" squares and cut each on the diagonal to form 2 triangles
Left and right border – two 8 ½" x 3" strips
top and bottom border – two 1 ½" x 14" strips (this allows extra for trimming)
And you will need to download the FPP Template HERE. (2 blocks per page)
My Top Tips for Foundation Paper Piecing:
When you start with your first piece, use EPP glue to secure the first piece to the paper. This ensures the fabric lays nice and flat and you don't have to worry about pins getting in the way. Genius.
Use a small rotary cutter. This makes life SO much easier as you have more control, precision, and accuracy. Trust me!
I can't recommend an 'Add a Quarter' ruler highly enough. The ridge on it allows it to nest in nicely over the paper, allowing you to cut an accurate ¼" seam every time.
Use a postcard to help you fold back the papers so you get a nice crisp crease every time.
Ok, so here we go!
Step One: Create the Quilt Blocks
First, glue your fussy cut center to the middle of the block.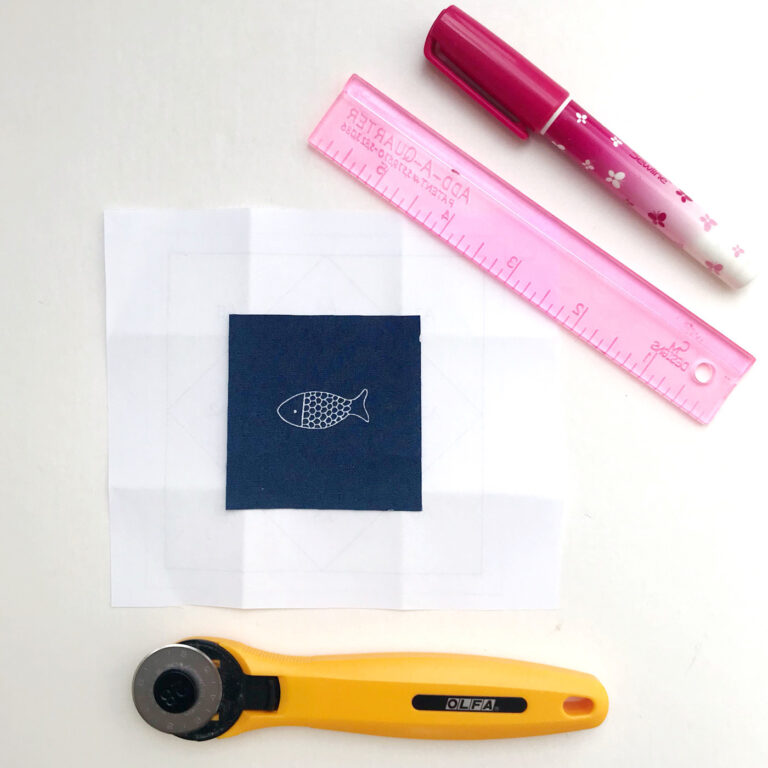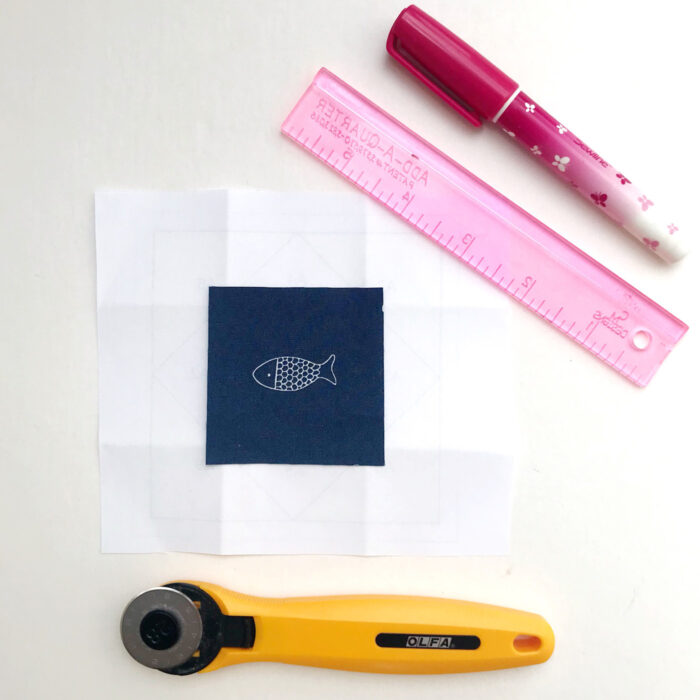 Take your 4 center triangles and add them one at a time, pressing and trimming as you go.
Remember to use a short stitch length – I like to use 1.5 on my machine. This makes it easier to tear away the papers later.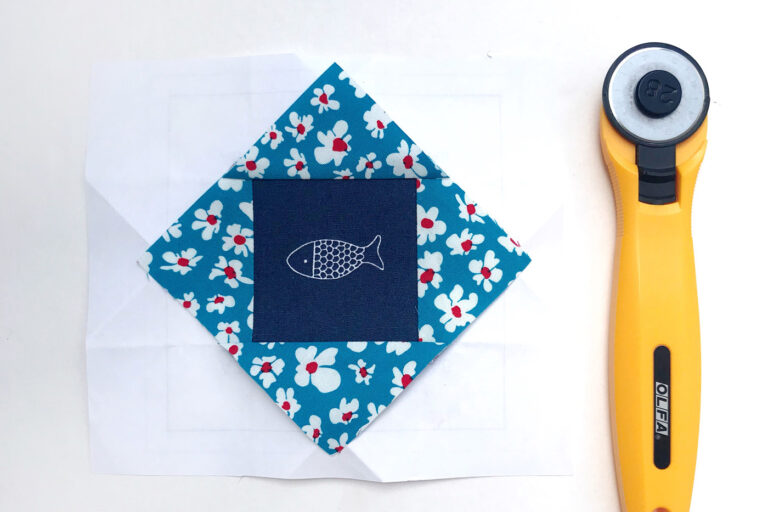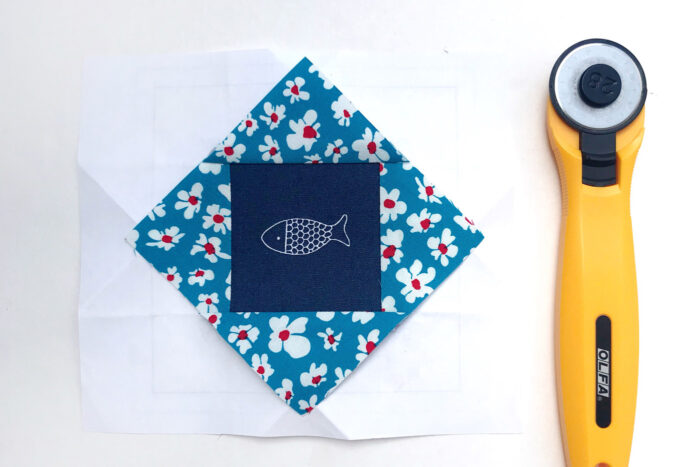 Next, add the 4 outer triangles to complete the outer square and finish your first economy block.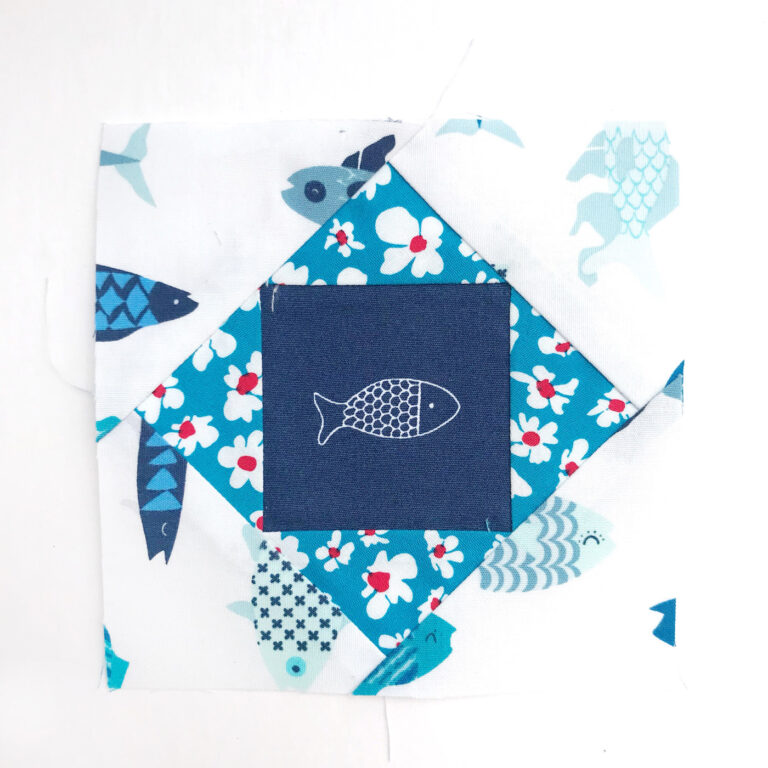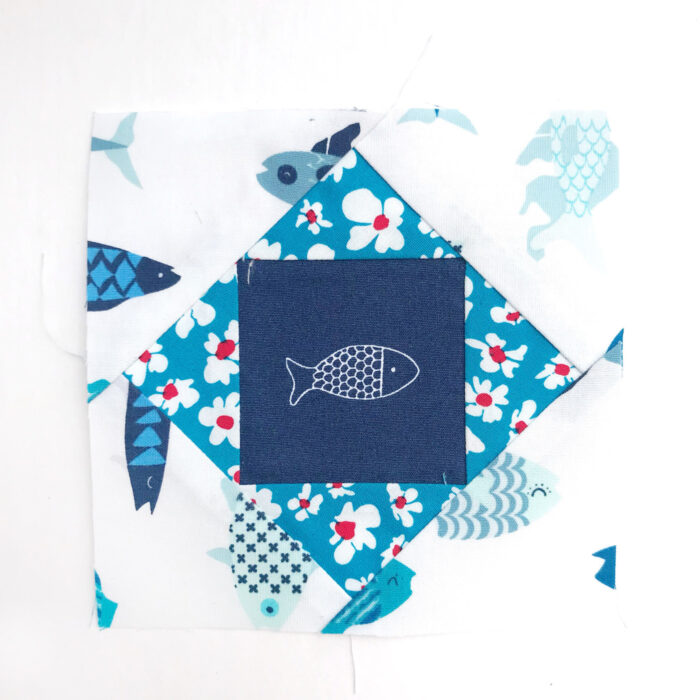 Step Two: Assemble the Quilt Blocks
Repeat to make all 4 economy blocks. Stitch the top two together then the bottom two together. I pressed my seams open for this bit as I found it laid flatter and we want everything nice and flat. Sew the pairs together to create a block of 4.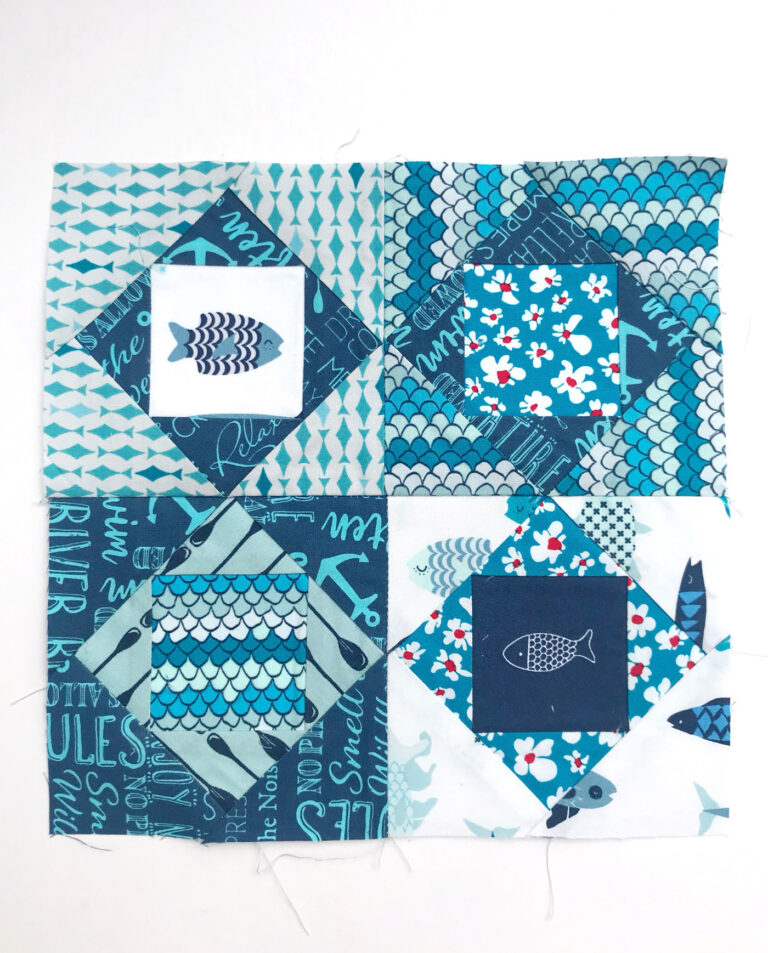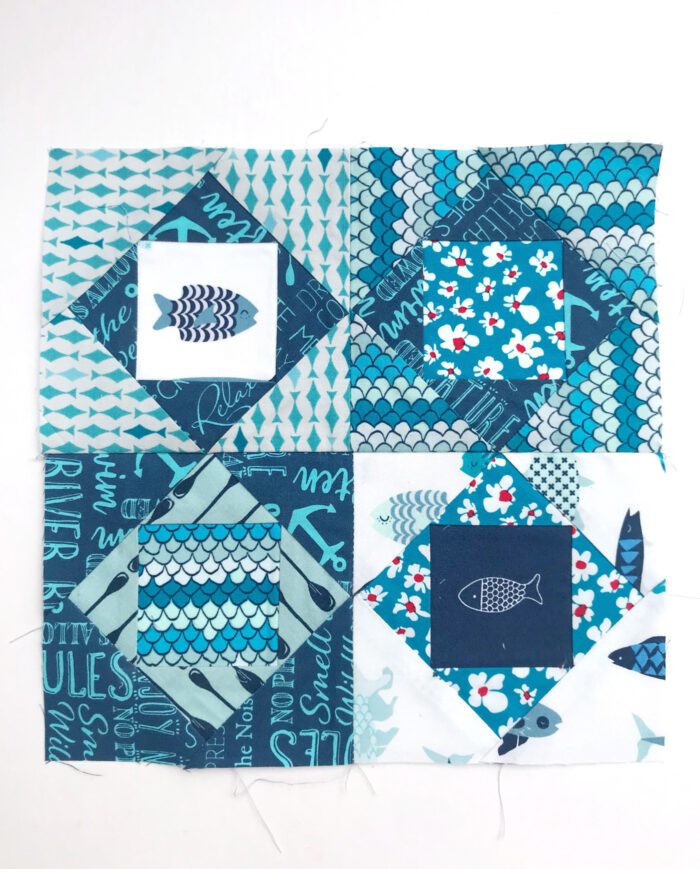 Add the left and right borders. Trim if needed.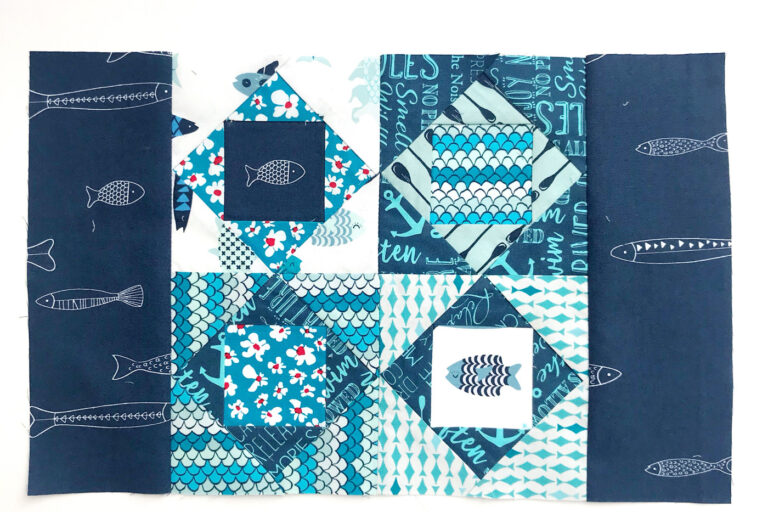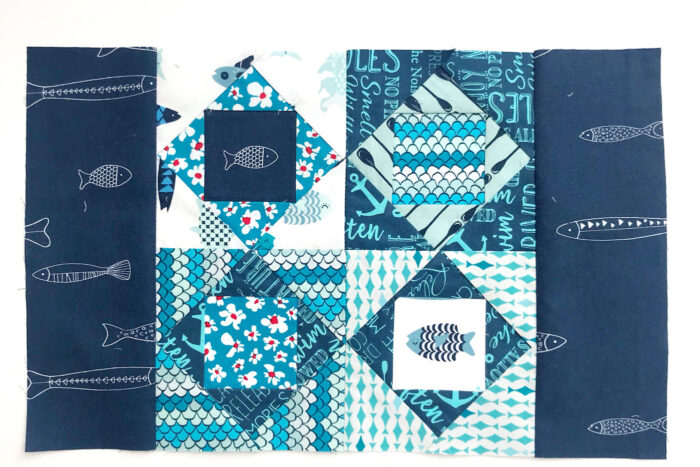 Add the top and bottom borders to compete for the top of the placemat. Again, trim if needed.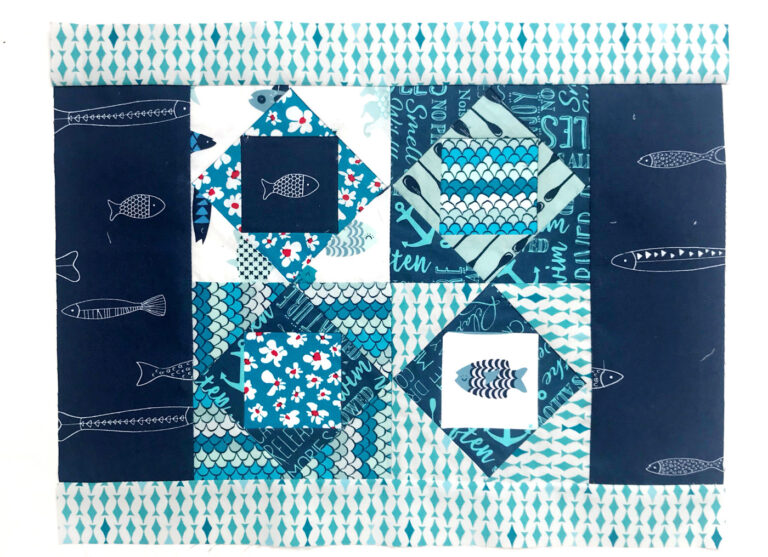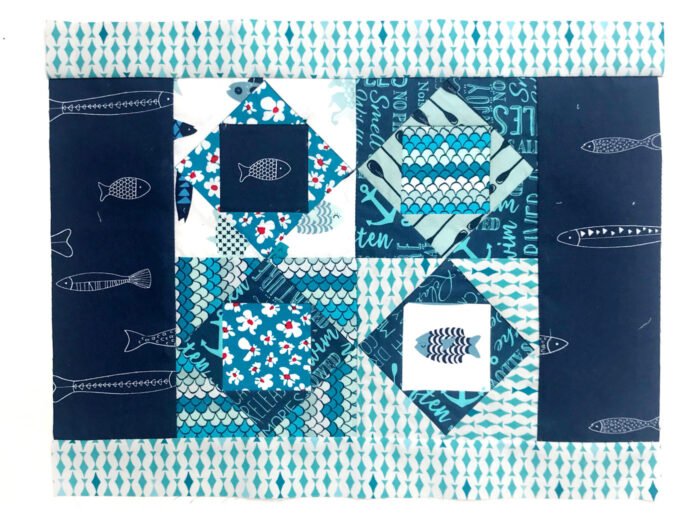 Carefully remove the papers, using tweezers to help you if some of the paper is caught in the stitching.
Step Three: Quilting
Next, layer up the sections in the following order:
Lay the backing right side up, and place the patchwork right side down. Next place the batting on top.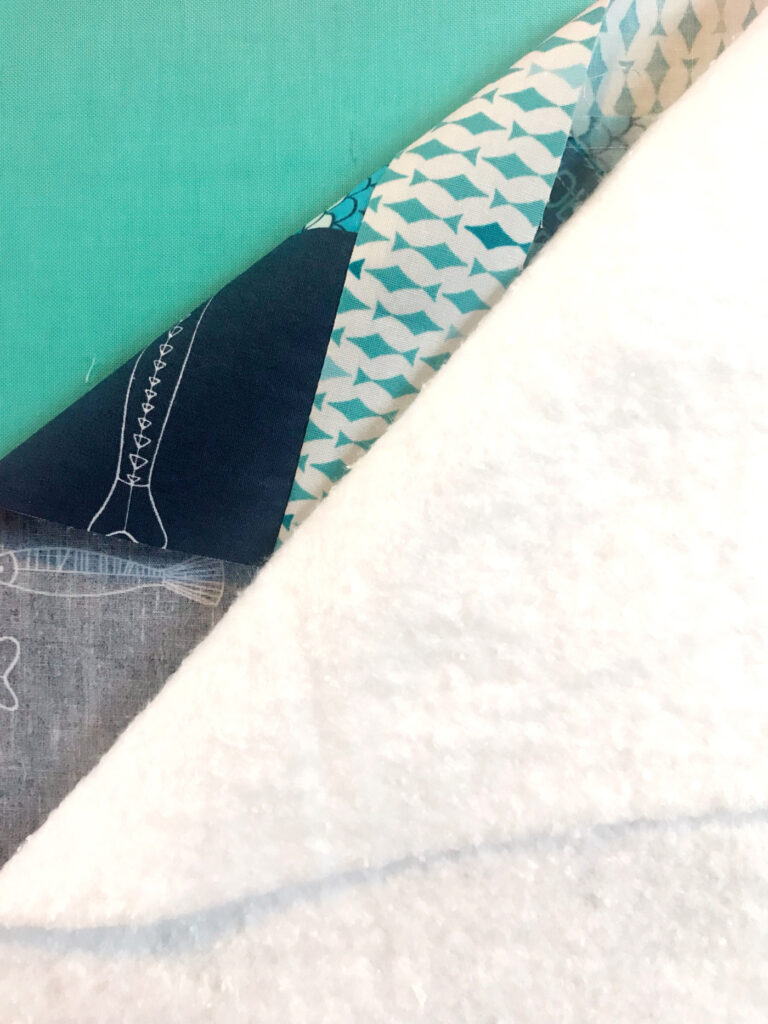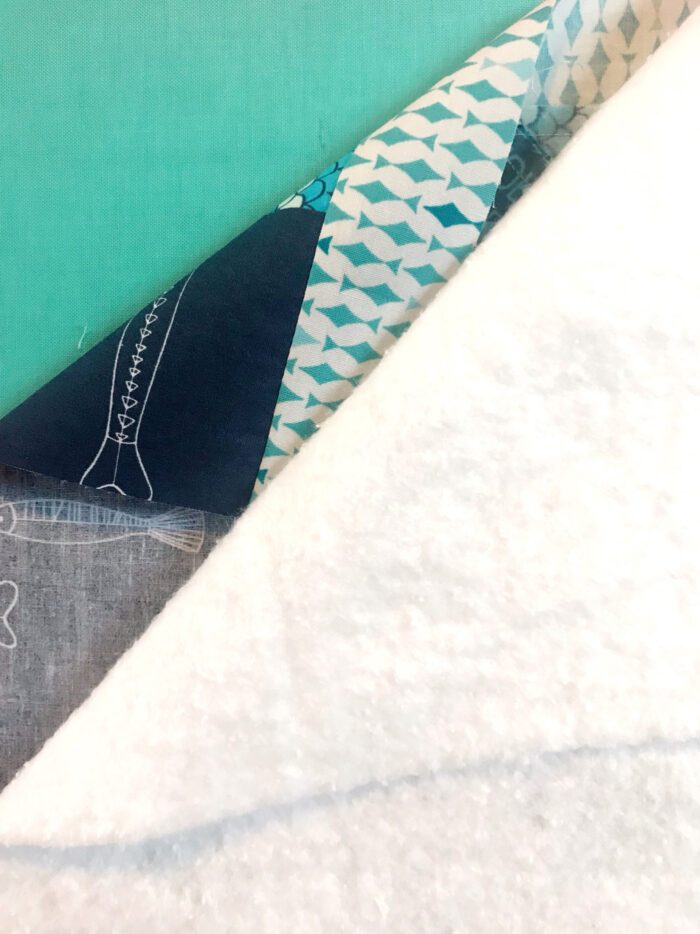 Use binding clips to hold all three layers together. Leave a 5" gap for turning, and stitch using a generous ¼" seam all the way around the edge.
Turn right side out and clip the corners. Iron flat using your preferred product of choice to achieve a flat finish. Use a small slip stitch in a matching thread to close the gap.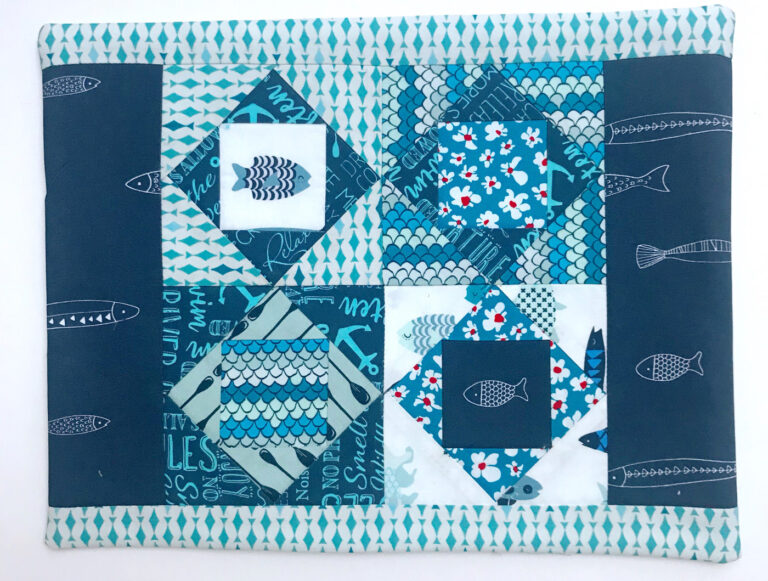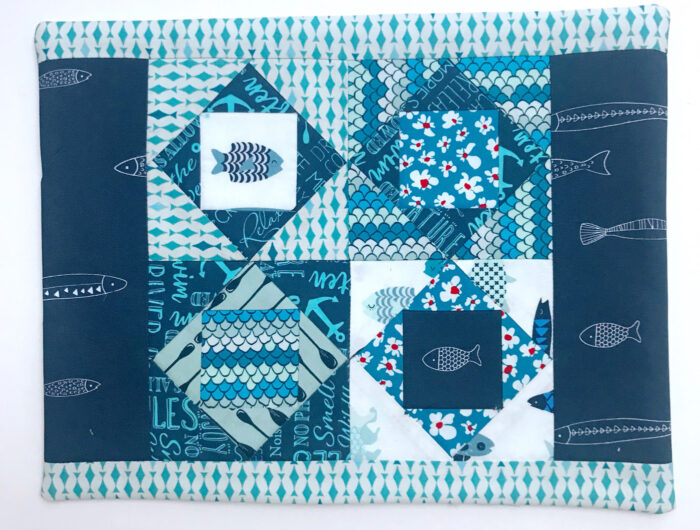 Finishing:
Now we are going to quilt it, to hold all three layers together and to add more interest. But we don't want to have lots of loose ends to tie in so we are going to use a ladder formation, stitching vertically down the line, then stitching approximately three stitches across, and then back up.
By using a continuous quilting line we only have to tie off at the beginning and end which is much easier!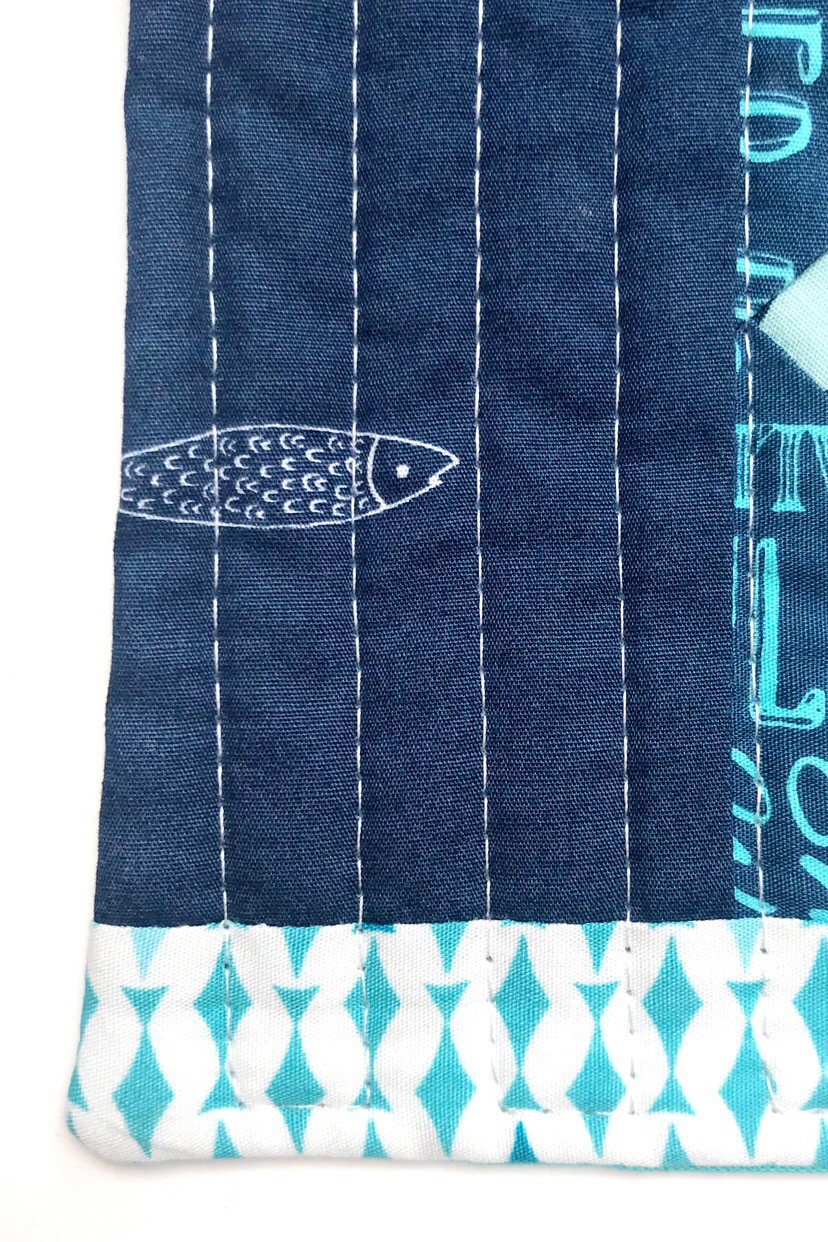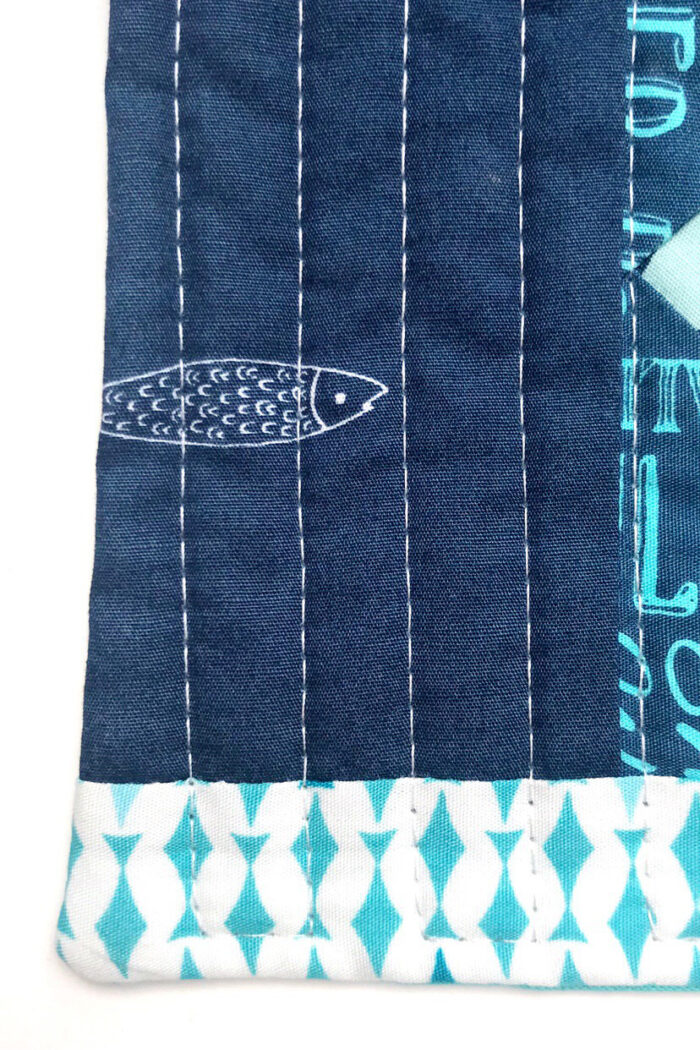 Tips for Quilting the Placemats:
My top tips for the quilting would be to use a walking foot, as this helps feed the three layers through your machine evenly, and I like to use a long stitch length, up to about 4.0, as this gives a really nice finish. Once you've quilted your placemat, tie off the ends and sew them in.
And you're done! All you need to do now is invite family and friends round for dinner, and layout your hand made table mats for them to admire!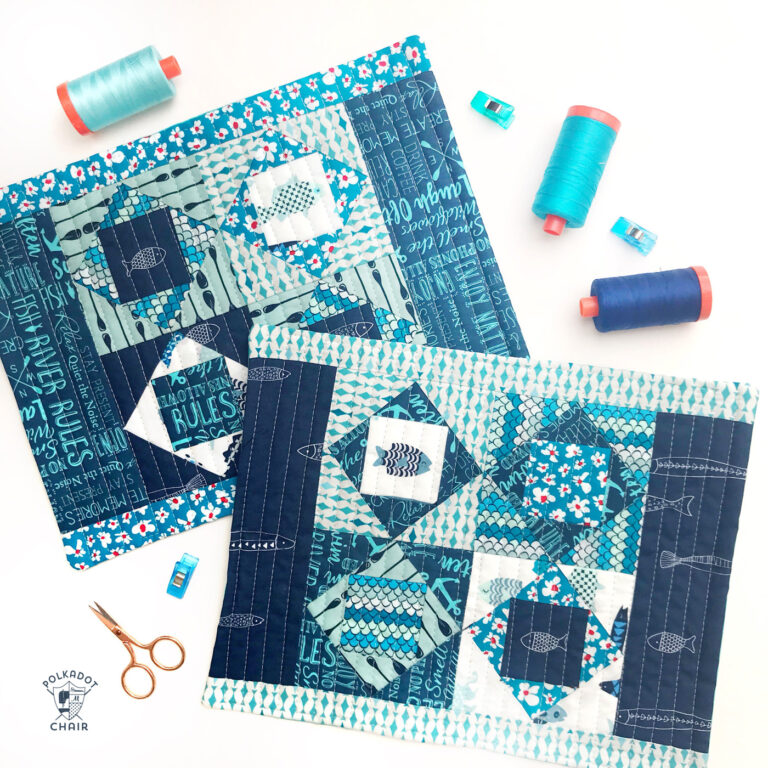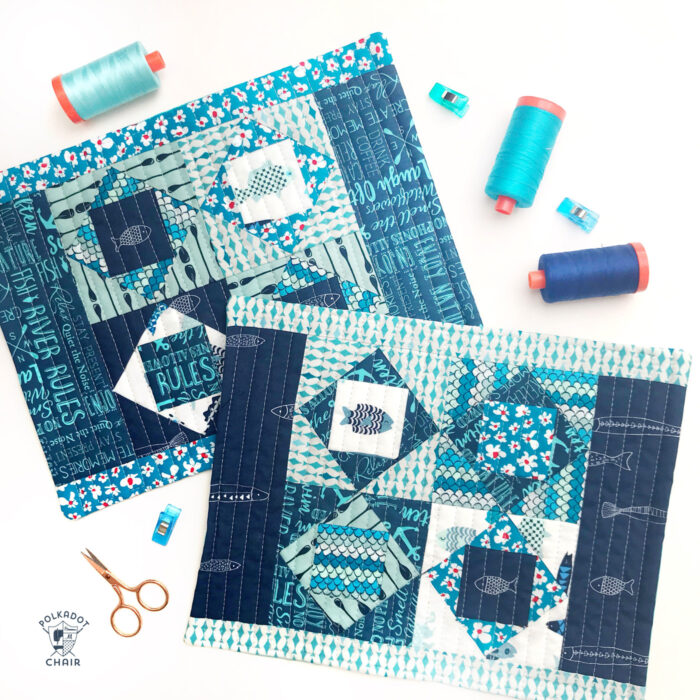 About the Maker: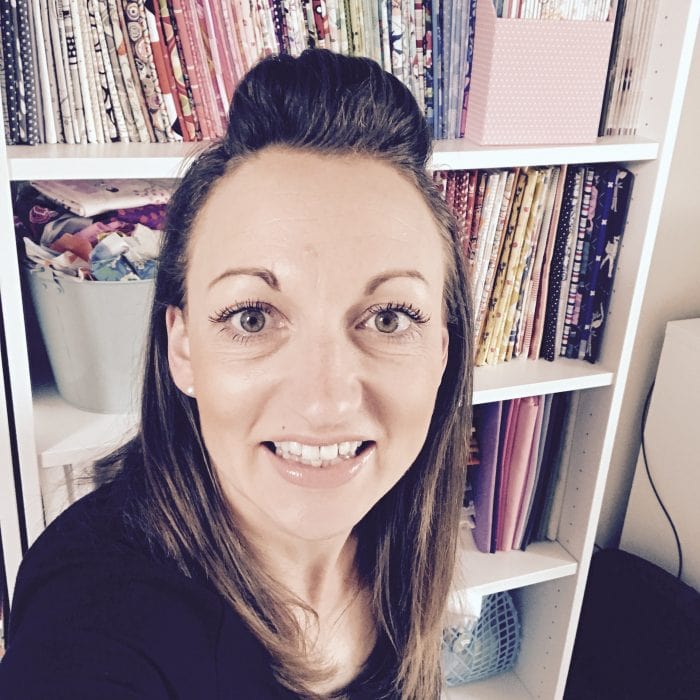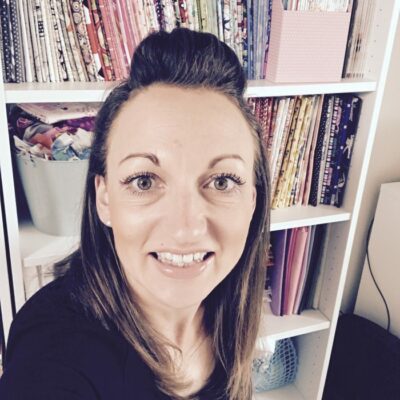 Sarah Ashford is a British Quilter and embroiderer and founder of the GreatBritishQuilter challenge on Instagram. Sarah regularly contributes projects to magazines and loves to spread the joy of quilting everywhere she goes. Follow her on Instagram at @sarahashfordstudio and be sure to check out her beautiful sewing room decals in her Etsy shop www.etsy.com/shop/sarahashfordstudio
More Small Quilt Projects to Try:
Hello Sunshine Mini Quilt Pattern
How to Make a Quilted Table Runner
How to Make a Vintage Hanky Quilt