Quilting is a hobby that is growing in popularity every day. Contrary to what you might think it's not a hobby for "old ladies",  but appeals to people of all ages from many walks of life.  It's an excellent way to relieve stress, provide a creative outlet, and can be a great reprieve from the challenges of everyday life. 
If you've been interested in learning how to quilt but weren't sure where to start I'm happy to be sharing this Quilting for Beginners article with you.  Today let's chat about the supplies you need to get started!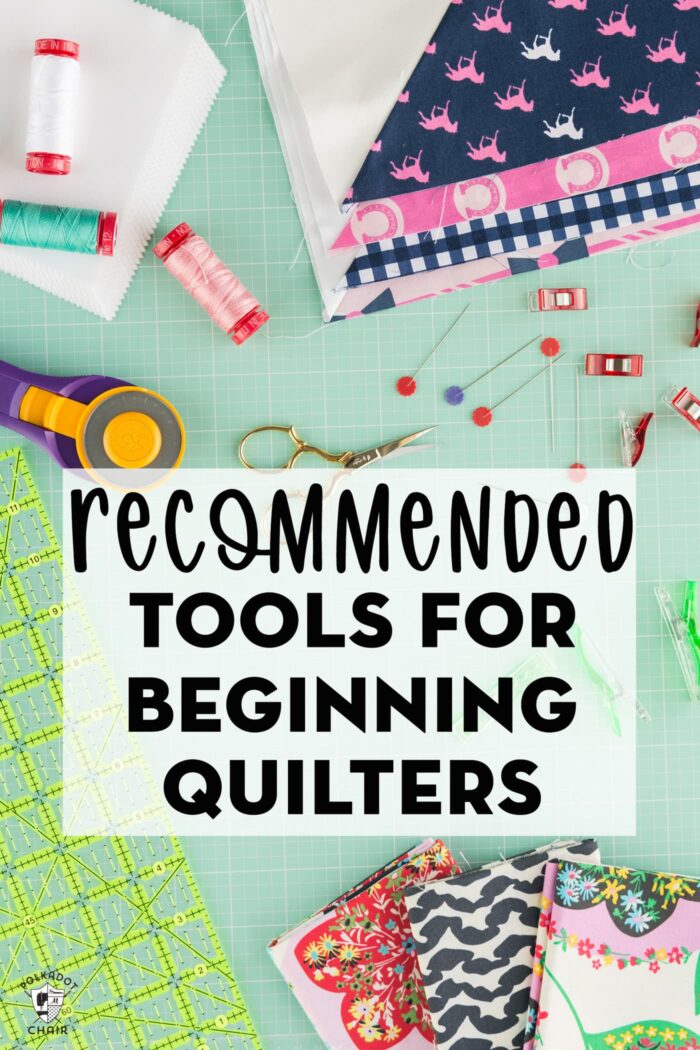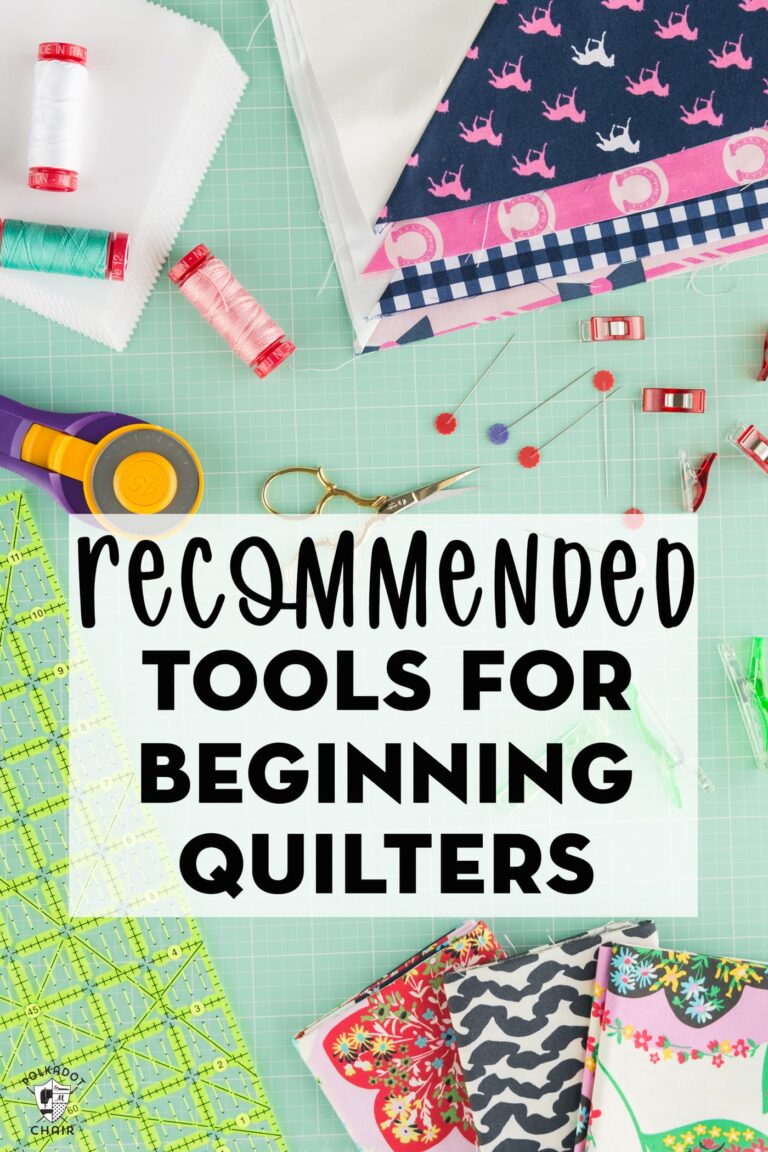 I know that I share a lot of finished quilting projects here and frequently get the "I don't know where to start" comment.
Table of Contents
It seems a lot of you are interested in learning how to quilt. Which I LOVE! I've quilted for a few years but still have so much to learn. So never feel bad that you're a beginner. You have to start somewhere.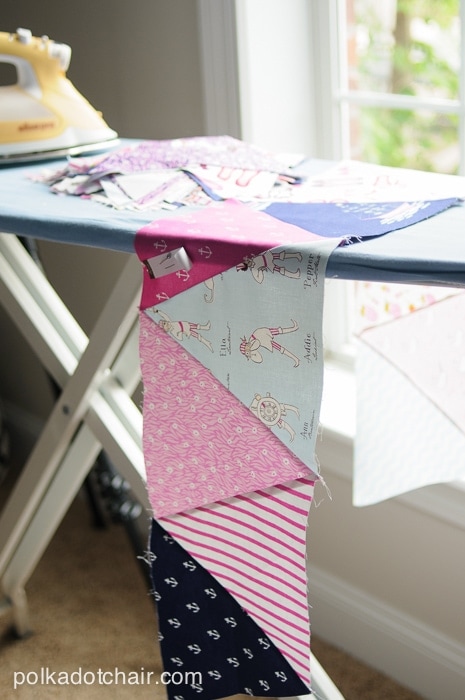 Quilting for Beginners: Recommended Tools & Supplies to get you started
This year I'm trying to help you out a bit and am challenging myself to put myself in your shoes. Hopefully, if you're feeling lost, and not sure where to start, this list (and the ones linked at the bottom) will help you out a bit. 
These are just the bare minimum supplies you need to get started.  After you get these you can start adding to your stash with more "fun" stuff.   If you're a seasoned quilter, I'm so glad you are here. Please "chime" in in the comments section so that others can benefit from your knowledge and experience.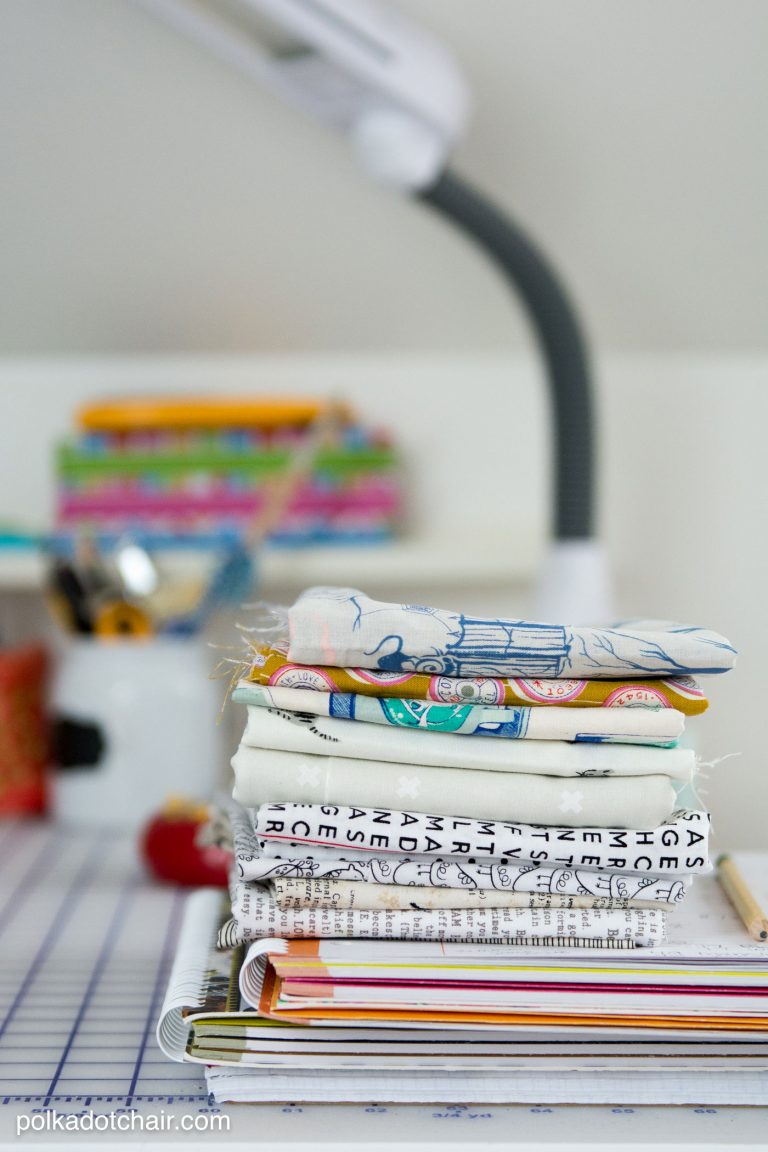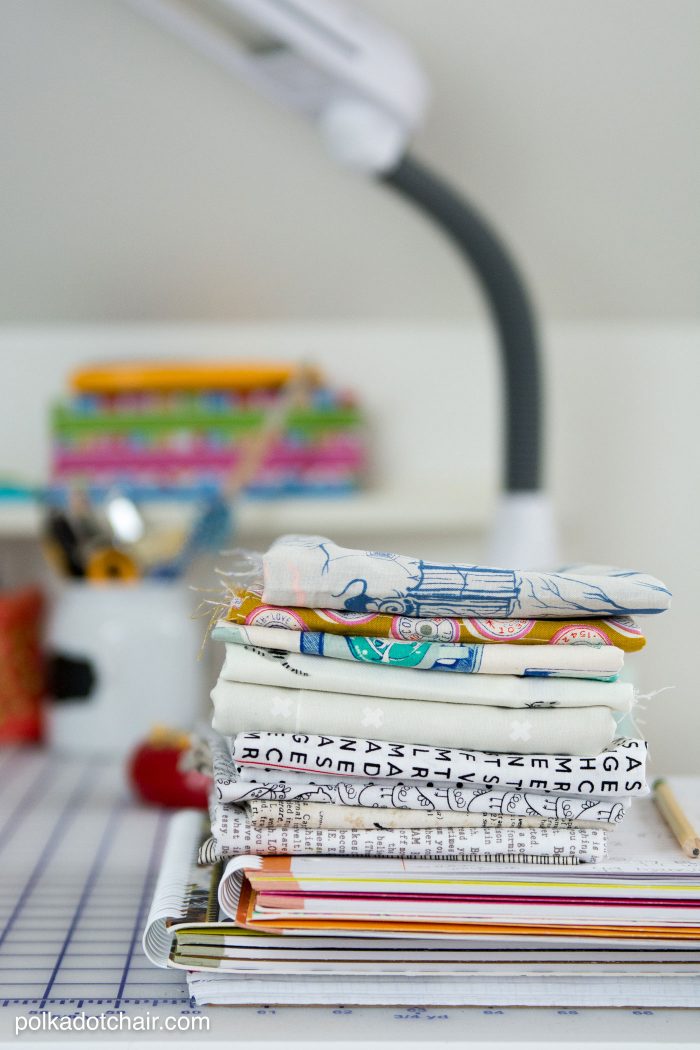 Must-Have Quilting Supplies
1. Self Healing Cutting Mat
Quilting is done almost entirely with geometric shapes. These shapes (usually squares and rectangles) are easier to cut using a rotary cut, mat, and ruler than with scissors.
You'll get much more accurate cuts, and in quilting accuracy is everything.  You'll need what's called a "self-healing" cutting mat. 
Which means that it "heals" itself after the rotary blade cuts into it. You'll want to purchase one specifically for quilting as the material is less likely to dull your blade. 
I'd start with one that is 24″ x 36″. That will be large enough to cut most pieces of fabric.  You can buy cutting mats at big box stores. I work with Riley Blake Designs and am partial to their cutting mats, I've tried quite a few and this cutting mat is my favorite.
2. Quilting Ruler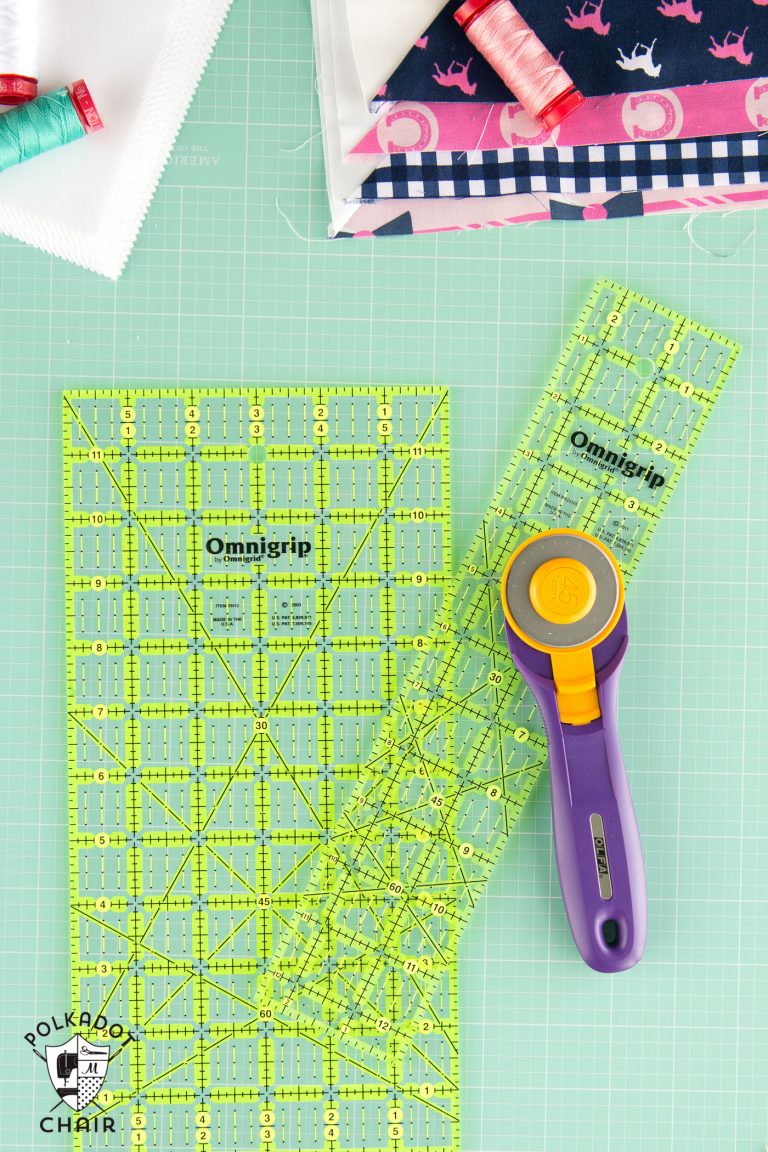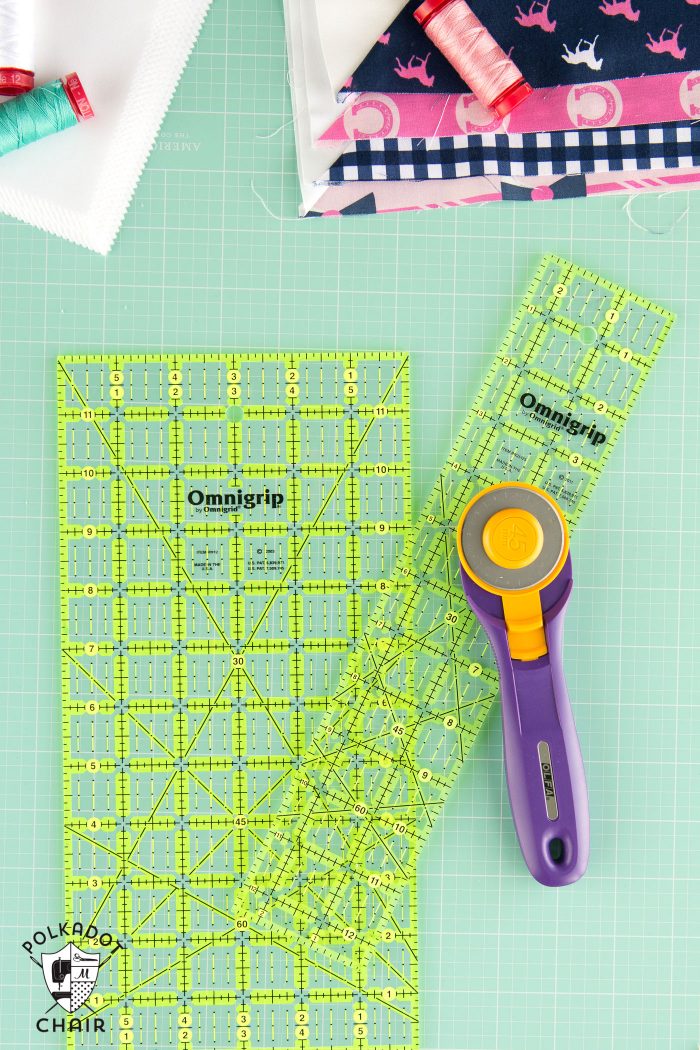 You'll need at least one ruler, although you will probably want more as you go on. I'd start with a 6″ x 24″ ruler.  This will allow you to make most of the cuts that you need.   
The second ruler I'd recommend getting is a smaller ruler, such as a 2 ½″ x 18 ½″ ruler.  The smaller size is great to use when trimming up blocks. 
3. Rotary Blade Cutting
Use the rotary blade along with the ruler and cutting mat to cut out your fabric pieces.  Get a good quality one that feels comfortable in your hand and be sure to change the blade often. A dull blade can be very dangerous. This is my favorite rotary cutter.
4. Cut Glove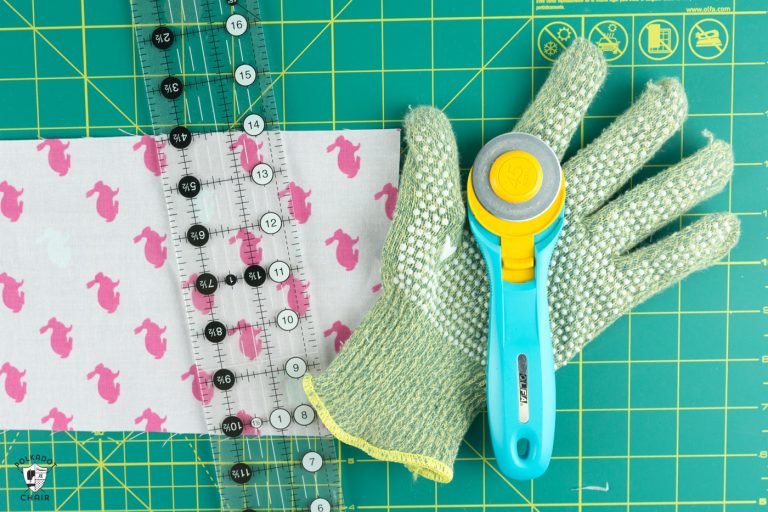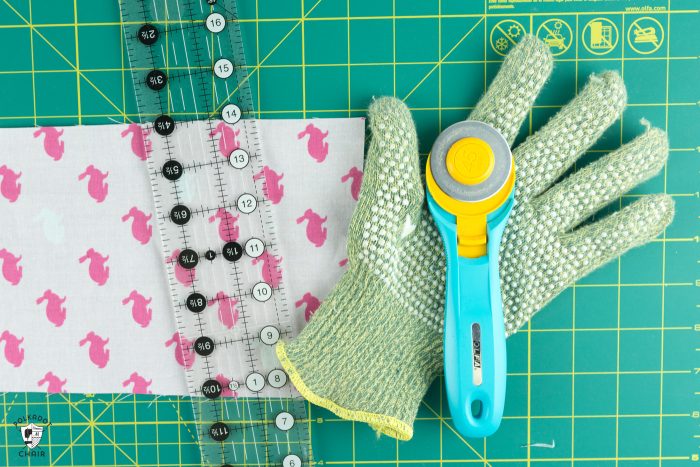 Speaking of dangerous, those rotary blades are SHARP. Protect your non-cutting hand with a cut glove. It will help prevent injury if the blade slips while you are cutting.
If you're new to quilting and cutting fabric with a rotary blade then you may want to consider picking up a cut glove. Take it from someone who as sliced the tip of her finger off with a rotary blade, just be safe and get a glove!
5. Sewing Machine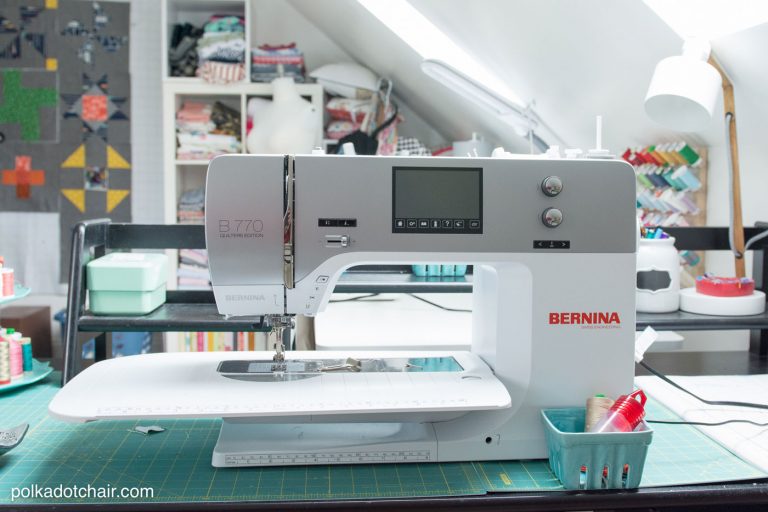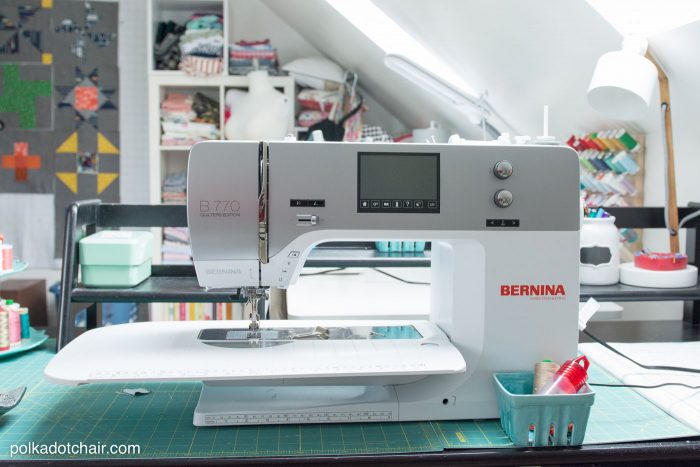 I sew on a BERNINA 770QE. It's considered one of the "fancy" BERNINA machines. If you can start with that machine, then great!
But most people don't start with a machine with lots and bells and whistles. I'm a BERNINA advocate so I recommend their machines. 
If you're looking to invest in a good sewing machine then I recommend that you find a Sewing Machine dealer in your area and pay them a visit. They will ask you what your needs and budget are and fit you with a machine.  I've written all about how to choose a sewing machine, if you're in the market you might want to check it out.
They have several models to choose from and have the best knowledge to help you with your purchase. Most also offer beginner classes as well. That way once you get that fancy new machine you know HOW it works! If you want to use your machine primarily for quilting, then tell them and they can point you towards a machine designed to work for quilting.
6. Quilt Pins & Binding Clips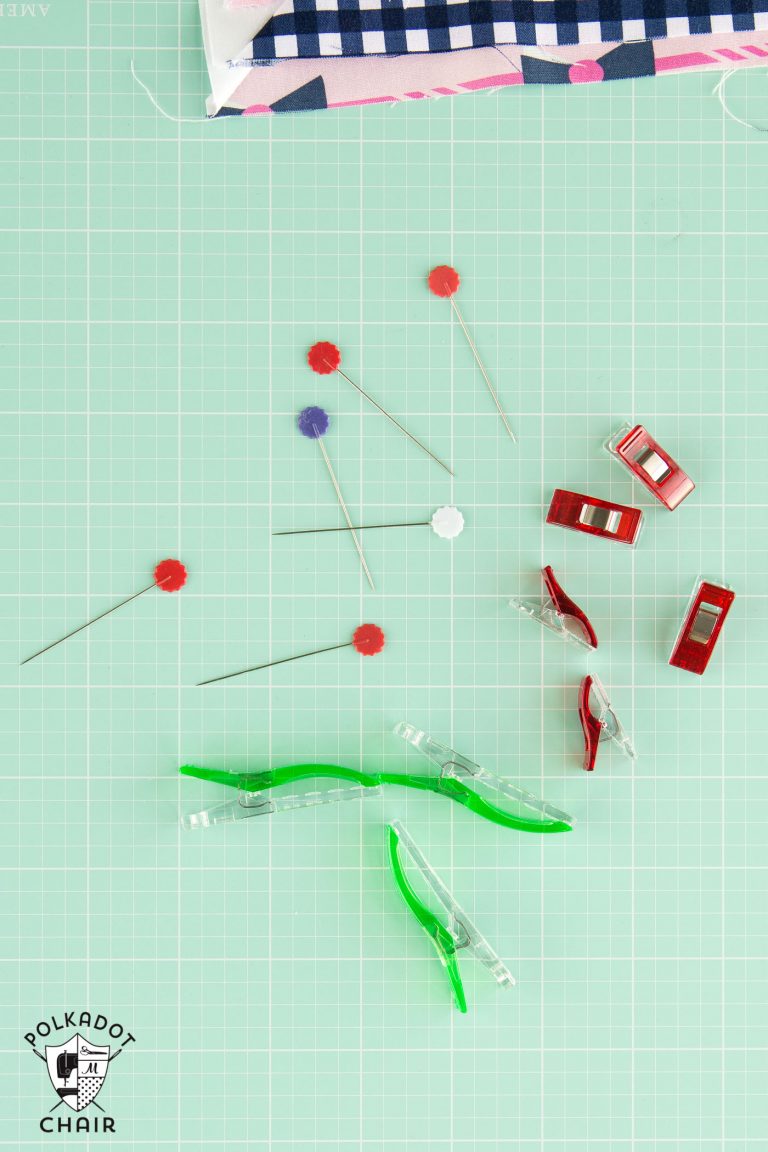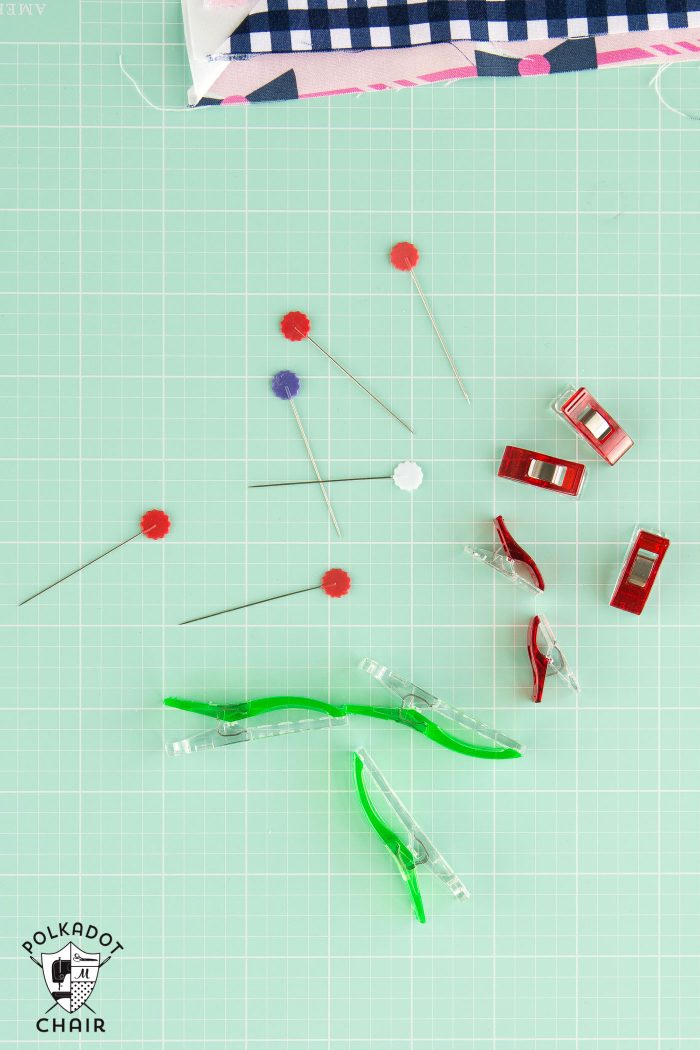 Quilt pins are different than regular sewing pins since they are finer. They will not leave large holes in your fabric and they will allow you to pin your fabric more accurately. Larger pins can bunch up your fabric a bit which can mess up your accuracy when you're stitching the fabrics together.
7. 100% Cotton Fabric for Quilting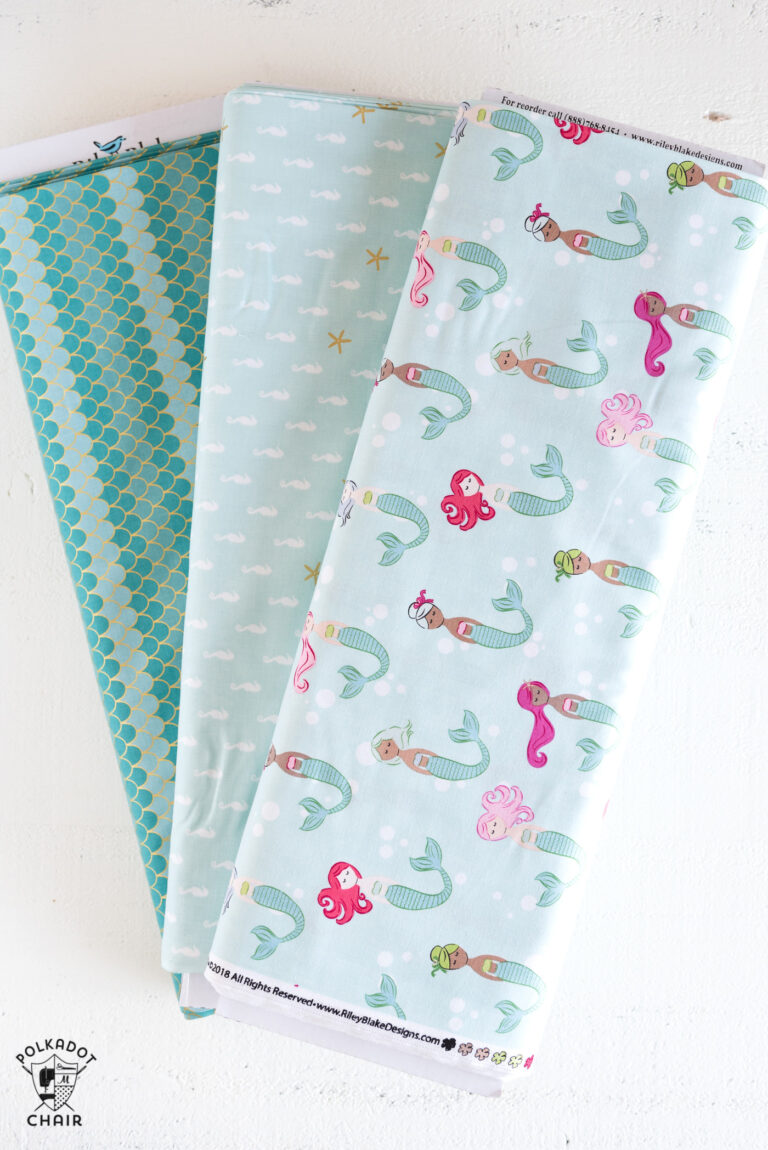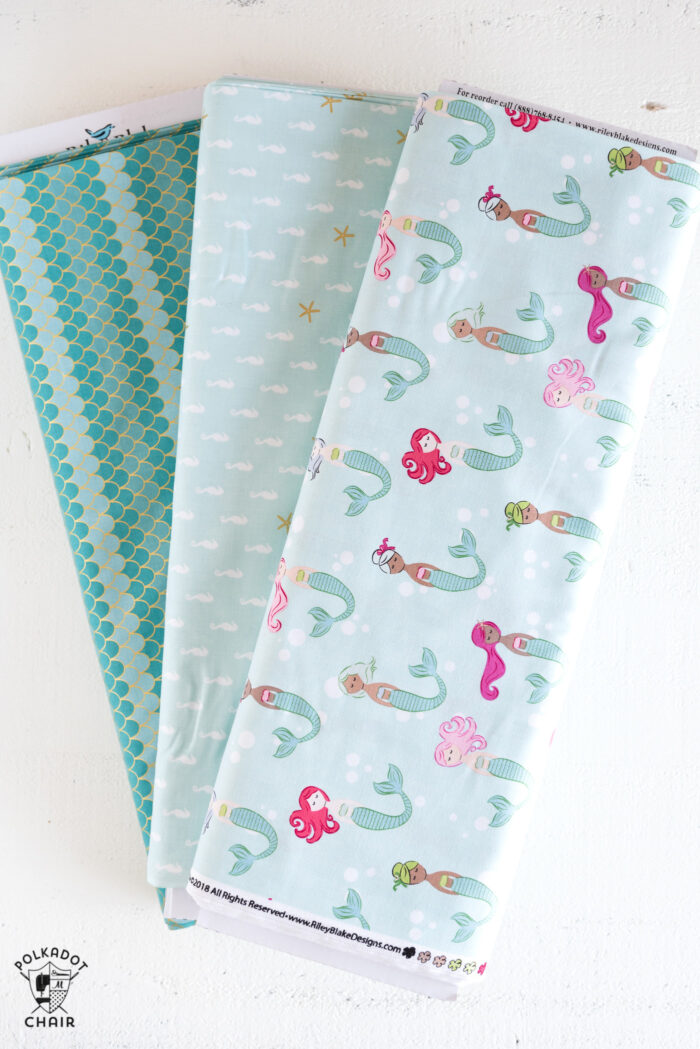 Quilting is done almost entirely with 100% cotton fabric. Choose good quality cotton so that your quilt will last for years and hold up to repeated washings.
I like to buy GOOD quality fabric. It bleeds less holds up better with repeated washing over time.  If you're wondering where to get good quality quilting fabric, it's most likely not a big box store. you'll want to shop at a quilt shop either in person or online.
8. Good Quality Iron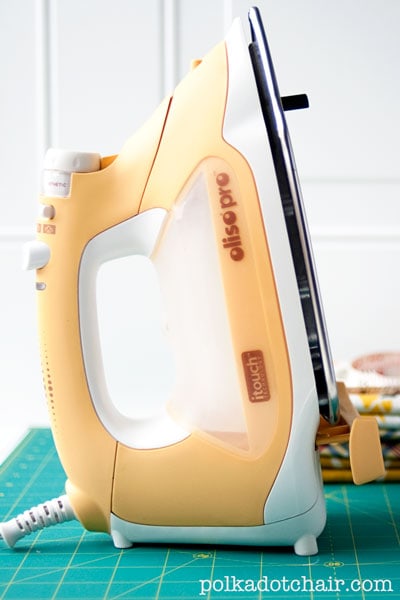 You need an iron WITH steam. The steam will help to set your seams and give you nice flat quilt blocks.  I love the Olisio since it raises itself up and down and can help relieve wrist strain. 
9. Seam Ripper
Odds are you're going to make a mistake (or two, or ten). You'll need a seam ripper to undo the seams so you can start over again.
10. Quilting for Beginners: Books or Patterns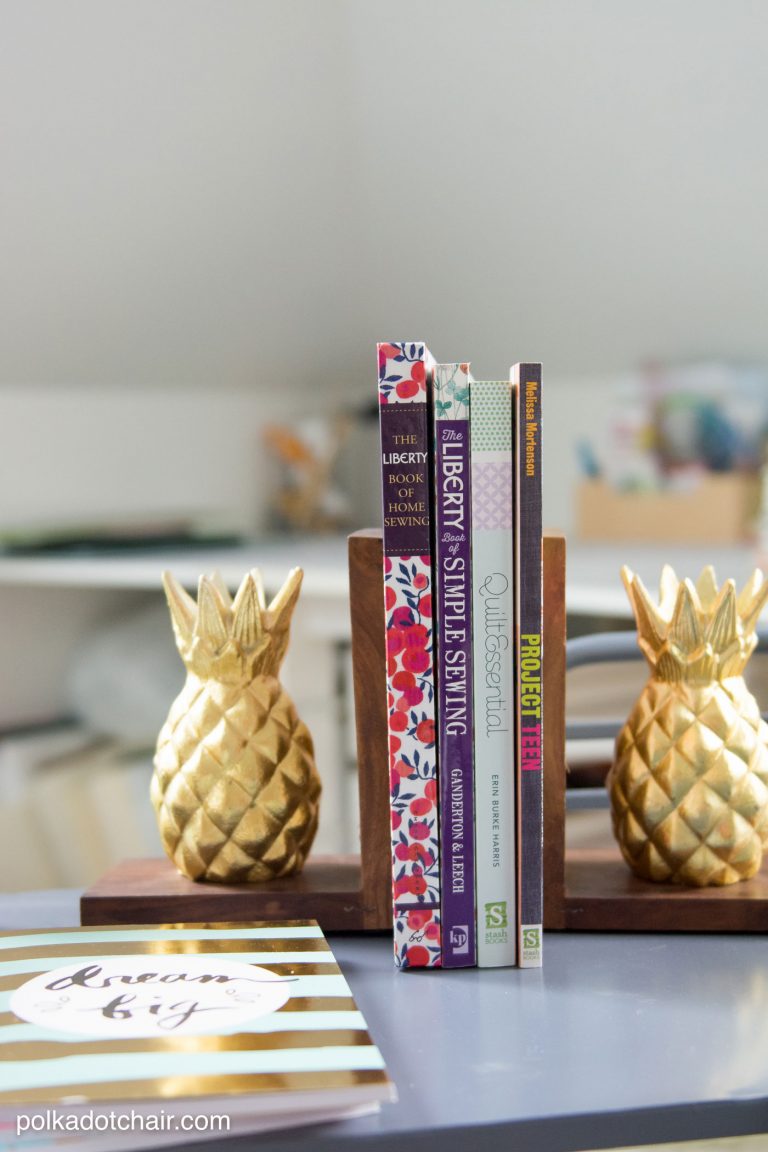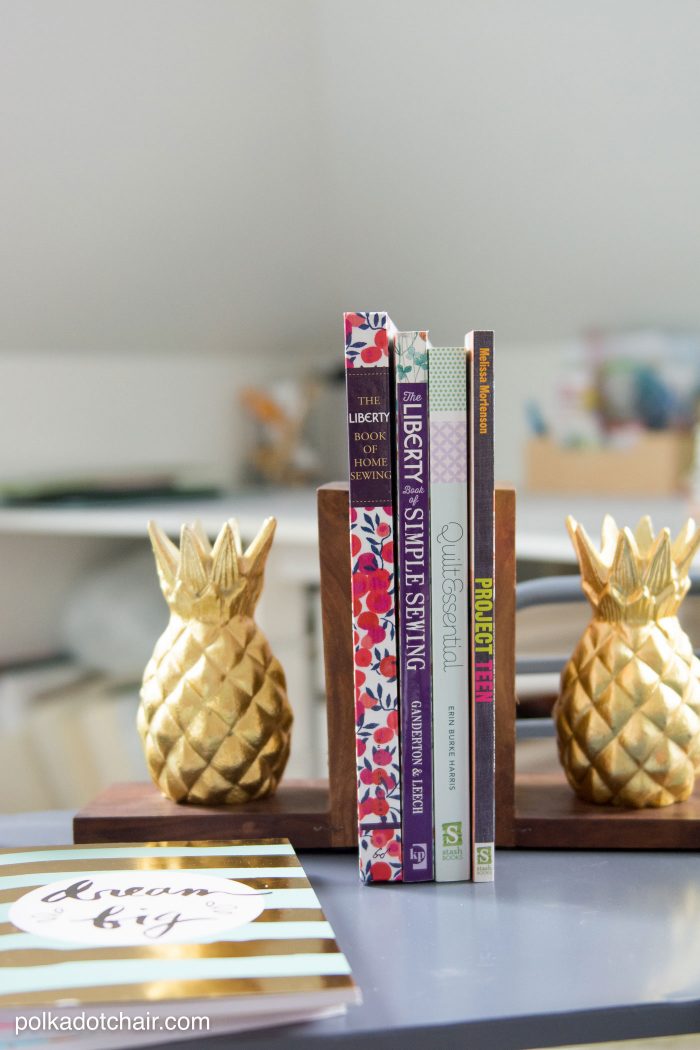 I'd recommend picking up a good quality book on quilting or a very well written pattern to start. It will answer many of your questions and give you a good idea of the whole process. It might just save you a bit of frustration in the process too!
Are you trying to learn how to Quilt? Then you may also like these other Quilting for Beginners Articles:
How to Pick Fabric for a Quilt
7 of my Favorite Sewing Tips & Tricks