Learn how to dress up a simple pair of sneakers with this fun DIY Painted Shoes Tutorial!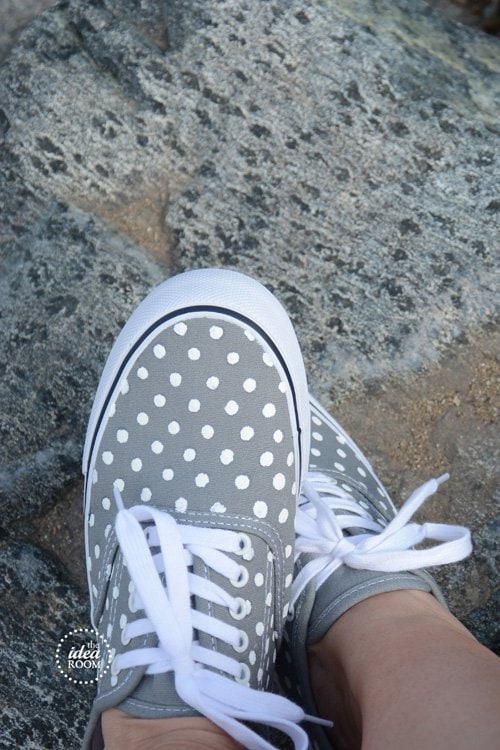 So happy to be here today! My name is Amy and you can normally find me sharing DIY projects, recipes and more over at the Idea Room.
How to Paint Polka Dots on Shoes:
You guys! I LOVE polka dots! So I was super excited to be participating in this fun series with you here on Melissa's site. I have had my eye on some polka dot converse shoes for a while now but didn't want to pay what they were asking for them. This challenge was the perfect excuse, so I did what any DIY'er would do…I made some polka dot shoes.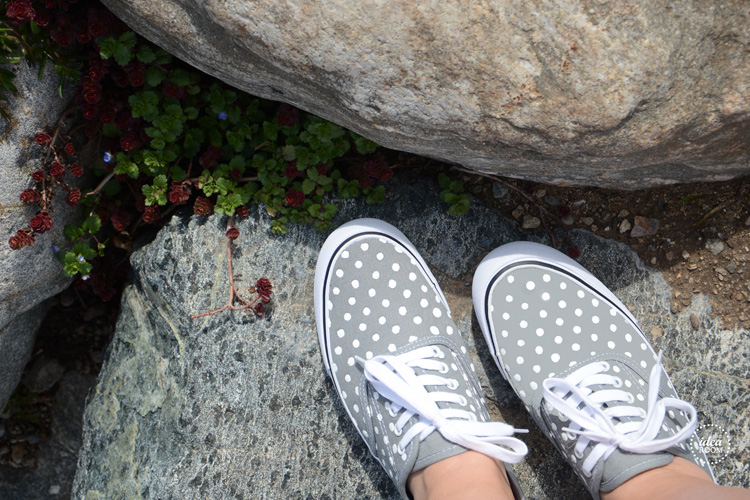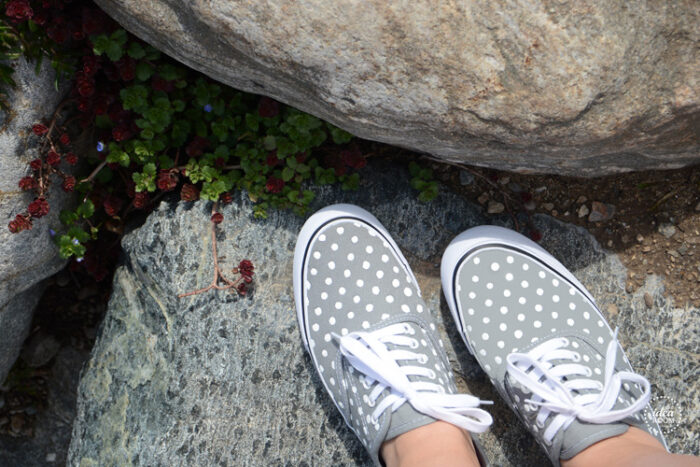 I picked up some shoes at my favorite store Target for a great price and they happened to be on sale…buy one get one half off! Once you have your shoe of choice, you simply need a few other items to create them.
Supplies for Shoes
Shoes
Fabric Paint in the color of your choice
an un-used pencil eraser (on a pencil)
a polka dot stencil or a ruler
Step One; Trace the Polka Dots onto the Shoes
Take your stencil and trace where you will be placing the polka dots. Make sure your pencil eraser is slightly larger than the polka dots you have drawn. If it is not bigger, don't draw a full circle but just place a dot so you don't see the pencil on the shoe when you are finished.
How to Paint Shoes:
Dip the pencil eraser into your paint and then place it on the marked dots on the shoes. Repeat over and over until the shoe is covered in polka dots. Let them fully dry and then you are ready to wear them!
Aren't they so fun? My daughter has claimed this pair for herself…it's a good thing the shoes were bought one get one half off!
About the Maker:
Thanks so much for having me on your site Melissa! I would love for you to stop on over and check out some of my other projects and ideas!
————————————————————————————————-
Thank you so much Amy!! Ummm… I think I forgot to tell you if you guest post you have to give me the stuff you made *wink*wink*… those are my size right???
Make sure you stop by the Idea Room and tell Amy "hello" today!