Celebrate Dad with one of our Father's Day Party Ideas! We have loads of fun ideas to share with you today, including free printable soda bottle labels & a "We Love Dad" Banner. Chinet® Cut Crystal® sponsored this post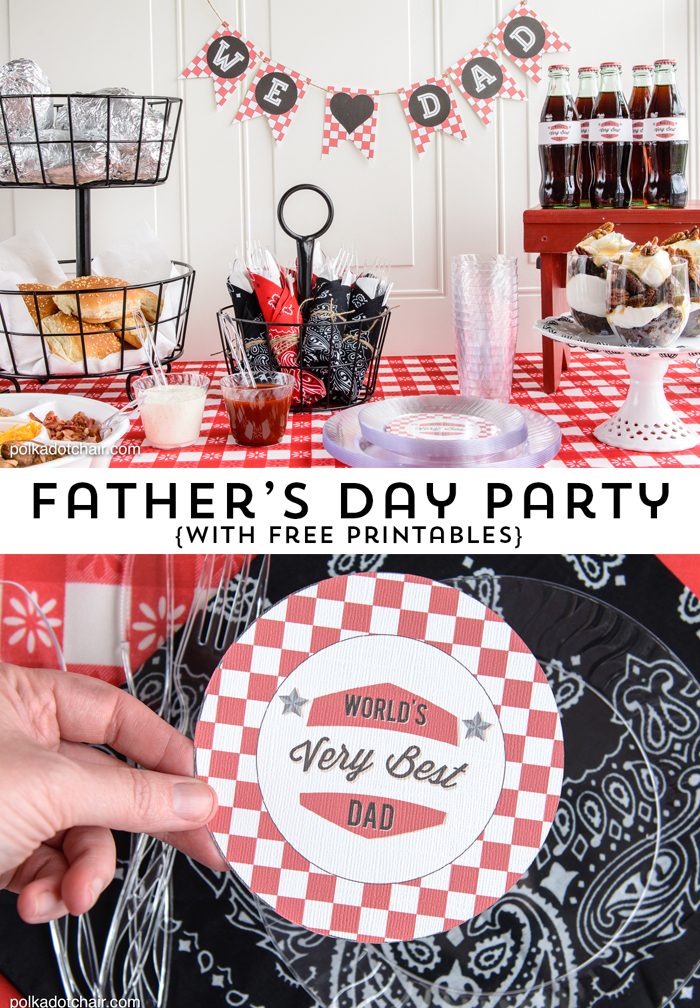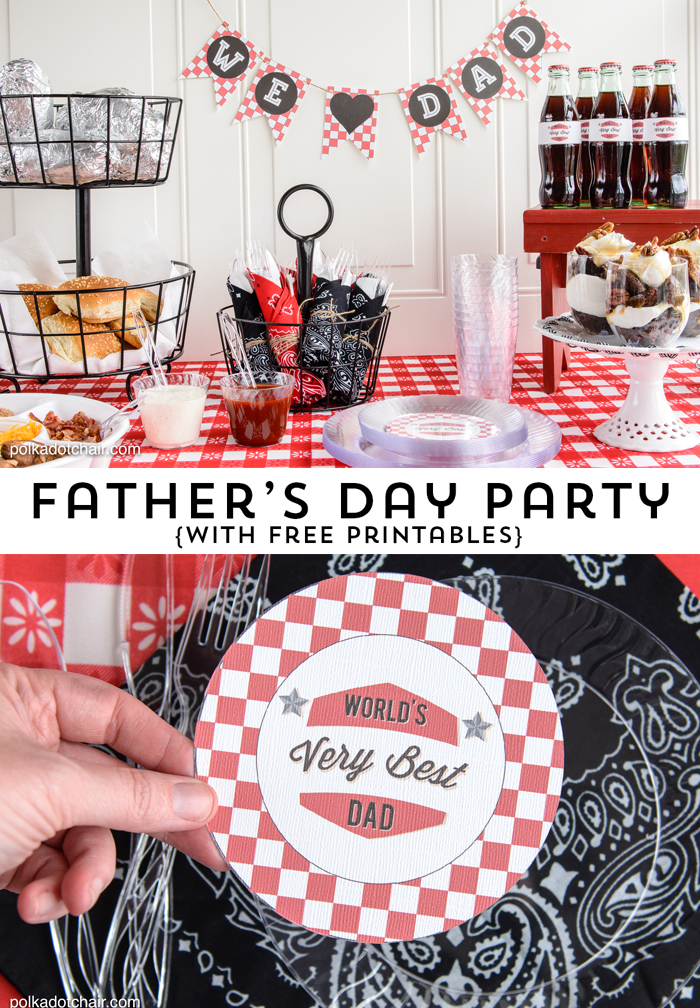 Table of Contents
At our house, Father's Day usually consists of a lot of delicious food. We love to BBQ, and June is one of the most beautiful months of the entire year in Kentucky. We love to fire up the grill and sit outside to eat and enjoy all of the nice weather.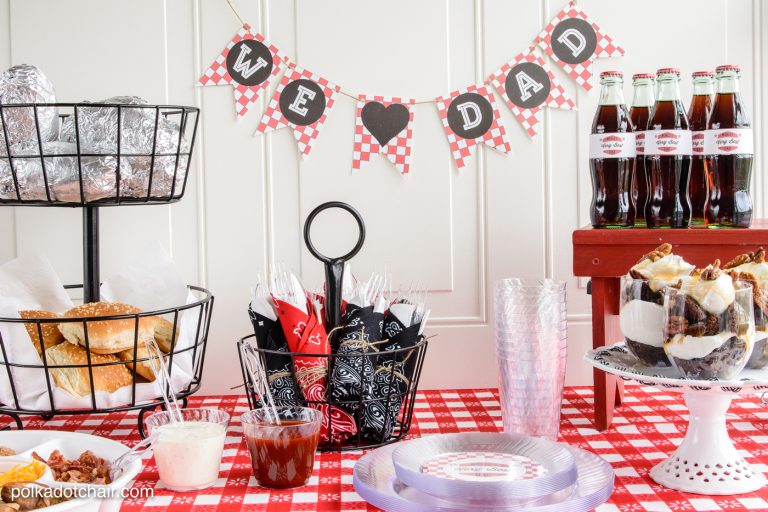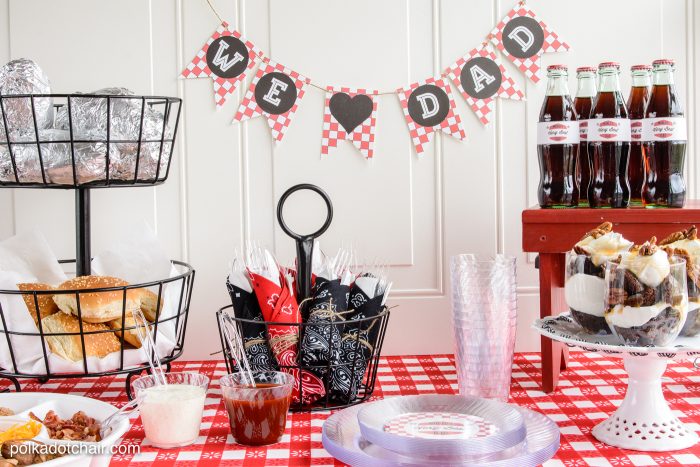 This year for Father's Day, I thought that it might be fun to kick things up a notch as a way to make the Dads in our life feel a little bit more special.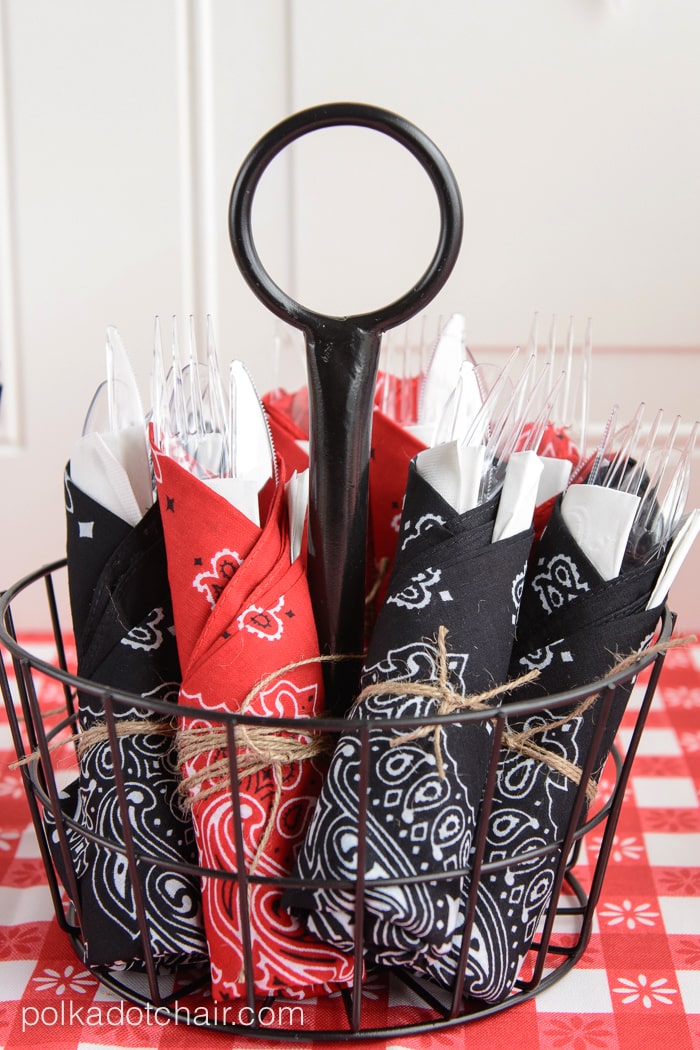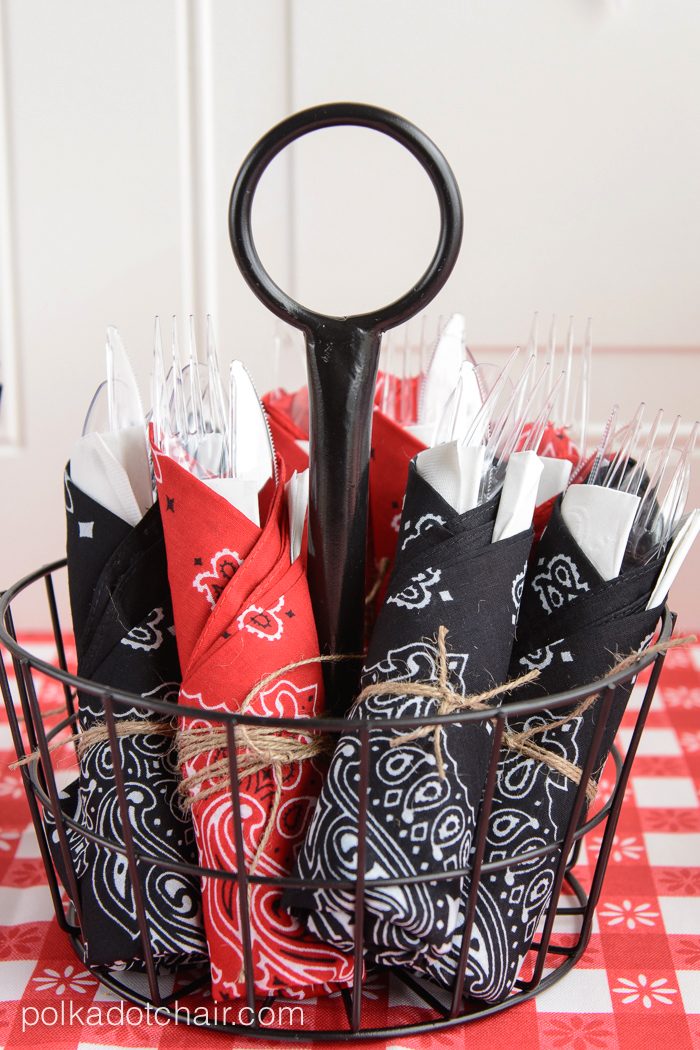 A few years ago, we had a couple of other families over for dinner on Father's Day. I've found that when everyone pitches in and brings a bit of food, it's not too much work to throw together, and it's much more fun to celebrate with friends.
Father's Day Party Ideas:
As much as I love to throw a party, I do not like the clean-up at all. When it's a nice occasion, I don't always like to use paper plates, but usually, I do just to save time in the cleanup.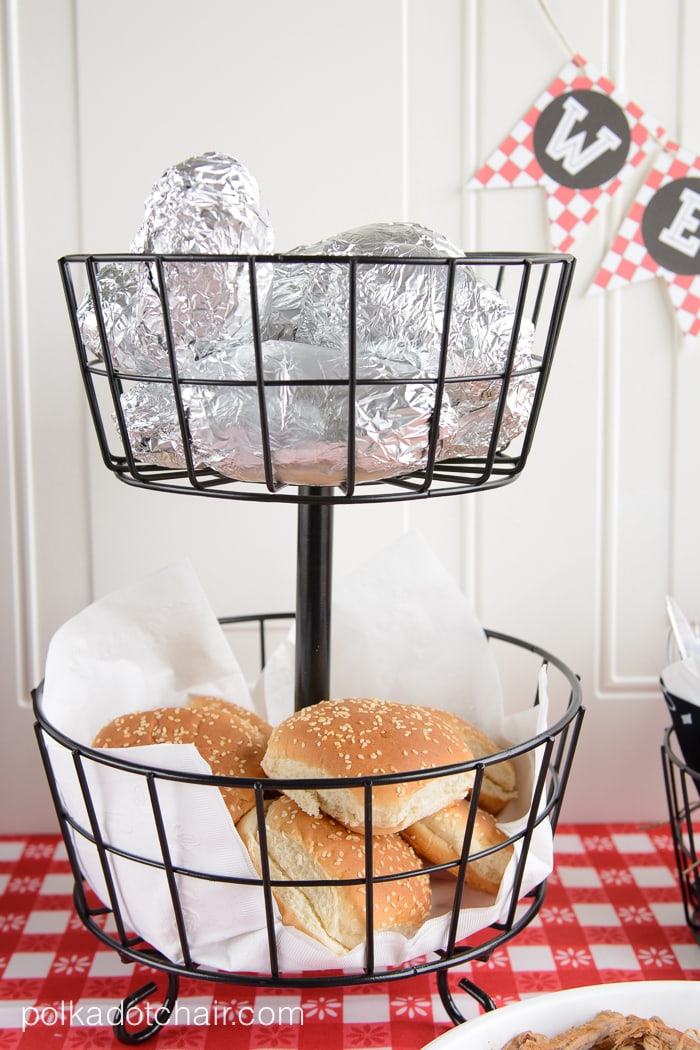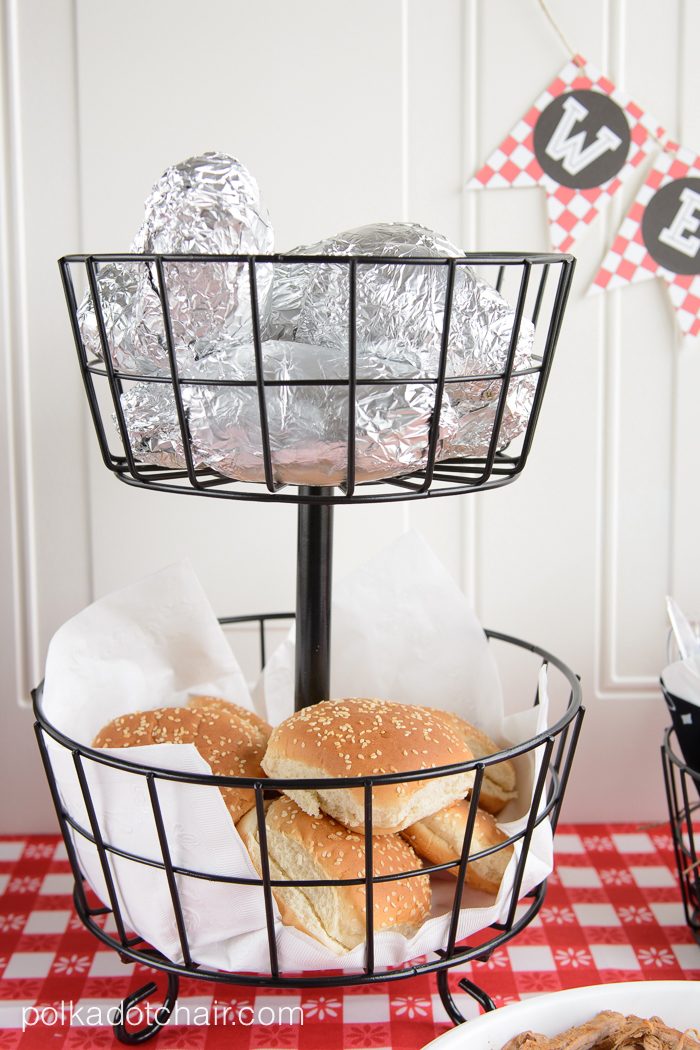 Party Details
Last year I threw a Derby Party using Chinet® Cut Crystal®. I loved how it turned out so much that I thought I'd use the Chinet® line of products again, but this time to design a cute BBQ Party in honor of Father's Day. The details are all pretty simple, and you can put this party together quickly.
Using paper products from the same line will help give the party a nice cohesive look (and save you a bunch of time). Since the Chinet® Cut Crystal® line is clear, it matches perfectly with whatever party you are throwing. When the party is over, there is no randomly themed, oddly colored plates leftover. You can save the extras for your next get-together.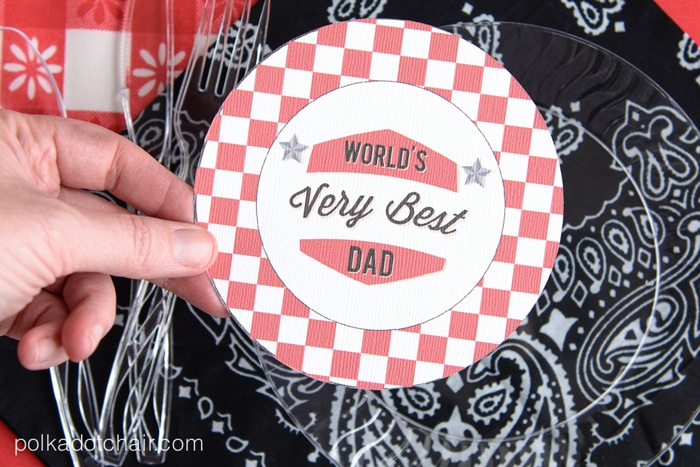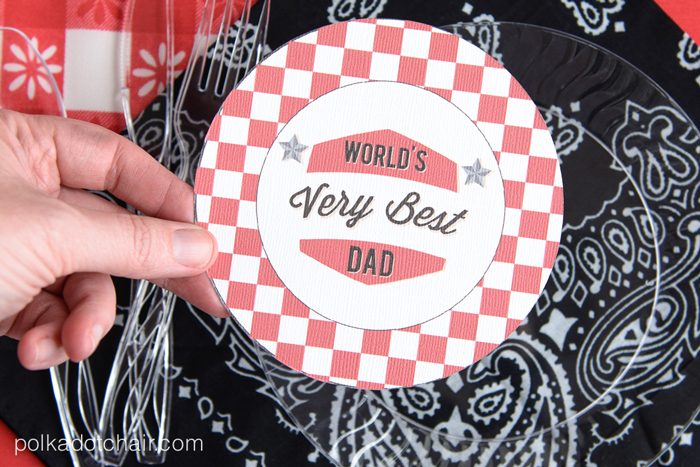 1: Create Custom Plates with our Free Printables
One of my favorite things to do with the Chinet® Cut Crystal® plates is to create my own custom plate by gluing a printable to the bottom.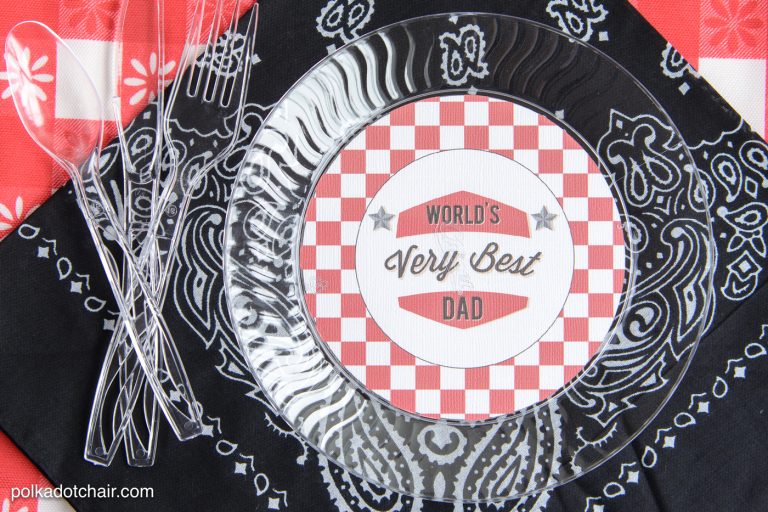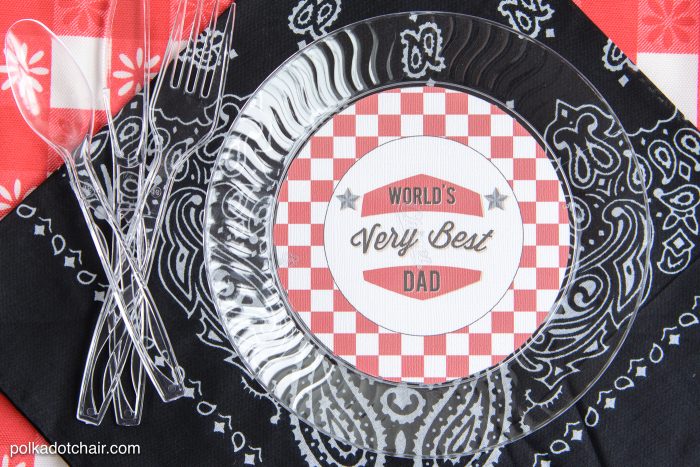 Just cut out a circle the same size as the flat part of the plate, secure it to the bottom of the plate with a bit of spray adhesive, and Voila! Custom Plate…
2: Print Out the We Love Dad Banner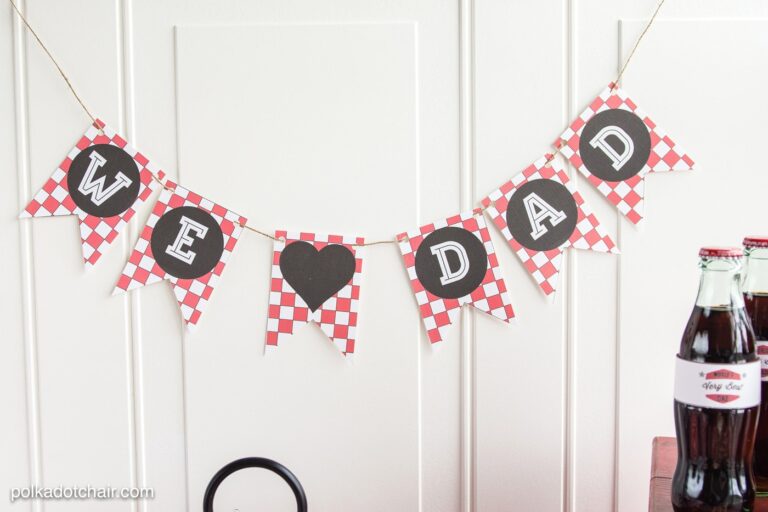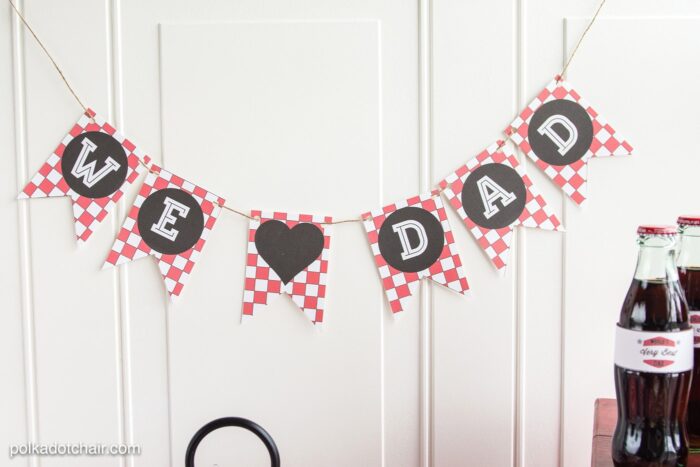 Every party needs a good banner. I've created a fun "We Love Dad" banner for you to print and cut out. Just punch a hole in each corner and string onto some twine, and you've got a cute party decoration.
3: Jazz up your Soda Bottles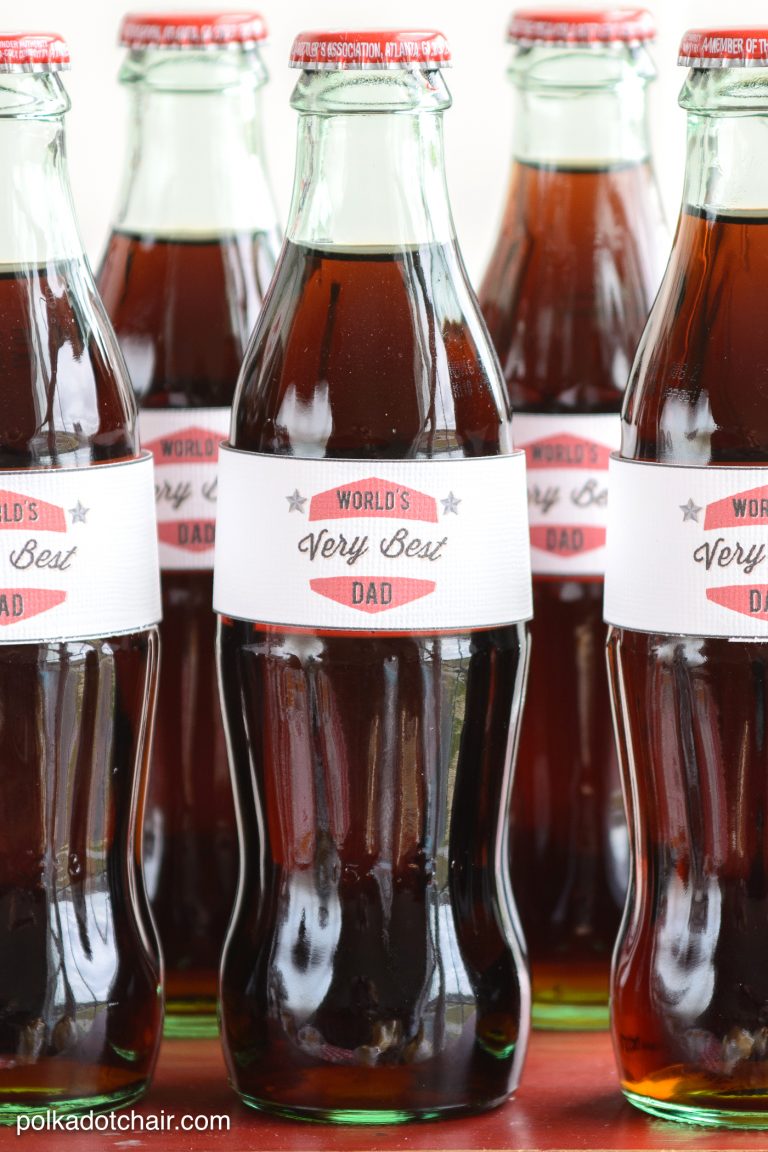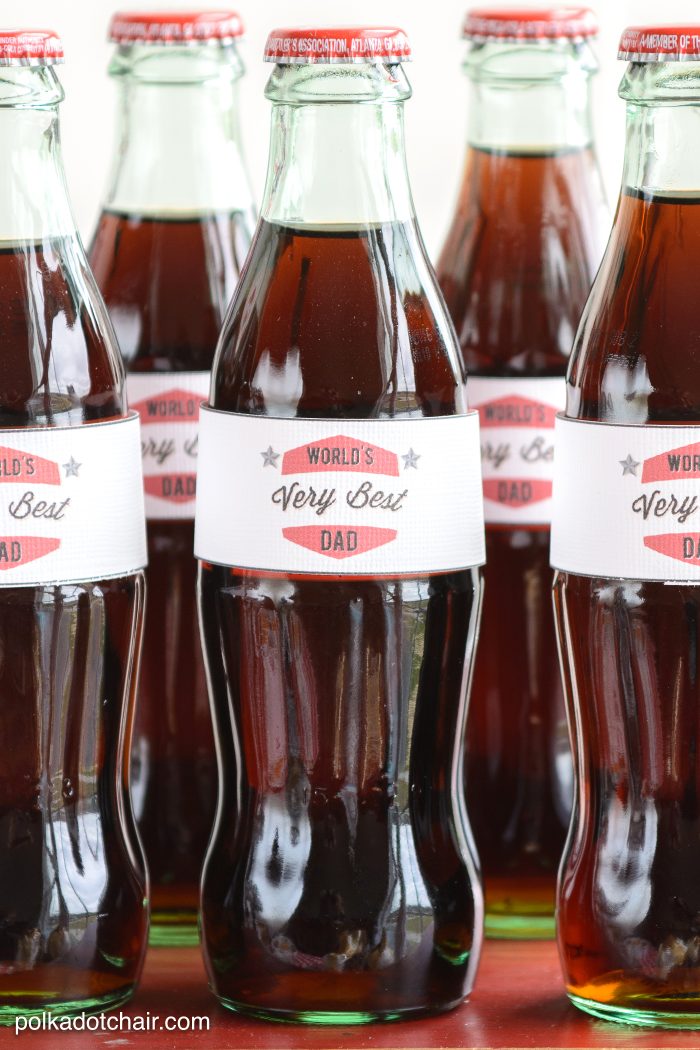 Another way to personalize your party a bit is to create custom labels for your drinks. Here I've covered up the label on the soda bottles with the "World's Best Dad" printable (I'll include the link for all of the printables at the bottom of this post).
How to Add the Label to the Bottle
Just print out the label and attach it to the bottle with double-stick tape. If the bottle you are using has a large label, you may need to remove it first not to show through.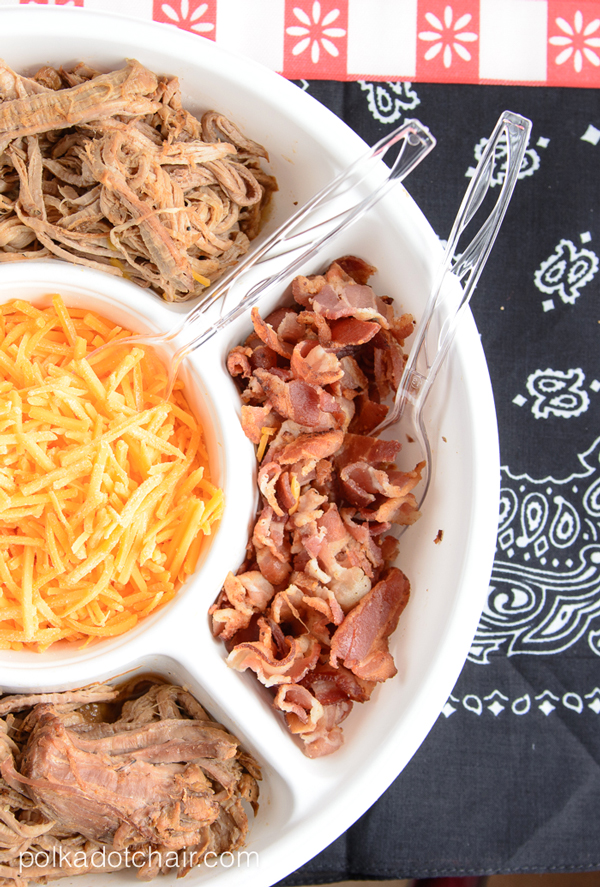 4: Food Suggestions
For the food, I've got a couple of suggestions for you to help you feed a crowd without too much effort. One of my favorite things to serve on top of baked potatoes is BBQ meat. It's delicious and is actually a pretty regular meal at our house.
You throw the potatoes in the oven for an hour to bake, then top with the BBQ meat (a great way to use up leftover meat!) and your other favorite toppings — pictured above: Chinet® Classic White® Chip & Dip Party Tray.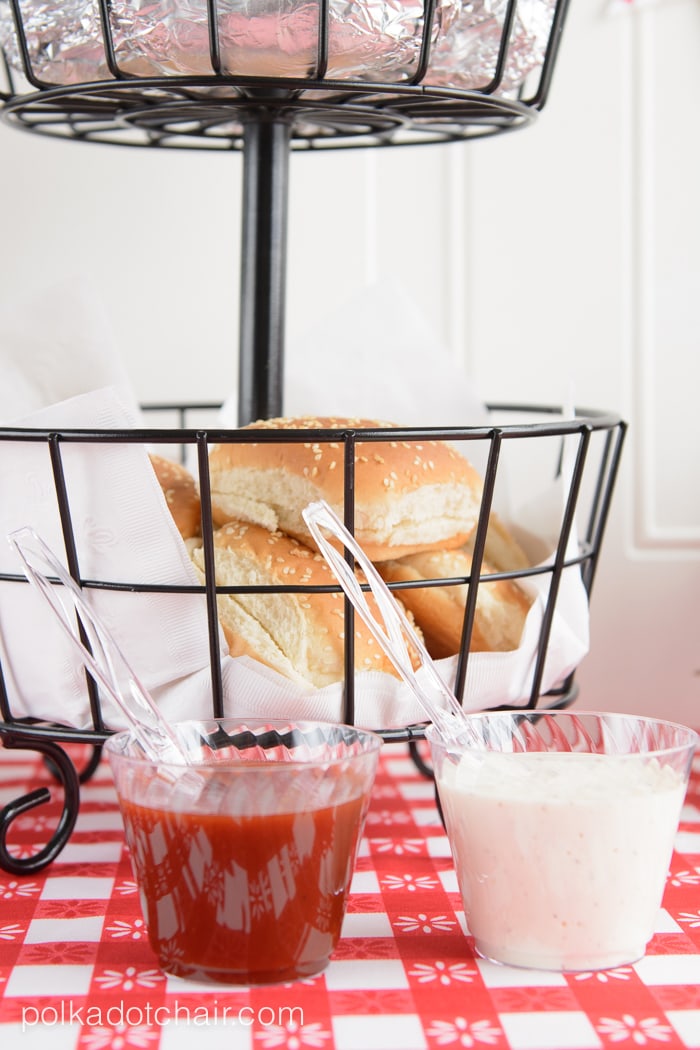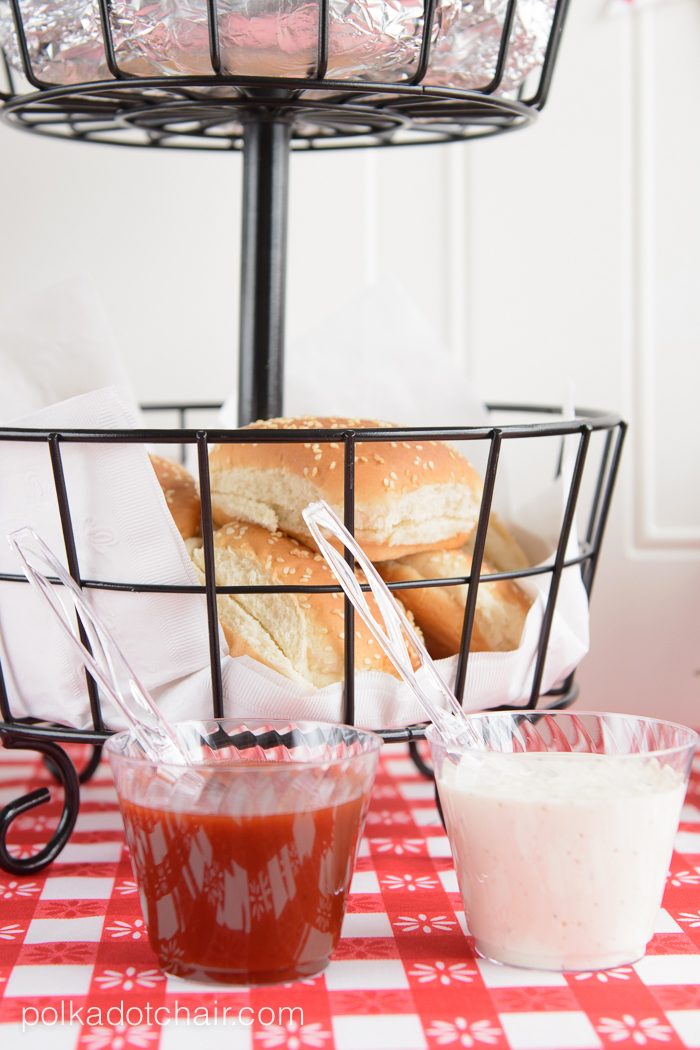 Makes for a quick meal, and is a great way to feed a crowd without too much effort.
5: Brownie Trifle for Dessert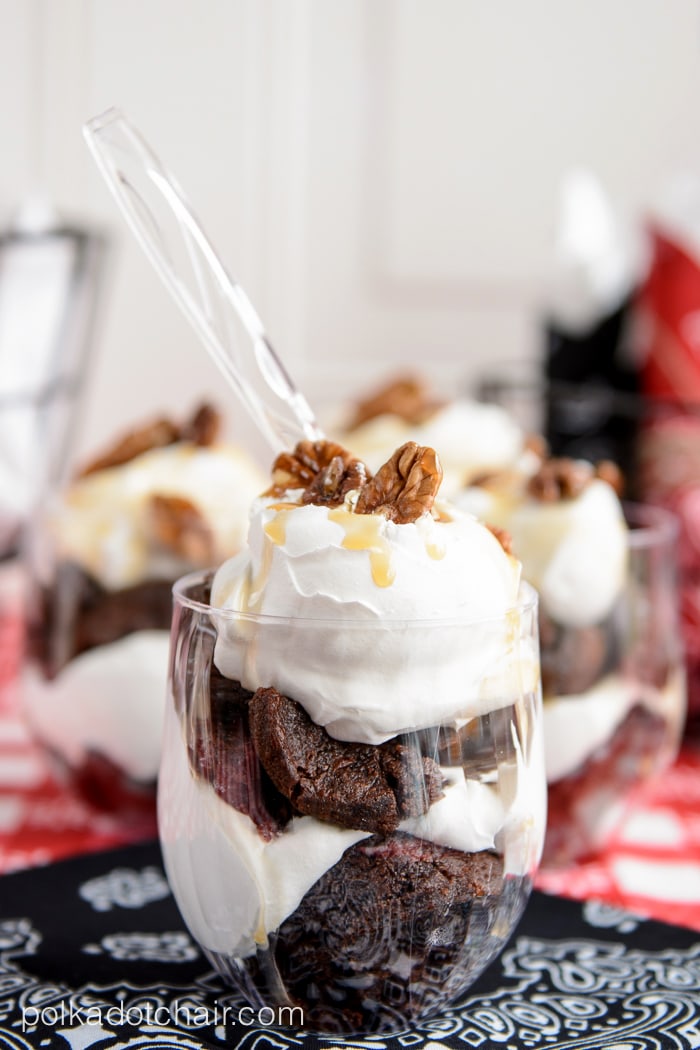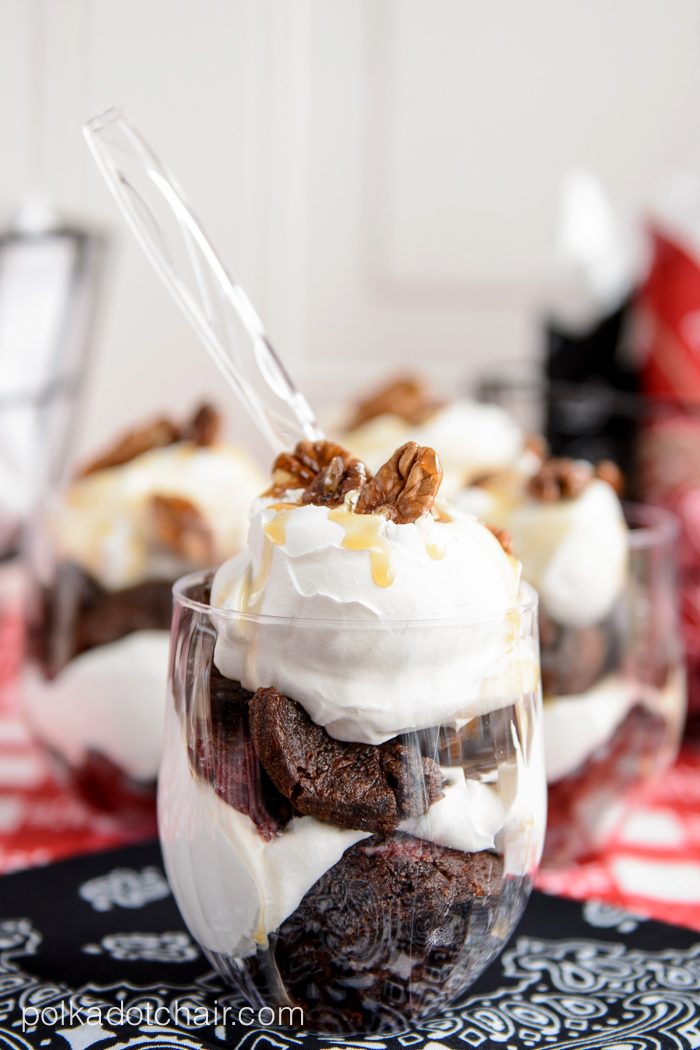 Another favorite trick I have for party throwing is to "dress up" store-bought ingredients. Here I've layered brownies, whip cream pecans, and caramel sauce to make a Turtle Parfait.
The clear stemless Chinet® Cut Crystal® wine glasses are perfect to show off the layers in the dessert.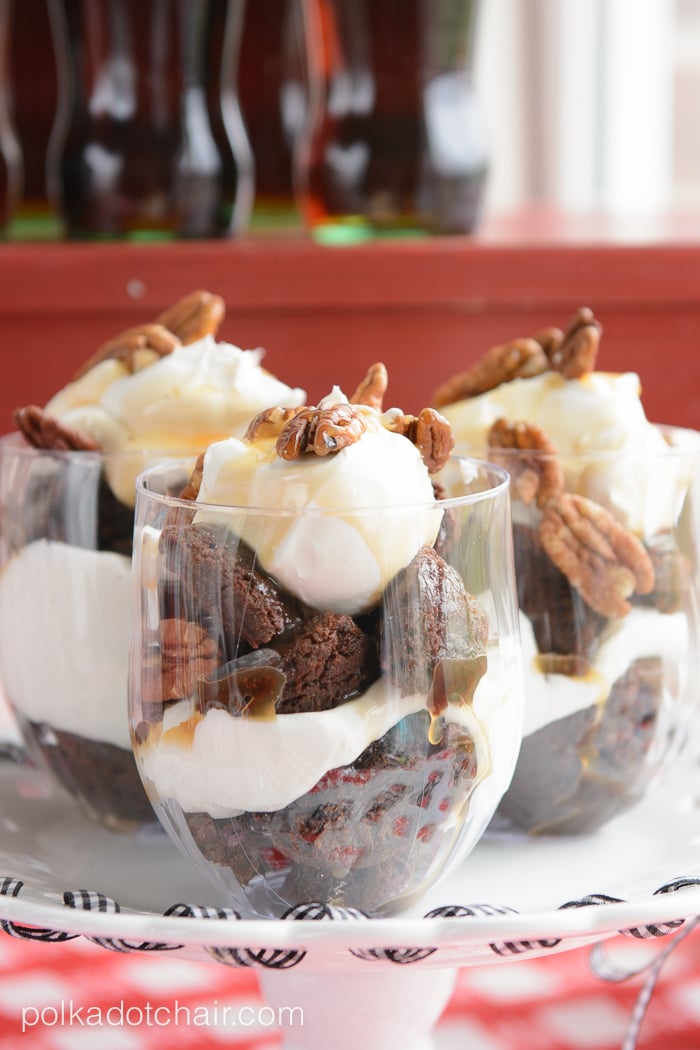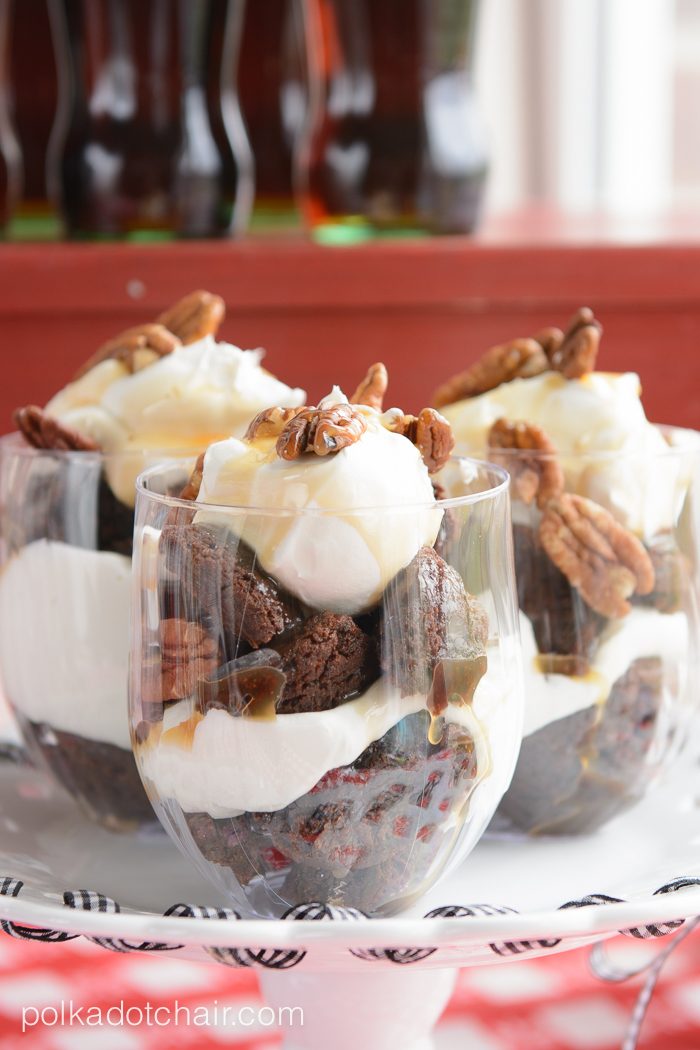 If you'd like to throw your own special party for Father's Day, I've included printables for you to get.
To Get the Free Father's Day Printables:
In our Free Printables Library, you can find the printables for the banner, the plate centers, and the soda bottle covers.
Also, the Chinet® Cut Crystal® website has tons of other inspired decoration, craft, and recipe ideas to make your next gathering perfectly coordinated. Make sure you check it out for more inspiration!