Turn an often neglected space under your deck into a beautiful outdoor space. I'm sharing some of my best tips for creating a backyard outdoor living space that you'll use all summer long!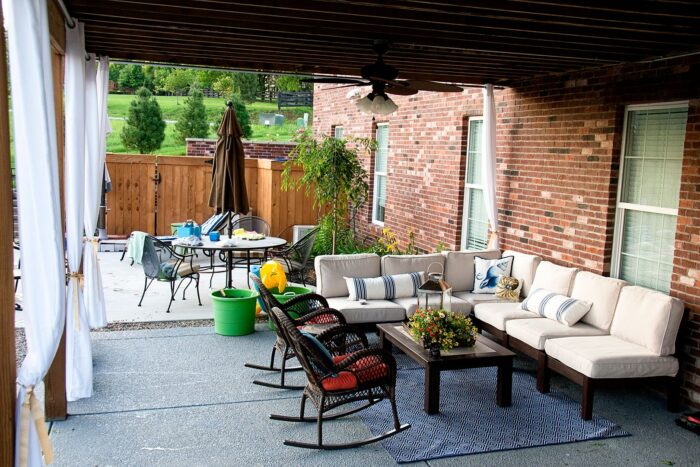 Don't you hate it when a home DIY project takes so much more time than you thought it would? Sometimes it seems like the simplest projects take the longest to finish!
Table of Contents
We have a deck on the back of the house (which I shared on this post last year), underneath the deck is a concrete patio.  
It seemed like such a good spot that I did not want to waste it. Yet it's one of those "odd spaces," and sometimes finding a purpose for spaces like that can be difficult.
Our Outdoor Room
I decided to take advantage of the shade provided by the deck and build a little "outdoor living room."   I will tell you that this project has been completed in stages over the course of 3 summers. I've been slowly collecting the "pieces" of it.  Last summer, I purchased some patio furniture for space, making it feel like a room. This year I got the rug, drapes, and accessories and started to get all the pieces pulled together.
Okay, I'm getting a little ahead of myself… before I could get the patio to this point, a few things needed to happen.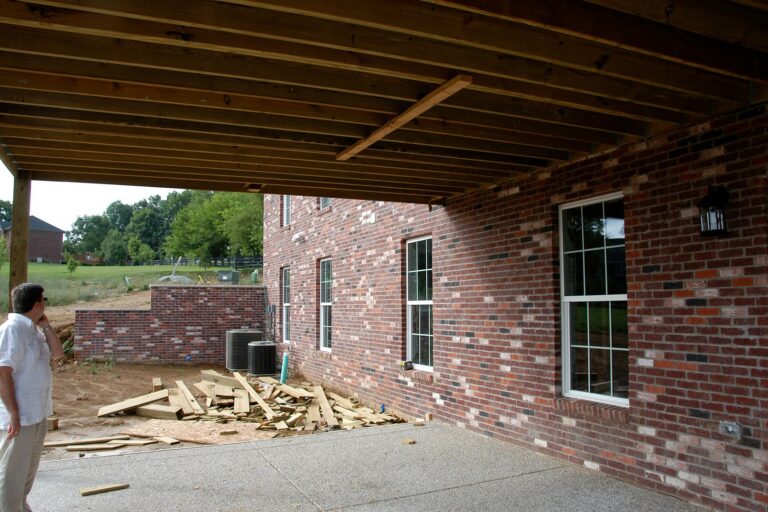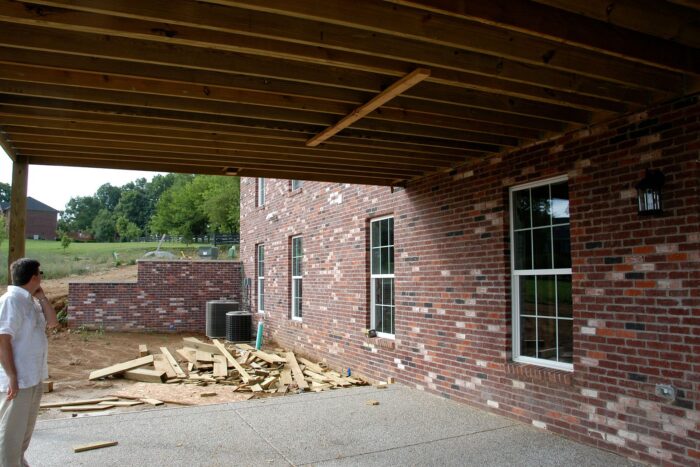 The before, I think my husband is thinking, "what are we going to do with this?"
Things to Do First
1- A thorough deep cleaning. Pressure wash the concrete and scrub it well.
2- Stain the deck above the patio. There was no point in putting this together if it was just going to get stained later.
3- Stain the concrete on the patio.  I don't know if you can tell from the photo, but we stained the aggregate concrete patio a blue-gray, then sealed it.  I just used the translucent concrete stain from Lowe's.  (this step will take 2 coats and a few days to finish).
After it is stained, we seal it with a glossy sealer. I really like the sealer because it gives it a nice finished look without being slippery. I'm glad we decided to stain the concrete; I feel it gives it a more finished look.
4- Installing the Drapery- info in this post. I was very excited about the creative (and cheap) solution I found for this! (even though I spent an hour arguing with my husband at Lowe's about how to do it!)
Photos of the Finished Outdoor Space
Here are a few photos of the finished project, and next week I'll have some fun follow-up posts! (like the decor I made for the brick wall,  outdoor pillows & how to hang those drapes).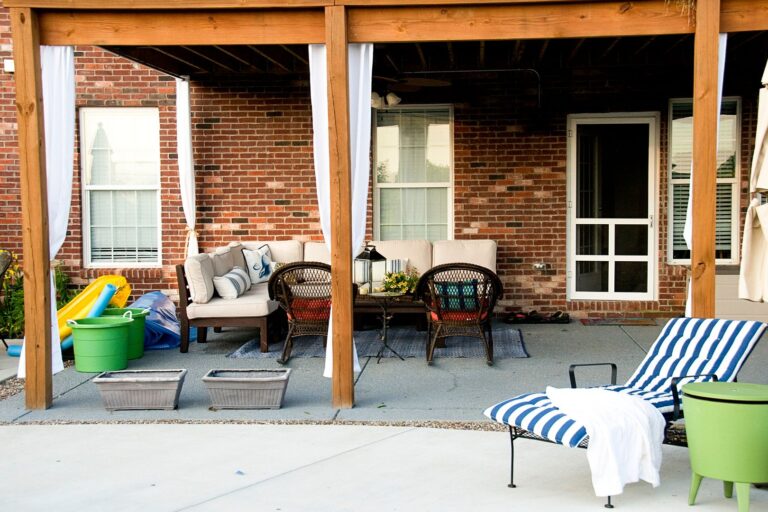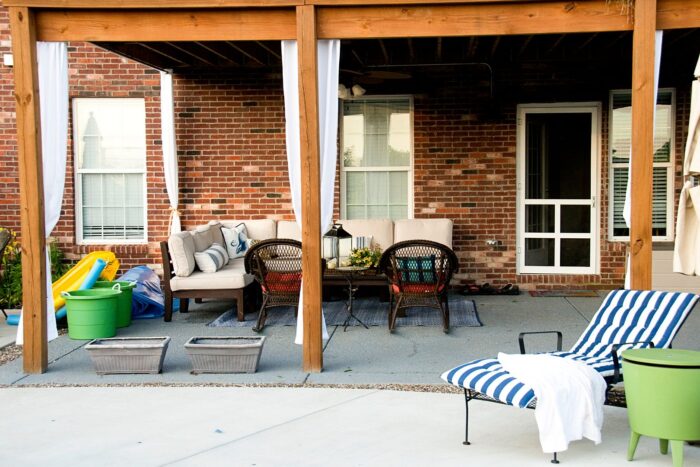 This gives you a good view of the whole patio.  I added one drape to each post… the pots still need flowers…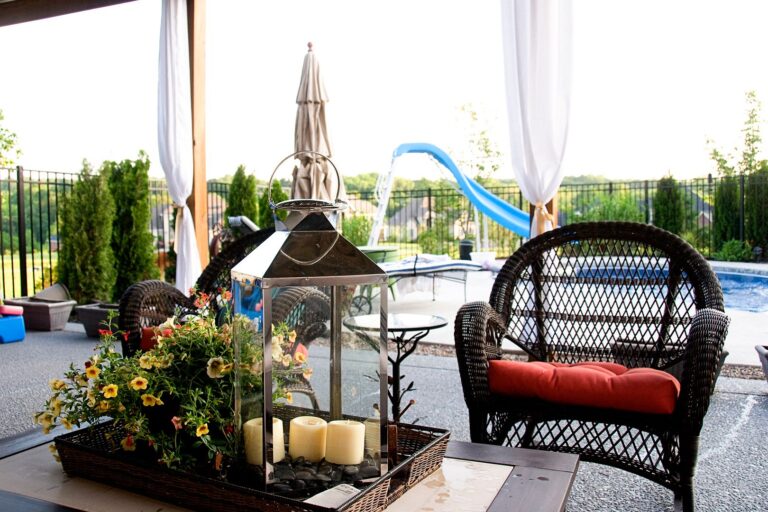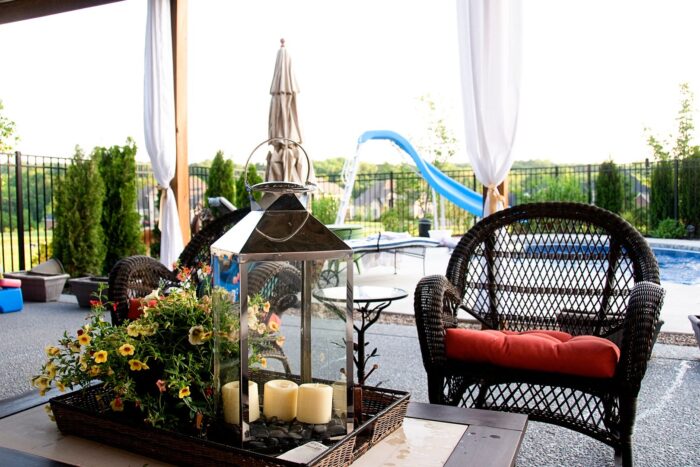 The view when I'm lying on the couch reading a book.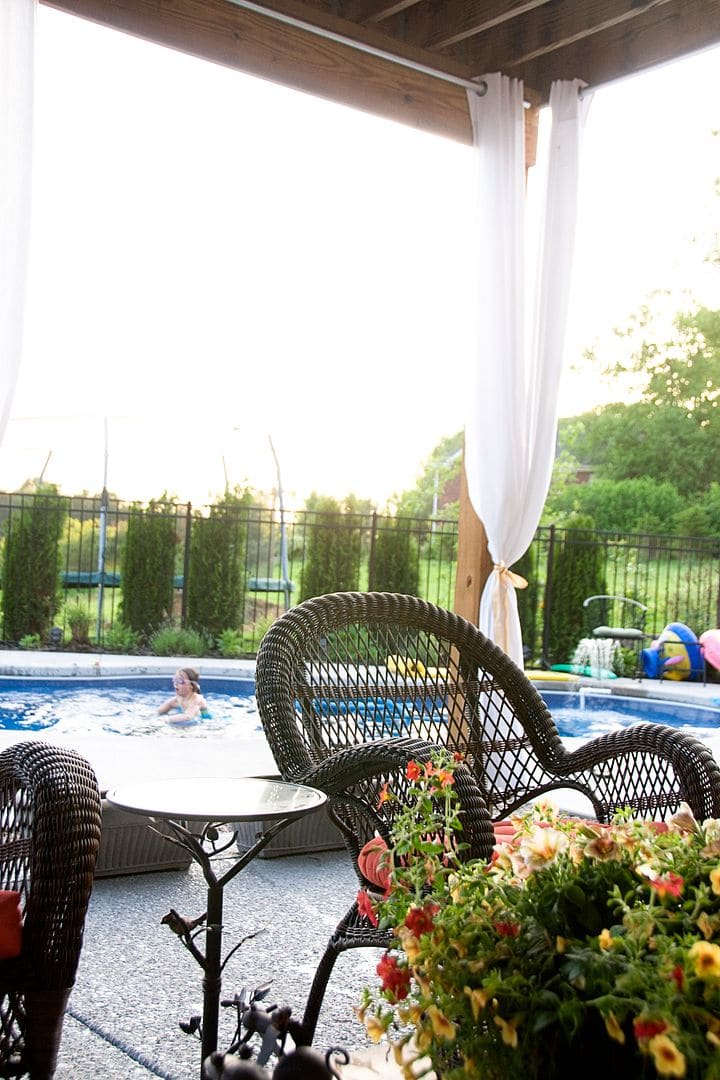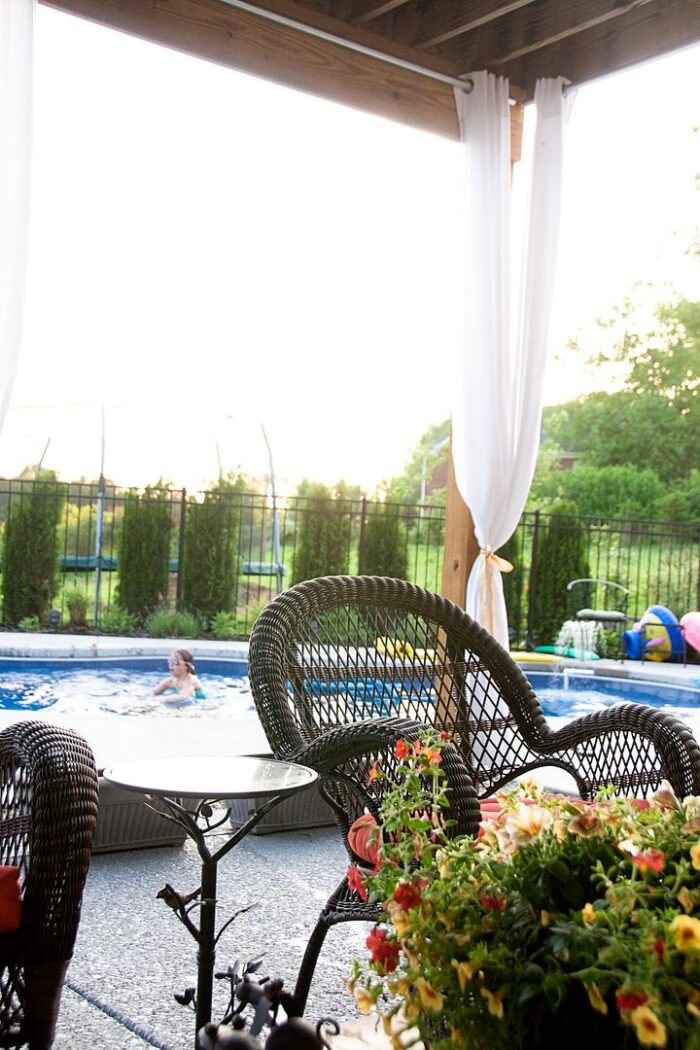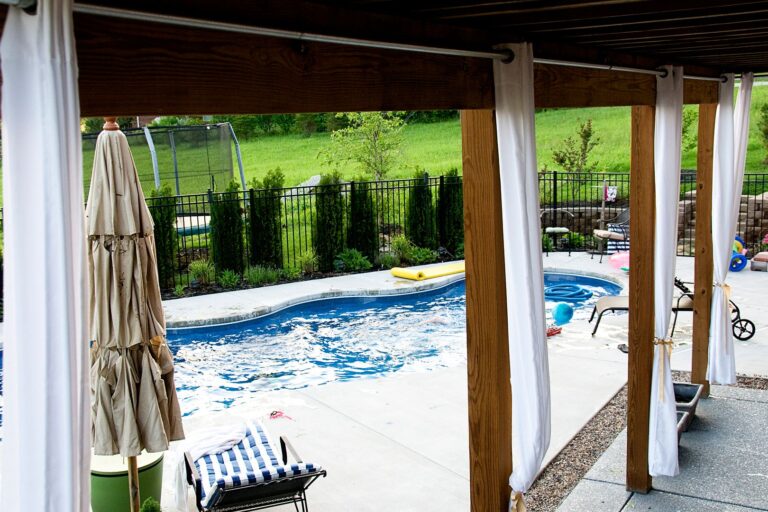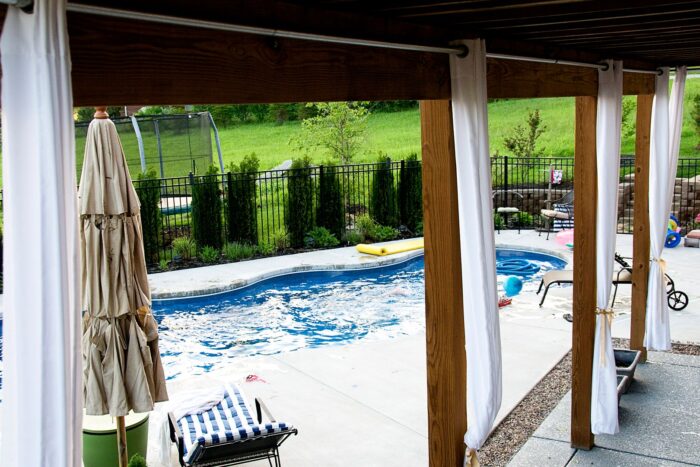 A view of the drapery rod.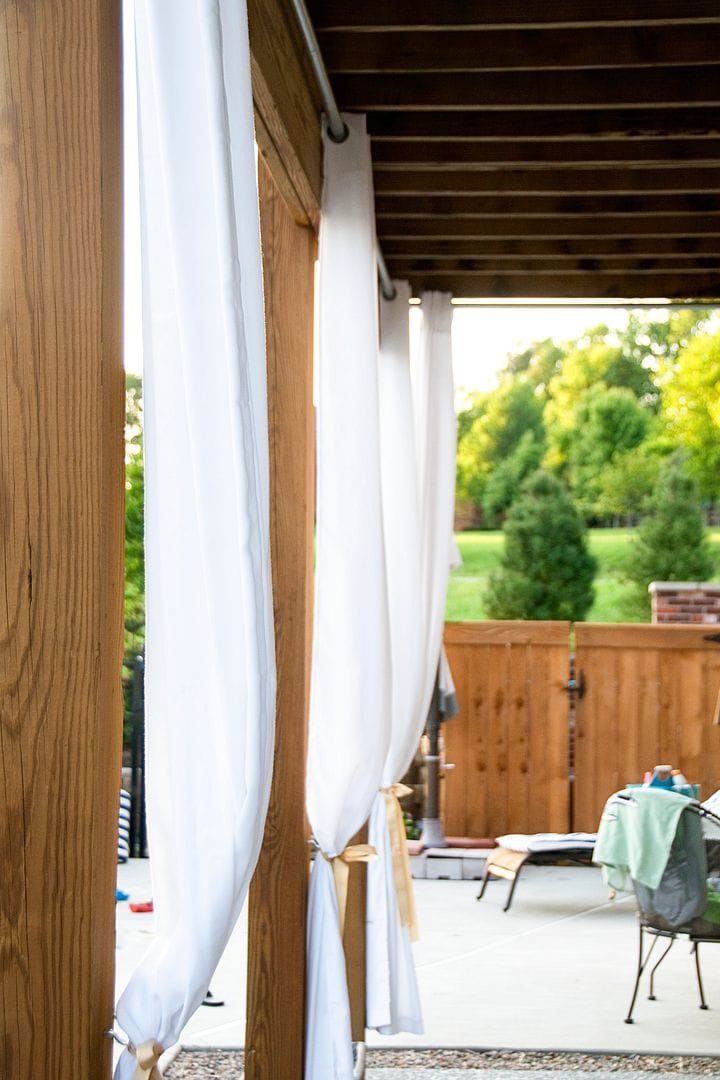 Curtains tied back.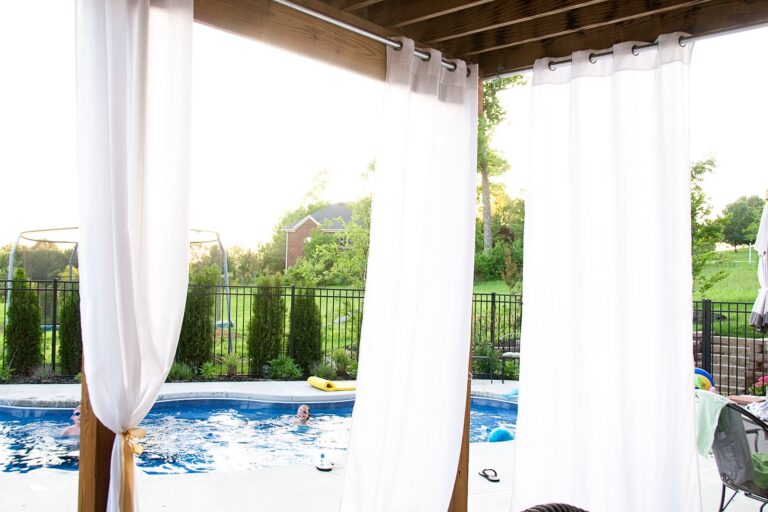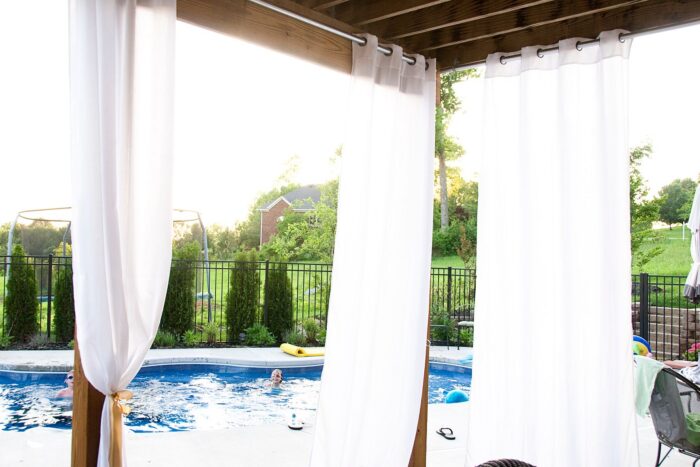 Curtains open to block the sun from coming to the side of the patio.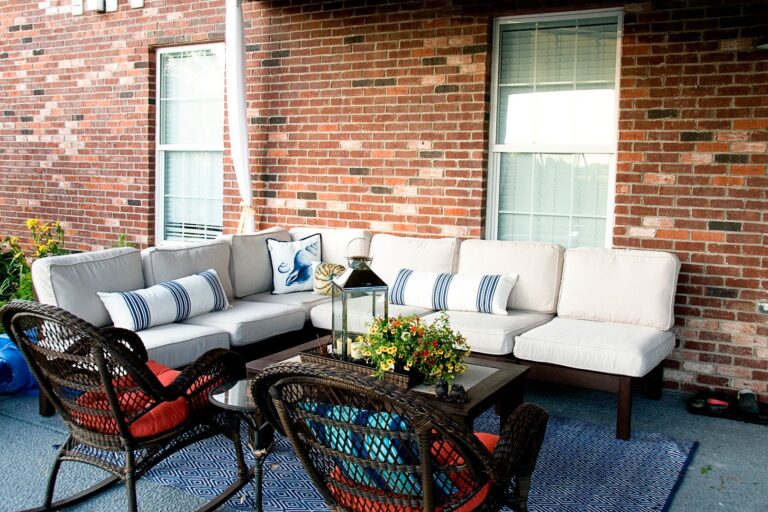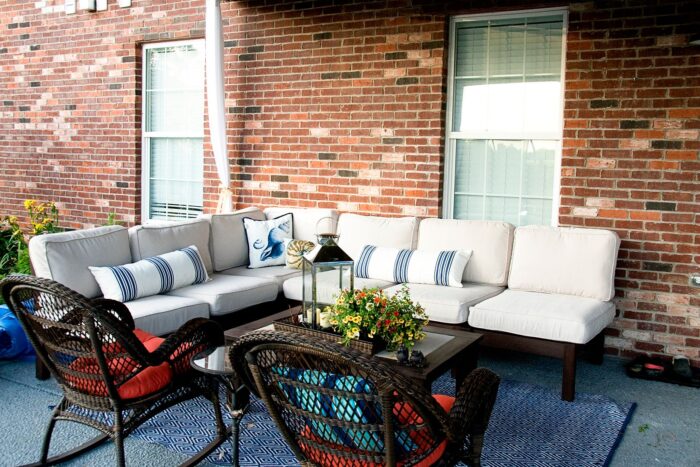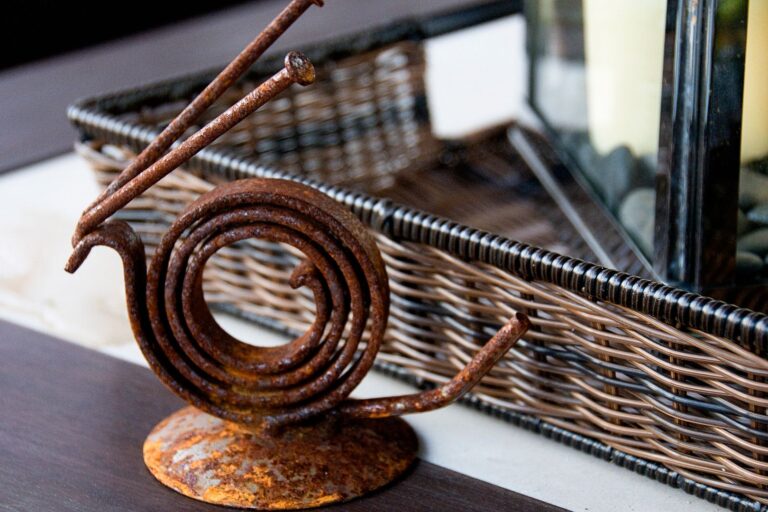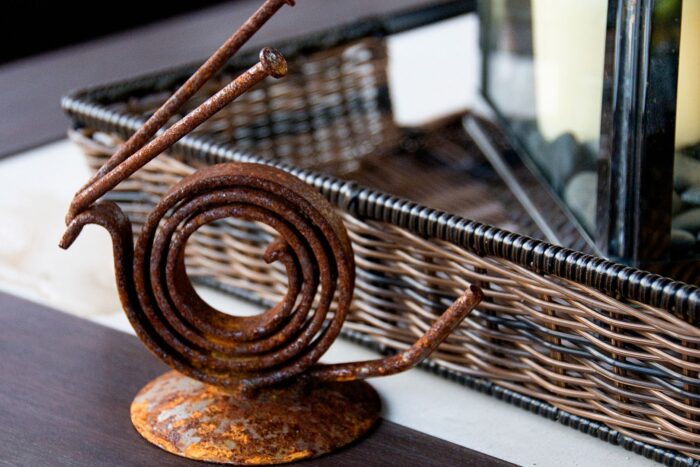 Sources
Outdoor Sofa (ours is discontinued, but this one is similar)
Coffee Table
Wicker Rocking Chairs (Similar here)
Outdoor Drapes
Some of the finishing touches… — snail is a Yard Bird… it's a local company, and they are way cool; I got to tour their warehouse last summer and loved it! I've got a couple more items on my "wish list" for this summer.