Turn a t-shirt into a summer maxi dress with this fun DIY Maxi Dress Pattern. A great DIY upcycle fashion project!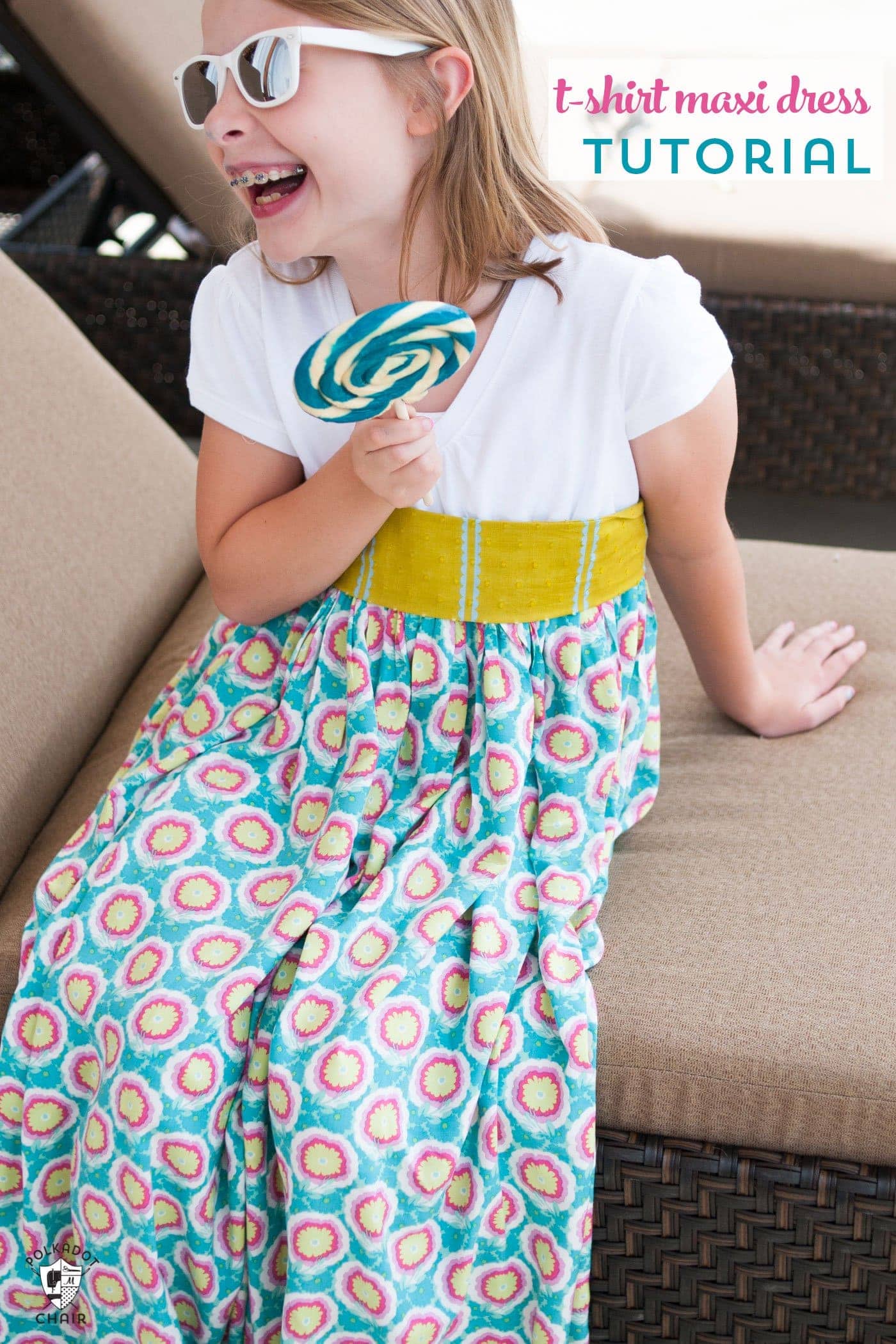 Many years ago, I got an idea to make a girl's maxi dress from a t-shirt. When she was younger, she loved to wear this dress... and had requested another one but this time with JUST fabric on the bottom. 
Table of Contents
She's all grown up now, but this t-shirt maxi dress lives on and has been passed down to cousins and friends. I love that my friends are appreciative of my kid's handmade hand-me-down dresses. The tutorial is a few years old but has managed to stand the test of time.
What Fabric to Use for the Skirt
This maxi dress is made from Voile. I love the light, airy fabric, which is perfect for summer. Voile fabric is a lightweight cotton fabric. It has a higher thread count than most cotton fabrics which gives it its signature sheen. It has a beautiful drape and is perfect to use for apparel sewing.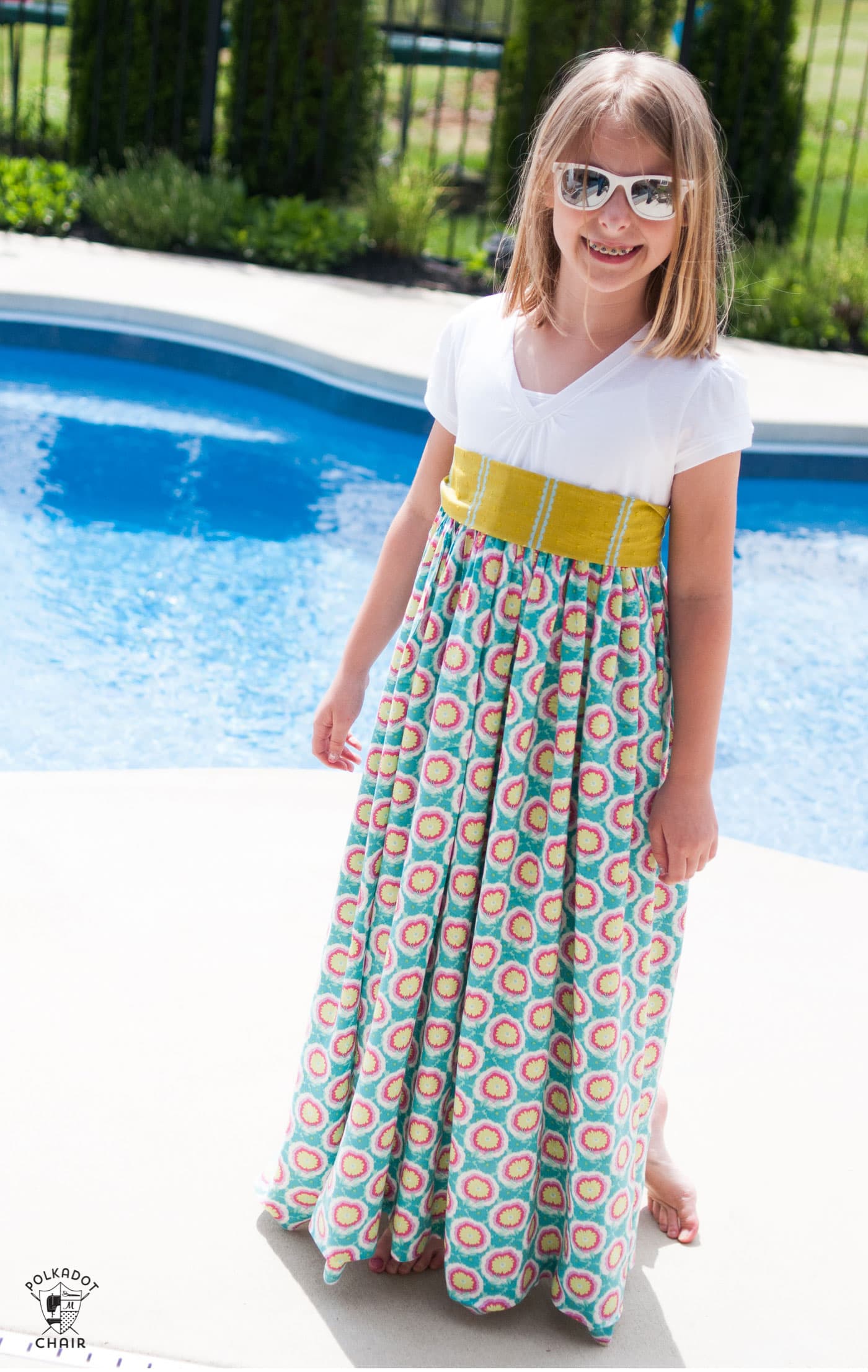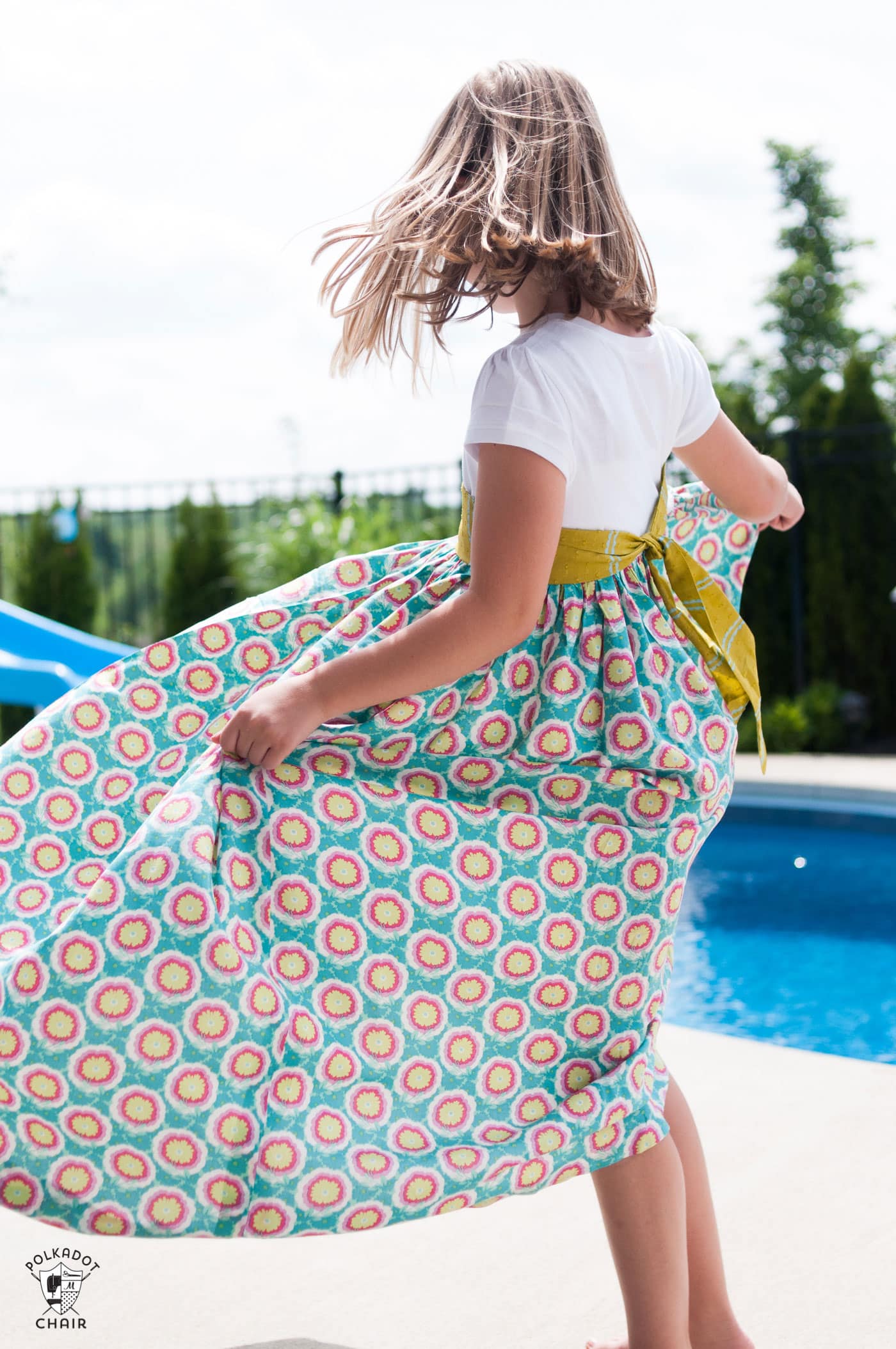 How to Turn a T-Shirt into a Maxi Dress
Ready to get started?
Supplies
T-shirt. It needs to fit snugly but not tight- if you're not sure of the size, go down a size. Mine is from Old Navy.
2 yards of Voile Fabric- You could also use Velveteen- but try to stick to something light and airy; otherwise, the dress will get heavy- if you want to make it for a taller than a size 10, you'll need more yardage
½ yard of Voile Fabric for the waistbant
Dress Sizing
The measurements for this dress will make approx a size 10- but you can adjust them easily to make other sizes.
Seam allowances are ½″
Instructions
Step One: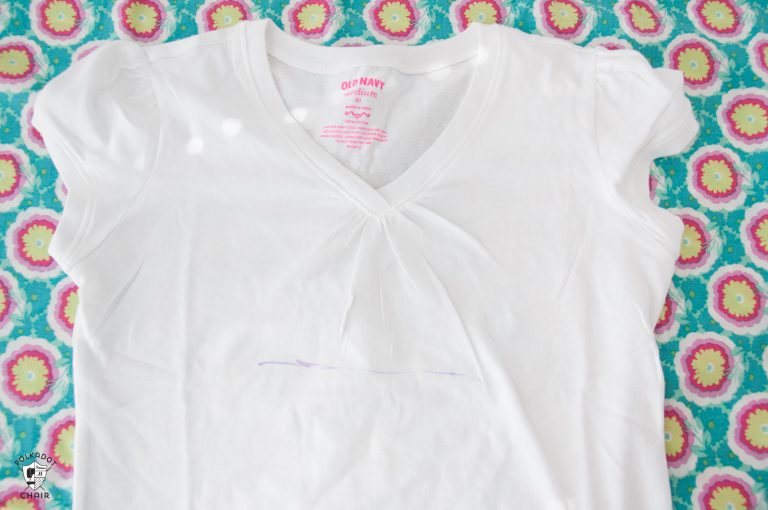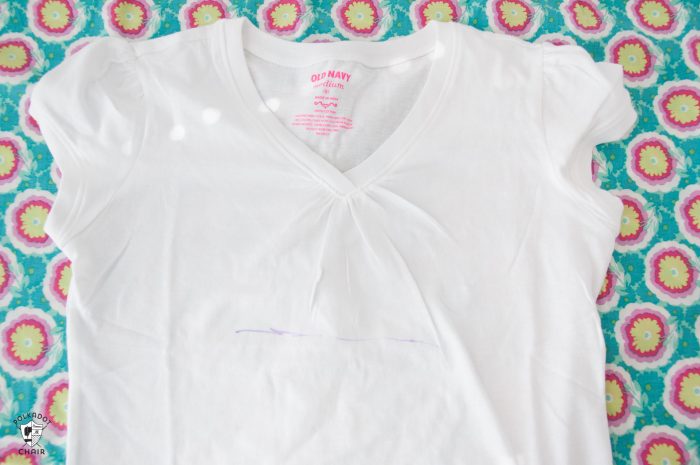 On your t-shirt make a mark approx 2″-3″ down from the bottom of the armholes.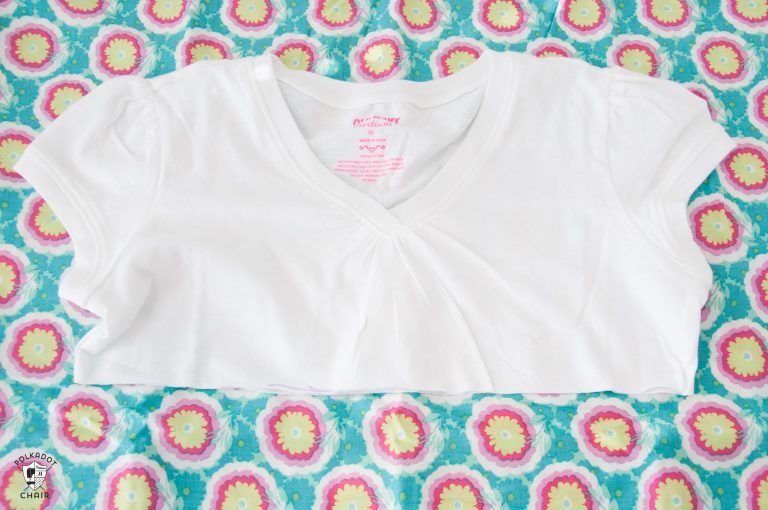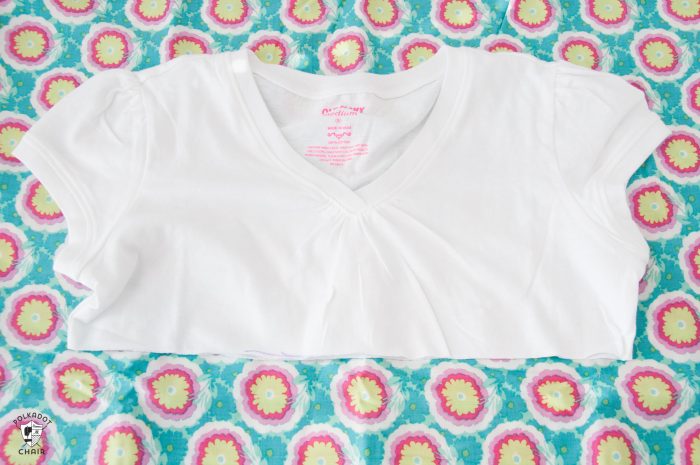 Cut off the bottom of the t-shirt. You don't need it, so you can save it for another project if you like.
Step Two:
Take the waist measurement of your model (or whomever you're making this dress for). Then double it- My daughter has a 25″ waist… in her case, each piece would be 50″ wide- and the Voile is 54″ wide… I decided to "go with" the extra fabric- and not cut off the extra 4″.
To figure the length, measure down from just under their armpits to the floor- Add about 1″ for hem and seam allowance. It turns out that 36″ was the perfect length to use on my daughter- if yours is taller or shorter, adjust here.
You'll want 2 pieces of fabric that are double the waist measurement by your height measurement.
>In my case they were 2 pieces 54″ wide by 36″ long.
Stitch the 2 pieces together along the 36″ sides. Press seams open.
Step Three: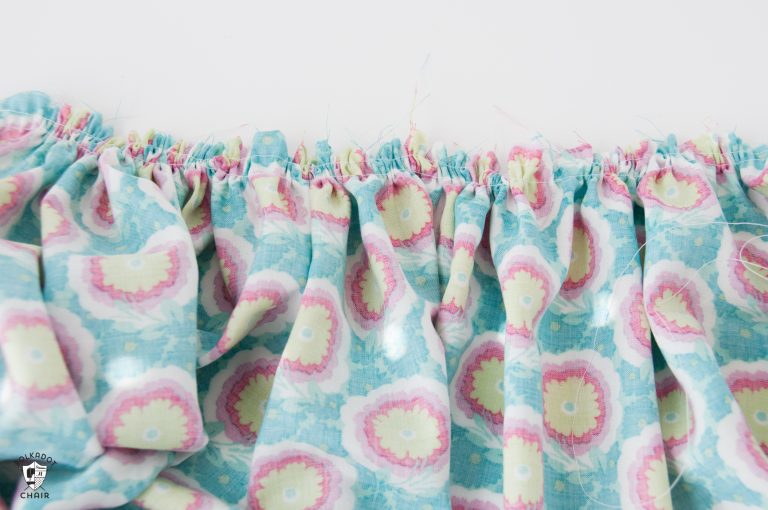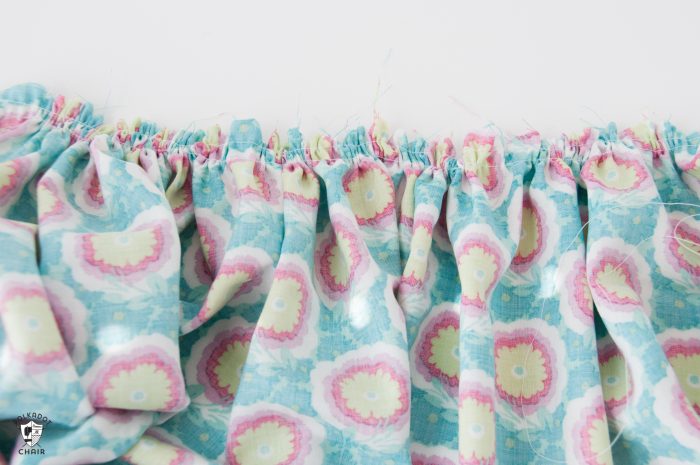 Run 2 rows of gathering stitches along the top edge, pull up on stitches to gather the skirt.
Fit the skirt into the t-shirt, right sides together- adjust gathers so that the skirt portion fits into the t-shirt portion.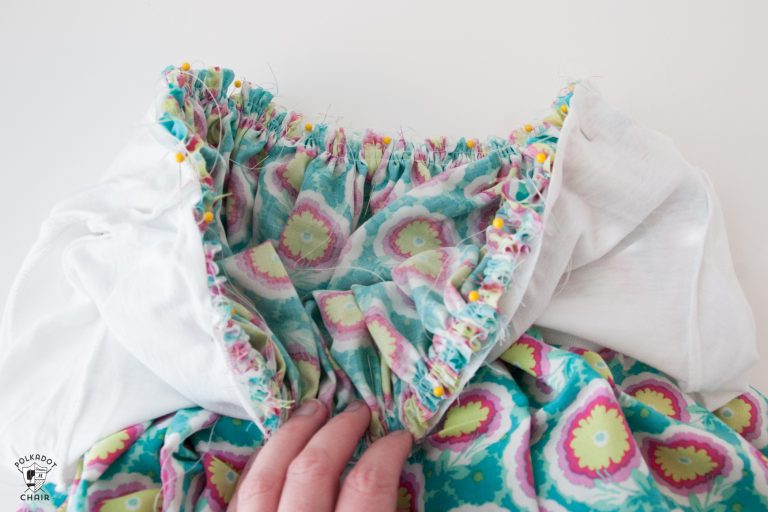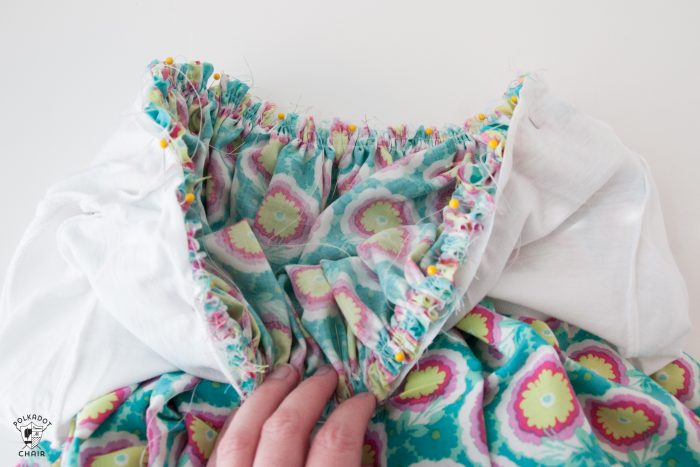 Stitch skirt portion to t-shirt portion, being careful not to pull on the t-shirt as you sew (you don't want it to stretch out too much)
Step Four: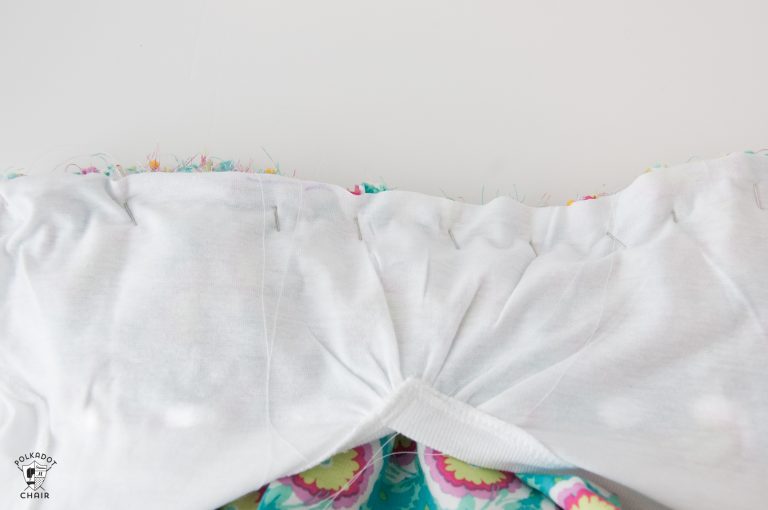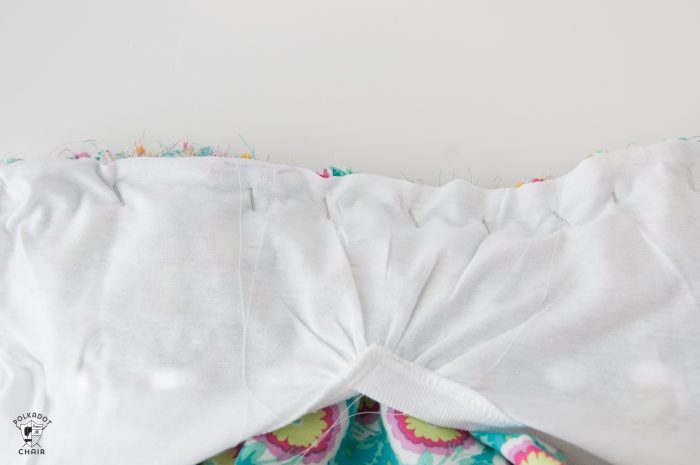 Turn right side out, and press well.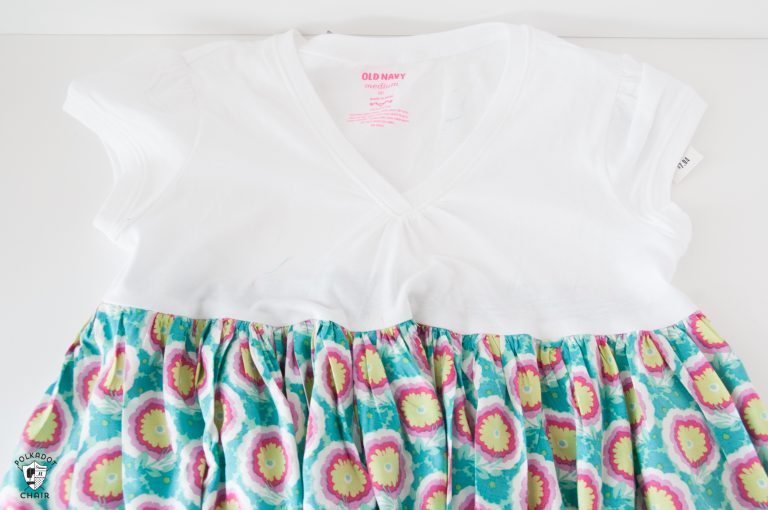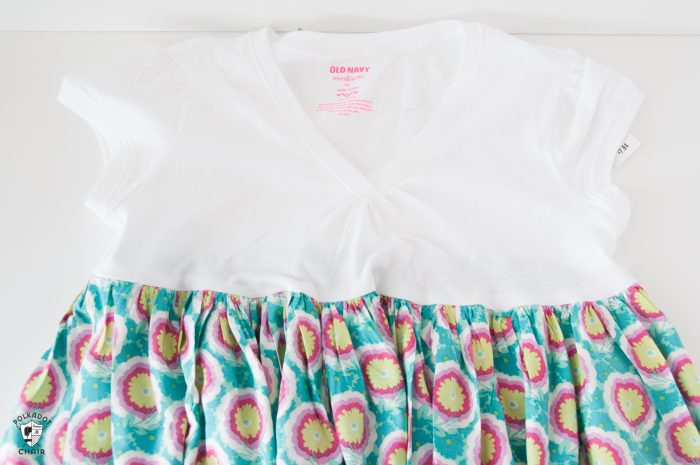 Step Five:
To make the sash.
Cut a piece of fabric 6″ wide by 54″. (it was 54″ wide since it was a Voile fabric).
Fold in half, miter corners. Stitch together leaving a 2″ opening in the center.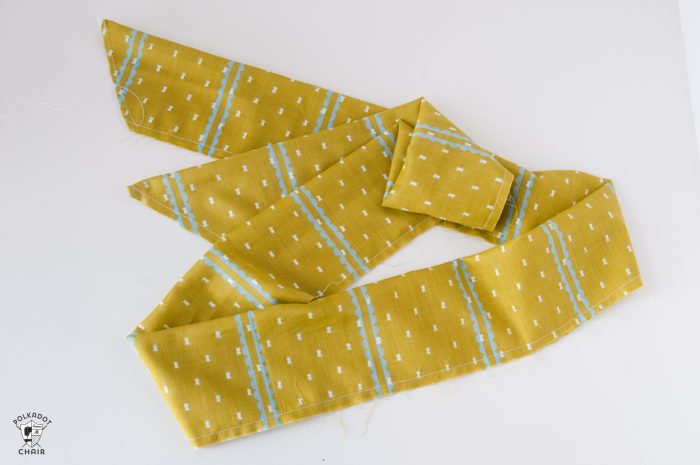 Turn right side out- slip stitch opening closed. Press.
You May Also Like:
How to Make a Dress from Two T-Shirts
Summer Dress Patterns for Girls