Learn how to hang outdoor curtains under a deck by hacking aluminum fencing into DIY Outdoor Curtain Rods. It's easier than you think to build your own outdoor curtain rods and will save you so much money. We have had ours up for years now and still love how well they work!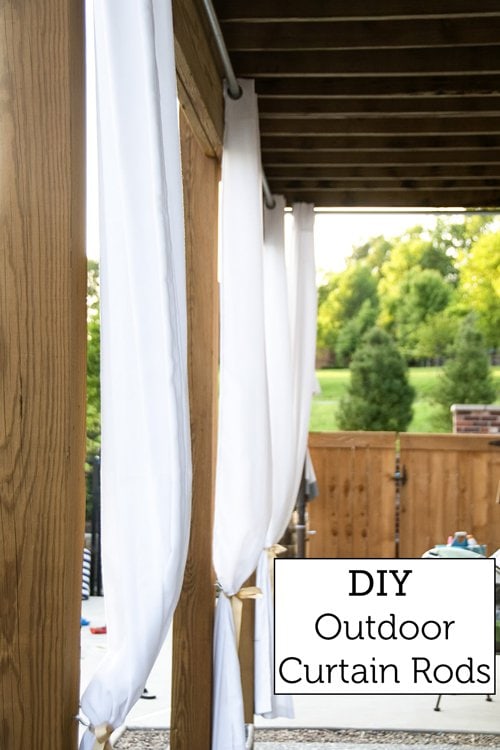 Table of Contents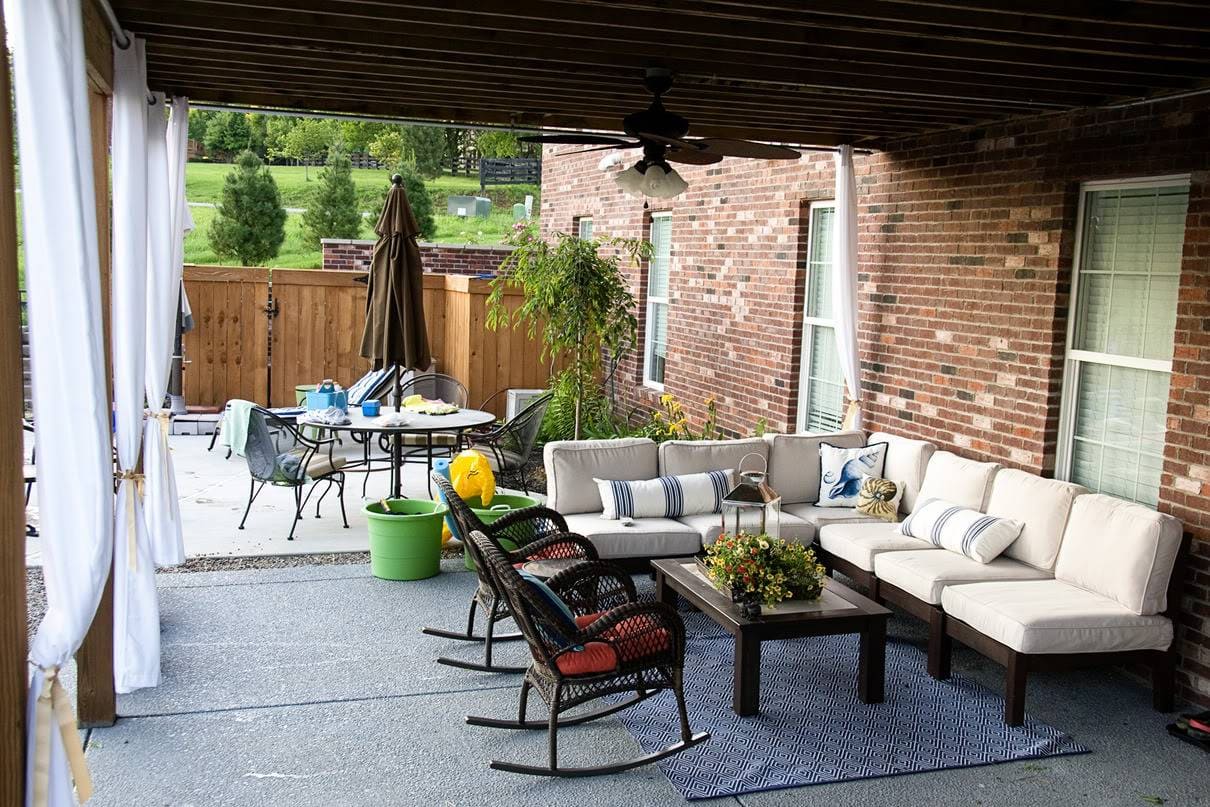 Last week I shared some photos of an outdoor room that I've been working on since March. You can see photos of the space under our deck.
Today I wanted to share a few more details about the outdoor living space. I'll also show you how we hung outdoor curtains under our deck to give us a bit of privacy and block out some of the afternoon sun.
I've still got several projects "to do" out there, but it's a good start, and now that the weather has turned to summer, I should be able to get them done!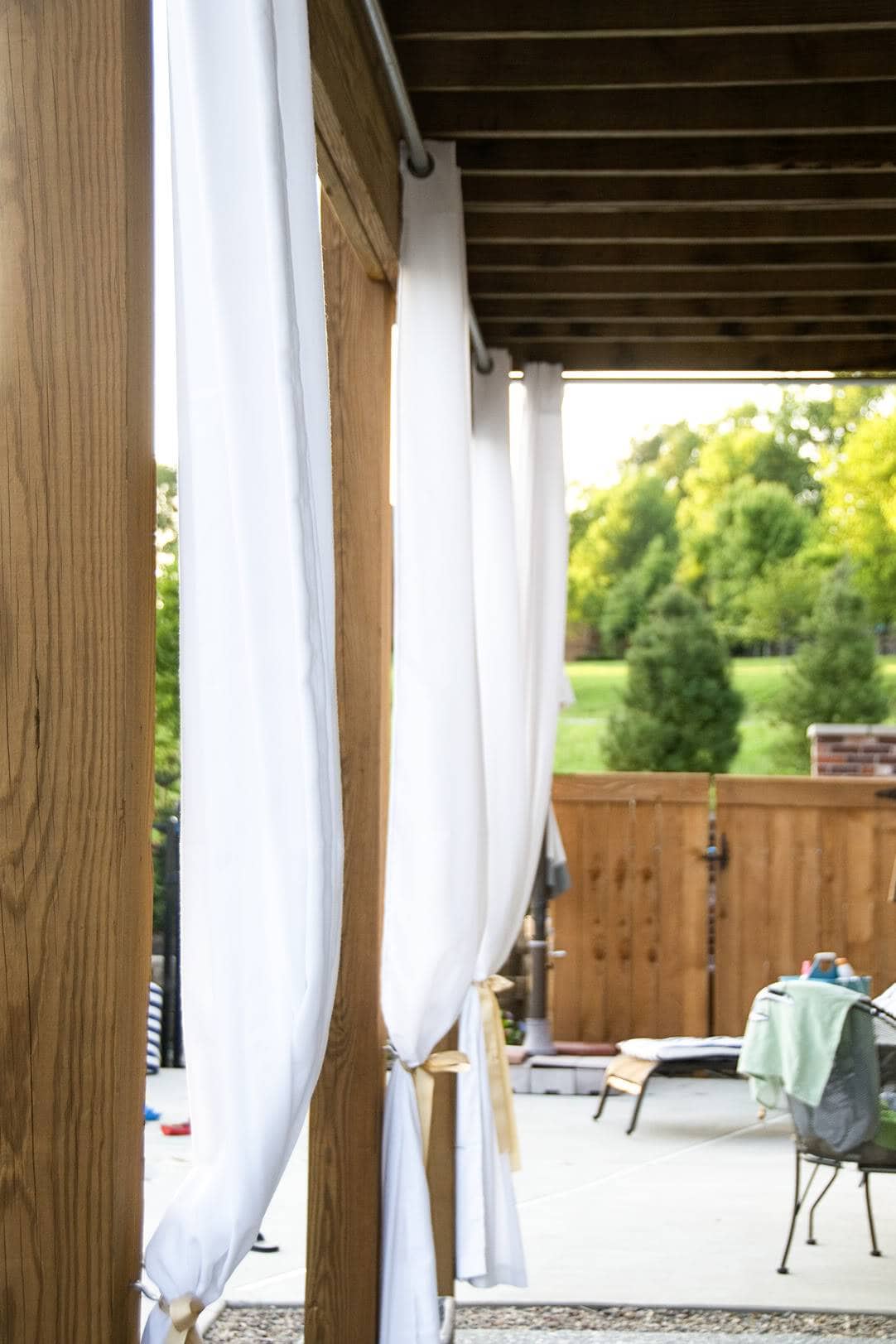 I knew I wanted outdoor drapes under the deck. I debated buying the curtains or making them. After much research at my local fabric store and online, I elected to buy curtain panels. I got them at a reasonable price.
Since I could not find outdoor fabric locally at a reasonable price, it ended up being close to a "wash" financially. For this reason, I elected to save time purchase mildew-resistant outdoor curtains instead.
How to Make Outdoor Curtain Rods
I found pre-made outdoor drapes at a reasonable price. However, I could not say the same thing about outdoor drapery rods especially because our deck is 20′ x 16′. That's a whole lot of drapery rod!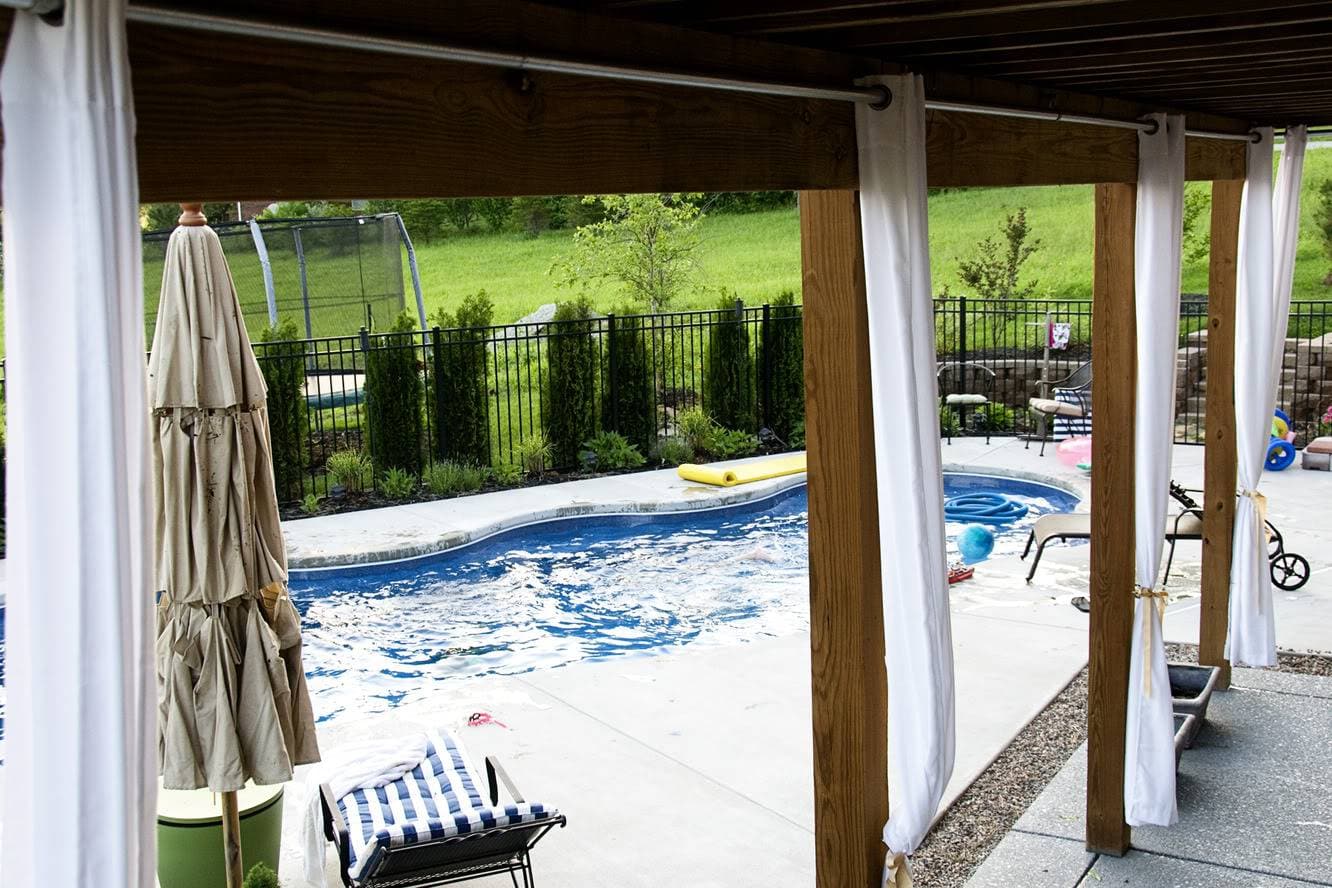 One night, I wandered the aisles at Lowe's and walked past the chain link fencing aisle; I realized the poles for chain link fencing would make great drapery rods!
They are made to be outside
They are inexpensive
Easy to cut to the right size
I was even more excited when I realized that I could use some of the chain-link fencing materials and hang the curtain rods!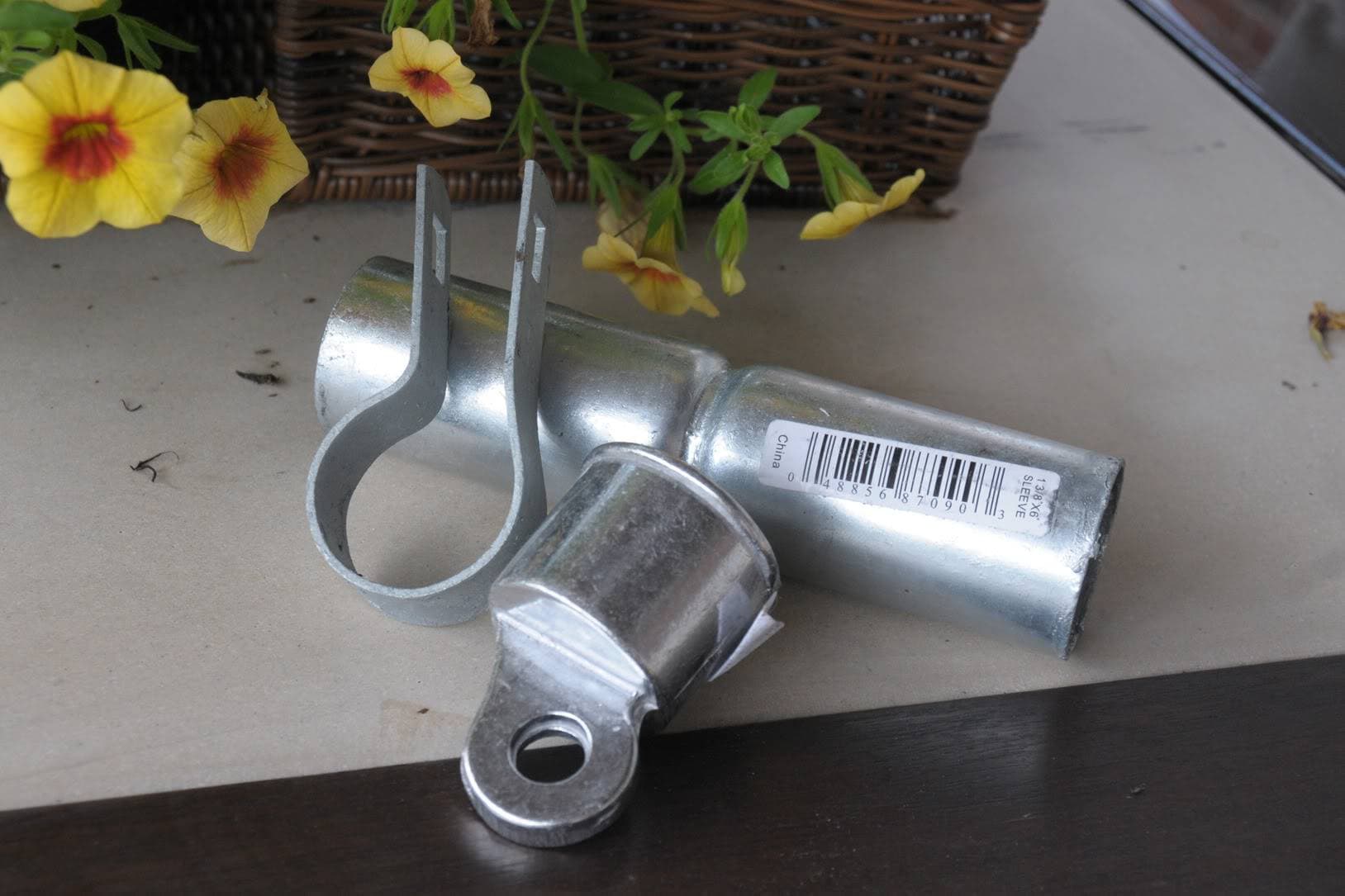 Supplies
Chain Link Fencing Poles – Measure your space so you know how many to buy
Hand saw than can cut the rods
U-shaped brackets (buy in the chain-link aisle) You need one for each end of the rod and one to two for the center of the rods.
Bolts & nuts that fit in the U shaped bracket
End Caps for Chain Link Fencing
Drill
Mildew resistant or UV protected drapes are made for an outdoor spaces. I used curtains that had grommets.
DIY Outdoor Curtain Rod Instructions
Step One:
I purchased fence poles that I knew would fit my curtains' rings. Then I had my husband cut them to size.
The poles are meant to lock together with a large side and a tapered side, so make sure that you cut the correct end of the pole, so they will still fit together.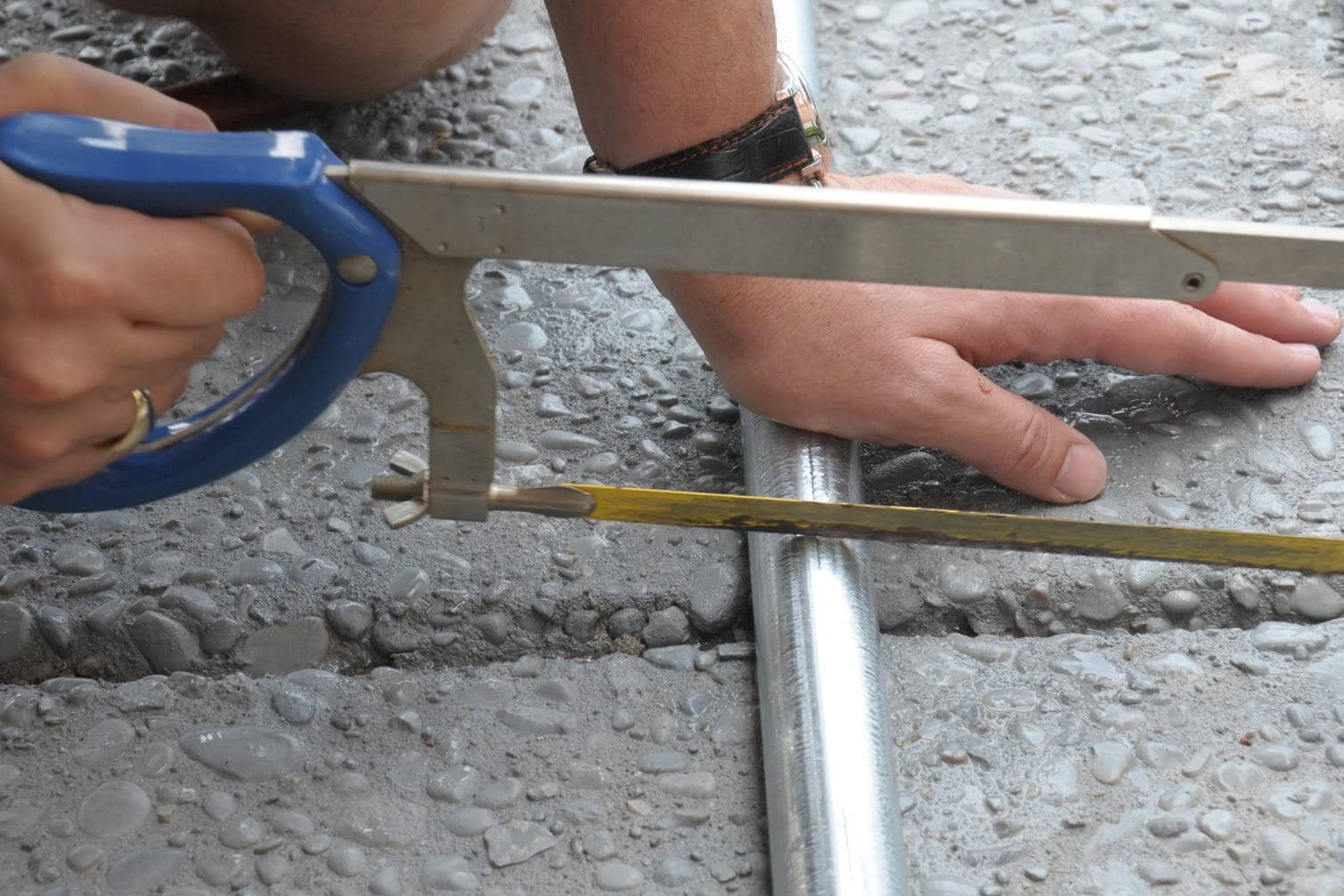 Step Two:
When you have the rod the correct size, feed the drapes onto the rod. Then at the rod center (where you joined the 2 pieces if you needed to do that) and the 2 ends of the rod, attach the U-shaped bracket (it's sold right next to the fencing, make sure you get the right size).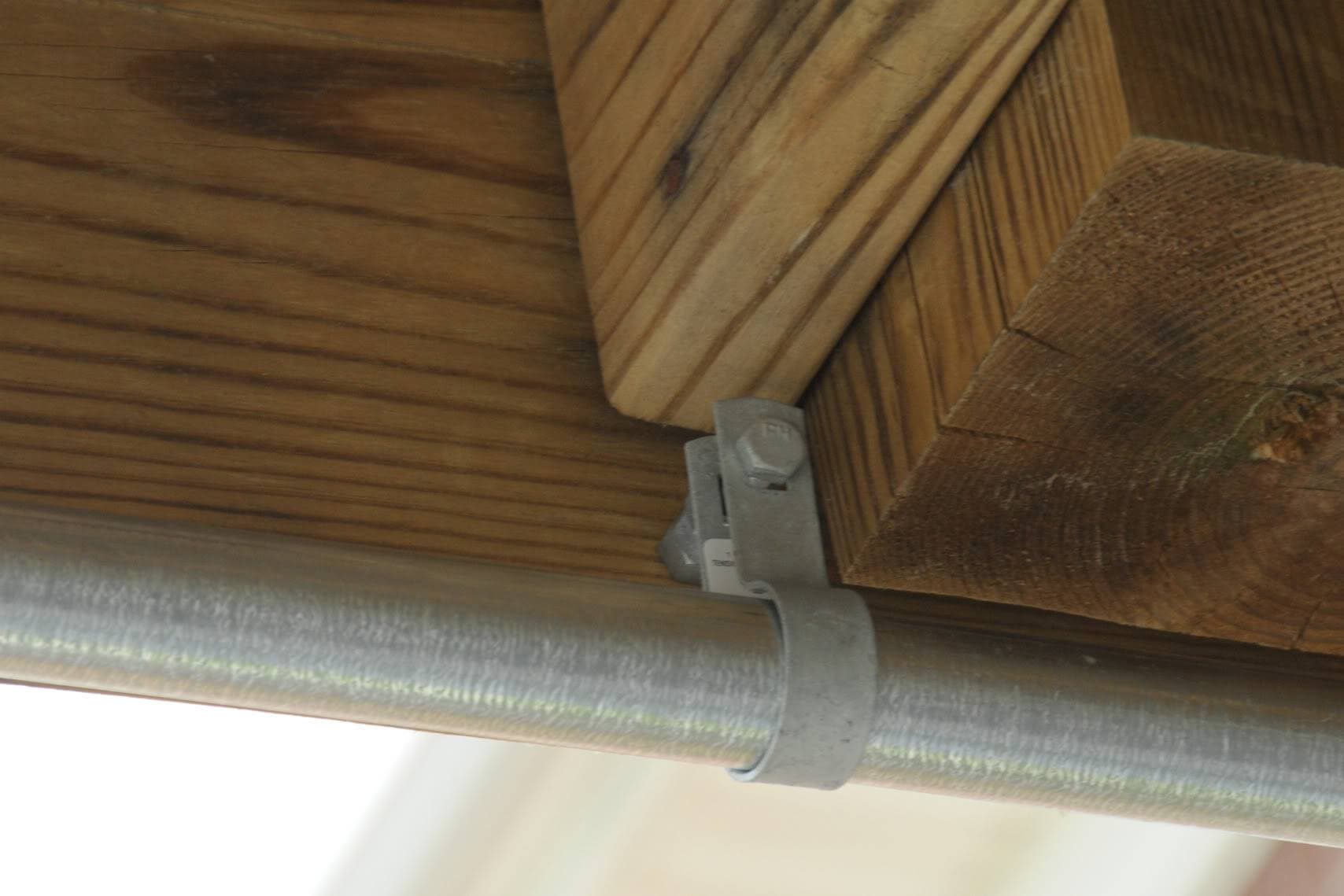 TIP: something to keep in mind. The curtain rod cannot be flush up against the underside of the deck; otherwise, the drapes will not slide back and forth on the rod easily.
My husband and I sat and argued in Lowe's for about an hour on how to fix this problem… to save you a potential argument; I'll tell you what we figured out.
Buy a LONG bolt to go through the U-shaped bracket. Feed the bolt through the bracket, then behind the bracket, attach 3 nuts. This will give you a good buffer between the bracket and the wood.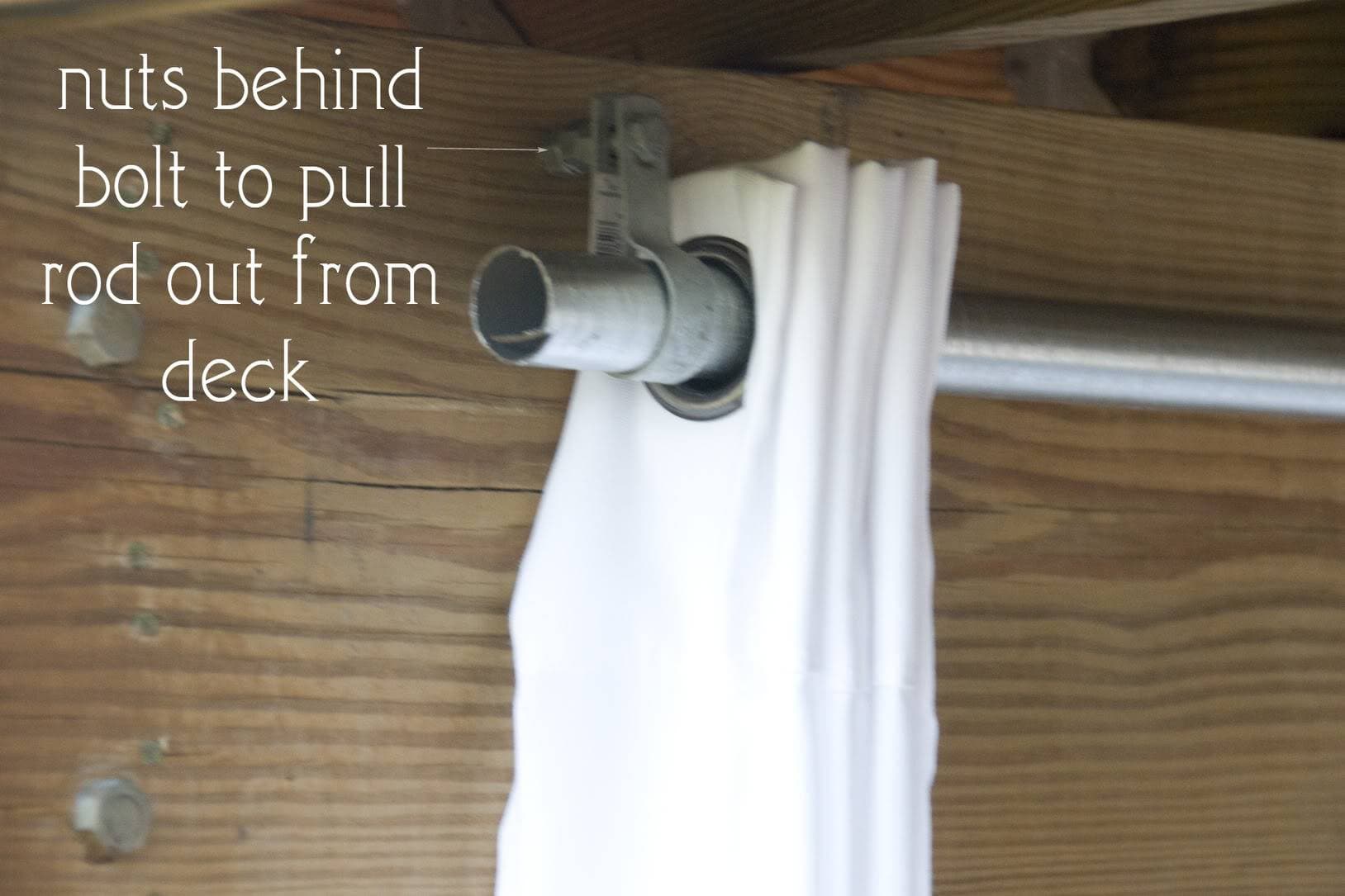 Step Three:
To finish up. You can add the end caps to the ends of the poles to make them look nicer.
If you live in a windy area like me, you'll want to attach the drapes to the deck to keep them from blowing away.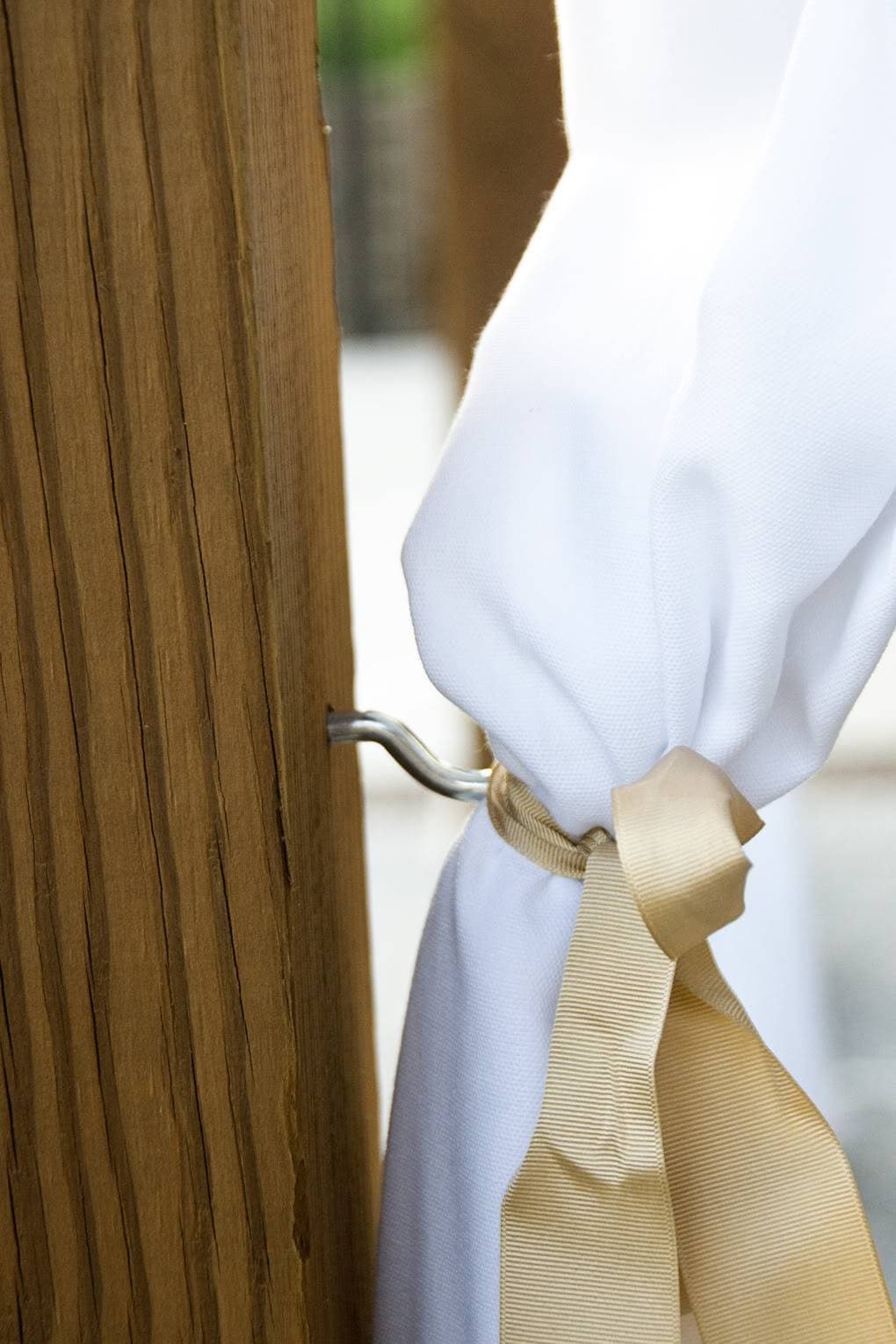 I installed a hook to the beams on the deck and then used some hemp grosgrain ribbon to make a tie back. The hemp ribbon is a bit stiffer than normal grosgrain… I also got it in bulk, so if the tie-backs start to look bad, I'll replace them.
How to Keep Outdoor Curtains From Blowing in the Wind
After a few summers with our drapes blowing away every time we needed to use them, we finally figured out a solution to keep them from blowing. We realized that the drapes needed to be attached to keep them from blowing.
Purchase small clips from IKEA meant to be used for sliding drapery. When the drapes are down, use the small clips to clip the drapes to each other along the sides.
Then clip the curtain closest to the beam to the actual beam. This makes one large curtain that is attached to the side post of the deck.
So when the wind blows, the curtains stayed mostly in place.
We tried using curtain weights, but they did not work. Clipping the curtains to each other worked much better. We keep a small bowl of the clips outside on our coffee table, so they are close by when we need them.
You can also use oversized paper clips. Just make sure you take them inside when you're done with them.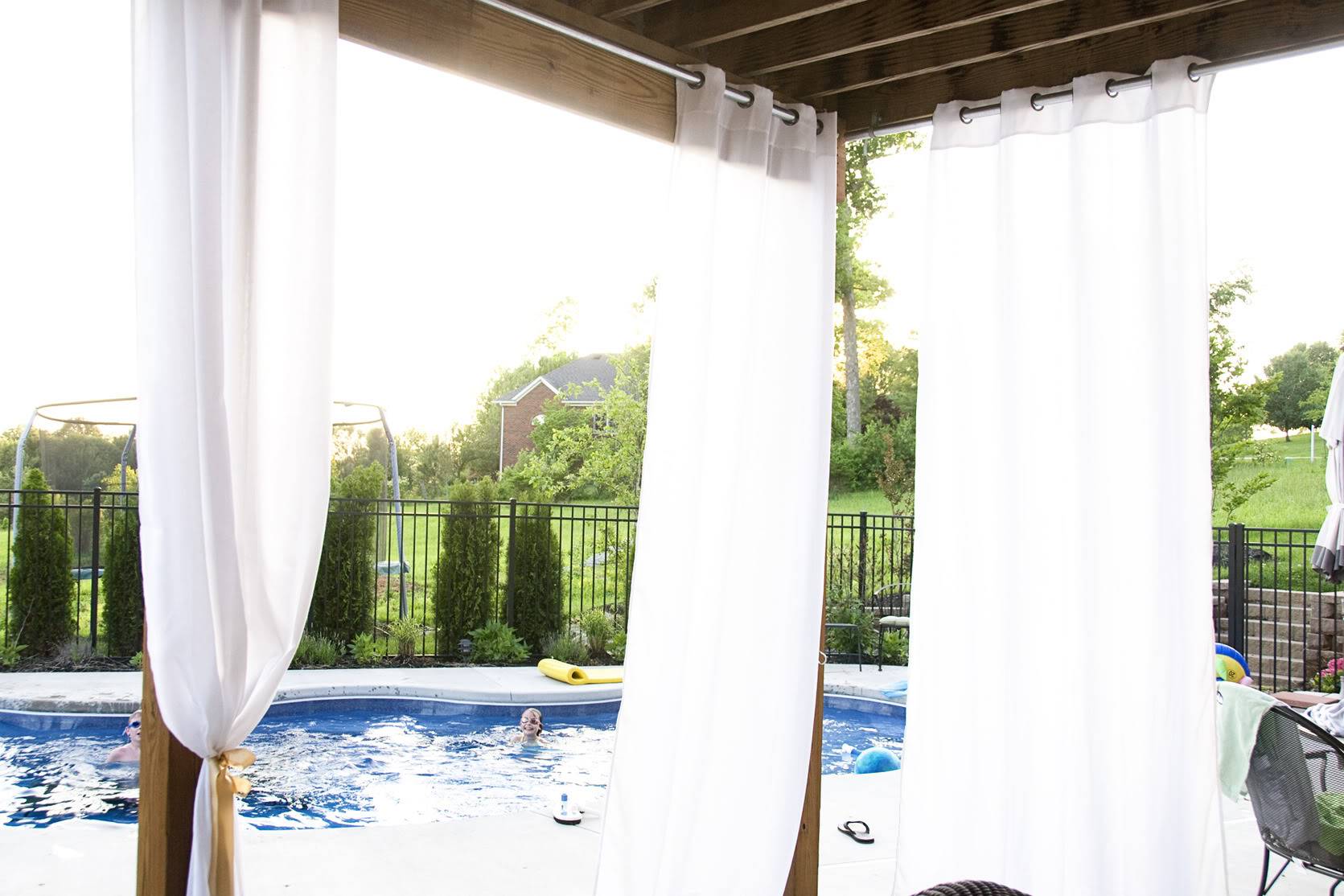 Final Thoughts & Tips
In the evening, the sun comes in so bright through this side of the patio (it gets right in your eyes!) So far, it's been great to be able to close the drape and get some shade, so we can still enjoy the patio in the evenings!
I've received many questions about the outdoor room. I'm planning an FAQ post on it soon, so if you have questions about the drapes, leave a comment, and I'll answer them in that post!
More Outdoor DIY Projects:
How to Build an Outdoor Fire Pit
Seating Ideas for an Outdoor Fire Pit