Today I'm excited to share a free addition that I've made to my Alice Bag Sewing pattern. When I designed the Alice bag, my idea was to make a basic circle purse pattern. Then find ways to customize and personalize that basic round shape.
Since we are big Disney fans around here, it didn't take me long to figure out what "character" to turn the round bag pattern into next. His initials are the same as mine, MM, Mickey Mouse.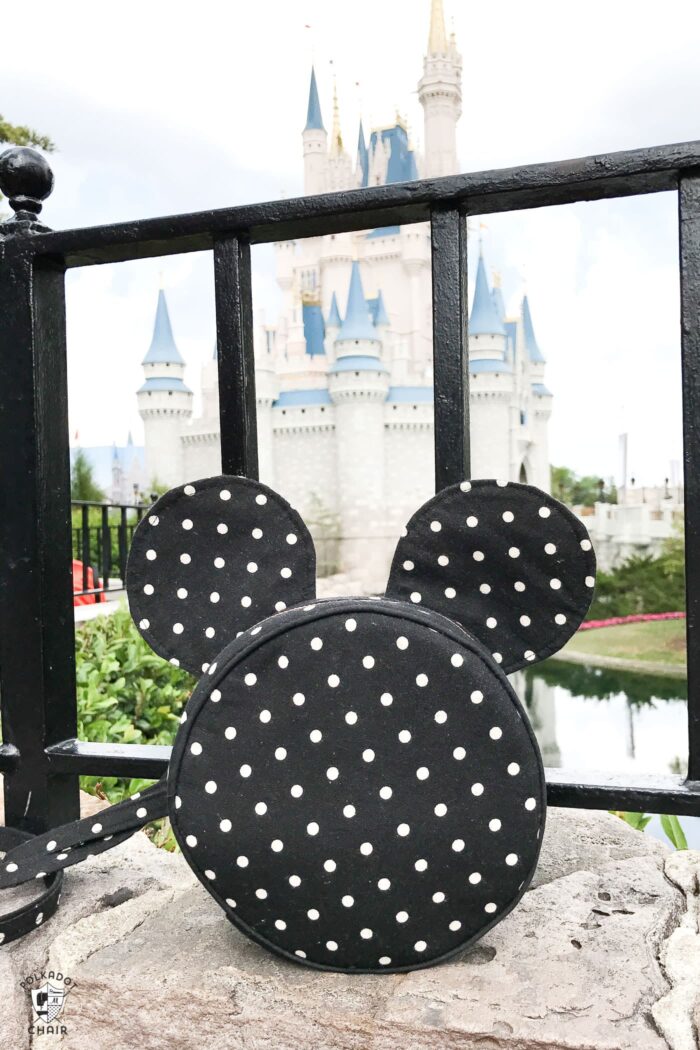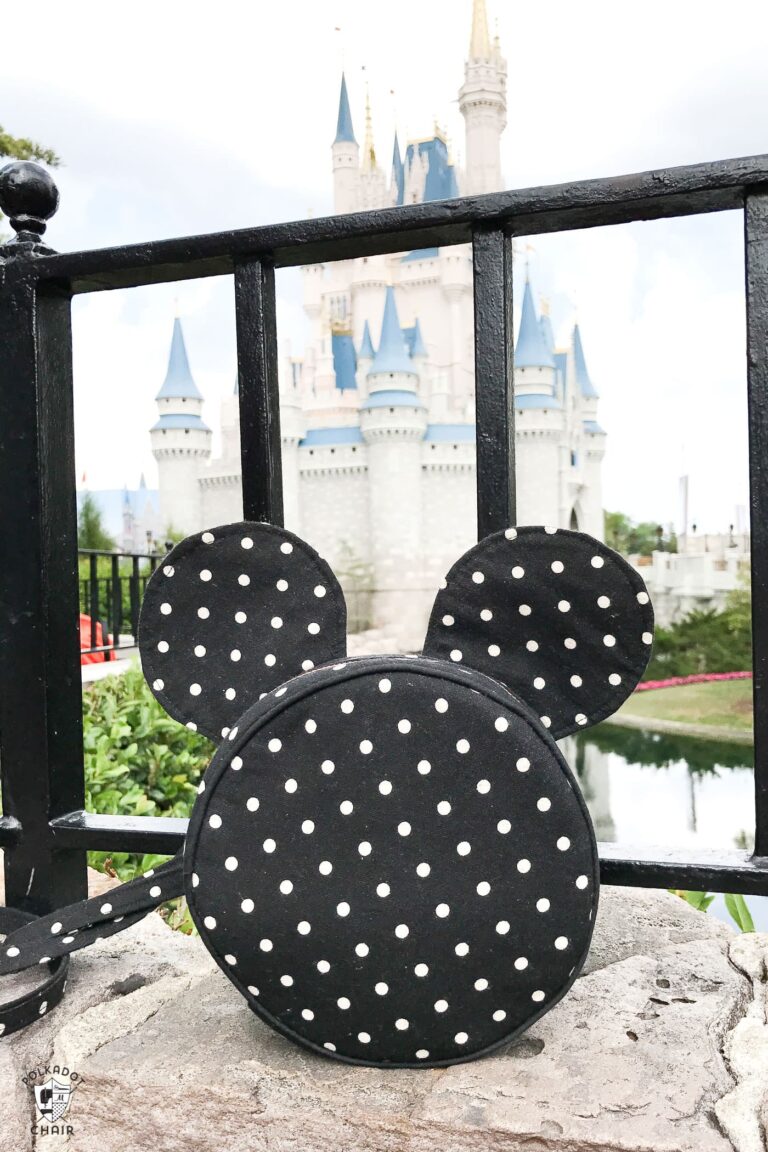 Table of Contents
Before we talk too much about pattern addition, I thought I'd share with you two fun Alice bag projects that were shared with me recently.
Finished Circle Purse Ideas
The first one is from Veronica of Sew Very.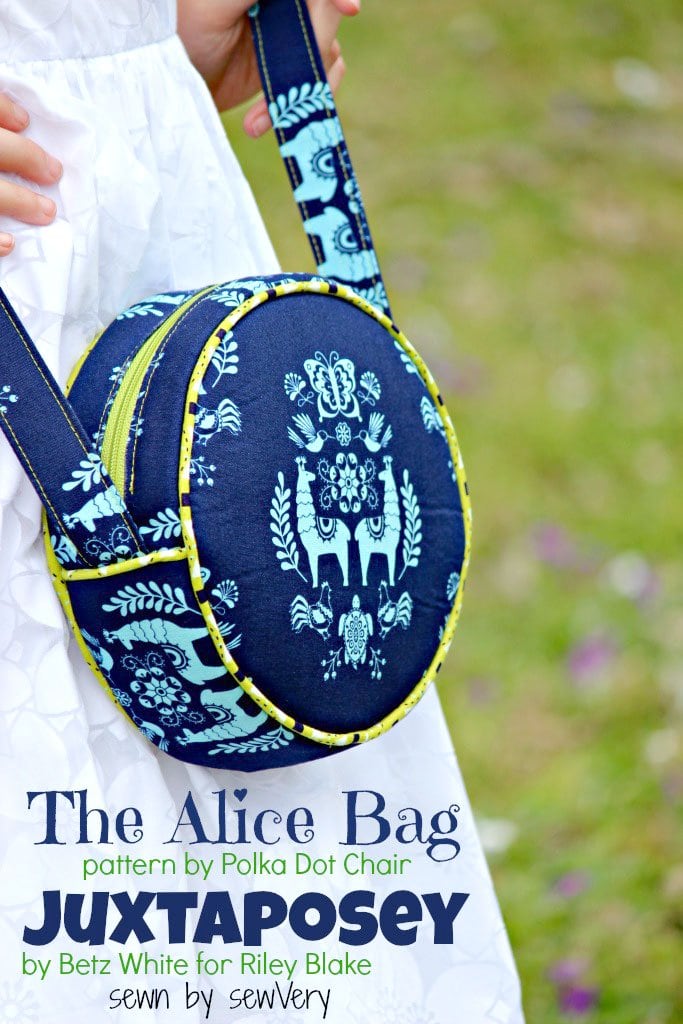 Juxtaposey Bag:
Veronica stitched up the Alice Bag's smaller size in Betz White's new fabric line, Juxtaposey. I love how she fussy cut the bag's front to show off one of the main motifs from the line.
She makes a few changes to the pattern that she talks about on her blog. She moved the cross-body straps to the zipper panel and hand-stitched the lining onto the zipper instead of finishing the raw edges with bias tape.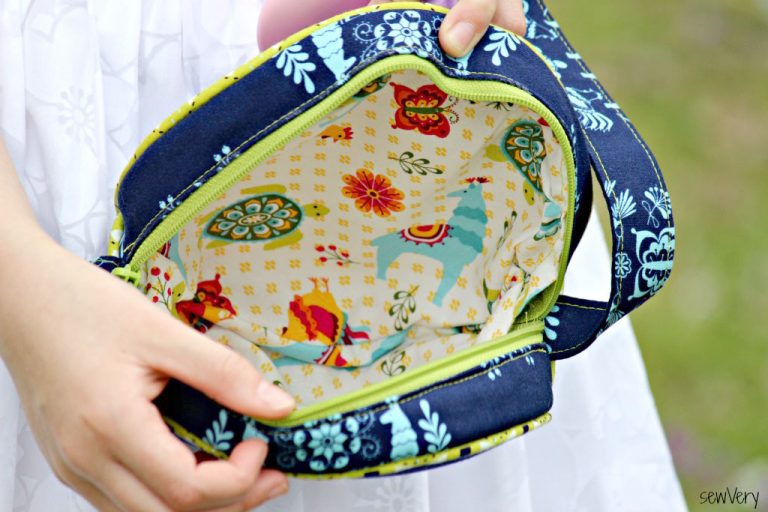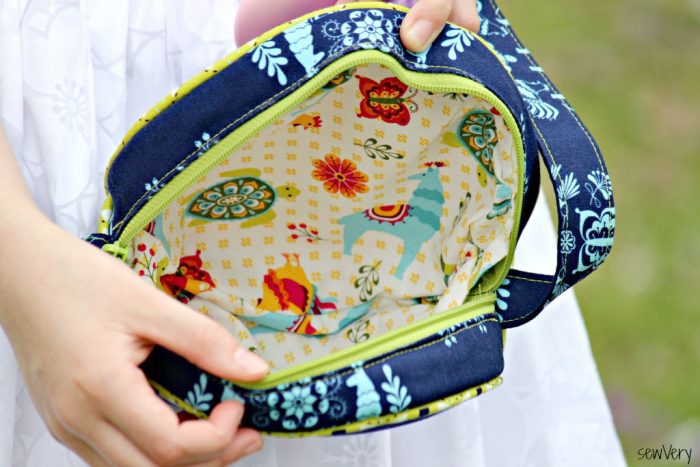 I actually made a bag where I put the straps on the zipper as she did when designing the pattern. When I did that, the only thing I noticed is that the bag does not sit upright when it's not hanging across your body; it kind of wobbles on the straps. This is really not a big deal at all since you're wearing it as a crossbody.
It does look really nice with the straps on the side like that, so I think it just comes down to personal preference. If you're interested in making the bag, hop on over and read her post, I think you'll find her sewing tips very helpful!
Bunny Round Bag:
The next bag I wanted to show you was made by Louise of Sew Sofia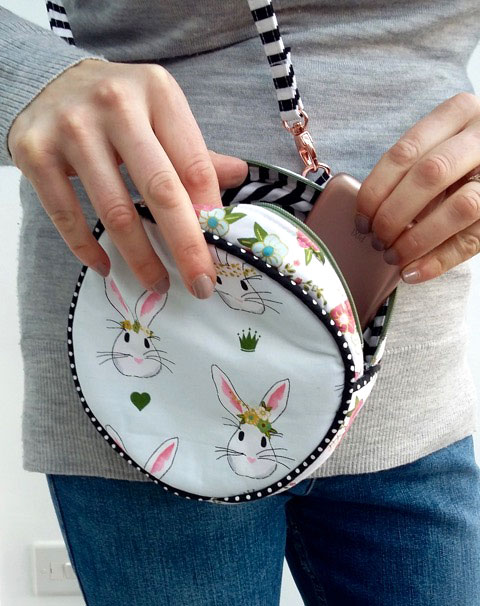 Louise stitched up the bag in some of the fabrics from the first Wonderland fabric line. She made a few minor changes, too; she made the crossbody strap on the back removable. Which I think is a great idea, that way, if you ever wanted to use the bag as a cosmetic bag instead of a crossbody bag, you could easily make a new strap.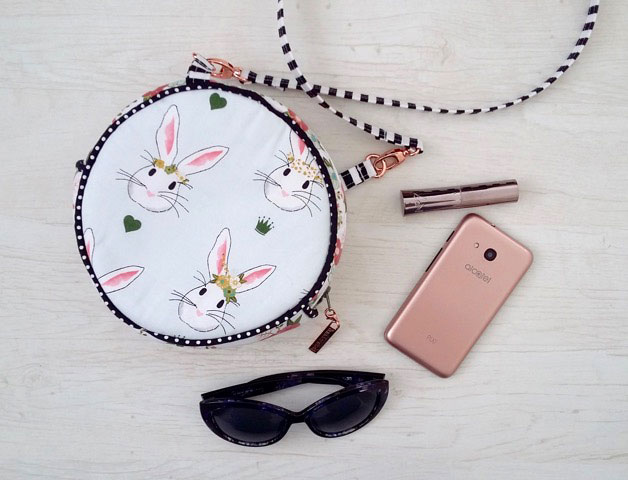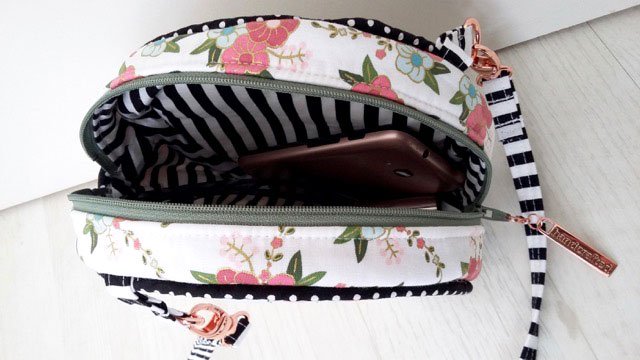 I'm also totally in love with the rose gold hardware she chose for her bag. Now I need to figure out where to pick some up stateside.
Louise lives in the UK and has an amazing Etsy shop where she sells handmade bags.
Mickey Mouse Purse Sewing Pattern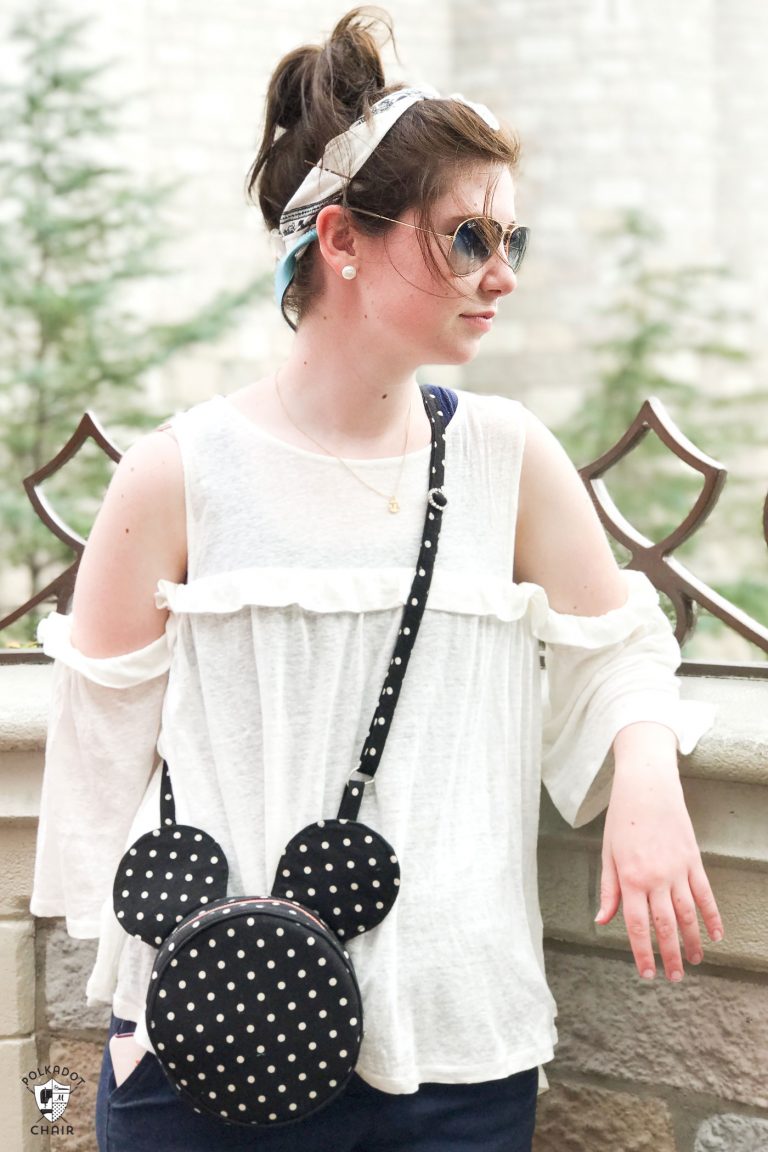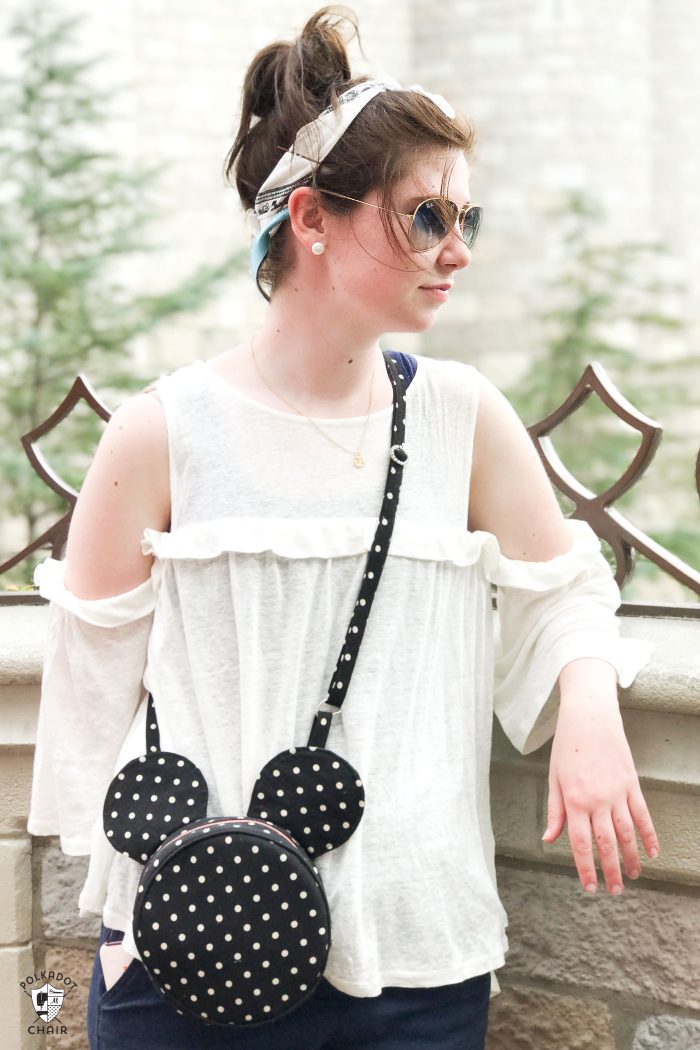 Okay, now onto that Mickey Mouse inspired bag.
For Spring break this year, we headed to Disney World; we have annual passes, so it just makes sense to go for the school breaks since part of the trip is already paid for.
Kate Spade did an ADORABLE line for Disney featuring Minnie Mouse bags; I was inspired by one of the small coin purses in the collection to create a Mickey version of my bag.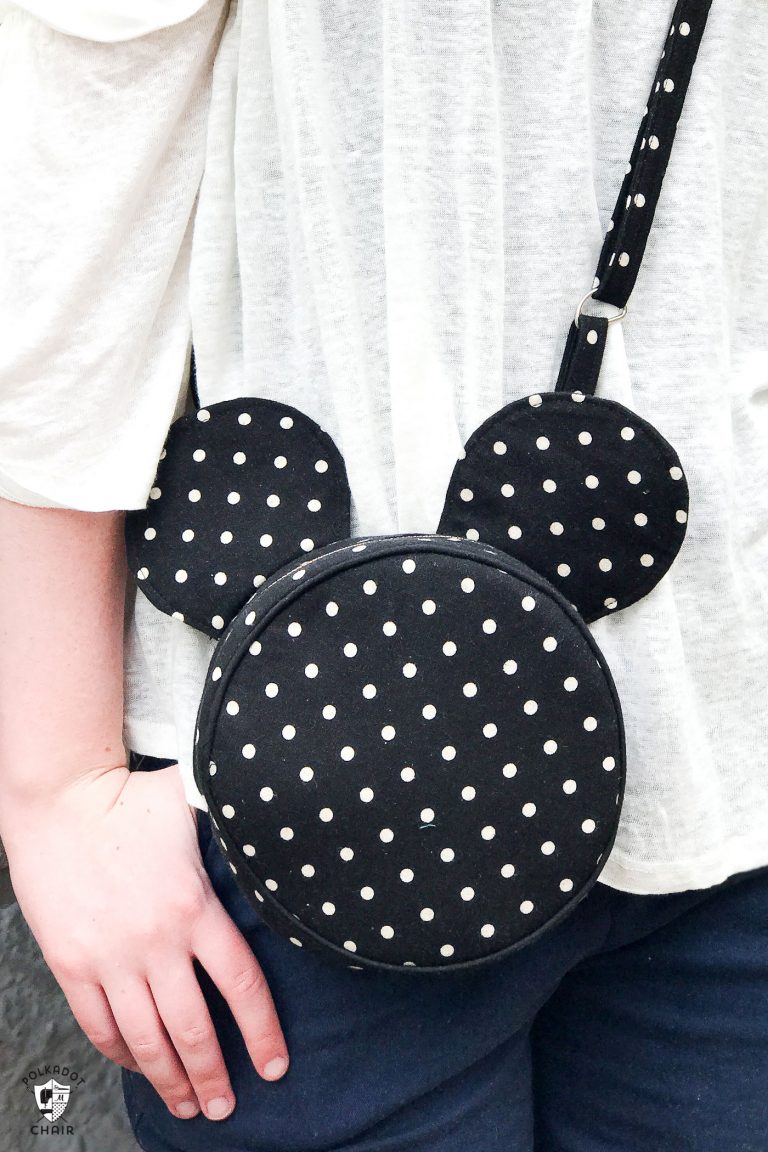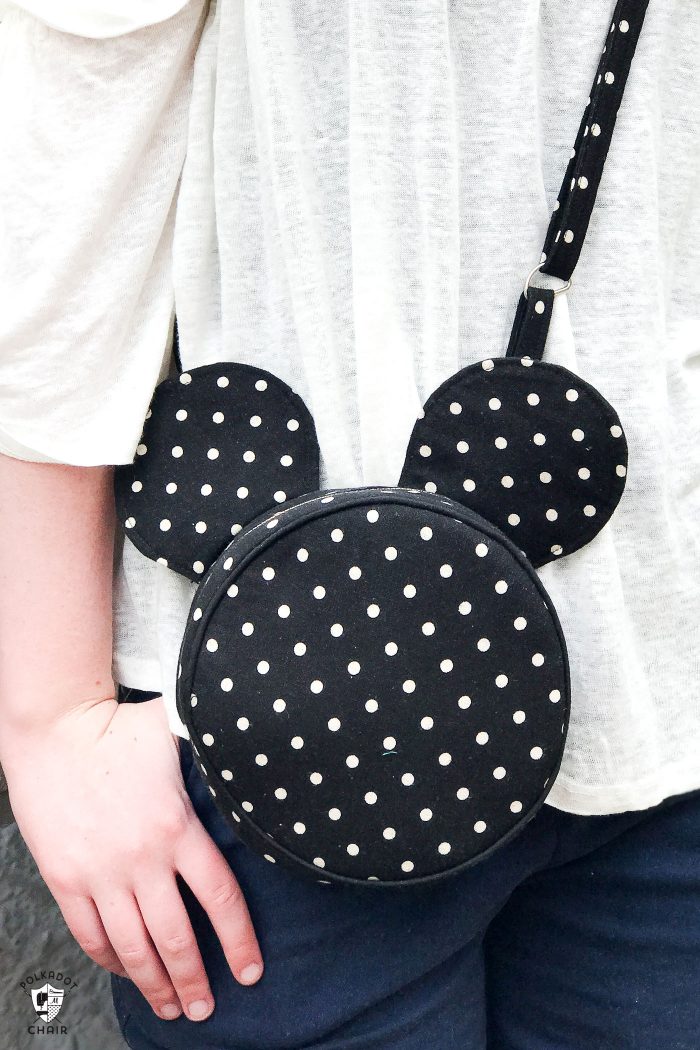 I made the bag and took it with me to Disney to photograph it thinking that I'd wear it a day then switch to another bag. I ended up carrying it the whole week.
Disney Bag Details
The bag is lightweight and just the right size for what I need for my days in the Disney Parks. It fit my phone (I have a 7+) hand sanitizer, gum, chapstick and a small wallet without any problems.
My oldest daughter was with us for a few days at Disney, so I convinced her to pose for a few photos in front of the famous "purple wall" for me since it's hard to take a selfie of yourself while you're wearing a bag!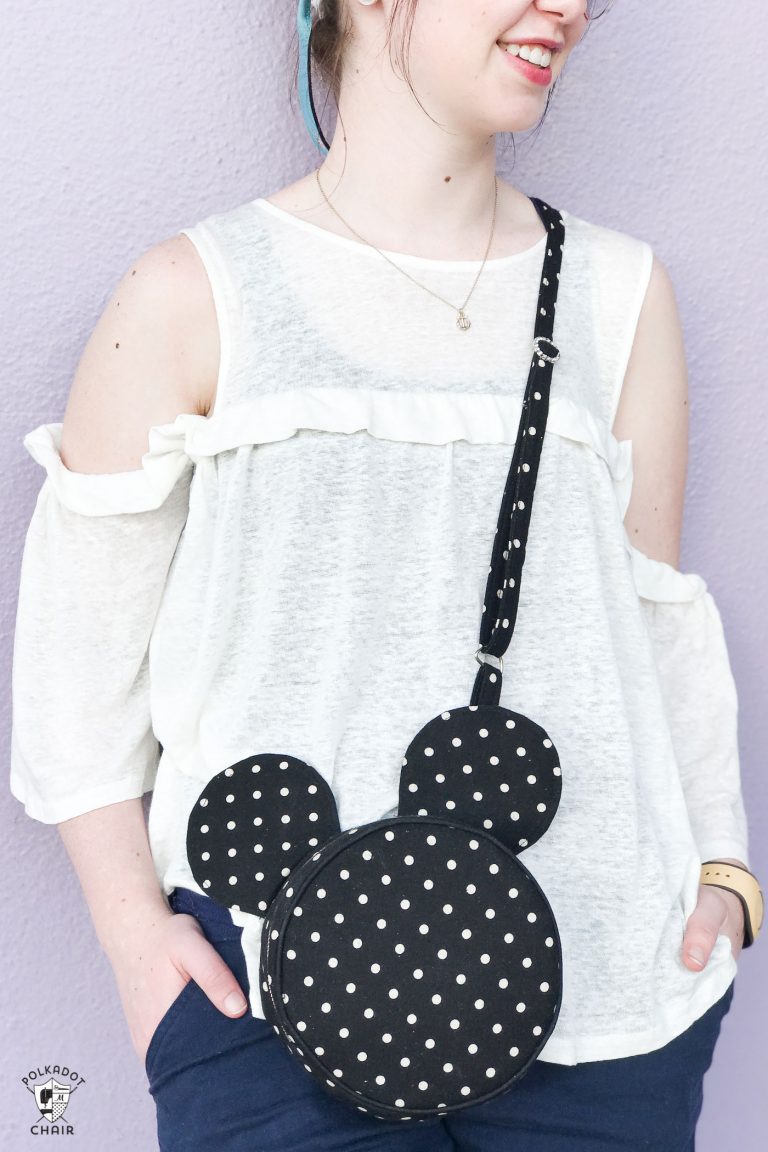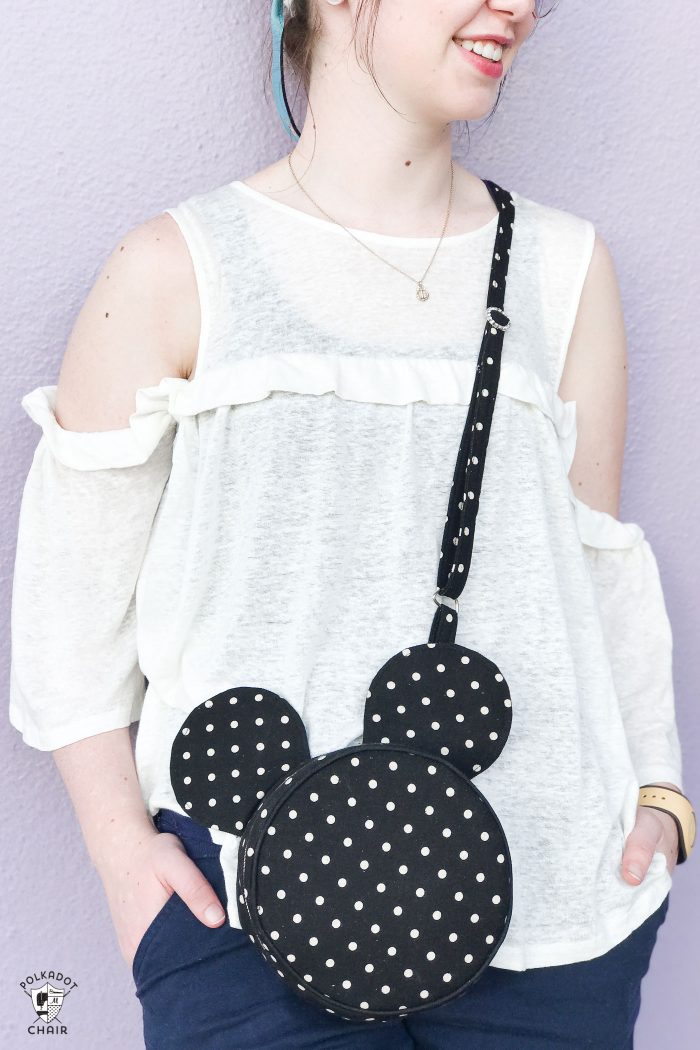 The construction of the bag is exactly the same as the original pattern, with the exception of the addition of the round Mickey ears. I stitched my bag out of a black and cream Kokka polka dot linen. It is a bit heavier weight than normal quilting cotton, but I would not consider it a heavyweight fabric.
How to Get the Sewing Pattern
This is the first update of many that I have planned for this bag, so I've created a PATTERN UPDATE page on my blog where people who have purchased the patterns (in paper copy in a store or PDF version online) can download them for free the updates as they come out.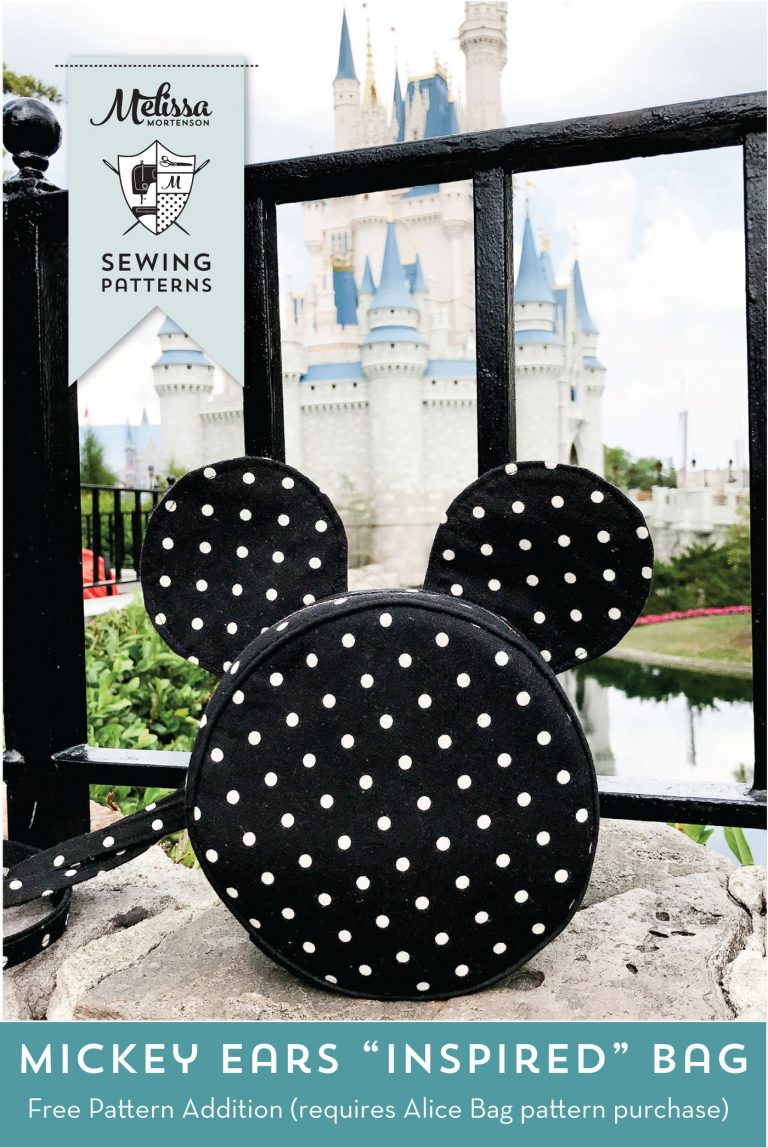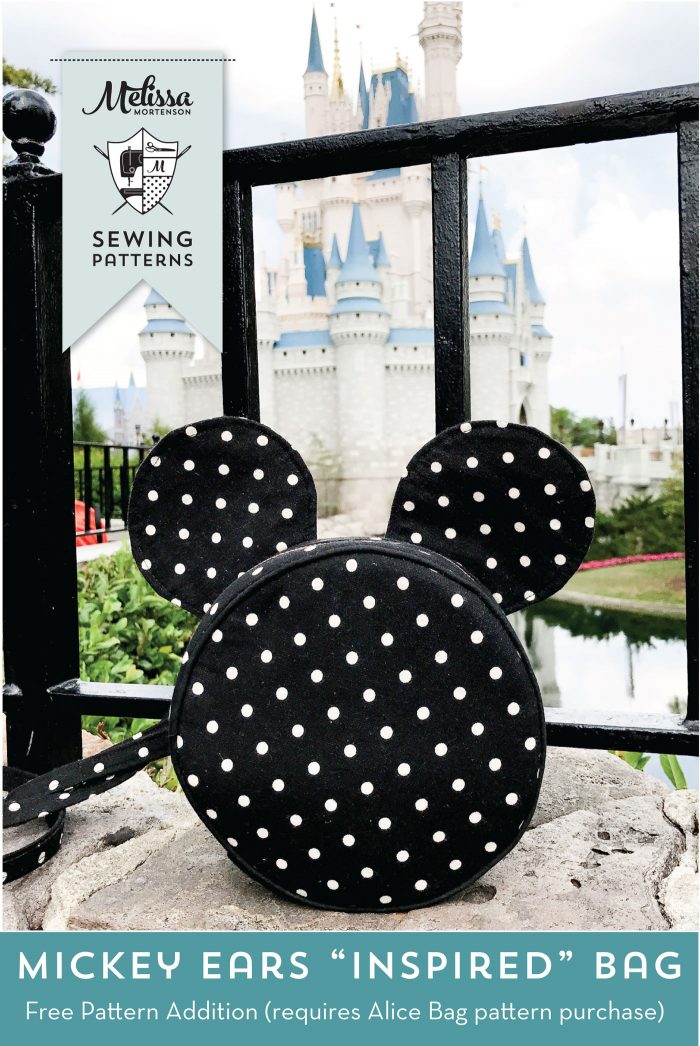 If you've already bought the Alice Bag, visit the pattern updates page. From there, please enter the password (it's on the last page of instructions of your Alice Bag pattern), enter it where prompted, and download the PDF update.
If you have not already bought the Alice Bag pattern and want to make the Mickey Inspired version, I've updated the PDF in the shop so that it includes the additional instructions.
This pattern comes with the Mickey Mouse instructions.
Watch for even more updates to the Alice Bag coming this summer- have a request? I'm up for suggestions!!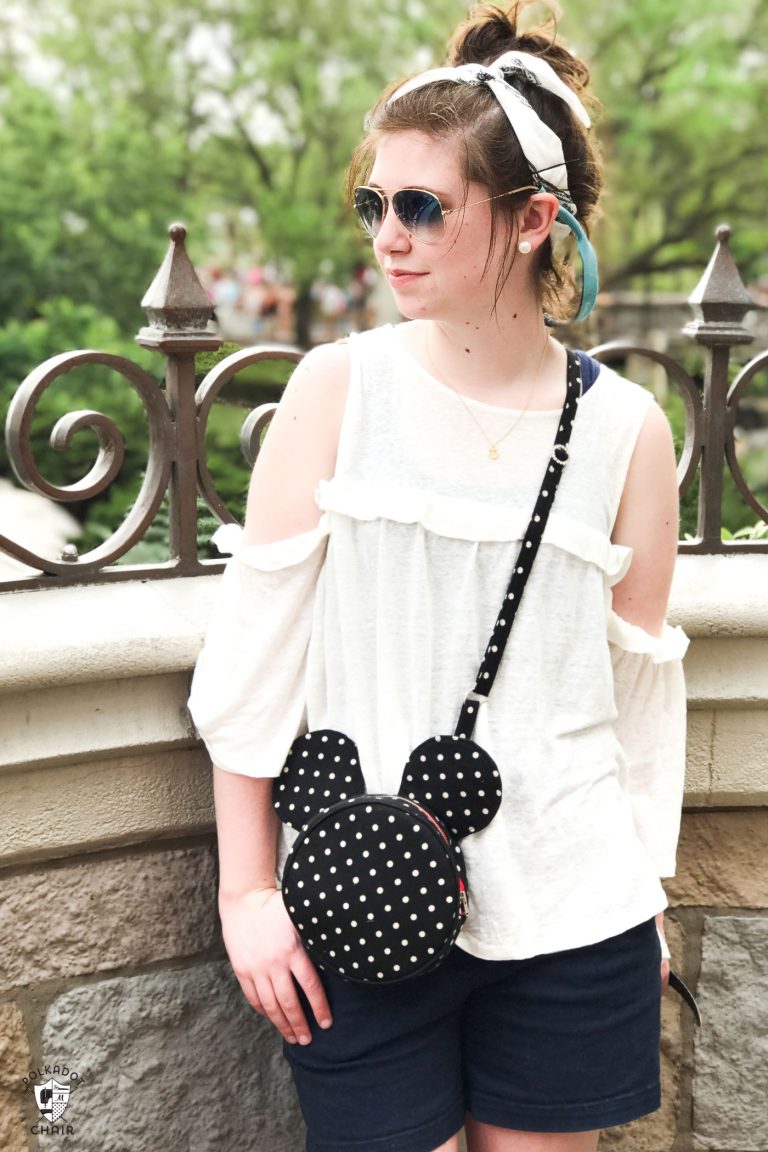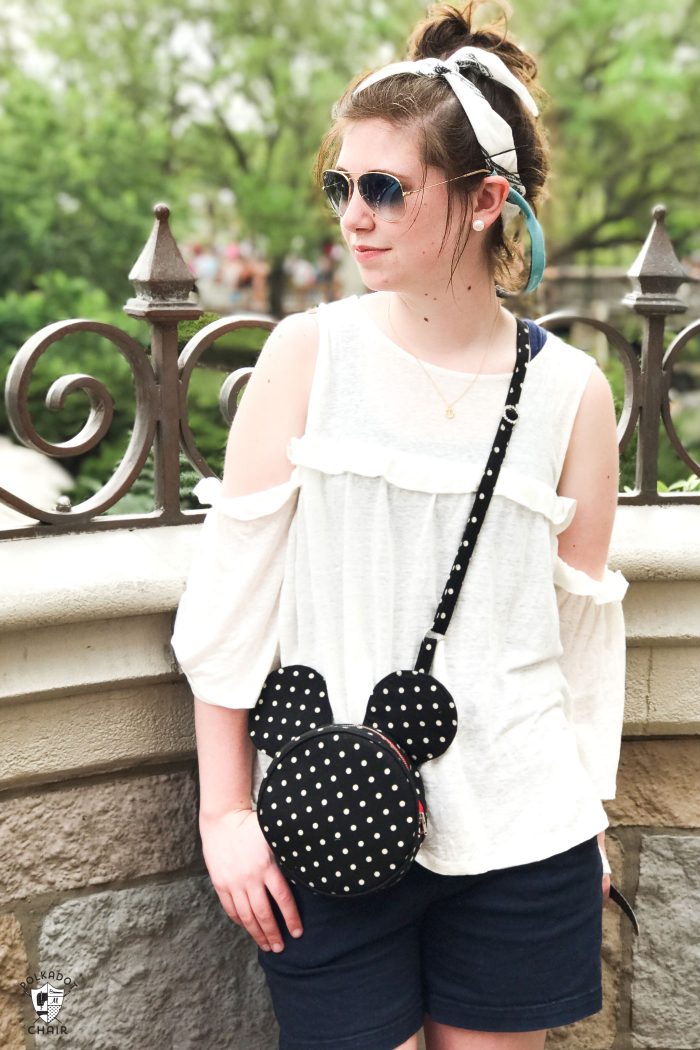 Also, if you like this bag, you can make a small coin purse to match it. There's a free pattern for it on my blog!