This week for Finish it Friday, we are going back to the "not so distant" past and revisiting a few Christmas sewing projects! This week I finished a set of patchwork quilted Christmas pillows that I started last year but did not finish before the Holiday!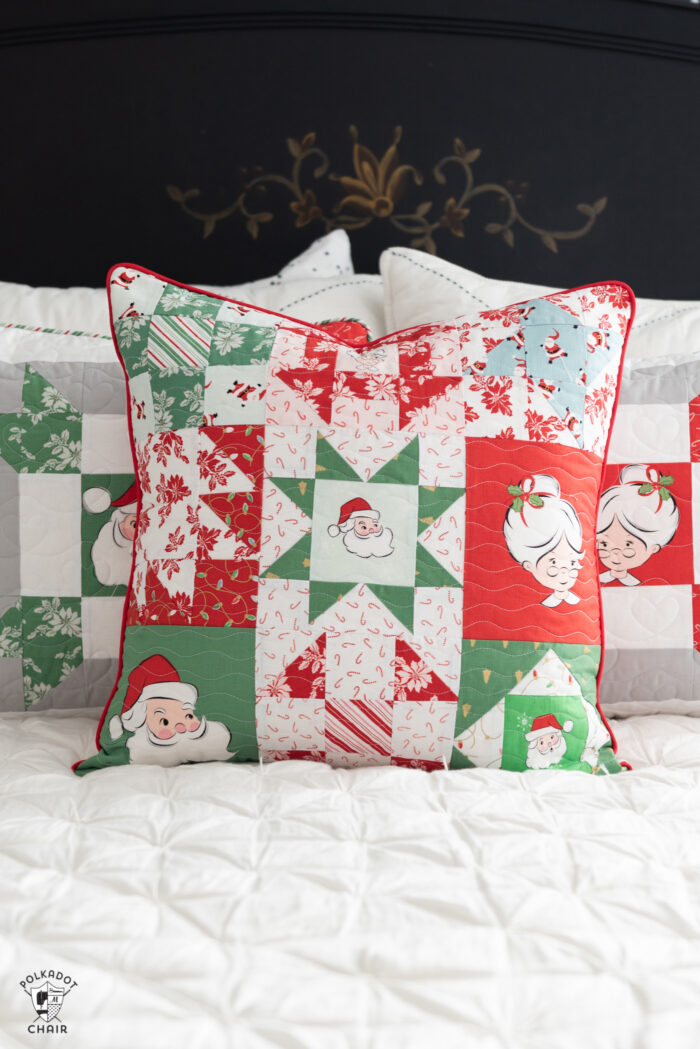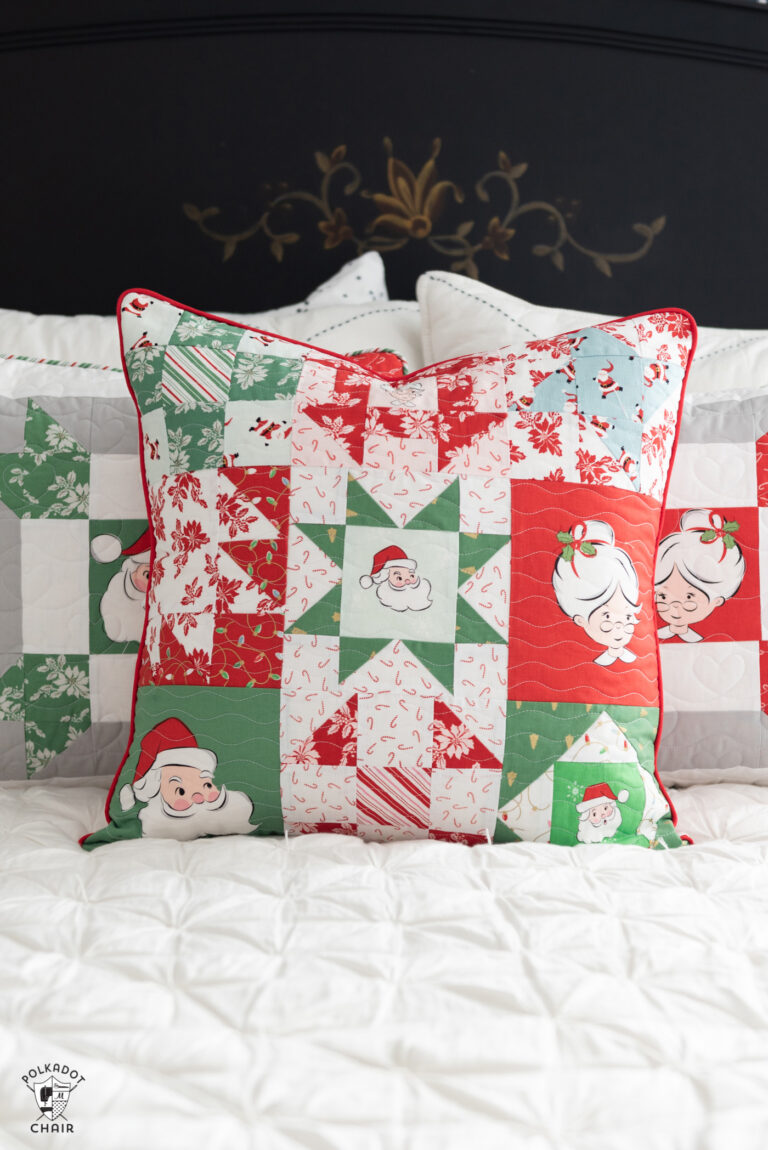 Table of Contents
No, your eyes are not playing tricks on you. This is a Christmas project blog post… in February. We can either look at this as if I missed my Christmas deadline OR as if I'm really, really ahead of myself for next year. Let's go with the latter.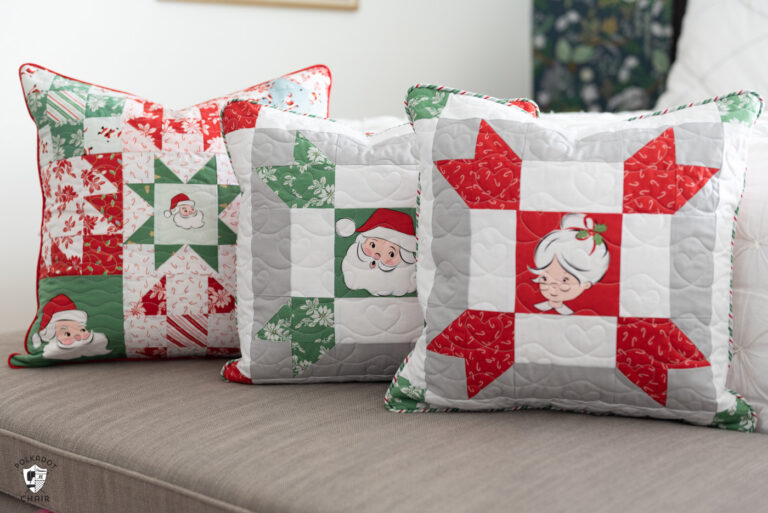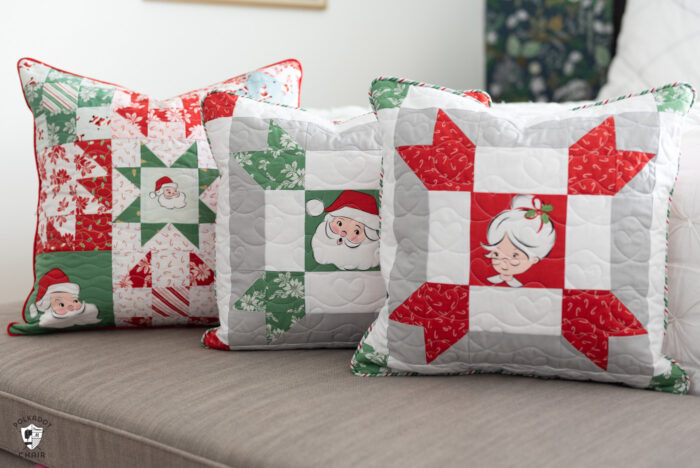 About Finish it Friday
This year, if you're new here, I've set a goal for myself to empty my WIP (work in progress) bin. It's been driving me crazy. I've challenged myself to finish a few old projects a month, get them photographed and share them with you on Fridays!
If you'd like to play along, share your recent finishes on Instagram with me so we can cheer each other on! Just use the hashtag #FinishItFriday and tag me, @polkadotchair.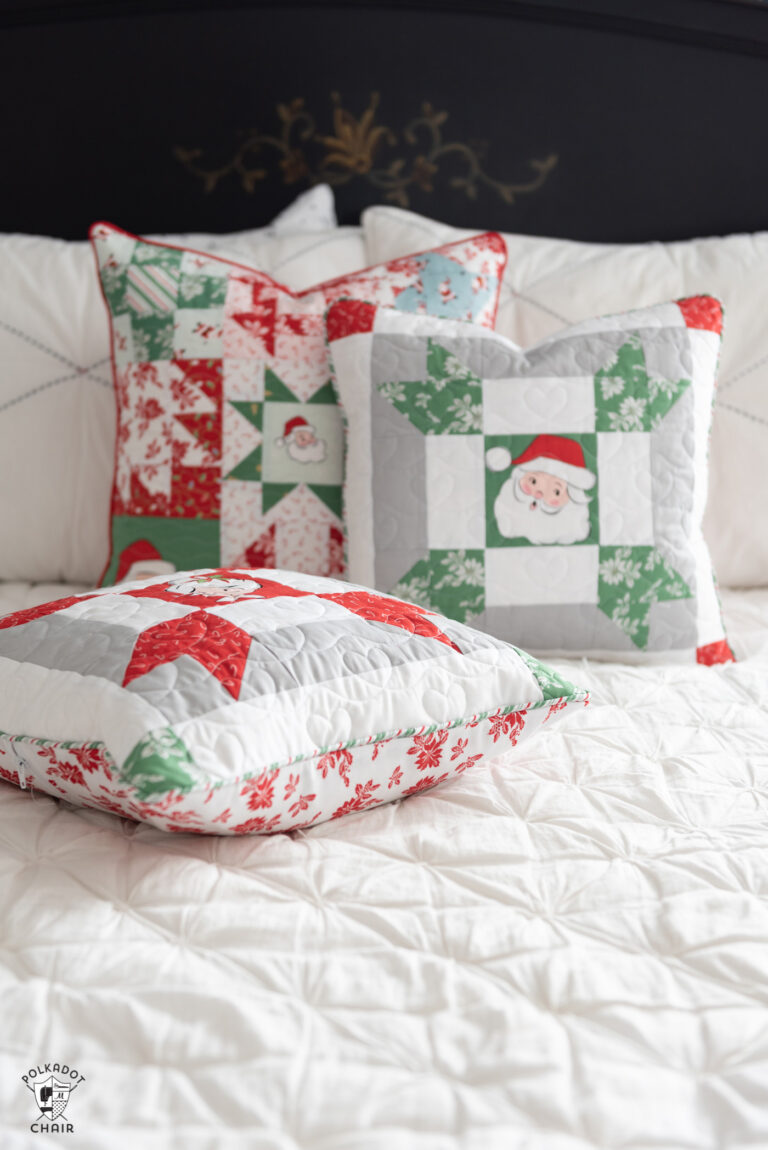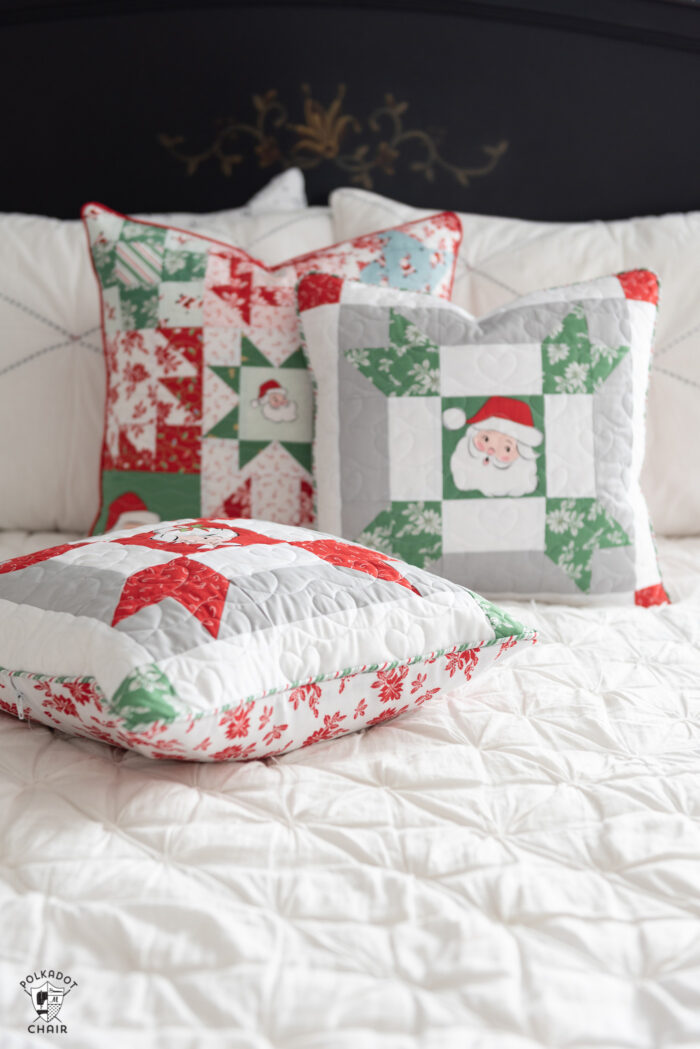 This week I finished a set of patchwork Christmas pillows that I started last year. Two of the pillows are from the Playful Precuts Book, and one pillow cover was created as a part of the Riley Blake 2020 Block Challenge.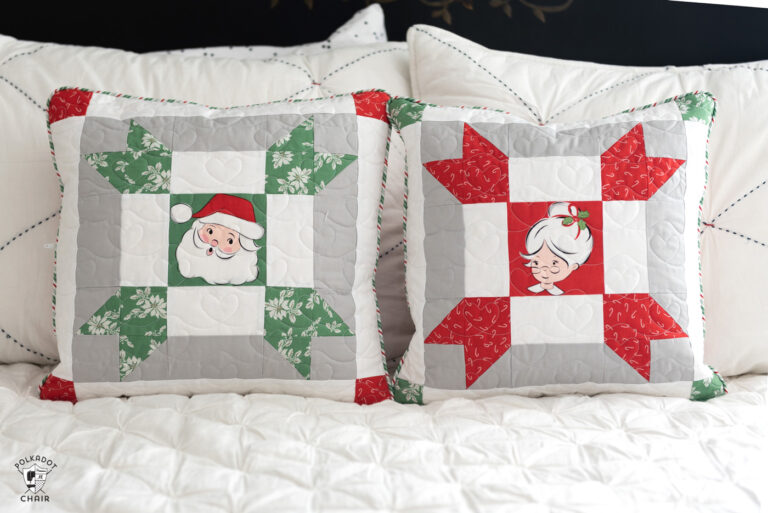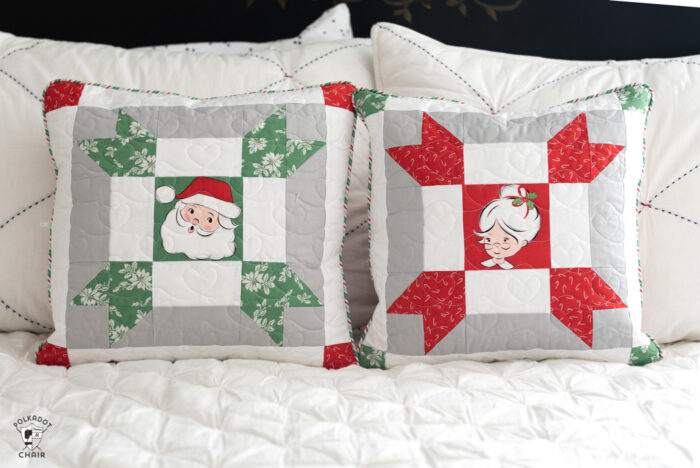 Mr. & Mrs. Claus Pillows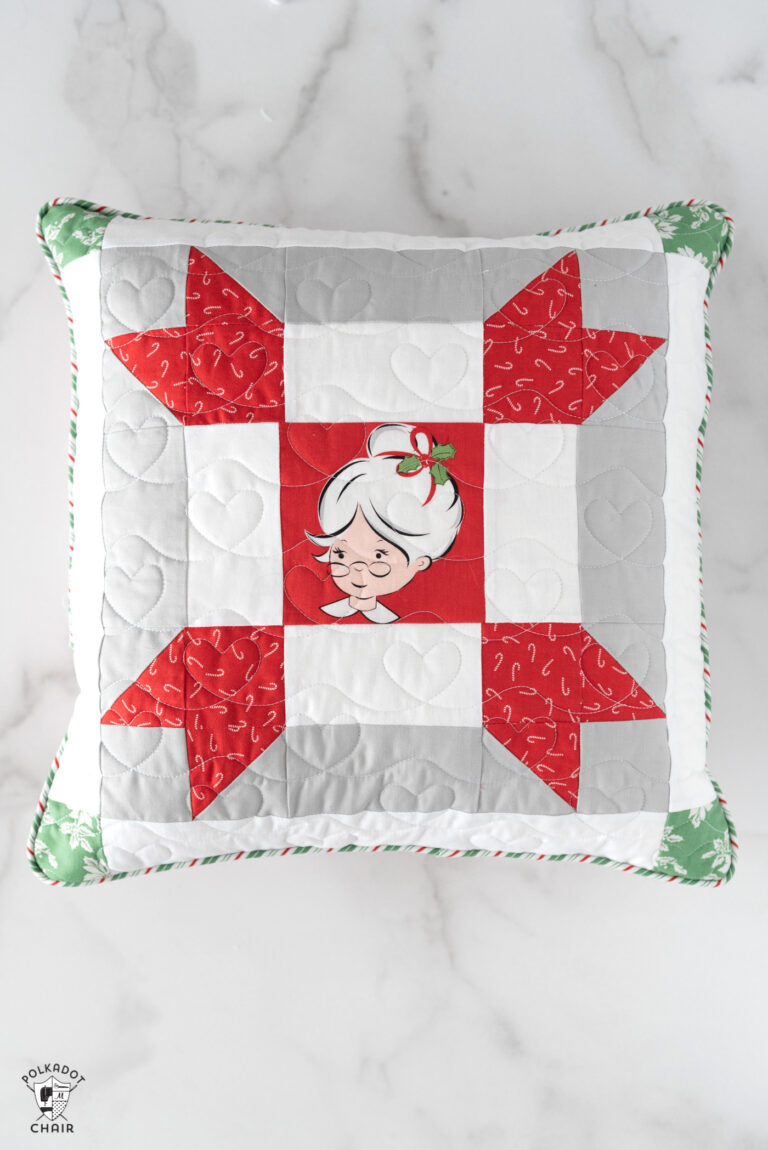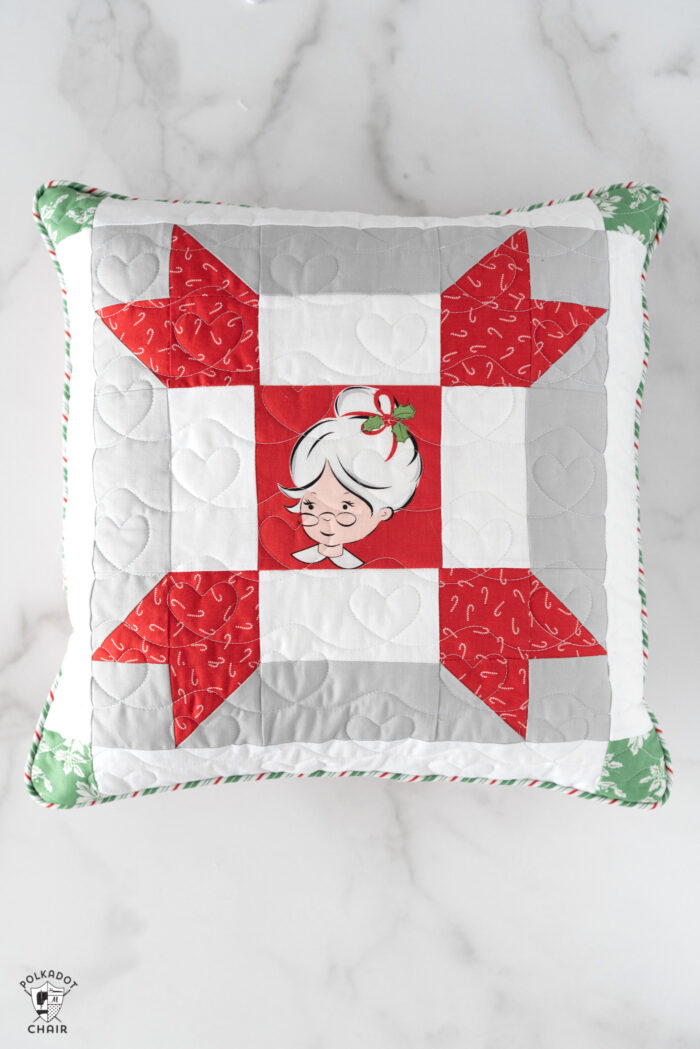 Last Fall, I shared a bit about Amanda of Jedi Craft Girls book, Playful Precuts, with all of you. I stitched up 2 blocks from her book in Santa Claus Lane fabrics.
The quilt blocks are from the Gingham Patches Quilt Pattern in her book. The blocks are 12″ x 12," and I added a border and keystones, which made them, 16″ when finished, which is a great size for a pillow.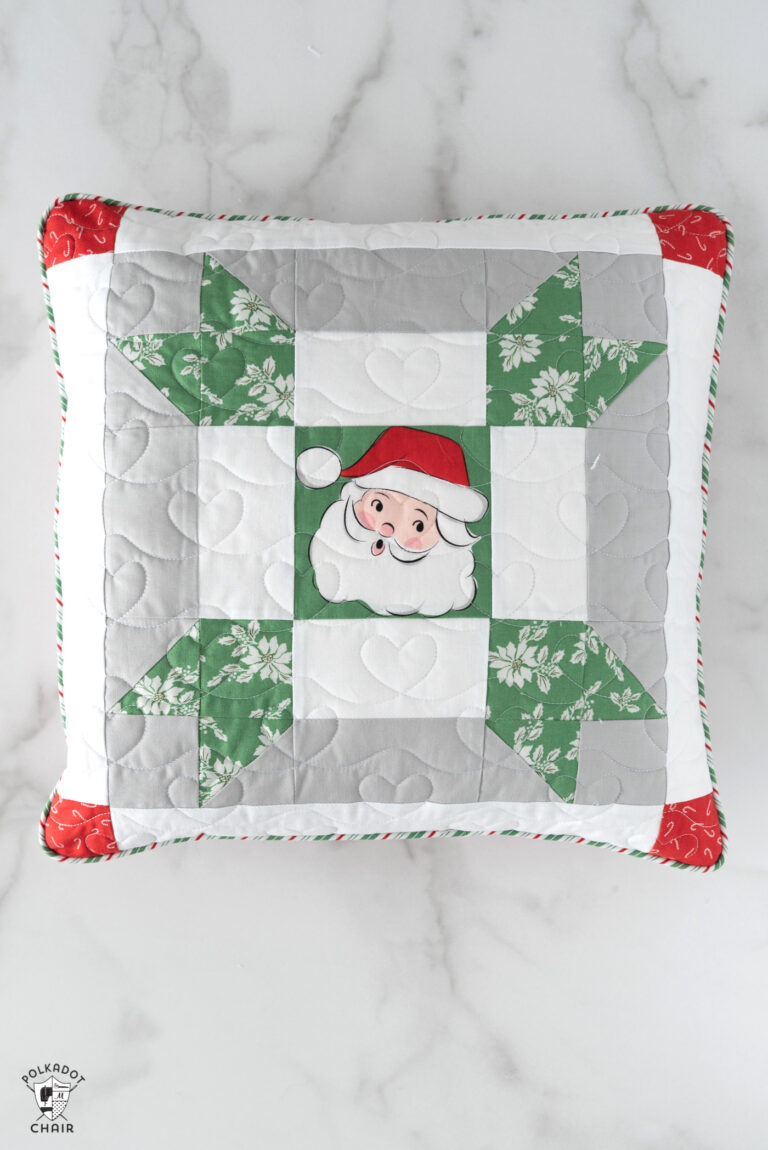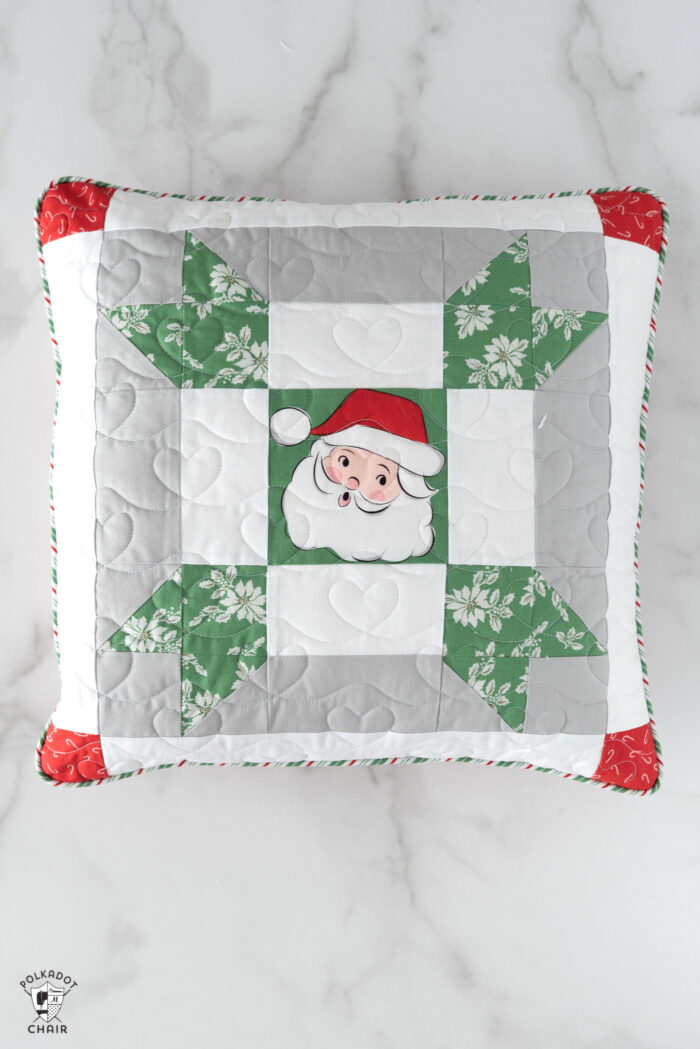 The pillows feature quilted blocks and striped piping around the edges. If you've not sewn with piping before, you should give it a try! It's not as hard as you think it is. I have lots of tips to help you out (did you know that you can recover the piping you already have?)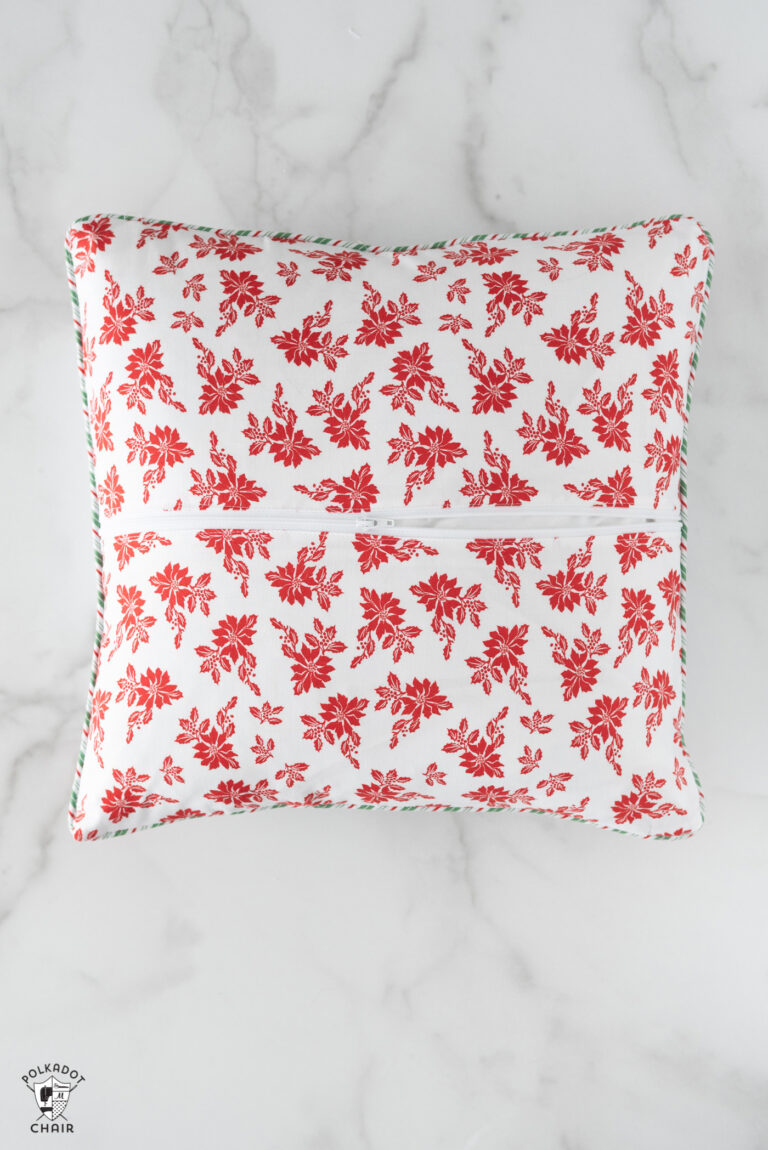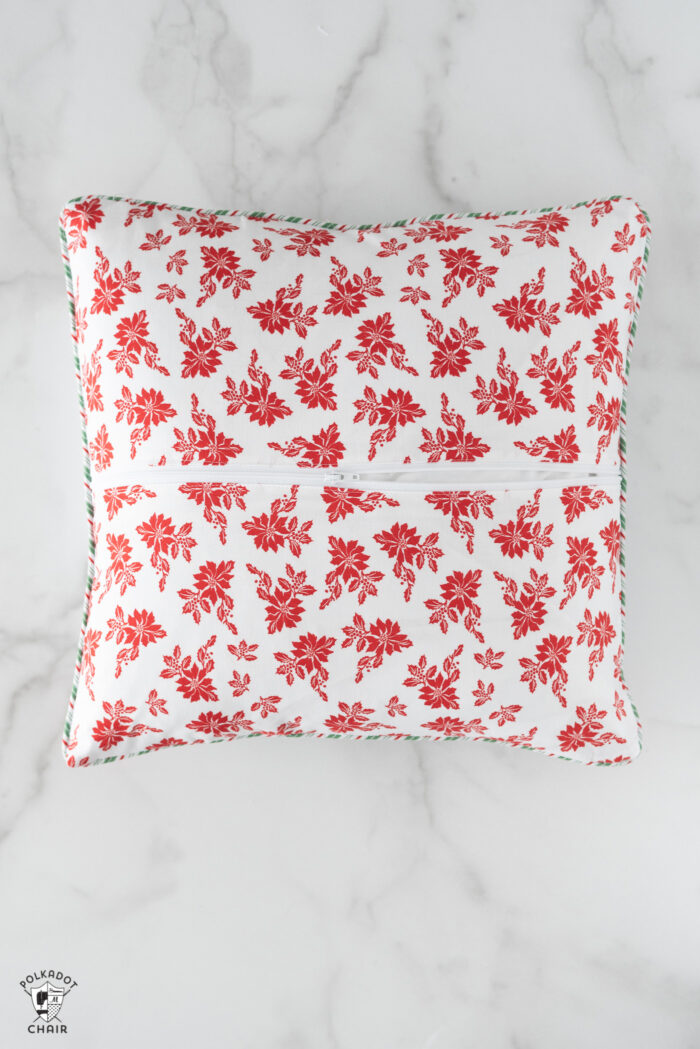 I like to add zippered backs to all of my pillows. All 3 of these pillows have a simple zip back. That way, I can easily remove the cover and store it flat the rest of the year.
Sampler Block Christmas Pillow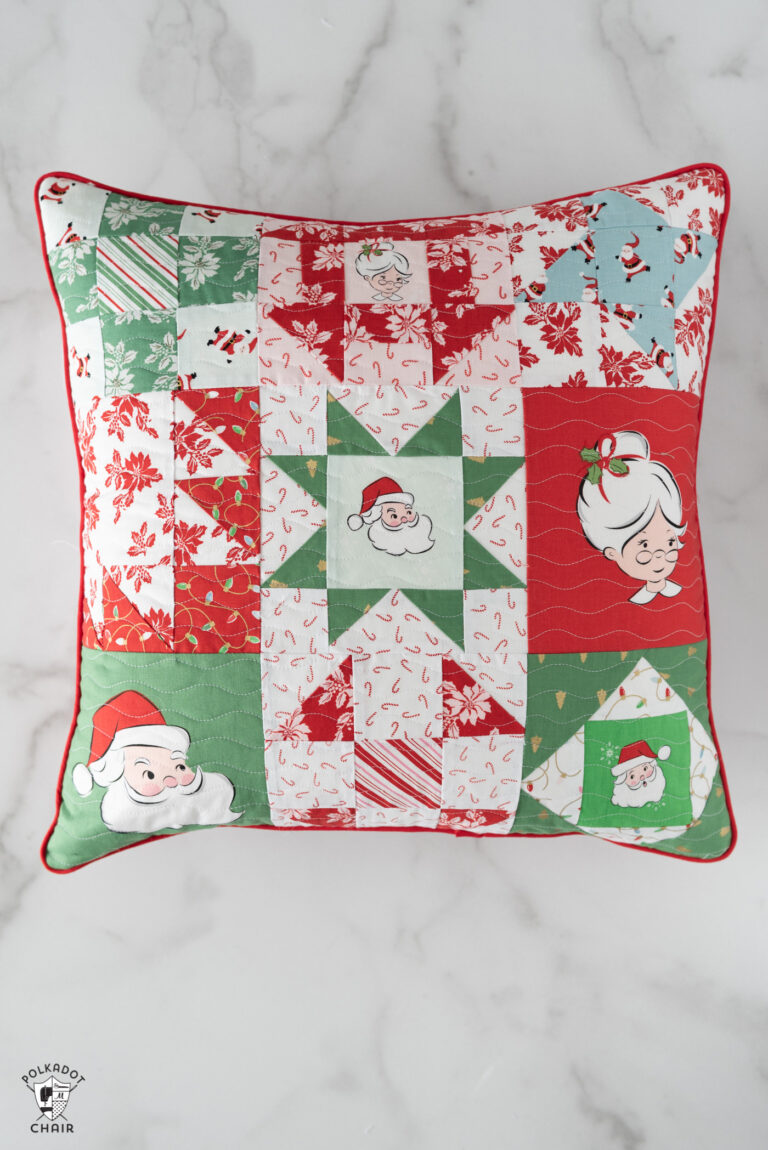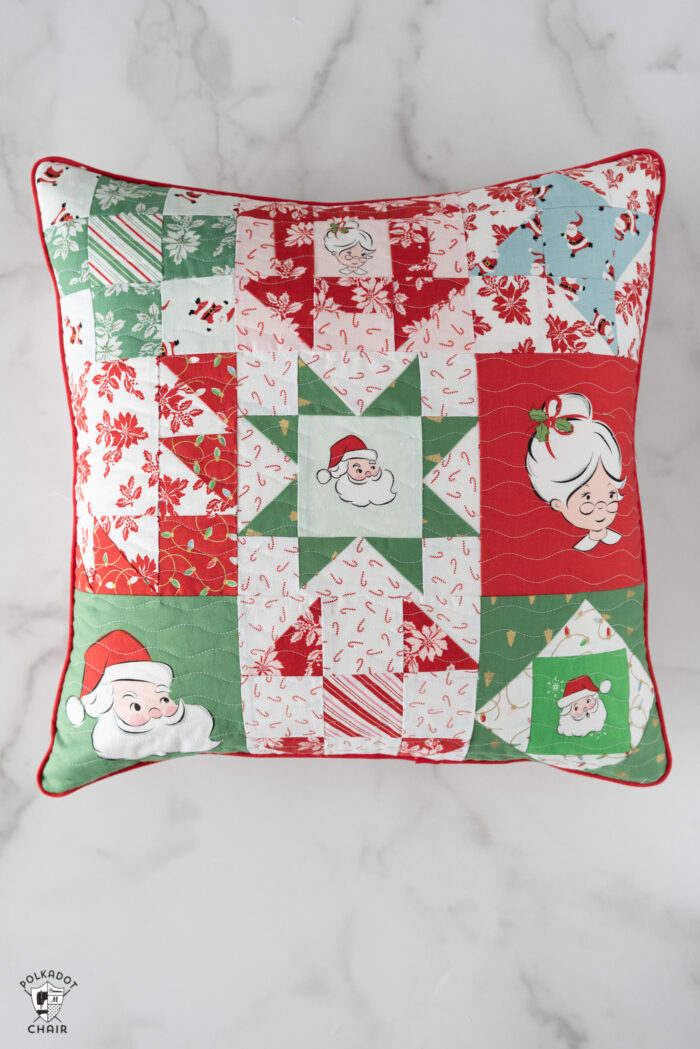 Last Spring, I and several other bloggers hosted the Riley Blake Block Challenge. Each week a different blogger shared a pattern for a 6″ and 12″ quilt block.
I ended up creating a sampler quilt from my 12″ blocks (coming soon to Finish it Friday!) and decided to turn the 6″ blocks into a Sampler Pillow.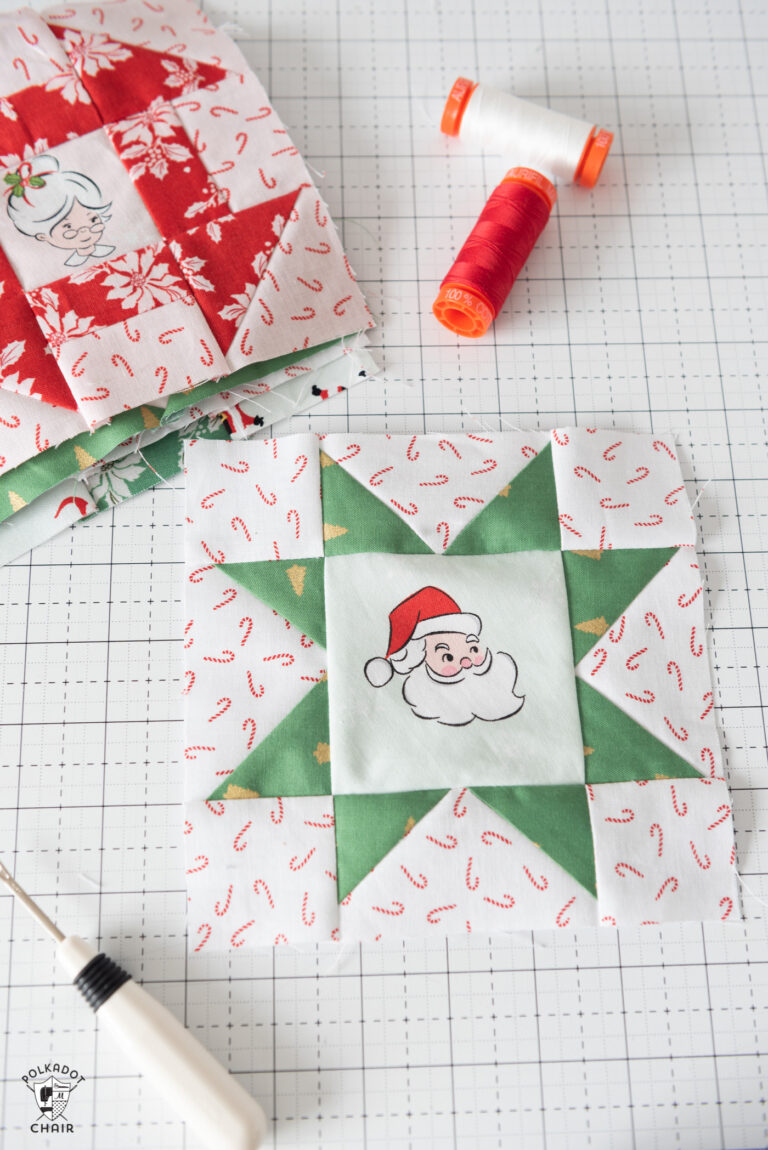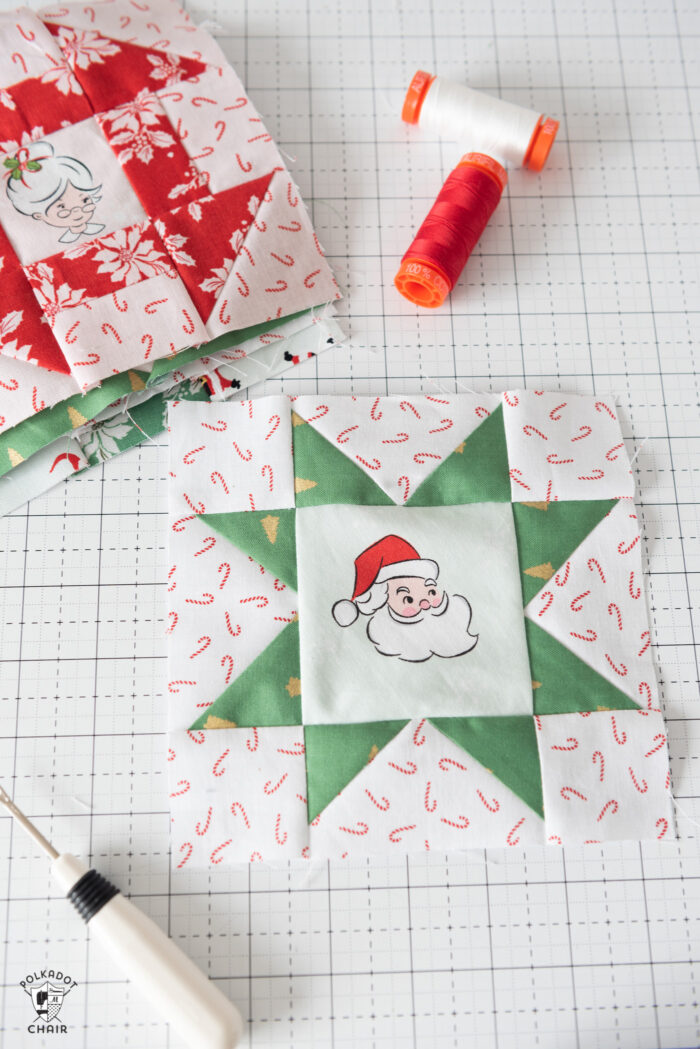 This pillow features 7 of the 12 blocks shared during the quilt along. You can find free patterns for all of the blocks by following the links below.
The Mr. & Mrs. Claus fabrics are from the panel that accompanies my Santa Claus Lane fabric collection. There are 4 little squares on the panel, perfect for quilt block centers or used in a patchwork layout like the pillow.
The blocks in the pillow are (I've linked the tutorials for each block).
I quilted the pillow on my home machine and added red piping to the edge. It is finished with a zippered back as well.
My goal is 2 WIP finishes a month, which means I need another one for February. Wish me luck!