Today I'm going to share with you a fun way to dress up a simple sweater. This DIY Embroidered Sweater Tutorial is a great way to give new life to an old sweater. If you like this project then you may also like this Kimono Jacket Sewing Tutorial.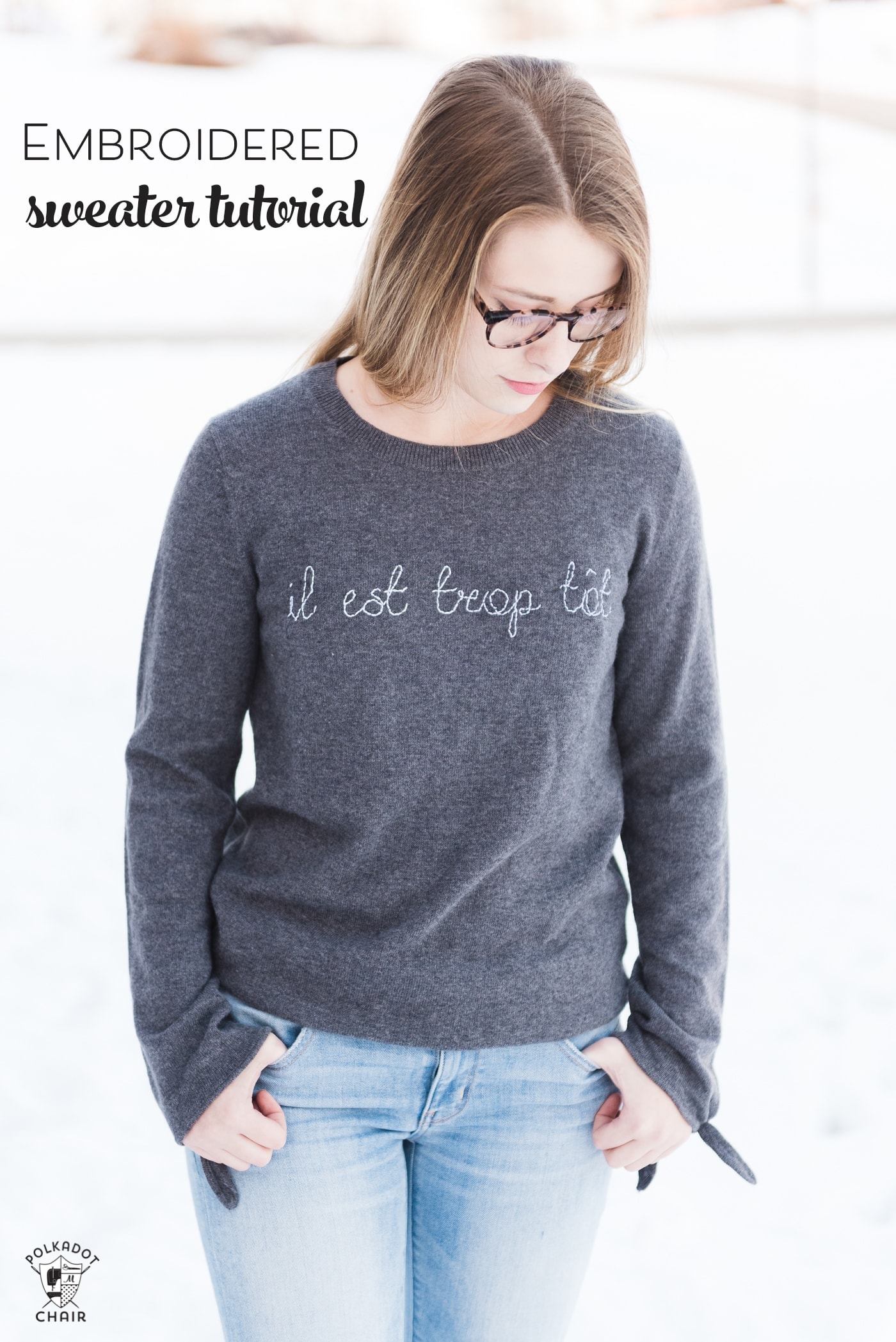 While my oldest daughter was home for Christmas break she thought up a fun sewing project that we could do together.  She spotted on Liberty of London's Instagram a "pop up" shop where they were adding a bit of hand embroidery to simple sweaters.  Since London is a bit too far away for us to go for an afternoon, we thought that we could DIY it ourselves.
Since she's currently in her 4th college level French class, she had the idea to add cute somewhat silly French sayings to the front of the sweaters.  We sat down one afternoon and designed a bunch of embroidery patterns to share with you today (FYI: the sweater above says, "it's too early" the one below says "outfit of the day").
How to Embroider on a Sweater: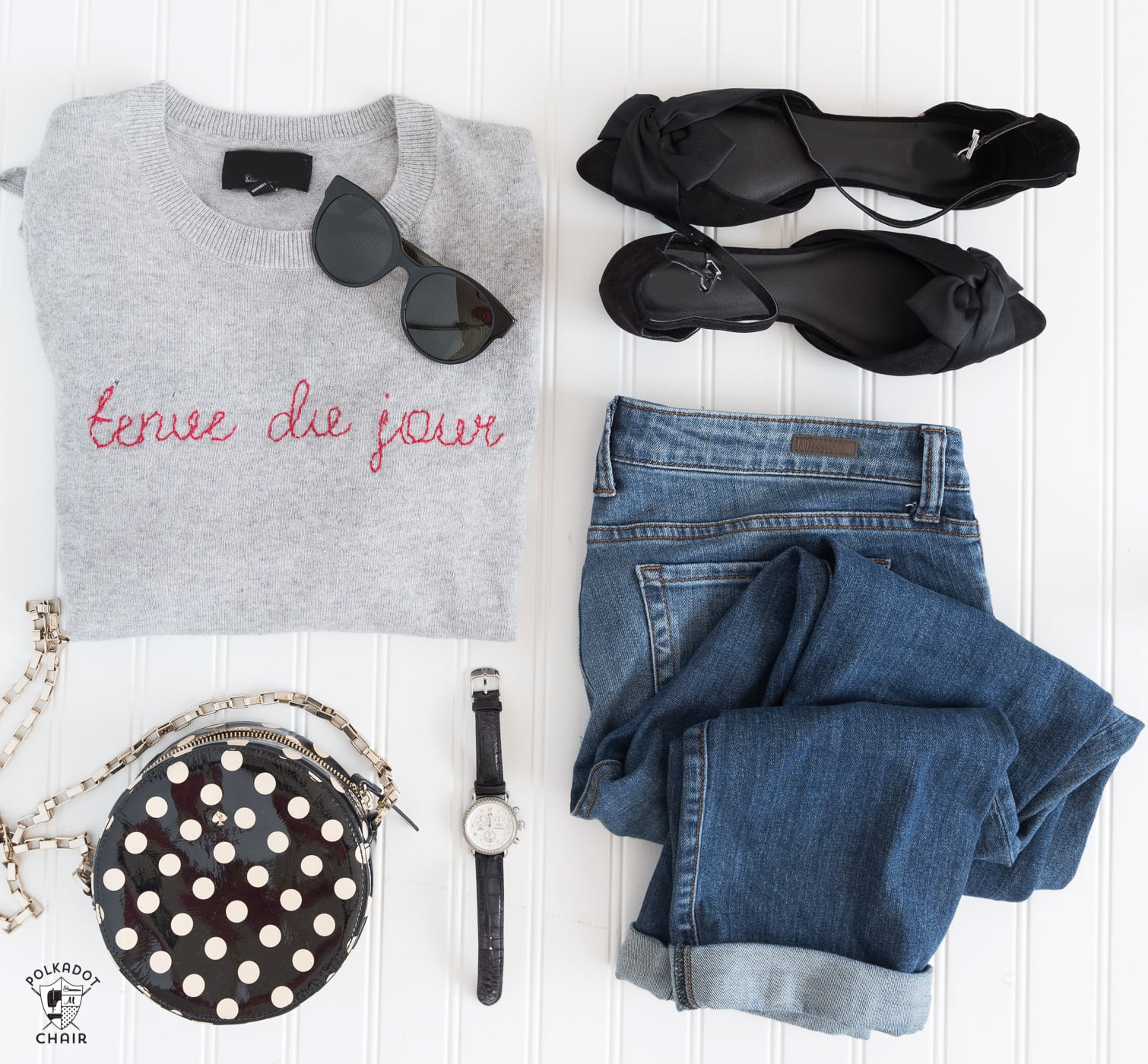 My first instinct when I saw the sweaters was to trace the embroidery pattern onto the sweater with water-soluble ink. Then hand stitch it.  Well, that didn't work, you couldn't see the ink and the sweater moved around too much while we stitched it.
I did a bit of research and realized that there was a water-soluble interfacing that I could use. I drew on the interfacing, stitched the sweater and just rinsed the interfacing with water to get it to dissolve. It worked like a charm. The extra added bonus of the interfacing is that it helped to stabilize the sweater as I stitched the design.
Even with the stabilizer, this is not a "perfect" project. You need to expect some imperfections especially if your sweater is lightweight.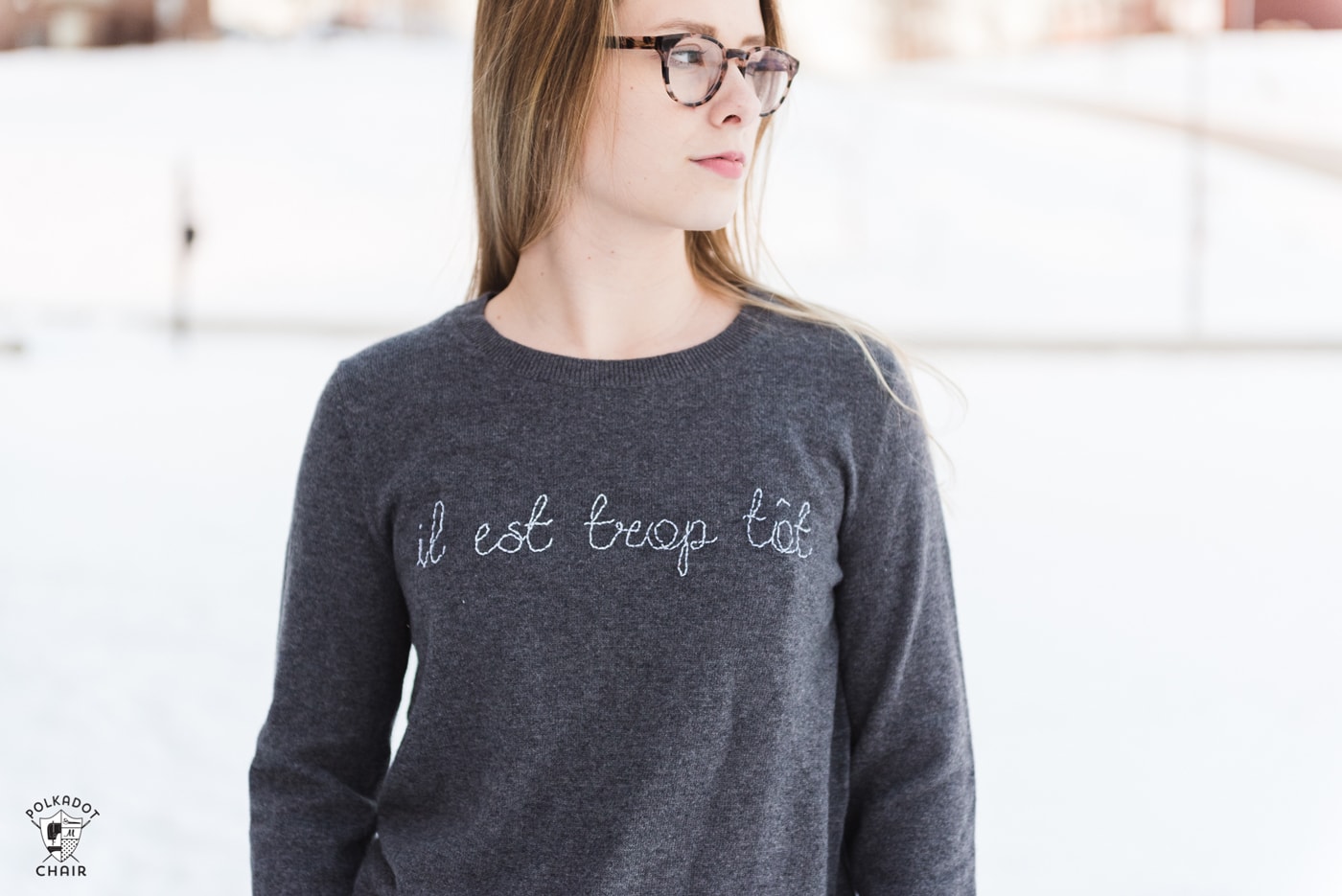 We managed to get our sweaters on sale after Christmas. I'll link to the ones I used below.  You can use sweaters you already had, my daughter just didn't like any of the ones I had at home (I think that was code for "mom, buy me a new sweater).   I would not recommend a very lightweight sweater. Ours are wool and worked well. It would also be cute to embroider a sweatshirt.
Unfortunately, we didn't get the project done before she left (due to the flu), but I did manage to stitch up two sweaters. One for her and one for my younger daughter.  She was thrilled to model it for me in 5-degree weather (yeah, not).  I did manage to get a smile or two out of her :).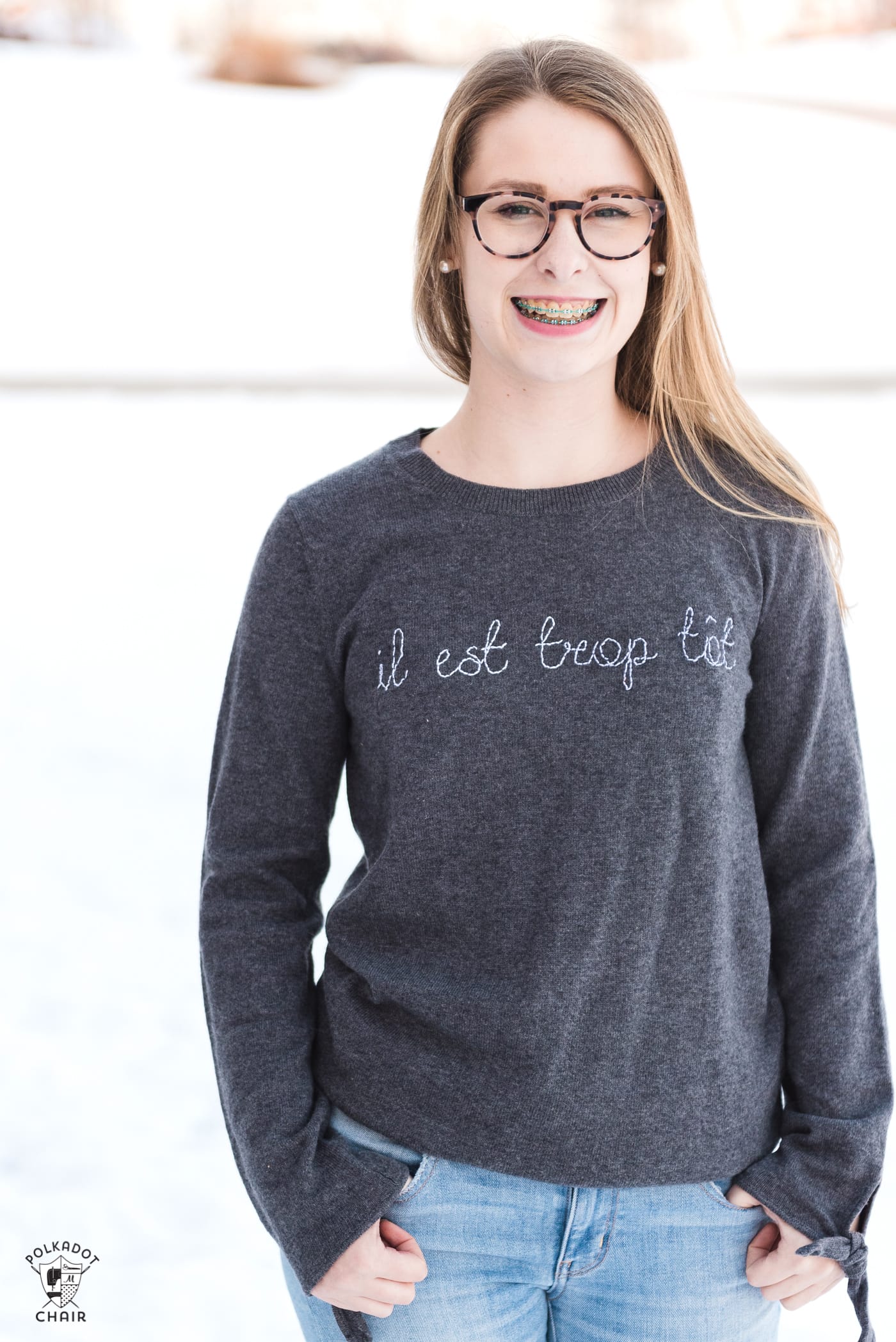 This project is done all by hand, you don't need a sewing machine.  Are you ready to start? Here's what you'll need, supplies linked below, contains affiliate links.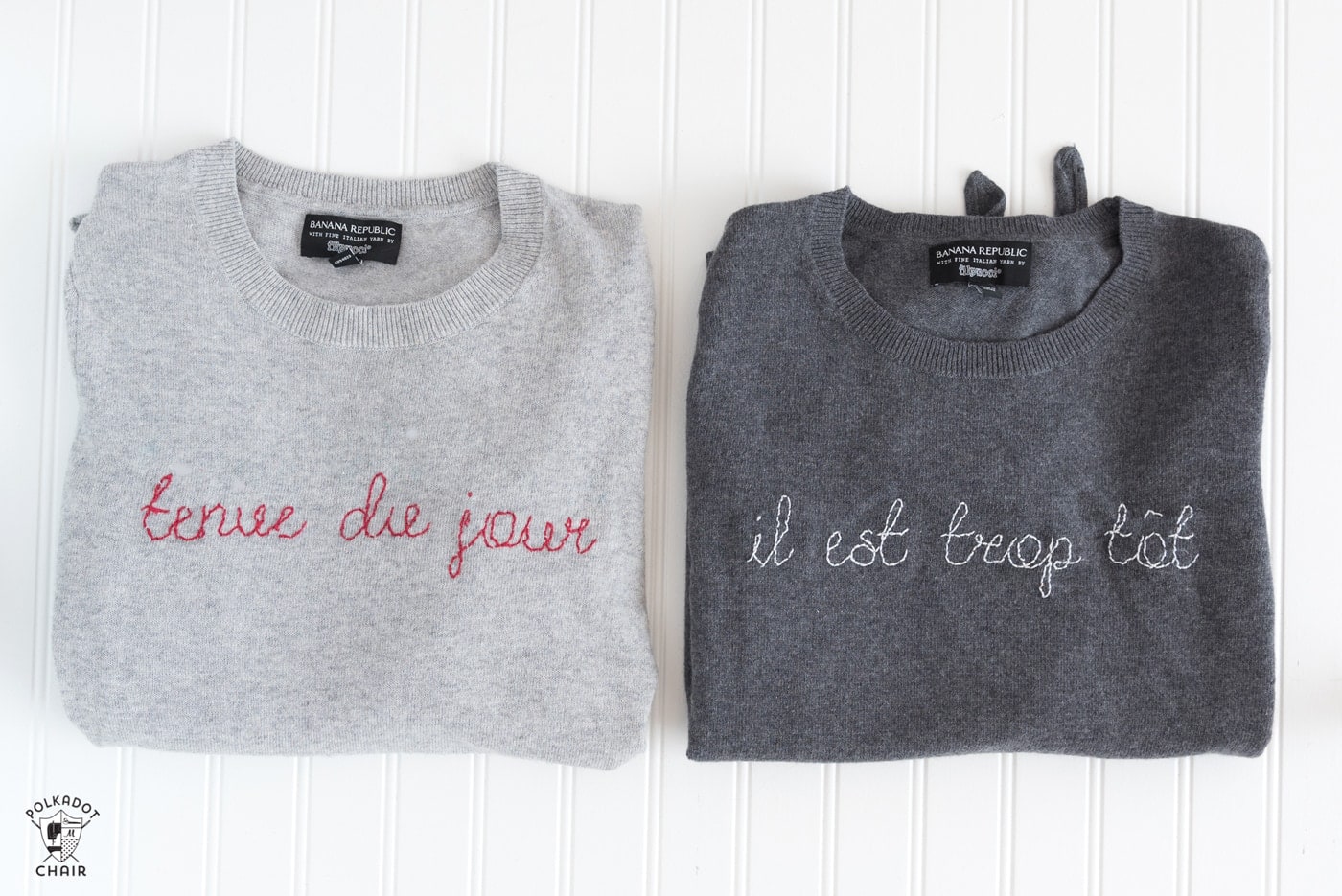 Hand Embroidery Supplies for Sweater:
Embroidery Thread, I used DMC Pearl Cotton 
An Embroidery Needle (make sure it has an eye large enough to pass the embroidery thread through)
Pellon 541 Wash and Gone Stabilizer
Sweaters – Ours were purchased HERE.
Pen
The pattern for Embroidery – download HERE. 
The choices for French phrases are:
Tenue du jour (outfit of the day)
il est trop tot (it is too early)
bonne chance (good luck)
tout est possible (anything is possible)
je m'ennuie (I'm bored)
maladroit (clumsy)
ouis mais non (yes but no)
merci (thanks)
sourire (smile)
Instructions: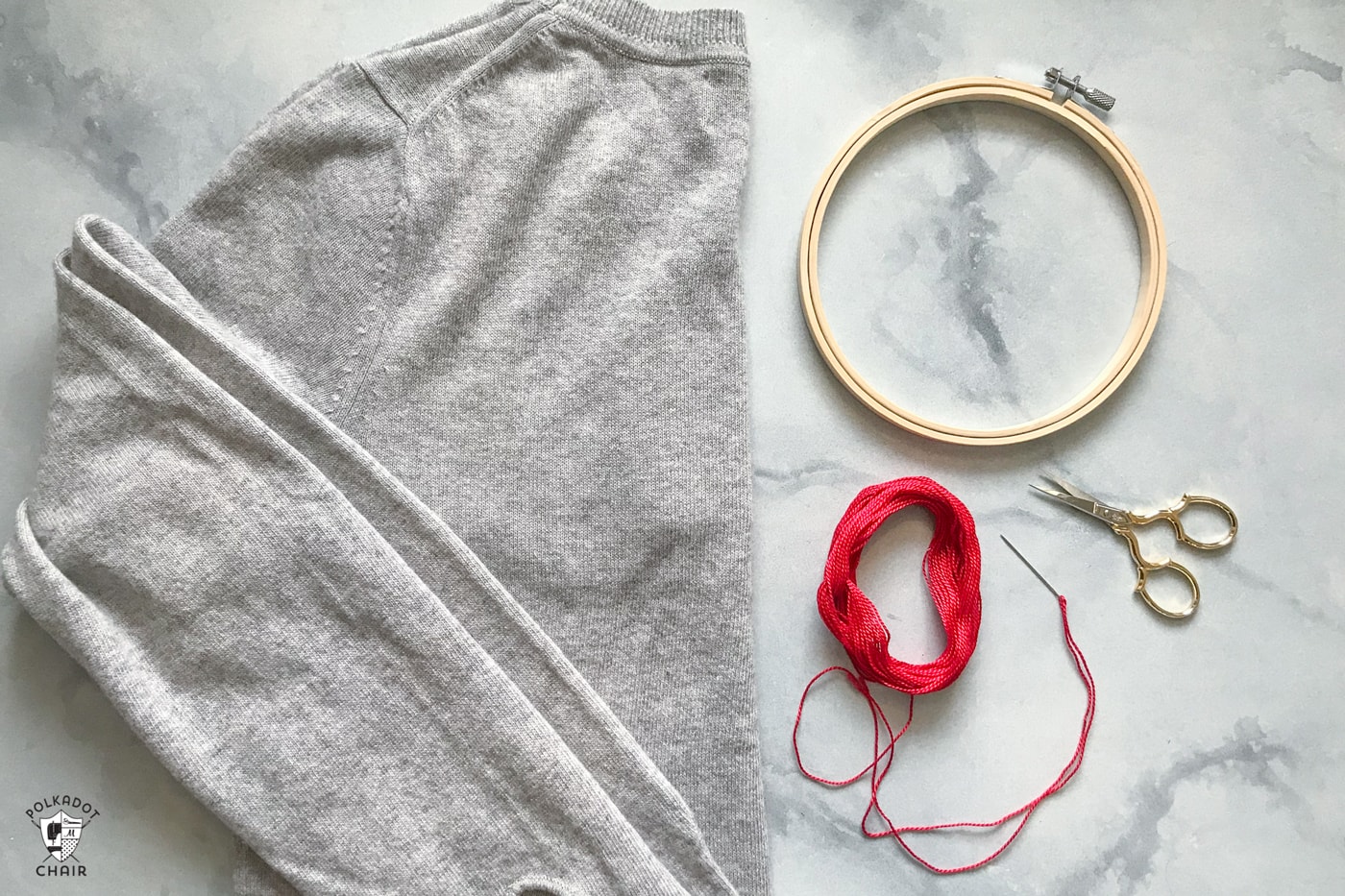 Download the Pattern:
1- Download the PDF  (link in the supplies above) and print out the embroidery design that you want.
Transfer Pattern to Stabilizer:
2-Trace it onto a piece of the Wash and Gone Stabilizer. It's very lightweight so you won't need a lightbox. Use a pencil or light pen, don't use a sharpie, just to be safe.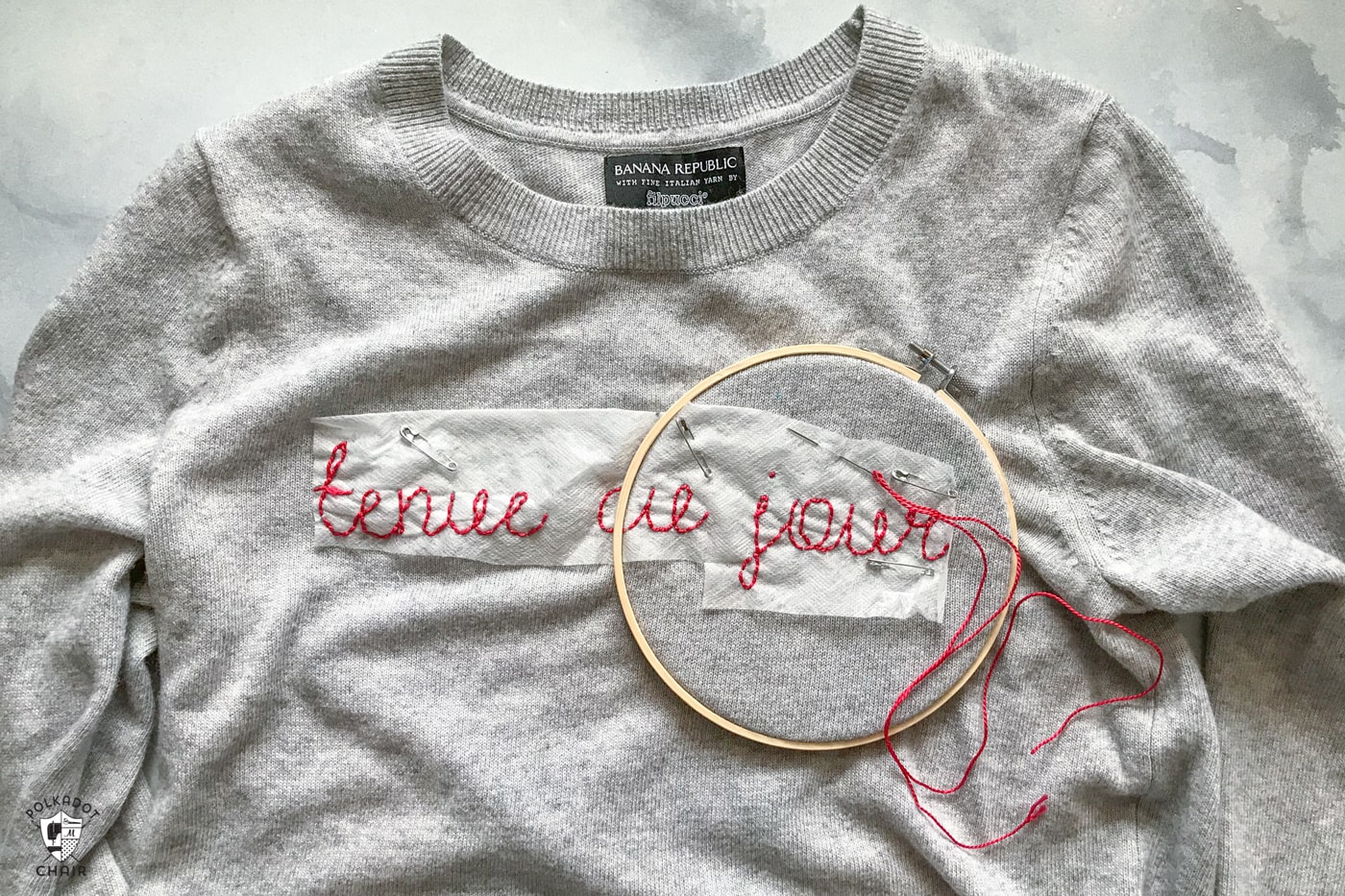 3-Pin the design onto the sweater, make sure you match your centers. I used safety pins.
Begin to Embroider:
4- Put the embroidery hoop over a section of the pattern, floss your needle with the embroidery thread.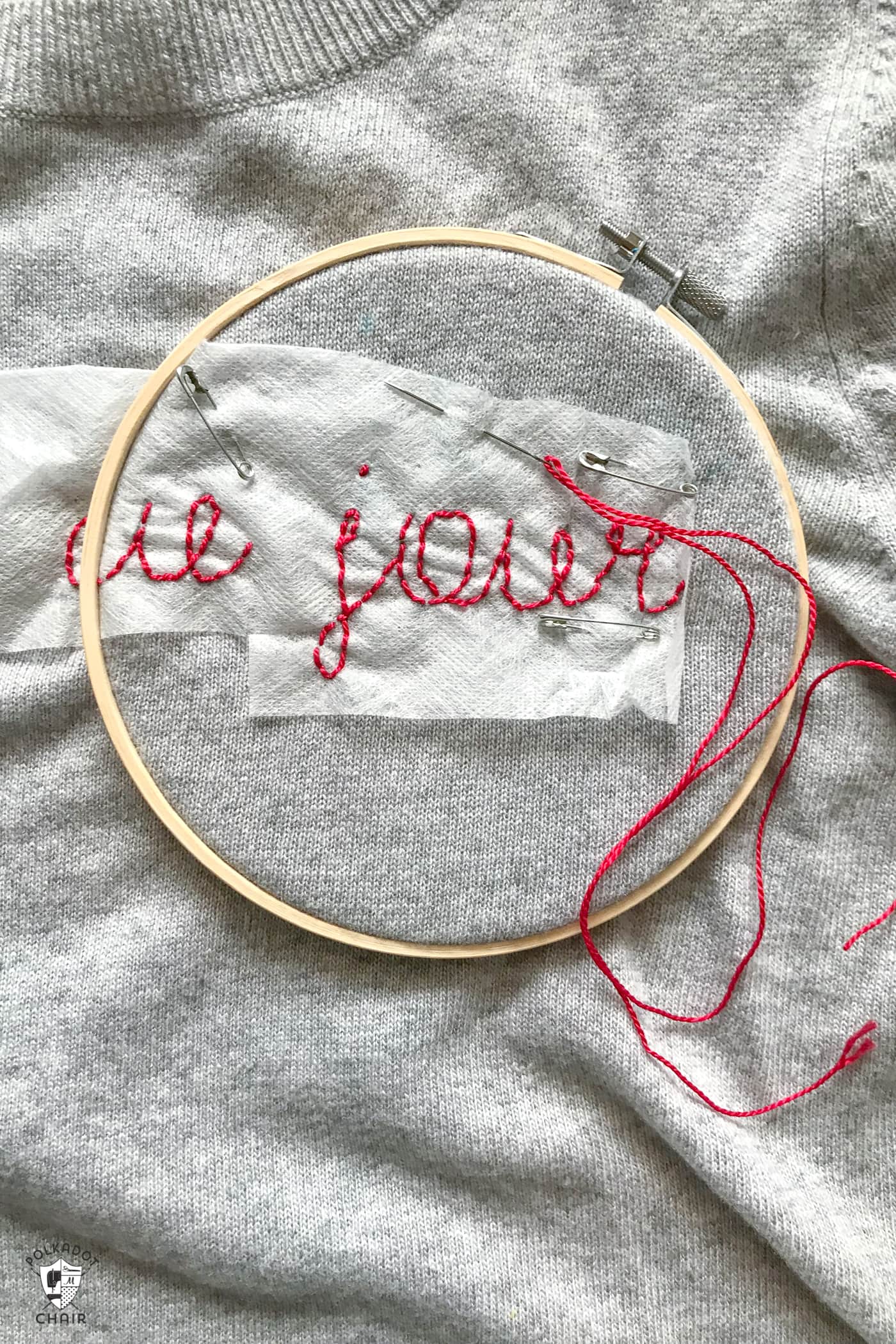 5-Using a simple backstitch, stitch the words onto the sweater.  I found it helpful to work in the direction of the letters as if I was writing the word.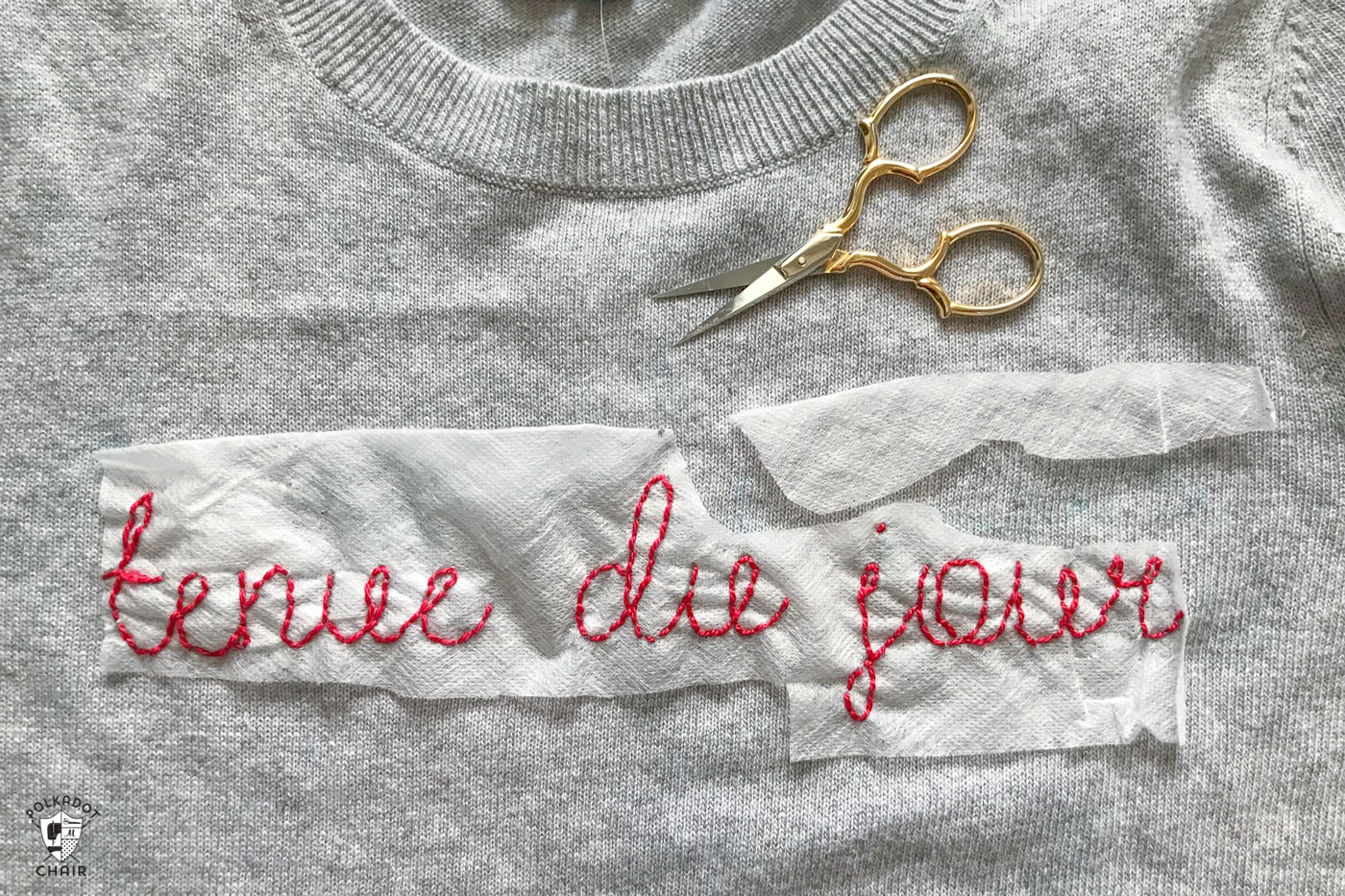 6- After you have stitched the entire embroidery, cut away the excess stabilizer.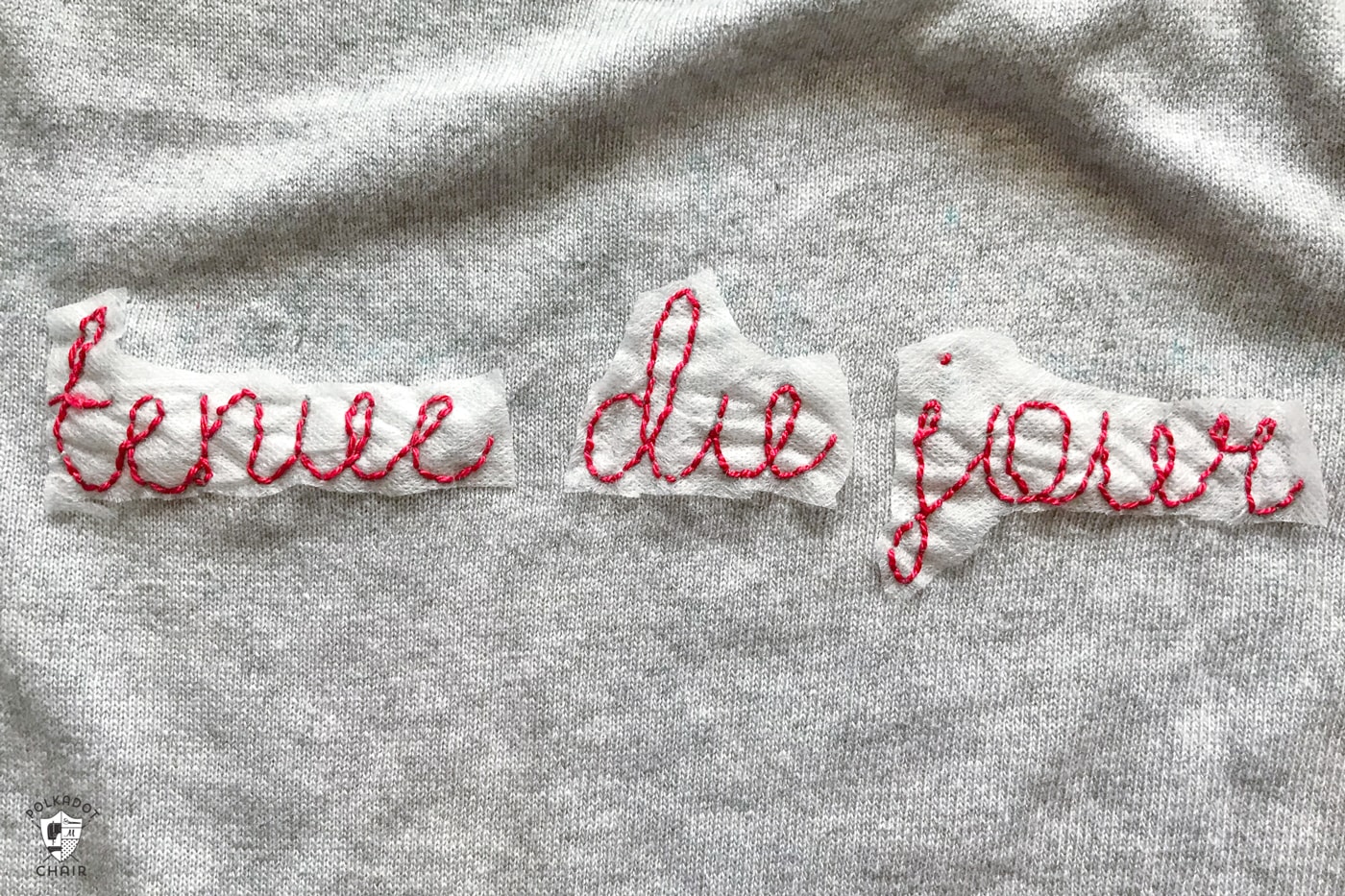 Finishing:
7- Rinse under the water or hand wash (or follow the directions on the sweater for washing instructions).
That's it you're done!!